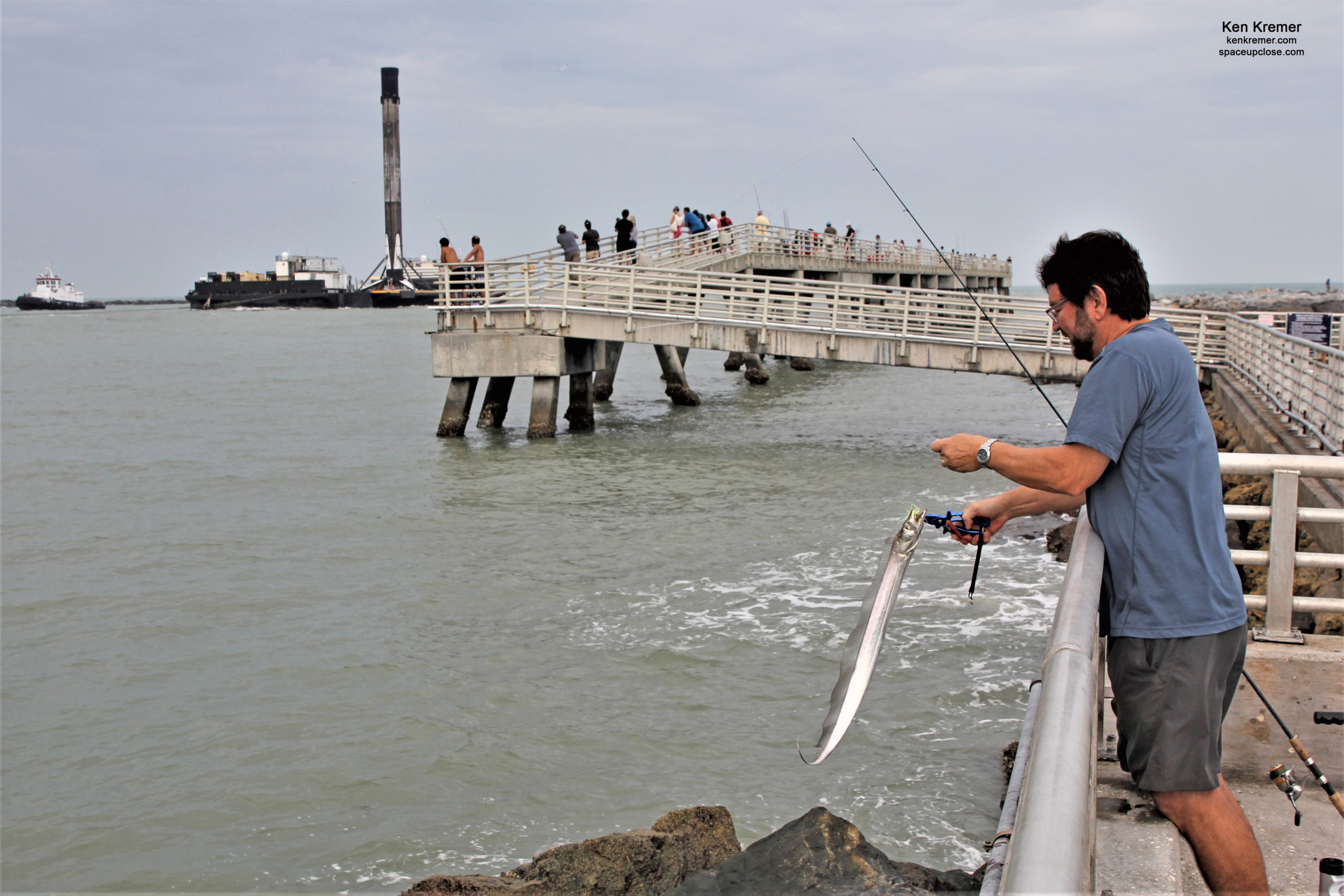 For SpaceUpClose.com & RocketSTEM
TITUSVILLE, FL – Four days after the flawless liftoff of the first ever 5 times launched and landed SpaceX Falcon 9 first stage on the 8th Starlink mission, the booster returned triumphantly to Port Canaveral Sunday evening, June 7, standing upright and sooty atop the 'Just Read the Instructions' (JRTI) ocean going droneship – under heavily overcast skies and delayed by poor East Coast weather all week.
The 156 foot tall booster finally arrived into the mouth of Port Canaveral channel at about 6:45 p.m. EDT June 7 – delayed from a morning arrival by bad sea states and weather.
JRTI was towed by tugboat Finn Falgout in the Atlantic Ocean into the Port Canaveral channel past Jetty Park pier and accompanied by the SpaceX naval fleet just offshore of the beach.
Furthermore the return of this 5 times recycled first stage B1049.5 comes just 5 days after the prior SpaceX landed first stage from the historic launch of the 1st NASA astronauts from US soil in nearly nine years on the Demo-2 test flight – making for a remarkable launch cadence.
Because of COVID-19 coronavirus safety restrictions the crowds at Jetty Park beach, park and pier were again much smaller than normal – but those gathered were still excited to be on hand to witness this still remarkable arrival and what amounts to a thin stick precision landed atop a small platform in the open seas.
Enjoy our Space UpClose photo gallery of the arrival and docking of the rather sooty Falcon 9 booster 1049.5 at the droneships normal northside berthing port at North Cargo Pier 6.
The 156 foot tall booster standing firmly upright on JRTI sailed swiftly past the Pier and reaching the berthing Port as normal some 45 minutes after arrival.
The mission began with the spectacular liftoff of the 8th Starlink commercial blastoff that took place Wednesday at 9:25 p.m. Wednesday June 3 (0125 GMT Thursday June 4 from seaside Launch Complex-40 on Cape Canaveral Space Force Station, FL.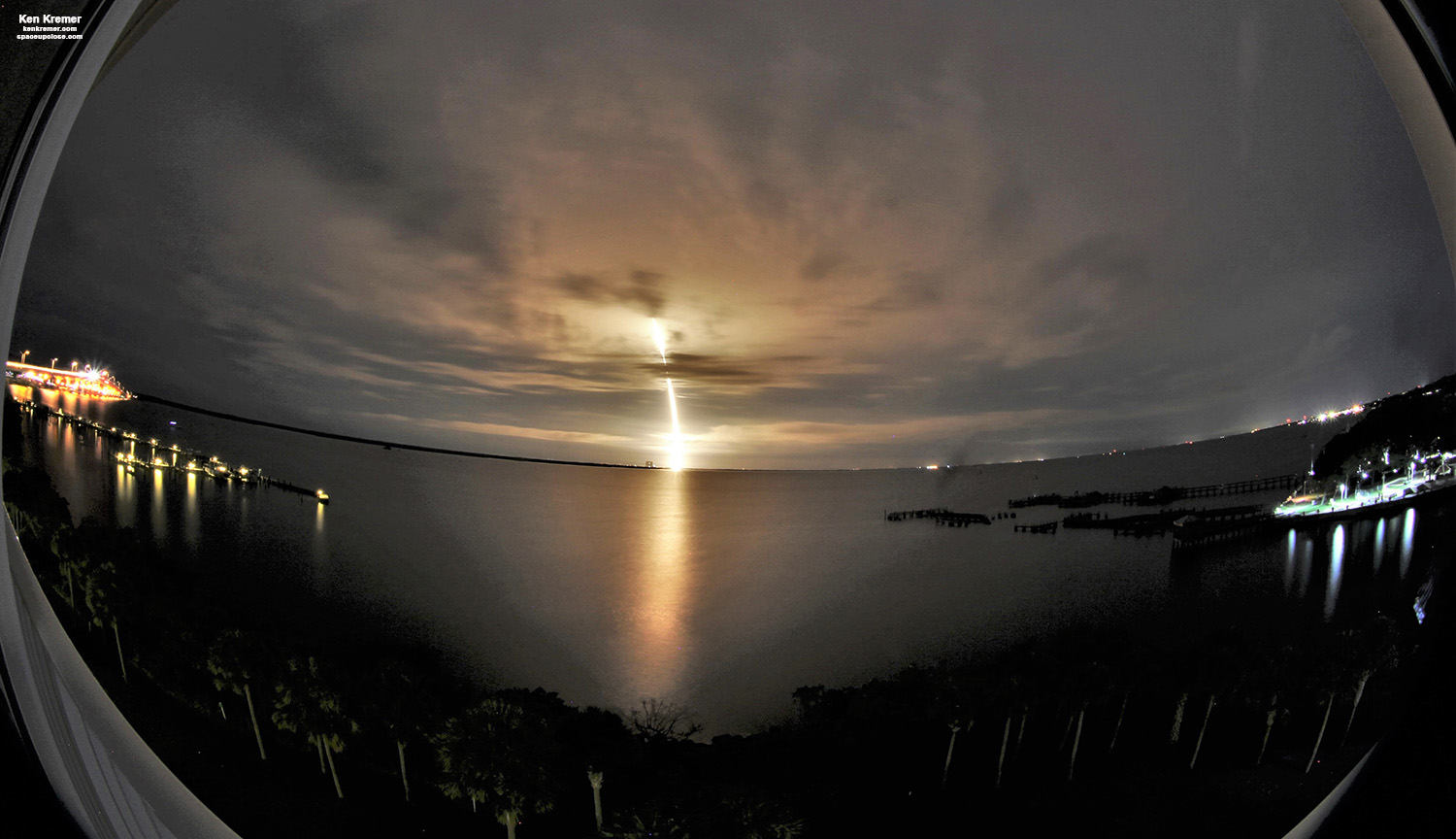 SpaceX Falcon 9 booster 1049 successfully streaked to orbit and carried out the eighth Starlink launch of 60 broadband internet satellites into heavily overcast skies Wednesday evening from the Florida Space Coast.
Although this was the third Falcon 9 first stage to be recycled to a fifth launch – this mission marked the first time a fifth launched booster was safely and softly landed for another recycle to a record breaking sixth launch and landing
Thus this recycled first stage B1049 launched for the fifth time and landed as well on the 'Just Read the Instructions' (JRTI) ocean going droneship some eight and a half minutes after liftoff.
JRTI was prepositioned some 400 miles (640 km) downrange off the Carolinas coast – further noteworthy for being its first deployment on the East Coast. Previously JRTI was used for West Coast landings from Vandenbery Air Force Base, Calif.
The SpaceX pair of fairing catcher ships GO Ms TREE and GO Ms CHIEF also attempted to catch the two fairing halves. They arrived back two days ago. One fairing was apparently caught mid-air while the other was significantly damaged by an ocean splashdown and scooped out of the corrosive Atlantic Ocean waters.
The Falcon 9 was previously used to launch two Starlink missions – most recently on Jan. 6 – as well as the Iridium-8 and Telstar 18 VANTAGE.
The Starlink fleet of broadband internet satellites in low Earth orbit will now grow to some 480 satellites since all went well.
This Starlink launch counts as the 86th Falcon 9 launch and the 9th SpaceX Falco 9 launch of 2020.
The safe landing on JRTI counts as the 53rd to date – by land or by sea since Dec 2015.
My SpaceX Starlink static fire photos were previously featured at WKMG CBS 6 TV News Orlando on May 13, 14 and 15 when the launch was set for May 17 but delayed a few weeks by poor weather resulting from Tropical Storm Arthur until after launch of the historic Demo-2 mission with 2 NASA astronauts: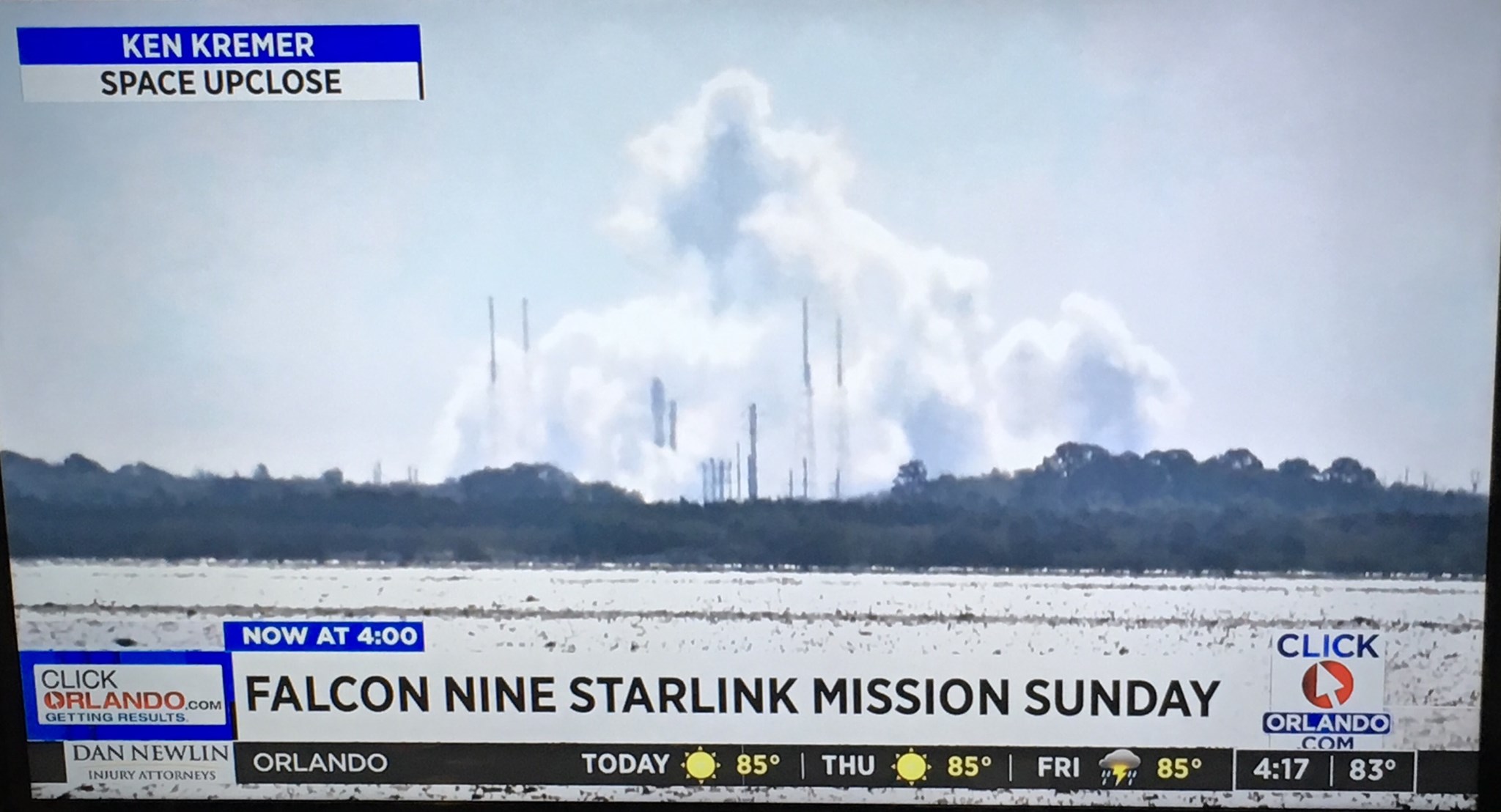 …
Watch Ken's continuing reports about Commercial Crew and Artemis and onsite for live reporting of upcoming and recent SpaceX and ULA launches including Demo-2, Starlink, X-37B, Solar Orbiter, Mars 2020 and more at the Kennedy Space Center and Cape Canaveral Space Force Station.
Stay tuned here for Ken's continuing Earth and Planetary science and human spaceflight news: www.kenkremer.com –www.spaceupclose.com – twitter @ken_kremer – email: ken at kenkremer.com
Dr. Kremer is a research scientist and journalist based in the KSC area, active in outreach and interviewed regularly on TV and radio about space topics.
………….
Ken's photos are for sale and he is available for lectures and outreach events
Ken's upcoming outreach events:
Jun 11: 7 PM, Quality Inn Kennedy Space Center, Titusville, FL. "SpaceX Demo-2 and Starlink launches and NASA/ ULA Atlas V Mars 2020 rover and more launches" Free. In hotel lobby. Photos for sale
x