For SpaceUpClose.com & RocketSTEM
CAPE CANAVERAL, FL – Hope – the history making first Emirates mission to Mars was hurled skywards Sunday, July 19 on a Japanese rocket to begin a seven month interplanetary journey bound for the Red Planet and designed to study  the planets weather and climate, build a foundation for the nations burgeoning space program and inspire the nations young people to study science.
Launch of the Hope Mars Mission on the Japanese H-2A  rocket took place as scheduled, Sunday, July 19,  US time at 5:58:14 p.m. EDT (2158:14 GMT), or Monday July 20th, 2020 at 01:58 am UAE local time, 6:58 a.m. Japan Standard Time from Launch Pad No. 1 at the Yoshinobu launch complex located at the Tanegashima Space Center.
"The Emirates Mars Mission (EMM), the first interplanetary mission undertaken by an Arab nation, has successfully launched the Mars Hope probe from the Tanegashima Space Center in Kagoshima Prefecture, southwestern Japan at 01:58am UAE Time,' said the UAE space agency.
"リフトオフ! 本当に美しい打上げになりました。 Lift off! It was really beautiful launch ! #H2AF42," tweeted  rocket builder MHI.
リフトオフ! 本当に美しい打上げになりました。
Lift off! It was really beautiful launch ! #H2AF42 pic.twitter.com/44wkSBTd3e

— MHI Launch Services (@MHI_LS) July 19, 2020
https://twitter.com/MHI_LS/status/1284978098757234688
'A New Hope' is how some dubbed the mission sponsored by the government of the United Arab Emirates (UAE) ) that finally lifted off Sunday evening US time, Monday morning Japanese time after a series weather delays postponed the mission.
Congratulations came quickly from around the world including from NASA Administrator Jim Bridenstine.
Congrats to the team that worked on @HopeMarsMission. It's truly amazing what @UAESpaceAgency & @MBRSpaceCentre have accomplished in such a short time. Hope is exactly what the world needs and thank you to the UAE & @MHI_Group for inspiring all of us: https://t.co/cZ389gpzdR pic.twitter.com/ktLsIDzWsq

— Jim Bridenstine (@JimBridenstine) July 19, 2020
"Following lift off from the launch platform, a two-stage 53-meter Mitsubishi MHI-2A reached a velocity of 38,000 km/h (Mach 35) to place the probe into earth's orbit," reported the UAE Mohammed bin Rashid Space Centre (MBRSC).
"The probe now commences a 493,000,000 Km journey to reach and orbit the Red Planet, with MOI (Mars Orbit Insertion) due to take place in February 2021."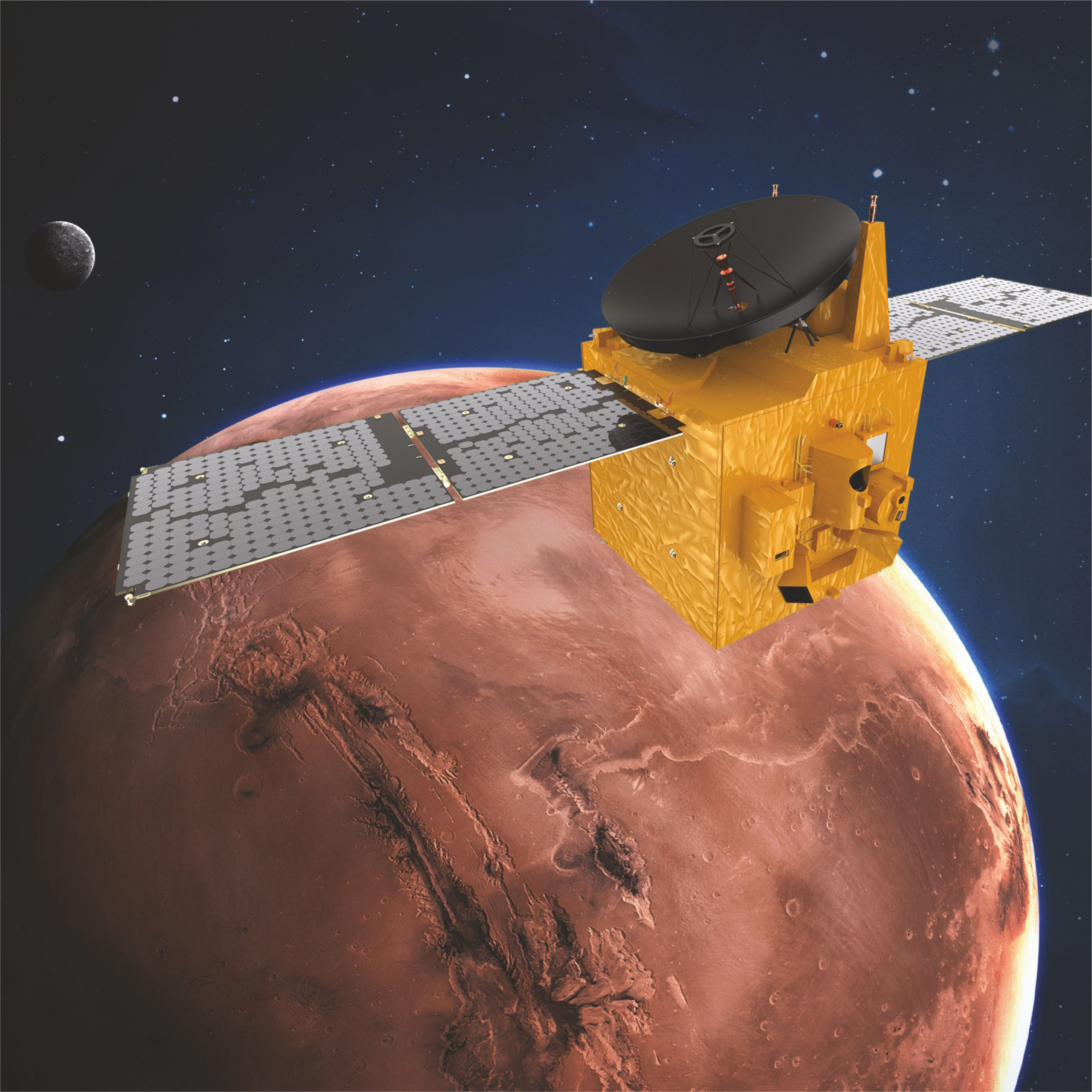 Artists concept of UAE Hope Mars Orbiter. Credit: UAE
Hope aims to build the first full picture of Mars' climate throughout the Martian year.
"This has been a defining moment on our six-year journey to build and launch Mars Hope" said Omran Sharaf, EMM Project Director at the Mohammed bin Rashid Space Centre.   .
The Hope Mars Mission began in 2014.
"The team at MBRSC are delighted and celebrating, obviously, but there's a lot of work yet to go. We're in the Launch and Early Operations (LEOP) phase of the mission and commencing our seven-month cruise to Mars. The Hope probe has performed perfectly so far and we're in great shape."
Hope's mission is focused on atmospheric dynamics. It will explore the atmosphere of Mars globally while sampling both diurnal (daily) and seasonal timescales, a unique feat for any Mars mission.  Hope will support the first complete picture of Mars' weather and for the first time, scientists in over 200 universities and institutes globally will have access to a holistic view of the Martian atmosphere at different times of the day, through different seasons.
If all goes well the Hope Mars Orbiter will be the first mission from the Arab world to orbit another planet
EMM or Hope is funded by the UAE Space Agency and The Mohammed Bin Rashid Space Centre to the tune of about $200 million.
In addition to the science another goal is to "Get a probe to Mars by the Emirates' 50th anniversary in 2021."
The Mini Cooper sized probe has a mass of approximately 2,976-pound (1,350-kilogram)
After a seven-month 493,500,000 km interplanetary journey the EMM Hope Mars Orbter will arrive at the Red Planet in Feb. 2021 – around the same time as NASA's Mars 2020 Perseverance rover mission.
Science Goals:
Hope's mission is focused on atmospheric dynamics. It will explore the atmosphere of Mars globally while sampling both diurnal (daily) and seasonal timescales. (Never been done by any previous Mars mission). Understanding atmospheres of other planets, allows us to better understand our planet (since there is another sample to compare with) and better understand other planets in the universe.
Hope is equipped with three science instruments:
EXI – The Emirates eXploration Imager is a digital camera that will capture high resolution images of Mars  along with measuring water ice and ozone in the lower atmosphere through the UV bands.
EMIRS – The Emirates Mars InfraRed Spectrometer will to measure global distribution of dust, ice cloud, and water vapor in the Martian lower atmosphere.
EMUS – The Emirates Mars Ultraviolet Spectrometer will measure oxygen and carbon monoxide in the thermoshphere and the variability of hydrogen and oxygen in the upper atmosphere.
Partners on the EMM team:
The Hope Probe was designed and developed by the EMM team at MBRSC together with Knowledge Transfer partners at the University of Colorado, Boulder; Arizona State University and the University of California, Berkley.
The Laboratory for Atmospheric and Space Physics (LASP) at University of Colorado, Boulder is the primary knowledge transfer partner for mission design, spacecraft, and EXI/EMUS instrument development, testing, science team/apprenticeship, and operations
Arizona State University is the knowledge transfer partner for EMIRS instrument development and science team/apprenticeship
The University of California, Berkeley Space Sciences Lab (SSL) is the knowledge transfer partner for Science team/apprenticeship & EMUS detectors
Watch Ken's continuing reports about Commercial Crew and Artemis and onsite for live reporting of upcoming and recent SpaceX and ULA launches including Demo-2, Starlink, X-37B, Solar Orbiter, Mars 2020 and more at the Kennedy Space Center and Cape Canaveral Space Force Station.
Stay tuned here for Ken's continuing Earth and Planetary science and human spaceflight news: www.kenkremer.com –www.spaceupclose.com – twitter @ken_kremer – email: ken at kenkremer.com
Dr. Kremer is a research scientist and journalist based in the KSC area, active in outreach and interviewed regularly on TV and radio about space topics.
………….
Ken's photos are for sale and he is available for lectures and outreach events
x