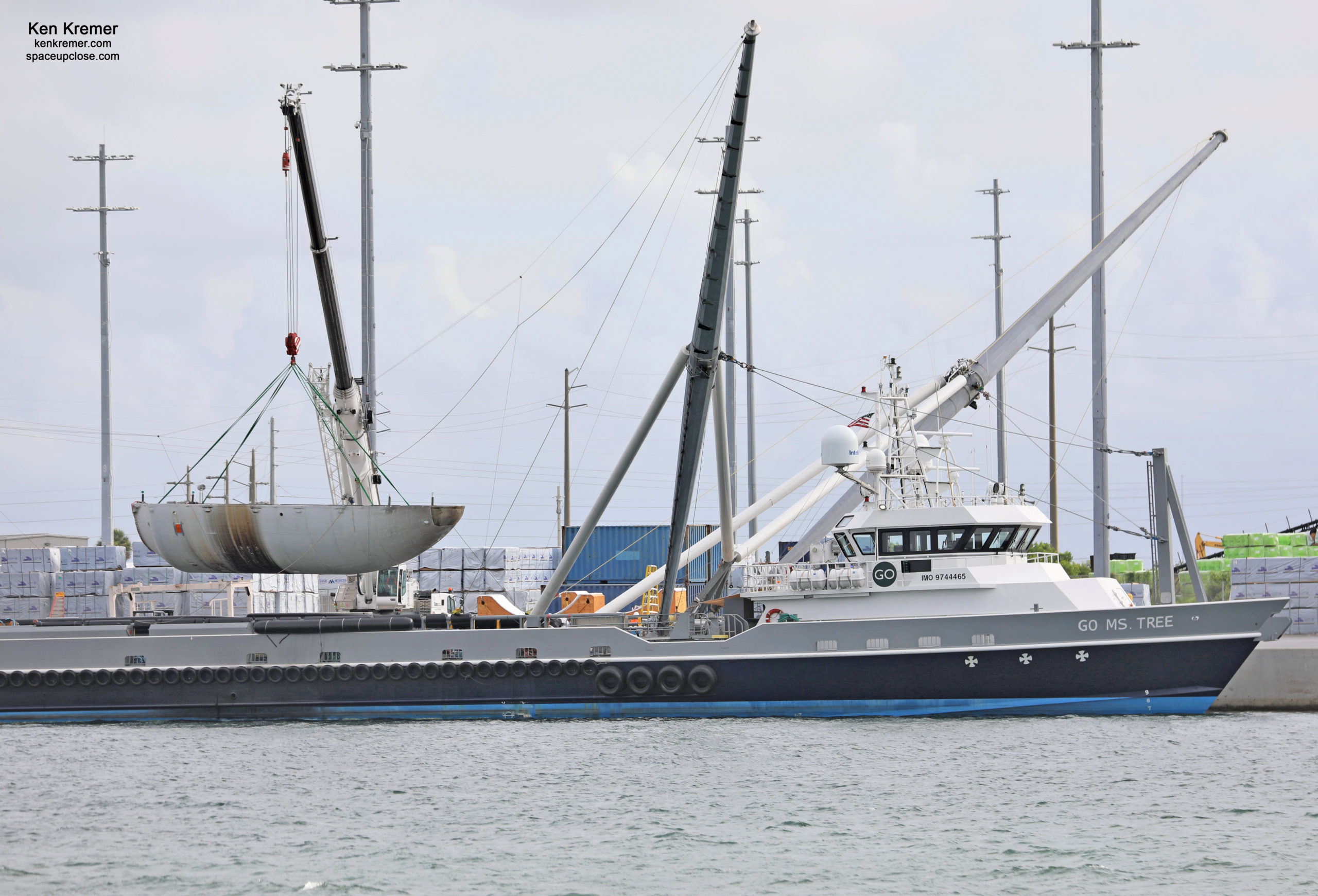 For SpaceUpClose.com & RocketSTEM
PORT CANAVERAL, FL –  The first ever dual payload fairings  halves caught by SpaceX boats from the same launched nose cone – originating from Mondays Falcon 9 rocket launch of South Korea's first dedicated military satellite July 20 – returned to Port Canaveral overnight in darkness and were subsequently hoisted off mere hours later this morning Wednesday, July 22, onto cradled transporters after daylight dawned and driven away in rapid succession – presumably for eventual reuse.
The dynamic duo of caught fairings arrived back in Port Canaveral this morning July 22, a day and a half after they launched the South Korean Anasis 2 military communications satellite encapsulated inside aboard a flight-proven SpaceX Falcon 9 rocket at 5:30 p.m. EDT (2130 GMT) Monday, July 20 from Space Launch Complex 40 (SLC-40) at Cape Canaveral Space Force Station in Florida.
Although somewhat scorched as expected from their high speed whirlwind trip to space and back while enduring extreme high temperatures both fairings appeared to be fully intact – as the spectacular scene unfolded this morning of a duo of mid-air caught nose cone halves were craned off the highly maneuverable, fast moving and uniquely designed SpaceX twin fairing catching ships named GO Ms. Tree and GO Ms. Chief.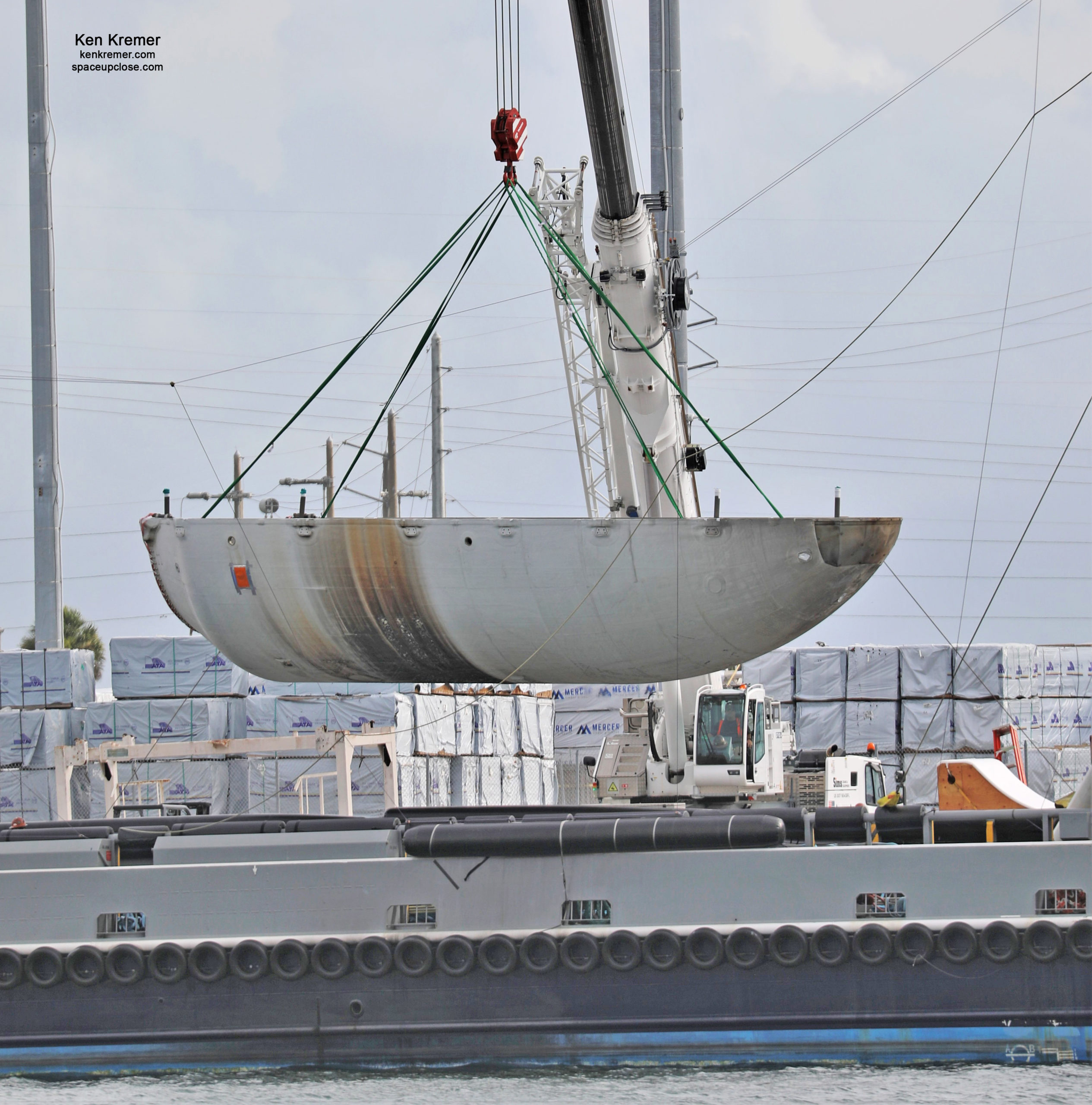 And there were NO longer any protective blue tarps covering the fairings or obscuring the view – as they had been removed after the overnight Port arrival to allow the crane crews unfettered and safe access.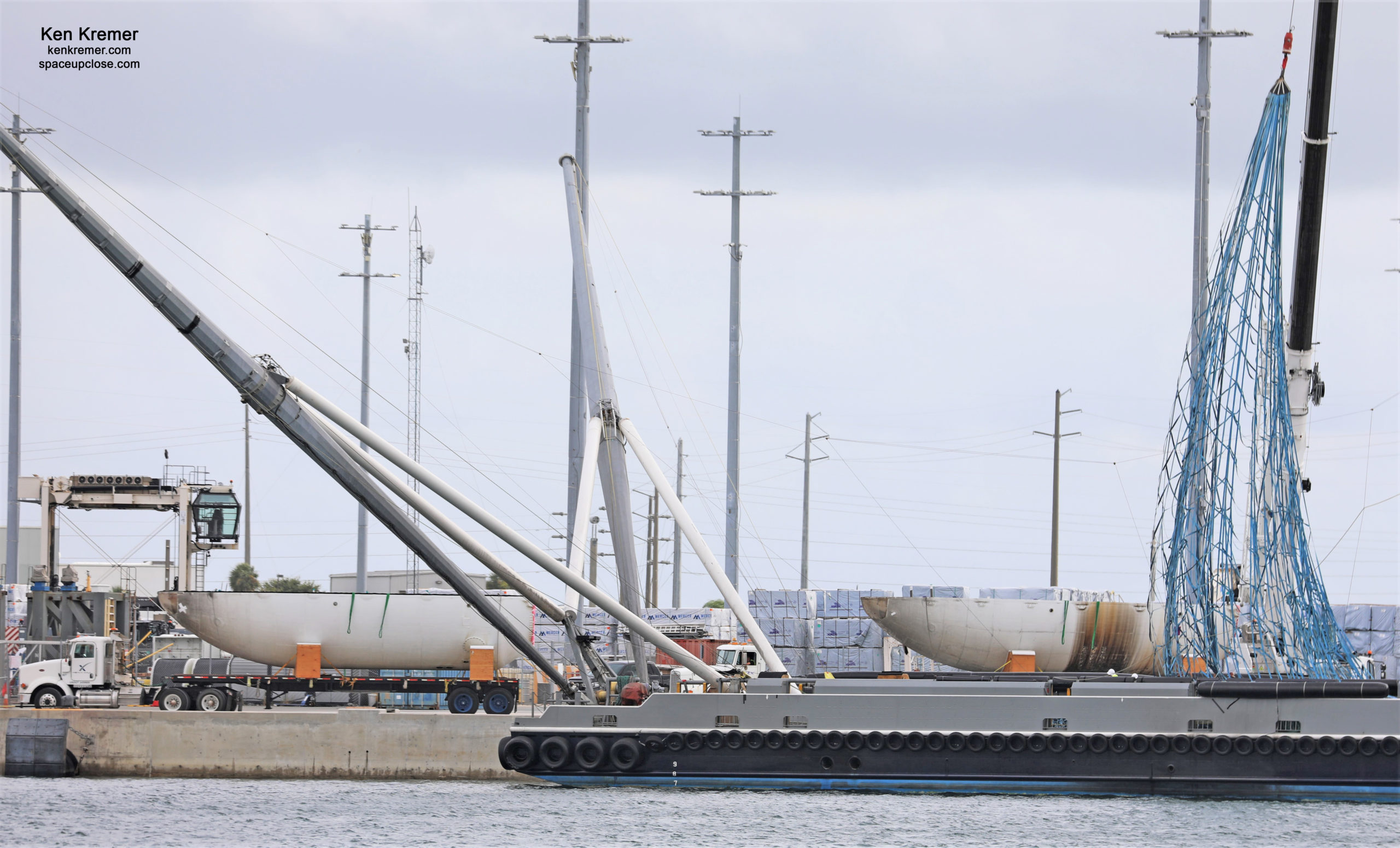 The first fairing half was hoisted off GO Ms. Chief by the crane crew around 815 a.m.
The second half of the Anasis-II nose cone was similarly hoisted off GO Ms. Tree starting at 8:45 a.m. and gently lowered horizontally onto the cradled transport vehicles – as I observed first hand from across the Port Canaveral channel.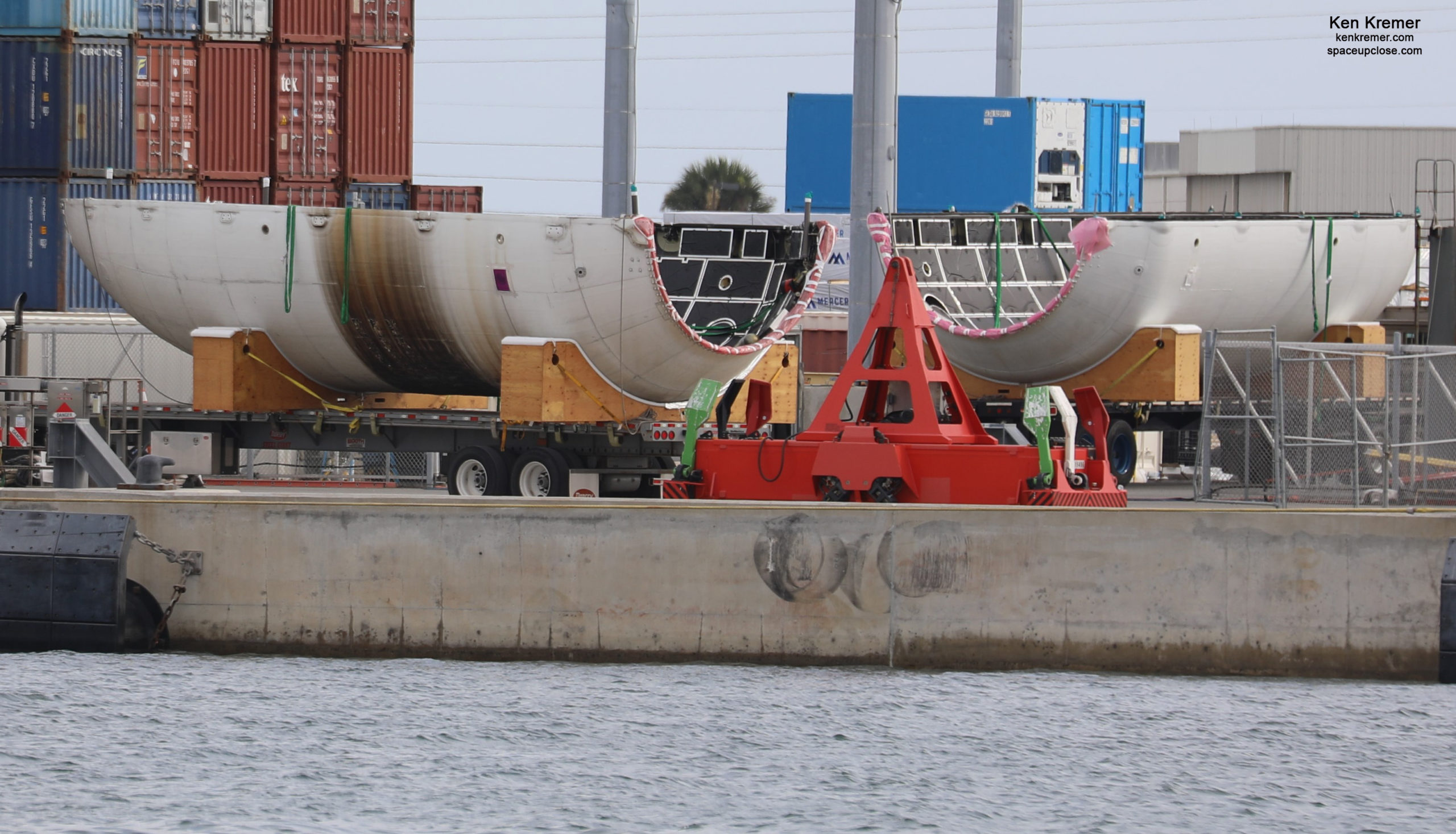 Enjoy our Space UpClose photo gallery taken this morning, July 22, of SpaceX's stunning fairing recovery achievement following return to Port Canaveral.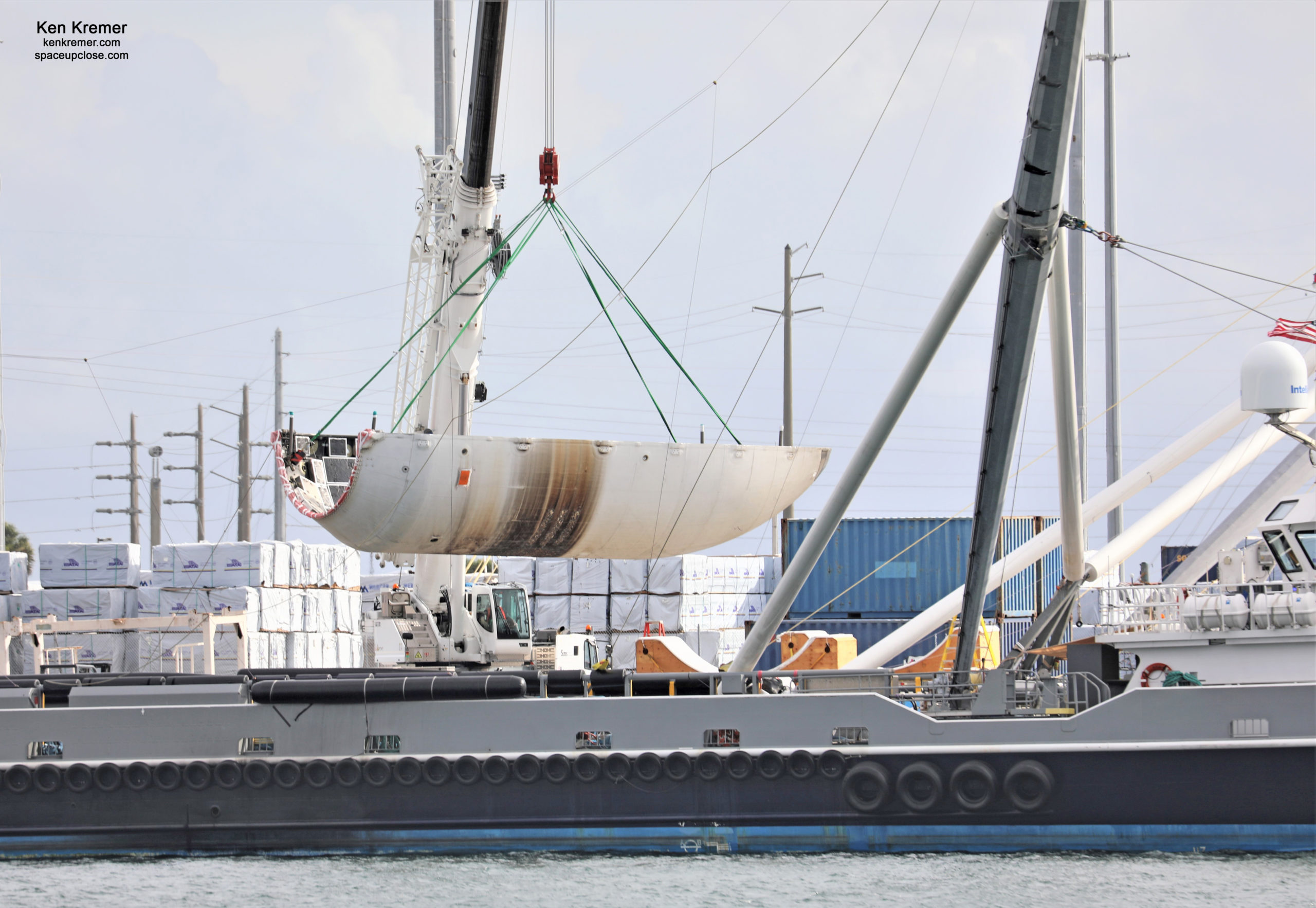 And then less than an hour later it was time for 'All aboard the Fairing Train Express'  as workers got in gear and drove to line up the fairing carrying vehicles 1 by 1 in a row caravan style.
At one point the caught nose cone halves were picturesquely parked beside a rigging net used for the mid-air catches that was coincidentally hoisted vertical by crane – making for quite see herein.
Then both vehicles departed in such a way angled side by side horizontally I was able to simultaneously look directly inside the fairing halves for an exquisite view to see the acoustic and insulation padding lining the interior of each fairing from the bottom to the top of each nose cone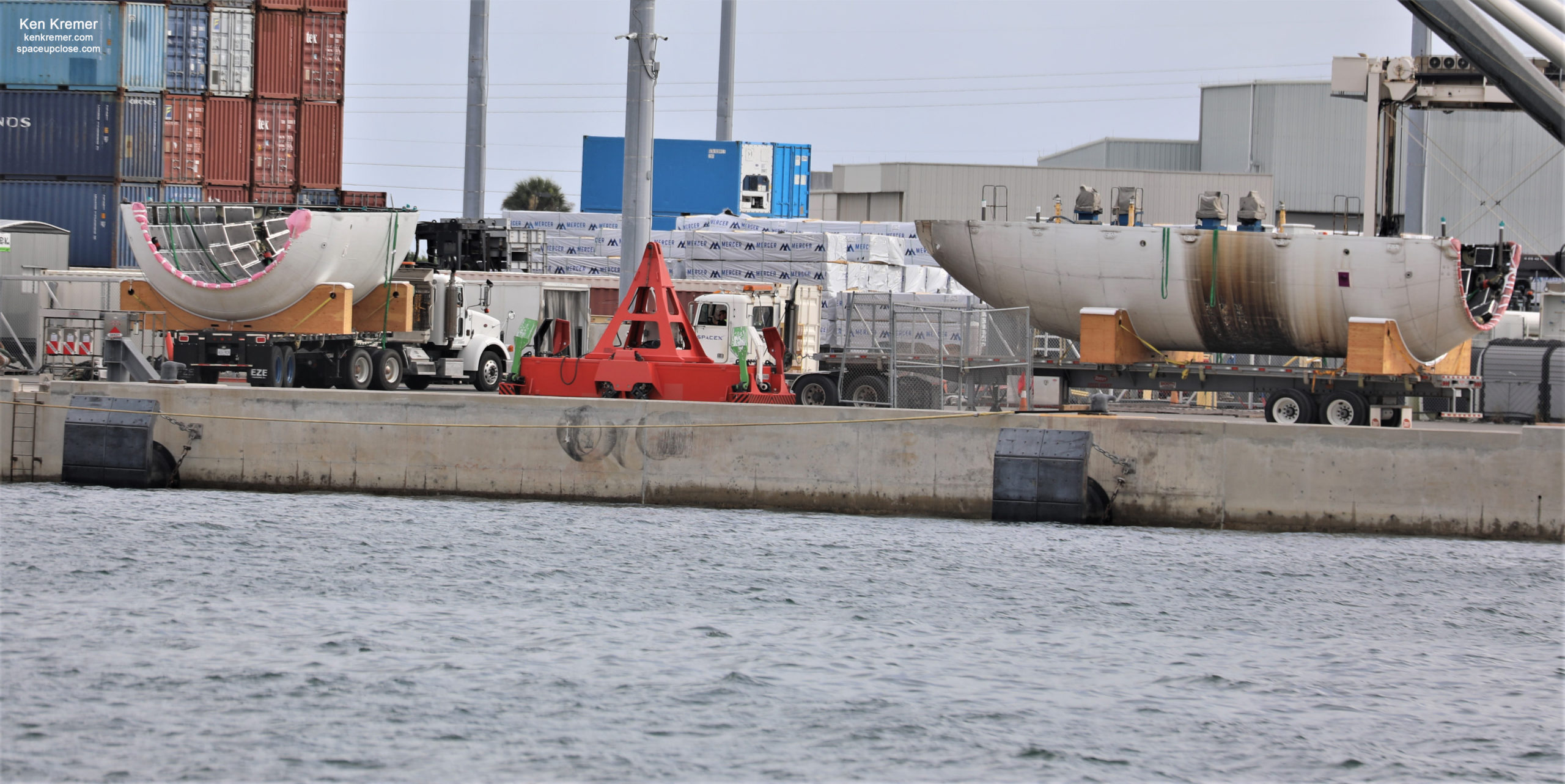 Before daylight both ships had sailed into Port Canaveral and berthed along North Cargo Pier 6 where the SpaceX fleet normally docks when recovered boosters return on droneships.
Prior to the Anasis-II launch the pair of ships had been deployed from Port Canaveral and prepositioned some 480 miles (775 kilometers) east of Cape Canaveral in the Atlantic Ocean.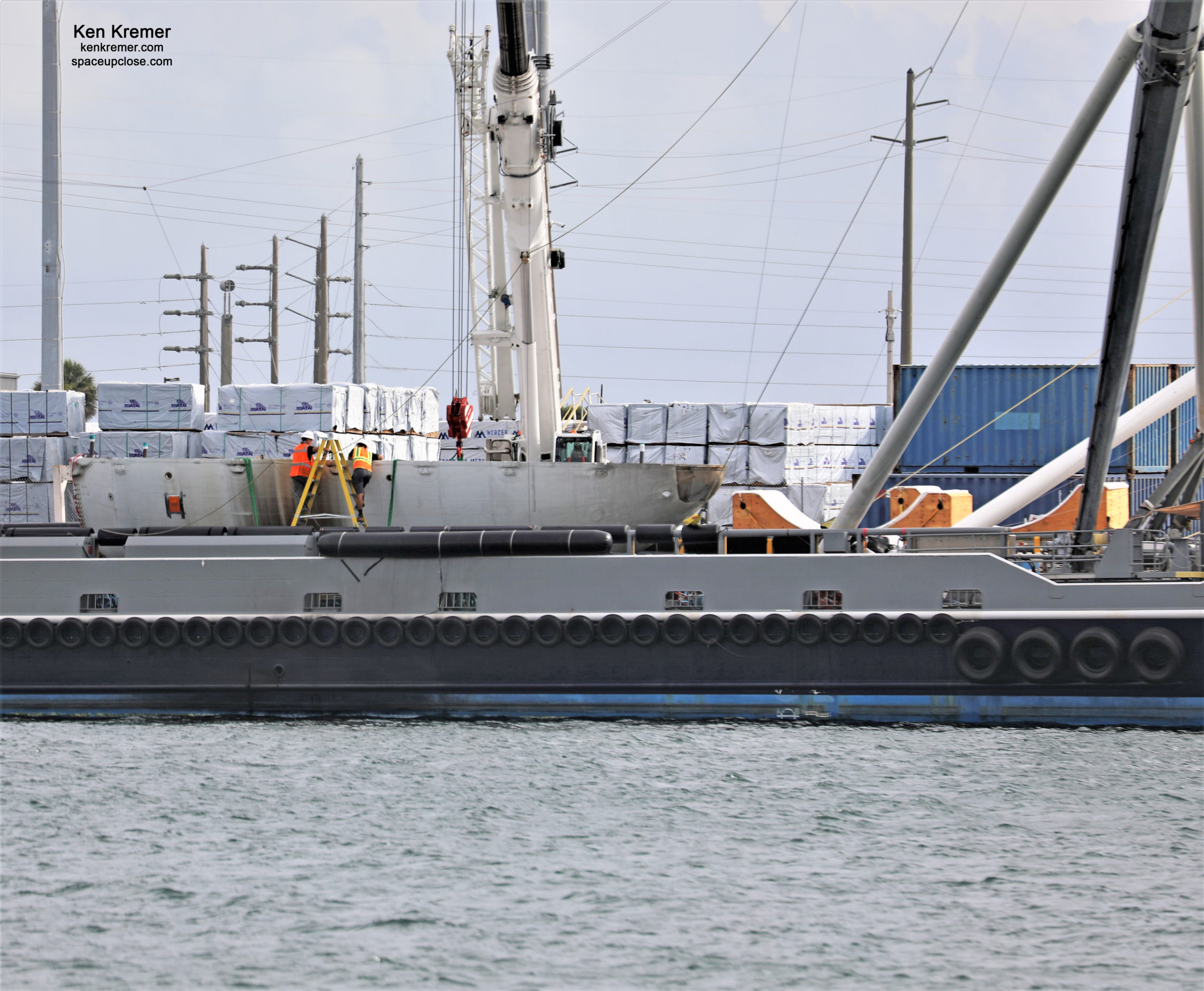 What was once considered amazing science fiction is now confirmed science fact – and incredible to witness first hand from my technical background as a science researcher.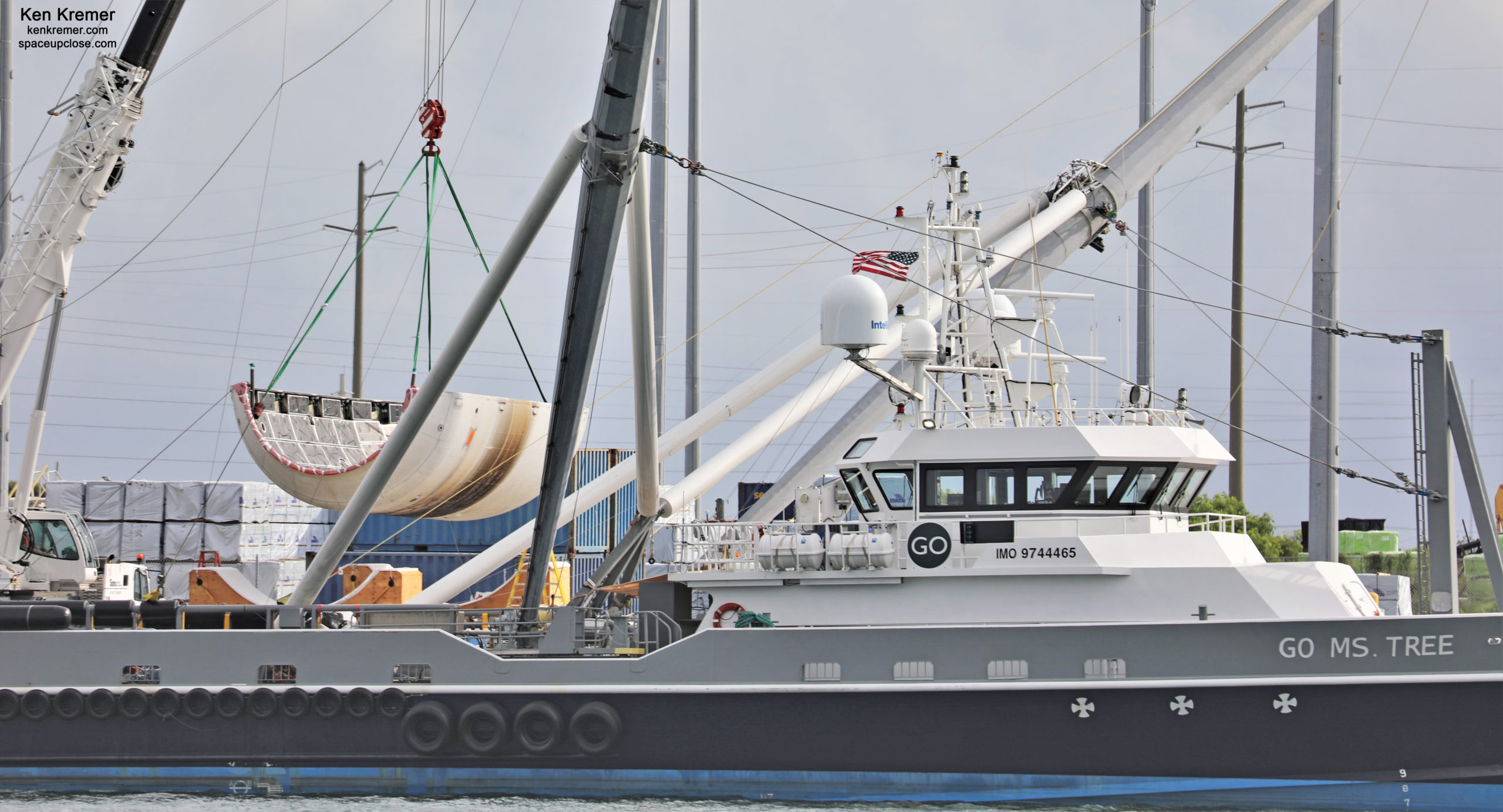 This was the second successful launch and landing for this particular Falcon 9 first stage booster B1058.2 – which by the way had flown once previously on the history making flight that successfully launched the Demo-2 crew of two NASA astronauts Bob Behnken and Doug Hurley to the International Space Station (ISS) on May 30 from Florida.
By the way Demo-2 was the first launch of humans from US soil in almost 9 years!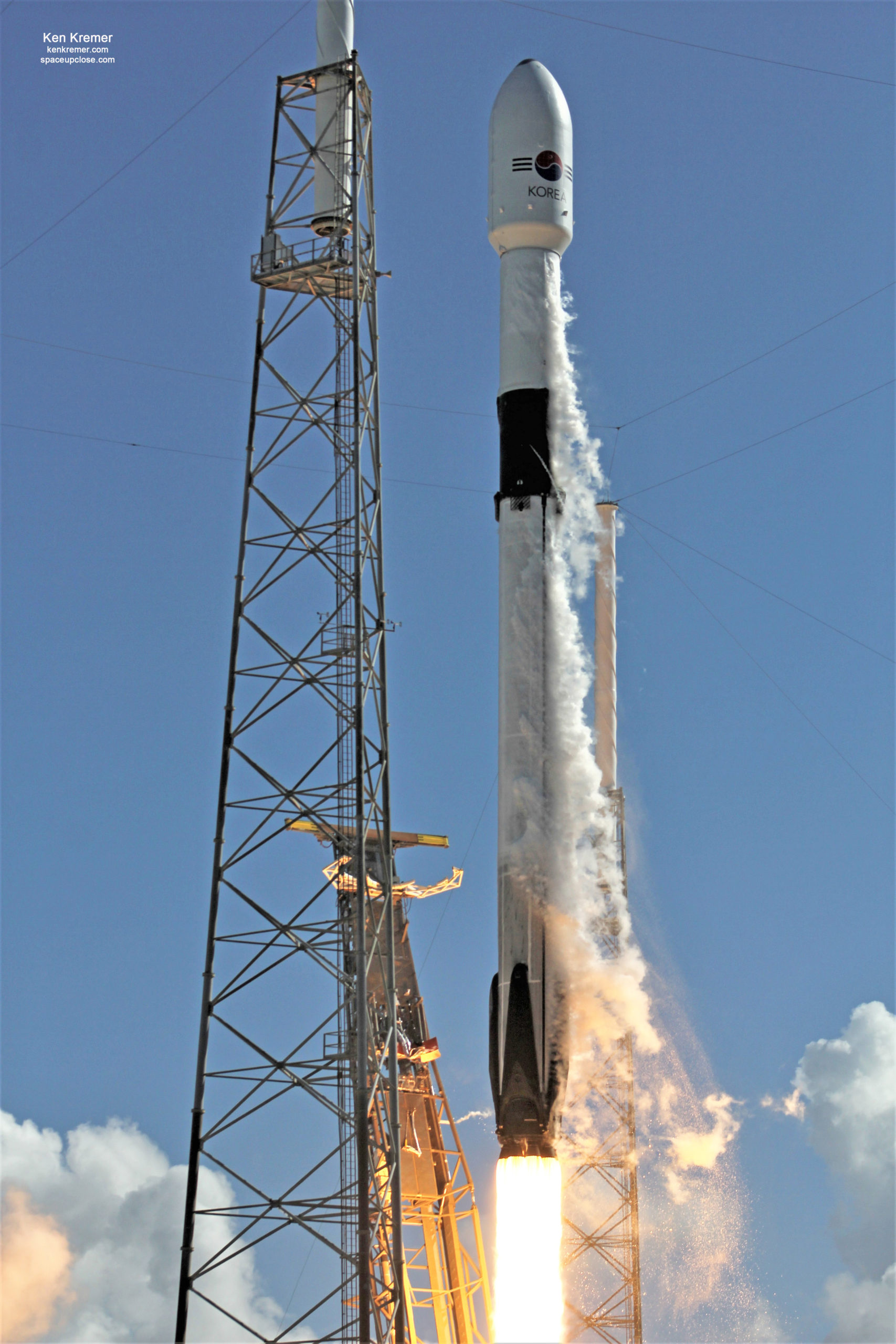 Watch these fairing catch videos of both nose cone halves released by SpaceX:
Videos of yesterday's catch of both fairing halves pic.twitter.com/yzTDFzlulL

— SpaceX (@SpaceX) July 21, 2020
Previously SpaceX had only been able to catch one fairing on three different occasions.
The launch of the Anasis-II national security military communications satellite to geostationary orbit for South Korea will enable its use to help with defense needs on the Korean peninsula and the ever present threats from North Korea under the leadership of Kim Jong Un.
The satellite was built by Airbus as part of an offset package between Lockheed Martin and the South Korean government as an exchange for the purchase of 40 F-35 combat aircraft jets back in 2014.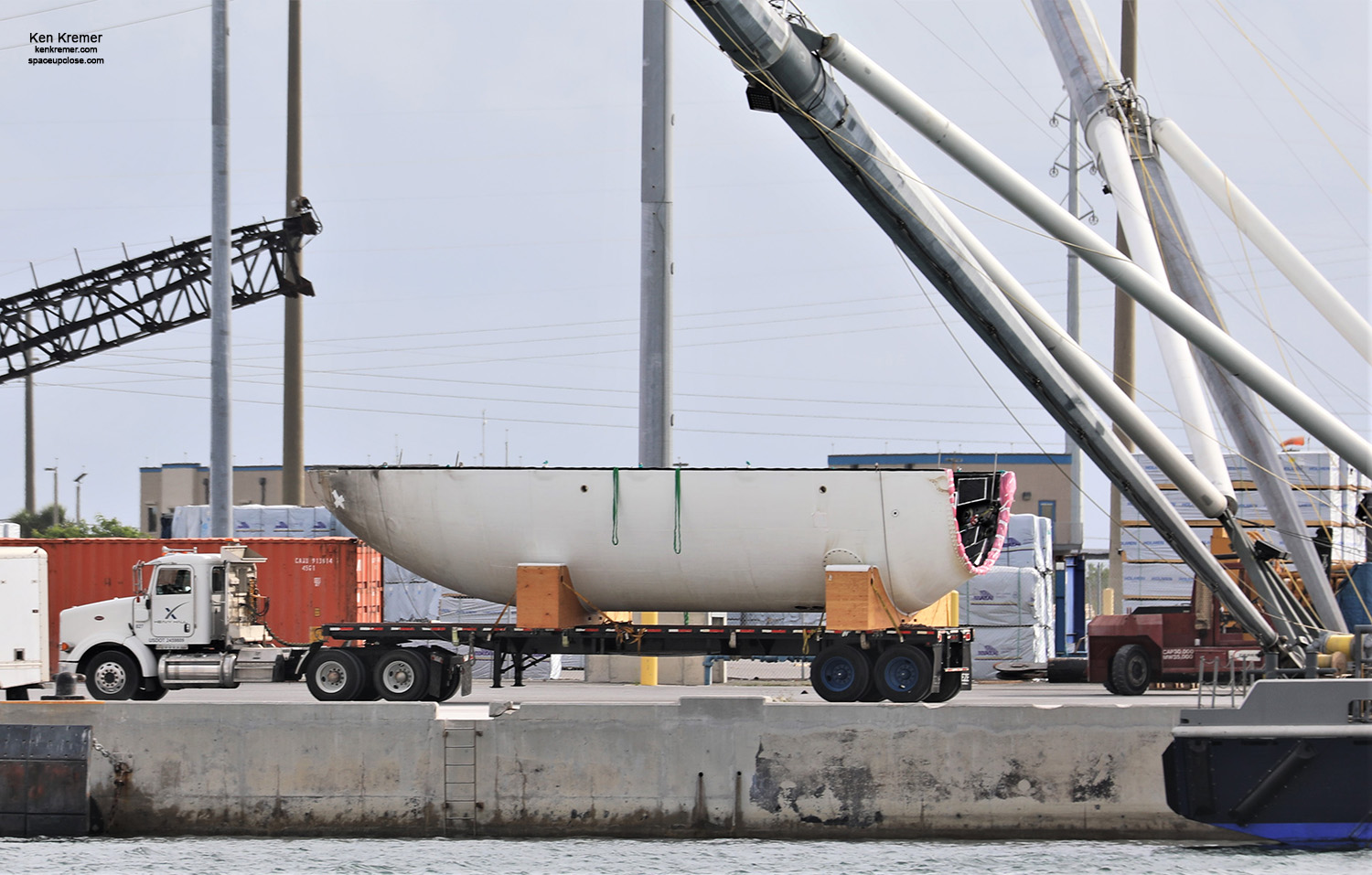 My commentary about the Anasis-II mission was featured on WESH 2 NBC TV New Orlando on July 20 and 21 along with my prelaunch photos as well as WFTV ABC TV News Orlando on July 20 and 21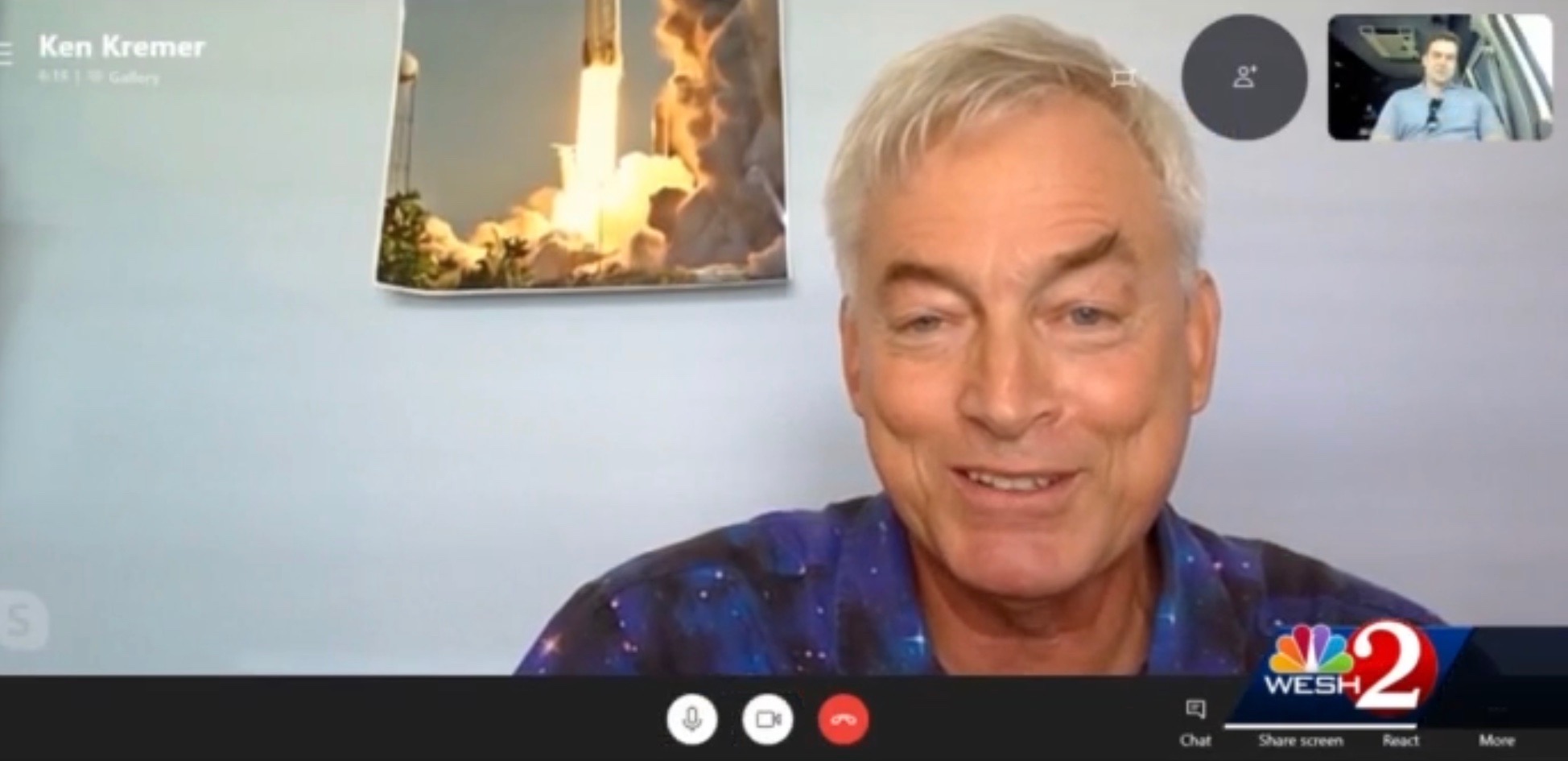 My launch and prelaunch photos were featured at Spaceflight Now
https://spaceflightnow.com/2020/07/20/spacex-delivers-south-koreas-first-military-satellite-into-on-target-orbit/
A SpaceX Falcon 9 rocket launched South Korea's first dedicated military satellite Monday, helping fulfill an agreement between Lockheed Martin & the South Korean government in exchange for Korea's purchase of F-35 fighter jets (?: @ken_kremer).

STORY: https://t.co/NoacvRBfXh pic.twitter.com/GWSX22mvA9

— Spaceflight Now (@SpaceflightNow) July 21, 2020
Today's Falcon 9 launch window at Cape Canaveral opens in two hours.

SpaceX will soon complete final preparations for fueling of the Falcon 9 rocket on pad 40.

The rocket is set to launch with South Korea's Anasis 2 military satellite (?: @ken_kremer). https://t.co/1vfSxib8EF pic.twitter.com/jCVaIQj5WM

— Spaceflight Now (@SpaceflightNow) July 20, 2020
Watch Ken's continuing reports about Commercial Crew and Artemis and more onsite for live reporting of upcoming and recent SpaceX and ULA launches including Demo-2, Starlink, X-37B, Solar Orbiter, Mars 2020 and more at the Kennedy Space Center and Cape Canaveral Space Force Station.
Stay tuned here for Ken's continuing Earth and Planetary science and human spaceflight news: www.kenkremer.com –www.spaceupclose.com – twitter @ken_kremer – email: ken at kenkremer.com
Dr. Kremer is a research scientist and journalist based in the KSC area, active in outreach and interviewed regularly on TV and radio about space topics.
………….
Ken's photos are for sale and he is available for lectures and outreach events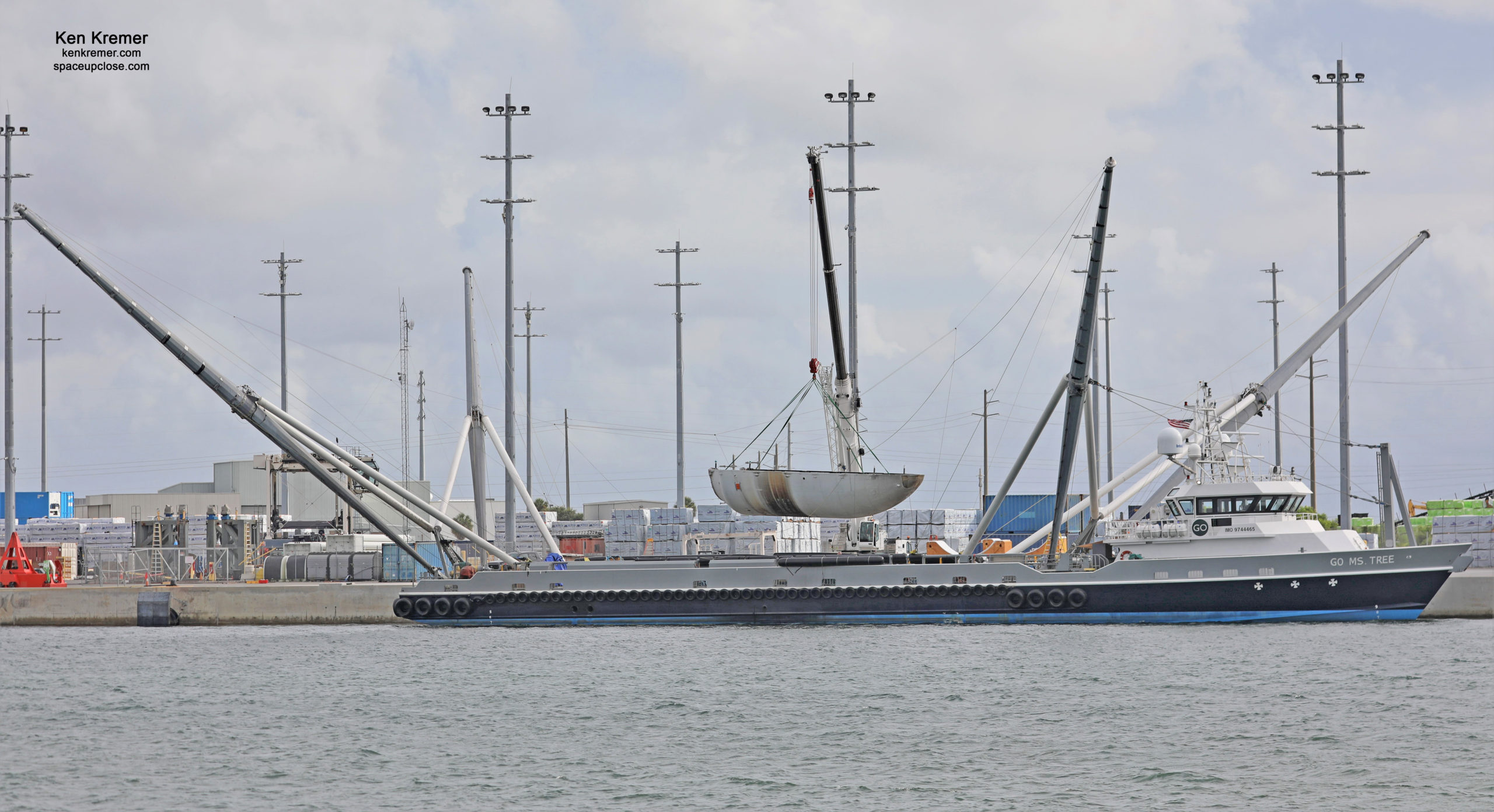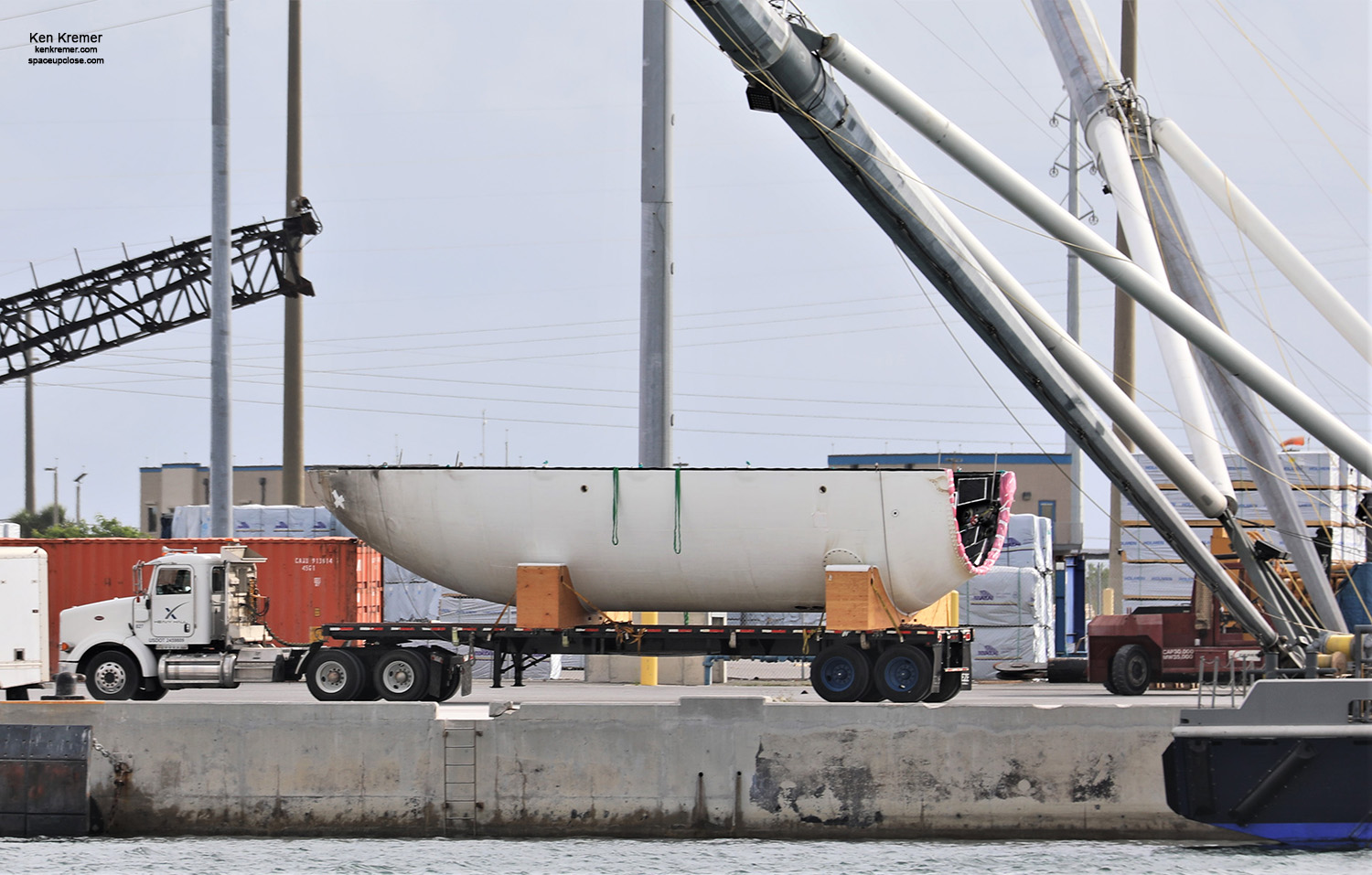 x