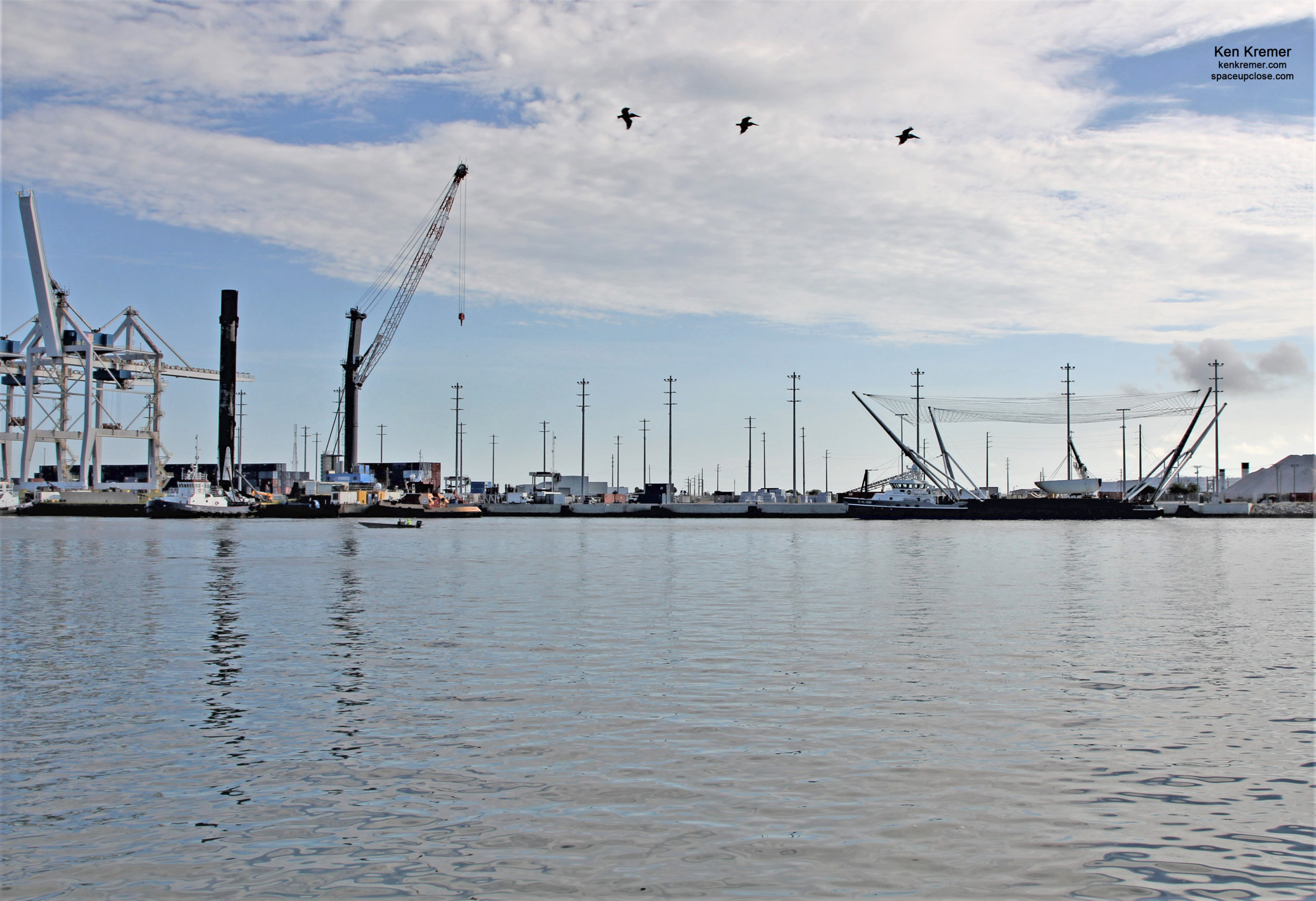 For SpaceUpClose.com & RocketSTEM
PORT CANAVERAL, FL –  In another remarkable space hardware recycling feat the SpaceX team managed to recover both nose cone halves as well as the Falcon 9 1st stage from the now 5x flown and landed booster following Fridays beautiful post-midnight blastoff of the 10th batch of their Starlink broadband internet satellites to orbit on Aug. 7 from the Sunshine State.
Both payload fairing halves and the booster all arrived triumphantly intact back into Port Canaveral on Saturday, Aug. 8 and Monday, Aug. 10, respectively – thereby setting up a 'Dramatic Day of Action' by SpaceX involving simultaneous payload fairing and 1st stage processing and hoisting by multiple SpaceX work crews and making for a space spectacular in full public view in the channel waters of Port Canaveral.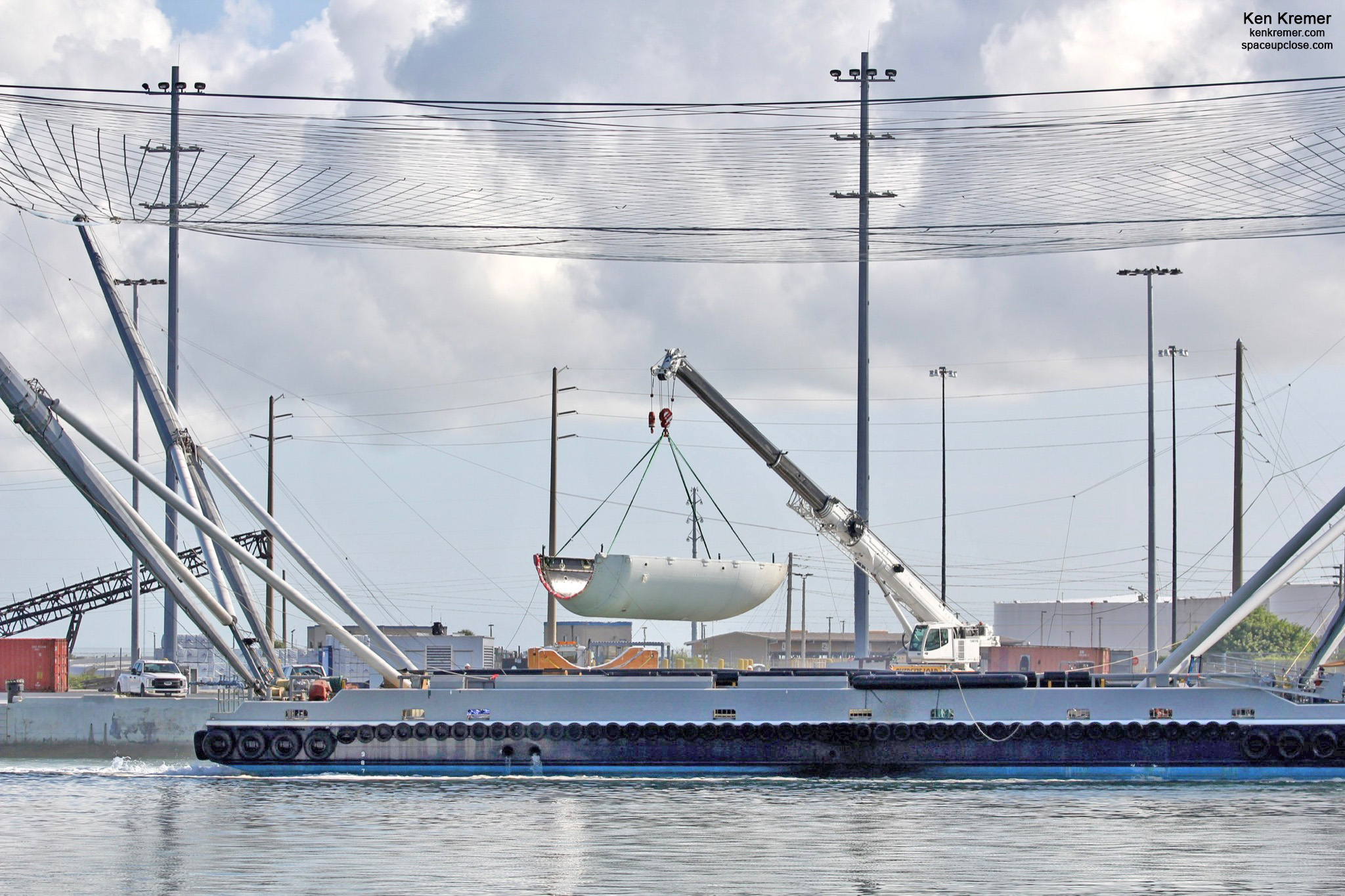 Following liftoff both fairings had to be scooped out from the corrosive Atlantic Ocean waters by the special catcher ships Go Ms. Tree  and Go Ms. Chief – using their secondary nets.  Both boats are outfitted with primary nets resembling a catchers mitt and held outstretched on 4 giant telescoping booms.
The nose cone halves were not caught mid-air this time, unlike last time, after making a parachute assisted guided splashdown some 40 minutes after launching soon after midnight Friday from Launch Complex- 39A on NASA's Kennedy Space Center.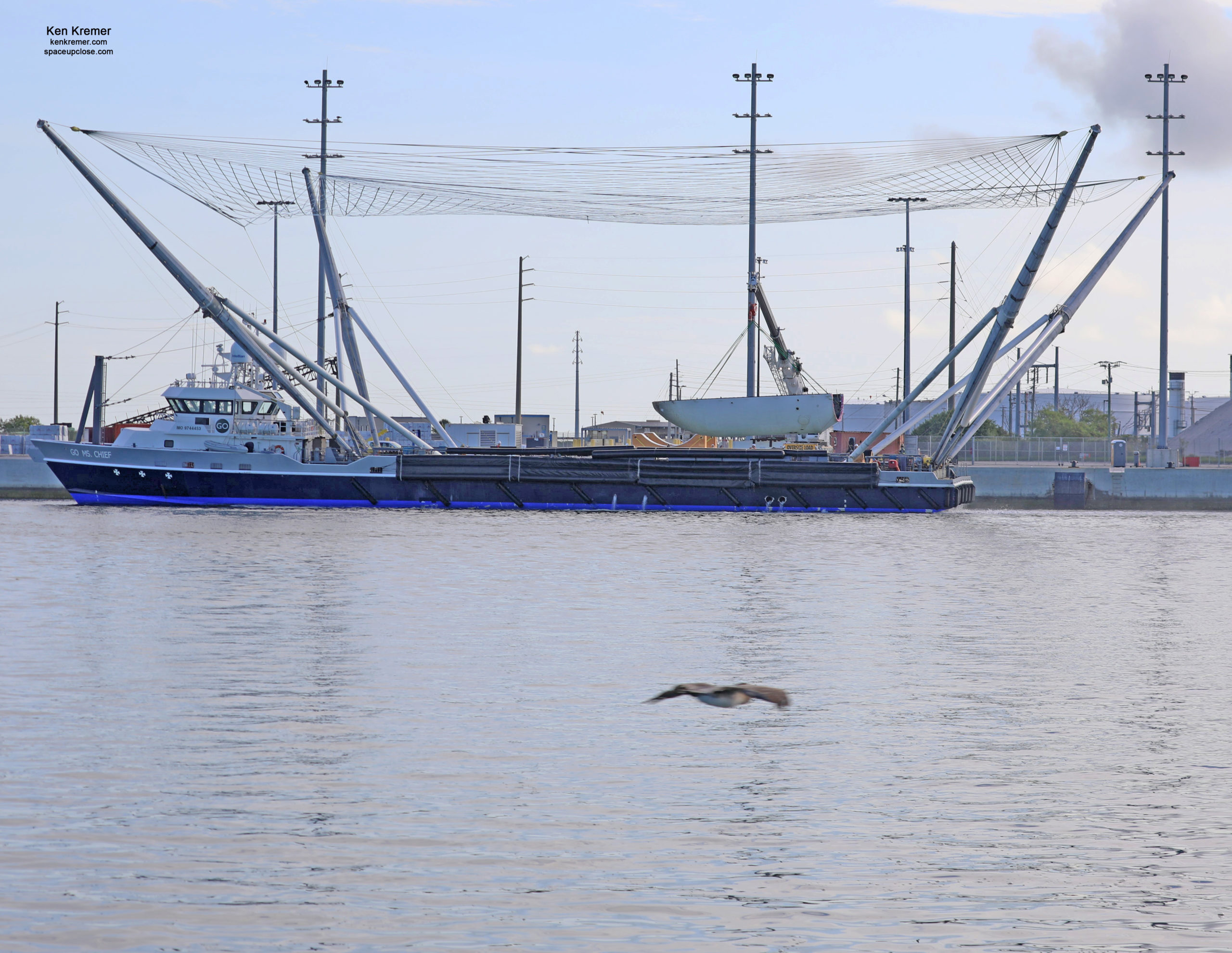 Go Ms. Tree  and Go Ms. Chief sailed into Port Canaveral on Sat., Aug. 8 and docked side by side at the the north cargo pier 6. However no work to hoist them off was conducted over the weekend – partially due to poor weather.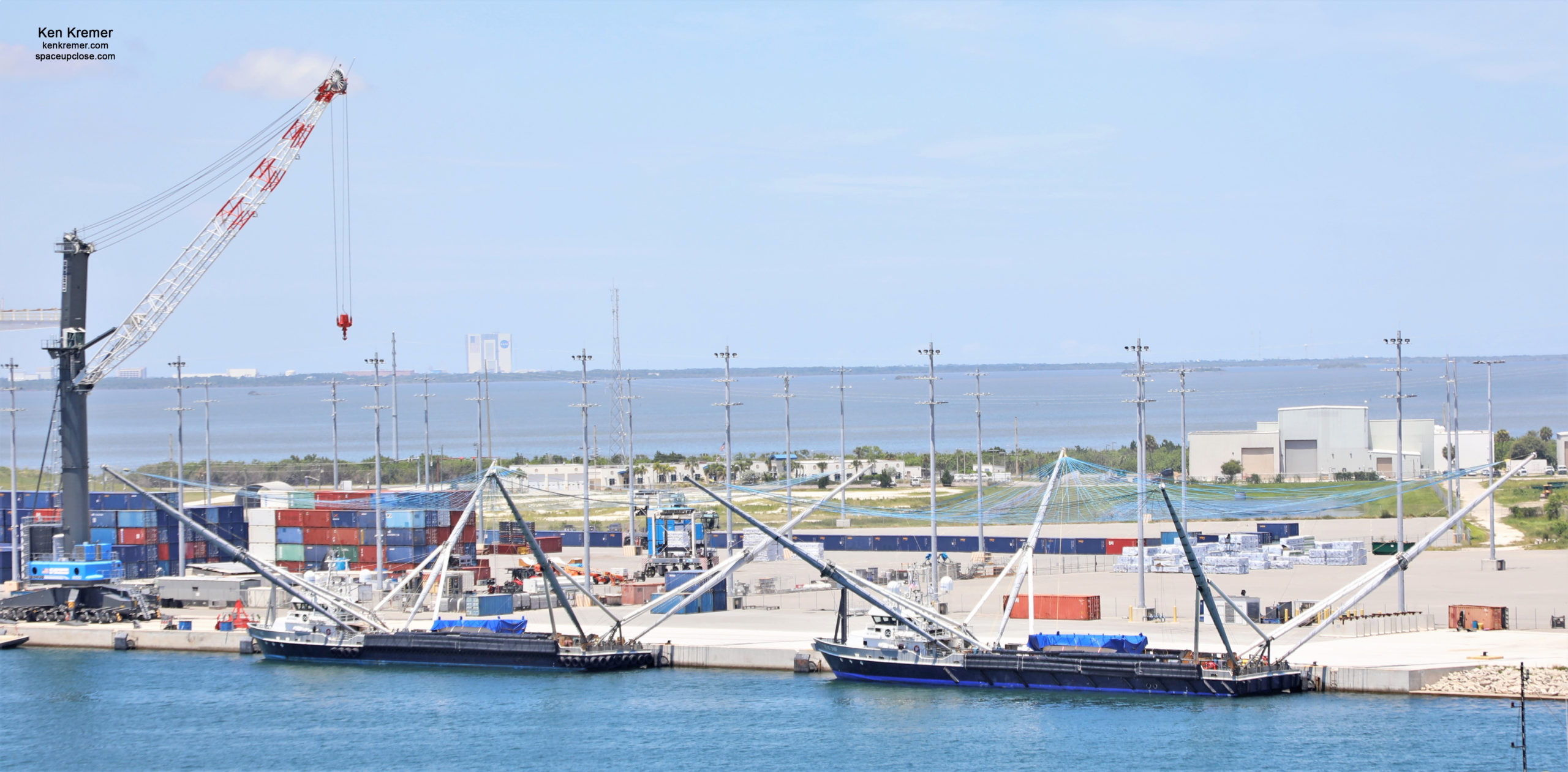 Furthermore one of the fairing boats also had to undock and move to another spot to make way for arrival of a giant cargo ship on Sunday – as well as for OCISLY on Monday with the recovered Falcon 9 booster on deck.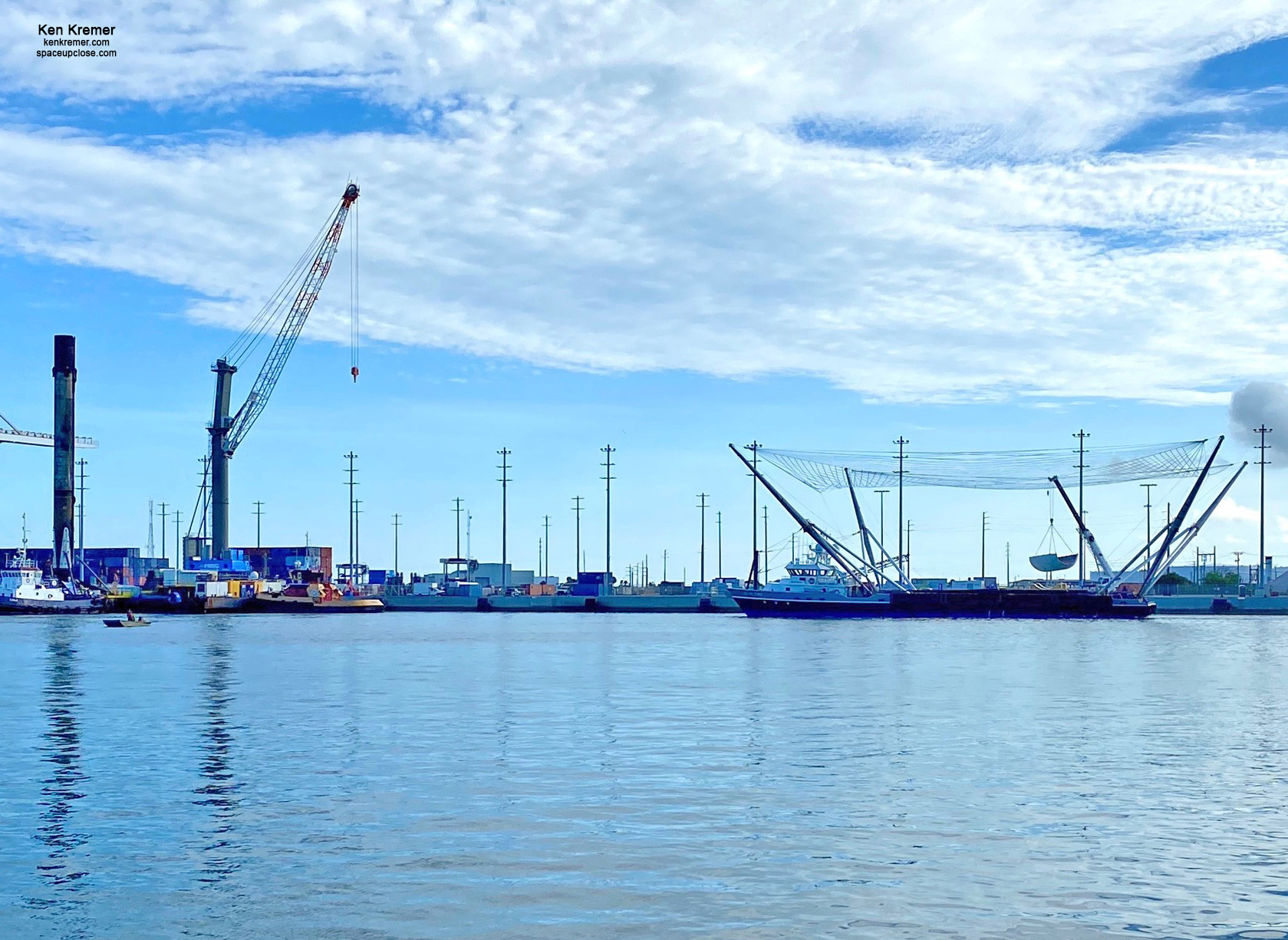 Finally Monday morning Aug. 10 began with the gloriously colorful Space Coast sunrise arrival of the 5x recycled SpaceX Falcon 9 1st stage booster atop the veteran OCISLY droneship into Port Canaveral barely 3 days after Fridays beautiful blastoff.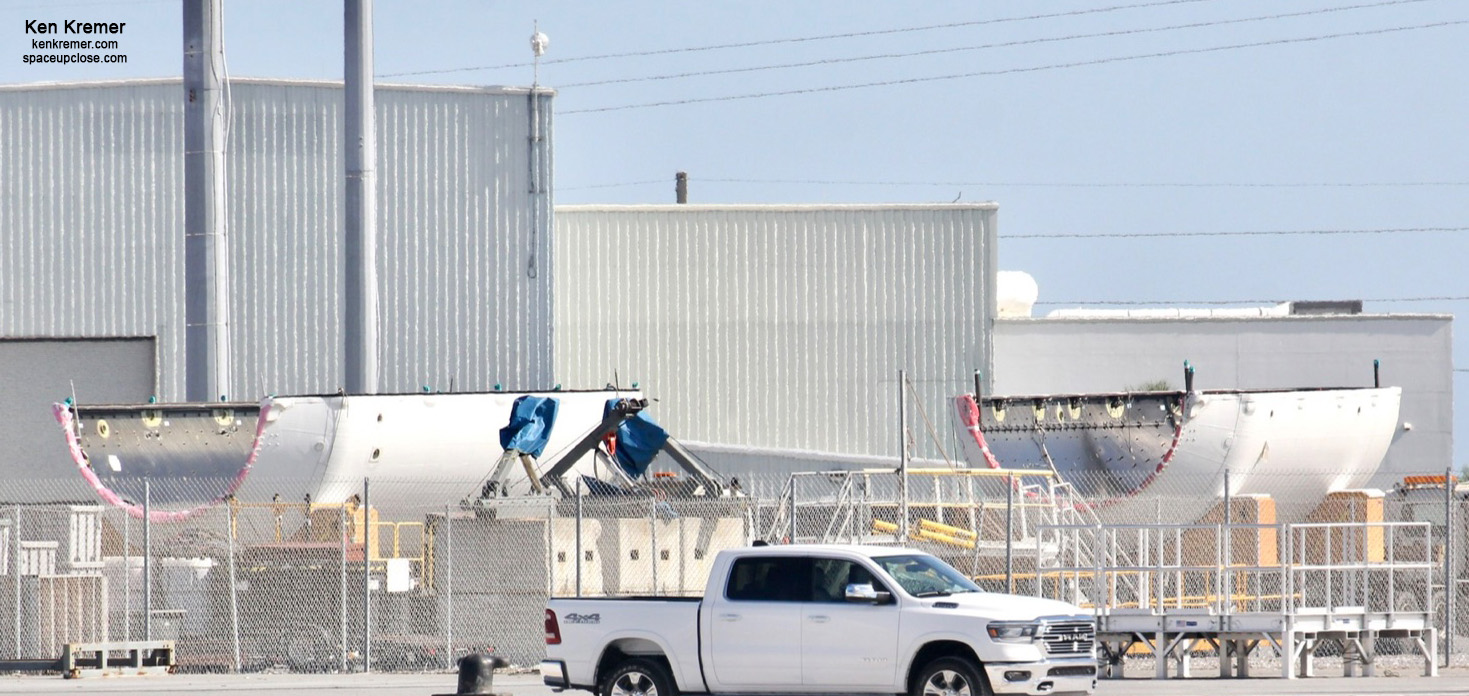 But the entire Monday morning was wonderfully action packed with virtually the entire SpaceX fleet of ships in motion to simultaneously handle the offloading of both nose cone halves from their fairing catcher boats that also over the weekend.
After OCOSLY docked at the normal berthing spot of North Cargo Pier 6 the crane crews focus shifted to the fairings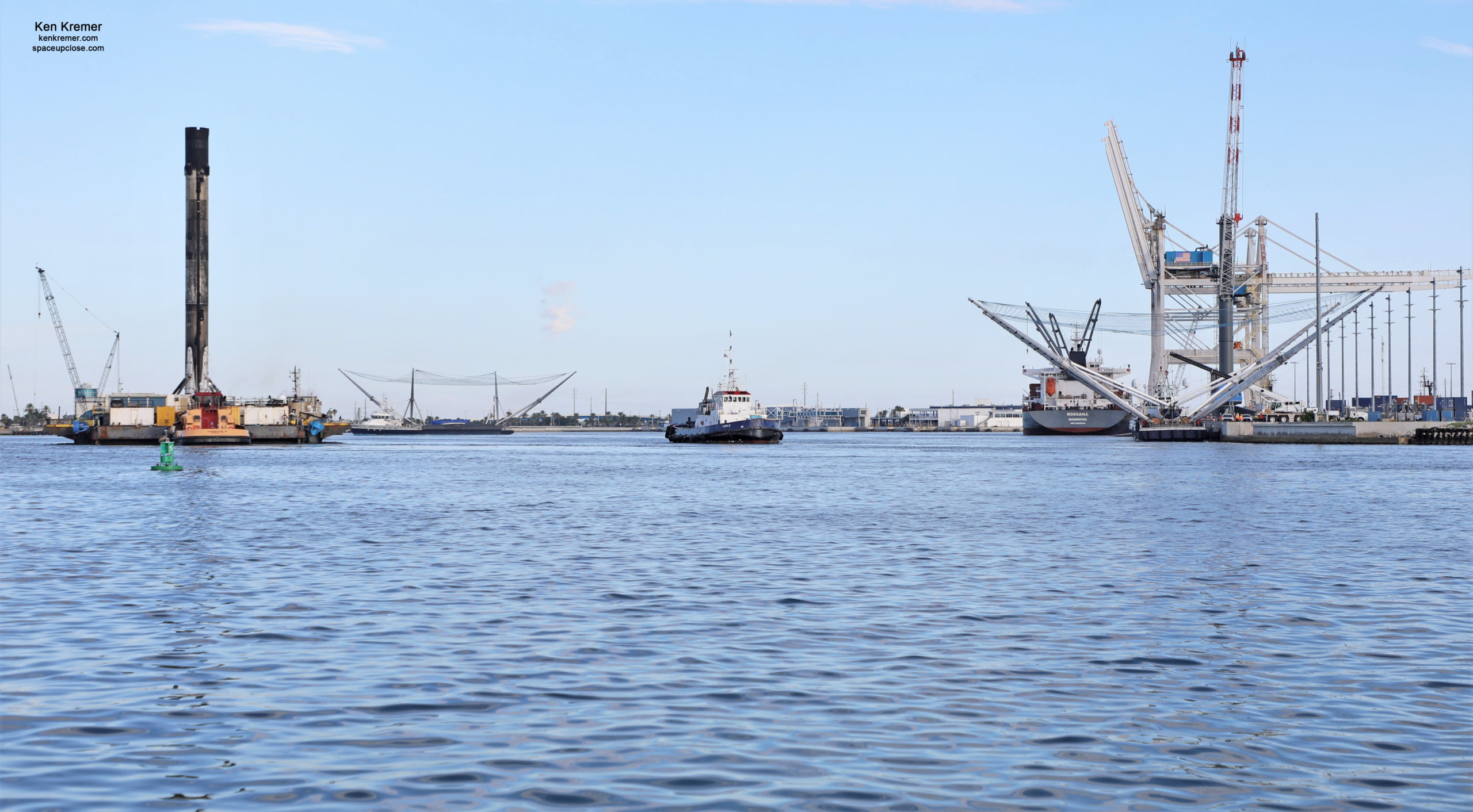 Both fairing catchers Go Ms Tree  and Go Ms Chief had to be docked and undocked sequentially at he same docking pier due to the now very limited berthing space at the North Cargo pier caused by the giant cargo ship.
It doesn't get much better for space enthusiasts than seeing this space feast of  3 huge and major pieces of recovered space hardware from the same mission being carefully and methodically maneuvered in front of your eyes  – and realizing they will almost certainly be re-flown on a future flight in the not too distant future from the Florida Space Coast
Enjoy our Space UpClose photo gallery focusing on the payload fairing hoisting's.
Check back as the gallery grows.
Be sure to check out our separate story and gallery dealing with the 1st stage booster arrival.
The mission began with the nighttime liftoff of the oft delayed 10th SpaceX Starlink mission took place at last Friday, August 7 at 1:12 a.m. EDT, 512 GMT from Launch Complex 39A (LC-39A) at Kennedy Space Center in Florida – heading on a trajectory northeast.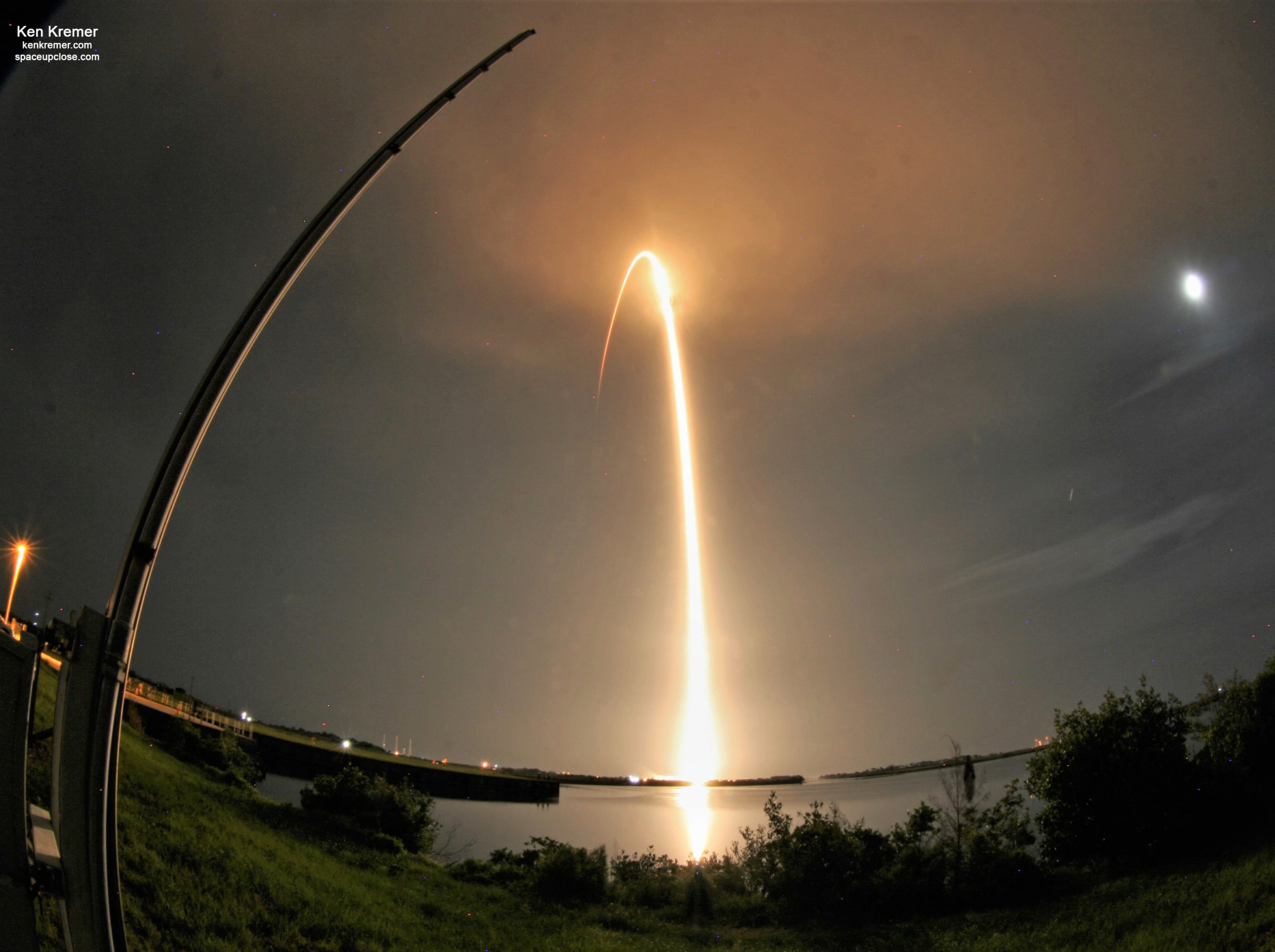 Overall the Starlink constellation could eventually number over 12,000 satellites.
SpaceX plans to launch 1 or 2 Starlink missions per month for the foreseeable future.
The goal according to SpaceX CEO Elon Musk is to provide cost competitive internet services around the globe – especially for remote and underserved areas
Initial beta test service in North America is expected later this year.
The pricing information for the Starlink service or terminal has not been announced.
Musk has said previously that the pizza-sized receiver dishes will be simple to operate – basically just point to the sky.
SpaceX CEO Elon Musk has made rocket recycling a top priority in order to slash launch costs.
Musk says that the fairings cost approximately $6 million or roughly 10% of the approximate cost of $60 million for a new Falcon 9 rocket.
Overall this counts as the 90th flight of a Falcon 9 rocket since 2010 and the 13th Falcon 9 launch of 2020.
To date SpaceX has recovered the Falcon 9 first stage booster 57 times by land and by sea.
Watch my Aug 3 interview at 'Stay Curious' show American Space Museum about successful Mars Perseverance launch, successful splashdown SpaceX Crew Dragon on Demo-2 1st commercial mission, Artemis Moon mission and more:
Watch my commentary about the 1st SpaceX Starlink launch attempt for this mission at WFTV ABC 9 Orlando TV News on Jun 25
https://www.wftv.com/news/local/brevard-county/spacex-launch-another-round-starlink-satellites-friday/4WKS5J4QDBA7TJ2E4SPI5UJQRI/
Watch Ken's continuing reports about Commercial Crew and Artemis and onsite for live reporting of upcoming and recent SpaceX and ULA launches including Demo-2, Starlink, X-37B, Solar Orbiter, Mars 2020 and more at the Kennedy Space Center and Cape Canaveral Space Force Station.
Stay tuned here for Ken's continuing Earth and Planetary science and human spaceflight news: www.kenkremer.com –www.spaceupclose.com – twitter @ken_kremer – email: ken at kenkremer.com
Dr. Kremer is a research scientist and journalist based in the KSC area, active in outreach and interviewed regularly on TV and radio about space topics.
………….
Ken's photos are for sale and he is available for lectures and outreach events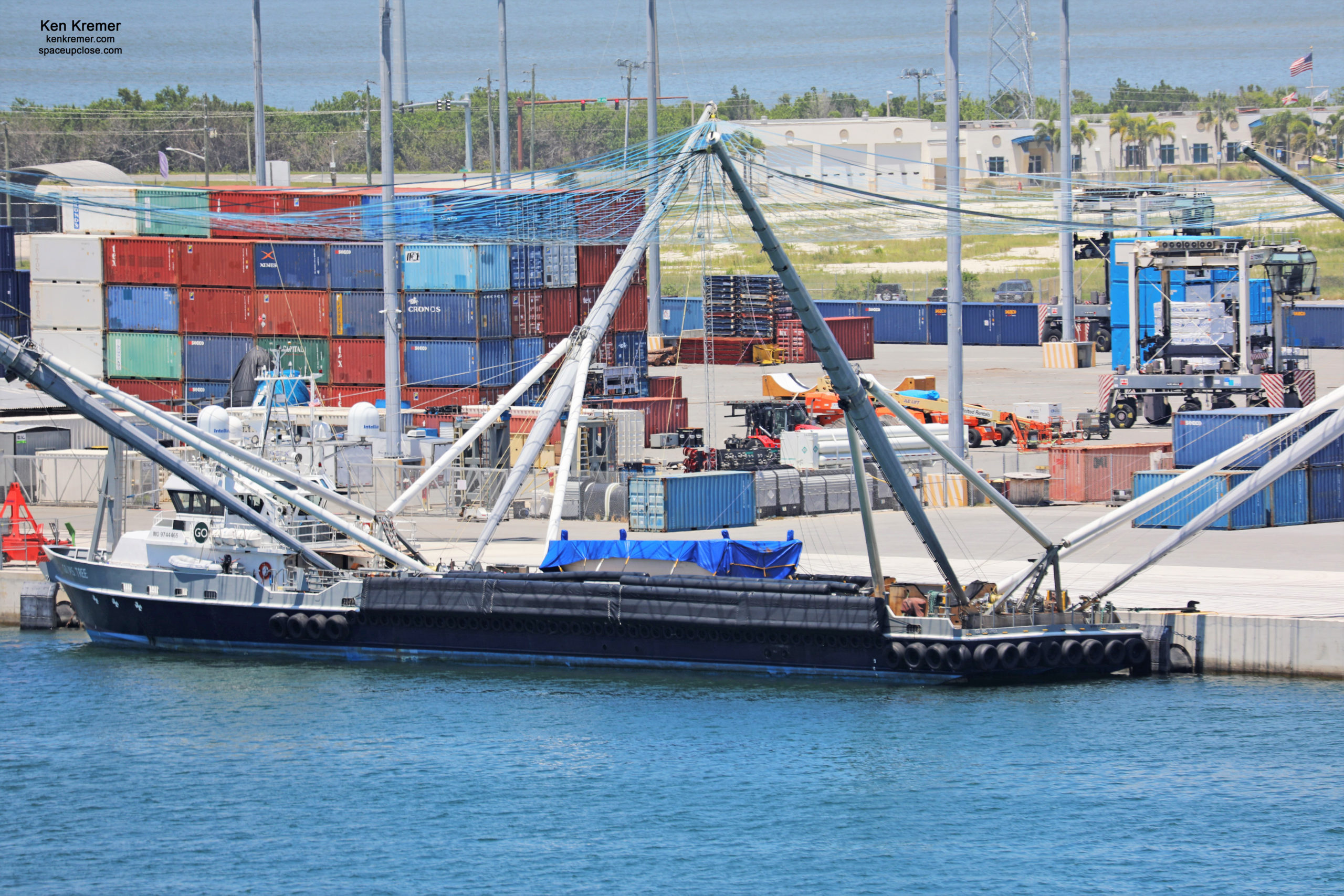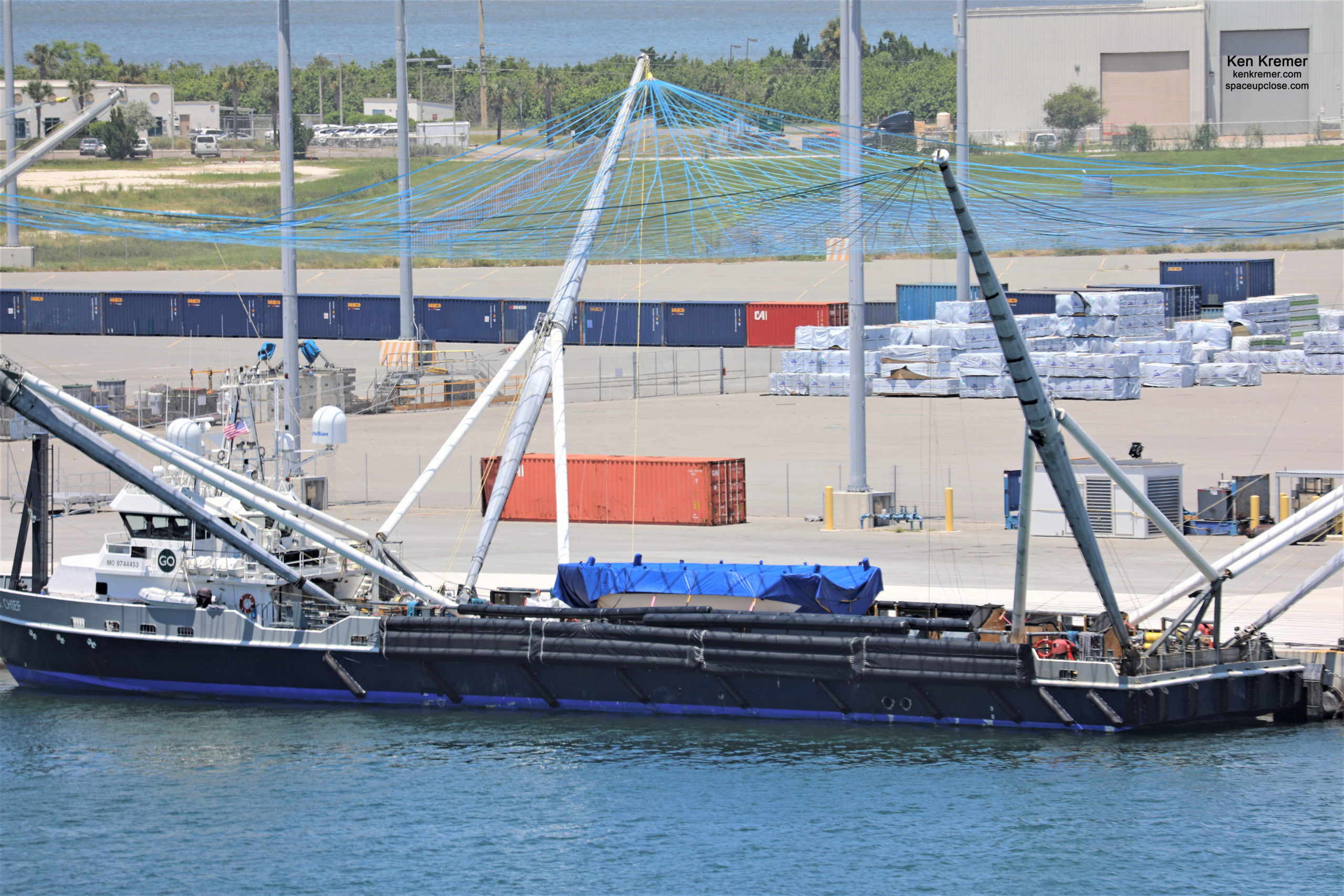 x