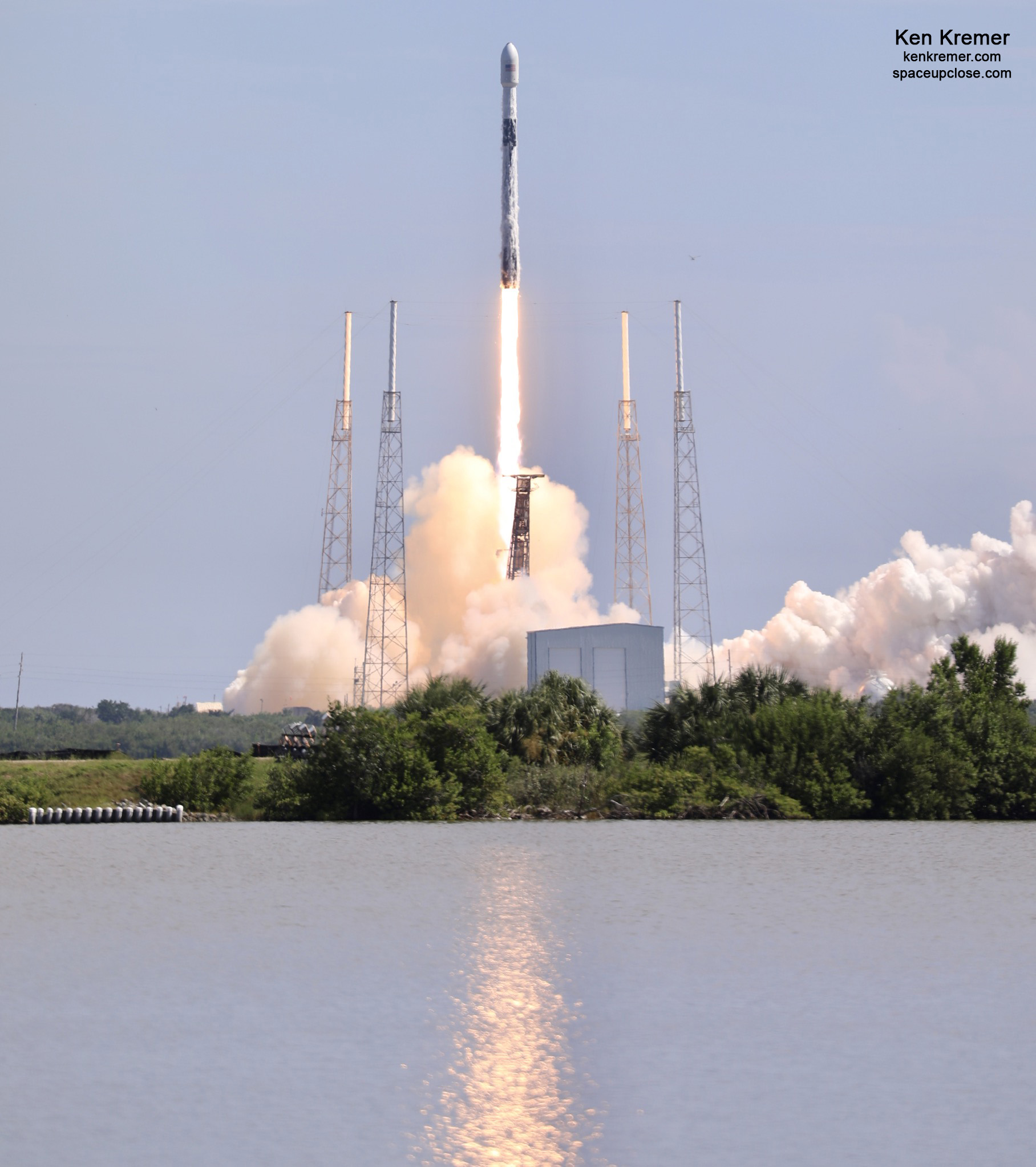 For SpaceUpClose.com & RocketSTEM
CAPE CANAVERAL AIR FORCE STATION, FL –  SpaceX set a new reusability record with the first ever sixth launch of a recycled SpaceX Falcon 9 first stage complemented by picture perfect clear blue skies punctuated by lightly scattered clouds thrilling excited spectators as the 11th batch of the firms broadband internet Starlink satellites soared to space this morning Aug. 18 from the Florida Space Coast – and very luckily in between torrential downpours, multiple lightning strikes and even a devastating tornado touchdown afflicting in the Central Florida region yesterday and this afternoon.
Furthermore SpaceX was able to successfully land the 6x flown 1st stage booster for a sixth time on the 'Of Course I Still Love You' (OCISLY) ocean going droneship – thereby setting up a 7th launch attempt at some point in the not too distant future.
SpaceX also successfully caught one of the payload fairing halves mid-air with the humongous net rigged on their 'Go Ms Tree' fairing catcher ship  – while the other was scooped from the Atlantic Ocean by the SpaceX fleet.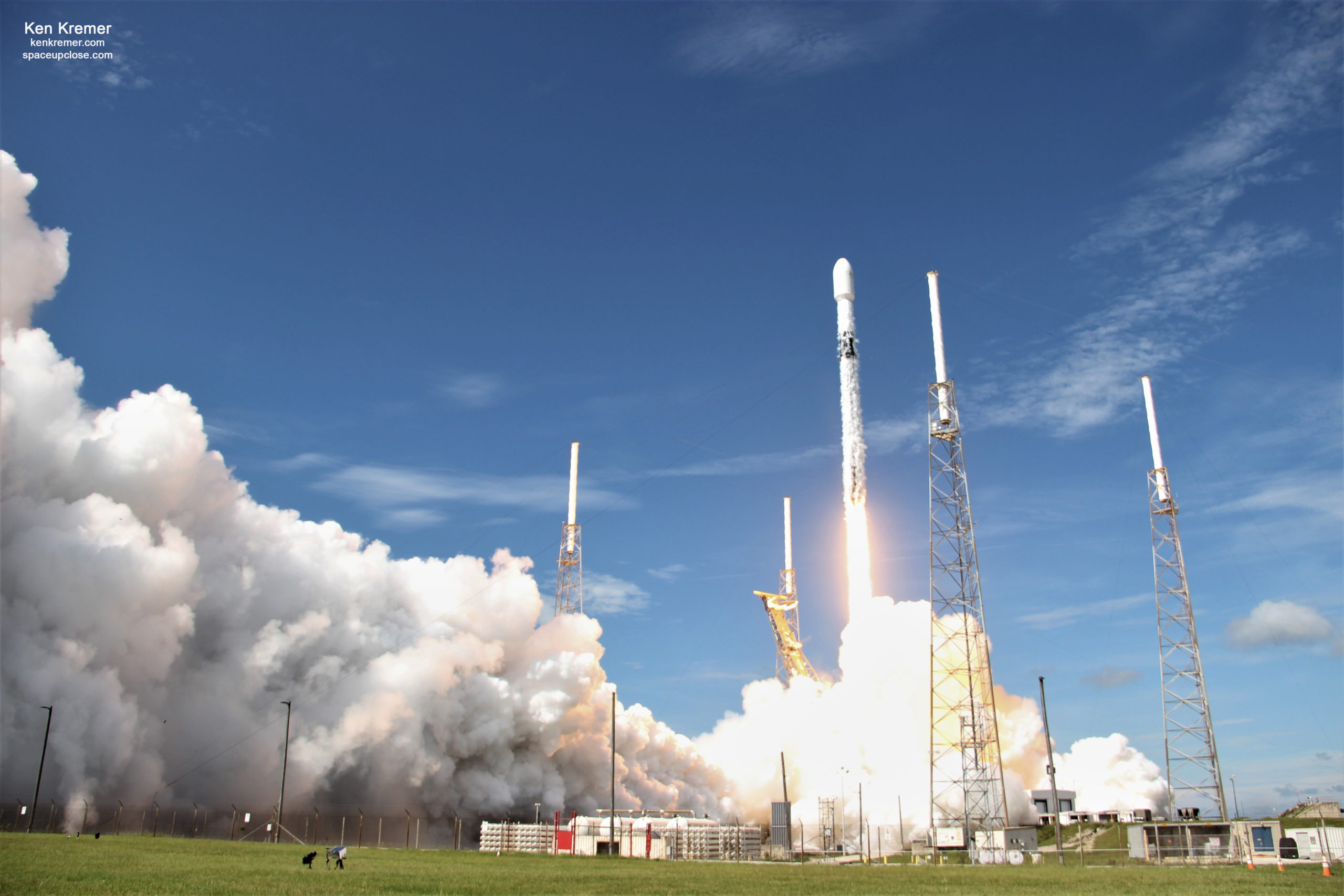 Liftoff of the 'flight-proven' SpaceX Falcon 9 booster B1049.6 took place right on time Tuesday, Aug. 18 at 10:31 a.m. EDT on its eleventh Starlink mission from Space Launch Complex 40 (SLC-40) at Cape Canaveral Air Force Station in Florida.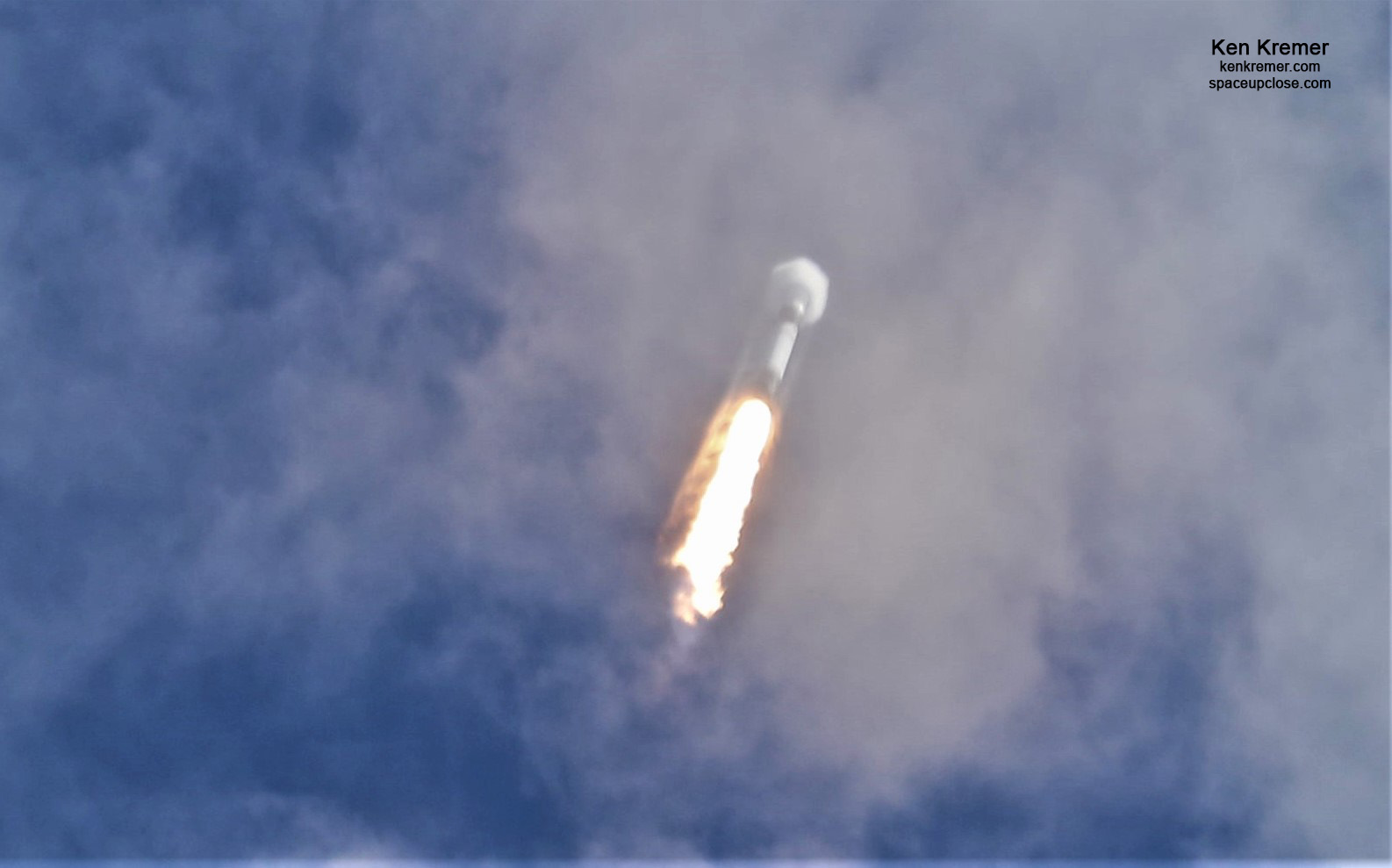 The mission payload includes 58 SpaceX Starlink internet satellites and three of Planet's Earth optical imaging SkySats as the third rideshare payload.  All satellites successfully deployed to low Earth orbit (LEO).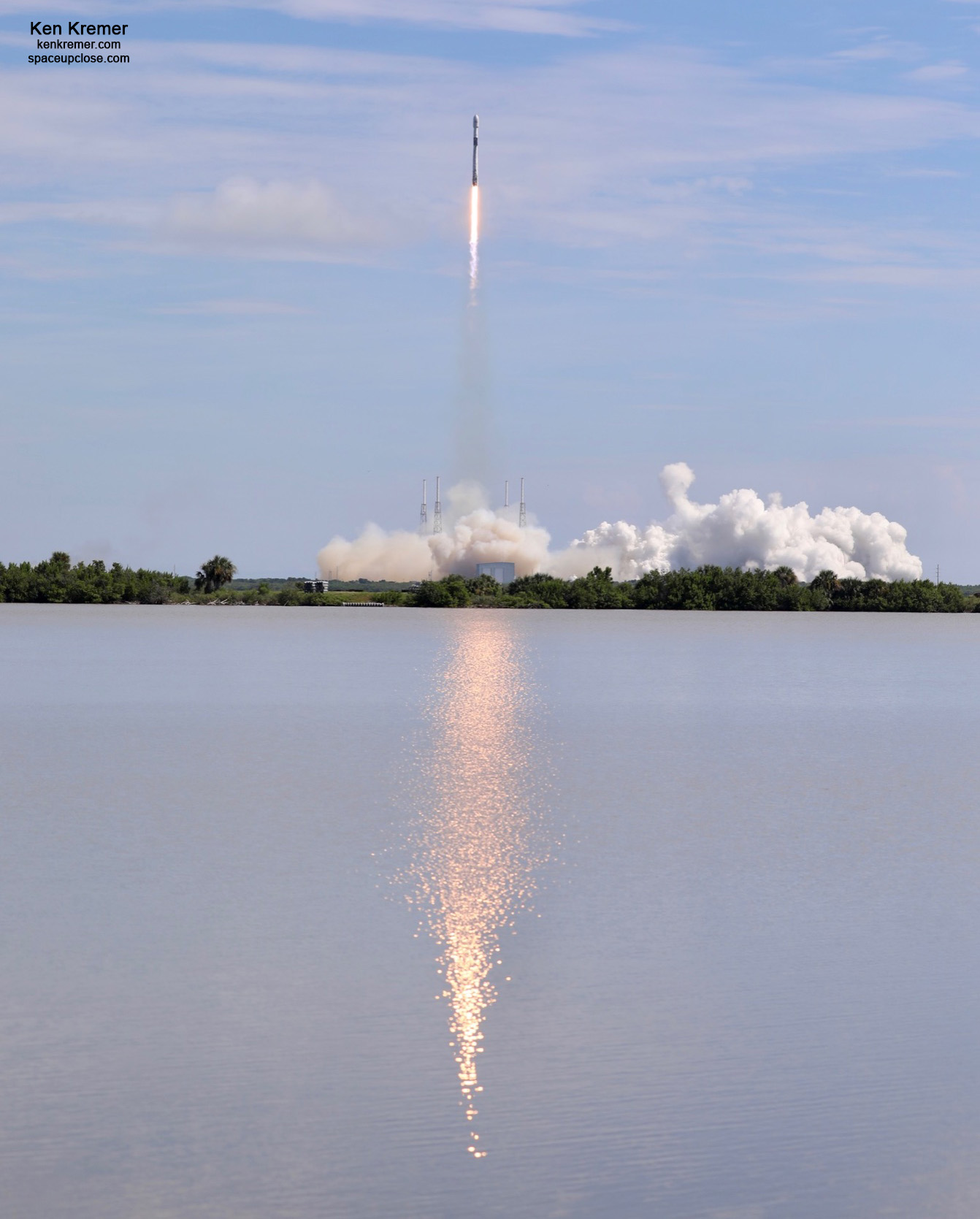 The ever expanding Starlink constellation now numbers approximately 653 refrigerator sixed broadband satellites aimed at serving rural and underserved areas across the globe.
Enjoy our photos of the Falcon 9 launch and prelaunch from Space  Launch Complex-40 taken by the Space UpClose team of Ken Kremer and Jean Wright.
Check back as the gallery grows.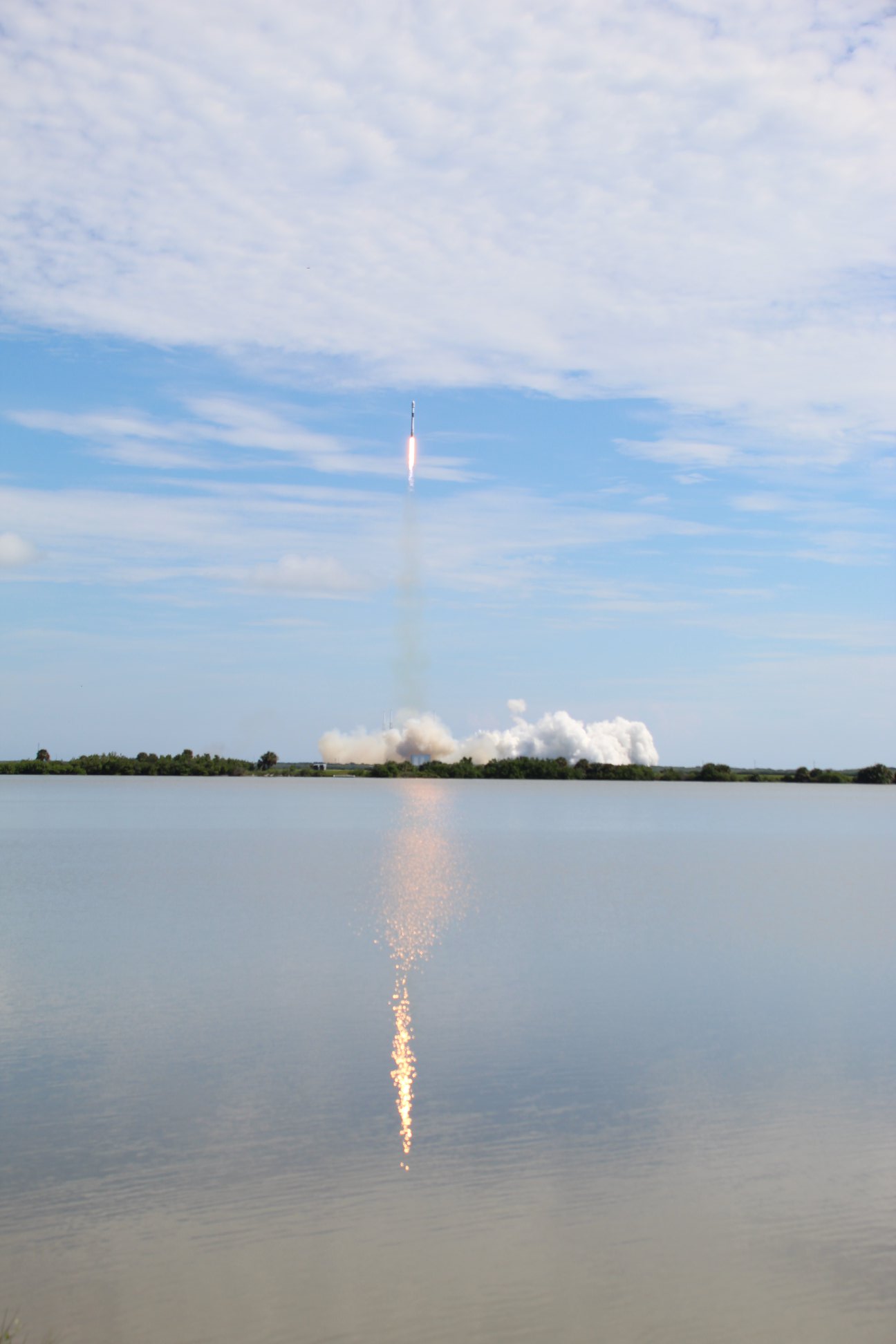 The launch and landing were broadcast live via the SpaceX webcast:  spacex.com/launches.
Falcon 9's first stage previously supported the Telstar 18 VANTAGE mission in September 2018, the Iridium-8 mission in January 2019, and three separate Starlink missions in May 2019, January 2020, and June 2020.
Falcon 9's booster supporting this mission previously launched Telstar 18 VANTAGE, Iridium-8, and three separate Starlink flights pic.twitter.com/Dwc7EXFiiL

— SpaceX (@SpaceX) August 17, 2020
In the minutes before the Falcon 9 liftoff we observed vigorous venting of liquid oxygen (LOX) from the 2nd stage at our launch viewing location on the ITL Causeway on Cape Canaveral Space Force Station
Then at the appointed moment in the instantaneous launch window all 9 Merlin 1D first stage engines ignited to generate approx. 1.7 million pounds of thrust fueled by LOX and RP-1 propellants.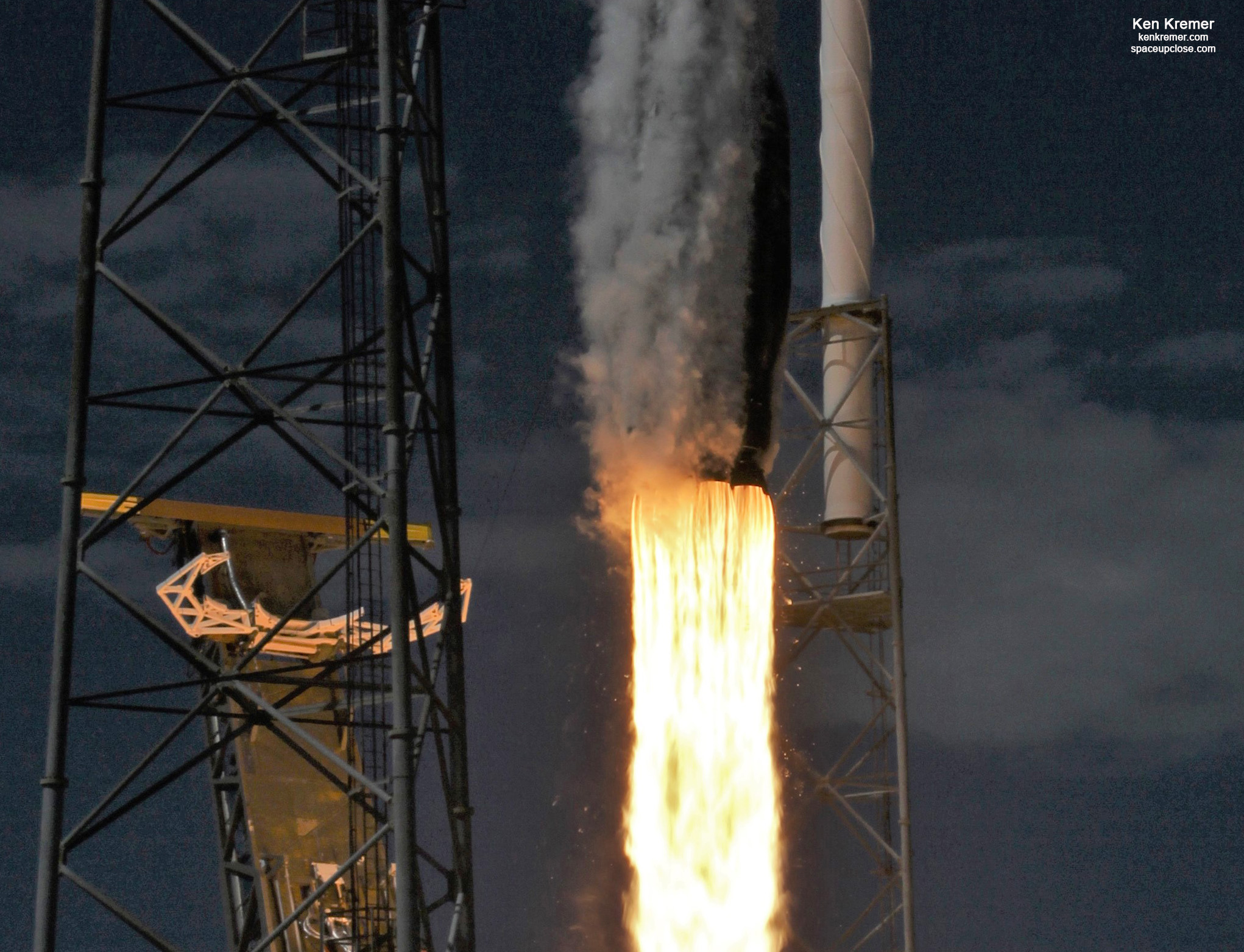 Fiery red-orange flames spewed from the Merlin engines and Falcon 9 vaulted off pad 40.
See our daylight streak shot of the first 30 seconds in flight with voluminous exhaust at the pad.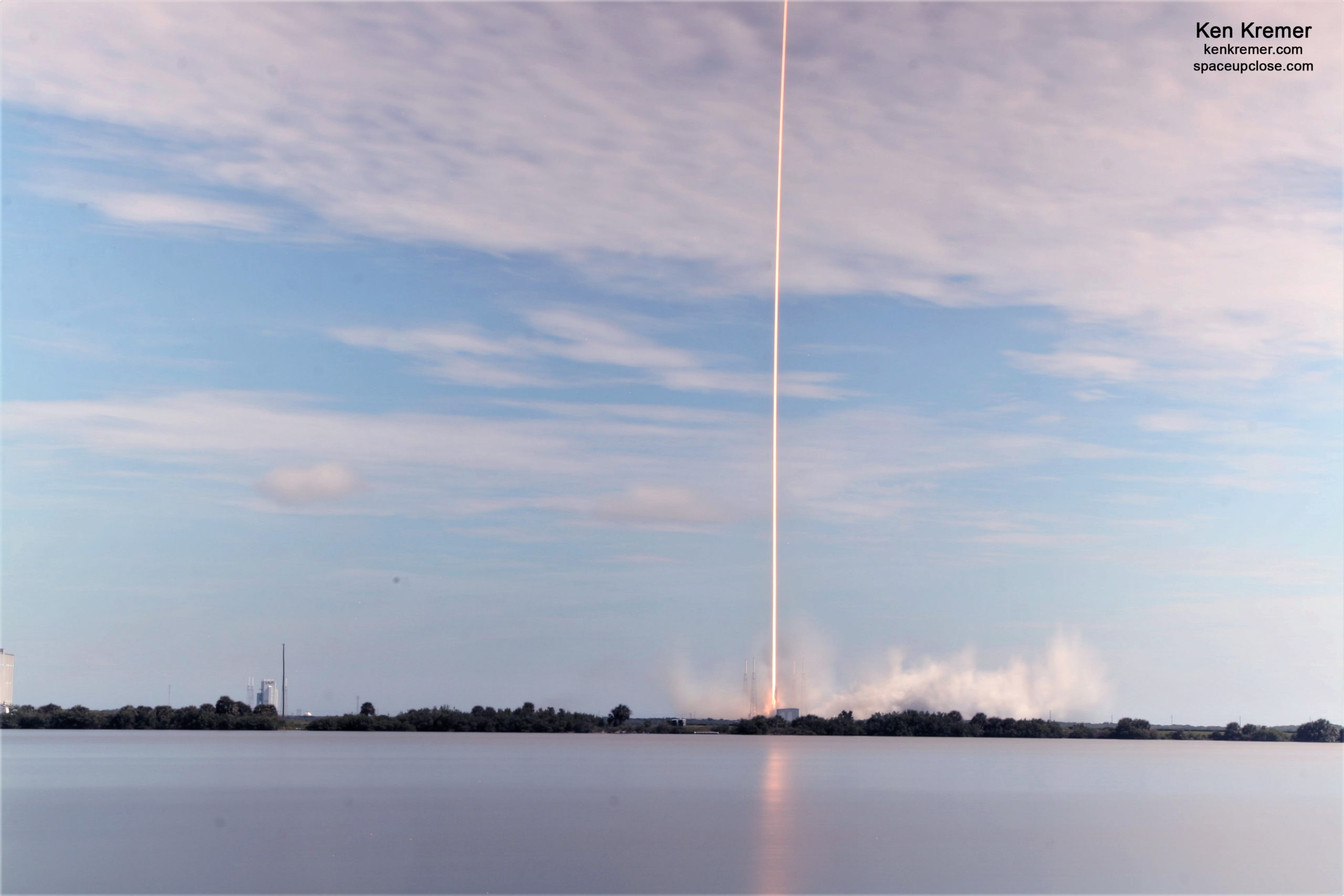 Moments later we heard the engines rumbling thunder grow louder and louder as the 23 story tall Falcon 9 cleared the tower –and eventually arced over in an easterly direction following the curvature of the Earth to orbit.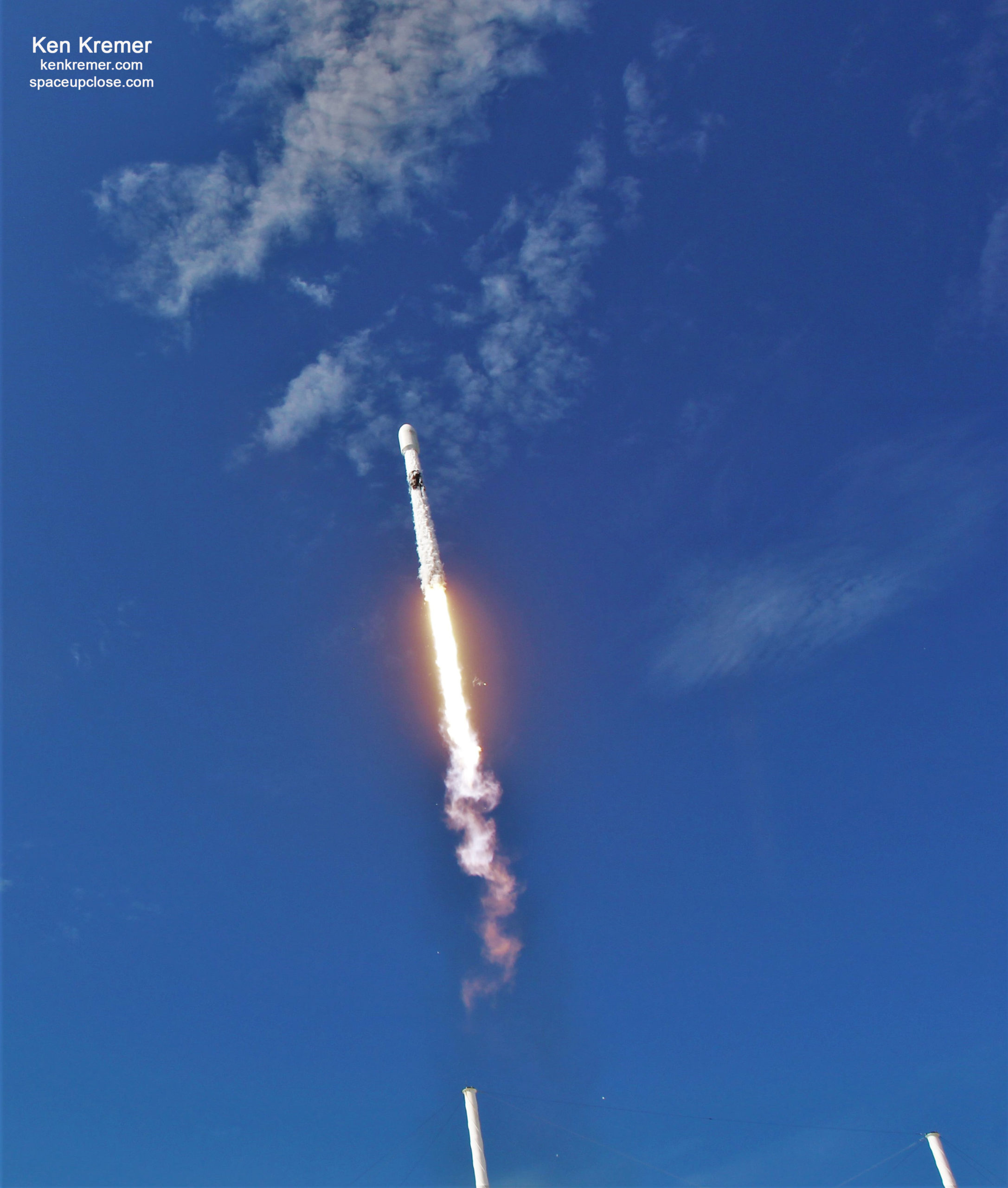 The Falcon 9 1st stage separated as planned two and a half minutes into flight.
The 15 story tall stage then carried out a precision guided propulsive descent by reigniting a subset of the Merlin's and successfully landed on the "Of Course I Still Love You" (OCISLY) droneship for the sixth time about eight and a half minutes after liftoff.
Droneship OCISLY was waiting at its stationing position some 400 mi (640 km) north east of KSC off the coast of the Carolina's with a football field sized platform.
Falcon 9's first stage has landed on the Of Course I Still Love You droneship – first time a booster has completed six flights! pic.twitter.com/A8bbTinGOA

— SpaceX (@SpaceX) August 18, 2020
Falcon 9's fairing previously flew on the fourth launch of Starlink.
Planet's SkySats deployed sequentially beginning about 12 and a half minutes after liftoff, and the Starlink satellites deployed approximately 46 minutes after liftoff.
"All three @planetlabs SkySats have deployed," SpaceX tweeted
All three @planetlabs SkySats have deployed pic.twitter.com/9gDujACXTH

— SpaceX (@SpaceX) August 18, 2020
"Deployment of 58 Starlink satellites confirmed," SpaceX tweeted.
Deployment of 58 Starlink satellites confirmed pic.twitter.com/c8u2WqaD1J

— SpaceX (@SpaceX) August 18, 2020
SpaceX also dispatched their two special fairing boats GO MS TREE and GO MS CHIEF to retrieve the payload fairing halves.
"Ms Tree catches fairing in her net," SpaceX CEO Elon Musk tweeted.
Ms Tree catches fairing in her net pic.twitter.com/sqlJ63NetB

— Elon Musk (@elonmusk) August 18, 2020
The two stage Falcon 9 rocket stands 229 feet (70 meters) tall.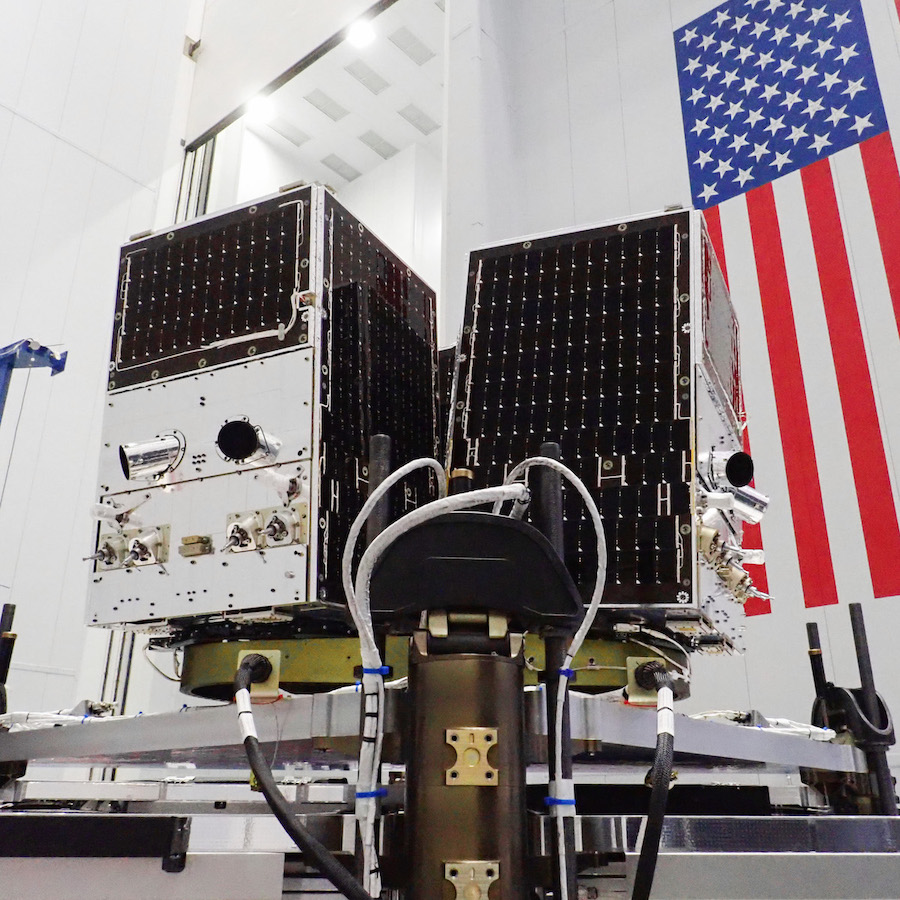 Watch my post launch commentary about the Aug. 18 Starlink, SkySat launch at Wesh 2 NBC News Orlando and WFTV ABC Channel 9 TV News Orlando
https://www.wesh.com/article/rocket-launch-planned-for-tuesday-morning/33633393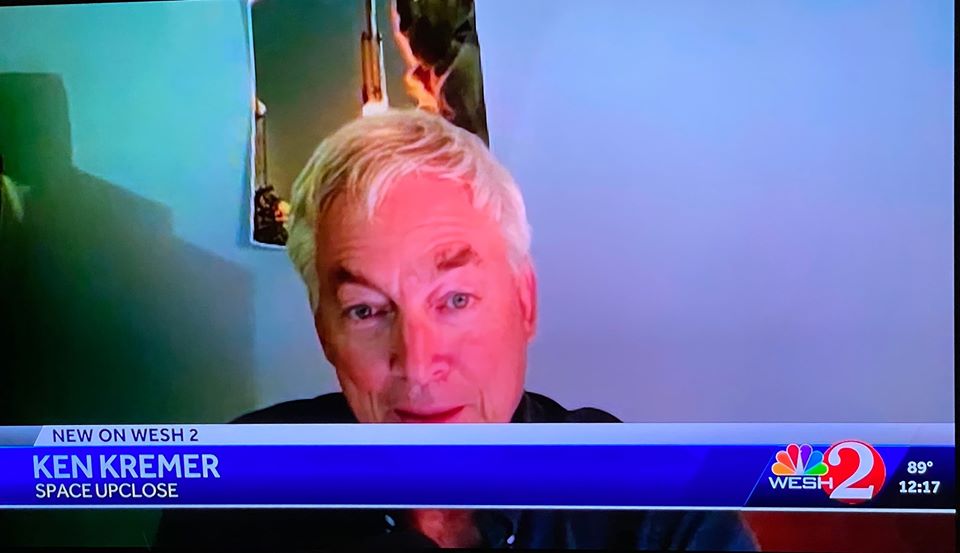 Watch my Aug. 14 guest host and Aug 3 interview appearances at 'Stay Curious' show at the American Space Museum about successful Mars Perseverance launch, successful splashdown SpaceX Crew Dragon on Demo-2 1st commercial mission as well as upcoming Crew-1, Artemis Moon mission, SpaceX Starlink and more:
Watch Ken's continuing reports about Commercial Crew and Artemis and onsite for live reporting of upcoming and recent SpaceX and ULA launches including Demo-2, Starlink, X-37B, Solar Orbiter, Mars 2020 and more at the Kennedy Space Center and Cape Canaveral Space Force Station.
Stay tuned here for Ken's continuing Earth and Planetary science and human spaceflight news: www.kenkremer.com –www.spaceupclose.com – twitter @ken_kremer – email: ken at kenkremer.com
Dr. Kremer is a research scientist and journalist based in the KSC area, active in outreach and interviewed regularly on TV and radio about space topics.
………….
Ken's photos are for sale and he is available for lectures and outreach events
 x