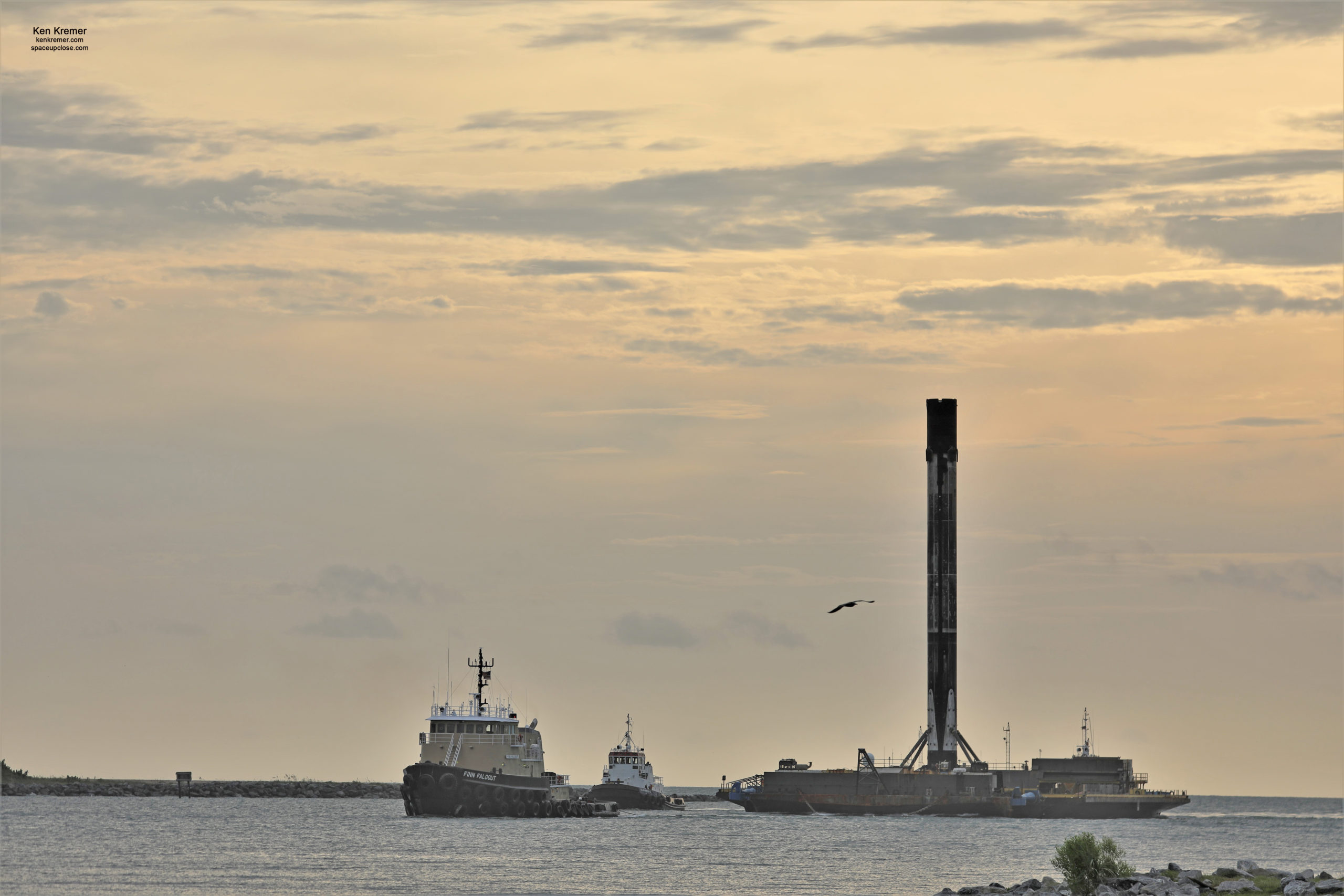 For SpaceUpClose.com & RocketSTEM
PORT CANAVERAL, FL –  Looking sootier and sootier but nonetheless stunning while setting a new record-breaking reusability record, the 1st ever 6x 'flight-proven' SpaceX Falcon 9 first stage returned to Port Canaveral towed triumphantly atop the 'Of Course I Still Love You' (OSICLY) droneship on another tremendous sunrise Friday, Aug 21, along Florida's Space Coast – following SpaceX's 11th launch expanding the firms Starlink constellation of broadband internet satellites.
The OCISLY droneship and the 6x recovered launched/landed booster B1049.6 at last began her final approach to Jetty Park and Pier just past sunrise at 7:30 a.m. ET towed by tugboat Finn Falgout and welcomed by a small crowd of my media colleagues.
Today's booster dawn arrival was again accompanied by a beautiful hued sky with broken clouds and fantastic Space Coast weather – very luckily warm, dry and calm compared to the torrential downpours inundating the region most of the past week – just like last weeks Starlink return on the 10th mission and Port return barely a week and a half ago on Aug. 10.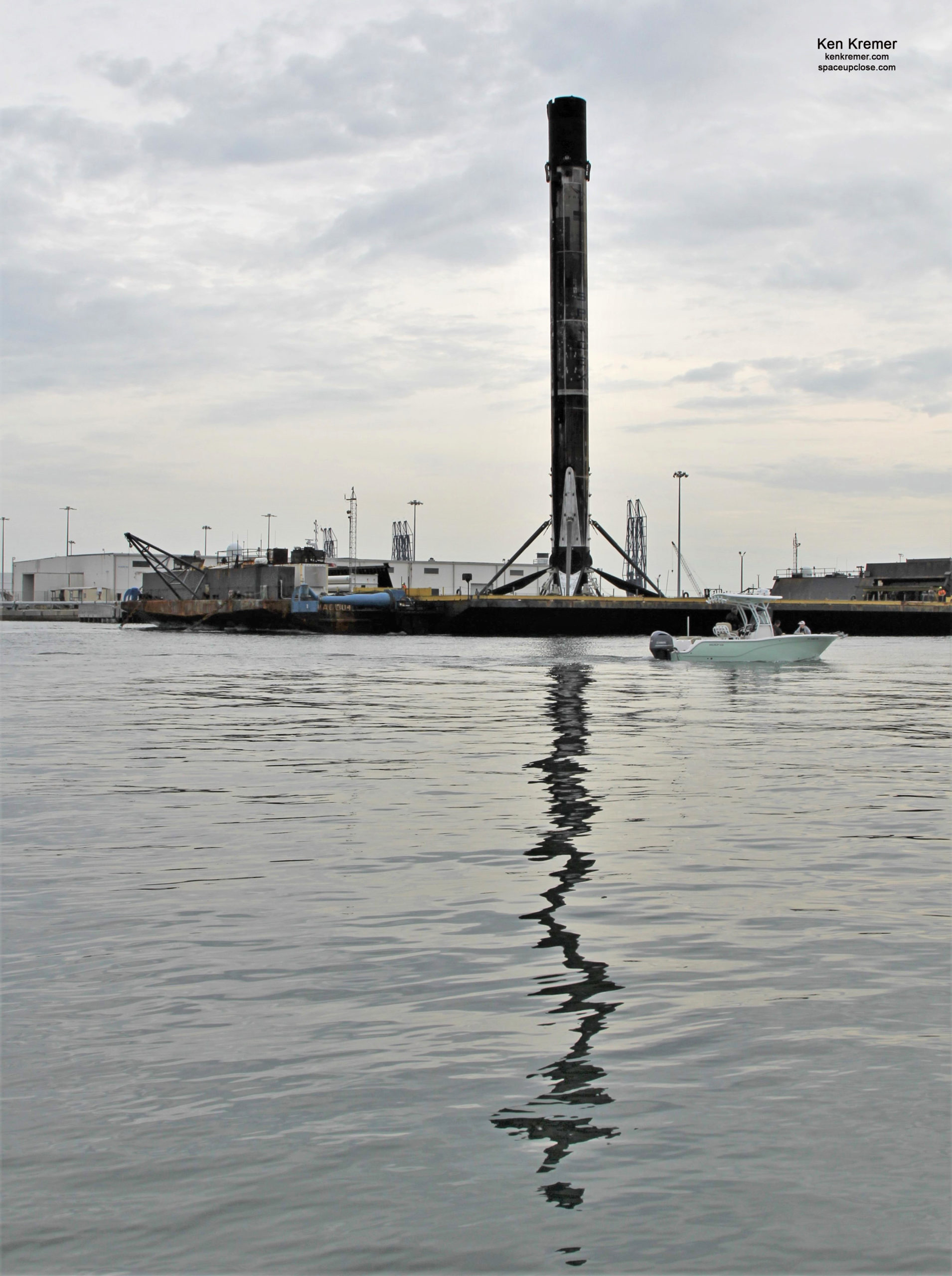 In fact this Falcon booster landed on and was towed back by the same pairing of droneship OCISLY and tugboat Finn Falgout as the last time – further demonstrating a remarkably rapid  turnaround of the SpaceX fleet of booster and payload fairing recovery ships for the stepped up cadence of launches from the Space Coast!
Liftoff of the veteran, record setting SpaceX Falcon 9 booster B1049.6 took place right on time Tuesday, Aug. 18 at 10:31 a.m. EDT on its eleventh Starlink mission from Space Launch Complex 40 (SLC-40) at Cape Canaveral Air Force Station in Florida.
Enjoy our Space UpClose photos of the Falcon 9 booster return taken by Ken Kremer.
Check back as the gallery grows.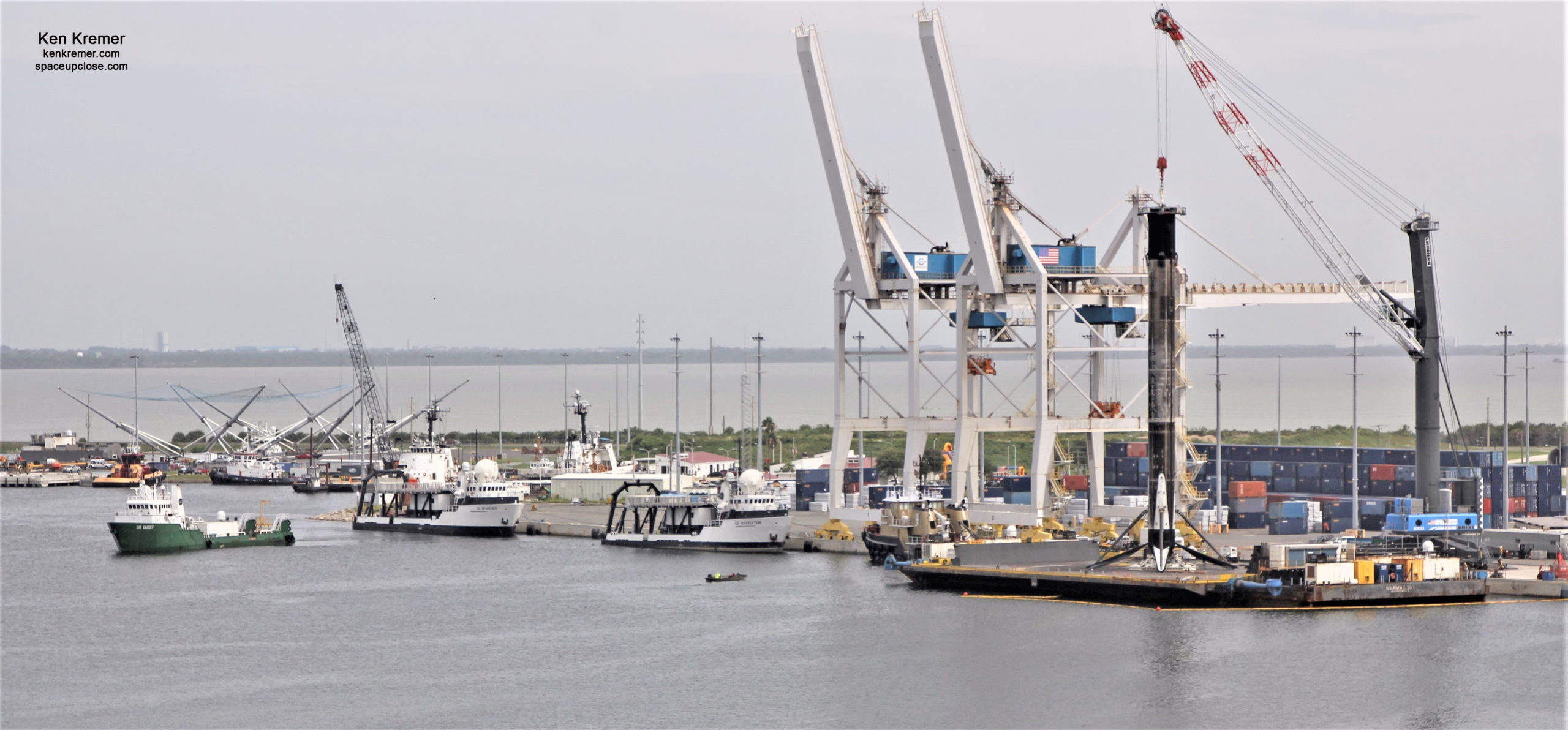 Falcon 9's first stage previously supported the Telstar 18 VANTAGE mission in September 2018, the Iridium-8 mission in January 2019, and three separate Starlink missions in May 2019, January 2020, and June 2020.
The booster waited off shore in the Atlantic Ocean overnight until entering the channel past Jetty Park Pier after sunrise around approaching around 8 a.m. ET Fri., Aug. 21
The blackened 16-story tall booster standing firmly upright on OCISLY sailed swiftly past Jetty Park Pier and reached the northside berthing port as usual some 45 minutes after port arrival.
Crane workers then rapidly swung into action using the giant German-made Liebherr by 8:40 a.m. to gab hold of the booster hoisting cap before the droneship was finished berthing and manipulate it to the top of the 16 story tall blackened 1st stage.
The crane operator easily completed the hoisting cap attachment to the top of the booster 30 minutes later by 9:10 a.m.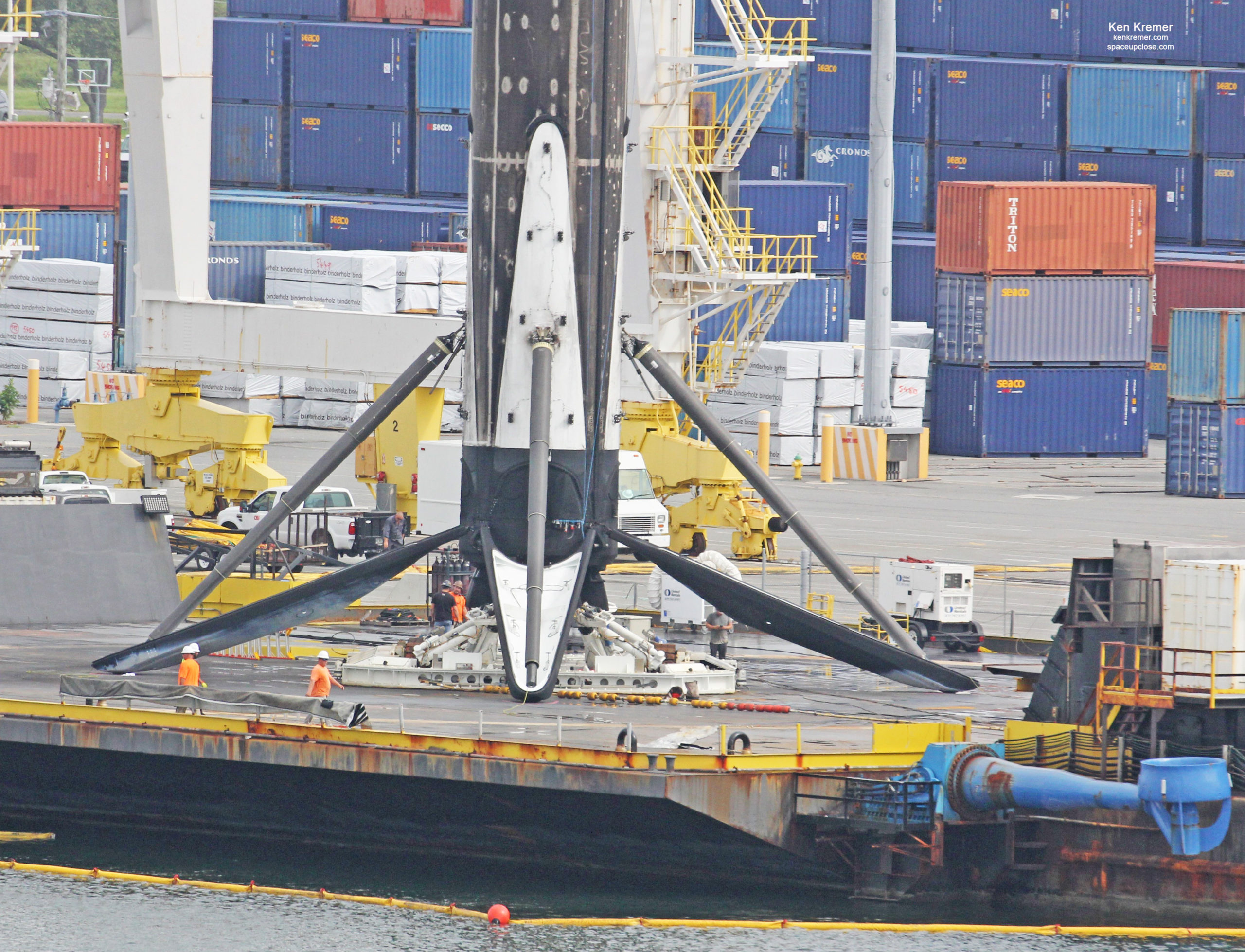 Thereafter the teams began detaching the octagrabber arms from the base of 156-foot-tall booster.
An hour later they were already hoisting the record setting booster off OCISLY onto the ground work pedestal.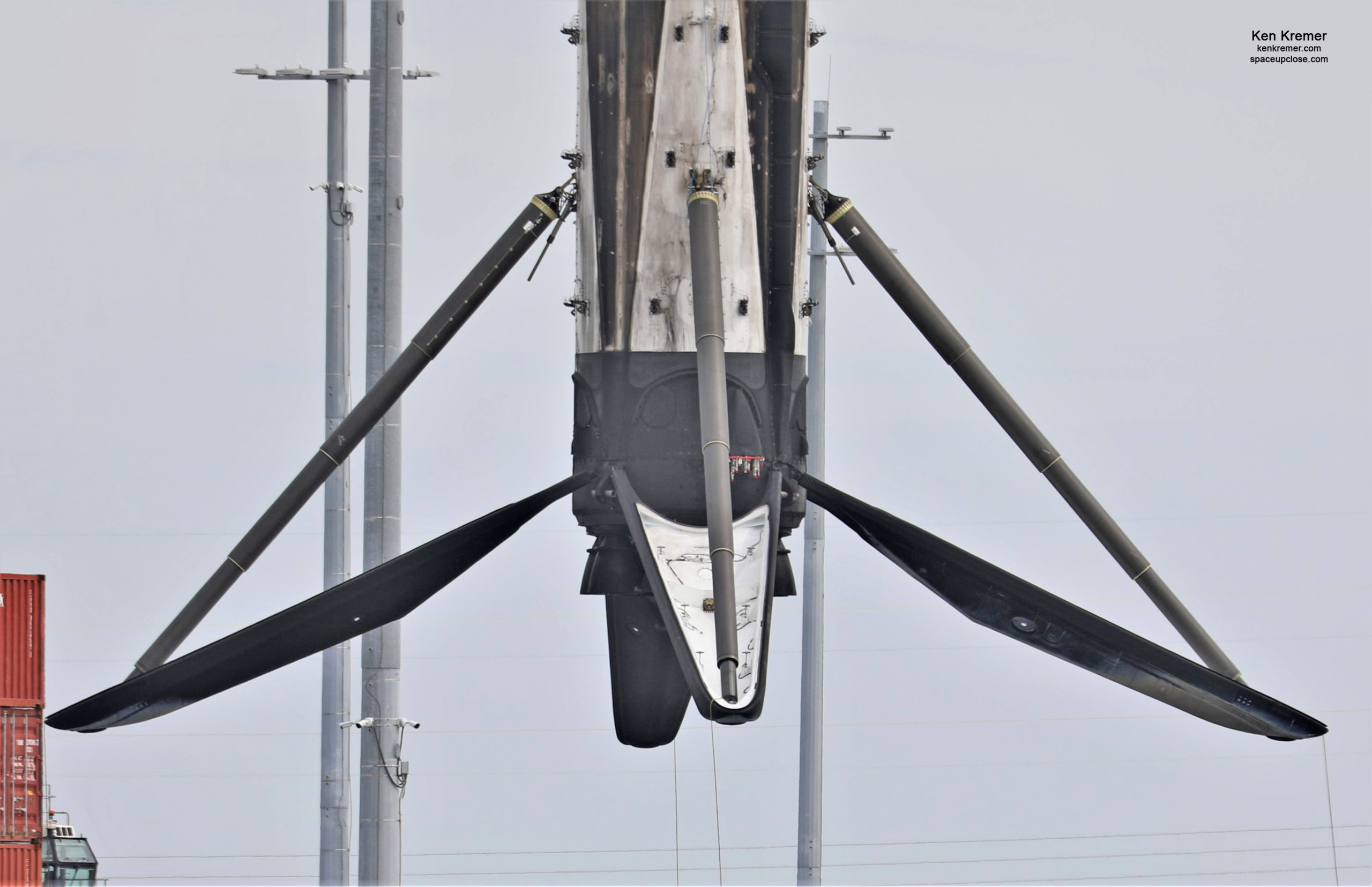 By 11 a.m. the hoisting process was completed, and the workers climbed up the pedestal to completely secure the booster and start operation to retract the landing legs.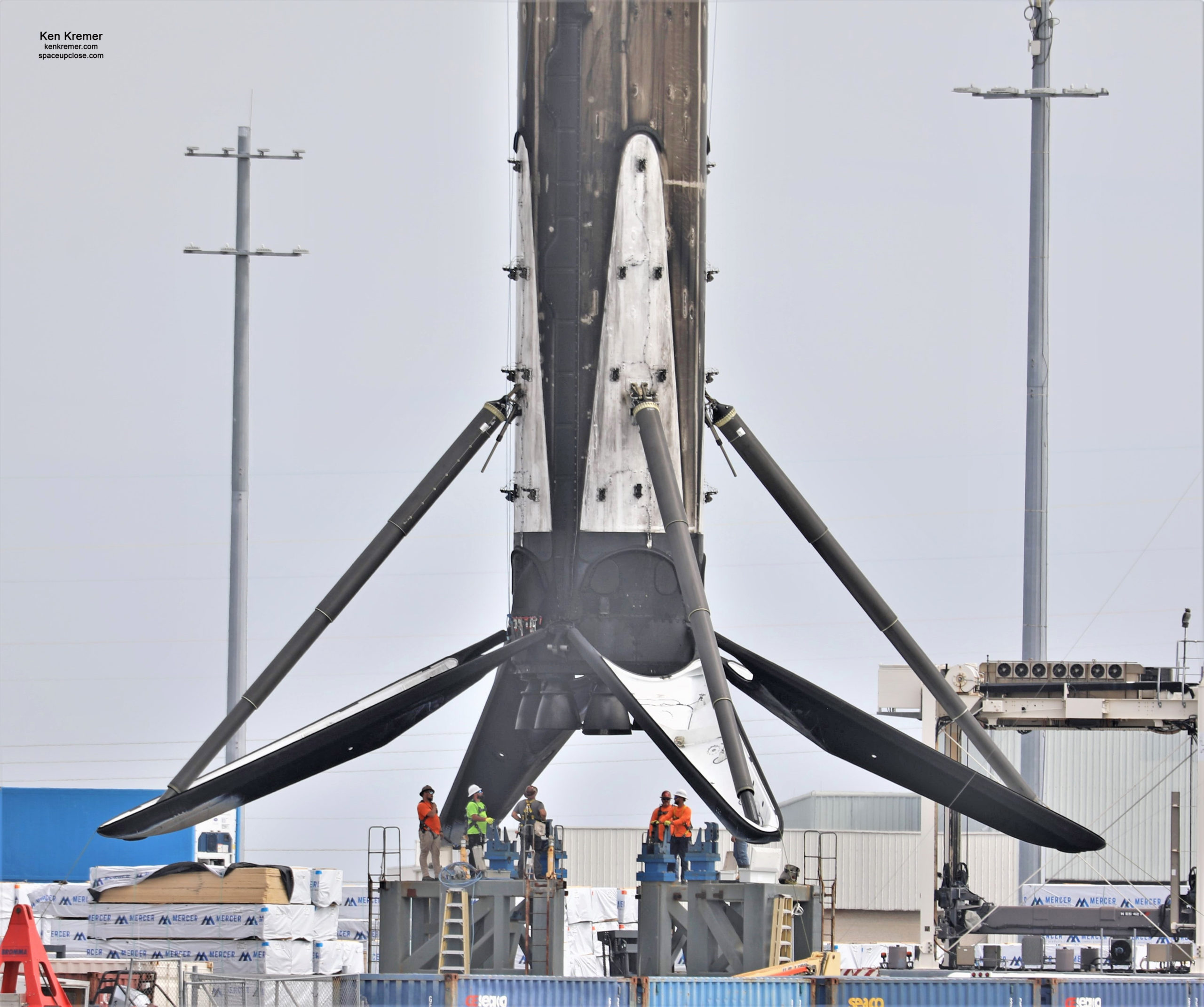 So given the rapid start it seemed like they would complete the leg retractions today before bad weather rolled in.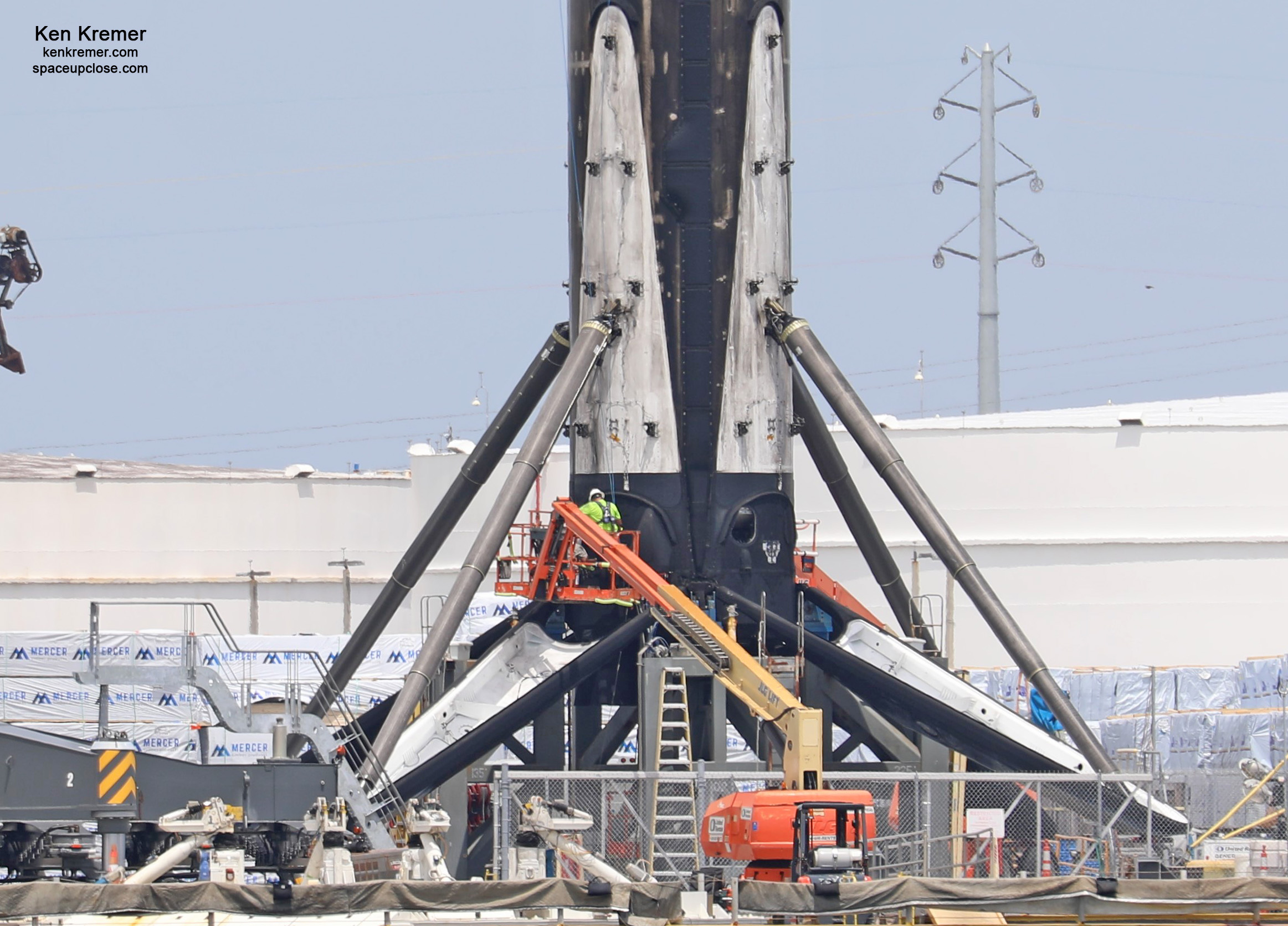 To my great surprise the SpaceX workers did not proceed much further despite using the jig lifts to work on the booster core and lower the hoisting cables from the hoisting cap around noontime.
After some prep work for retractions the team concluded their work for the day
No leg retractions were even attempted and the crews appeared to depart by mid-afternoon Friday.
So at the end of the work shift all 4 landing legs remained down at 5 p.m. and the leg retractions will have to wait for another day TBD – and poor weather never rolled in until after 6 p.m. Friday.
The mission payload included 58 SpaceX Starlink internet satellites and three of Planet's Earth optical imaging SkySats as the third rideshare payload.  All satellites successfully deployed to low Earth orbit (LEO).
The ever expanding Starlink constellation now numbers approximately 553 refrigerator sixed broadband satellites aimed at serving rural and underserved areas across the globe.
The Falcon 9 1st stage separated as planned two and a half minutes into flight.
The 15 story tall stage then carried out a precision guided propulsive descent by reigniting a subset of the Merlin's and successfully landed on the "Of Course I Still Love You" (OCISLY) droneship for the sixth time about eight and a half minutes after liftoff.
Droneship OCISLY was waiting at its stationing position some 400 mi (640 km) north east of KSC off the coast of the Carolina's with a football field sized platform.
Falcon 9's first stage has landed on the Of Course I Still Love You droneship – first time a booster has completed six flights! pic.twitter.com/A8bbTinGOA

— SpaceX (@SpaceX) August 18, 2020
Watch my post launch commentary about the Aug. 18 Starlink, SkySat launch at Wesh 2 NBC News Orlando and WFTV ABC Channel 9 TV News Orlando
https://www.wesh.com/article/rocket-launch-planned-for-tuesday-morning/33633393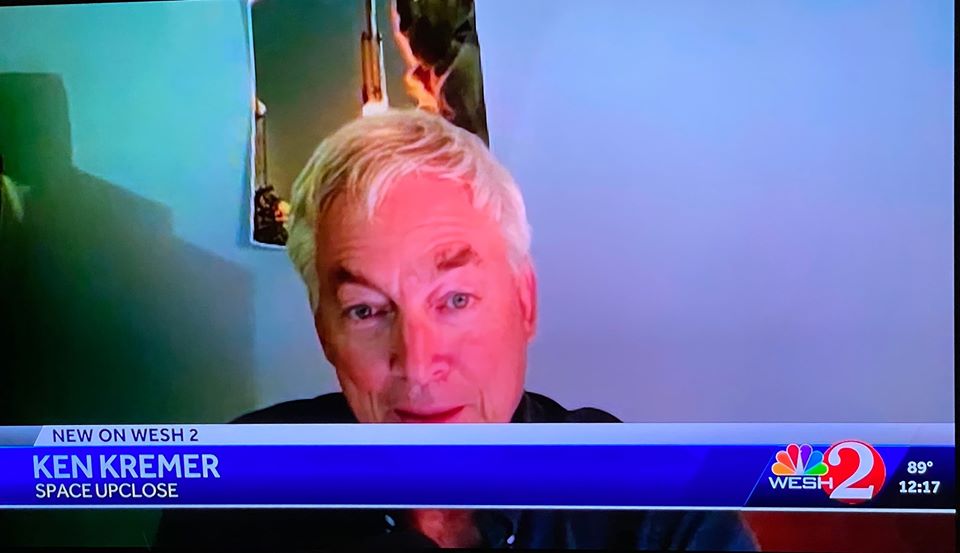 Watch my Aug. 14 guest host and Aug 3 interview appearances at 'Stay Curious' show at the American Space Museum about successful Mars Perseverance launch, successful splashdown SpaceX Crew Dragon on Demo-2 1st commercial mission as well as upcoming Crew-1, Artemis Moon mission, SpaceX Starlink and more:
https://www.facebook.com/SpaceWalkOfFame/videos/2690117104638099/
https://www.facebook.com/SpaceWalkOfFame/videos/594560917928307/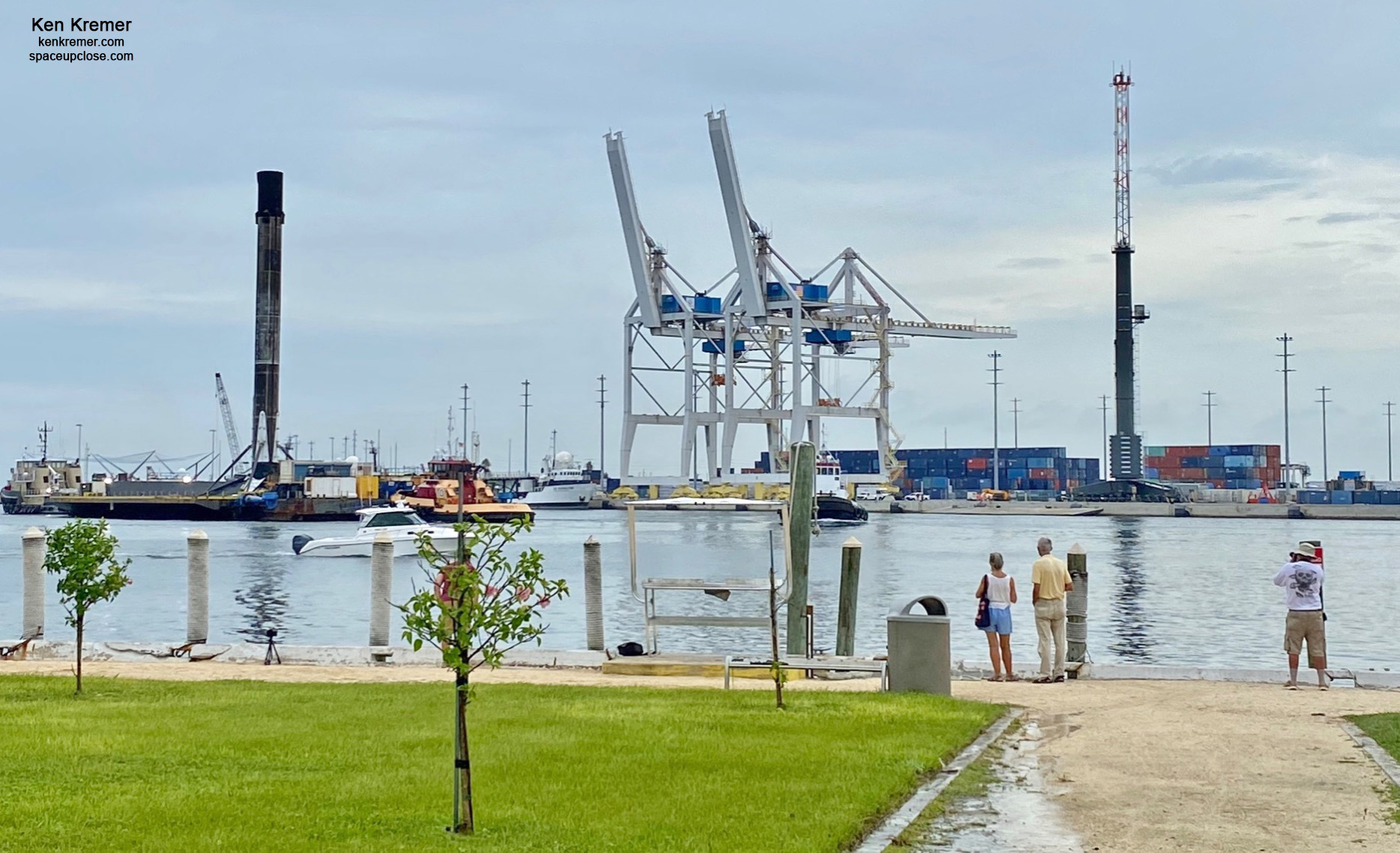 Watch Ken's continuing reports about Commercial Crew and Artemis and onsite for live reporting of upcoming and recent SpaceX and ULA launches including Demo-2, Starlink, X-37B, Solar Orbiter, Mars 2020 and more at the Kennedy Space Center and Cape Canaveral Space Force Station.
Stay tuned here for Ken's continuing Earth and Planetary science and human spaceflight news: www.kenkremer.com –www.spaceupclose.com – twitter @ken_kremer – email: ken at kenkremer.com
Dr. Kremer is a research scientist and journalist based in the KSC area, active in outreach and interviewed regularly on TV and radio about space topics.
………….
Ken's photos are for sale and he is available for lectures and outreach events
Aug 24//25 – 7 PM: Quality Inn Kennedy Space Center, Titusville, FL. "ULA Delta IV Heavy, NASA Mars 2020 rover and SpaceX Crew-1, Demo-2, GPS, Starlink and more launches." Free. In hotel lobby. Photos for sale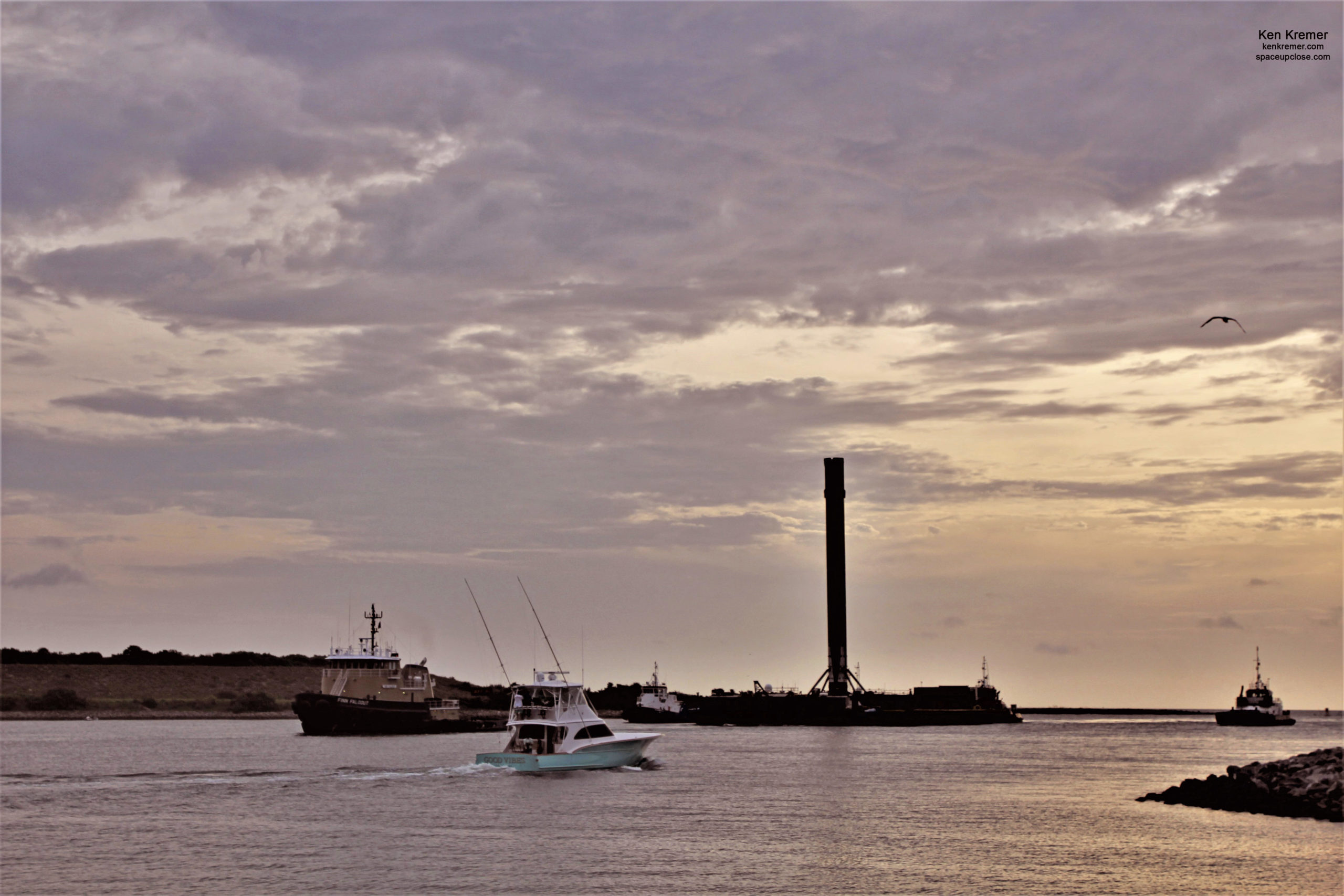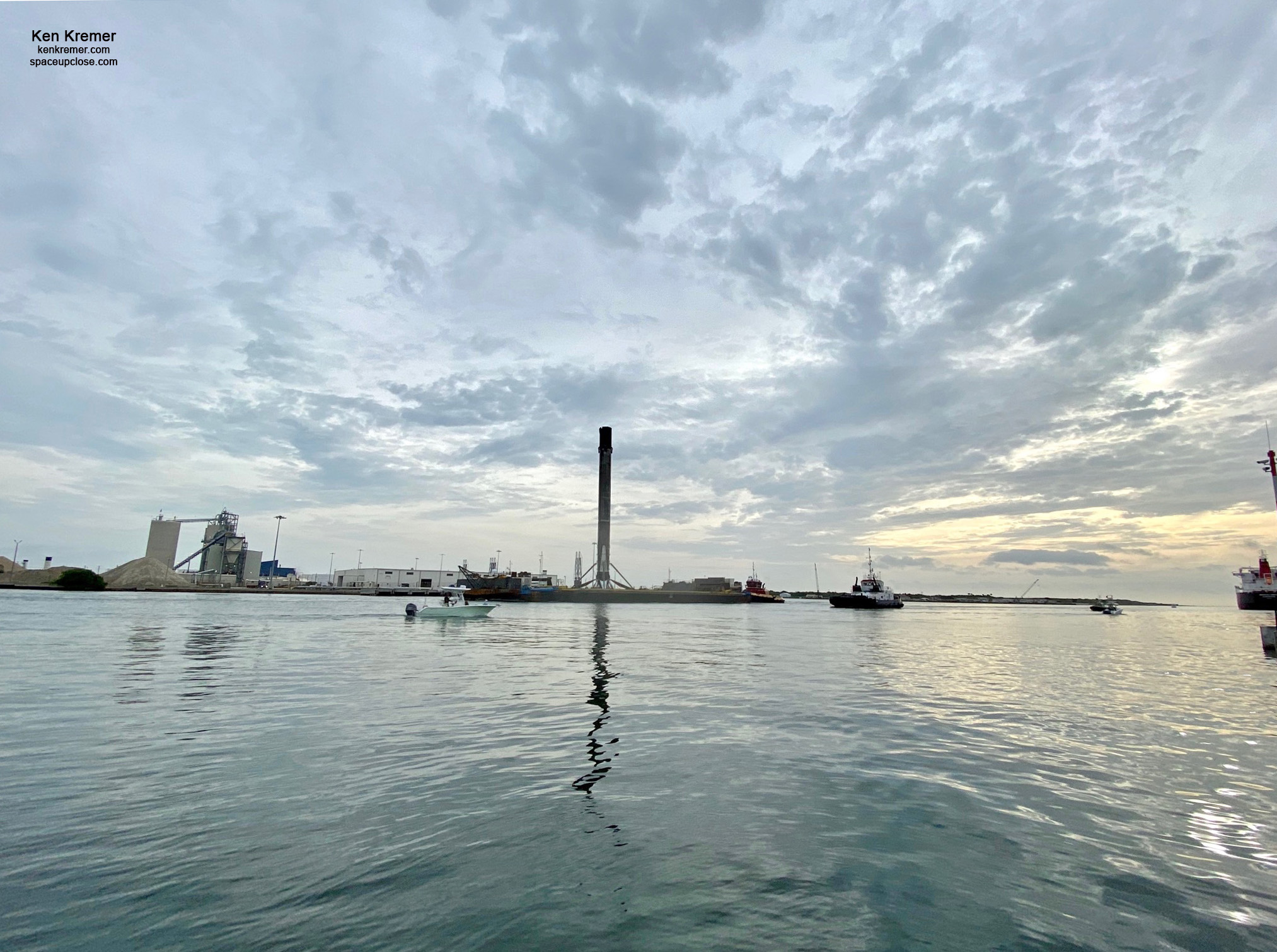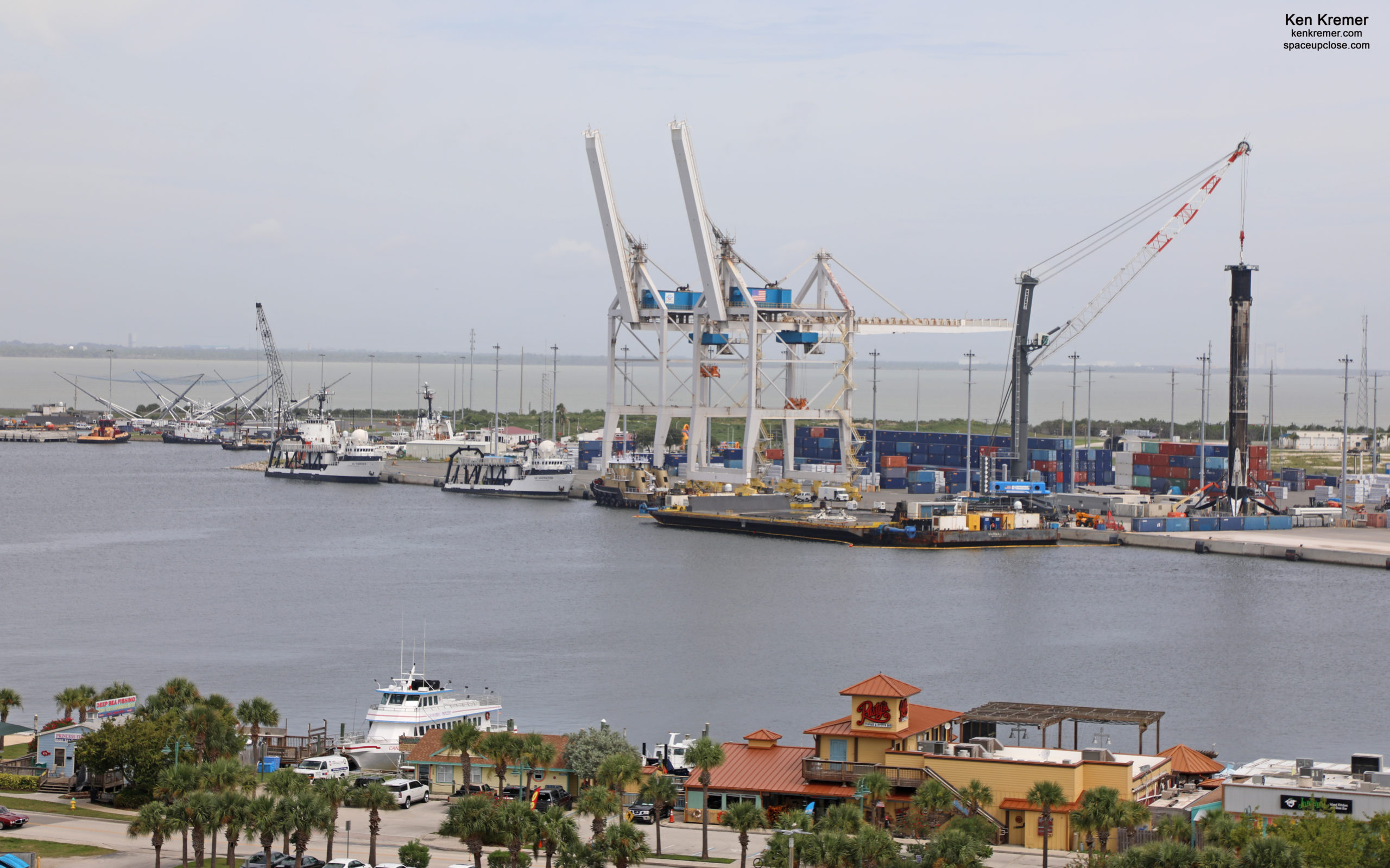 x