For SpaceUpClose.com & RocketSTEM
TITUSVILLE, FL – It could be rocket heaven for space enthusiasts, fans and spectators on the Space Coast as 3 back to back rocket launches in 3 days are planned to light up the Central Florida skies bunched up on Sunday, Monday and Tuesday from America's two premier rocket makers United Launch Alliance (ULA) and SpaceX – after ULA delayed the Delta IV Heavy launch of a top secret spy satellite for the U.S. National Reconnaissance Office (NRO) from Saturday to Sunday Sept. 27 queuing up the trio.
The triple header of 3 in a row daily rocket launches starting this Sunday are planned on Sept. 27, 28 and 29 including one triple core Delta IV Heavy and two single core Falcon 9s blasting off on 3 different launch pads from Cape Canaveral Space Force Station and NASA's Kennedy Space Center – if schedules hold.
All 3 rocket launches are easily viewable from the Florida Space Coast region and the weather odds look decent for all three – at this time.
The trio of payloads cover both the most clandestine military needs for US National Security and the most open unclassified civilian needs for everyday travel locating – and they are spaced out a little over 24 hours apart each.
Thus any delay of the NRO spysat launch – which has top priority on the U.S. Eastern range – will have a cascading impact on the pair of SpaceX launches.
Two of the three missions namely the first and the last involve the U.S. military on the ULA Delta IV Heavy and a SpaceX Falcon 9
The week begins with the midnight liftoff of the mighty and beautiful triple stick ULA Delta IV Heavy on Sunday from pad 37 on Cape Canaveral – the second most powerful rocket in the world – after being delayed 24 hours from Saturday, Sept. 26 due to a problem with the swing arm retraction system at the pad, ULA reported Friday morning.
The launch of a ULA #DeltaIVHeavy rocket carrying the #NROL44 mission for the @NatReconOfc is delayed due to an issue with the swing arm retraction system. Launch is now scheduled for 12:10 a.m. EDT, on Sept. 27, 2020.

— ULA (@ulalaunch) September 25, 2020
Liftoff of the 23-story tall triple stick United Launch Alliance (ULA) Delta IV Heavy rocket on the NROL-44 intelligence gathering mission for the National Reconnaissance Office (NRO) has been re-slated for 12:10 a.m. EDT (0415 GMT) Sunday, Sept. 27, 2020 from seaside Space Launch Complex-37 at Cape Canaveral Air Force Station, Florida – following the earlier scrubs for the hot fire abort and faulty ground launch pneumatic systems and the swing arm problem
The launch period runs until about 1:30 a.m. EDT (0535 GMT).
Next in line are the Falcon 9 dynamic duo.
SpaceX is slated to launch the next Starlink comsat mission first on a recycled Falcon 9 at 10:22 a.m. EDT Monday morning, Sept. 28 from Launch Complex-39A on NASA's Kennedy Space Center.
The Starlink mission launch window is instantaneous.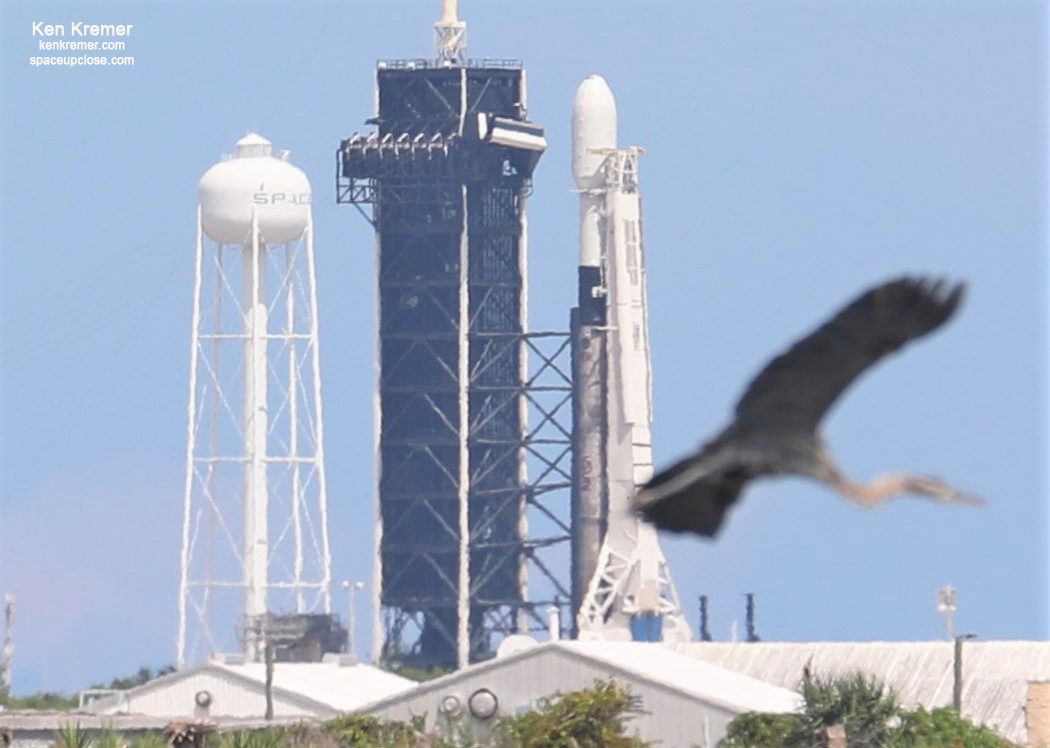 This 13th Starlink launch of a batch of 60 Starlink broadband internet satellites was delayed from last week by poor weather in the booster recovery zone off the Carolina's coast.
Finally SpaceX will launch the fourth in a series of next generation GPS satellites on a newly manufactured Falcon 9 on Tuesday evening Sept. 29 at 9:55 p.m. EDT from Space Launch Complex-40 on Cape Canaveral Space Force Station, FL.
The launch window for the GPSIII SV04 mission for the U.S. Space Force extends until 10:10 p.m.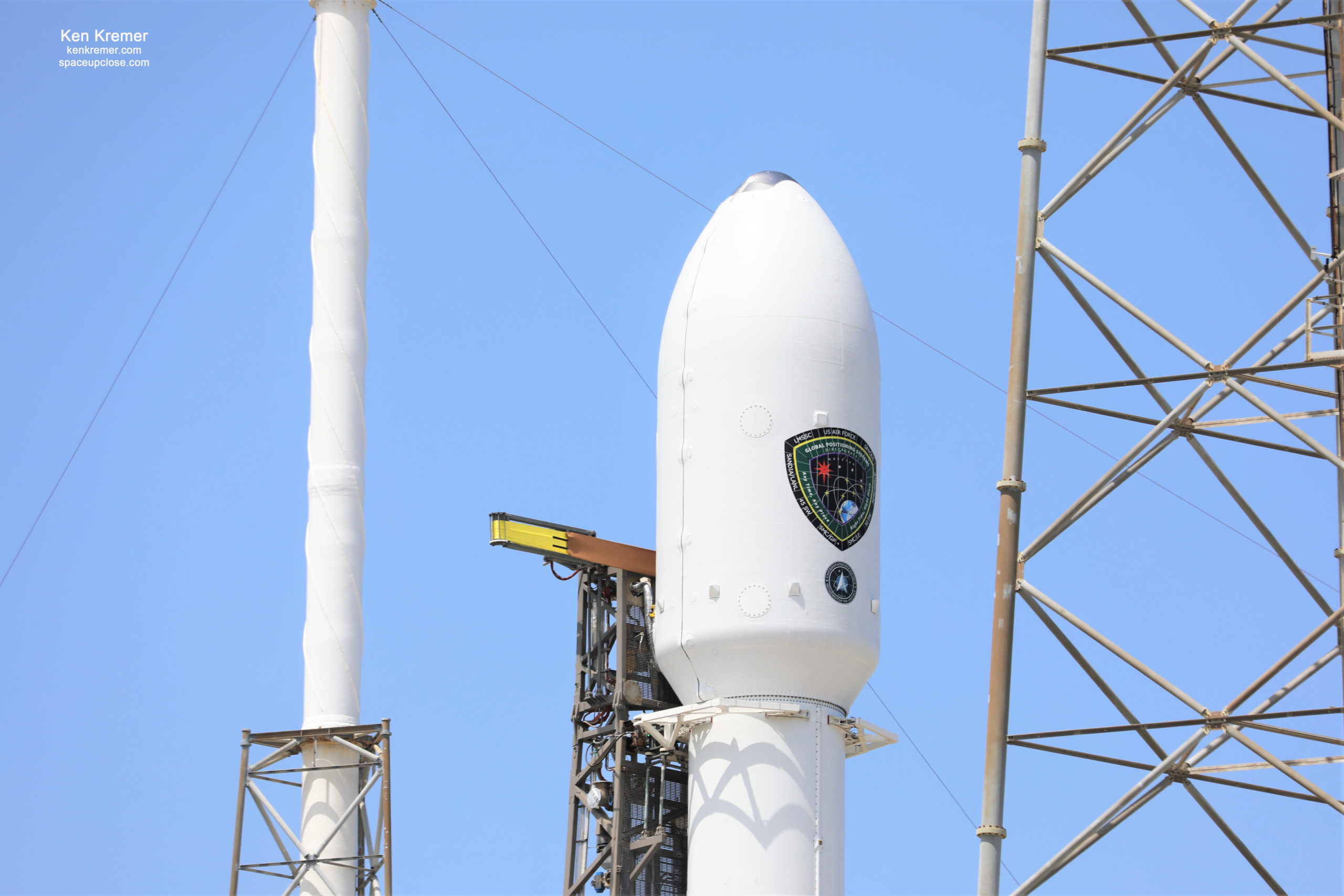 "GPS III SV04 will join the current 31-satellite operational constellation to continue to provide the gold standard in positioning, navigation, and timing services for more than four billion users worldwide," says the U.S. Space and Missile Command.
SpaceX completed a successful static fire test of the Merlin 1D first stage engines early Friday morning Sept. 25 – thus paving the way to blastoff Tuesday evening Sept. 29.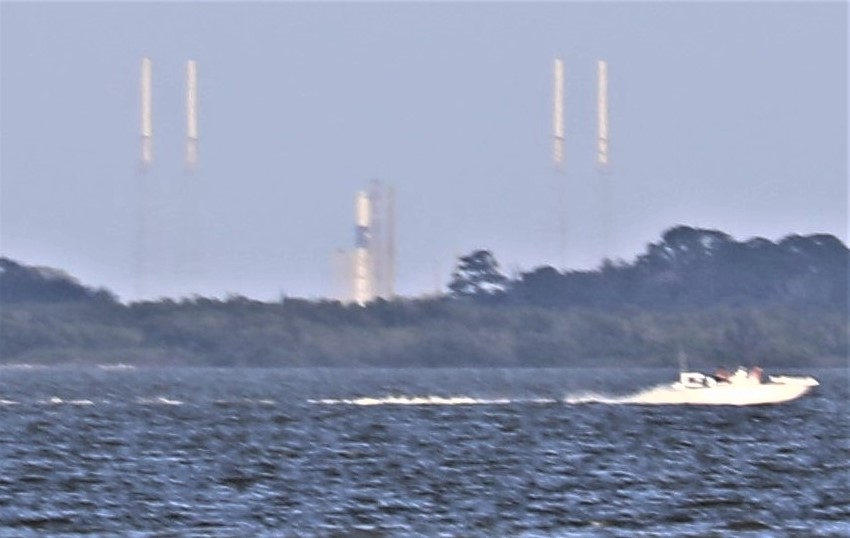 Military leaders announced that the U.S. Space Force will now permit use of 'flight-proven' Falcon 9 rocket for military launches following a thorough evaluation and verification of all rocket systems with SpaceX.
This 1st stage GPS booster will be recovered on the sea going droneship, returned to Port Canaveral and reflown on the next GPS III launch of the SV05 satellite next summer, Dr Walter Lauderdale of the Space and Missile Systems directorate told me during a Sept. 25, 2020 media briefing.
You can watch the Delta IV Heavy rocket launch live on a ULA webcast  beginning about 20 minutes before liftoff at 11:50 p.m. ET, available at :
www.ulalaunch.com and www.youtube.com/unitedlaunchalliance
The weather odds for the Delta IV Heavy midnight liftoff are good with 70% GO for conditions at launch time.
The primary concerns are the Thick Cloud Layer Rule and the Cumulous Cloud Rule.
In case of a delay a backup launch opportunity exists on Monday, Sept. 28.
SpaceX will also broadcast their 2 Falcon 9  launches live:
Three rocket launches from three different launch pads bunched up so close is very rare – and the drama is palpable especially with this being one of the final Delta IV Heavy launches.
The last time this was attempted about a month ago in late August the Delta IV Heavy launched was scrubbed at the last moment by a dramatic dead of night engine hot fire pad abort that caused an unexpected scrub seconds before liftoff.
ULA announced that the root cause of the abort was the result of a ground system regulator internal component failure.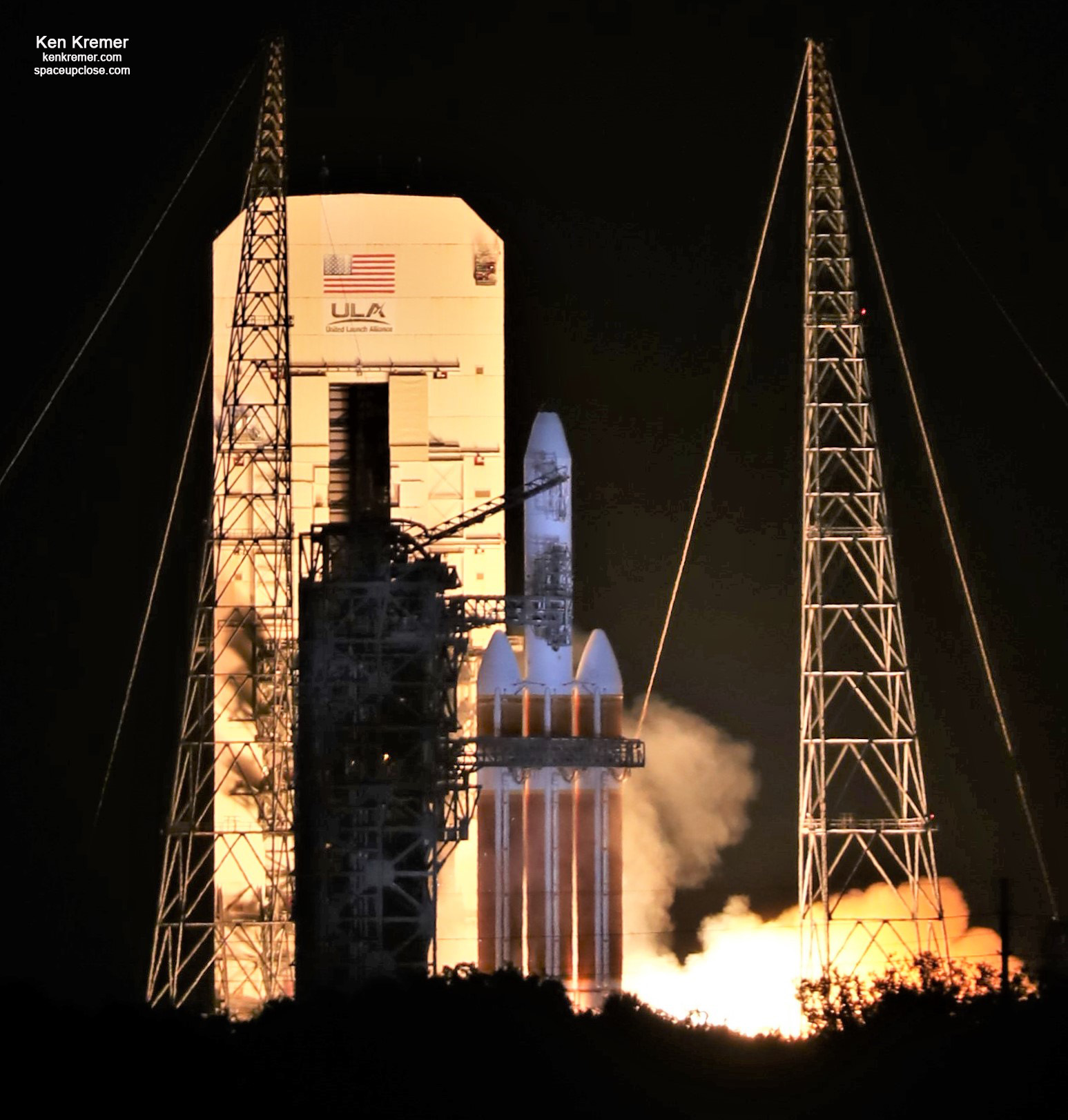 Only 5 of this D4H vehicle remain until it is retired forever – eventually to be replaced by ULA's new Vulcan Centaur rocket launching on its maiden flight later in 2021.
The Delta IV Heavy had been declared ready following a Launch Readiness Review meeting joined by ULA, the 45th Space Wing, Space Force military leaders and the NRO on Sept. 25.
"Leadership from ULA, the National Reconnaissance Office and the Space Force today reconvened the Launch Readiness Review (LRR) for the NROL-44 mission by a Delta IV Heavy rocket and gave a unanimous "go" to continue preparations for Saturday's early morning liftoff," said ULA prior to the swing arm issue delay to Sunday.
Leadership from ULA, @NatReconOfc and @SpaceForceDOD reconvened the Launch Readiness Review for the #NROL44 mission today and gave a unanimous "go" to continue preparations for Friday night's countdown to liftoff of #DeltaIVHeavy. Read more: https://t.co/GKgbdk3wMm pic.twitter.com/5ZbRpjyzpj

— ULA (@ulalaunch) September 24, 2020
"The LRR, led by ULA Launch Director Lou Mangieri, took place in the Delta Operations Center at the Cape and virtually via teleconferencing to assess the readiness of the rocket and mission assets, the status of pre-flight processing work and previewed the weather forecast that calls for a 60 percent chance [now 80% GO] of acceptable conditions."
"At the conclusion of the meeting, leaders were polled and then signed the Launch Readiness Certificate."
"The National Reconnaissance Office is an Intelligence Community element and Department of Defense organization responsible for developing, acquiring, launching and operating America's reconnaissance satellites, as well as operating associated data processing facilities in support of national security. Using NRO data, the National Security Agency, National Geospatial-Intelligence Agency, and other NRO mission partners produce intelligence products for the President, Congress, national policymakers, warfighters and civil users."
"United Launch Alliance will offer live comprehensive countdown coverage from the Delta Operations Center in our automatically-refreshing blog ….. with continuing commentary all the way to liftoff."
Enjoy our Space UpClose gallery of images from the team of Ken Kremer and Jean Wright.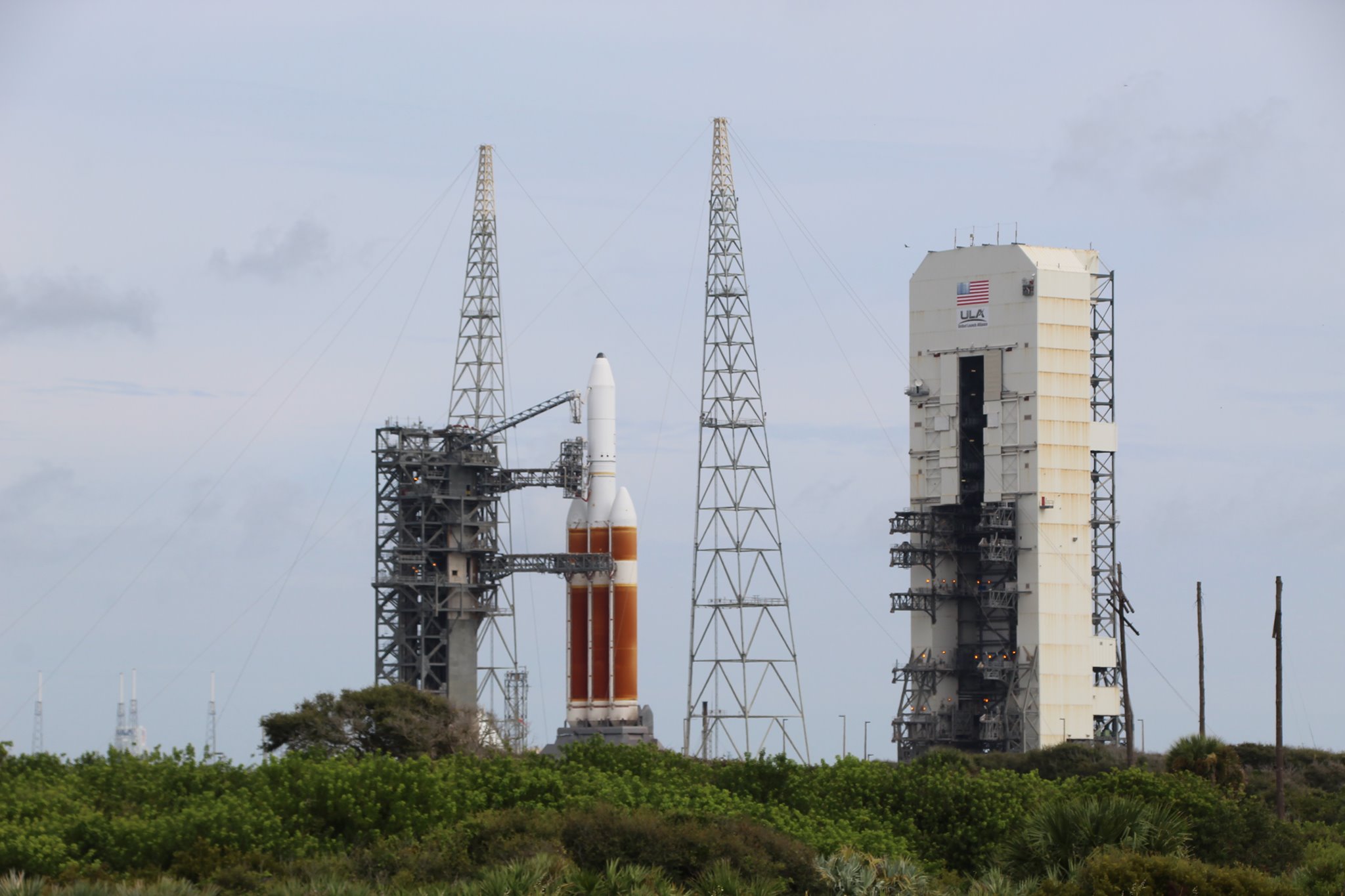 The top secret NROL-44 intelligence gathering spy satellite payload is owned by the secretive U.S. National Reconnaissance Office (NRO).
Nothing is known about the clandestine NRO payload or its goals.
About the only thing we do know is the rocket will be flying on an easterly trajectory post-launch.
Watch this ULA video for further details about the mission profile:
Video Caption: Watch a preview video of what you can expect during the #DeltaIVHeavy rocket's flight. At the request of our customer, live coverage of the #NROL44 mission will conclude after payload fairing jettison approximately seven minutes into flight.
Overall this will be 141st mission for United Launch Alliance (50:50 joint venture of Boeing and Lockheed Martin) and the 29th for the NRO.
It is the 385th Delta launch since 1960, the 12th Delta IV Heavy and the 8th Heavy for the NRO.  Also the 41st flight of a Delta 4 rocket since 2002.
The weather odds for the Space liftoffs are good with 70% and 80% GO respectively on Sept. 28 and 29 for conditions at launch time – according to the 45th Space Wing Space Force weather forecasters.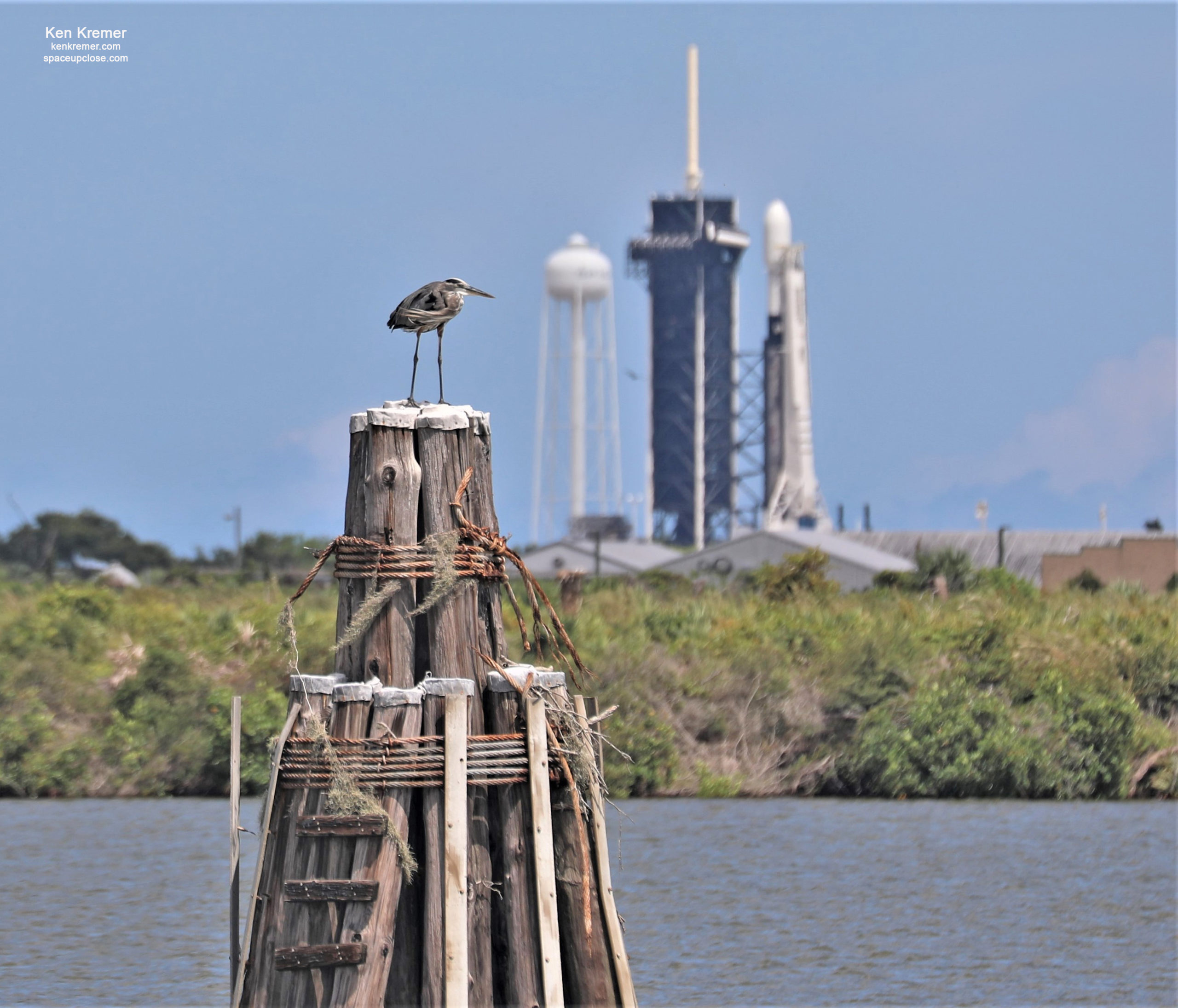 My commentary at WFTV Channel 9 ABC TV News Orlando in this Sept. 25/26 report about 3 upcoming Space Coast launches in 3 days by ULA and SpaceX
https://www.wftv.com/news/local/brevard-county/space-coast-could-see-three-rocket-launches-three-days/KBPD2XR4YZGJFBXCLXBG3VSK7Y/
Watch Ken's continuing reports about Starlink, Commercial Crew and Artemis and onsite for live reporting of upcoming and recent SpaceX and ULA launches including Demo-2, Starlink, X-37B, Solar Orbiter, Mars 2020 and more at the Kennedy Space Center and Cape Canaveral Space Force Station.
Stay tuned here for Ken's continuing Earth and Planetary science and human spaceflight news: www.kenkremer.com –www.spaceupclose.com – twitter @ken_kremer – email: ken at kenkremer.com
Dr. Kremer is a research scientist and journalist based in the KSC area, active in outreach and interviewed regularly on TV and radio about space topics.
………….
Ken's photos are for sale and he is available for lectures and outreach events
Please consider supporting Ken's work by donating at Patreon:
https://www.patreon.com/kenkremer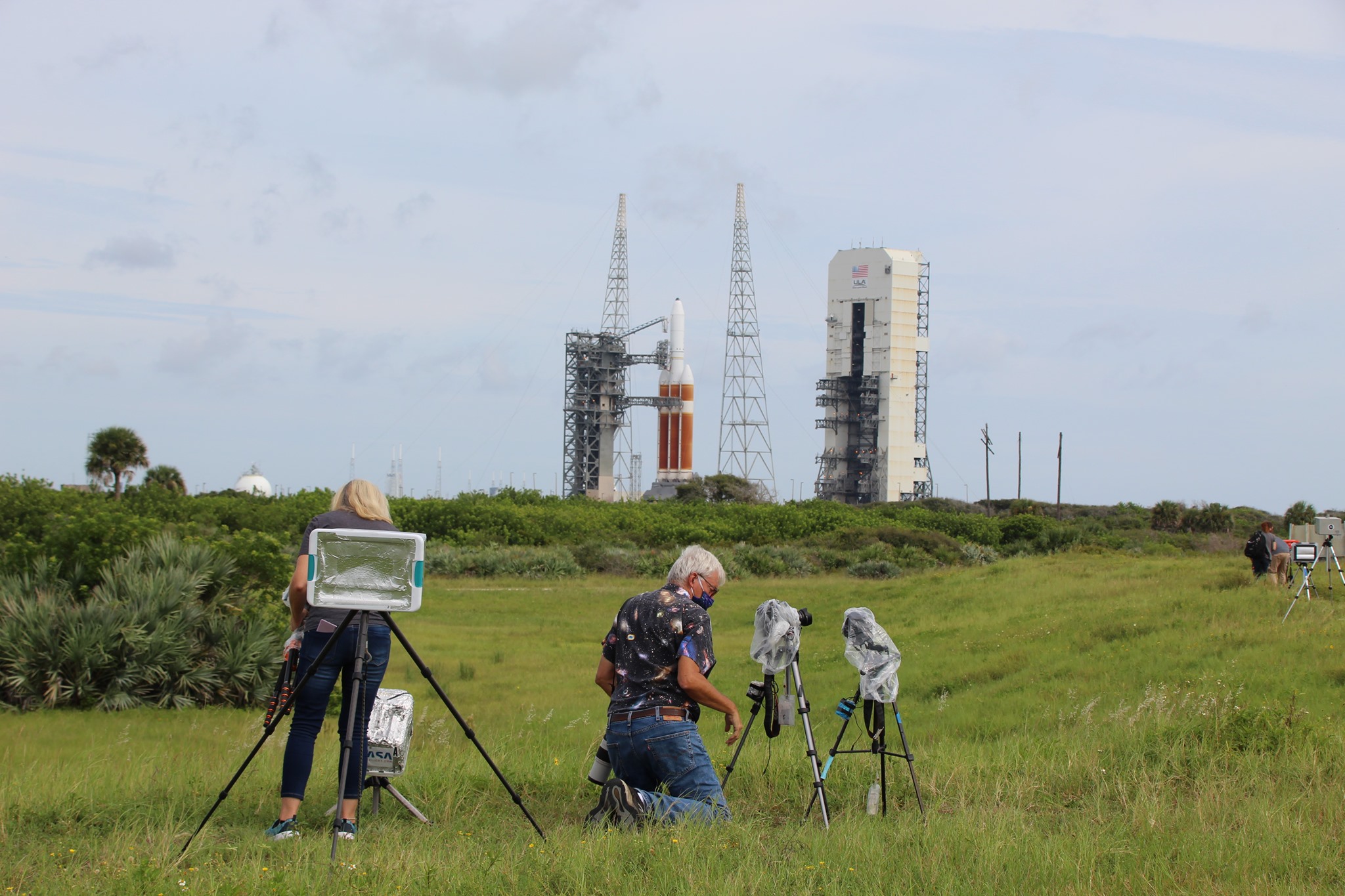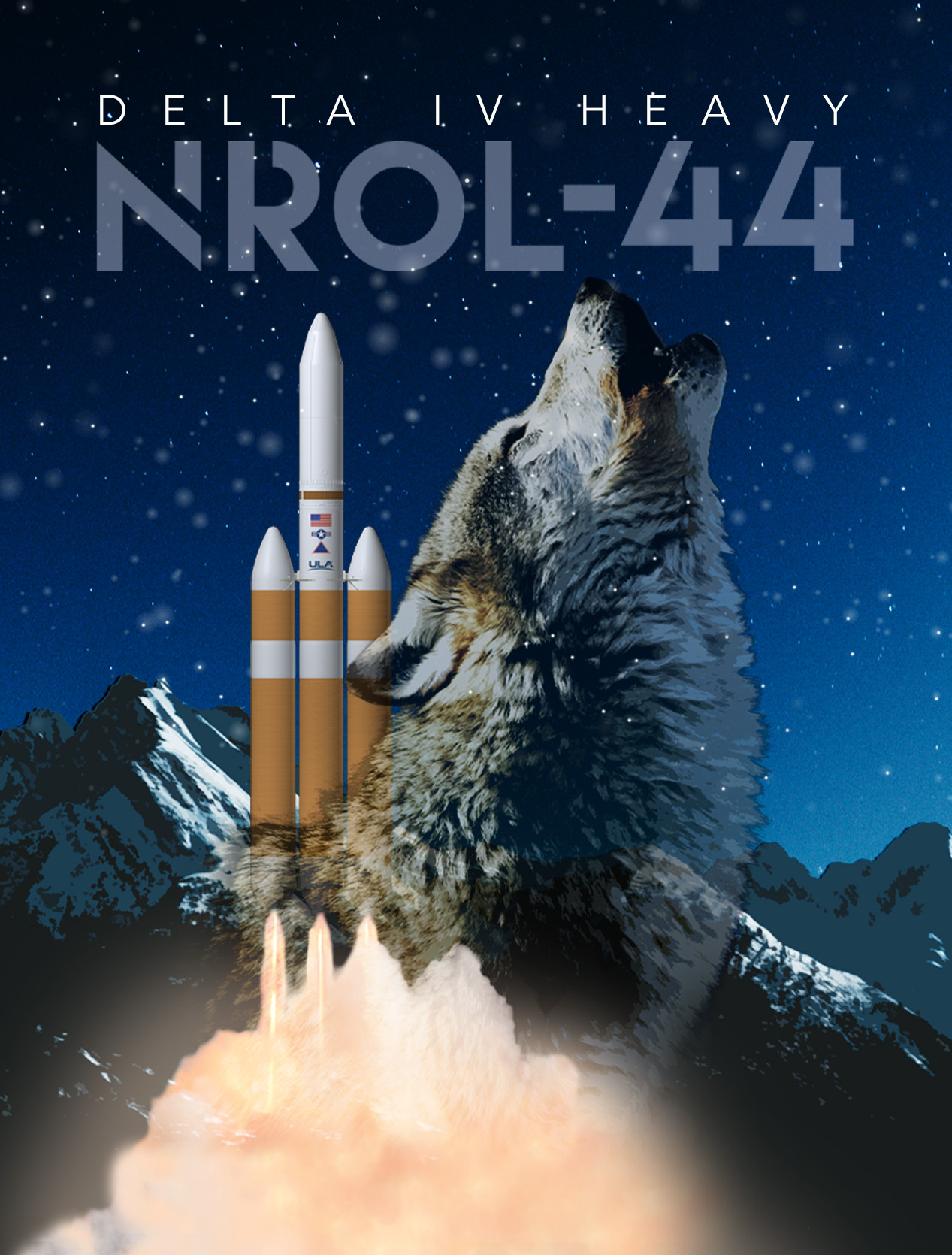 x