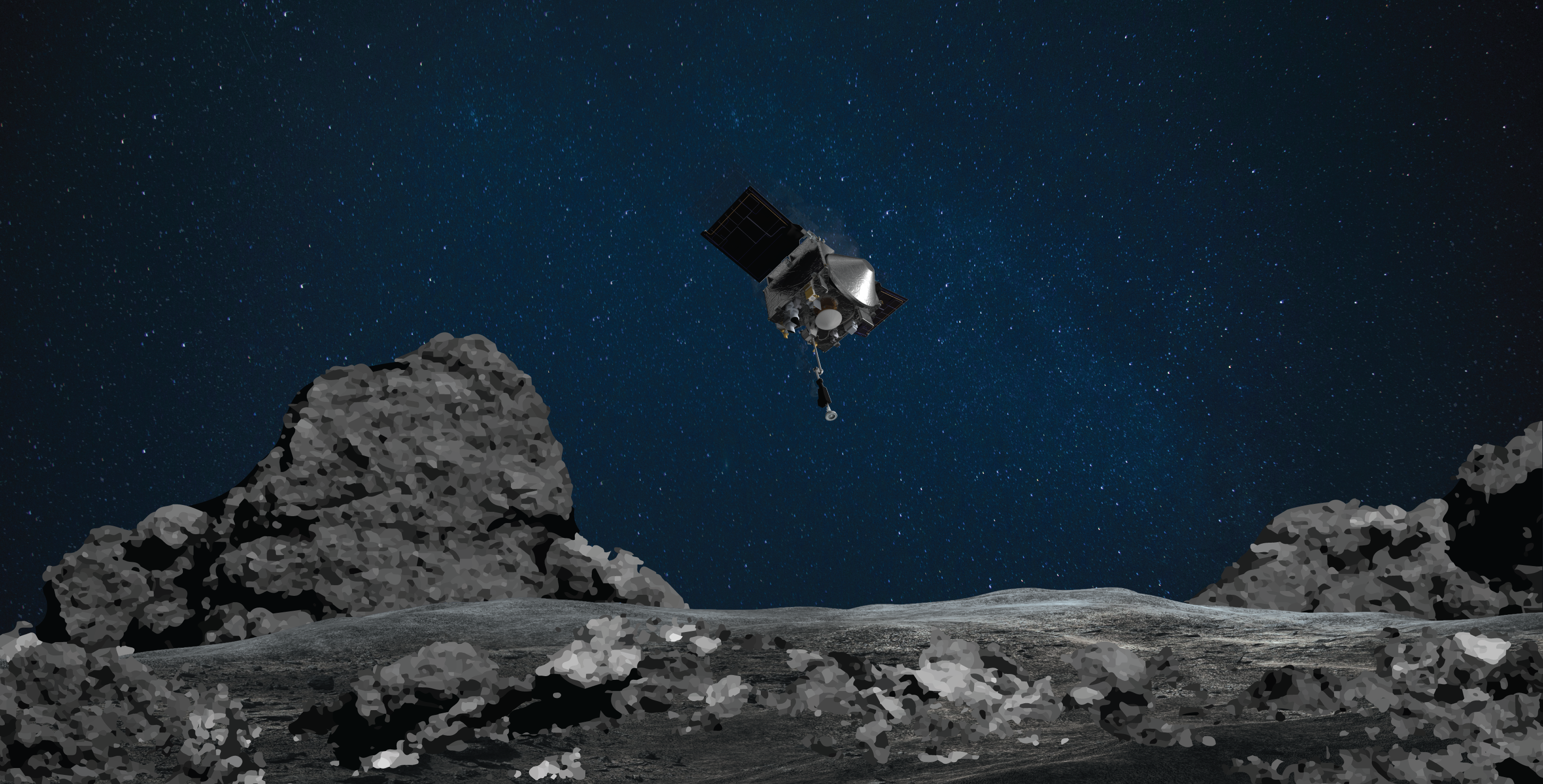 For SpaceUpClose.com & RocketSTEM
KENNEDY SPACE CENTER, FL –  NASA's OSIRIS-REx spacecraft is all set for the first sampling attempt at Asteroid Bennu targeted to happen Tuesday afternoon, Oct. 20 – after a four year journey from Earth and arriving in orbit 2 years ago for detailed science imaging, spectroscopy, analysis and site selection!
This is NASA's first asteroid sample retrieval mission and takes place about 200 million miles from Earth on a carbon rich Near Earth Asteroid collecting pristine soil and rock samples dating back to the origin of the solar system 4.5 Billion years ago and perhaps gives clues to the origin of life on Earth as well.
Overall the OSIRIS-REx mission involves an unprecedented 7 year science journey to Bennu and back to collect at least 60 grams of a asteroidal material.
Live coverage of the spacecraft's descent to the asteroid's surface for its "Touch-And-Go," or TAG, maneuver, which will be managed by Lockheed Martin Space near Denver, will begin at 5 p.m. on NASA Television and the agency's website.
"Beginning with an orbit departure maneuver around 1:50 p.m., the full sequence of the complicated engineering feat will be covered on @OSIRISREx, and media and the public can ask questions using the hashtag #ToBennuandBack," says NASA.
Be sure to watch NASA's broadcast coverage of the agency's first of its kind mission for its Origins, Spectral Interpretation, Resource Identification, Security-Regolith Explorer (OSIRIS-REx) mission as it attempts to collect a sample of asteroid Bennu on Tuesday, Oct. 20, at 6:12 p.m. EDT.
NASA live coverage:   https://www.nasa.gov/nasalive
? LIVE FROM @LockheedMartin: Bennu, we see you! Tune in as our @OSIRISREx spacecraft descends to the rocky surface of asteroid Bennu to attempt to scoop some space rocks from site Nightingale! Watch: https://t.co/kaHk9cChZ1

Questions? #ToBennuAndBack https://t.co/kaHk9cChZ1

— NASA (@NASA) October 20, 2020
The team hopes to collect at least 60 grams of pristine asteroid soil and sample material from the Nightingale site which hopefully includes organics and hydrated minerals – which are the goals of why OSIRIS-Rex was sent to Bennu.
"The OSIRIS-REx spacecraft will make its first TAG attempt at gathering at least 2 ounces regolith from the asteroid Bennu.  Since Bennu is so far away, the operators on the ground will issue instructions to the software, and then it will autonomously approach Bennu and extend its robotic arm, called the Touch-And-Go Sample Acquisition Mechanism (TAGSAM)," said Roger Harris, who served as Project Manager for OSIRIS-Rex.
"The solar panels will pull back safely away so they can't touch Bennu's surface, and the Natural Feature Tracking system will enable the spacecraft to pull back before the spacecraft is in danger of colliding with a hazardous area of the "Nightingale" landing site, which while our best option for gather surface material, is surrounded by massive mission-ending boulders."
The Nightingale sample site is very small – about the size of 3 parking spots – about 25 feet (8 meters) in diameter.  It is surrounded by a few rather large boulders and rocks inside the crater
Overall Bennu is much more rugged and dominated by rocks and boulders – compared to the simpler smooth beach-sand like consistency expected prelaunch.
So the team has carried out an incredibly detailed analysis of the surface to find a safe sampling spot- as the asteroid is rotating with a period of 4 hours
The TAGSAM arm will only contact the surface of Bennu for about 10 seconds or so
"OSIRIS-REx, which is about the size of a 15-passenger van, is currently orbiting the asteroid Bennu 200 million miles from Earth. Bennu contains material from the early solar system and may contain the molecular precursors to life and Earth's oceans. The asteroid is about as tall as the Empire State Building and could potentially threaten Earth late in the next century, with a 1‐in‐2,700 chance of impacting our planet during one of its close approaches. OSIRIS-REx is now ready to take a sample of this ancient relic of our solar system and bring its stories and secrets home to Earth."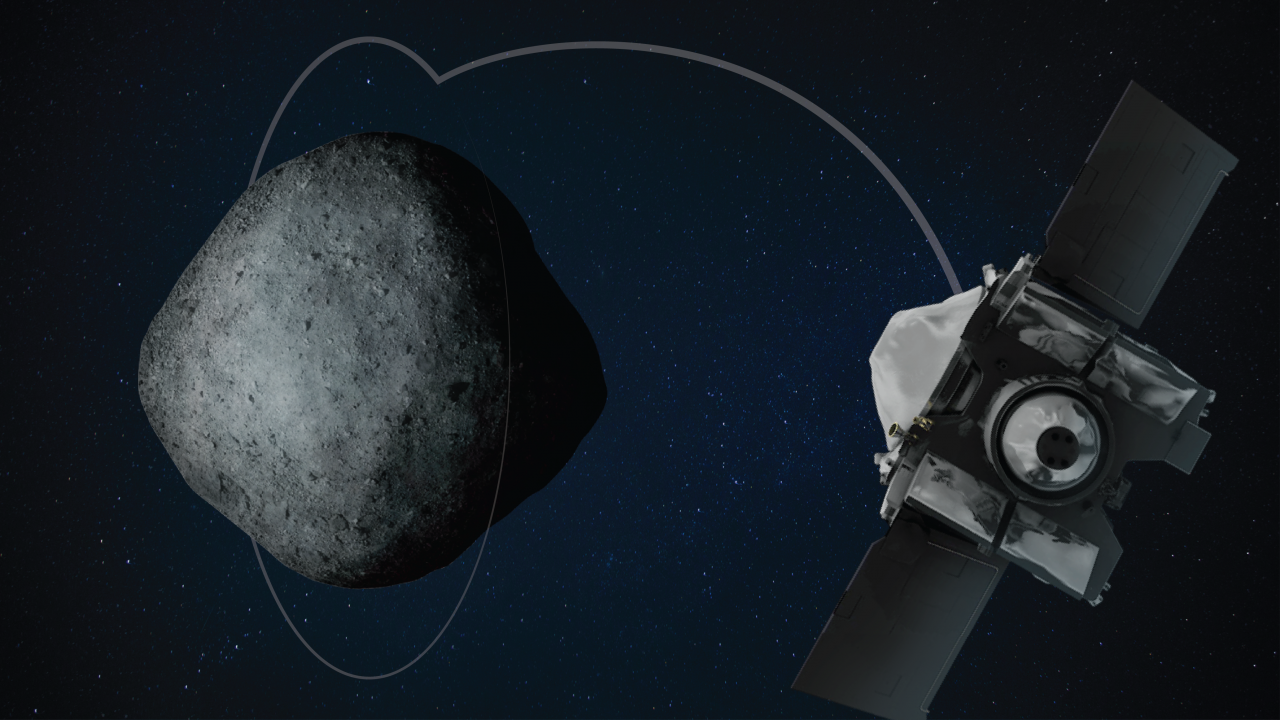 Here is a rundown on the coverage and briefing set for Oct 20 and 21 before, during and after the sampling attempt
Tuesday, Oct. 20
1:20 to 6:30 p.m. – Live stream animation displaying OSIRIS-REx's sample collection activities in real time. The animation commences with the spacecraft's slew into position for the Orbit Departure Maneuver and runs through the entire sequence of TAG events, concluding after the spacecraft's back-away burn. Event will be broadcast on the mission's website.
5 to 6:30 p.m. – Live broadcast from Lockheed Martin of OSIRIS-REx's descent to the surface of Bennu and attempt at sample collection.
Hosted by Dante Lauretta, OSIRIS-REx principal investigator at the University of Arizona, and Michelle Thaller, science communicator at Goddard, the broadcast will cover milestones in the last 90 minutes leading up to TAG and spacecraft back-away. It will include perspectives from team members and science leaders about the mission's challenges and accomplishments.
A clean feed of the Mission Support Area during TAG is planned to run on NASA's media channel.
Wednesday, Oct. 21
5 p.m. – Post-sampling news conference – and release of new images – with the following participants:
Dante Lauretta, OSIRIS-REx principal investigator, University of Arizona, Tucson
Rich Burns, OSIRIS-REx project manager, NASA's Goddard Space Flight Center in Greenbelt, Maryland
Sandra Freund, OSIRIS-REx mission operations manager, Lockheed Martin Space, Littleton, Colorado
Watch this NASA video description of OSIRIS-REx
Video caption: Tour of Bennu- When NASA's OSIRIS-REx spacecraft arrived at asteroid Bennu in December 2018, its close-up images confirmed what mission planners had predicted nearly two decades before: Bennu is made of loose material weakly clumped together by gravity, and shaped like a spinning top. This major validation, however, was accompanied by a major surprise. Scientists had expected Bennu's surface to consist of fine-grained material like a sandy beach, but were instead greeted by a rugged world littered with boulders – the size of cars, the size of houses, the size of football fields. Now, thanks to laser altimetry data and high-resolution imagery from OSIRIS-REx, we can take a tour of Bennu's remarkable terrain. Credit: NASA
Bennu has an active surface and is and ejecting material.
The spacecraft has extensively surveyed the asteroid before the mission team selected  two possible sample sites. Close examination of these sites  allow the team to pick one for sample collection. After sample collection, the spacecraft will head back toward Earth before ejecting the Sample Return Capsule for landing in the Utah desert in Sept. 2023.
OSIRIS-Rex was launched on Sept. 8, 2016 on a United Launch Alliance Atlas V rocket from Cape Canaveral Air Force Station, FL.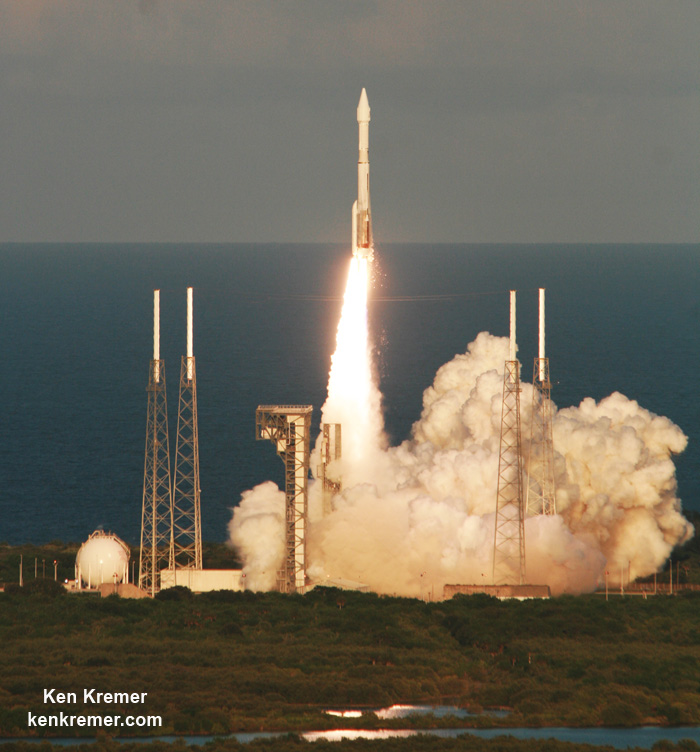 OSIRIS-Rex counts as NASA's first mission to visit a near-Earth asteroid, survey the surface, collect a sample and deliver it safely back to Earth.
Watch Ken's continuing reports about OSIRIS-REx, Commercial Crew and Artemis and onsite for live reporting of upcoming and recent SpaceX and ULA launches including Demo-2, Starlink, X-37B, Solar Orbiter, Mars 2020 and more at the Kennedy Space Center and Cape Canaveral Space Force Station.
Stay tuned here for Ken's continuing Earth and Planetary science and human spaceflight news: www.kenkremer.com –www.spaceupclose.com – twitter @ken_kremer – email: ken at kenkremer.com
Dr. Kremer is a research scientist and journalist based in the KSC area, active in outreach and interviewed regularly on TV and radio about space topics.
………….
Ken's photos are for sale and he is available for lectures and outreach events
Please consider supporting Ken's work by donating at Patreon:
https://www.patreon.com/kenkremer