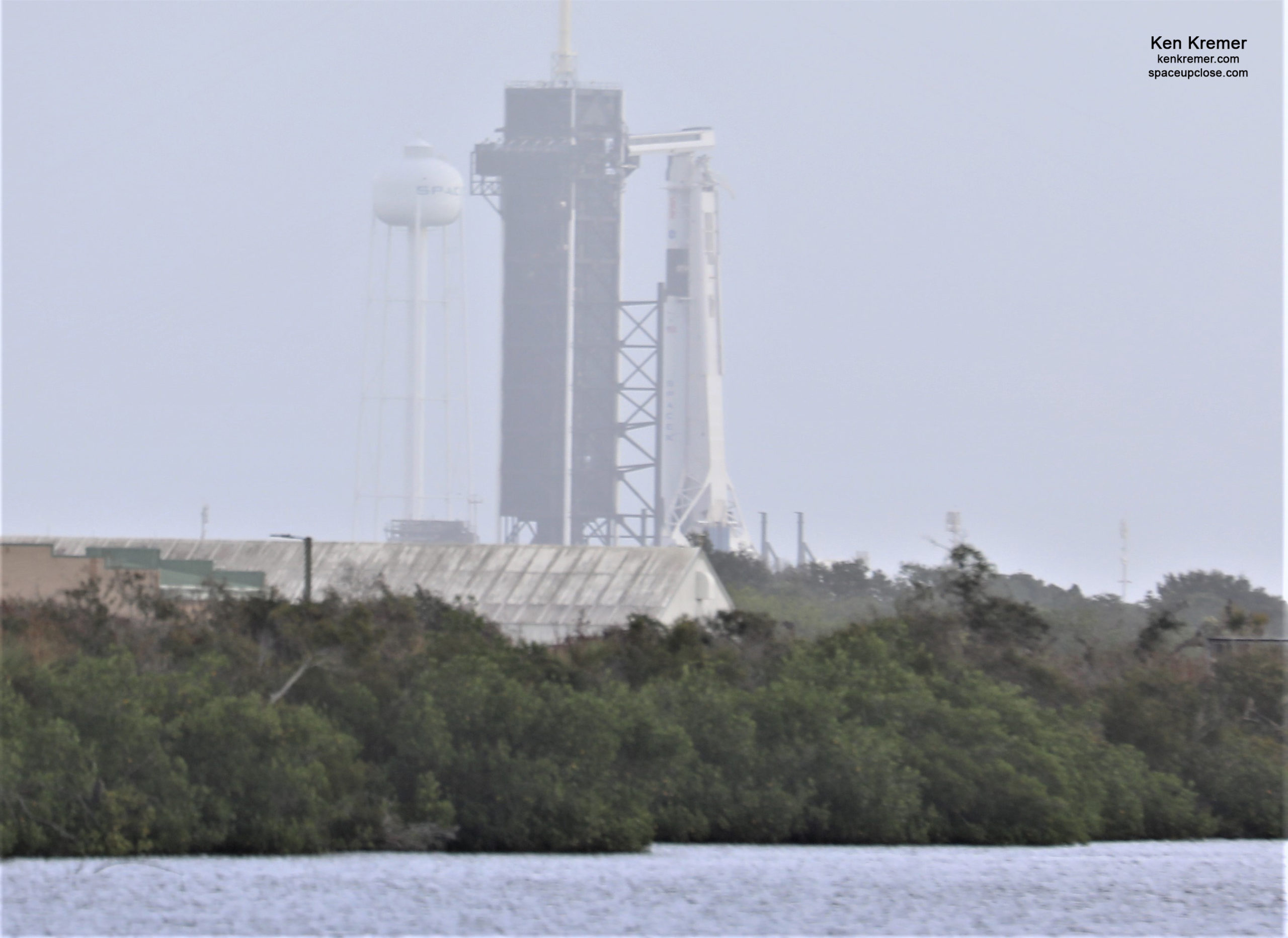 SpaceX Falcon 9 rocket integrated with Crew Dragon Resilience and were rolled out and stand vertical atop Launch Complex 39A at NASA's Kennedy Space Center, Florida on Nov. 10, 2020 for launch targeted for Nov. 14 to the ISS on Crew-1 mission with 4 astronauts. Credit: Ken Kremer/kenkremer.com/spaceupclose.com
For SpaceUpClose.com & RocketSTEM
KENNEDY SPACE CENTER, FL –   The SpaceX Falcon 9 rocket fully integrated with and capped by the commercial Crew Dragon Resilience spacecraft has gone vertical at Kennedy Space Center's historic Launch Complex-39A for the Crew-1 mission carrying   the multinational team of four astronauts on their six month mission launching to the International Space Station (ISS) from Florida's Spaceport on Saturday, Nov. 14.
A static fire test of the first stage engines is planned for Wednesday afternoon after being delayed from Monday and Tuesday due to weather impacts from Hurricane Eta and the need to fix a valve in the second stage engine.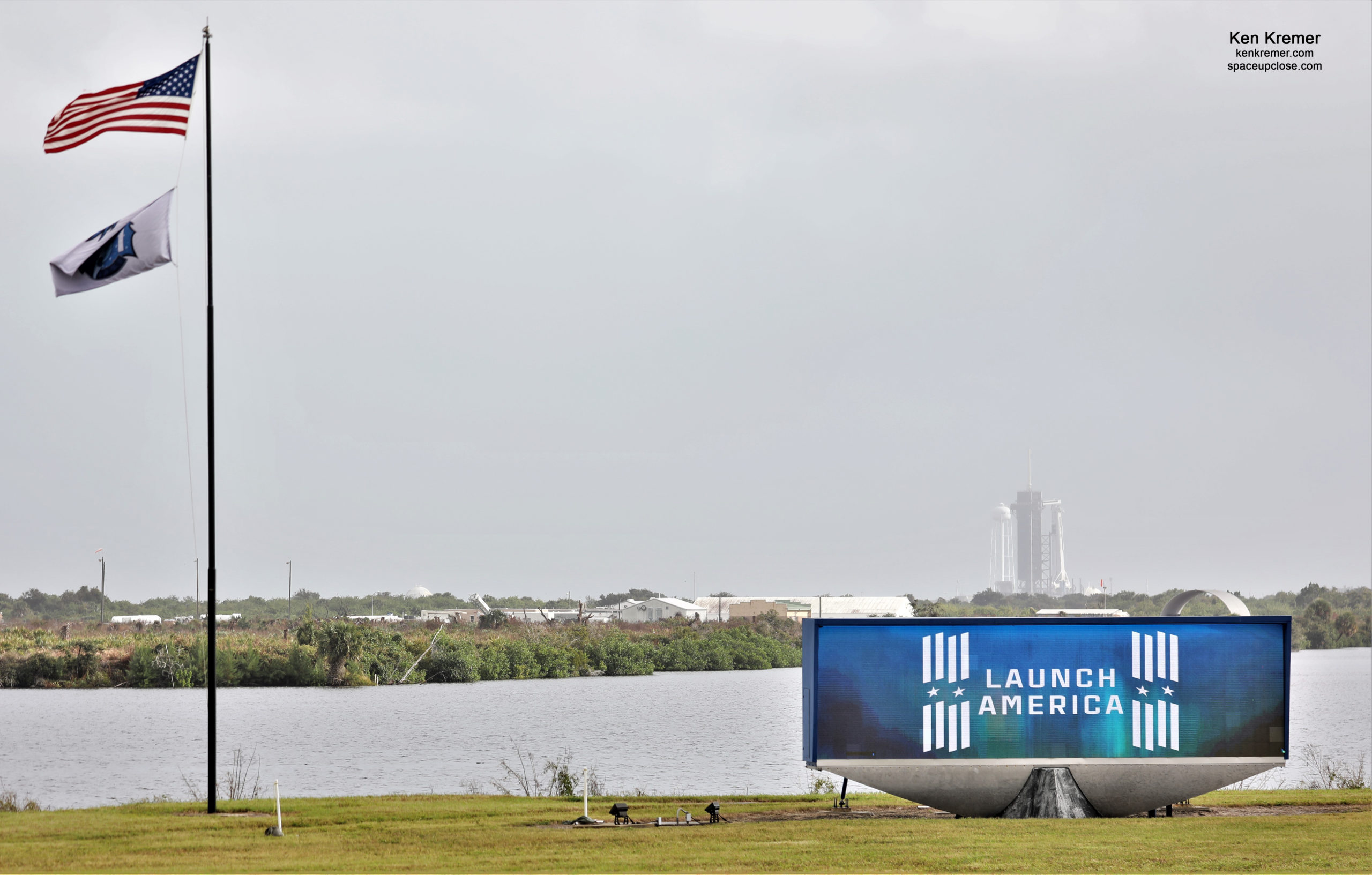 Liftoff of the SpaceX Falcon 9 Crew-1 mission aboard Crew Dragon spacecraft from KSC Launch Complex 39A is targeted for 7:49 p.m. EST Saturday, Nov. 14, during an instantaneous launch time.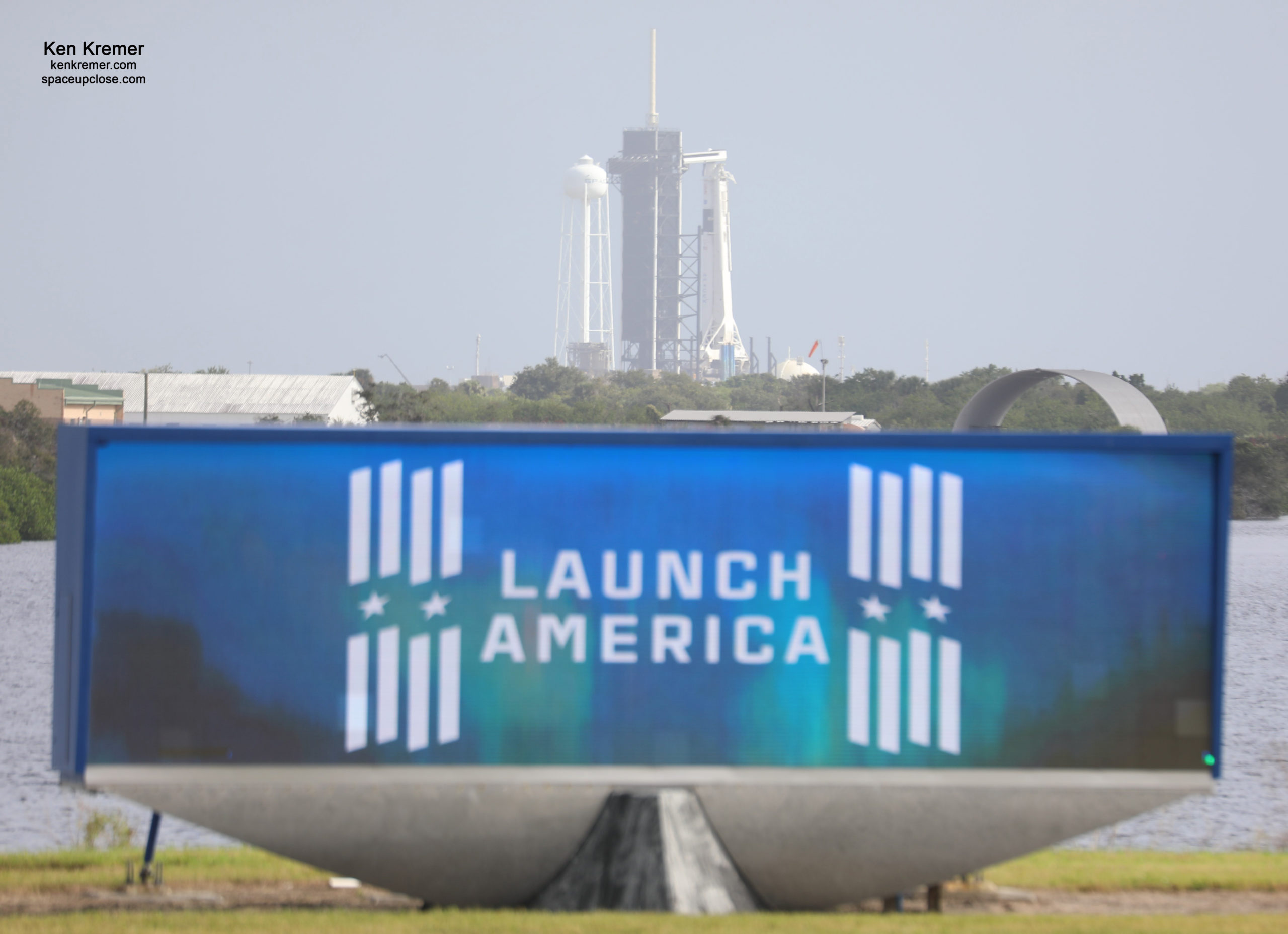 The Crew-1 team of NASA astronauts Michael Hopkins, Victor Glover, and Shannon Walker, along with Soichi Noguchi of the Japan Aerospace Exploration Agency (JAXA), landed via plane at the Launch and Landing Facility at Kennedy at 1:45 p.m. ET Sunday, Nov. 8 after departing earlier Sunday from Ellington Field near the agency's Johnson Space Center in Houston.
Enjoy our Space UpClose photos of the SpaceX Falcon 9 and Crew Dragon vertical at pad 39A taken on Tuesday Nov. 10 from the KSC LC-39A Press site.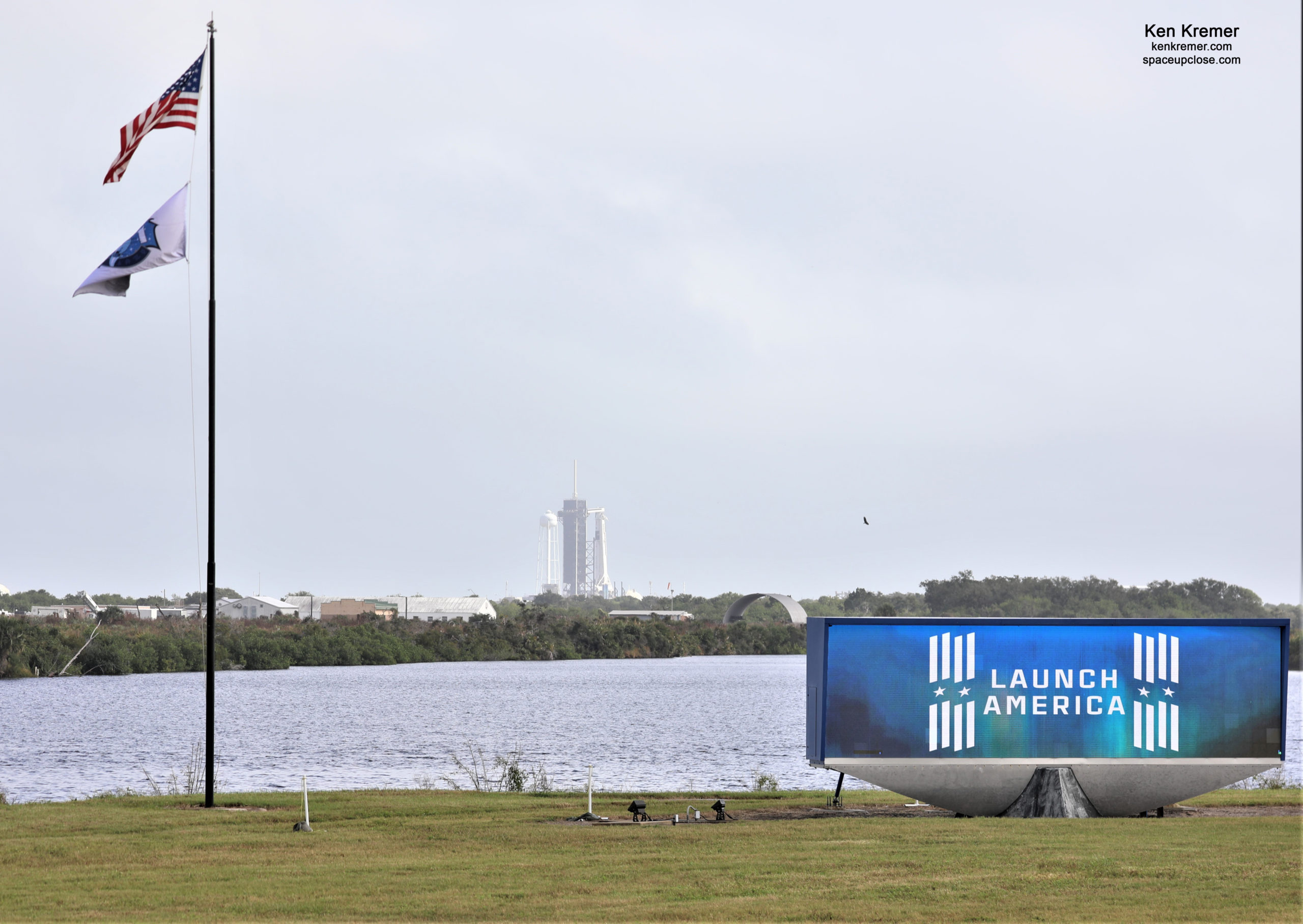 NASA's Crew 1 astronauts arrived at Florida's Spaceport Sunday afternoon, Nov. 8, for their six month mission launching to the International Space Station (ISS) from American soil late this week on Nov. 14 as the SpaceX Crew Dragon spacecraft was successfully integrated with the Falcon 9 rocket that will carry the four person multinational team to orbit from Kennedy Space Center's historic Launch Complex-39A for a half year science mission.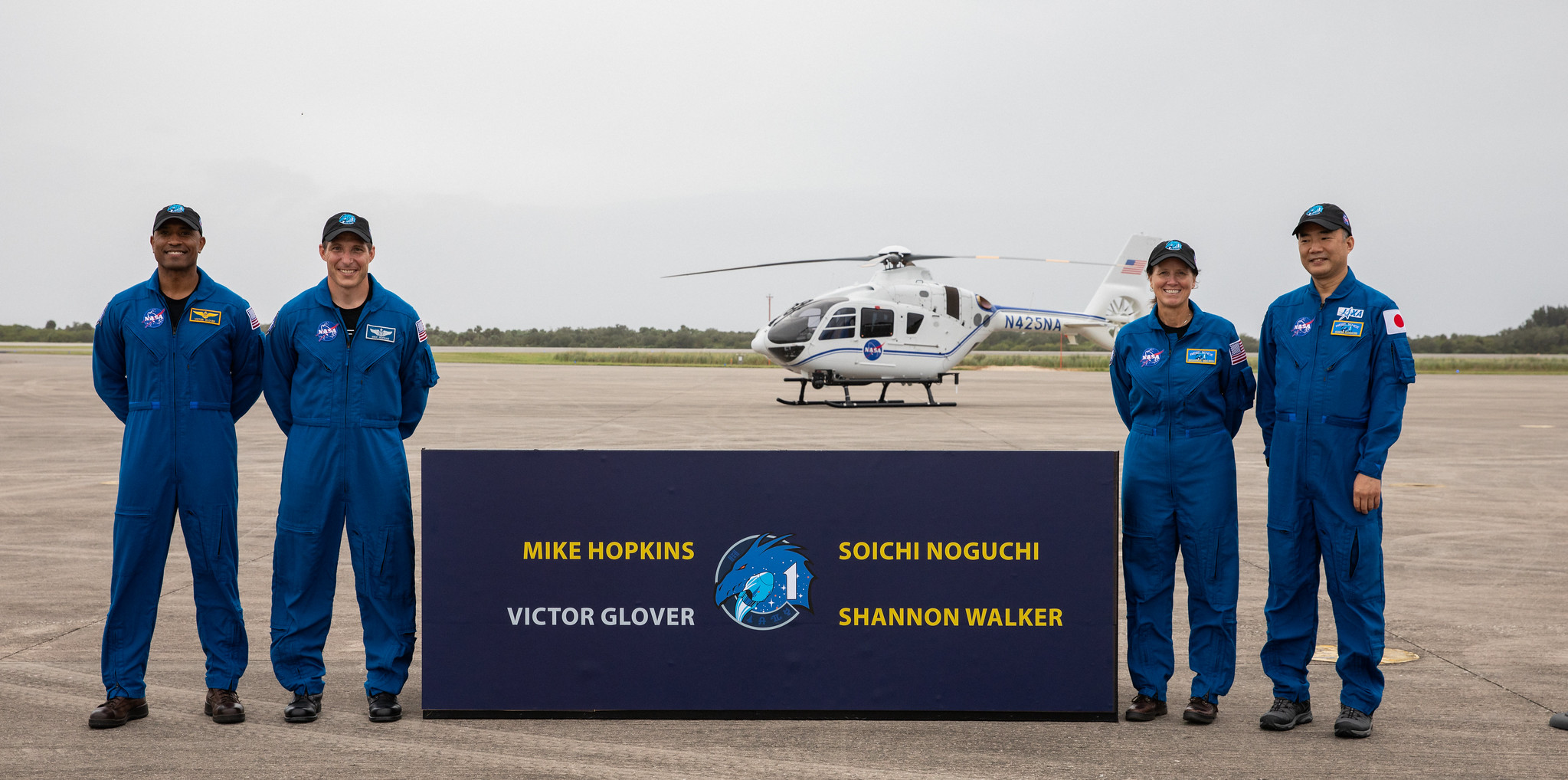 SpaceX's commercial Crew Dragon spacecraft named Resilience arrived at KSC pad 39A on Thursday, Nov. 5,  the same day that SpaceX launched another  Falcon 9 rocket from nearby pad 40 on Cape Canaveral Air Force Station carrying the fourth GPS series III mission to orbit for the U.S. Space Force.
Resilience was thereafter joined to the Falcon 9 rocket that will carry her and the four person crew to the ISS by technicians working at the SpaceX processing hangar outside pad 39A.
Crew Dragon and Falcon 9 in the hangar at Launch Complex 39A ahead of launching four astronauts to the @space_station; liftoff targeted for Saturday, November 14 at 7:49 p.m. EST pic.twitter.com/dlMrPUpr4d

— SpaceX (@SpaceX) November 9, 2020
The four person Crew-1 mission marks a major milestone as the the first operational crew rotation mission of a SpaceX Crew Dragon to the ISS and follows the magnificently successful 64 day long Demo-2 flight of two NASA astronauts Bob Behnken and Doug Hurley launch on May 30.
The history making Demo-1 marked the resumption of  US human spaceflight launching American astronauts from American soil on American rockets aboard the new commercial spaceships pioneered by NASA.
The US has been 100% dependent on the Russians for rides to the ISS since the forced shutdown of NASA's space shuttles in July 2011.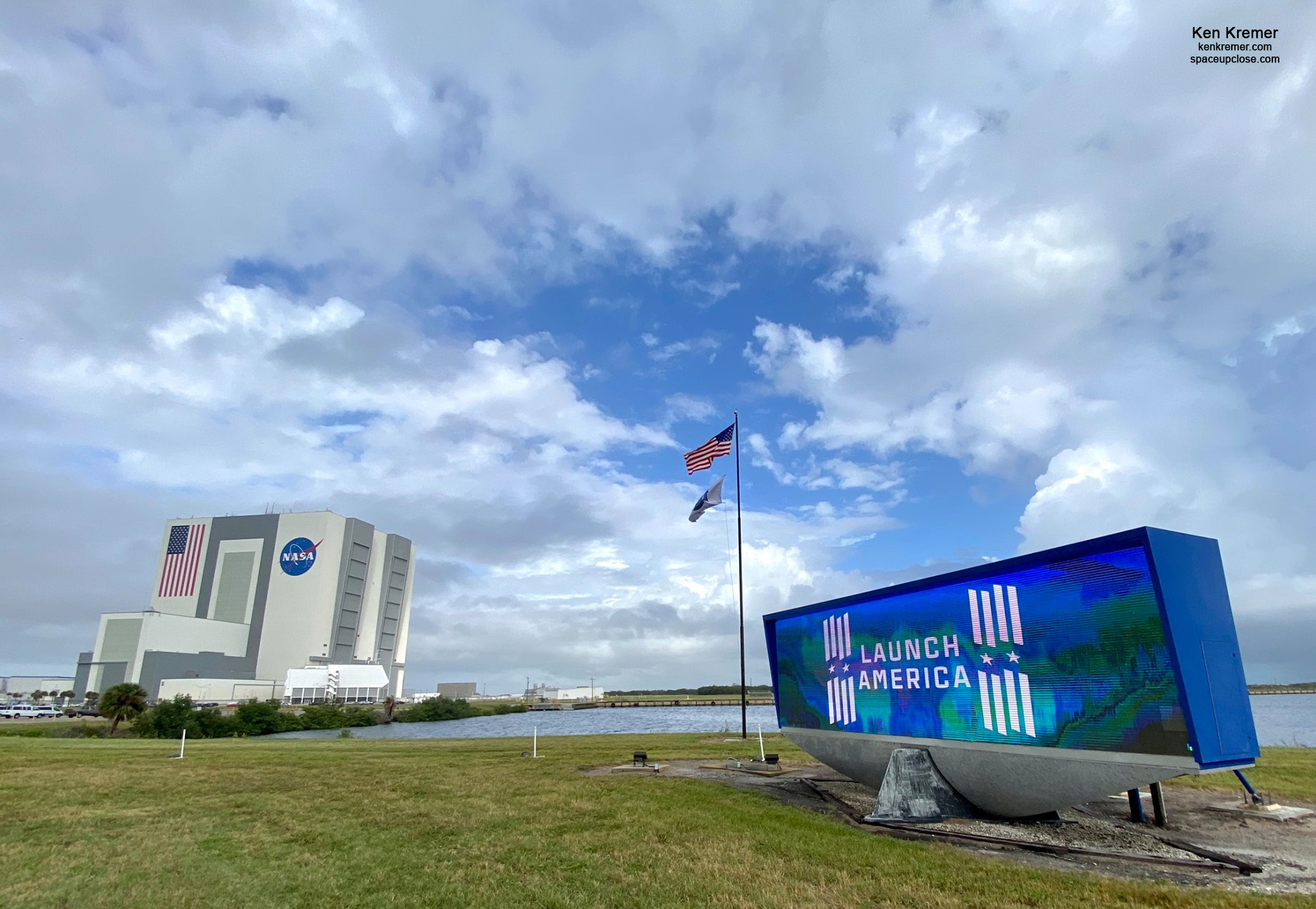 Upon their arrival aboard, the Crew-1 astronauts will become members of Expedition 64, joining NASA astronaut Kate Rubins, as well as Expedition 64 commander Sergey Ryzhikov and flight engineer Sergey Kud-Sverchkov, both of the Russian space agency Roscosmos who recently launched on Oct 14 aboard a Russian Soyuz capsule.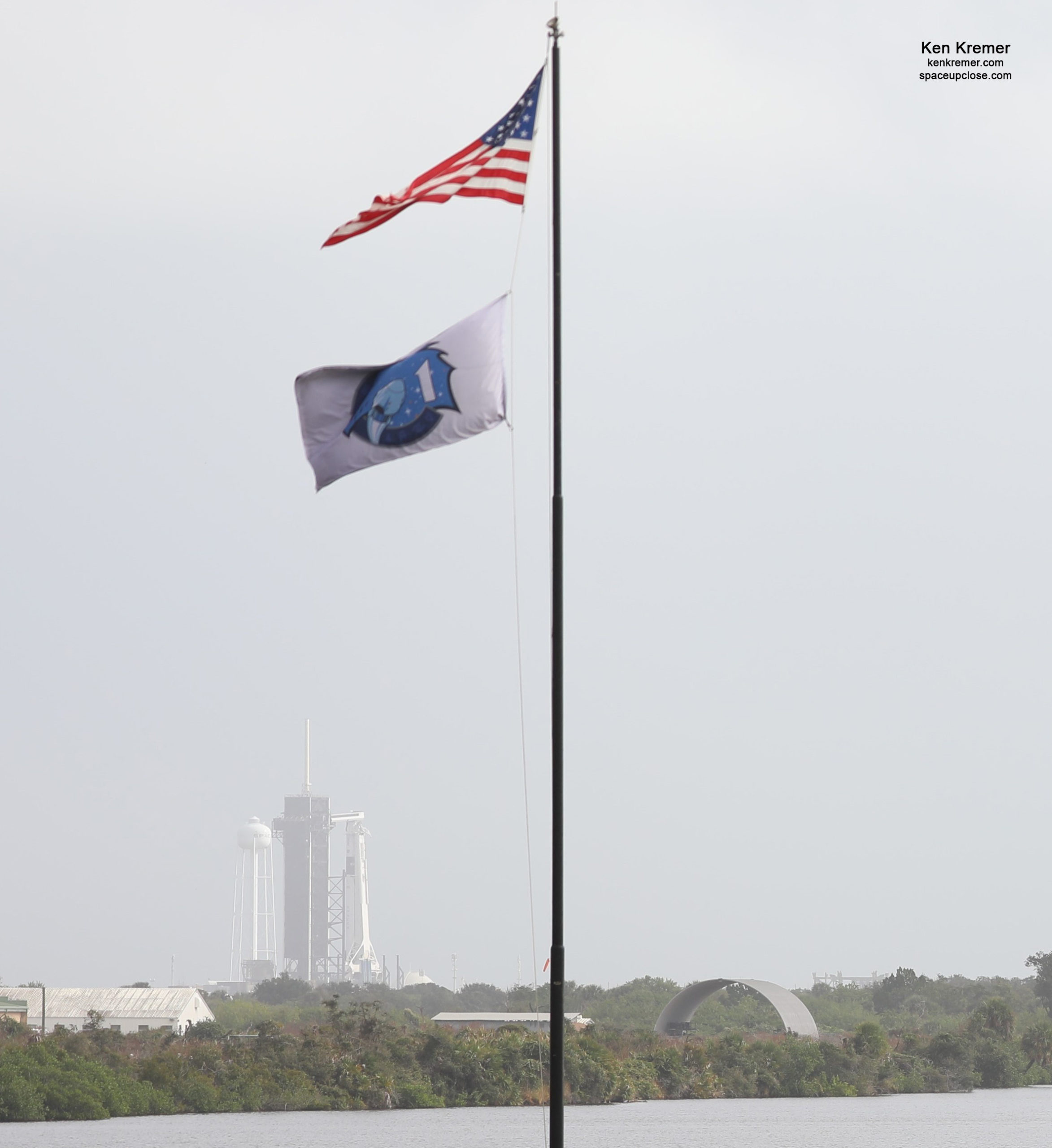 The Crew-1 astronauts have named their Crew Dragon spacecraft Resilience – in recognition of the COVID-19 coronavirus pandemic terribly afflicting the entire world.
To date over 240,000 Americans have died from infection by the coronavirus .
SpaceX plans to recover the Falcon 9 first stage on the 'Just Read the Instructions' droneship stationed some 400 miles downrange in the Atlantic Ocean off the Carolina's coast
NASA wants to reuse the Falcon 9 first stage on the Crew-1 astronaut mission in Spring 2021.
However Hurricane Eta may interfere with those plans and force a launch delay.
The Crew-1 mission is a major step for NASA's Commercial Crew Program. Operational, long-duration commercial crew rotation missions will enable NASA to continue the important research and technology investigations taking place onboard the station.
Further details about the Crew-1 mission and NASA's Commercial Crew Program can be found in the press kit online and by following the commercial crew blog, @commercial_crew and commercial crew on Facebook.
Watch Ken's commentary at WESH 2 NBC TV News Orlando about the possible weather impact from Hurricane Eta on the launch and landing
https://www.wesh.com/article/eta-threatens-astronaut-mission/34647727
Watch for Ken's continuing live and onsite reporting from KSC about the Crew-1 mission.
Watch Ken's continuing reports about Crew Dragon Starlink, Commercial Crew and Artemis and onsite for live reporting of upcoming and recent SpaceX and ULA launches including Demo-2, Starlink, X-37B, Solar Orbiter, Mars 2020 and more at the Kennedy Space Center and Cape Canaveral Space Force Station.
Stay tuned here for Ken's continuing Earth and Planetary science and human spaceflight news: www.kenkremer.com –www.spaceupclose.com – twitter @ken_kremer – email: ken at kenkremer.com
Dr. Kremer is a research scientist and journalist based in the KSC area, active in outreach and interviewed regularly on TV and radio about space topics.
………….
Ken's photos are for sale and he is available for lectures and outreach events
Please consider supporting Ken's work by donating at Patreon:
https://www.patreon.com/kenkremer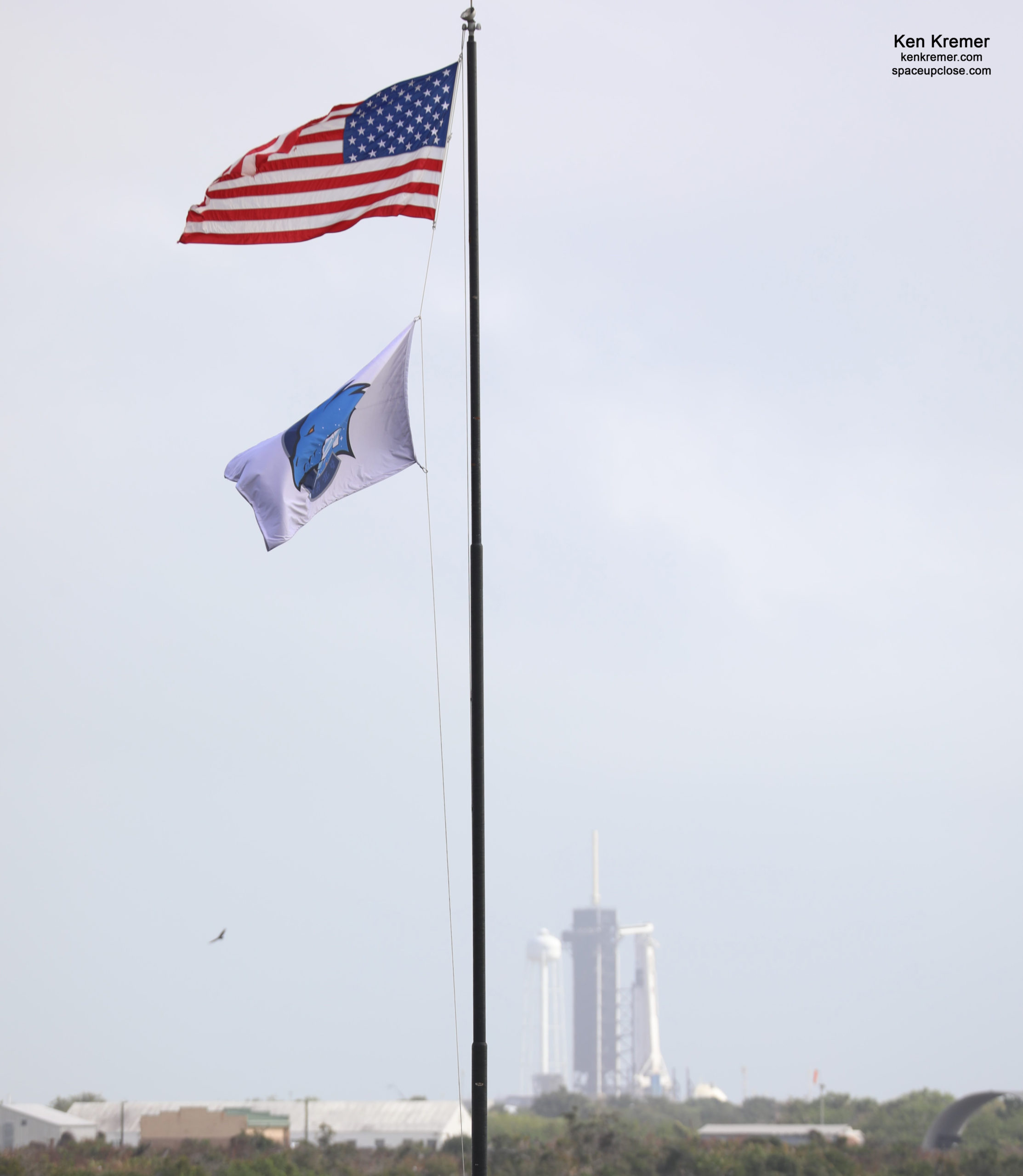 x