For SpaceUpClose.com & RocketSTEM
KENNEDY SPACE CENTER, FL –   NASA is targeting Nov. 14 for launch of the next crew of astronauts from American soil to the International Space Station (ISS) as the SpaceX Crew Dragon spacecraft arrived at Kennedy Space Center's historic Launch Complex-39A from its processing facility at nearby Cape Canaveral Air Force Station for integration with the Falcon 9 rocket that will carry the four person team to orbit from the Florida Space Coast.
With Tropical Storm Eta already impacting southern Florida with tropical force winds of 65 mph and deluges of heavy rain on an erratic path  it remains to be seen where the cone on uncertainty will take it and if the weather will cause any changes to the Crew-1 launch scheduled for next Saturday night, Nov. 14
SpaceX's commercial Crew Dragon spacecraft named Resilience arrived at KSC pad 39A on Thursday, Nov. 5,  the same day that SpaceX launched another  Falcon 9 rocket from nearby pad 40 on Cape Canaveral Air Force Station carrying the fourth GPS series III mission to orbit for the U.S. Space Force.
If all remains on track SpaceX's Falcon 9 rocket, topped by Crew Dragon, will be raised to a vertical position at the pad to carry out a static fire test that was planned for Monday evening.
The four person international Crew-1 astronauts comprise Michael Hopkins, Victor Glover, and Shannon Walker of NASA, along with Soichi Noguchi of the Japan Aerospace Exploration Agency (JAXA).
The four person Crew-1 mission marks a major milestone as the the first operational crew rotation mission of a SpaceX Crew Dragon to the ISS and follows the magnificently successful 64 day long Demo-2 flight of two NASA astronauts Bob Behnken and Doug Hurley launch on May 30.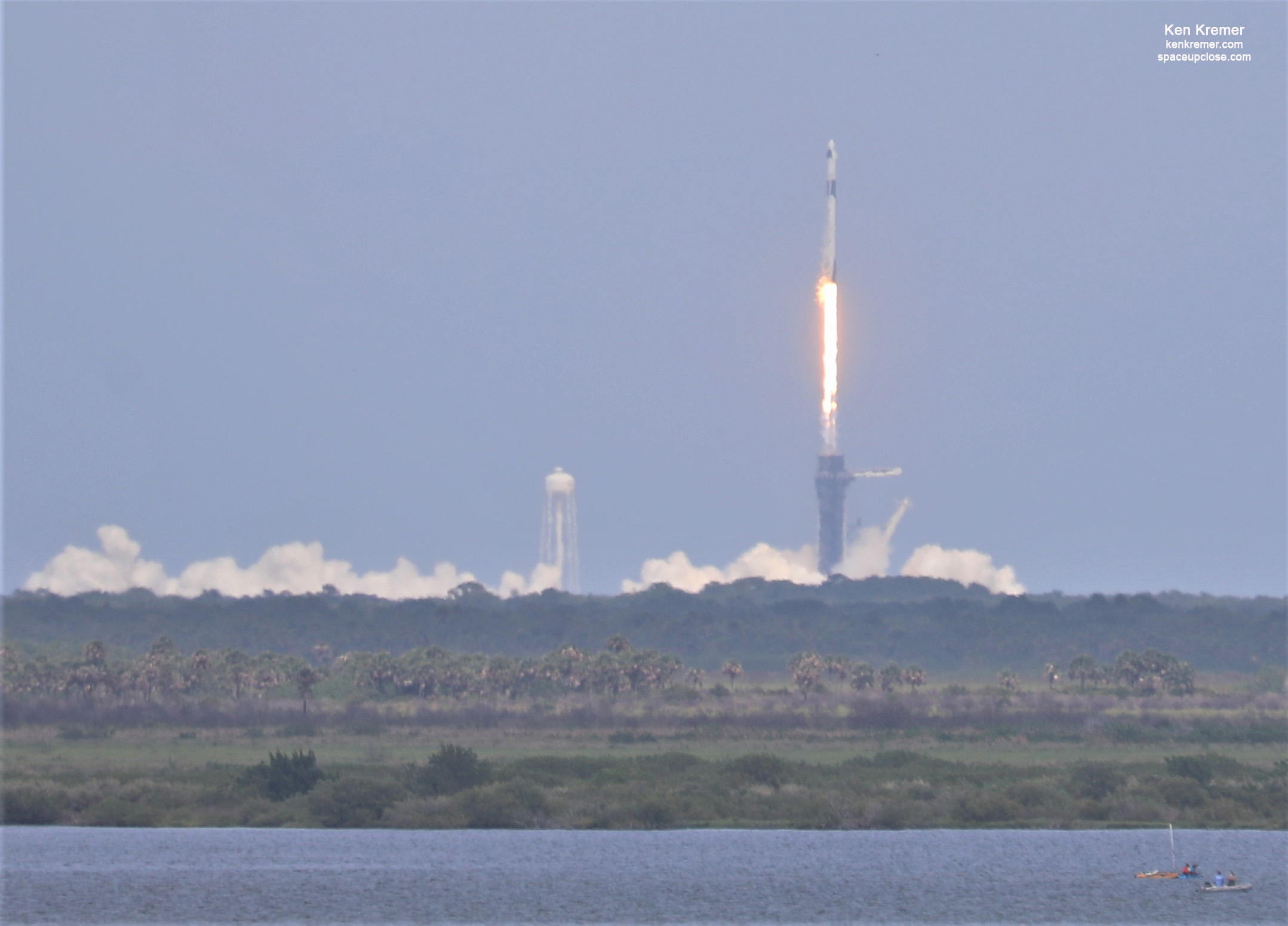 The history making Demo-1 marked the resumption of  US human spaceflight launching American astronauts from American soil on American rockets – aboard the new commercial spaceships pioneered by NASA.
The US has been 100% dependent on the Russians for rides to the ISS since the forced shutdown of NASA's space shuttles in July 2011.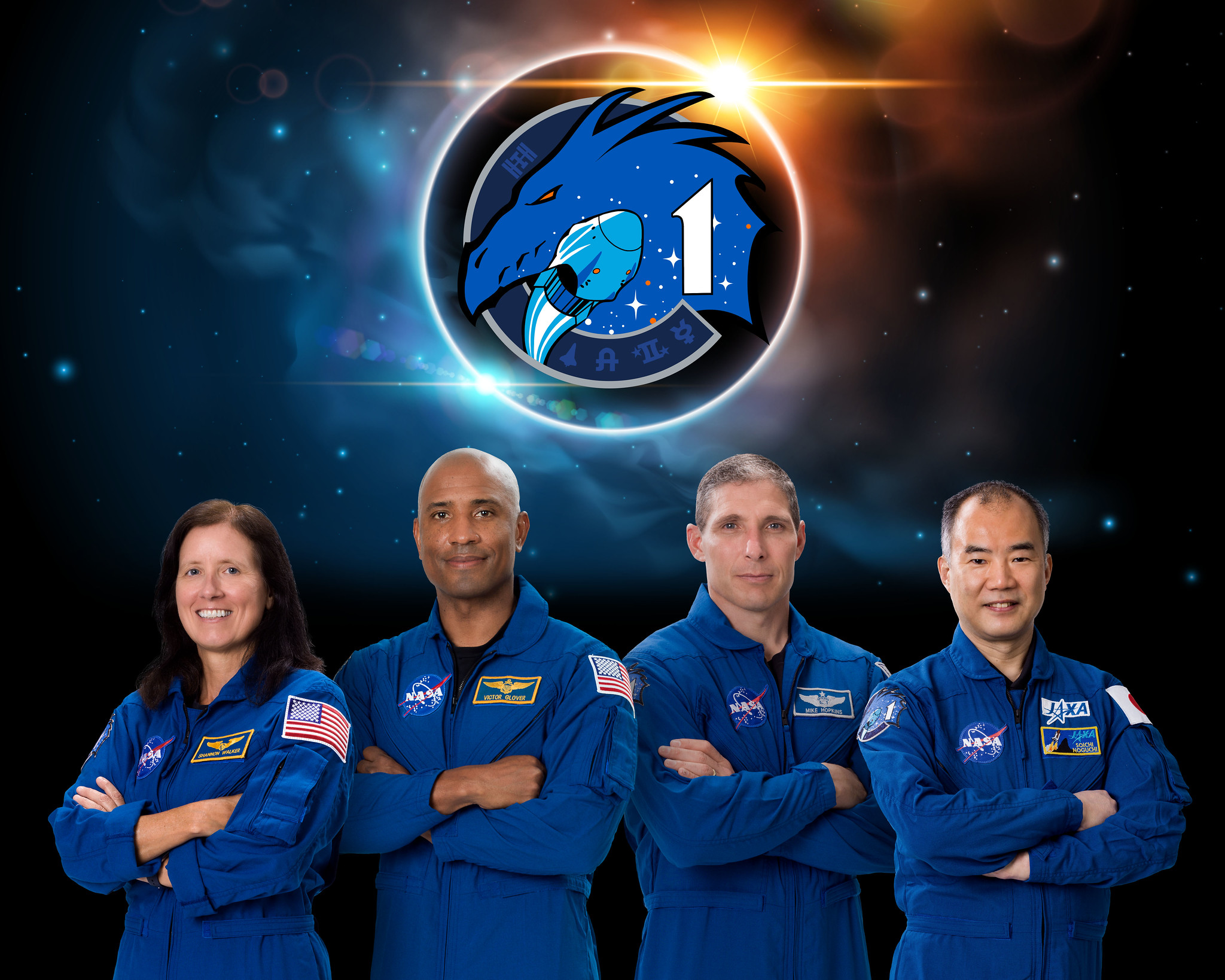 The  crew-1 astronauts will fly from their home base at the agency's Johnson Space Center in Houston to the Florida spaceport on Sunday, Nov. 8.
NASA TV plans a live arrival broadcast of the Crew-1 astronauts  KSC's former Shuttle Landing Facility  on Sunday around 1:45 p.m. ET
Liftoff of the SpaceX Falcon 9 Crew-1 mission aboard Crew Dragon spacecraft from KSC Launch Complex 39A is targeted for 7:49 p.m. EST Saturday, Nov. 14, during an instantaneous launch time.
The Crew-1 astronauts have named their Crew Dragon spacecraft Resilience – in recognition of the COVID-19 coronavirus pandemic terribly afflicting the entire world.
To date over 235,000 Americans have died from infection by the coronavirus .
"After launch, the spacecraft, which the Crew-1 astronauts named Resilience, will perform a series of maneuvers, culminating with rendezvous and docking with the space station," say NASA officials.
Upon their arrival aboard, the Crew-1 astronauts will become members of Expedition 64, joining NASA astronaut Kate Rubins, as well as Expedition 64 commander Sergey Ryzhikov and flight engineer Sergey Kud-Sverchkov, both of the Russian space agency Roscosmos who recently launched on Oct 14 aboard a Russian Soyuz capsule.
The Crew-1 mission is a major step for NASA's Commercial Crew Program. Operational, long-duration commercial crew rotation missions will enable NASA to continue the important research and technology investigations taking place onboard the station.
The mission was delayed from Halloween following a prior launch abort of the SpaceX from the GPS mission on Oct. 2.
SpaceX engineers replaced one of the Merlin 9 engines after the root cause was identified as a 'hard start' related to lacquer not completed washed out during prelaunch engine processing, SpaceX VP Hans Koenigsmann said at a media briefing.
Following inspections SpaceX and NASA decided to replace 2 engines on this newly manufactured Falcon 9 intended for Crew-1.
Military leaders announced that the U.S. Space Force will now permit use of 'flight-proven' Falcon 9 rocket for military launches following a thorough evaluation and verification of all rocket systems with SpaceX.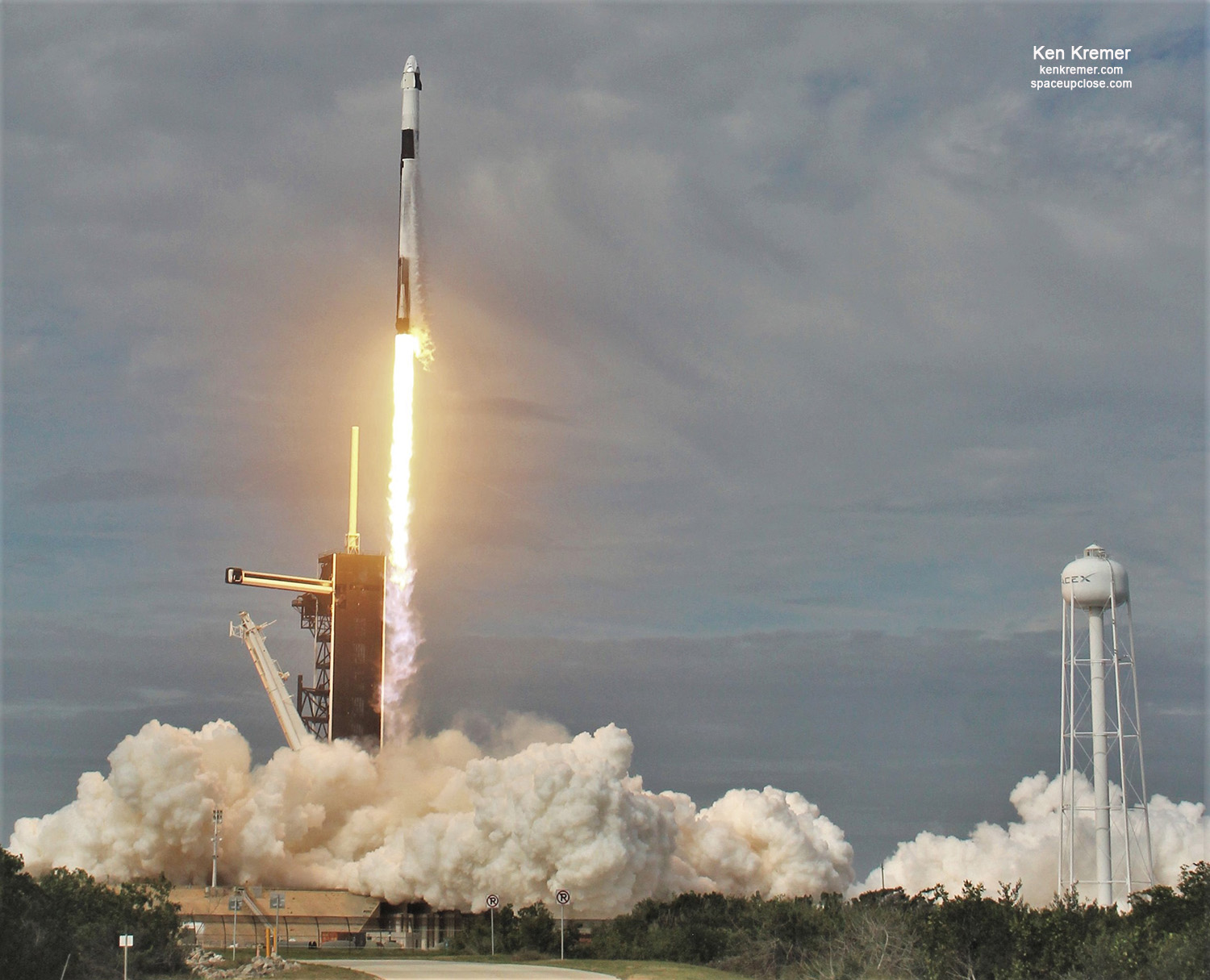 Watch for Ken's continuing live and onsite reporting from KSC about the Crew-1 mission.
Watch Ken's continuing reports about Crew Dragon Starlink, Commercial Crew and Artemis and onsite for live reporting of upcoming and recent SpaceX and ULA launches including Demo-2, Starlink, X-37B, Solar Orbiter, Mars 2020 and more at the Kennedy Space Center and Cape Canaveral Space Force Station.
Stay tuned here for Ken's continuing Earth and Planetary science and human spaceflight news: www.kenkremer.com –www.spaceupclose.com – twitter @ken_kremer – email: ken at kenkremer.com
Dr. Kremer is a research scientist and journalist based in the KSC area, active in outreach and interviewed regularly on TV and radio about space topics.
………….
Ken's photos are for sale and he is available for lectures and outreach events
Please consider supporting Ken's work by donating at Patreon:
https://www.patreon.com/kenkremer