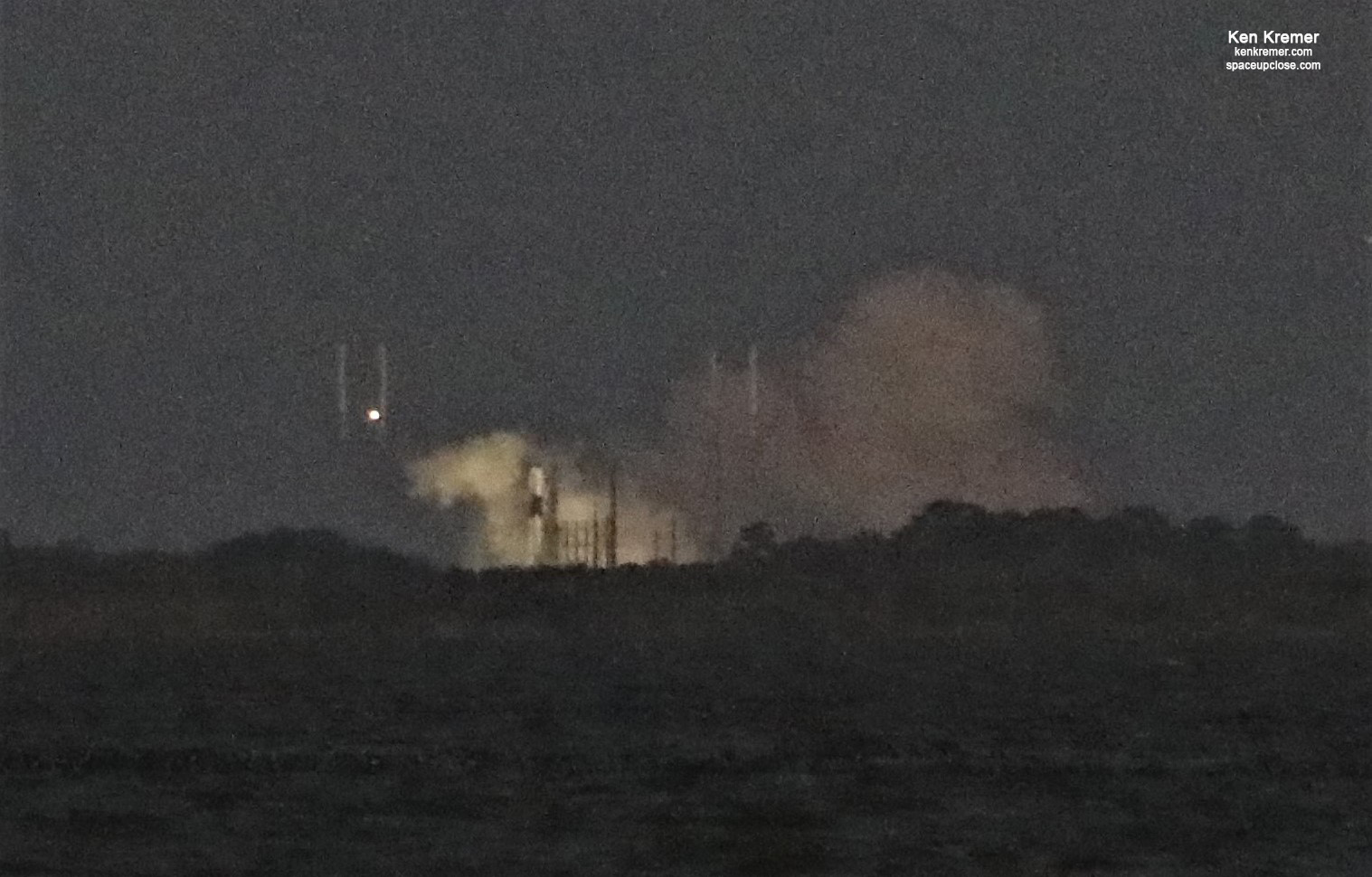 For SpaceUpClose.com & RocketSTEM
CAPE CANAVERAL AIR FORCE STATION, FL – SpaceX is targeting Thursday, Nov. 5 for the twilight liftoff of the next Falcon 9 mission carrying the newest GPS III series navigation satellite for the U.S. military and the Space Force to orbit following a successful Halloween day static fire test of the 1st stage booster at twilight Saturday evening, Oct 30.
The brief hold down static fire test of the brand new Falcon 9 rocket booster with no nose cone and GPS payload attached was carried out precisely at 7 p.m. Saturday evening, Oct. 31  in near darkness on Halloween at the very end of a 6 hour long test window that opened at 1 p.m.
I watched the dinnertime engine test Saturday from nearby in Titusville, FL  about a dozen miles away across the Indian River lagoon and observed the exhaust plume and vapor cloud emanating from the bottom of the booster – just barely visible in the twilight darkness after sunset.
From a distance the test appeared normal – however as always we awaited SpaceX confirmation of a good result.
Almost 2 hours later SpaceX did confirm a good test and targeted launch for Nov. 5
"Static fire test complete – targeting Thursday, November 5 for Falcon 9 launch of GPS III-4 from SLC-40," SpaceX tweeted.
Static fire test complete – targeting Thursday, November 5 for Falcon 9 launch of GPS III-4 from SLC-40

— SpaceX (@SpaceX) November 1, 2020
Enjoy my eyewitness photos of the static fire test at Space UpClose under beautiful but dark weather conditions.
Liftoff of the fourth in a series of next generation GPS satellites on a newly manufactured SpaceX Falcon 9 is slated for Thursday twilight evening Nov. 5 at 6:24 p.m. EDT from Space Launch Complex-40 on Cape Canaveral Space Force Station, FL.
The launch window for the Global Positioning System (GPS) III satellite, Space Vehicle 04 (SV04) mission for the U.S. Space Force extends 15 minutes from 6:24 p.m. until 6:39 p.m. EST Nov. 5
Up Close look at nose cone atop SpaceX Falcon 9 raised at Space Launch Complex 40 for launch of GPSIIISV04 navigation satellite encapsulated inside for U.S. Space Force on Oct. 2, 2020. Space Force and GPS logos emblazoned on payload fairing. Launch retargeted to Nov. 5, 2020.  Credit: Ken Kremer/kenkremer.com/spaceupclose.com
If all goes well the SpaceX  Falcon 9 launch will be the 2nd of two launches this week following a ULA Atlas V launch now targeted to Nov. 4 – following a 1 day delay  from Election Day Nov. 3 for troubleshooting of technical issues with the NRO NROL 101 spysat payload environmental control system flow rate.
This Falcon 9 GPS satellite launch is on track now after the prior liftoff attempt by SpaceX on Oct. 2 was suddenly and unexpectedly automatically aborted at T Minus 2 seconds during the terminal countdown and live broadcast and came on the heels of repeated launch scrubs and postponements for both technical and weather issues last 2 months by both SpaceX and ULA.
Following the launch abort SpaceX engineers replaced one of the Merlin 9 engines after the root cause was identified as a 'hard start' related to lacquer not completed washed out during prelaunch engine processing, SpaceX VP Hans Koenigsmann said at a media briefing.
SpaceX had been scheduled to launch the fourth in a series of next generation GPS satellites on a newly manufactured Falcon 9 on Friday evening Oct. 2 at 9:43 p.m. EDT from Space Launch Complex-40 on Cape Canaveral Space Force Station, FL.
The brief hold down hotfire test of the SpaceX Falcon 9 first stage rocket and Merlin 1D engines was run after the rocket was raised Saturday morning Oct 31 – and is routinely done to confirm the readiness of the rocket for launch
All 9 Merlin 1D first stage engines were ignited to generate approx. 1.7 million pounds of thrust for about 3 seconds or so
During the hold down static fire test, the rocket's first and second stages are fueled with liquid oxygen and RP-1 propellants just like an actual launch, and a simulated countdown was carried out to the point of a brief engine ignition lasting around 3 seconds or so.
Following the static fire test, the booster was lowered horizontal, rolled back to the pad 40 processing hangar and joined with the GPS navsat encapsulated in the payload fairing
The weather outlook currently shows a 60% chance of acceptable conditions at launch time.
GPS serves a broad array of both civilian and military functions.
"GPS III SV04 will join the current 31-satellite operational constellation to continue to provide the gold standard in positioning, navigation, and timing services for more than four billion users worldwide," says the U.S. Space and Missile Command.
GPS III SV 04 has three times more accuracy and up to eight times improved anti-jamming capability vs the currently orbiting GPS constellation in the earlier GPS II series. A vast improvement for both military and civilian users of GPS.
The GPS III series is built by prime contractor Lockheed Martin.
SpaceX will attempt to recover the Falcon 9 booster on their droneship Of Course I Still Love You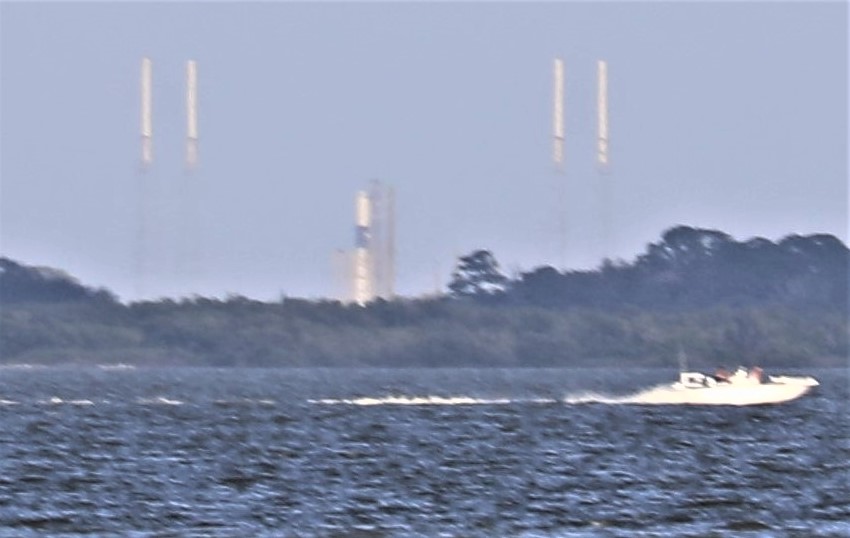 Watch Ken's continuing reports about GPS, Atlas V Starlink, Commercial Crew and Artemis and onsite for live reporting of upcoming and recent SpaceX and ULA launches including Demo-2, Starlink, X-37B, Solar Orbiter, Mars 2020 and more at the Kennedy Space Center and Cape Canaveral Space Force Station.
Stay tuned here for Ken's continuing Earth and Planetary science and human spaceflight news: www.kenkremer.com –www.spaceupclose.com – twitter @ken_kremer – email: ken at kenkremer.com
Dr. Kremer is a research scientist and journalist based in the KSC area, active in outreach and interviewed regularly on TV and radio about space topics.
………….
Ken's photos are for sale and he is available for lectures and outreach events
Please consider supporting Ken's work by donating at Patreon:
https://www.patreon.com/kenkremer
x