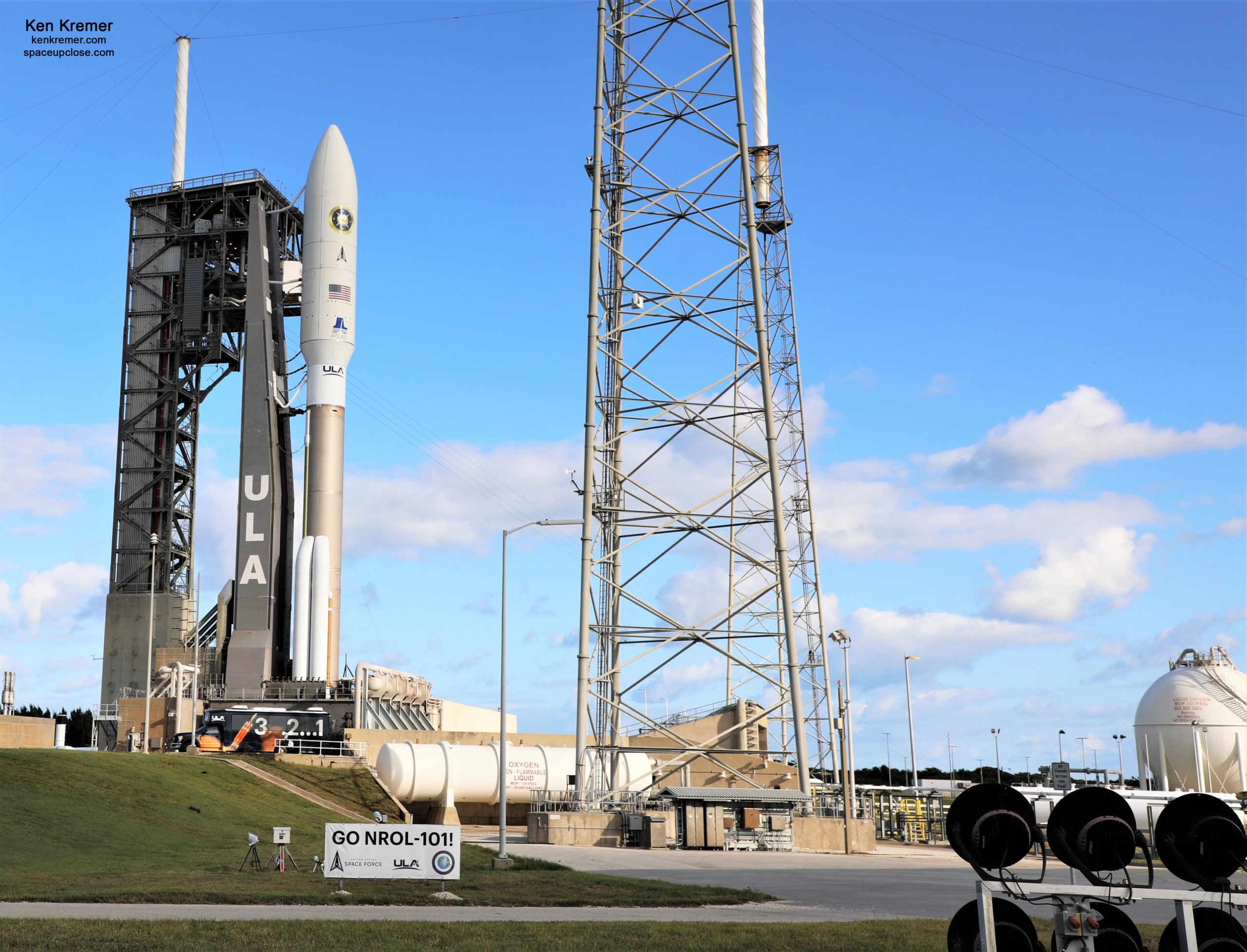 For SpaceUpClose.com & RocketSTEM
CAPE CANAVERAL AIR FORCE STATION, FL –  After completing troubleshooting and any needed repairs United Launch Alliance (ULA) is now targeting a twilight post-Election Day launch today of an Atlas V rocket carrying a clandestine surveillance satellite to orbit for the National Reconnaissance Office (NRO) .
After rolling out the Atlas V rocket to pad 41 on Monday, Nov. 2 atop the mobile launcher, ULA engineers discovered technical issues impacting and potentially damaging the payload's environmental control system umbilicals that likely arose from powerfully high winds buffeting the rocket and launch pad 41 at Florida's Space Coast region.
The Atlas V and NRO payload were again rolled back out to pad 41 late Tuesday evening and all systems are no declared GO.
We media visited pad 41 this morning to set up our remote cameras to capture the excitement!
Liftoff of the United Launch Alliance (ULA) Atlas V rocket carrying the classified NROL-101 mission for the National Reconnaissance Office is now planned for twilight  Wednesday Nov. 4, 2020, at 5:54 p.m. EST. (2254 GMT)
The launch time shifted 4 minutes earlier from the targeted Tuesday liftoff time of 5:58 p.m. ET.
You can watch the launch live at ULA webpage: https://www.ulalaunch.com
Live video webcast starts 20 minutes before blastoff
The seven-hour launch countdown Wednesday, Nov 4 leads up to liftoff at 5:54 p.m. EST (2254 GMT).
ULA live countdown updates will begin at 11:00 a.m. EST (1600 UTC) at this page.
https://www.ulalaunch.com/missions/next-launch/atlas-v-nrol-101
The weather outlook is good for Wednesday.
There is a 70% chance of acceptable weather according to Air Force meteorologists.  It had been 90% GO for a Tuesday launch.
The Primary Concern is for ground winds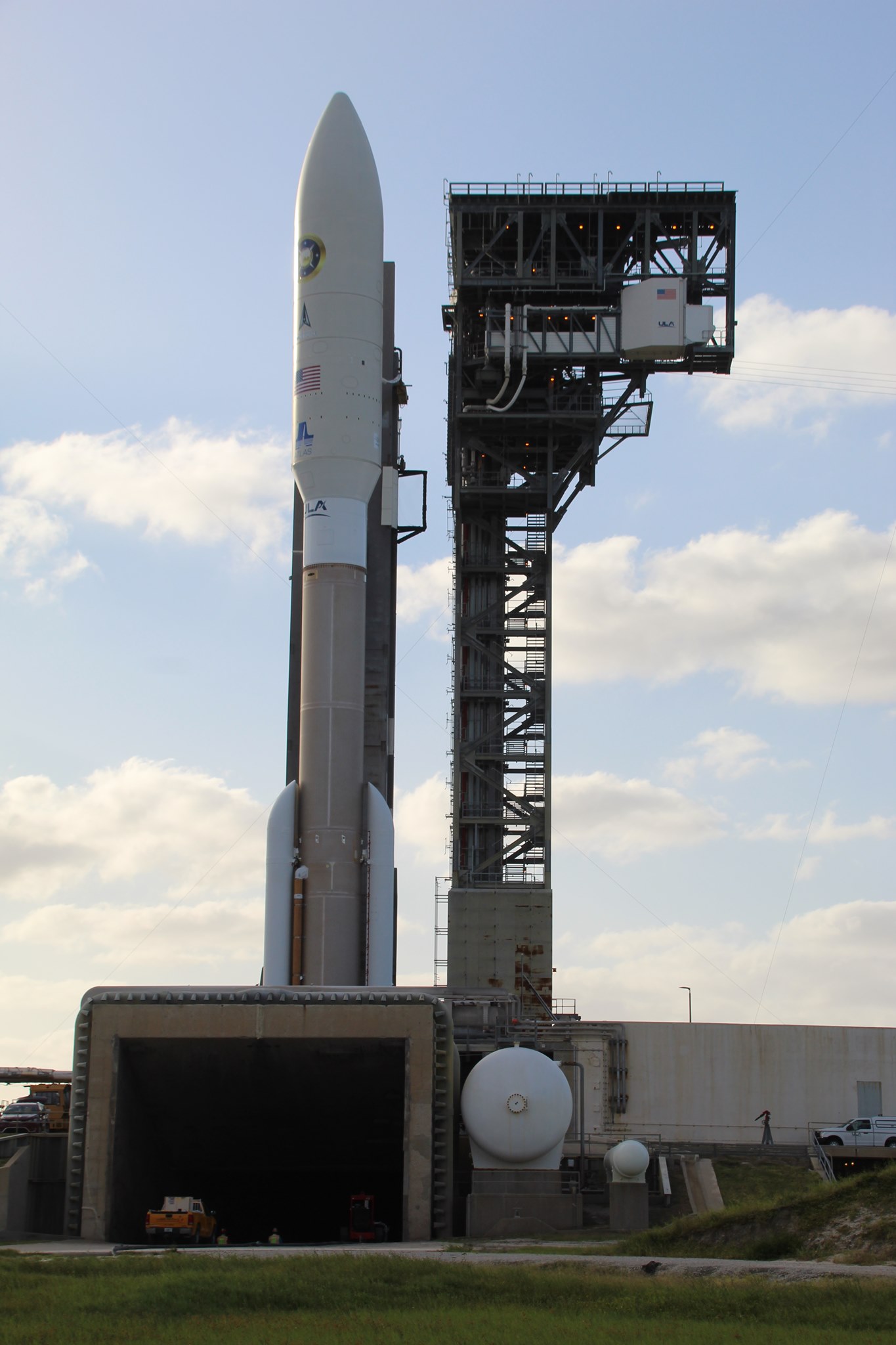 The super-secret NROL 101 mission will launch on an Atlas V in the  531 configuration producing 1.8 million pounds of liftoff thrust
The Atlas V 531 configuration includes a Swiss made 17 ft. (5 meter) payload fairing from RUAG and stands 206 ft. (63 meters) tall.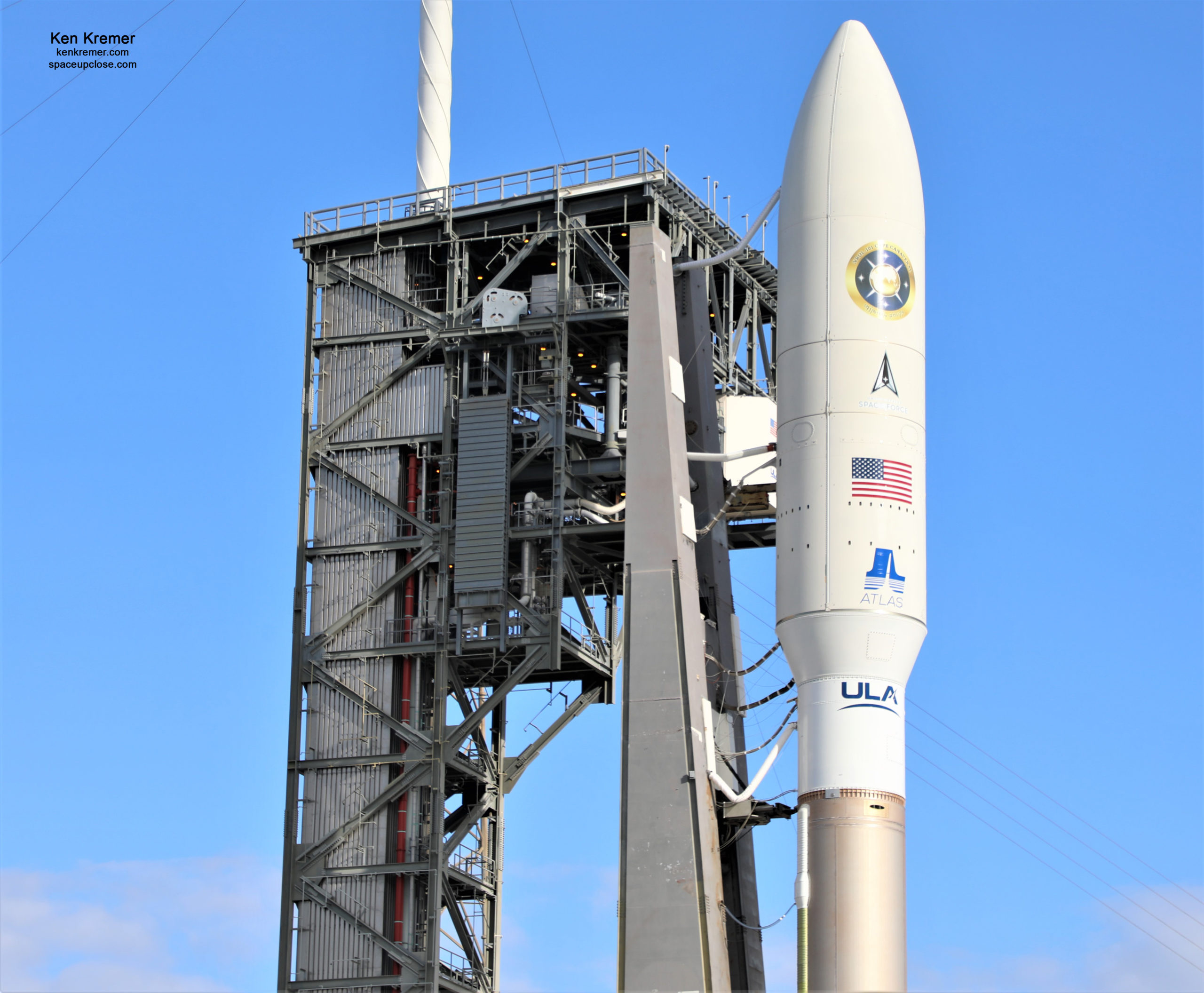 The Atlas first stage booster for this mission is powered by the Russian made RD AMROSS RD-180 engine by NPO Energomash. Aerojet Rocketdyne provided the RL10C-1 engine for the Centaur upper stage.
Also noteworthy is that the NROL-101 mission will be the first ULA launch flying the new Northrop Grumman Graphite Epoxy Motors (GEM) 63 solid rocket boosters that burn solid propellant and augment the lifting capacity of rocket's first stage.
The new solids aid in the evolution towards eventual use on ULA's new Vulcan Centaur rocket under development.
The new Northrop Grumman GEM 63 solids replace the Aerojet Rocketdyne AJ-60A solid rocket motors used previously on Atlas V
"The upcoming Atlas V launches with the new motors will build flight experience in preparation for using GEM 63XLs on Vulcan Centaur's first flight," says ULA.
The GEM 63s measure 63 in. (1.6 meters) in diameter and 66 ft. (20.11 meters) in length. They will be ignited at the launch pad and burn for 94 seconds, each consuming 97,500 pounds (44,225.2 kg) of propellant to produce 371,550 pounds (1.6 mega-Newtons) of max thrust.
The SRBs augment the 860,200 pounds (3.83 mega-Newtons) of thrust produced by the RD-180 main engine to power the Atlas V rocket skyward. At liftoff, the combined thrust will be nearly 1.8 million pounds or 8 million mega-Newtons.
The 531 configuration launched the first three Advanced Extremely High Frequency (AEHF) satellites for the United States Space Force and will loft a pair of C-band satellites for SES in 2022.
"ULA is proud to play a pivotal role in support of our mission partners and national security by keeping our country safe one launch at a time," said Gary Wentz, ULA vice president of Government and Commercial Programs. "We thank our mission partners for their continued trust and teamwork. The NROL-101 mission will be ULA's 29th mission launched for the National Reconnaissance Office and the 17th NRO mission launched on an Atlas V."
This will be the 86th launch of the Atlas V rocket and the 71st Atlas V to launch from Space Launch Complex-41 in Florida. To date ULA has launched 140 times with 100 percent mission success.
This will be 141st mission for United Launch Alliance and the 29th for the NRO. It is the 86th Atlas V launch and the 4th in the 531 configuration.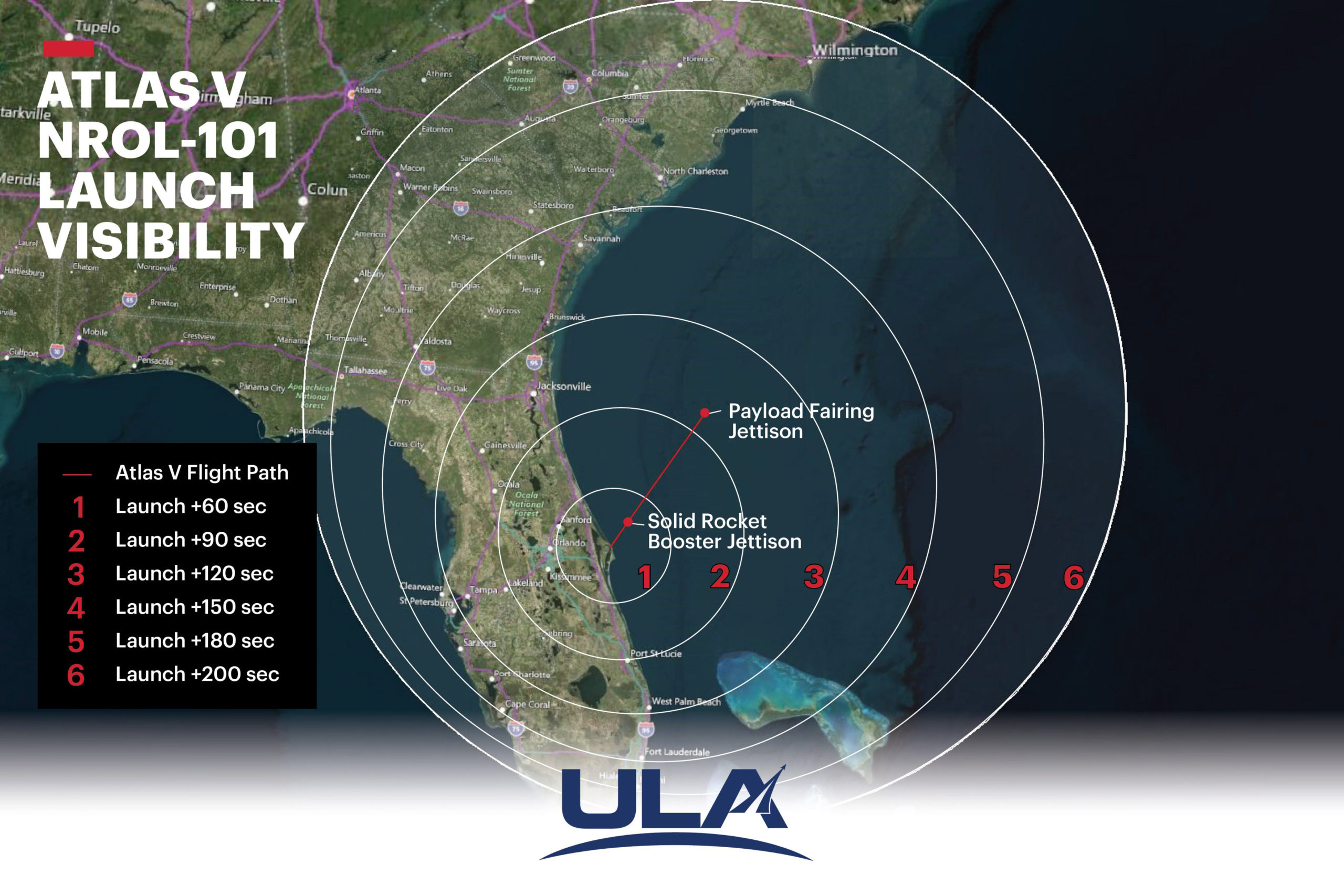 Enjoy our Space UpClose photos of the Atlas V at pad 40 from the team of Ken Kremer and Jean Wright.
Ken's Atlas V rocket photos featured at WKMG CBS 6 Orlando TV News Nov 2/3/4: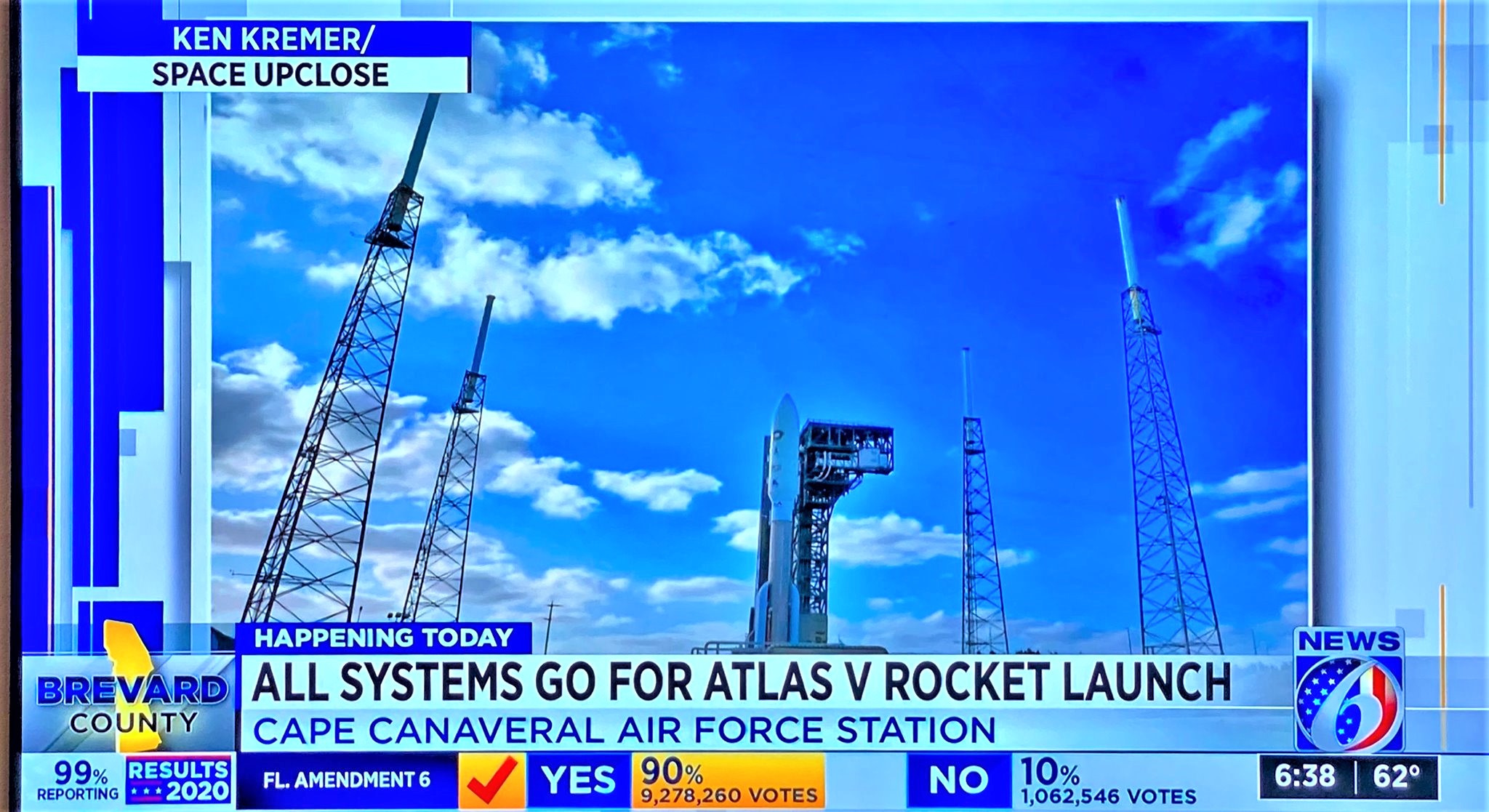 Watch for Ken's on site reporting about the ULA NROL-101 launch at Cape Canaveral Space Force Station
Watch Ken's continuing reports about OSIRIS-REx, Commercial Crew and Artemis and onsite for live reporting of upcoming and recent SpaceX and ULA launches including Demo-2, Starlink, X-37B, Solar Orbiter, Mars 2020 and more at the Kennedy Space Center and Cape Canaveral Space Force Station.
Stay tuned here for Ken's continuing Earth and Planetary science and human spaceflight news: www.kenkremer.com –www.spaceupclose.com – twitter @ken_kremer – email: ken at kenkremer.com
Dr. Kremer is a research scientist and journalist based in the KSC area, active in outreach and interviewed regularly on TV and radio about space topics.
………….
Ken's photos are for sale and he is available for lectures and outreach events
Please consider supporting Ken's work by donating at Patreon:
https://www.patreon.com/kenkremer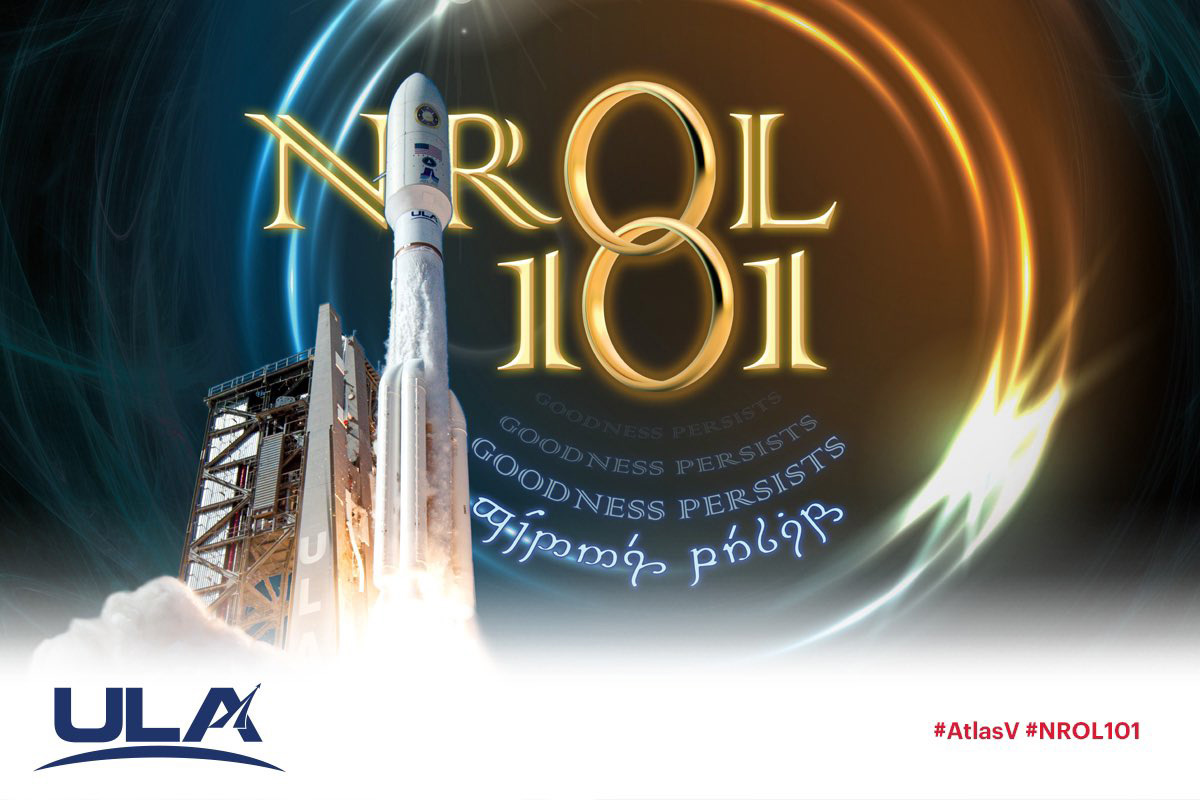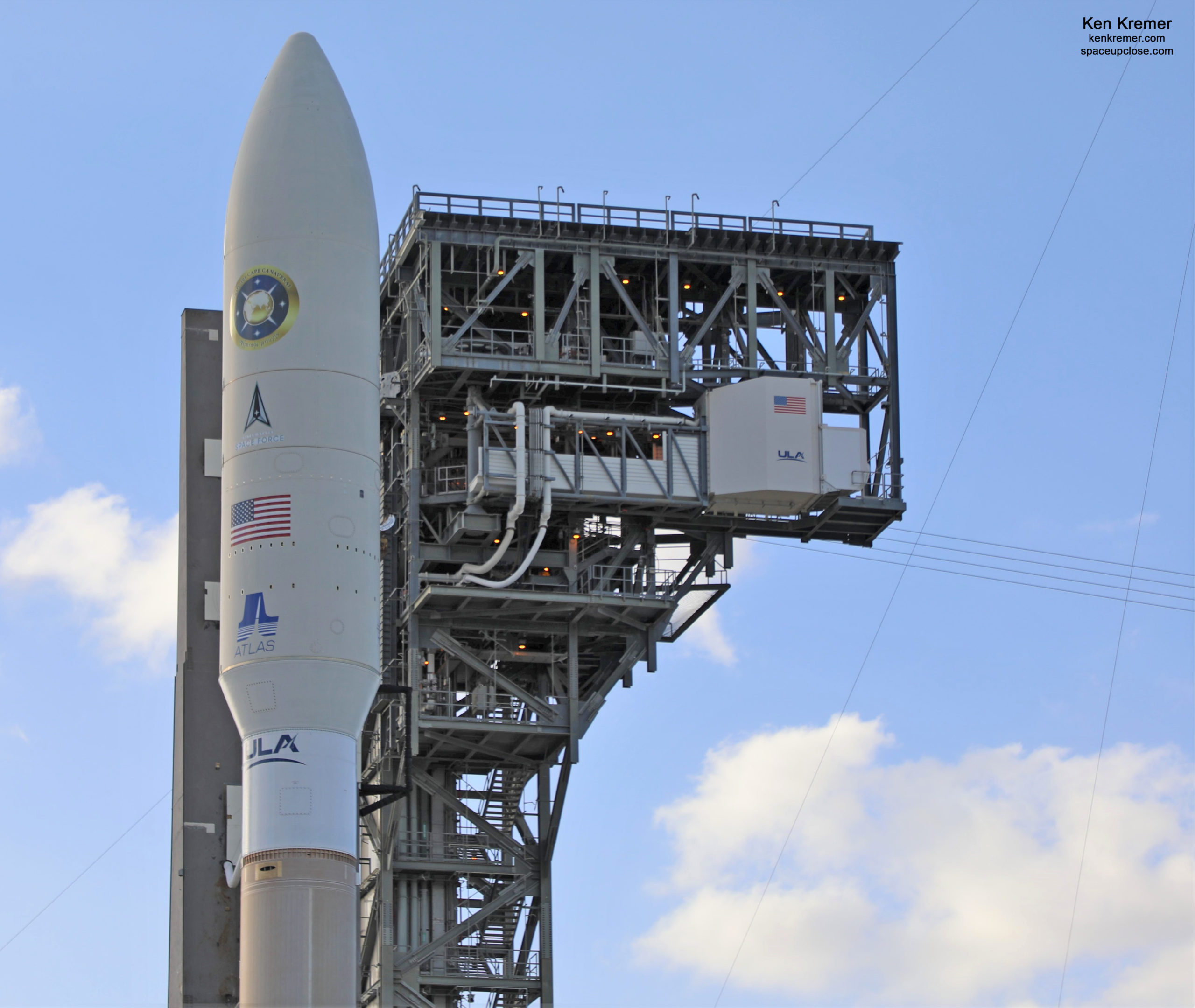 x