For SpaceUpClose.com & RocketSTEM
CAPE CANAVERAL, FL –  NASA and the European Space Agency (ESA) have selected a trio of astronauts to fly on the SpaceX Crew-3 mission launching to the International Space Station in late 2021.
The multinational trio consist of NASA astronauts Raja Chari and Tom Marshburn, who will serve as commander and pilot, respectively, and ESA astronaut Matthias Maurer from Germany, who will serve as a mission specialist.
The trio will launch on a commercial SpaceX Crew Dragon spacecraft atop a Falcon 9 rocket from NASA's Kennedy Space Center in Florida.
Crew-3 also counts as the third operational crew rotation mission for the commercial SpaceX Crew Dragon spacecraft.
For Chari and Maurer this will be there rookie flight. Marshburn has flown twice previously to the ISS.
Chari has also been recently chosen by NASA to be a member of the Artemis team of astronauts and thus will be eligible to fly on Artemis missions to the Moon.  Read our story.
They will be joined by a fourth crew member to be named at a later date following a review by NASA and its international partners.
The four member Crew-3 spaceflyers will launch on a six month science mission to the ISS and join the station expedition crew in progress.
The Crew-3 team will also overlap for a short time with the Crew-2 team on the ISS.
Crew 2 is planned to lift off in Spring 2021 from KSC.
The Crew-1 team of four launched aboard Crew Dragon Resilience on Nov. 15 and are currently serving aboard the ISS as members of the Expedition 64 crew.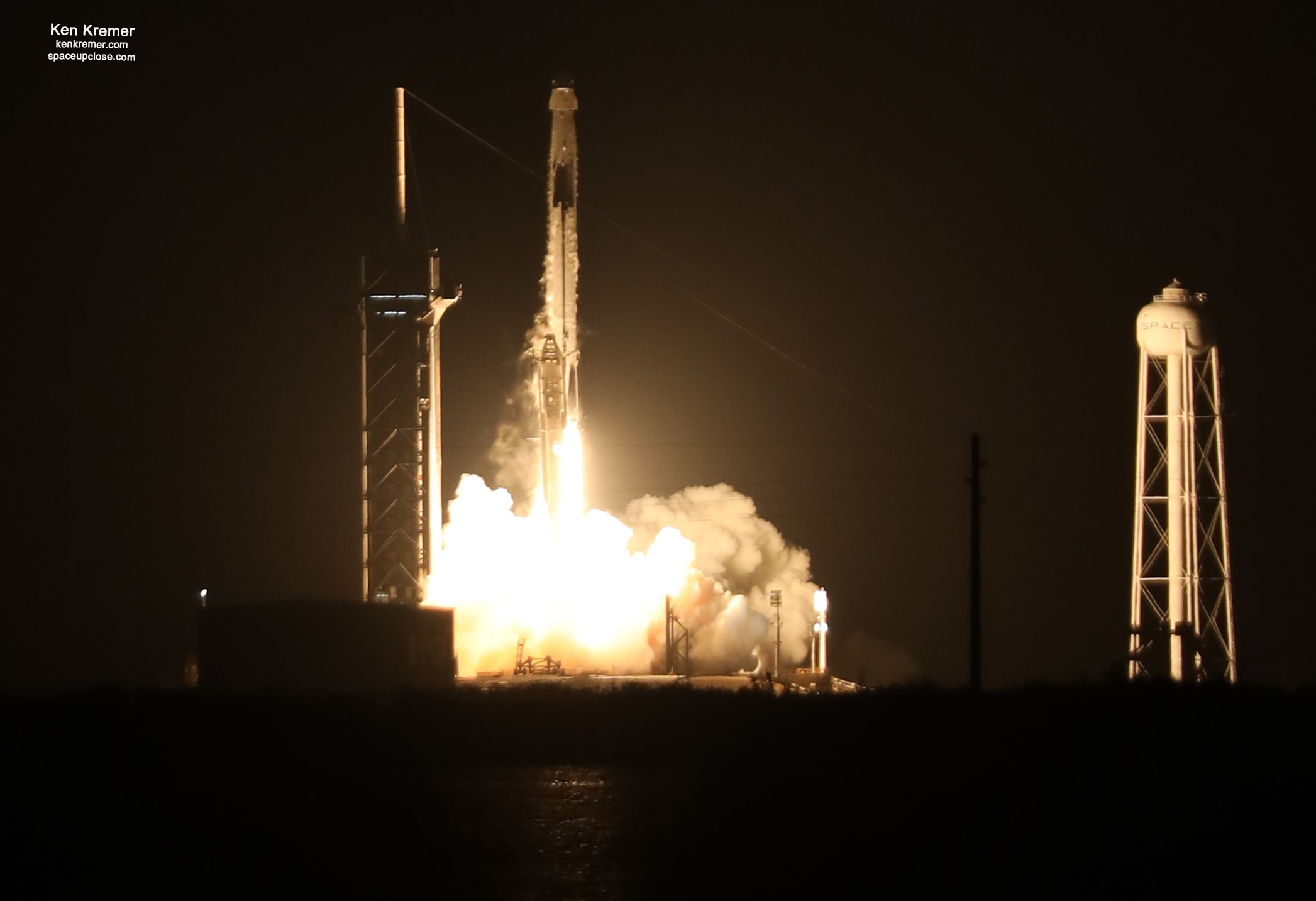 They recently sent Christmas and Holiday greetings to Earth – read our story.
The fourth crew member could potentially be the first Russian cosmonaut to fly on a NASA commercial crew vehicle or another Japanese or NASA astronaut or maybe though less likely even a private spaceflight participant.
NASA is working with Roscosmos to continue the barter arrangement during the shuttle era whereby astronauts and cosmonauts fly on each others vehicles at no cost on the Soyuz and Space Shuttle respectively.
Here are NASA and ESA bios for the Crew 3 trio:
This will be the first spaceflight for Chari, who became a NASA astronaut in 2017. He was born in Milwaukee, but considers Cedar Falls, Iowa, his hometown. He is a colonel in the U.S. Air Force and joins the mission with extensive experience as a test pilot. He has accumulated more than 2,500 hours of flight time in his career. Chari was selected earlier this month as a member of the Artemis Team and is now eligible for assignment to a future lunar mission.
Marshburn is a Statesville, North Carolina, native who became an astronaut in 2004. Prior to serving in the astronaut corps, the medical doctor served as flight surgeon at NASA's Johnson Space Center in Houston and later became medical operations lead for the International Space Station. The Crew-3 mission will be his third visit to the space station and his second long-duration mission. Marshburn previously served as a crew member of STS-127 in 2009 and Expedition 34/35, which concluded in 2013.
Maurer comes from Sankt Wendel, in the German state of Saarland. Like Chari, Maurer will be making his first trip to space with the Crew-3 mission. Before becoming an astronaut, Maurer held a number of engineering and research roles, both in a university setting and at ESA. In 2016, Maurer spent 16 days on an undersea mission as part of a NASA's Extreme Environment Mission Operations, or NEEMO, space analog.
Watch Ken's year end roundup of NASA 2020 missions and whats ahead for 2021 on the Dec 30 edition of Stay Curious hpsted by the American Space Museum, Titusville
https://www.facebook.com/175507880819/videos/226784775573274
Watch Ken's continuing reports about NASA missions, and Artemis,  National Security missions, SpaceX Crew Dragon, Starlink, Commercial Crew and Artemis and onsite for live reporting of upcoming and recent SpaceX and ULA launches including Demo-2, Starlink, X-37B, Solar Orbiter, Mars 2020 and more at the Kennedy Space Center and Cape Canaveral Space Force Station.
Stay tuned here for Ken's continuing Earth and Planetary science and human spaceflight news: www.kenkremer.com –www.spaceupclose.com – twitter @ken_kremer – email: ken at kenkremer.com
Dr. Kremer is a research scientist and journalist based in the KSC area, active in outreach and interviewed regularly on TV and radio about space topics.
………….
Ken's photos are for sale and he is available for lectures and outreach events
Please consider supporting Ken's work by donating at Patreon:
https://www.patreon.com/kenkremer
x