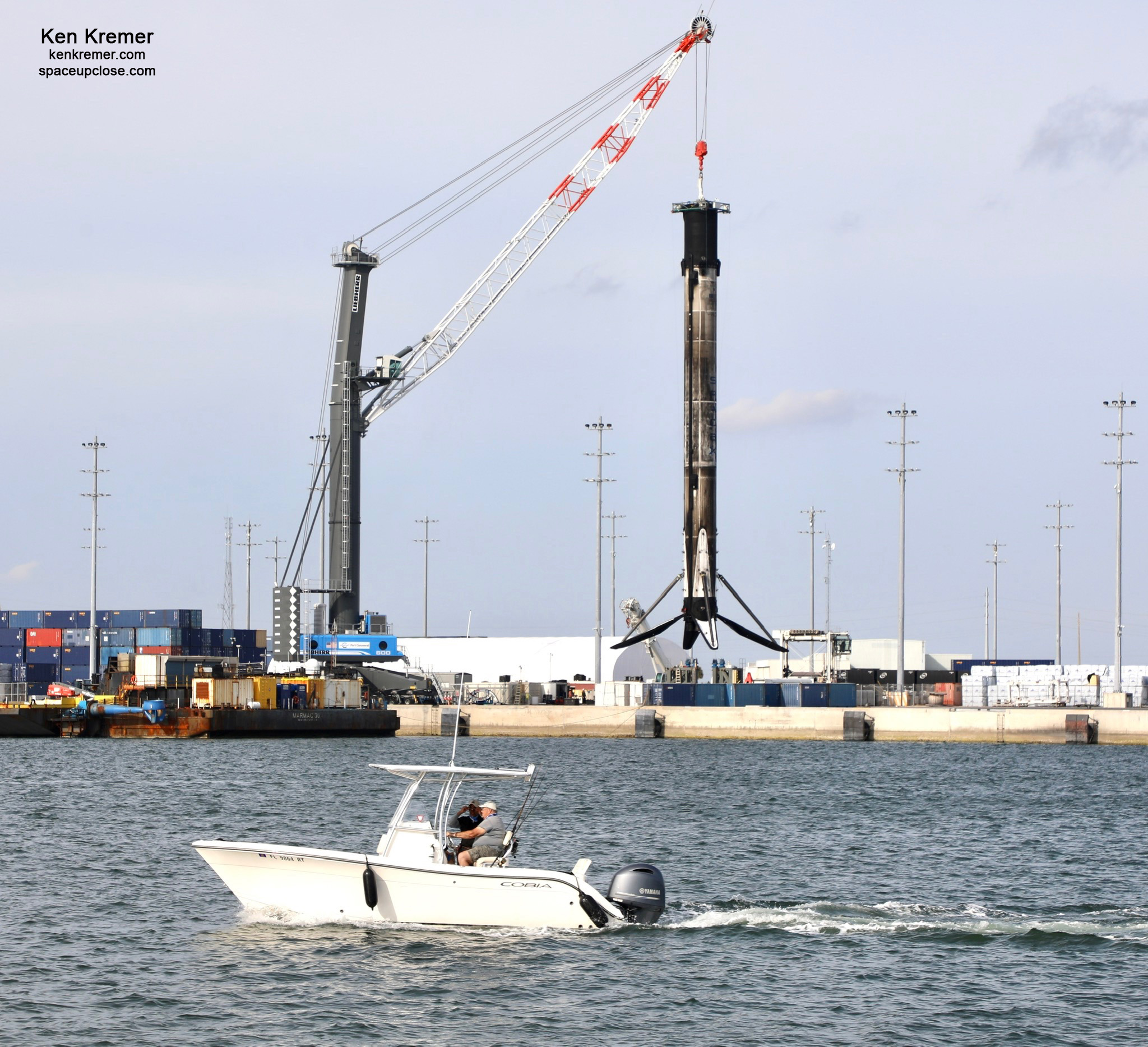 For SpaceUpClose.com & RocketSTEM
PORT CANAVERAL, FL – Continuing the rapid-fire cadence of non-stop space action the 2nd recovered SpaceX Falcon 9 booster in 2 days returned to Port Canaveral, Florida, Tuesday, Jan. 22, after safely landing on an oceangoing droneship following the record-breaking Transporter-1 mission that launched the most satellites to orbit in a single mission on Sunday, Jan 24.
To top that off this rather sooty booster now flown 5 times to space and back still sports the NASA Meatball and the NASA Worm logos on the core – easily visible despite fading from the soot and scorching heats of post launch reentry.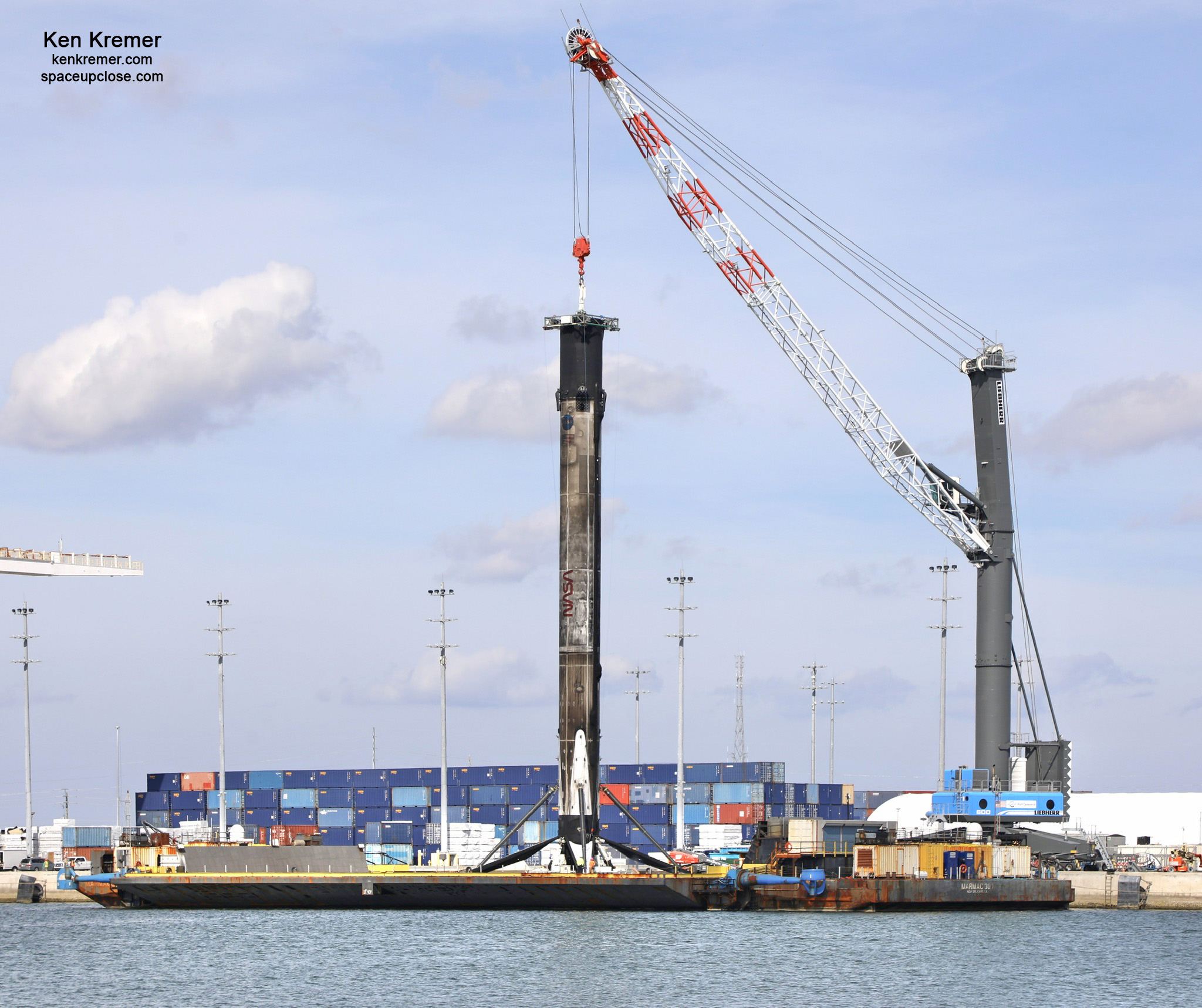 As part of the non-stop exhilarating SpaceX space action and unrelenting launch pace starting off year 2021, the first of the two Falcon 9 1st stages returning this week was towed into Port Canaveral Sunday late afternoon from the record setting 1st SpaceX Falcon 9 1st stage to fly eight times to space and back as part of the 17th Starlink mission launch and successful landing on the other sea going droneship JRTI – thus completing its recovery to eventually attempt another incredible go around.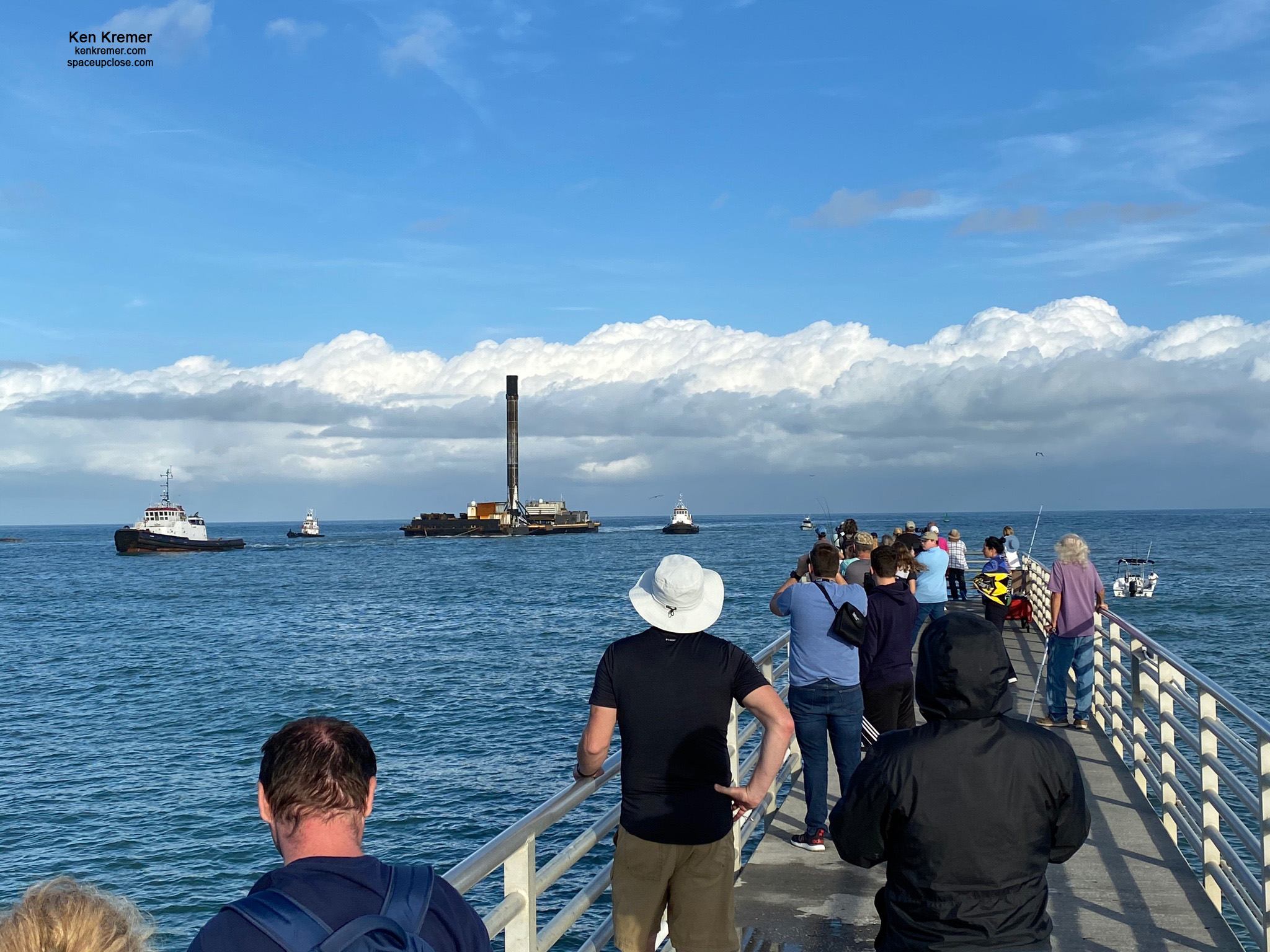 That 15 story tall booster B 1051.8 from the history making 1st 8th flown SpaceX Falcon 9 booster arrived Sunday afternoon at the mouth of Port Canaveral, Florida standing firmly upright on deck of the 'Just Read the Instructions' droneship.
The recycled SpaceX Falcon 1st stage booster B 1058.5 was towed into Port Canaveral in record return time shortly before Noon Tuesday, just 2 days after blasting off Sunday morning with a record setting number of 143 small satellites in a single flight on the firms first dedicated SmallSat Rideshare Program mission dubbed Transoorter-1, also flying on a rare southern trajectory from Florida's Spaceport.
The booster made a pinpoint precision guided thruster assisted landing atop the Of Course I Still Love You (OCISLY) droneship, which was already prepositioned in the Atlantic Ocean of the southern coast of Florida.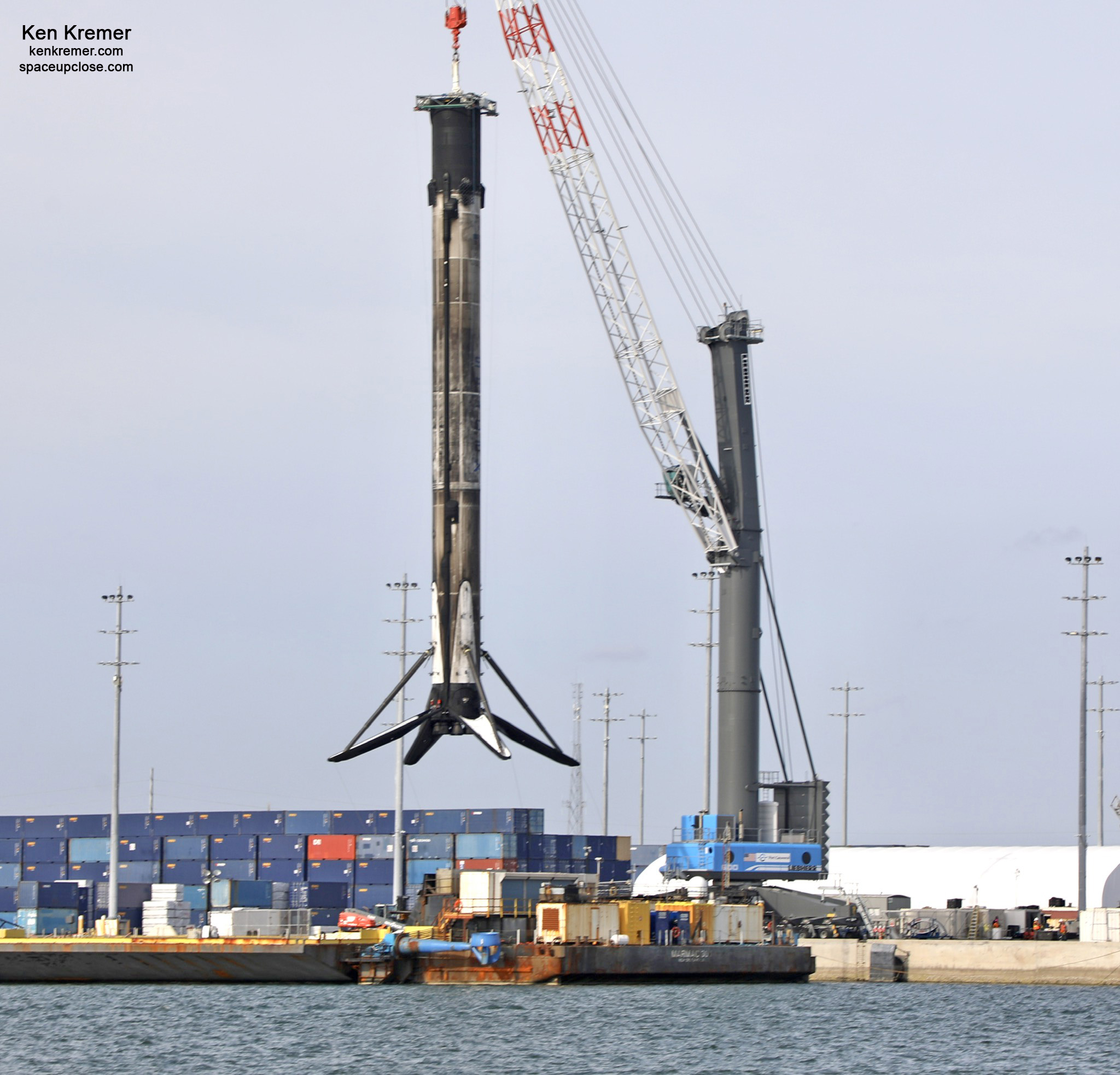 At that point Tuesday, both droneships 'Just Read the Instructions' (JRTI) and 'Of Course I Still Love You' (OCISLY)  were berthed side by side at the North Cargo pier.
See photo below where the landed booster had already been craned off JRTI droneship at left.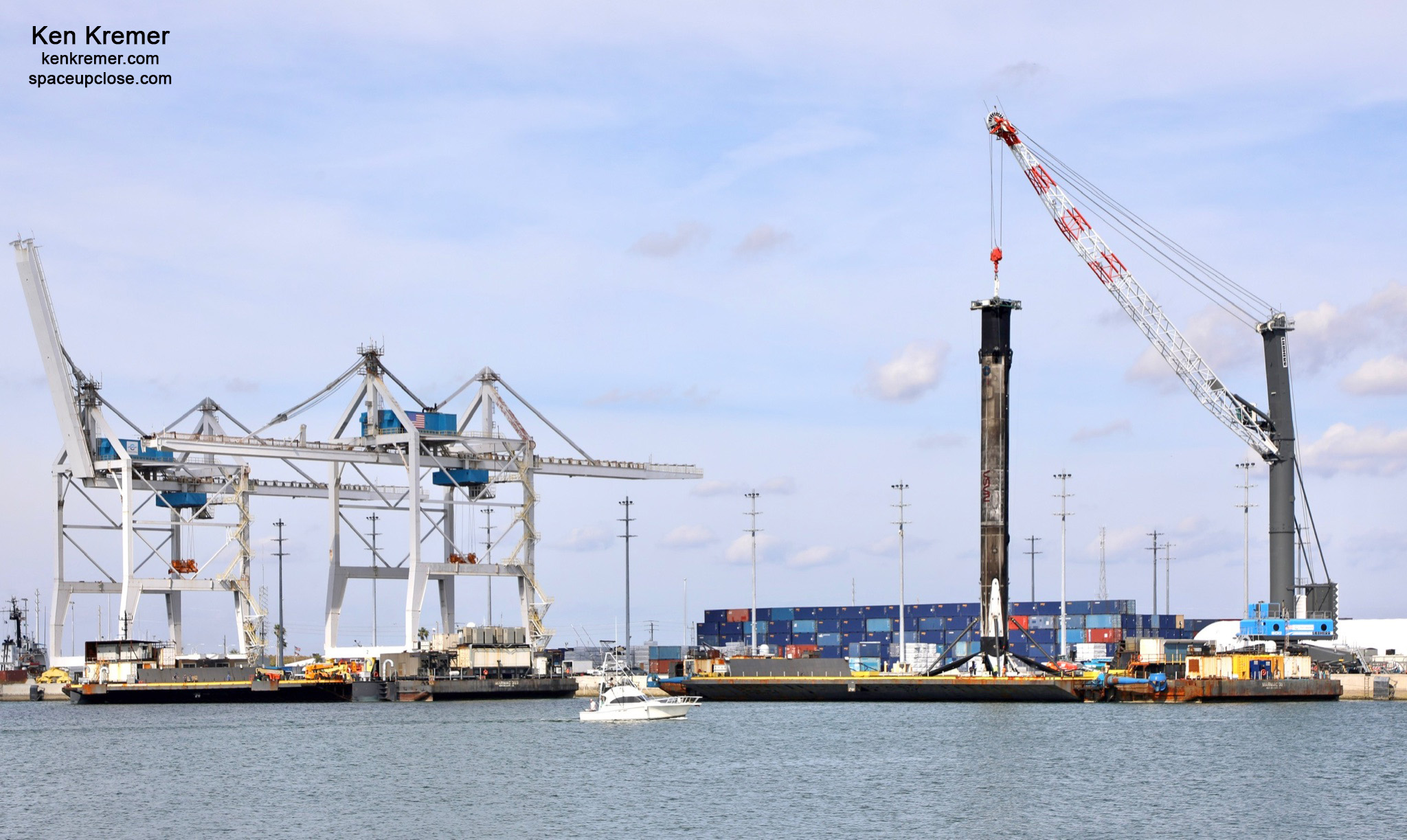 Crane crews using the giant Liebherr crane built in Germany attached the hoisting cap Wednesday morning Jan. 27.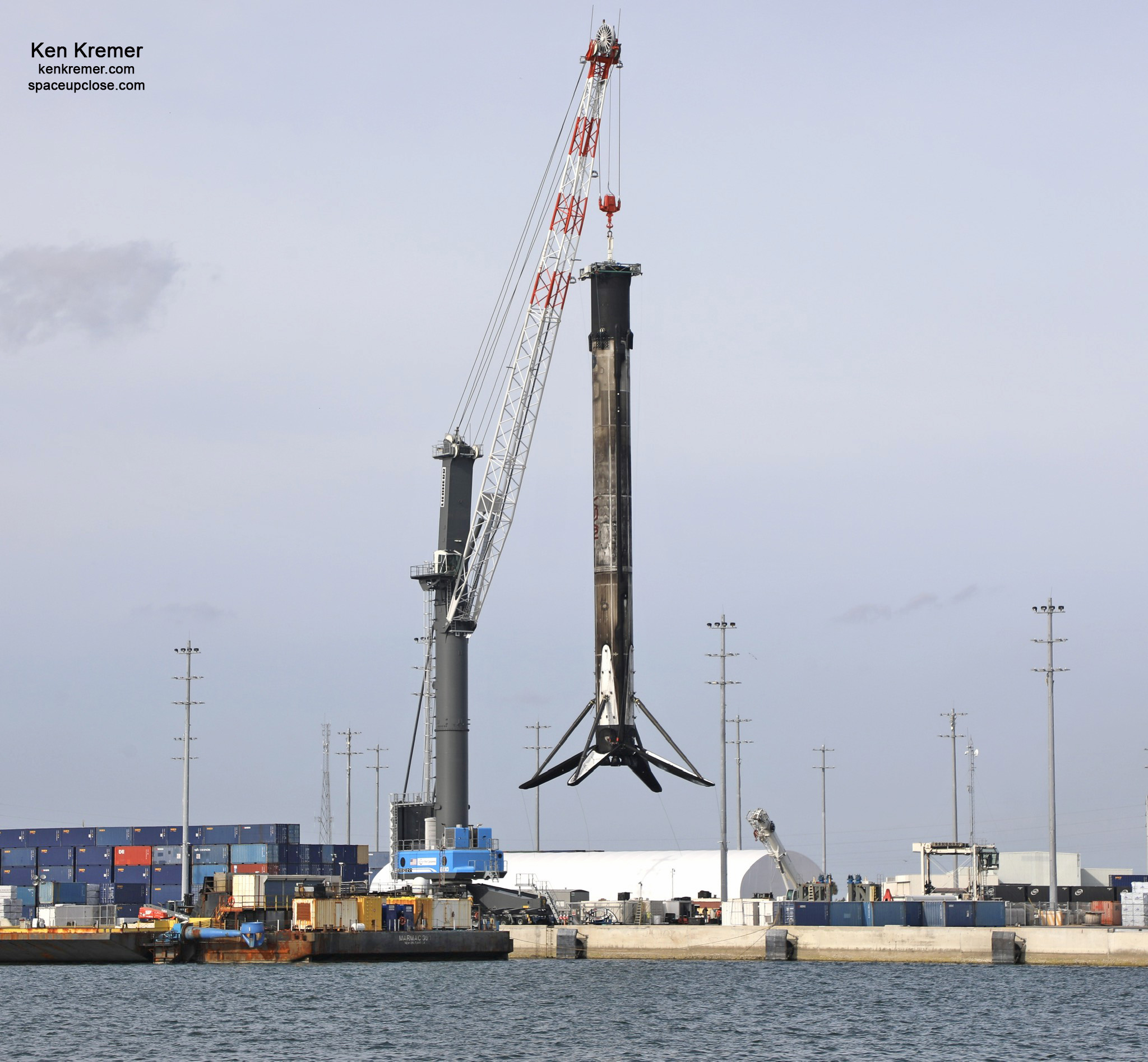 Then they removed the booster from the grip of the octagrabber device grasping it firmly upright on the droneship deck.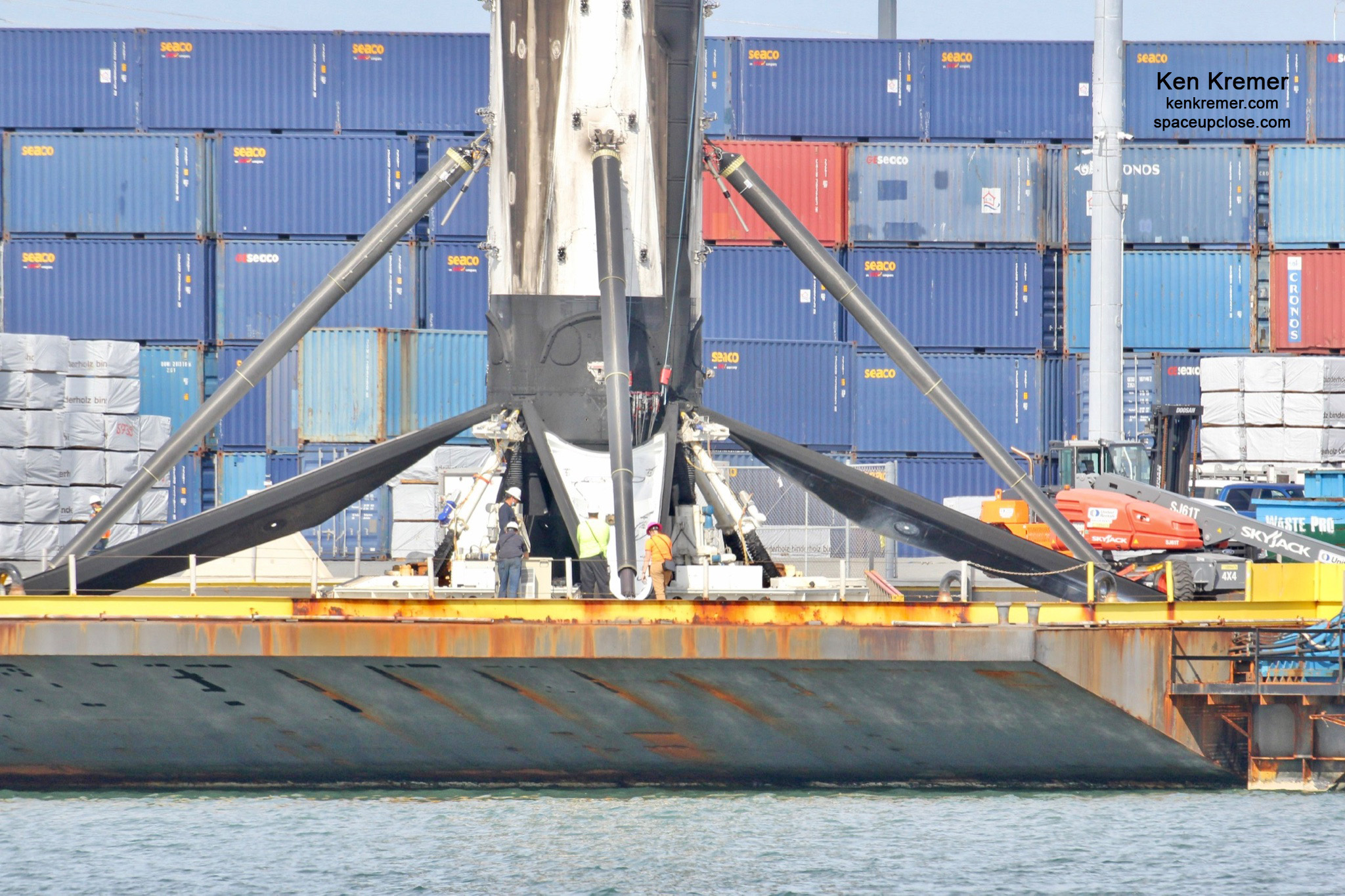 Finally they craned the booster B 1058.5 off OCISLY starting about 3 p.m. ET onto a ground pedestal in an operation that went well and was completed in about 20 minutes.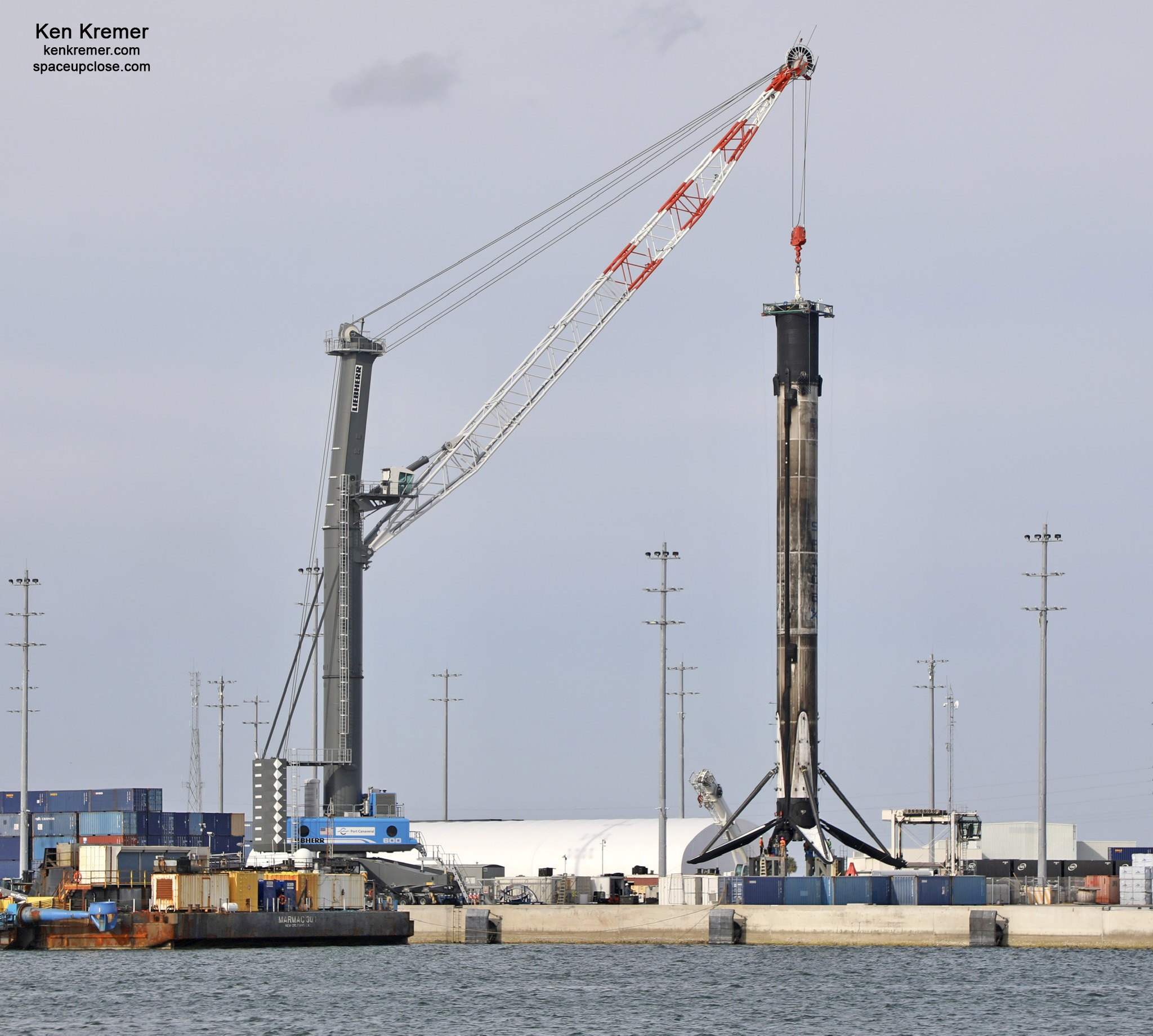 The next steps are retraction of all four landing legs, lowering horizontal onto the booster  transporter and finally shipment back to the Cape for some refurbishment and inspection before launching on a 6th flight.
Liftoff of the SpaceX Falcon 9 Transporter-1 rideshare mission carrying a total of 143 SmallSats finally took place on time after several days of delays at the opening of a 22-minute launch window at 10:00 a.m. EST, or 1500 GMT, Sunday, Jan. 24, 2021 from seaside Space Launch Complex 40 (SLC-40) on Cape Canaveral Space Force Station.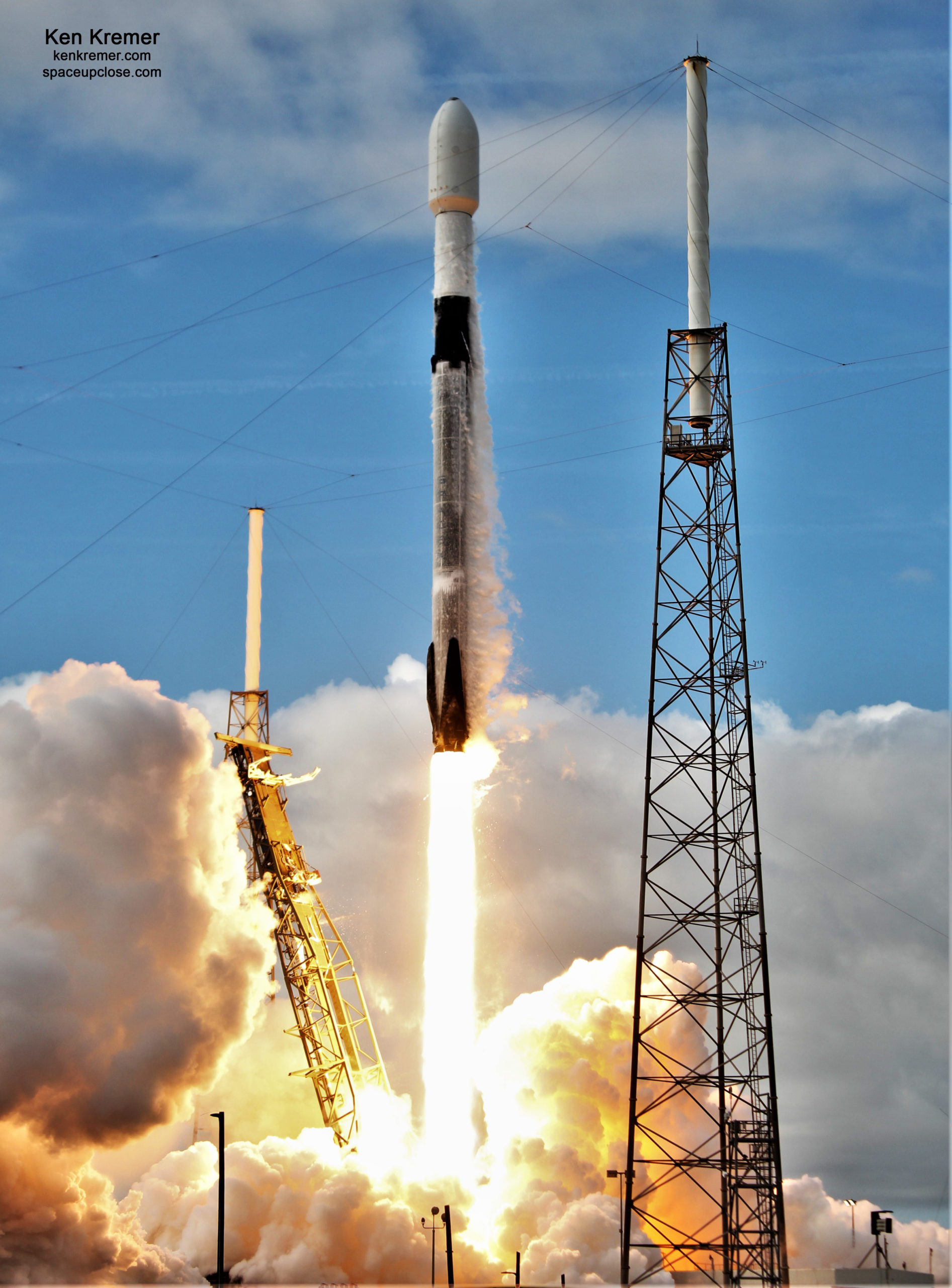 Enjoy our eyewitness Port return, launch and prelaunch photos of the Falcon 9 rocket at pad 40 from the team of Ken Kremer and Jean Wright at Space UpClose.
"Falcon 9 launches 143 spacecraft to orbit — the most ever deployed on a single mission — completing SpaceX's first dedicated SmallSat Rideshare Program mission," SpaceX tweeted.
Falcon 9 launches 143 spacecraft to orbit — the most ever deployed on a single mission — completing SpaceX's first dedicated SmallSat Rideshare Program mission pic.twitter.com/CJSUvKWeb4

— SpaceX (@SpaceX) January 25, 2021
Altogether 133 nano and micro satellites as well as another 10 Starlinks were encapsulated inside the nose cone – numbering 143 altogether – which was also recycled from an earlier launch.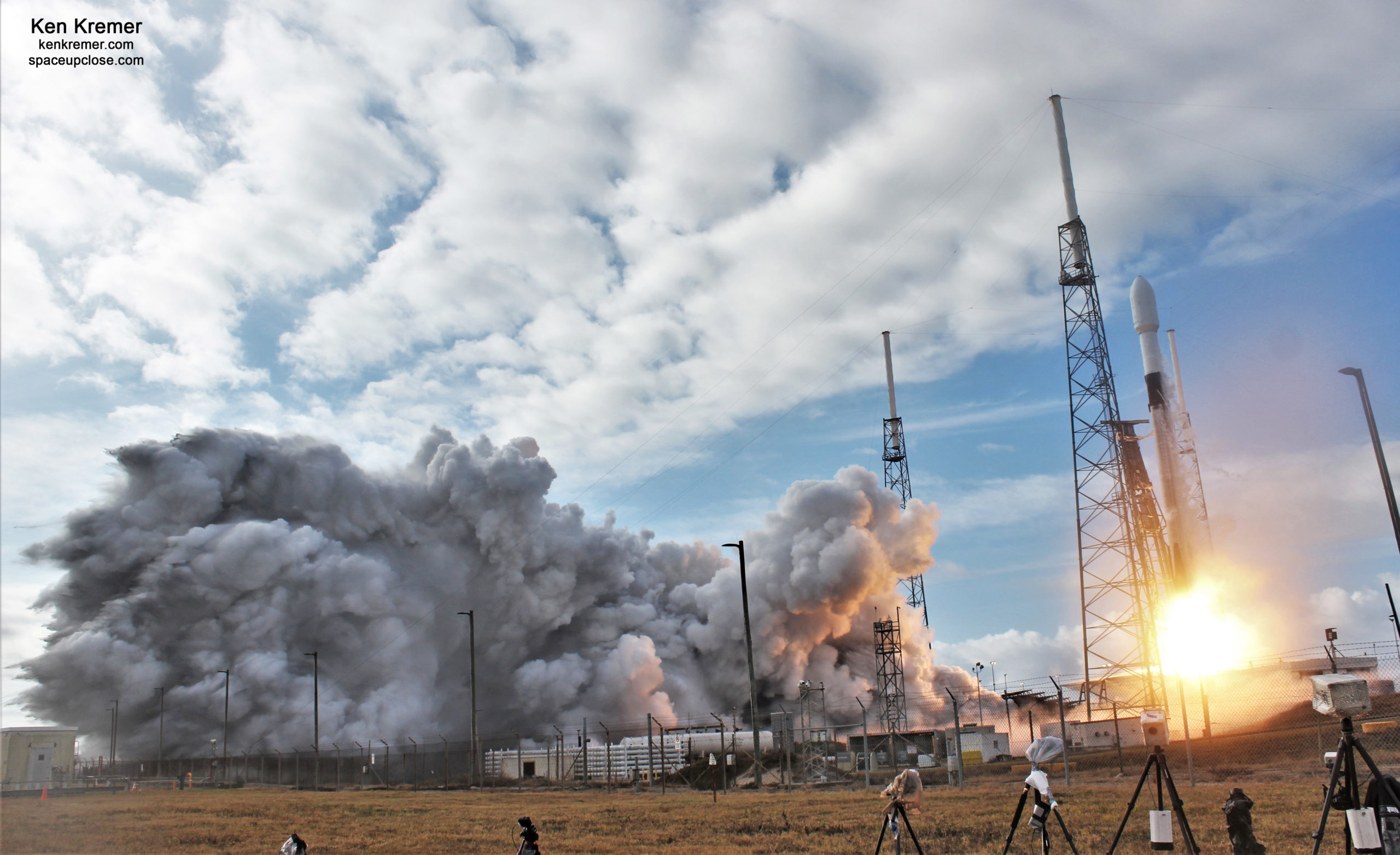 The rideshare strategy enables much cheaper cost rides to space for small payload customers by spreading out the launch cost amongst a multitude of customers from government, industry, academia and more, rather than buying a full price dedicated Falcon 9 flight.
Transporter-1 carried payloads for Planet, Kepler Communications, Nanoracks, Spire, Capella Space, ICEYE, NASA, Spaceflight, Celestis and a range of additional commercial and government customers in addition to SpaceX's own Starlinks.  See full small sat manifest list below.
Furthermore Transporter-1 counts as SpaceX's second launch this past week following the Jan. 20 Inauguration Day 2021 liftoff of the 17th Starlink broadband internet satellite mission – check out our story and photos.
Falcon 9's first stage booster previously supported four missions including launch of Crew Dragon's second demonstration mission Demo-2 last year as well as the ANASIS-II mission, a Starlink mission, and launch of Dragon's 21st cargo resupply mission to the International Space Station in Dec. 2020.
The next launch by SpaceX is the next batch of Starlink internet satellites on the 18th Starlink mission tentatively slated for Sunday, Jan. 31 at an instantaneous launch window at 7:02 a.m. EST (1202 GMT), roughly 10 minutes before sunrise.
My prelaunch photos with the rocket horizontal at pad 40 were featured at WKMG CBS 6 Orlando and WFTV ABC 9 Orlando: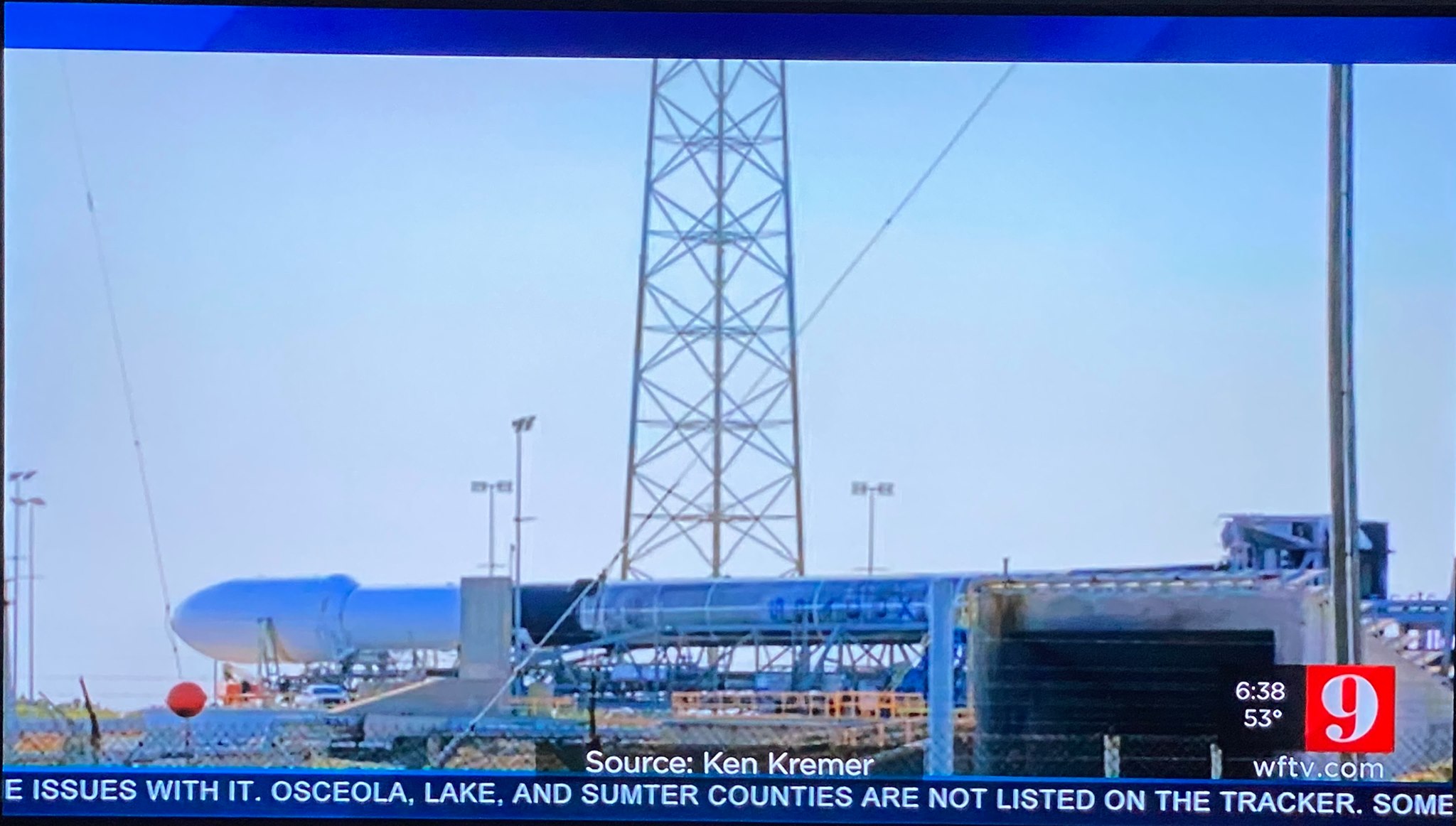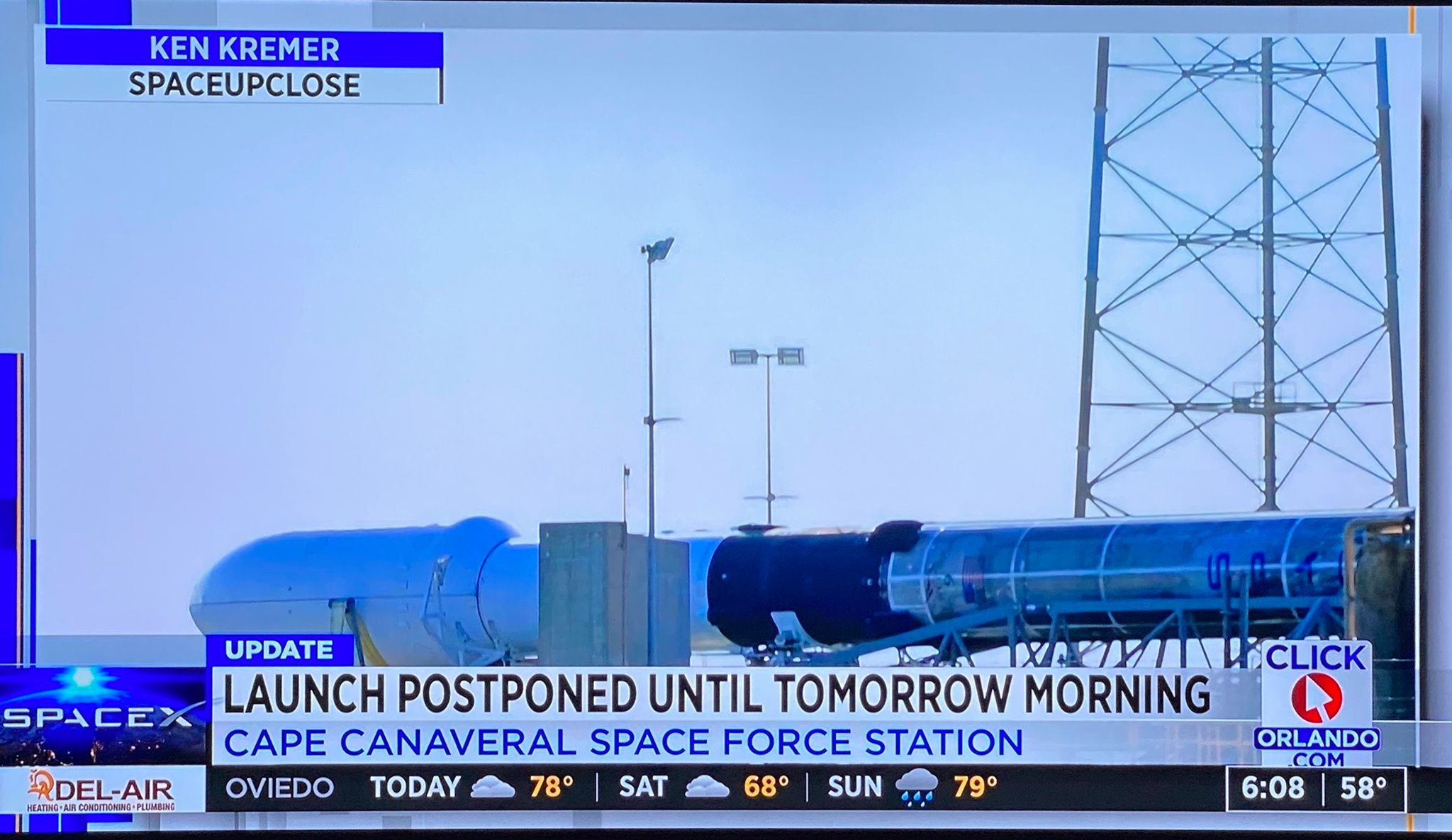 Watch Ken's continuing reports about NASA missions and Artemis, Mars Perseverance and Curiosity rovers, SpaceX, Starlink, Commercial Crew and ISS from onsite for live reporting of upcoming and recent SpaceX and ULA launches including Crew 1 & 2, Demo-2 and Starliner, X-37B, Solar Orbiter, NRO spysats and more at the Kennedy Space Center and Cape Canaveral Space Force Station.
Stay tuned here for Ken's continuing Earth and Planetary science and human spaceflight news: www.kenkremer.com –www.spaceupclose.com – twitter @ken_kremer – email: ken at kenkremer.com
Dr. Kremer is a research scientist and journalist based in the KSC area, active in outreach and interviewed regularly on TV and radio about space topics.
………….
Ken's photos are for sale and he is available for lectures and outreach events
Please consider supporting Ken's work by donating at Patreon:
https://www.patreon.com/kenkremer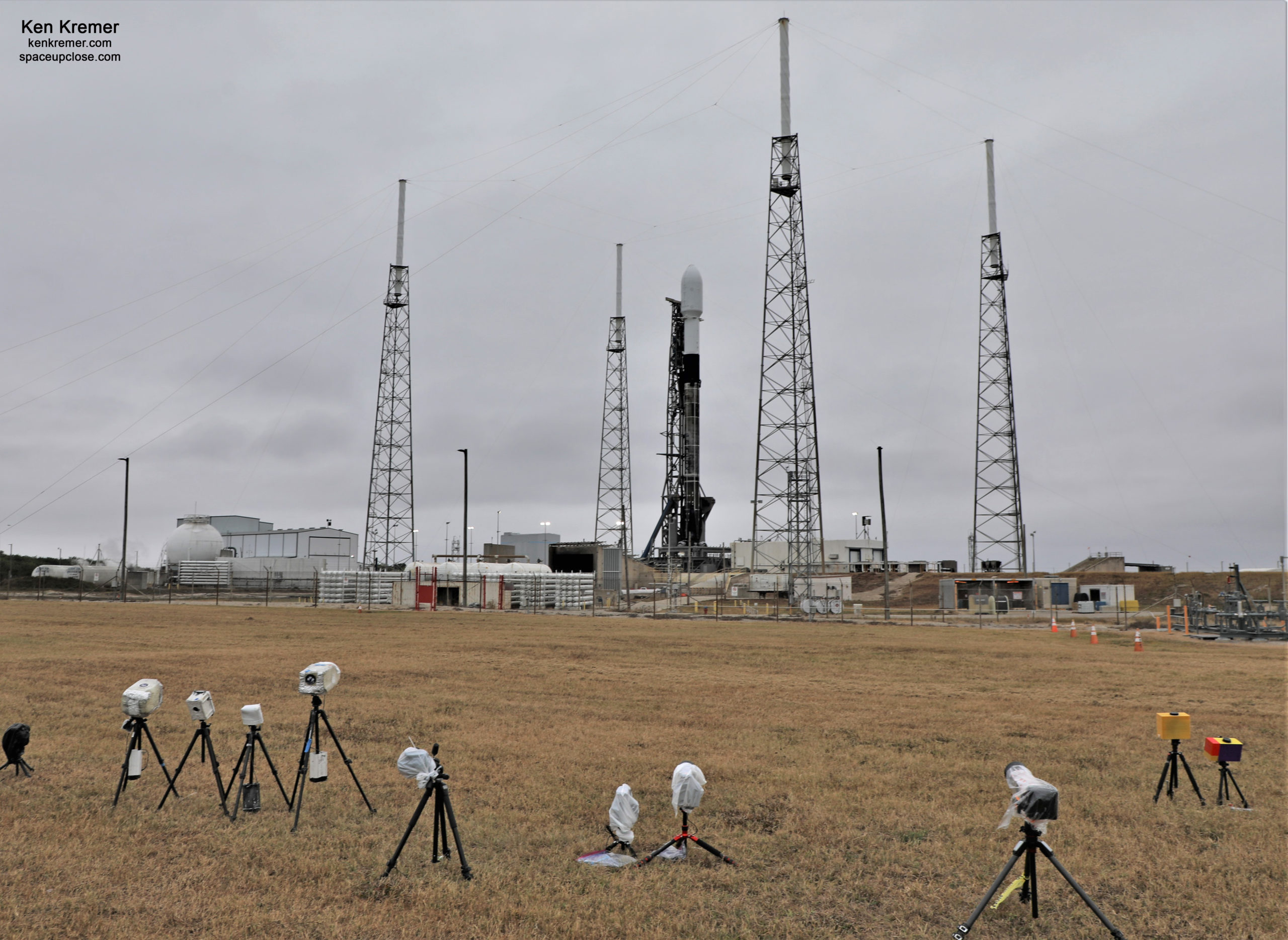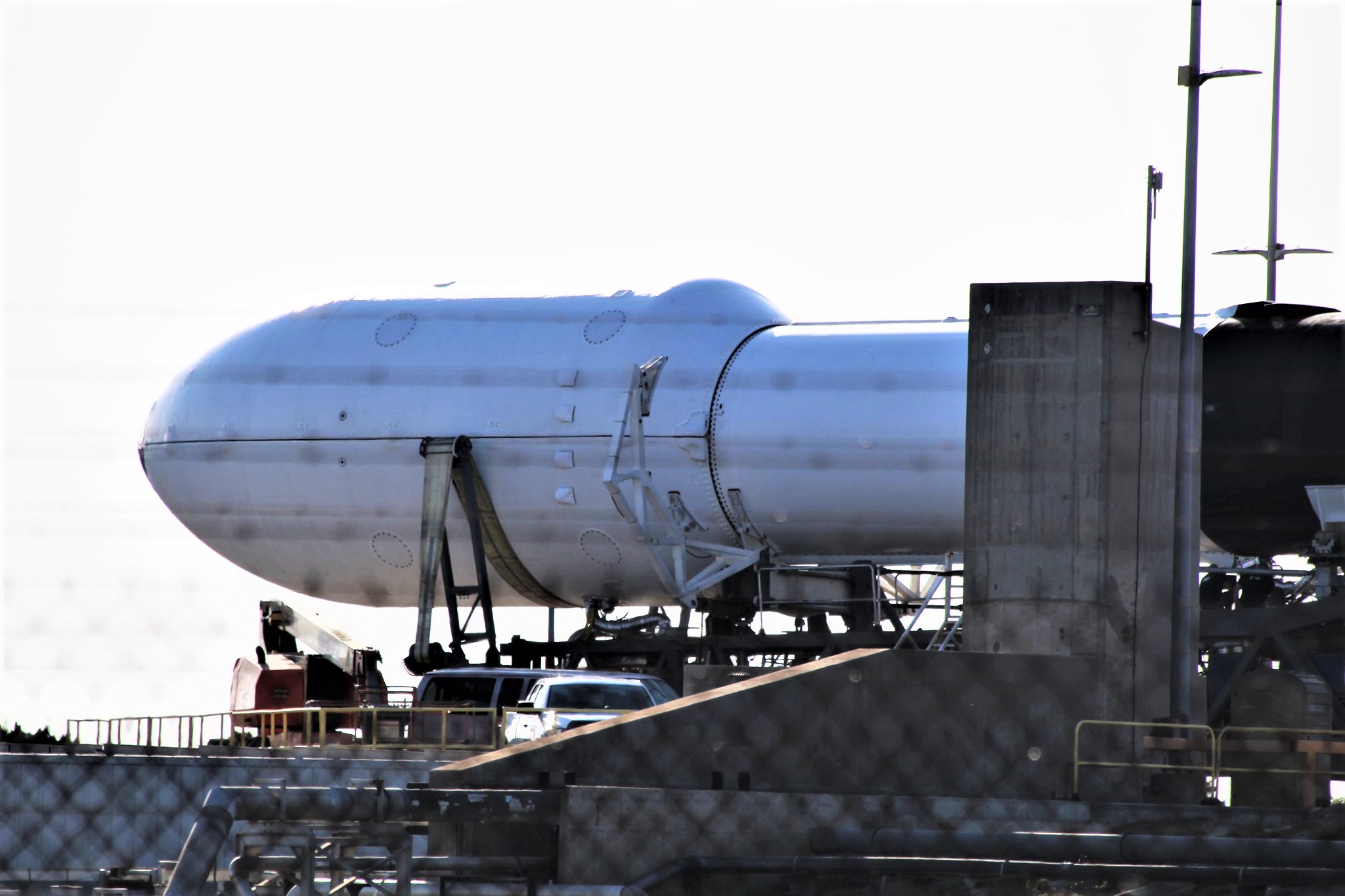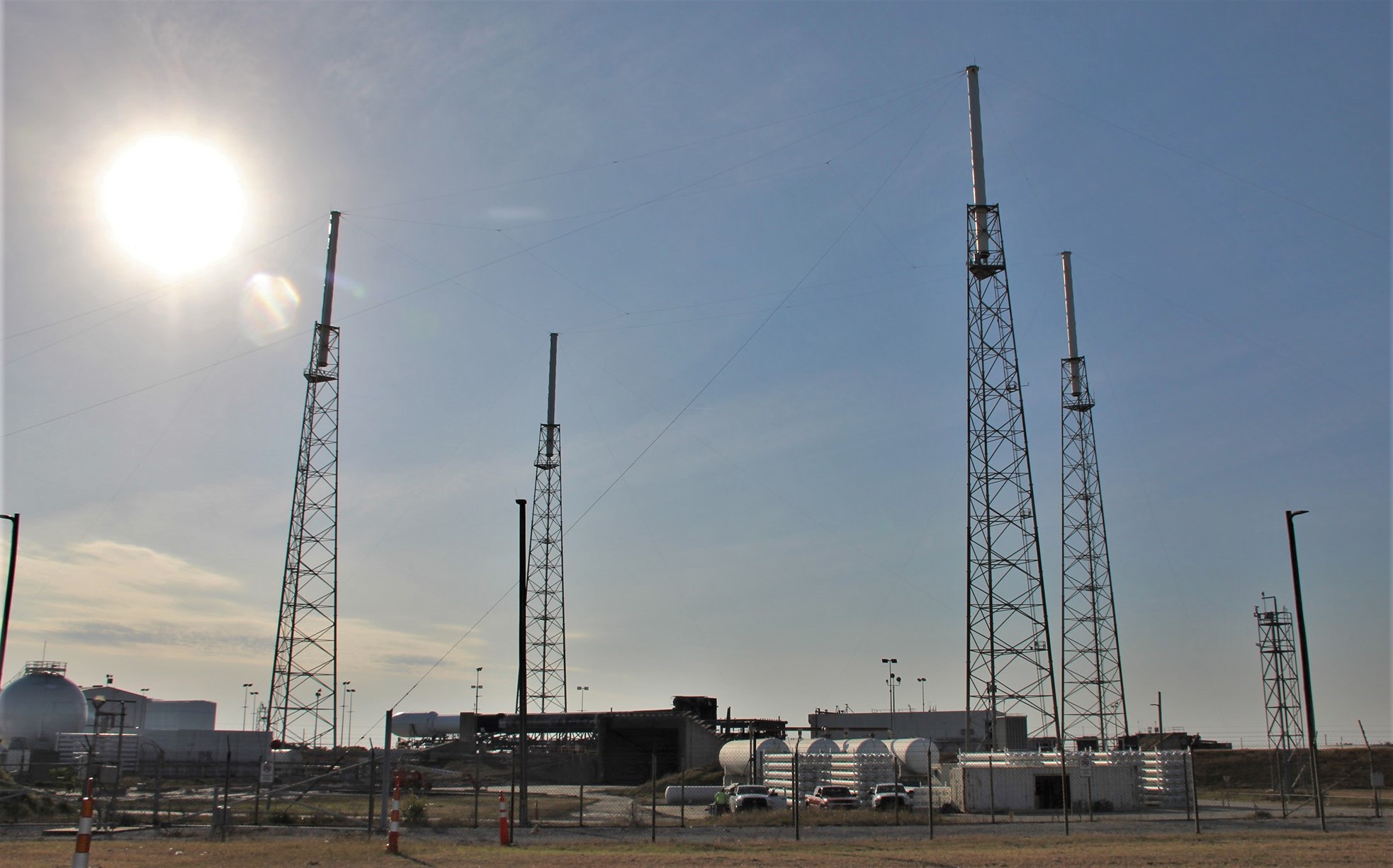 x