For SpaceUpClose.com & RocketSTEM
TITUSVILLE, FL –  After multiple weather and technical delays this past week the first of two back to back SpaceX Starlink overnight launches targeted for liftoffs just 1 day apart successfully streaked to orbit at last just past midnight this morning Feb. 4 for a stunning start to a Space extravaganza double header from Florida's Spaceport  carrying the next batch of 60 Starlink broadband internet satellites on a 5x recycled Falcon 9 – on a crystal clear moonlit but rather cool winter night absolutely perfect for optimal viewing!
Liftoff of the flight-proven SpaceX February 4 for launch of 60 Starlink satellites from Space Launch Complex 40 (SLC-40) at Cape Canaveral Space Force Station in Florida took place during the instantaneous launch window at 1:19 a.m. EST, or 619 GMT.
The magnificent liftoff delighted spectators gathered all around Florida's Spaceport for the middle-of-the-night moonlit liftoff with rather chilly winter temperatures and low winds that relented at last after many gusty days here.
The Falcon 9 flew past a waning gibbous moon making the nighttime view even more spectacular ! See our photos.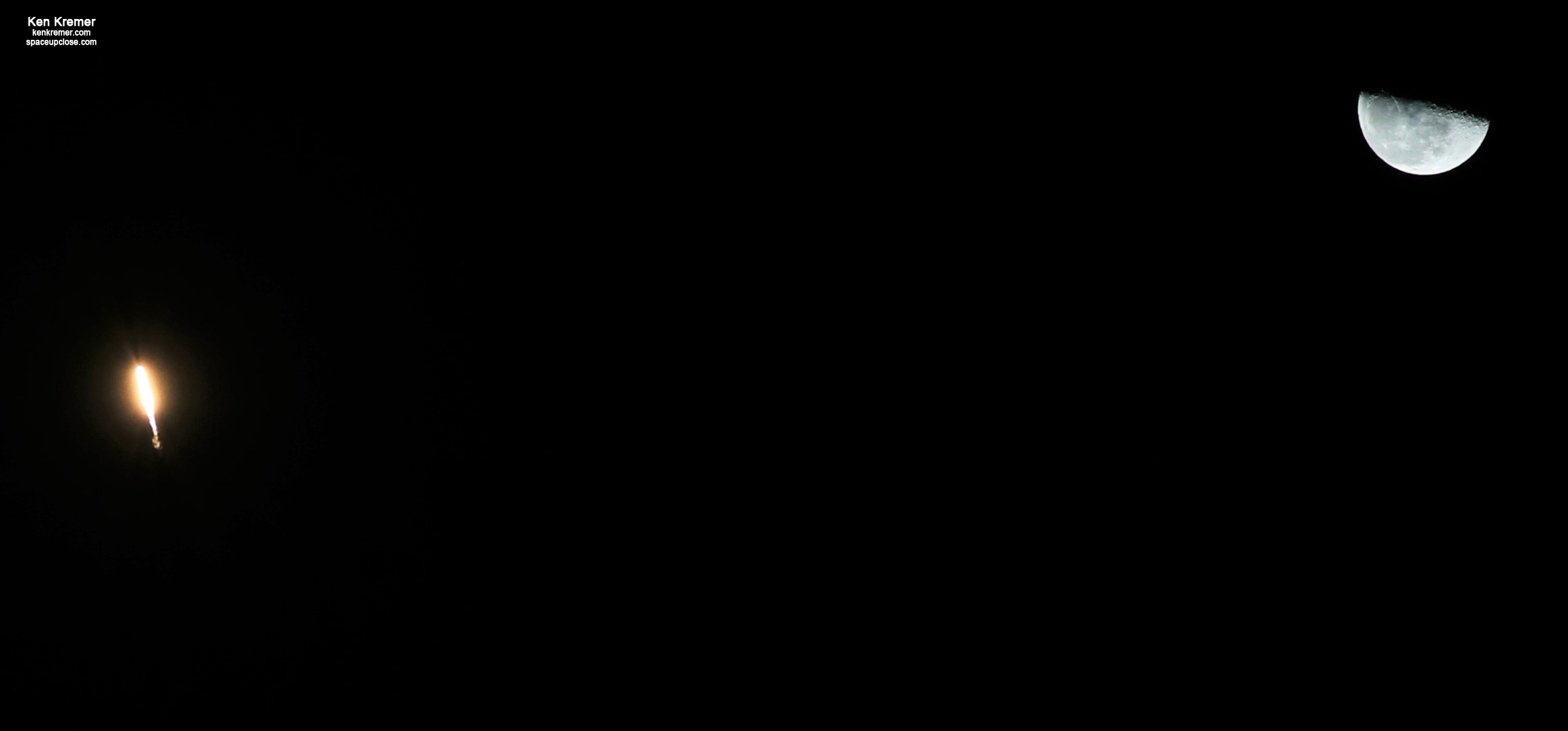 The first stage booster designated as B1060.5 also accomplished its fifth trip to space and back by nailing the soft landing on the sea going droneship 'Of Course I Still Love You'  (OCISLY) in the Atlantic Ocean – thereby setting up a sixth launch in the not too distant future.
In fact this morning's flight of 60 satellites was originally planned to be the 2nd of the two Starlink missions this week and designated as the nineteenth in the series from pad 40
However because on the postponements of the originally planned eighteenth mission from pad 39A on NASA's Kennedy Space Center the two launches swapped slots and blasted off in reverse order.
The turnaround time between liftoffs of a recycled Falcon 9 first stage was also slashed again to just 27 days – since it last blasted off on the Turksat 5A communications satellite mission on Jan. 7, 2021-  also from pad 40.
That bested the prior record of 38 days turnaround set just last month
The brilliant display of rocket fire and fury commenced as the 9 Merlin 1D first stage engines roars to life and ignited with 1.7 million pounds of liftoff thrust fueled by liquid oxygen (LOX) and RP-1 propellants.
The rocket flew on a northeasterly trajectory  to an initial orbit ranging between 155 miles and 180 miles (250 and 291 km) in altitude – as seen in our streak shot launch imagery.
Enjoy our eyewitness photos of the Falcon 9 launch and static fire test from the team of Ken Kremer and Jean Wright at Space UpClose
Liftoff video tweeted by SpaceX:
Liftoff! pic.twitter.com/fntllf6TpI

— SpaceX (@SpaceX) February 4, 2021
The 60 Starlink satellites deployed from the upper stage as planned just over an hour after liftoff while flying over New Zealand and the Pacific Ocean.
SpaceX confirmed deployment of the Starlinks with this video tweet from their live webcast:
Deployment of 60 Starlink satellites confirmed pic.twitter.com/96pHRHXZi0

— SpaceX (@SpaceX) February 4, 2021
Following this latest 18th batch this brings the total number of Starlink satellites launched to 1,085 internet satellites.  That includes earlier prototypes mostly from the first launch as well as the 10 Starlink sats launched to polar orbit on the last Falcon 9 launch on Transporter-1 mission on Jan. 24. Check out our story and photos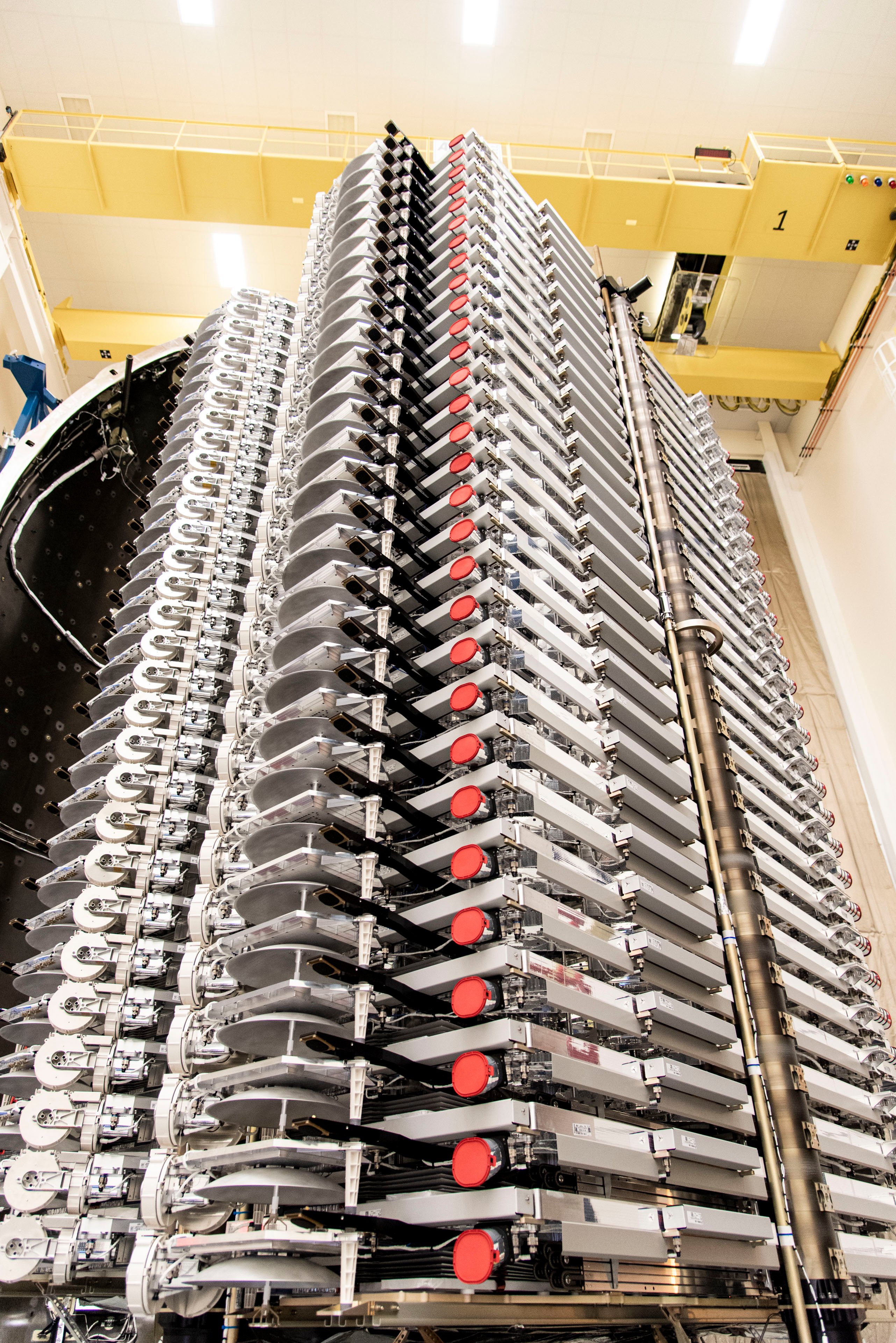 The 229-foot-tall (70-meter) flight-proven Falcon 9 rocket was rolled out and raised erect Wednesday afternoon – just hours before launch anticipated early Thursday morning – for what was designated as Starlink v1 L18 mission.
No prelaunch static fire test was conducted unlike for the Starlink v1 L17 mission now targeting launch Friday predawn.
The mission expanding the Starlink constellation to over 1000 also counts as the 107th flight of a Falcon 9 – an amazing launch cadence with nearly a quarter of those just in the past year and in large part enabled by the now routine reuse of 'flight-proven' and recovered 1st stage boosters.
It also marked the 74th landing by land or by sea.
Watch this landing video tweeted by SpaceX:
Falcon 9's first stage has landed on the Of Course I Still Love You droneship pic.twitter.com/4idBRdW65H

— SpaceX (@SpaceX) February 4, 2021
The new mission thus fortifies the Starlink constellation of relay satellites that one day upcoming will offer a competitive alternative to existing broadband services across North America – including the US and Canada
If you would like to receive updates on Starlink news and service availability in your area, please visit starlink.com, per SpaceX.
The Falcon 9 first stage rocket booster supporting this mission previously flew on four missions: the launches of GPS III Space Vehicle 03 and and two Starlink missions and most recently the Turksat 5A launch on Jan. 7 that opened the 2021 launch year. Check out our story and photos.
Following stage separation, SpaceX again nailed the landing of the 5x reused Falcon 9 first stage on the "Of Course I Still Love You" droneship, which was prepositioned in the Atlantic Ocean of the coast of the Carolina's some 400 miles (640 km) northeast of the launch site.
Both payload fairing halves were also reused.
"One half of Falcon 9's fairing previously flew on the SAOCOM-1B mission, and the other previously flew in support of the GPS III Space Vehicle 03 mission," said SpaceX.
The SpaceX fleet of fairing recovery ships GO Ms. Tree and GO Ms. Chief were also dispatched to the recovery zone.
After successfully completing a static fire test Sunday afternoon, Jan. 31, SpaceX was initially targeting predawn Tuesday for launch of the next batch of 60 Starlink broadband internet satellites to orbit while keep an eye on poor weather prospects for both the launch site and the booster recovery zone in the Atlantic Ocean.
The launch was delayed more days due to poor launch and booster recovery weather and again for further "pre-launch checkouts".
SpaceX is targeting predawn Friday, February 5 for launch of the next batch of 60 Starlink internet satellites from Launch Complex 39A (LC-39A) at NASA's Kennedy Space Center in Florida. The instantaneous launch window is 5:14 a.m. EST, or 1014 GMT.
To allow additional time for pre-launch checks, now targeting Friday, February 5 at 5:14 a.m. EST for launch of Starlink from LC-39A

— SpaceX (@SpaceX) February 3, 2021
At one point yesterday the Starlink launches were only about 4 hours apart – which would have been a record short time between liftoffs ever -not seen similar since November 1966 per the 45th Space Wing.
This is the first time since 11 November 1966 that two launches will lift off from the Eastern Range on the same day. Those previous missions were Gemini 12 and Atlas Agena which lifted off 99 minutes apart from each other. The two Falcons will lift off less than 5 hours apart.

— 45th Space Wing (@45thSpaceWing) February 3, 2021
Alas the further Falcon 9 checkouts needed by SpaceX put an end to those hopes!
But safety is paramount in all circumstances!
My commentary about the Starlink missions 18 & 19 was featured on WKMG CBS 6 Orlando TV News and Fox 35 Orlando on Feb. 3 & 4:
https://www.clickorlando.com/news/local/2021/02/02/spacex-to-launch-2-rockets-hours-apart-with-starlink-satellites/
My static fire test photos for the pad 39a mission were featured on WKMG CBS 6 Orlando TV News multiple broadcasts on Feb. 1 – 3.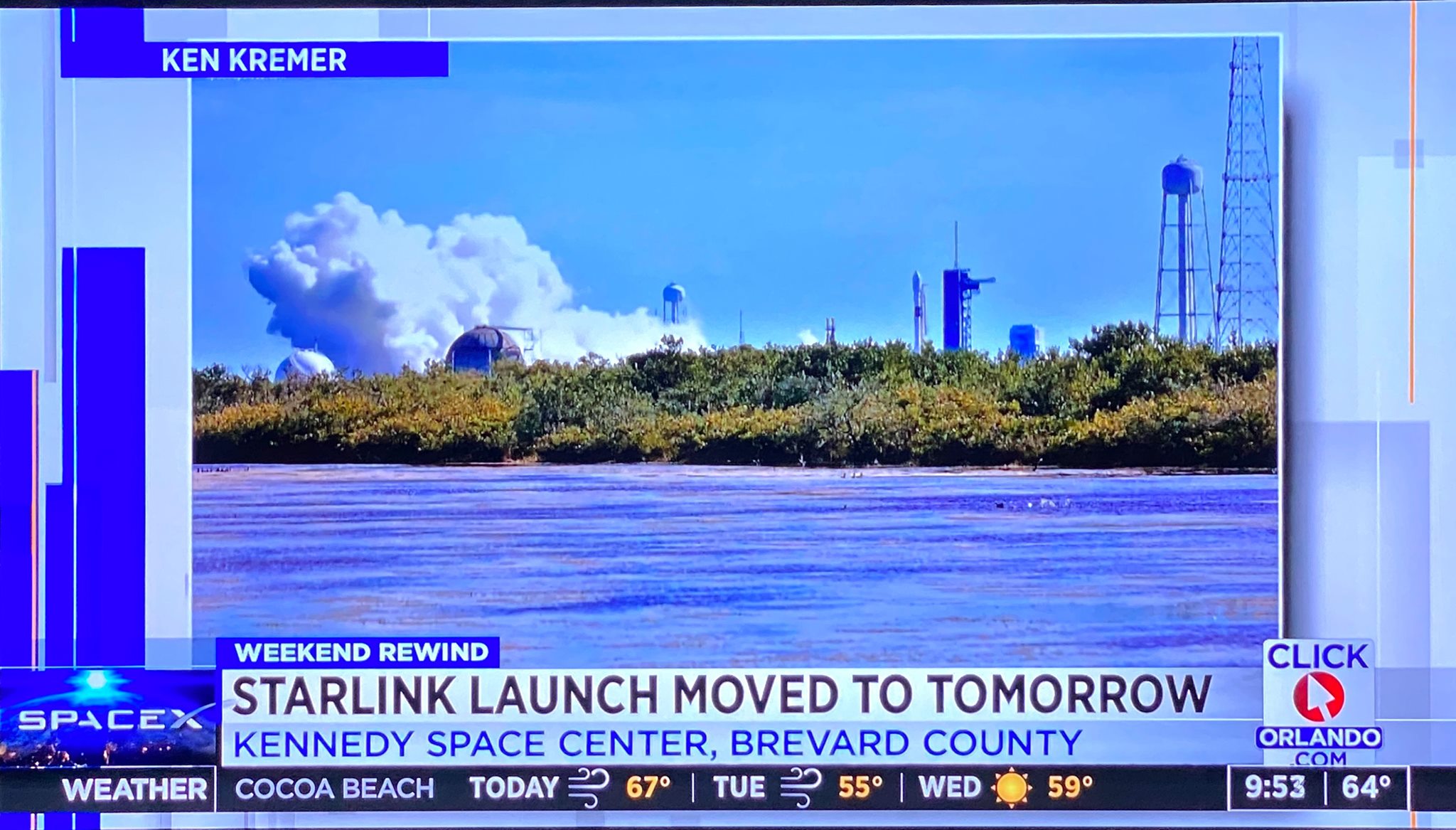 Liftoff photos tweeted by SpaceX:
Falcon 9 launches 60 Starlink satellites to orbit – mission from pad 39A on deck pic.twitter.com/71cuCBgPNX

— SpaceX (@SpaceX) February 4, 2021
Watch Ken's continuing reports about Artemis and NASA missions, SpaceX, Starlink, Commercial Crew and Starliner and Crew Dragon and onsite for live reporting of upcoming and recent SpaceX and ULA launches including Crew 1 & 2, Demo-2, ISS, X-37B, Solar Orbiter, Mars 2020 Perseverance and Curiosity rovers, NRO spysats and national security missions and more at the Kennedy Space Center and Cape Canaveral Space Force Station. 
Stay tuned here for Ken's continuing Earth and Planetary science and human spaceflight news: www.kenkremer.com –www.spaceupclose.com – twitter @ken_kremer – email: ken at kenkremer.com
Dr. Kremer is a research scientist and journalist based in the KSC area, active in outreach and interviewed regularly on TV and radio about space topics.
………….
Ken's photos are for sale and he is available for lectures and outreach events
Please consider supporting Ken's work by donating at Patreon:
https://www.patreon.com/kenkremer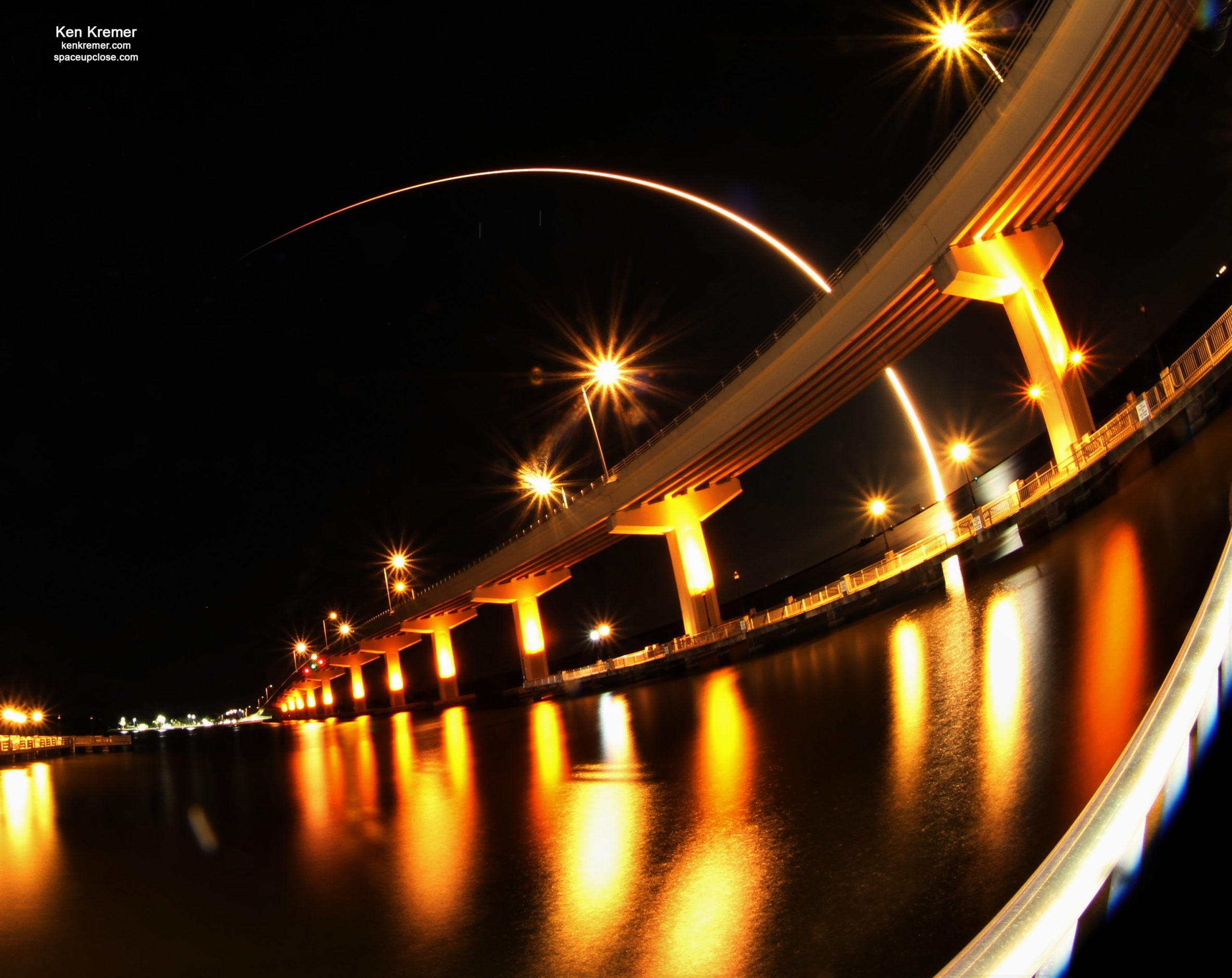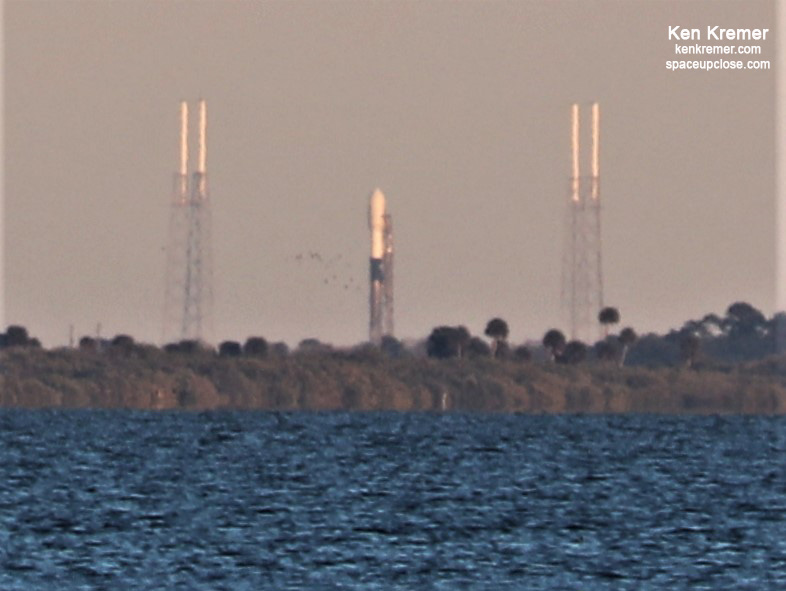 x