For SpaceUpClose.com & RocketSTEM
CAPE CANAVERAL SPACE FORCE STATION, FL –  A veteran SpaceX booster successfully deployed the next tranche of Starlink internet satellites to low Earth orbit Monday evening just before midnight, Feb. 15, but failed to nail its landing on a droneship at sea after a beautiful liftoff for the sixth time to space by recycled Falcon 9 1st stage B1059.6 from Florida's Spaceport
Following Sunday nights weather forced scrub of the flight-proven SpaceX Falcon 9, drenching rainstorms less than three hour before T-Zero again threatened Monday nights schedule.
Finally the skies miraculously cleared and the stars shines brightly with the Big Dipper almost directly dead center over the rocket.
The beautiful launch of the next tranche of 60 Starlink satellites from seaside Space Launch Complex 40 (SLC-40) at Cape Canaveral Space Force Station in Florida took place during the instantaneous launch window at 10:59 p.m. EST, or 3:59 GMT on February 16.
The magnificent nighttime display of rocket fire and fury commenced as the 9 Merlin 1D first stage engines roared to life and ignited with 1.7 million pounds of liftoff thrust fueled by liquid oxygen (LOX) and RP-1 propellants.
The rocket flew on a northeasterly trajectory  to deploy the Starlinks into an initial orbit ranging between 155 miles and 180 miles (250 and 291 km) in altitude
SpaceX did not explain what went wrong with the droneship landing or why the booster was lost.
The loss broke a successfully streak of 24 booster landings by land and by sea since March 2020.
Live video from the SpaceX webcast showed something went awry with apparent light reflections on on the deck of droneship OCISLY "Of Course I Still Love You" as the 15 story tall booster descended for a propulsive landing where 3 Merlin 1D engines are reignited.
Most likely the booster 1059.6 ditched into the Atlantic Ocean at some point to avoid hitting and damaging OCISLY.
SpaceX will certainly investigate what caused the failed landing and this will almost certainly delay upcoming launches for at least a short time. As they determine root cause.
Enjoy our Space UpClose team launch photos from Ken Kremer and Jean Wright.
Check back as the gallery grows for the Falcon 9 carrying the 19th batch of Starlink broadband internet satellites.
Following stage separation, SpaceX was to land Falcon 9's first stage on the "Of Course I Still Love You" (OCISLY)  droneship, which was prepositioned in the Atlantic Ocean off the coast of the Carolinas some 400 miles (640 km) northeast of the launch site.
Recycling the 1st stage boosters many times has enabled SpaceX to maintain a rapid launch cadence of nearly 3 launches per month last year and even more planned this year.
Poor weather and technical issues have forced multiple delays to attempts by SpaceX to launch a double header of Starlink missions these past few weeks – in some cases just a day or two apart and once spaced just 5 hours apart in what would have been a record setting event not seen for decades.
The loss of booster 1059.6 has again delayed plans for a Falcon 9 launch double header  with the indefinite  postponement of the next liftoff that was slated for Wednesday, Feb 17.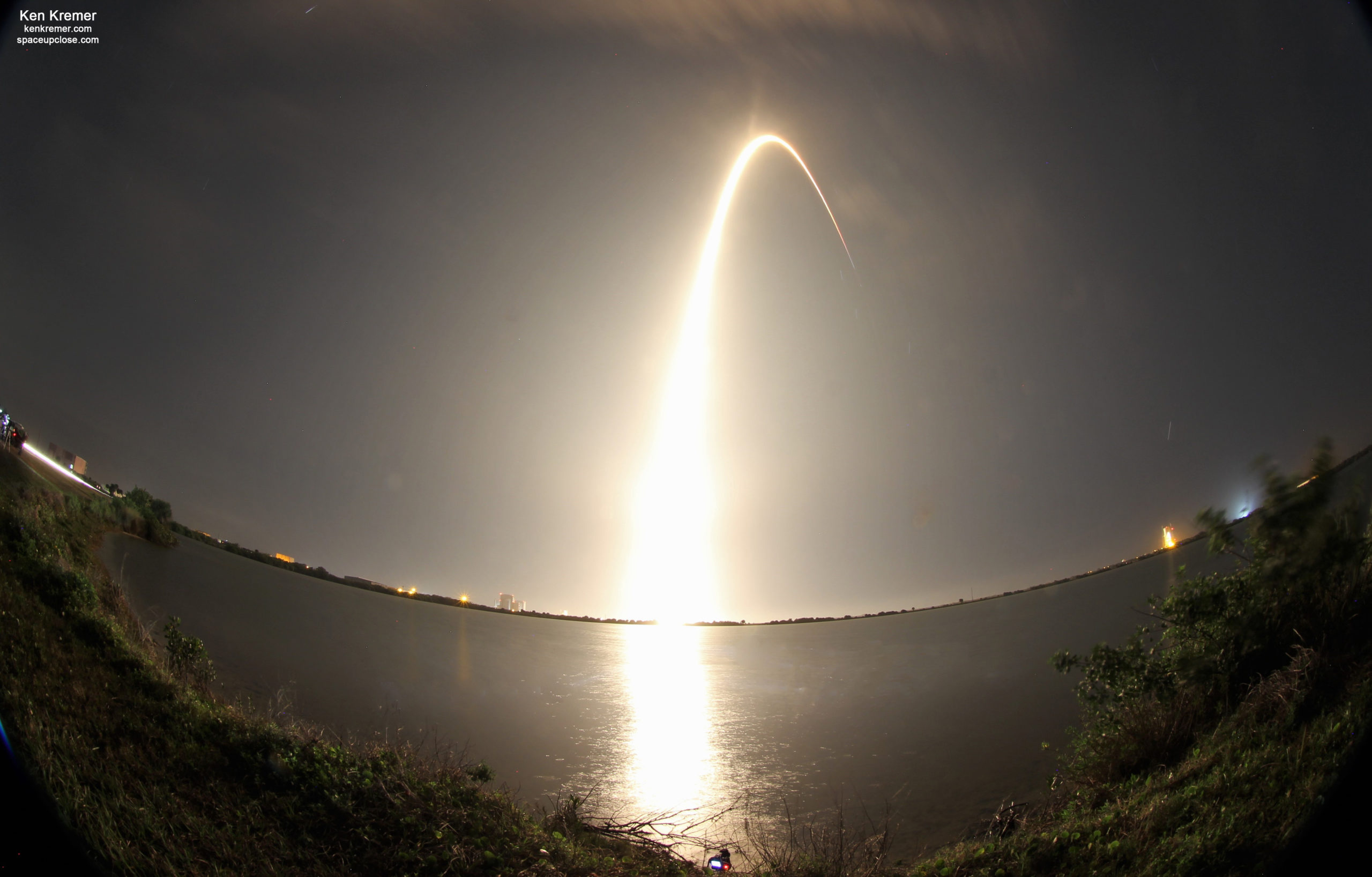 The Falcon 9 first stage rocket booster supporting this mission previously flew on five missions: Dragon's 19th and 20th commercial resupply missions to the International Space Station, a Starlink mission, the SAOCOM 1B mission, and most recently the top secret NROL-108 mission for the NRO in Dec. 2020.
Overall this was the 108th  Falcon 9 launch since 2010 as well as the 5th Falcon 9 launch of 2021 and the 19th Starlink launch.
The flat panel Starlink satellites were  deployed about 1 hour and four minutes after liftoff.
Watch this SpaceX tweeted video:
Deployment of 60 Starlink satellites confirmed pic.twitter.com/apZ7oTOvNk

— SpaceX (@SpaceX) February 16, 2021
They were injected into an initial orbit ranging between 157 miles (254 kilometers) and 177 miles (286 kilometers), with an inclination of 53 degrees to the equator.
The 500 pound Starlink satellites are manufactured by SpaceX in Redmond, Washington.
Starlink is now delivering initial beta service both domestically and internationally, and will continue expansion to near global coverage of the populated world in 2021, says SpaceX.
Starlink is ideally suited for areas of the globe where connectivity has typically been a challenge

— SpaceX (@SpaceX) February 16, 2021
Unbounded by traditional ground infrastructure, Starlink can deliver high-speed broadband internet to locations where access has been unreliable or completely unavailable

— SpaceX (@SpaceX) February 16, 2021
Starlink will provide high speed low latency internet access to rural areas at first and then expand across the US and eventually globally with well in excess of 12,000 satellites, says CEO Elon Musk
To see if Starlink is available in your area, visit starlink.com.
Following the prior Starlink launch as the 18th batch on Feb. 4 that brought the total number of Starlink satellites launched to 1,085 internet satellites.  That includes earlier prototypes mostly from the first launch as well as the 10 Starlink sats launched to polar orbit on the last Falcon 9 launch on Transporter-1 mission on Jan. 24. Check out our story and photos
That last mission expanding the Starlink constellation to well over 1000 also counted as the 107th flight of a Falcon 9 – an amazing launch cadence with nearly a quarter of those just in the past year and in large part enabled by the now routine reuse of 'flight-proven' and recovered 1st stage boosters.
It also marked the 74th landing by land or by sea.
The new mission thus fortifies the Starlink constellation of relay satellites that one day upcoming will offer a competitive alternative to existing broadband services across North America – including the US and Canada
The next Starlink launch was set for Wednesday, Feb. 17 of the oft delayed launch from pad 39A at KSC has been delayed again – mots likely due to the failed booster landing.
It was originally planned to liftoff in January on the 18th mission.
Watch Ken's continuing reports about NASA missions and Artemis, Mars Perseverance and Curiosity rovers, SpaceX, Commercial Crew and ISS and onsite for live reporting of upcoming and recent SpaceX and ULA launches including Crew 1 & 2, Demo-2 and Starliner, X-37B, Solar Orbiter, NRO spysats and more at the Kennedy Space Center and Cape Canaveral Space Force Station.
Stay tuned here for Ken's continuing Earth and Planetary science and human spaceflight news: www.kenkremer.com –www.spaceupclose.com – twitter @ken_kremer – email: ken at kenkremer.com
Dr. Kremer is a research scientist and journalist based in the KSC area, active in outreach and interviewed regularly on TV and radio about space topics.
………….
Ken's photos are for sale and he is available for lectures and outreach events
Please consider supporting Ken's work by donating at Patreon:
https://www.patreon.com/kenkremer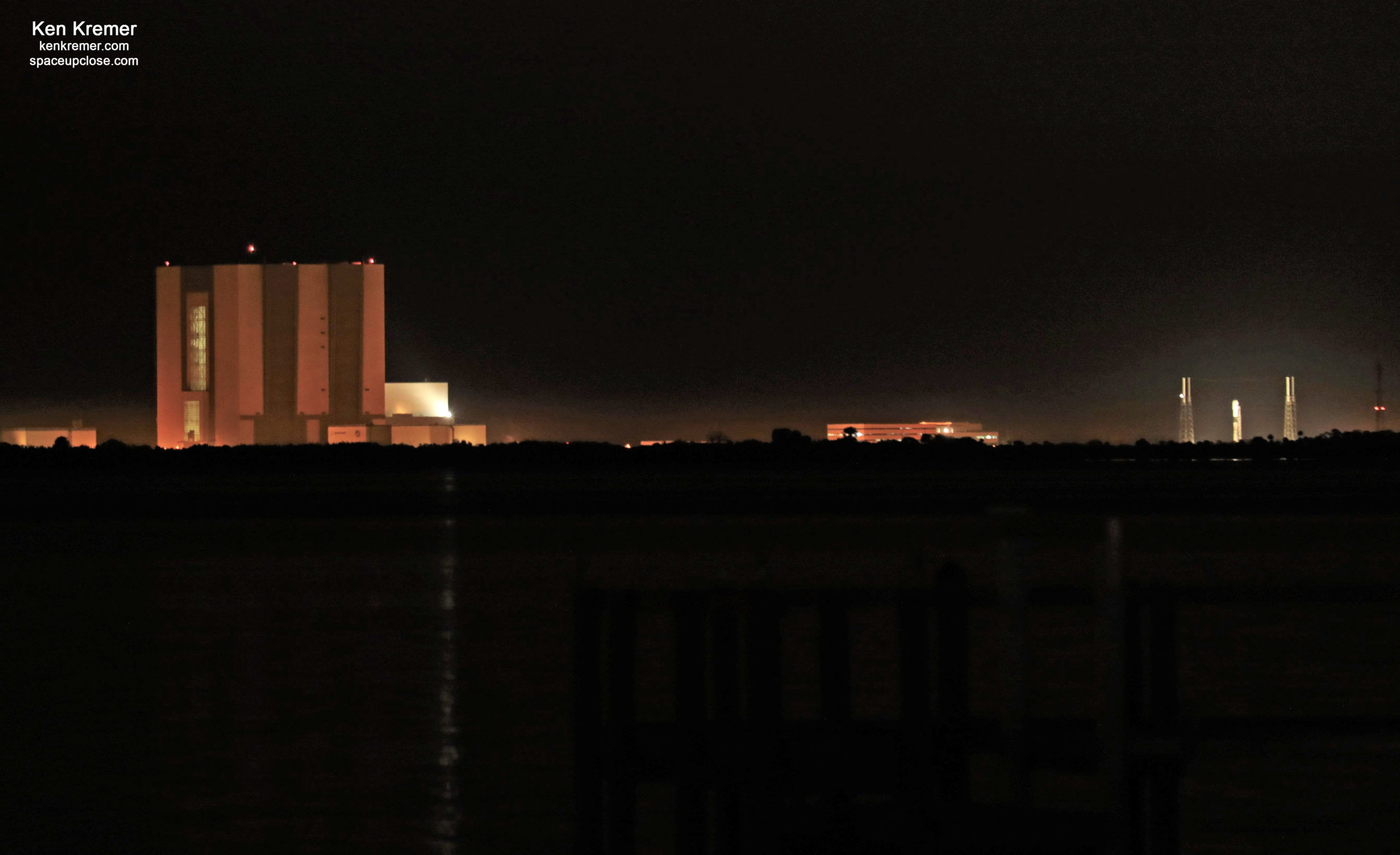 x