For SpaceUpClose.com & RocketSTEM
CAPE CANAVERAL, FL –  NASA and SpaceX announced a small two-day delay as expected to the next astronaut flight to the International Space Station  (ISS) and are targeting no earlier than (NET) April 22 for liftoff of the Crew-2 mission on the second commercial crew rotation mission from the United States at Florida's Spaceport.
The four person Crew-2 mission will launch aboard a SpaceX Crew Dragon spacecraft on a Falcon 9 rocket from Launch Complex 39A at NASA's Kennedy Space Center in Florida to the ISS.
The multinational crew includes two NASA astronauts as well as two from international partners as part of the agency's Commercial Crew Program.
Crew-2 thus counts as the first launch with two international partners as members of the crew.  Crew-1 has one international partner astronaut from Japan
NASA's @SpaceX Crew-2 mission is now targeted for no earlier than April 22.

This mission will be the second crew rotation flight with astronauts on the Crew Dragon & the first launch with two international partners as part of the Commercial Crew Program: https://t.co/8f6xURo3uJ pic.twitter.com/rZP2hpxpeQ

— NASA Commercial Crew (@Commercial_Crew) March 5, 2021
The quartet of astronauts will also be the first crew to ride to space aboard a previously-flown Falcon 9 booster and simultaneously a reused Dragon spacecraft.  Both vehicles are manufactured by SpaceX and have been refurbished for this mission
The all veteran crew comprises NASA astronauts Shane Kimbrough and Megan McArthur serving  as spacecraft commander and pilot, respectively in addition to Japan Aerospace Exploration Agency (JAXA) astronaut Akihiko Hoshide, and ESA (European Space Agency) astronaut Thomas Pesquet as mission specialists.
Crew-2 will fly aboard the Crew Dragon "Endeavour" spacecraft — the same spaceship flown by veteran NASA astronauts Doug Hurley and Bob Behnken on the Demo-2 mission to the space station last year in May 2020 which was also the first flight of US astronauts from US soil in nearly a decade.
Overall Crew-2 will be the 3rd Crew Dragon mission to fly astronauts to space and the ISS.
The two day delay was expected after a media briefing where NASA and SpaceX official said a slip of a couple of days was likely and ascribed the postponement to orbital mechanics to "more optimize some of the orbital mechanics and the launch opportunities" for the trajectory to reach the space station after liftoff.
Liftoff of Crew-2 atop the recycled Falcon 9 rocket will take place from Launch Complex-39A  at NASA's Kennedy Space Center.
If the mission proceeds as planned the launch time on April 22 is slated for 6:11 a.m. EDT (1011 GMT).
After successfully docking at the space station a day later, the Crew-2 astronauts will join the Expedition 65 crew already aboard the orbital outpost, comprising the Crew-1 astronauts still aboard as well as a new multinational Russian-American Soyuz crew launching on April 9 from Baikonur.
"I can happily say the vast majority of the vehicle is flight-proven," said Benji Reed, senior director of human spaceflight programs at SpaceX, at the briefing
"In this case, we are changing some valves, for example, we are changing some of the thermal protection system. On crew vehicles … we always fly new parachutes. So some of those are new, but otherwise it's really the same vehicle that's very carefully inspected, carefully prepared, refurbished as needed, and ready to fly."
Crew Dragon has also been upgraded since it was flown on Demo-2 to improve pad abort capabilities for rougher seas and stronger winds.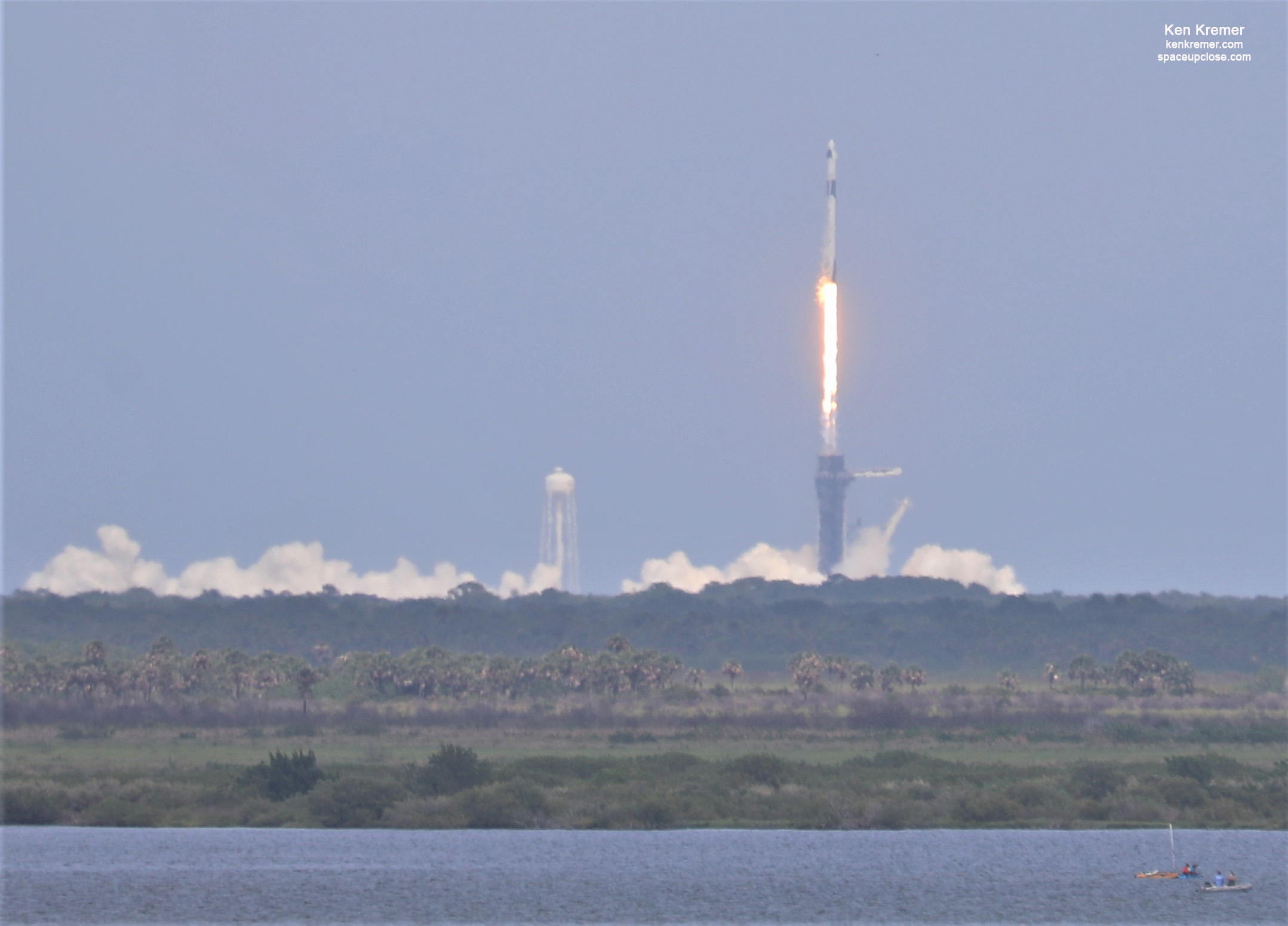 "One of the upgrades on this vehicle is improved pad abort performance," said Steve Stich, manager, Commercial Crew Program, at NASA's Kennedy Space Center.
"The Dragon is designed to have continuous abort capability from the launch all the way until it gets into orbit. SpaceX went off and looked at a way to optimize their propellant system and provide a little more propellant for an abort off the pad."
"That did a couple of things," Stich added. "One, it improved crew safety should we get into that kind of unfortunate situation for a pad abort where the crew would need to leave the pad for an emergency. And secondly, it really improved launch availability. We can handle a little bit stronger onshore winds and improve launch availability."
Regarding Crew Dragon refurbishment for Crew-2 he said Endeavour was in "really good shape."
"When we go through this certification process, we really look at every part of the vehicle," Stich said. "There are new parachutes, a new heat shield, new nose cone, new components, and then we look at what we're doing during the refurbishment process … Overall, I don't really see any high risk in reuse because we've gone through a methodical process, and we've checked as the components get reinstalled."
The Crew-1 astronauts are targeted for return to Earth in late April or early May.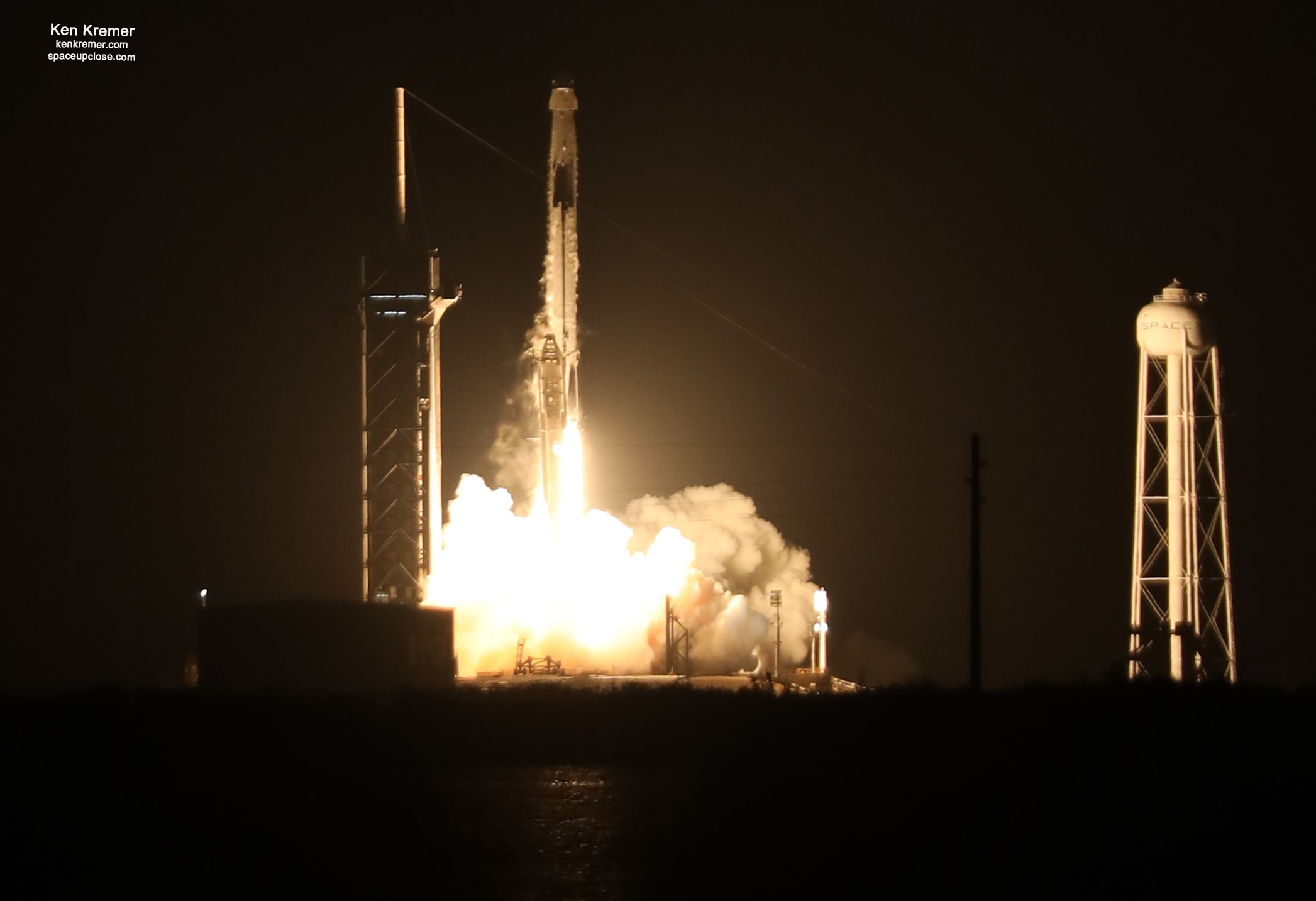 Crew-2 is scheduled to arrive at the ISS for an overlap of at least a few days with the four person SpaceX Crew-1 astronauts currently aboard as part of Expedition 64.
Crew-1 comprises NASA astronauts Michael Hopkins, Victor Glover and Shannon Walker, along with JAXA astronaut Soichi Noguchi.
They are currently scheduled for departure in late April or early May  for splashdown likely in the Atlantic Ocean. They must depart by May 9 to avoid landing in darkness.
The Crew-2 astronauts are scheduled for a roughly 6 month long-duration stay aboard the orbiting laboratory, living and working as part of what is expected to be a seven-member crew.
At a media briefing Crew-2 described what they will miss most:
The four members of the @SpaceX Crew-2 mission launching to the station in spring talk about what they will miss most while in space. #AskNASA pic.twitter.com/2X21c5yOpi

— International Space Station (@Space_Station) March 1, 2021
They also described their backgrounds and education:
The @SpaceX Crew-2 astronauts discuss how their background and education will be used for space research once they begin their mission on the station. #AskNASA pic.twitter.com/NErGmIufwm

— International Space Station (@Space_Station) March 1, 2021
April is shaping up to be  a very busy month for visiting vehicles at the ISS
Thus NASA has now decided to target the launch of the second uncrewed Boeing Starliner Orbital Test Flight-2 mission to likely NET May after the departure of Crew-1
There are only 2 docking ports to accommodate US crew vehicles simultaneously. Thus one Crew Dragon must depart to make way before a Starliner can arrive and dock.
Crew-2 will remain aboard until fall 2021 and overlap with SpaceX Crew-3 launching in Fall 2021 – read our story.
See my commentary about the busy traffic at the ISS in this story at WFTV ABC 9 TV News Orlando:
https://www.wftv.com/video/?id=f6edb3ec-ca0e-47bf-b1c4-41370773428f
Watch Ken's continuing reports about Artemis and NASA missions, SpaceX, Starlink, Commercial Crew and Starliner and Crew Dragon and onsite for live reporting of upcoming and recent SpaceX and ULA launches including Crew 1 & 2, Demo-2, ISS, X-37B, Solar Orbiter, Mars 2020 Perseverance and Curiosity rovers, NRO spysats and national security missions and more at the Kennedy Space Center and Cape Canaveral Space Force Station.
Stay tuned here for Ken's continuing Earth and Planetary science and human spaceflight news: www.kenkremer.com –www.spaceupclose.com – twitter @ken_kremer – email: ken at kenkremer.com
Dr. Kremer is a research scientist and journalist based in the KSC area, active in outreach and interviewed regularly on TV and radio about space topics.
………….
Ken's photos are for sale and he is available for lectures and outreach events
Please consider supporting Ken's work by donating at Patreon:
https://www.patreon.com/kenkremer
x