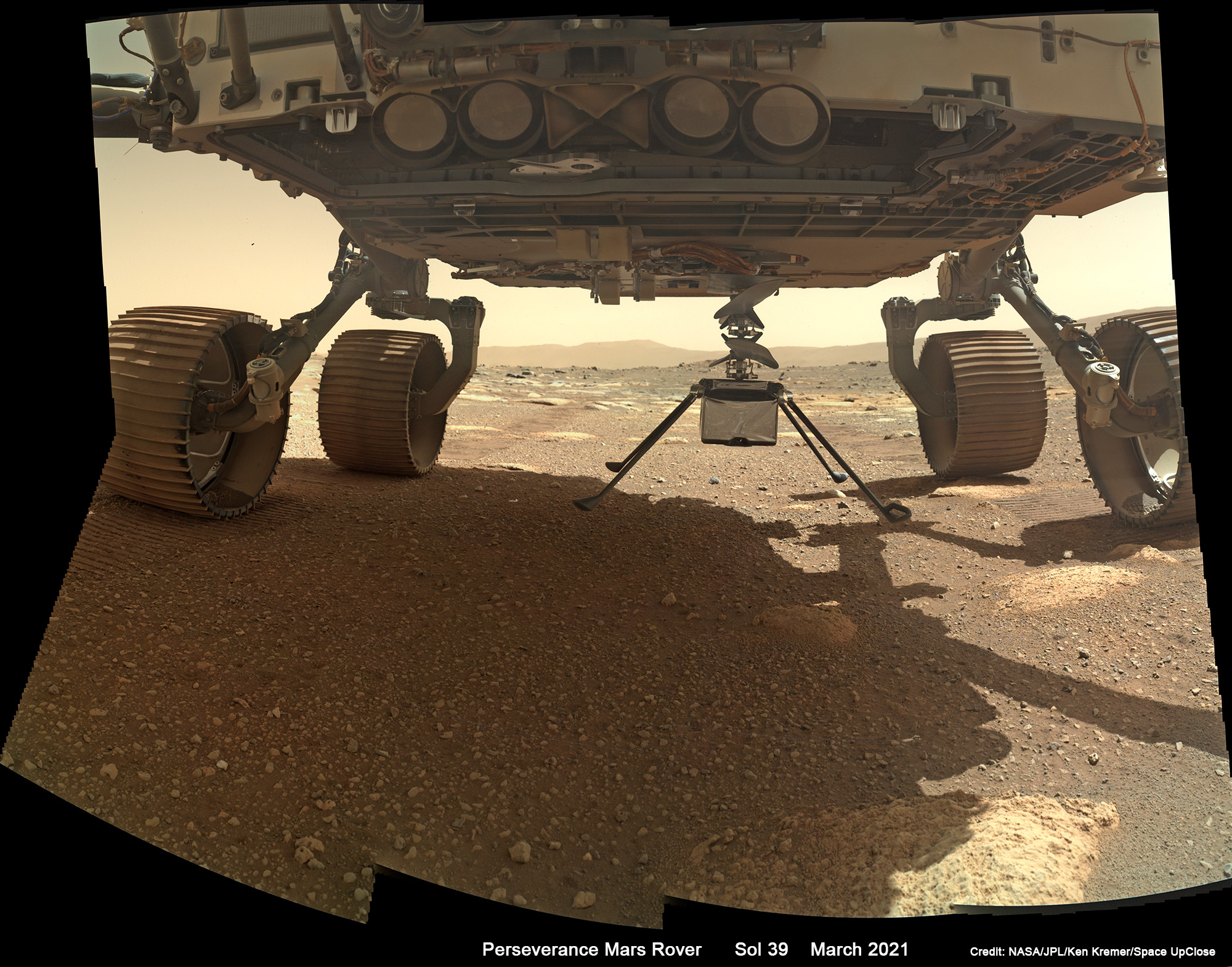 For SpaceUpClose.com & RocketSTEM
CAPE CANAVERAL, FL – NASA's experimental Ingenuity Mars Helicopter has just successfully deployed all four landing legs after carrying out a methodical step by step approach this past week on Mars to safely and carefully unfurl the $80 million rotorcraft this week and hanging down from the stowed attach point on the belly of the Perseverance rover – getting ready for the first test flight NET April 8.
The images confirming the unfurlment and deployment down of all four landing legs were taken by the powerful Sherloc Watson high resolution camera on the end of the rover's 7-foot-long (2.1-meter-long) robotic arm yestersol Sol 39 (March 30) and transmitted back overnight – which I just stitched into a new Sol 39 mosaic from eight color raw images and shown as lead image above.
At this moment the diminutive 4 pound (1.8 kg) Ingenuity is dangling from Perseverance belly about 5 inches (13 cm) above the surface of the Red Planet at the 'airfield' at the Jezero Crater landing site.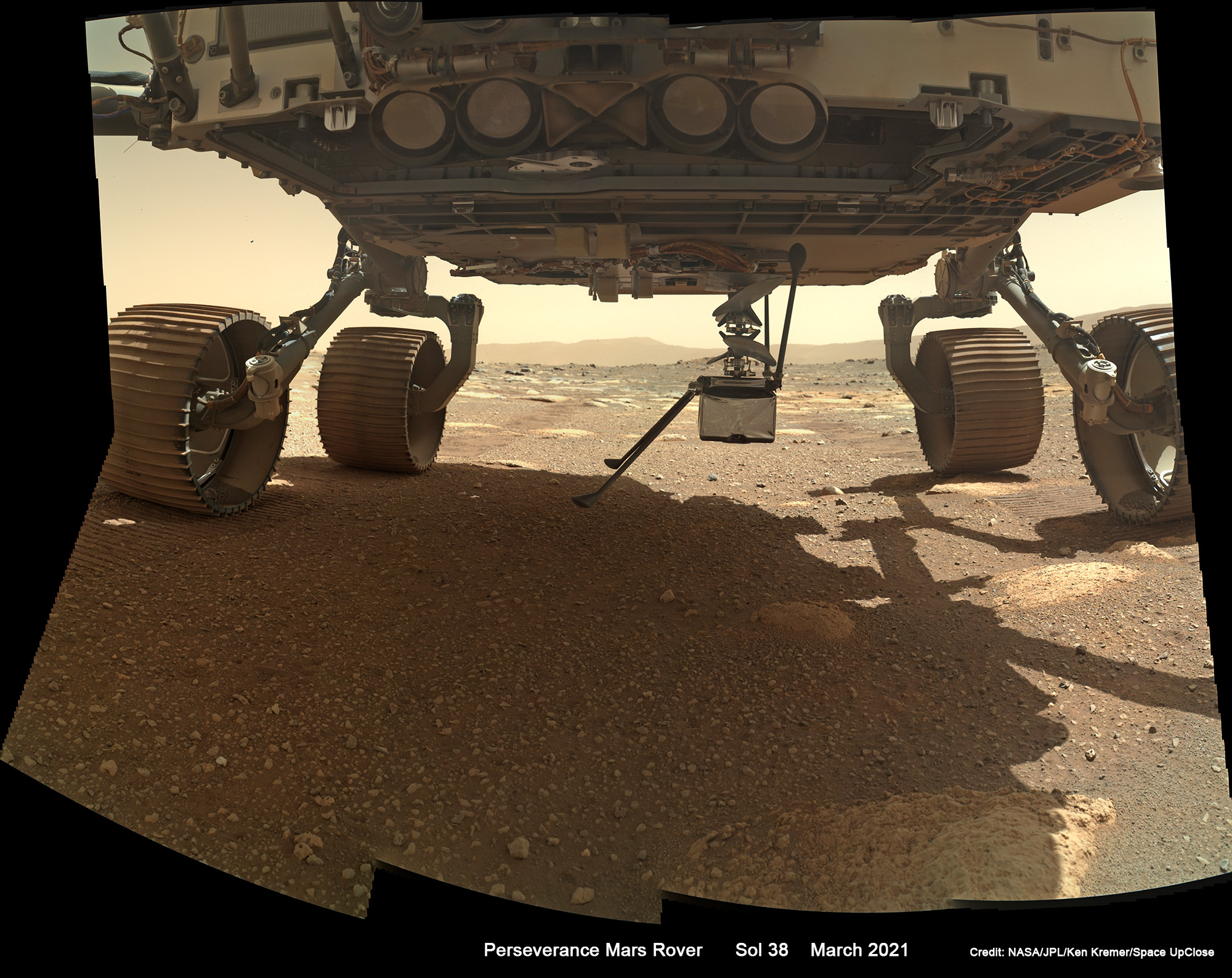 The Ingenuity Mars Helicopter is a technology demonstration experiment aboard Perseverance.
The goal is to conduct a history making 'Wright Brothers' first flight moment with the agencies experimental craft on Mars on no earlier than April 8 -aiming  to make the first attempt at powered, controlled flight of an aircraft on another planet.
The irreversible deployment process to get the Ingenuity rotocraft safely unfurled and down onto the Martian surface from its attach point on the belly of NASA's SUV-sized Perseverance rover begun on Sol 37, Sunday, March 28, after arrival of the robot at the 'airfield' from which it will take flight as soon as next month.
My series of mosaics stitched together this week from Sol 37 and 38 and earlier images taken by the Watson camera illustrate herein the step-by-step deployment sequence
The combined sequence of mosaics show what looks like the 'Birth of a Martian Helicopter Robot'  – and its absolutely mesmerizing to look at and think about the future possibilities of flights on Mars by both robots and human explorers!
"We're in the home stretch. The #MarsHelicopter has lowered all four legs and is in position to touch down on the Martian surface. Once it's fully ready, @NASAPersevere will release it gently to the surface," NASA JPL confirmed via tweet.
We're in the home stretch. The #MarsHelicopter has lowered all four legs and is in position to touch down on the Martian surface. Once it's fully ready, @NASAPersevere will release it gently to the surface. https://t.co/TNCdXWcKWE pic.twitter.com/K3fqt2X2q3

— NASA JPL (@NASAJPL) March 31, 2021
"Before the 4-pound (1.8-kilogram) rotorcraft can attempt its first flight, however, both it and its team must meet a series of daunting milestones," NASA and team officials announced at a media briefing held March 23.
Step by step, the #MarsHelicopter Ingenuity is getting ready to drop to the surface. Once it's all unfolded, with four legs down, I'll be able to cut it free. https://t.co/SDfGrUvoGL

— NASA's Perseverance Mars Rover (@NASAPersevere) March 30, 2021
Those 'daunting milestones' have now at last begun on Sol 37 with release of the locking mechanism at the belly attach point on the belly of NASA's Perseverance – that begins the irreversible start to the deployment with the spring-loaded unfurlment of the four landing legs.
The steps to begin the Ingenuity deployment began last week on Sol 30 (March 21, 2021) after Perseverance was commanded to eject the guitar case-shaped graphite composite debris shield cover that protected Ingenuity during landing and was  dropped flat onto the Martian surface directly underneath her and between the six wheels.
See my Sol 30 mosaic below illustrating the scene with the 1st look at NASA's Mars Ingenuity helicopter unveiled and folded up and attached to the belly of the rover.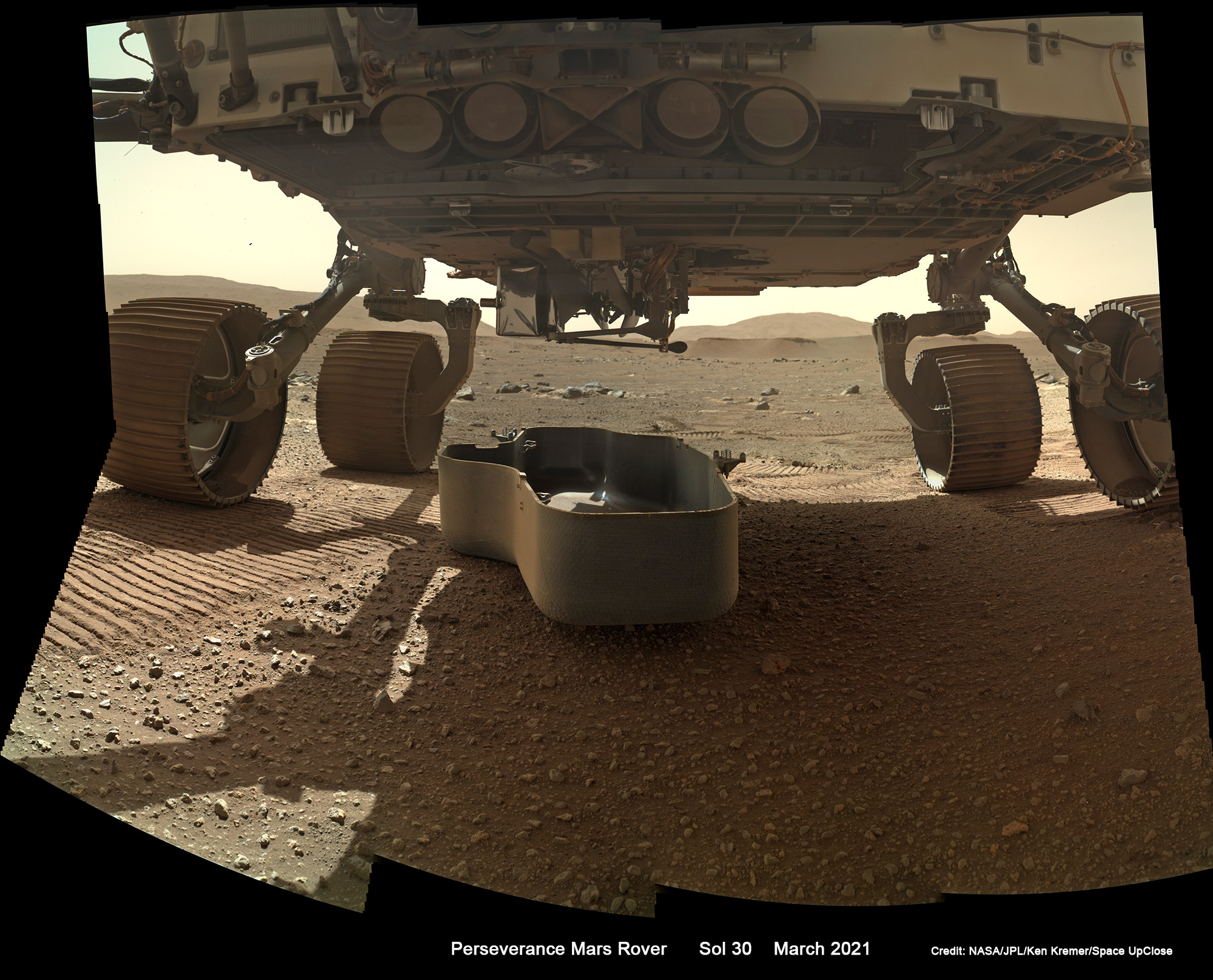 Once deployed, Ingenuity will have 30 Martian days, or sols, (31 Earth days) to conduct its test flight campaign of up to five test flights.
Overall the flight test campaign in April is currently planned to start more than a month sooner than the team was initially targeting since they found the 'airfield' sooner than expected.
After a pictorial search with the high resolution mast mounted cameras the science and engineering team located a 'helipad' which they commanded Perseverance to travel to and deploy Ingenuity onto for the history making test flight  campaign in the extremely thin atmosphere of Mars that is less than 1% as dense as Earths.
But the challenge is great because Mars still has significant gravity about 1/3 of Earth with little atmospheric density for lifting.
The airfield is about 10 meters x 10 meters (33 feet x 33-feet) in size and chosen as prime real estate for the test flight because it is smooth, flat and relatively free of obstructions like rocks which could interfere with a safe landing on the four legs
After completing the planned six sol deployment and unfolding and dropping Ingenuity the last 5 inches (19 cm) to Mars surface, Perseverance will drive away to a distance of about 16 feet (5 meters) and confirm that the helicopter is standing upright on 4 legs on Jezero crater floor and that both helicopter and rover are communicating via their onboard radios.
This milestone also initiates the 30-sol clock during which time all preflight checks and flight tests must take place, says the team.
The first flight targeted for NET April 8 will be the most important since it will be the first demonstration of powered flight on another world – if all goes well.
"The first flight is special. It's by far the most important flight that we plan to do," said Håvard Grip, Ingenuity chief pilot at the media briefing. "It will be the first powered flight by an aircraft on another planet."
During the first test flight Ingenuity will rev up its rotors to 2,537 rpm. If all checks out well it will climb at a rate of about 3 feet per second (1 meter per second) to about 3 meters (10 feet) above the surface and hover in place for about 30 seconds while turning
Then Ingenuity will descend and touch back down on the Martian surface on its four landing legs.
Four more tests of increasing complexity will follow depending on the results and analysis by the team
NASA and the JPL team running the mission are limiting Ingenuity to only a 30 sol mission because the rover needs to move on from this technology demonstration experiment to its primary science task of astrobiology aimed at searching for signs of ancient alien microbial life and gathering soil and rock samples at Jezero crater for eventual return to Earth in a decade or so.
My commentary about the search for life on Mars and the deployment of the Ingenuity Helicopter was featured in a live interview on March 30 on News Nation Cable TV News Network on 'The Donlon Report' illustrated with my Mars mosaics
Last night, @JoeDonlonTV was joined by an enthusiastic @ken_kremer, discussing the possibility of finding signs of past life on #Mars, and @NASA's upcoming flight test of #Ingenuity, the #MarsHelicopter. #SomethingToThinkAbout #NewsNation #TDR #thedonlonreport pic.twitter.com/NiMt043em8

— The Donlon Report (@TheDonlonReport) March 31, 2021
Ingenuity is the first Helicopter to ride to Mars and the first to be touched by Martian air.
The Sherloc Watson camera is located on the robotic arm hand, or turret seen in my Sol 17 mosaic below.
The solar powered Ingenuity helicopter is a technology demonstration experiment aimed at attempting the first flight on Mars.
It is stowed on the belly and receives its charge from the rover's power supply.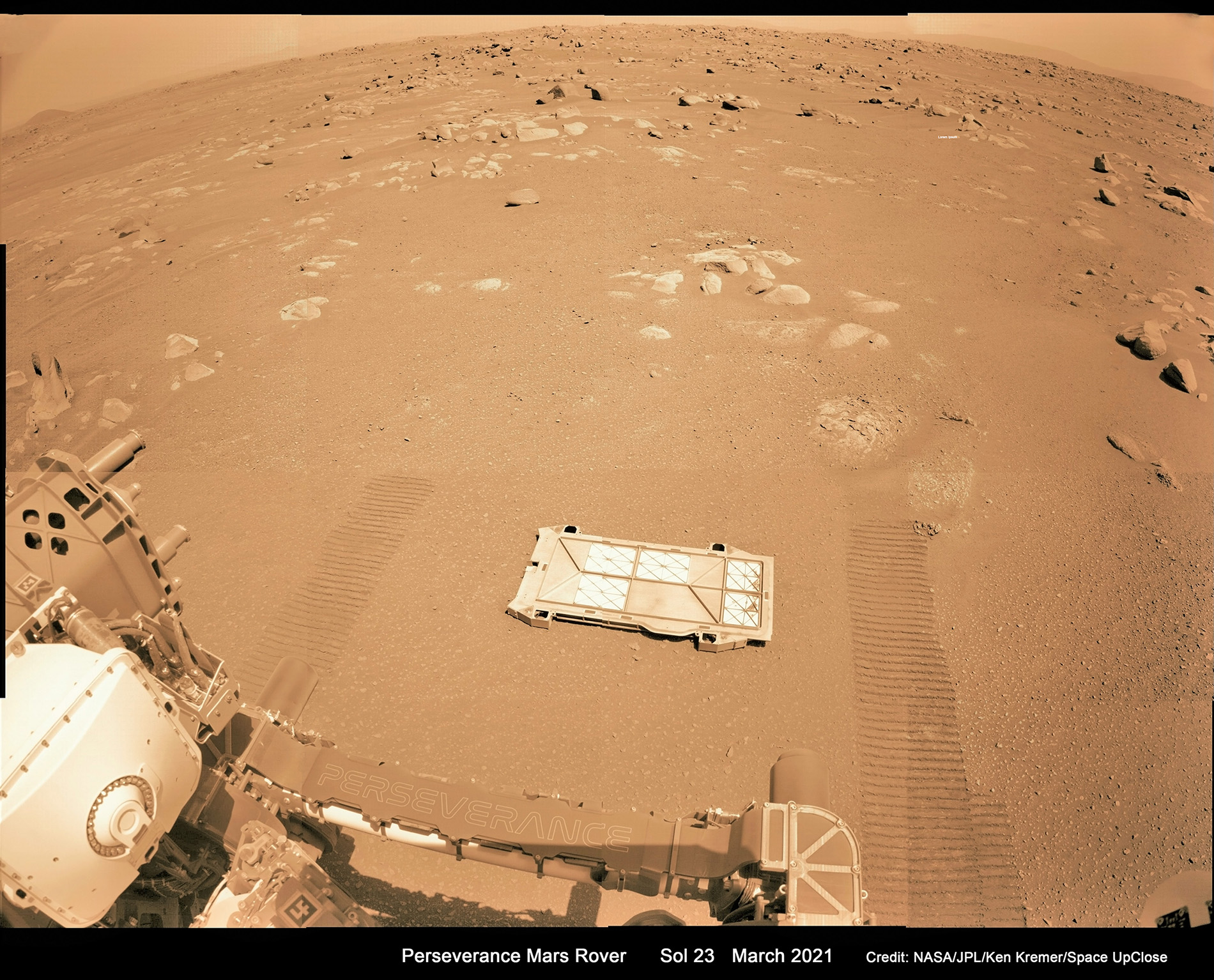 The four legged Ingenuity has a mass of about 4.0 pounds (1.8  kilograms) and stands 1.6 feet or 19 inches (0.49 meters) high. It is equipped with two counter rotating blades for lift spinning at about 2,400 rpm and two cameras.
After Ingenuity is deployed on Mars' surface its batteries will be charged solely by the helicopter's own solar panel. If Ingenuity survives the cold Martian nights during its preflight checkout, the team will proceed with testing.
My Sol 15 Perseverance rover shadow selfie mosaic was also featured at the Space.com space news website – here.
Watch our live and complete 'Stay Curious' with live Perseverance landing commentary Feb 18, 2021 as well as March 22 mission update and earlier programs on Mars Mania on Feb 12.
https://www.facebook.com/175507880819/videos/2694057200904814
https://www.facebook.com/175507880819/videos/752176242375043
https://www.facebook.com/175507880819/videos/3246699658764085
Watch Ken's continuing reports about Mars 2020 Perseverance and Curiosity rovers, Artemis and NASA missions, SpaceX, Starlink, Commercial Crew and Starliner and Crew Dragon and onsite for live reporting of upcoming and recent SpaceX and ULA launches including Crew 1 & 2, Demo-2, ISS, X-37B, Solar Orbiter, NRO spysats and national security missions and more at the Kennedy Space Center and Cape Canaveral Space Force Station.
Stay tuned here for Ken's continuing Earth and Planetary science and human spaceflight news: www.kenkremer.com –www.spaceupclose.com – twitter @ken_kremer – email: ken at kenkremer.com
Dr. Kremer is a research scientist and journalist based in the KSC area, active in outreach and interviewed regularly on TV and radio about space topics.
………….
Ken's photos are for sale and he is available for lectures and outreach events
Ken has created hundreds of widely published Mars rover mosaics and lectures also about NASA's Mars rovers
Please consider supporting Ken's work by donating at Patreon:
https://www.patreon.com/kenkremer
x