For SpaceUpClose.com & RocketSTEM
CAPE CANAVERAL, FL – In another first NASA's Perseverance rover has captured the first sounds of a vehicle dispatched from Earth driving on the surface of Mars as the six wheeled robot trundled across the floor of Jezero Crater making clackity, clack noises of a type we have never heard before on a mission like none before – astrobiology aimed at searching for signs of alien life.
The sounds of driving on Mars is another stellar 'You Are There' moment from this stellar performing Perseverance Martian robot.
During a 16-minute-long drive of 90-feet (27.3-meters) in distance on March 7 the Perseverance rover recorded her first sounds of making new tracks on the surface of the Red Planet – "the bangs, pings, and rattles of the robot's six wheels as they rolled over Martian terrain" said the robots handlers.
The utterly eerie sounds of Mars were captured by Perseverance's sensitive entry, descent, and landing (EDL) microphone –  which still remains operational on the rover after its historic touchdown on Feb. 18.
Its noteworthy that the EDL microphone was not intended for surface operations and had limited testing in this configuration before launch, according to NASA.
? Hear that? That's the sound of me driving over Martian rocks. This is the first time we've captured sounds while driving on Mars.

Read full story: https://t.co/oqdnCJShjm pic.twitter.com/yKwypUSnE7

— NASA's Perseverance Mars Rover (@NASAPersevere) March 17, 2021
NASA released two versions of the sounds – one the full 16 minutes of raw unfiltered sounds and the other a shorter 90-second highlight clip.  Listen to both version here:
Audio Caption: Sounds of Perseverance Mars Rover Driving – Sol 16 (16-minutes). Listen to 16 minutes of raw, unfiltered sounds of the Perseverance Mars rover traveling in Jezero Crater. The noise generated by the interaction of the rover's wheels and suspension with the surface can be heard, along with a high-pitched scratching noise. Perseverance's engineering team continues to evaluate the source of the scratching noise, which may either be electromagnetic interference from one of the rover's electronics boxes or interactions between the rover mobility system and the Martian surface. The entry, descent, and landing microphone was not intended for surface operations and had limited testing in this configuration before launch.  Credit: NASA/JPL-Caltech
Audio Caption: Sounds of Perseverance Mars Rover Driving – Sol 16 (90-second highlights). NASA engineers combined three segments from the raw audio file recorded while the Perseverance Mars rover rolled across a section of Jezero Crater on sol 16 of the mission. Sections 0:20-0:45, 6:40-7:10, and 14:30-15:00 were combined into this 90-second highlight clip. There has been processing and editing to filter out some of the noise.  Credit: NASA/JPL-Caltech
"A lot of people, when they see the images, don't appreciate that the wheels are metal," said Vandi Verma, a senior engineer and rover driver at NASA's Jet Propulsion Laboratory in Southern California, in a statement. "When you're driving with these wheels on rocks, it's actually very noisy."
"The off-the-shelf microphone was added to the rover to help take the public along for the ride during touchdown, but mission members have been eager to hear the sounds from the surface, too," said NASA.
"If I heard these sounds driving my car, I'd pull over and call for a tow," said Dave Gruel, lead engineer for Mars 2020's EDL Camera and Microphone subsystem, in a statement. "But if you take a minute to consider what you're hearing and where it was recorded, it makes perfect sense."
The rover has also captured the first sounds of laser strikes on Mars using a second microphone located on rover's mast mounted SuperCam instrument.
Perseverance "picked up the sighing of Martian wind and the rapid ticking sound of the instrument's laser zapping rocks to reveal details of their structure and composition."
Audio Caption: This is the first acoustic recording of laser impacts on a rock target on Mars from March 2, 2021, the 12th sol (Martian day) from Perseverance's SuperCam instrument. The sounds of 30 impacts are heard, some slightly louder than others. Variations in the intensity of the zapping sounds will provide information on the physical structure of the targets, such as its relative hardness or the presence of weathering coatings. The target, Máaz ("Mars" in Navajo), was about 10 feet (3.1 m) away.  Credit: NASA/JPL-Caltech/LANL/CNES/CNRS/ISAE-Supaero
The SuperCam science instrument takes measurements that will help determine the chemical composition of rocks and regoliths being investigated that in turn will help the science team as they search Jezero Crater for signs of ancient microscopic life and determine which should be sampled for eventual return to Earth by future missions.
"The SuperCam sounds were part of a series of systems checks the rover has gone through, ranging from the unstowing of Perseverance's massive robotic arm to making its first weather observations using the Mars Environmental Dynamics Analyzer," said the team.
Meanwhile Perseverance marked another major mission milestone last week when she ejected the belly pan cover protecting the Sample Caching System and dropped it flat onto the Martian surface on March 12 and 13 (Sol 21 and 22)- and thereby successfully exposed the sample collection system critical to gathering and storing cored samples of Red Planet soil and rocks in search of signs of life for eventual return to Earth – about a decade from now.
Check out my trio of mosaics showing the before and after views of dropping the protective belly pan cover directly below and then driving away a short distance on Sol 23.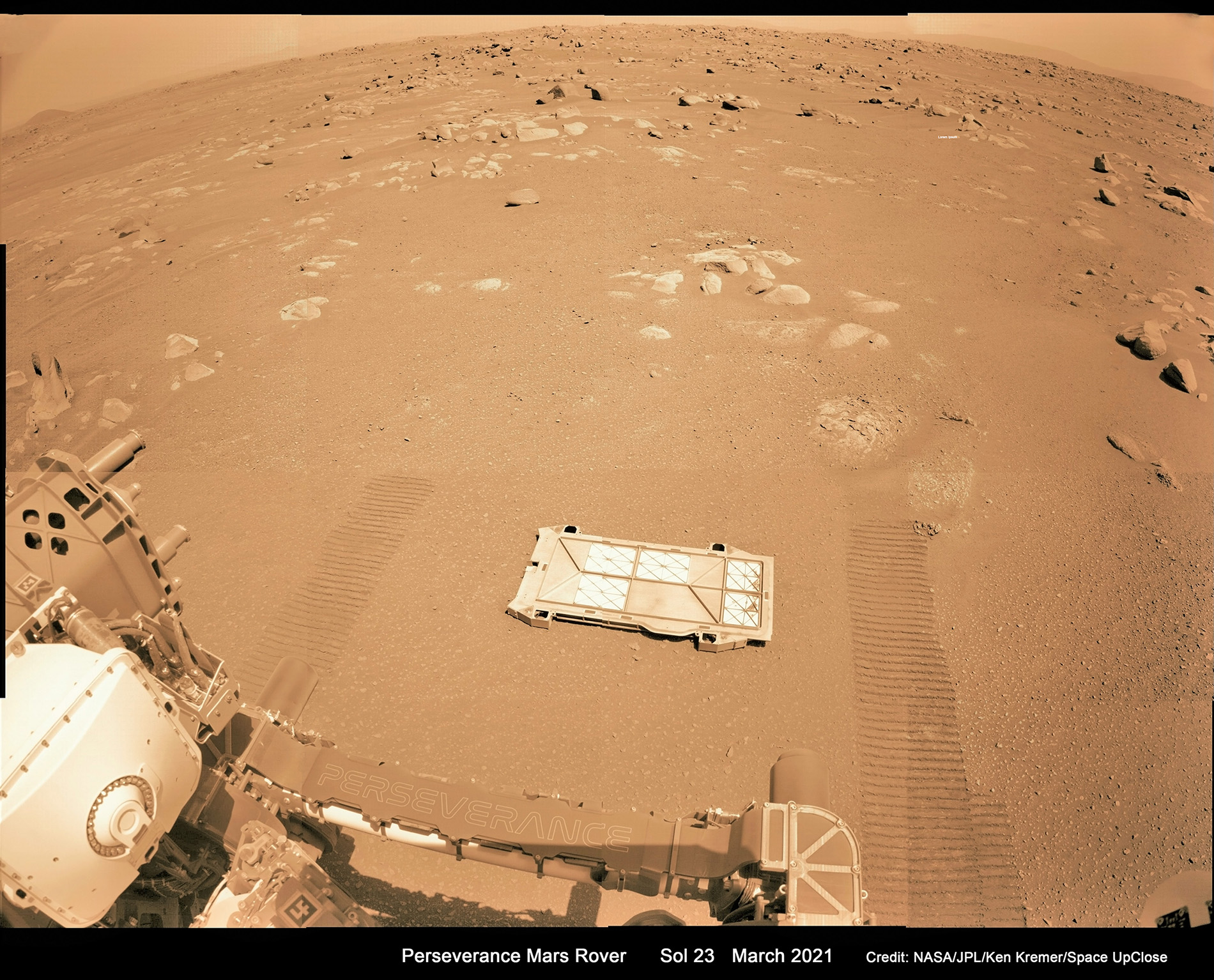 My Perseverance rover shadow selfie mosaic was also featured at the Space.com space news website – here.
Watch our live and complete 'Stay Curious' with live Perseverance landing commentary Feb 18, 2021 as well as earlier programs on Mars Mania on Feb 12.
https://www.facebook.com/175507880819/videos/752176242375043
https://www.facebook.com/175507880819/videos/3246699658764085
Watch Ken's continuing reports about Mars 2020 Perseverance and Curiosity rovers, Artemis and NASA missions, SpaceX, Starlink, Commercial Crew and Starliner and Crew Dragon and onsite for live reporting of upcoming and recent SpaceX and ULA launches including Crew 1 & 2, Demo-2, ISS, X-37B, Solar Orbiter, NRO spysats and national security missions and more at the Kennedy Space Center and Cape Canaveral Space Force Station.
Stay tuned here for Ken's continuing Earth and Planetary science and human spaceflight news: www.kenkremer.com –www.spaceupclose.com – twitter @ken_kremer – email: ken at kenkremer.com
Dr. Kremer is a research scientist and journalist based in the KSC area, active in outreach and interviewed regularly on TV and radio about space topics.
………….
Ken's photos are for sale and he is available for lectures and outreach events
Ken has created hundreds of widely published Mars rover mosaics and lectures also about NASA's Mars rovers
Please consider supporting Ken's work by donating at Patreon:
https://www.patreon.com/kenkremer
x