For SpaceUpClose.com & RocketSTEM
CAPE CANAVERAL, FL – NASA's experimental Ingenuity Martian chopper snapped an amazing first ever aerial image of the agency's Perseverance rover residing on the surface of the Red Planet  while acing its 3rd tremendous test flight on Sunday, April 25 – when it flew faster, farther and bolder than ever before and continues its history making achievements as humanity's first aircraft to fly beyond Earth earlier this month.
And with all test goals met NASA and the team is ready to push the chopper to the limits at 'Wright Brothers field' where it has been flying from thus far in the test campaign.
The stunning image of the SUV-sized rover was taken as the experimental helicopter during its 3rd successful test flight on April 25, 2021.
Ingenuity was flying at an altitude of 16 feet (5 meters) and roughly 279 feet (85 meters) from the rover at the time the amazing image from the air was taken by the choppers high resolution color camera.
The side looking color camera taking the color aerial images is mounted in the helicopter's tissue box sized fuselage and pointed approximately 22 degrees below the horizon.
I spy with my little eye…a rover.?
See if you can spot @NASAPersevere in this image taken by the #MarsHelicopter during its third flight on April 25, 2021. Ingenuity was flying at an altitude of 16 ft (5 m) and ~279 ft (~85 m) from the rover at the time. https://t.co/TNCdXWcKWE pic.twitter.com/krf1jBs3cY

— NASA JPL (@NASAJPL) April 28, 2021
Ingenuity's high-resolution color camera contains a 4208-by-3120-pixel sensor.
It's absolutely amazing and virtually serves as a powerful demonstration that helicopters can be used effectively for aerial surveillance on Mars surface and other worlds as well – adding a potent 3rd dimension to NASA's exploration project.
When Ingenuity flew to a half a football field down range and back on its 3rd flight it achieved ever more challenging objectives far beyond anything demonstrated during testing on Earth while making space exploration history.
The challenges of flying are incredible because the flight test are all fully autonomous flights and are carried out the extremely thin Martian atmosphere with few air molecules amounting to less than 1% as dense as Earth's– approximately equivalent to 3 times the height of Mount Everest – and under frigid Antarctica-like conditions of –130ºF (-90ºC).
"Now that NASA's Ingenuity Mars Helicopter has accomplished the goal of achieving powered, controlled flight of an aircraft on the Red Planet, and with data from its most recent flight test, on April 25, the technology demonstration project has met or surpassed all of its technical objectives. The Ingenuity team now will push its performance envelope on Mars," NASA said in a statement.
Ingenuity has now flown leaps and bounds farther vs. what's available in the vacuum test chamber on Earth.
"From millions of miles away, Ingenuity checked all the technical boxes we had at NASA about the possibility of powered, controlled flight at the Red Planet," said Lori Glaze, director of NASA's Planetary Science Division, in a statement.
"Future Mars exploration missions can now confidently consider the added capability an aerial exploration may bring to a science mission."
On its third flight the Ingenuity helicopter took off at 4:31 a.m. EDT (1:31 a.m. PDT), or 12:33 p.m. local Mars time, rising 16 feet (5 meters) on Sunday – the same altitude as its second flight, the team confirmed.
Watch this NASA JPL video of the 3rd test flight compiled from imagery captured by the mast mounted zoomable Mastcam-Z camera.
Video Caption: Perseverance Rover's Mastcam-Z Captures Ingenuity's successful Third Flight. NASA's Ingenuity Mars Helicopter takes off and lands in this video captured on April 25, 2021, by Mastcam-Z, an imager aboard NASA's Perseverance Mars rover. As expected, the helicopter flew out of its field of vision while completing a flight plan that took it 164 feet (50 meters) downrange of the landing spot. Keep watching, the helicopter will return to stick the landing. Top speed for today's flight was about 2 meters per second, or about 4.5 miles-per-hour. Credit: NASA/JPL-Caltech
And it also flew faster – speeding up from 0.5 meters per second in flight #2 to 2 meters per second in flight #3.
The 4th flight has been retargeted to Friday, April 30, after it failed to take off on Thursday due to a 'watchdog timing' issue.
The chopper remains healthy.
#MarsHelicopter is safe and healthy. Data indicate the rotorcraft didn't transition to flight mode, which had been a possible outcome. We'll attempt the 4th flight again on April 30. First data expected the same day around 10:39a PT (1:39p ET/5:39p GMT). https://t.co/X3fdIbbHyM pic.twitter.com/UQCOD0csQk

— NASA JPL (@NASAJPL) April 29, 2021
On the 4th flight from 'Wright Brothers Field' Ingenuity is scheduled to take off Thursday, April 29, at 10:12 a.m. EDT (7:12 a.m. PDT, 12:30 p.m. local Mars time), with the first data expected back at NASA's Jet Propulsion Laboratory in Southern California at 1:21 p.m. EDT (10:21 a.m. PDT).
In three flights, the #MarsHelicopter nailed its tech demo goals. Flight 4 pushes it even farther and faster. Reframing my shot and getting ready for tomorrow's flight. https://t.co/KrEO8TnnaV

— NASA's Perseverance Mars Rover (@NASAPersevere) April 29, 2021
Last time we saw Ingenuity and Perseverance together was the selfie taken on Sol 46 by the robots hand mounted Sherloc Watson camera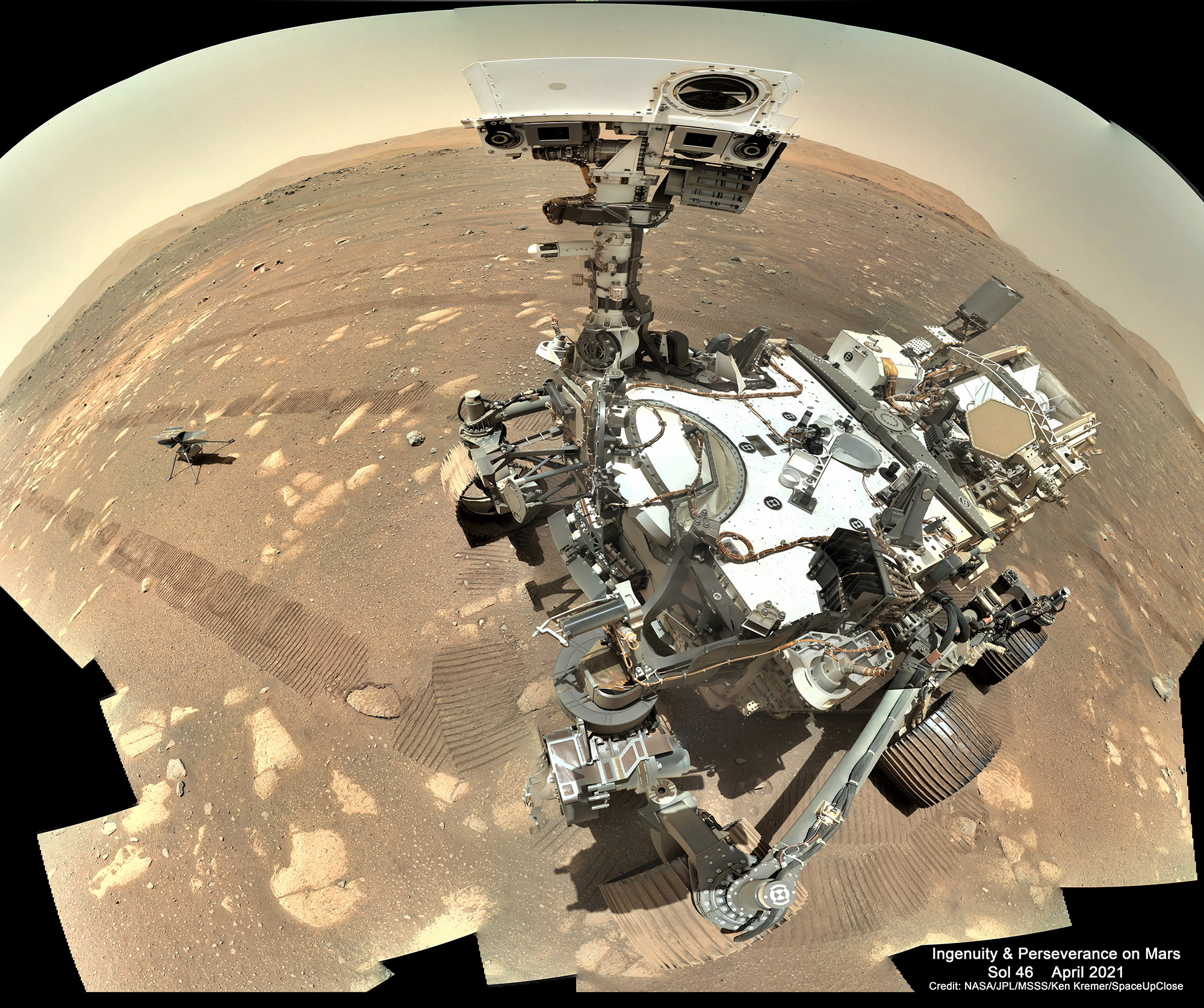 Meanwhile enjoy my version of the Sol 46 double selfie mosaic of Ginny and Percy together
Ginny and Percy (nicknames for Ingenuity and Perseverance) are seen together in my new mosaic here about 13 feet (4 meters) apart in imagery taken on April 6, 2021, on Sol 46 of the mission.
The solar powered Ingenuity helicopter is a technology demonstration experiment aimed at attempting the first flight on Mars.
The four legged Ingenuity has a mass of about 4.0 pounds (1.8  kilograms) and stands 1.6 feet or 19 inches (0.49 meters) high.
Watch my live post NASA SpaceX Crew 2 launch interview on The Donlan Report on News Nation Cable News about the significance of the NASA SpaceX Crew 2 launch to ISS launch, Commercial  Space, Mars rover/helicopter, the future of space travel and Elon Musk's plan to build a city on Mars.
On the heels of the latest successful @SpaceX crew launch to the @Space_Station, @JoeDonlonTV was joined by @Ken_Kremer to talk about the significance of this launch and Elon Musk's plan to build a city on #Mars.#SomethingToThinkAbout #NewsNation #InTheNews #TDR #TheDonlonReport pic.twitter.com/uRFjKLD0cS

— The Donlon Report (@TheDonlonReport) April 24, 2021
Watch my live interview on 'Stay Curious' show about NASA SpaceX Crew 2 mission and NASA Ingenuity Helicopter 1st flight – on April 29 at the American Space Museum Titusville, FL
https://www.facebook.com/175507880819/videos/127636489296749
Watch Ken's continuing reports about Mars 2020 Perseverance and Curiosity rovers, Artemis and NASA missions, SpaceX, Starlink, Commercial Crew and Starliner and Crew Dragon and onsite for live reporting of upcoming and recent SpaceX and ULA launches including Crew 1 & 2, Demo-2, ISS, X-37B, Solar Orbiter, NRO spysats and national security missions and more at the Kennedy Space Center and Cape Canaveral Space Force Station.
Stay tuned here for Ken's continuing Earth and Planetary science and human spaceflight news: www.kenkremer.com –www.spaceupclose.com – twitter @ken_kremer – email: ken at kenkremer.com
Dr. Kremer is a research scientist and journalist based in the KSC area, active in outreach and interviewed regularly on TV and radio about space topics.
………….
Ken's photos are for sale and he is available for lectures and outreach events
Ken has created hundreds of widely published Mars rover mosaics and lectures also about NASA's Mars rovers
Please consider supporting Ken's work by purchasing his photos and/or donating at Patreon:
https://www.patreon.com/kenkremer
x
x