For SpaceUpClose.com & RocketSTEM
KENNEDY SPACE CENTER, FL –  It was a picture perfect blastoff on 'Star Wars Day' May the 4th for a workhorse recycled SpaceX booster that is only the 2nd Falcon 9 1st stage to fly to space and back 9 times! – roaring aloft from NASA's Kennedy Space Center KSC) in Florida, Tuesday afternoon, on the 26th Starlink mission just a short time ahead of threatening weather that drenched the Florida Space Coast.
Some eight and a half minutes after liftoff the reused 15-story tall booster also nailed its upright soft landing on the "Of Course I Still Love You" (OCISLY) droneship, setting up a 10th flight in the not-too-distant future.
"And liftoff! May the force be with us,' said the SpaceX commentator upon the flawless daylight blastoff of the veteran Falcon 9 at 3:01 p.m. EDT, or 1901 GMT from historic Launch Complex 39A (LC-39A) at the Kennedy Space Center in Florida during an instantaneous window carrying into clear blue skies another batch of 60 Starlink broadband internet satellites to low Earth orbit (LEO) to further fortify a global broadband constellation of affordable internet connectivity.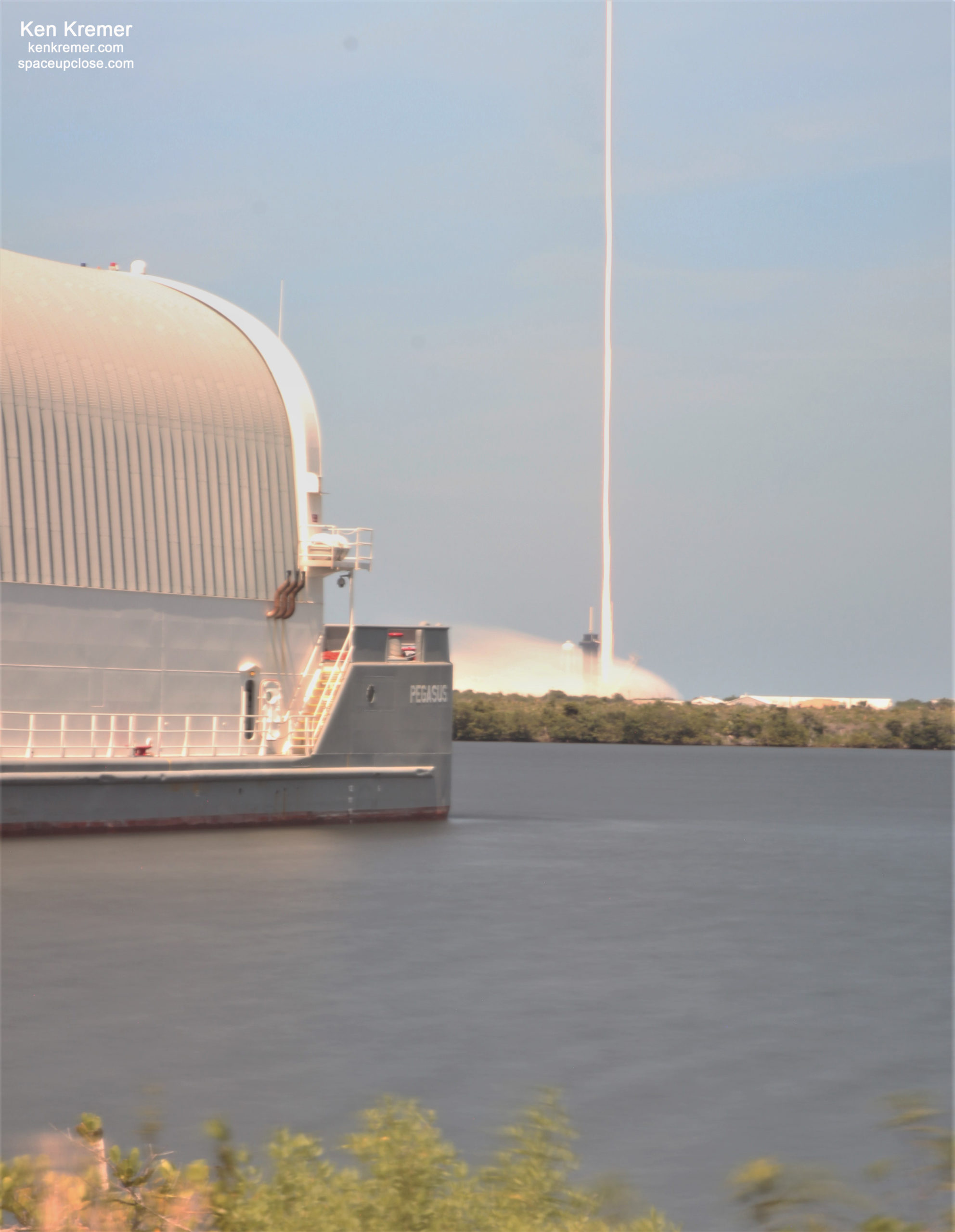 The 23 story tall Falcon 9 rocket is named after the Millennium Falcon – the ship piloted by Han Solo (played by Harrison Ford)  and made famous in the worldwide smash hit first Star Wars
SpaceX also tweeted in image of Baby Yoda from an earlier  Crew Dragon mission in honor of Star Wars heritage Day 'May the Fourth'
#MayThe4thBeWithYou pic.twitter.com/1T7aXNZgkD

— SpaceX (@SpaceX) May 4, 2021
The electricity of excitement permeated the air for those of us fortunate enough to observe from KSC as this oldest functional Falcon 9 1st stage also soared over NASA's specially modified Pegasus barge that just transported the 1st core stage of the agency's Space Launch System (SLS)  mega moon rocket for offloading into the iconic Vehicle Assembly Building (VAB) where it will be processed for lunar launch on the unpiloted Artemis 1 mission slated for NET late 2021.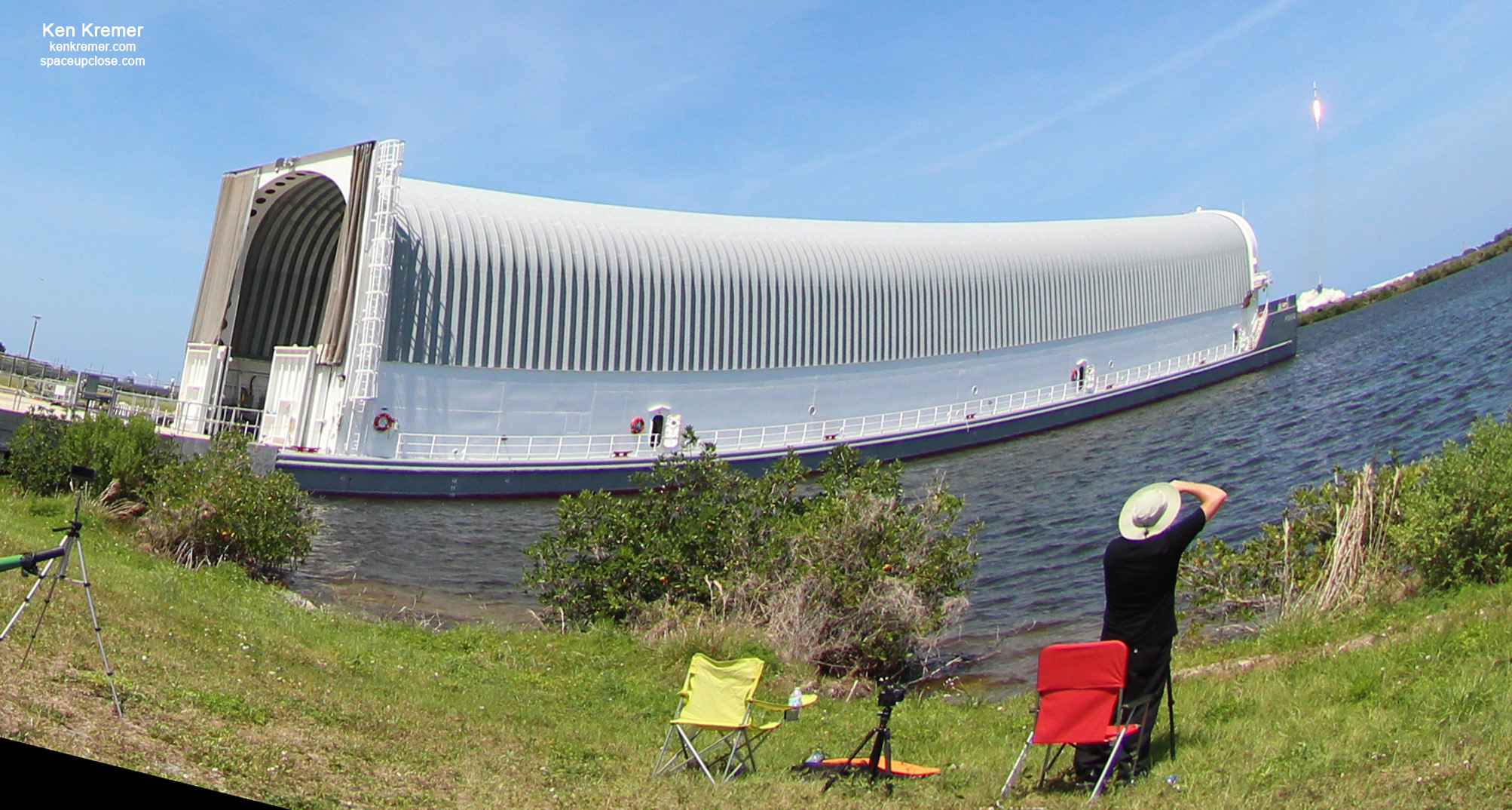 Tuesday afternoons daylight Wednesday's liftoff used the flight-proven 1st stage booster designated B1049 which is the oldest in operation and has now flown to space and back 9 times – and sets up the prospect for an unprecedent 10th flight  in the not too distant future.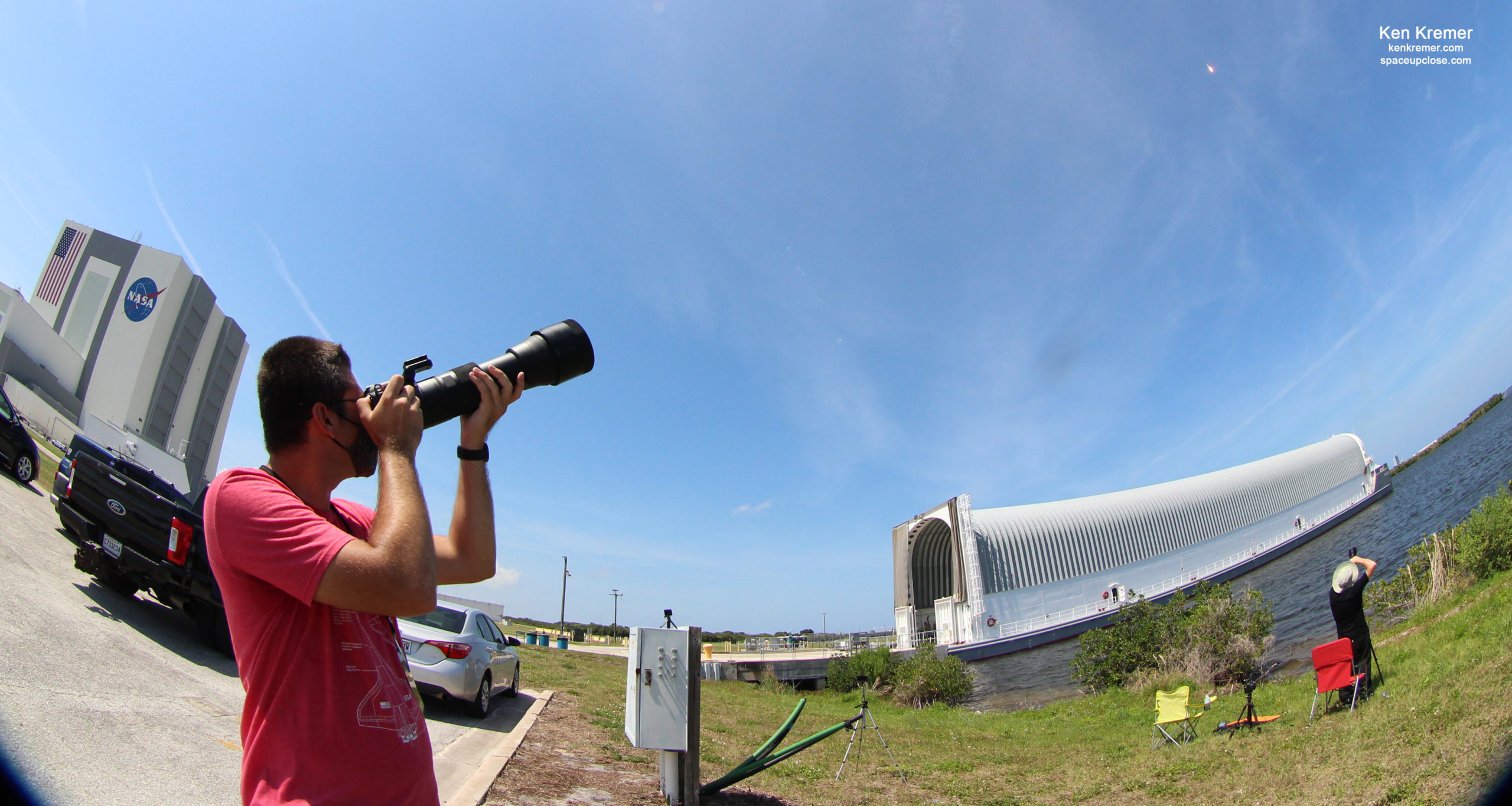 The 229-foot-tall (70-meter) Falcon 9 flew into virtually clear daylight skies with barely a wisp of clouds and successfully lofted the twenty six Starlink internet satellite mission with five dozen Starlinks encapsulated inside the recycled nose cone to low Earth orbit (LEO) from Florida's Spaceport.
All 9 Merlin 1D first stage engines ignited to generate approx. 1.7 million pounds of liftoff thrust fueled with liquid oxygen and RP-1 propellants that began propellant loading at T Minus 35 minutes.
The two-stage Falcon 9 rocket launched on a northeasterly trajectory from Cape Canaveral and successfully targeted to deliver the 60 Starlinks to an initial transfer orbit at an altitude of about 182 miles (293 kilometers) and an inclination of about 53 degrees to the equator.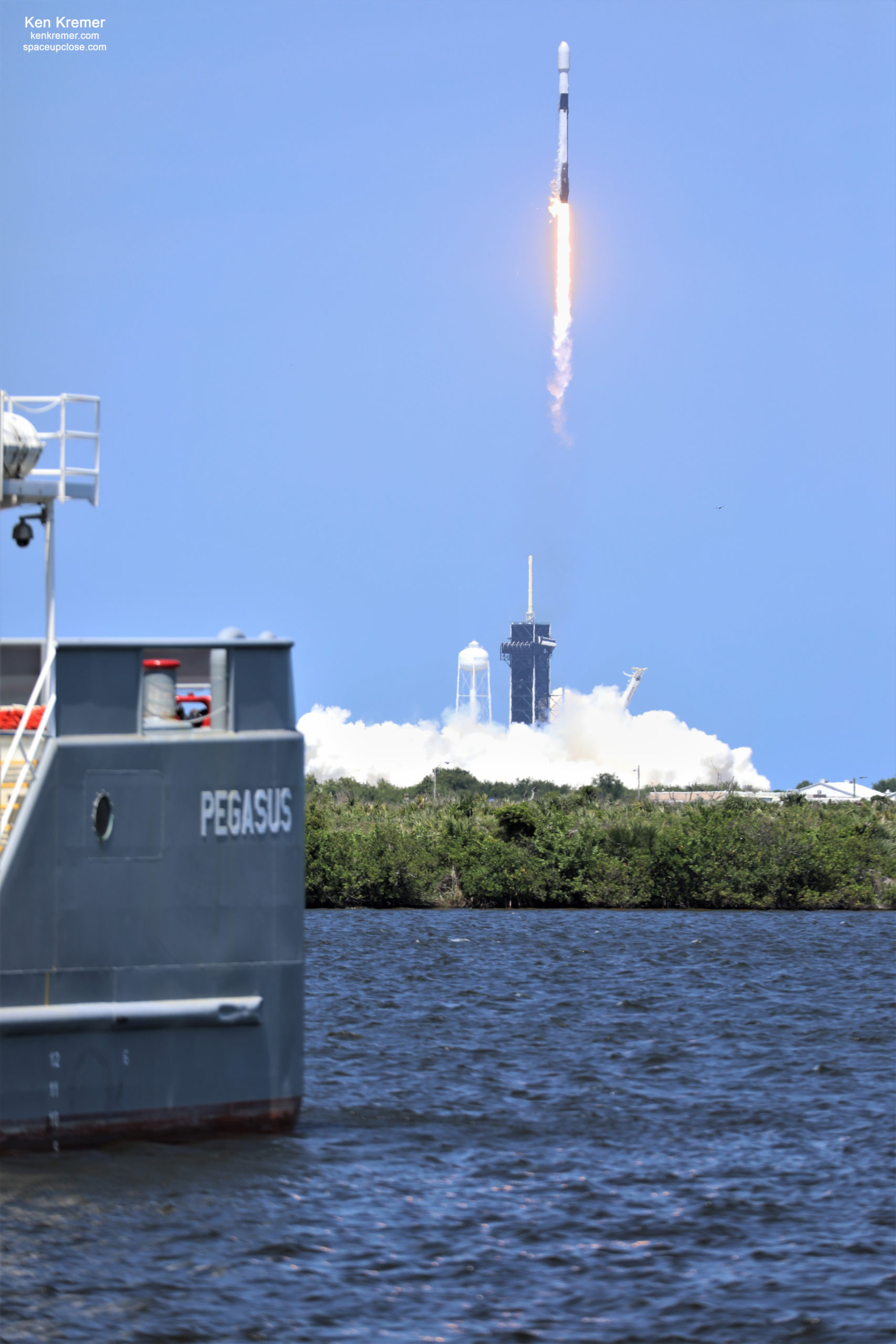 The 60 Starlink were deployed as planned south of New Zealand all at once about 1 hour and 4 minutes after liftoff.
Watch this Starlink deployment video tweeted by SpaceX:
Deployment of 60 Starlink satellites confirmed, completing SpaceX's 10th Starlink mission this year pic.twitter.com/hbL8UV15hk

— SpaceX (@SpaceX) May 4, 2021
The mission counts as the 10th Starlink mission launch already of 2021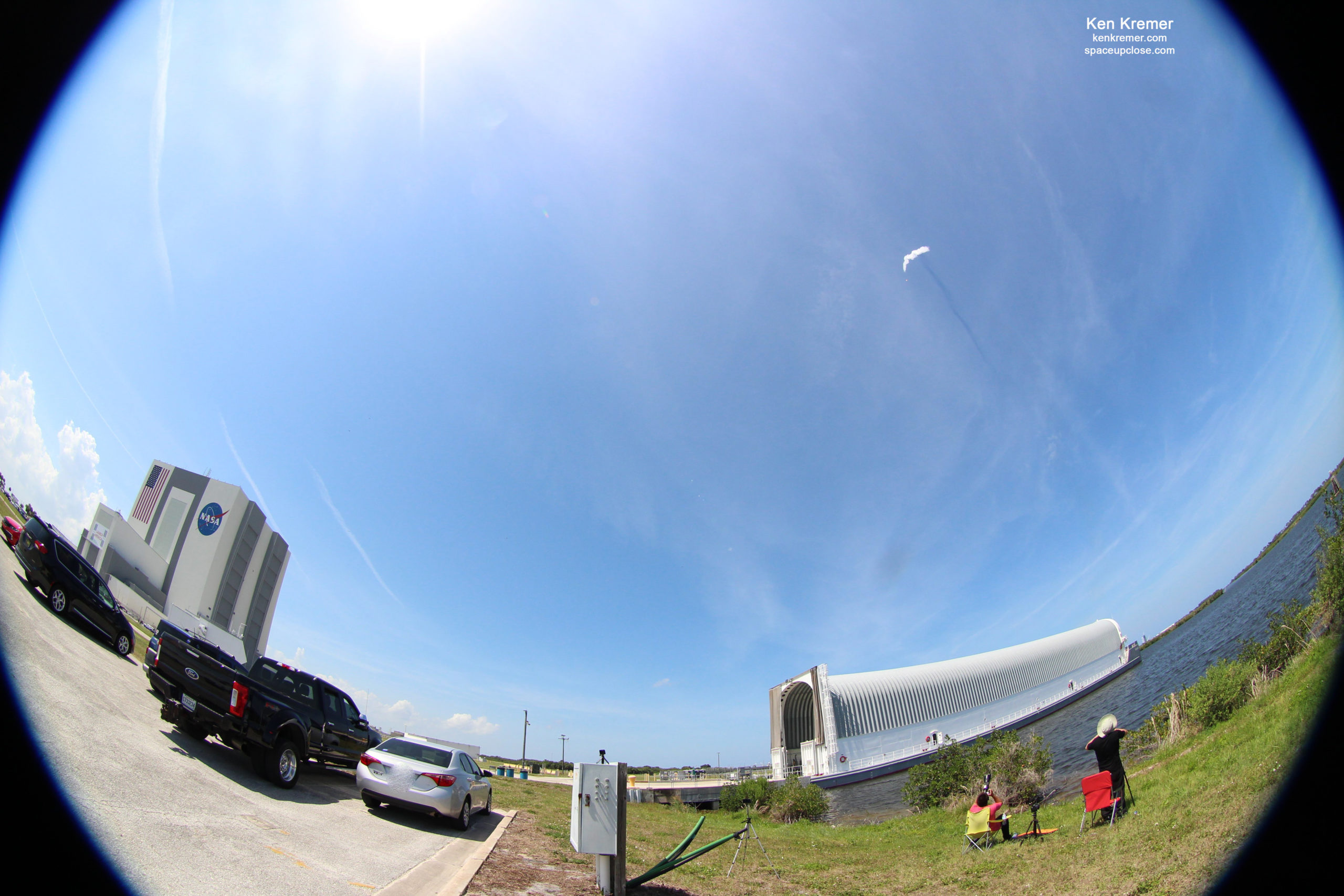 Their orbits will be raised over coming weeks to join the rest of the Starlink constellation orbiting at about  341 miles (550 kilometers) above Earth.
This 26th Starlink mission is officially designated as V1 L25.
Enjoy our eyewitness launch photos at Space UpClose from the team of Ken Kremer and Jean Wright.
The Falcon 9 first stage rocket booster B1049 made its debut launch in September 2018 and first supported launch of Telstar 18 VANTAGE, followed thereafter by Iridium-8, and six prior Starlink missions.
Only one other Falcon 9 booster in the fleet has flown and been recovered successfully 9 times.
Musk also said the first booster to fly 10 times is upcoming soon! Perhaps even this weekend on the next Starlink launch from the Space Coast.
SpaceX CEO Elon Musk said at a NASA Crew-2 media briefing last week that SpaceX is using the Starlink launches to push the envelope on reusability of the Falcon 9 first stages since the company manufactures their own satellites and thereby avoids risking outside customer payloads
Following stage separation, SpaceX Falcon 9's first stage safely for a bullseye touch down on the OCISLY droneship which was prepositioned in the Atlantic Ocean off the coast of the Carolina's some 400 miles (640 km) northeast of the launch site.
Watch this droneship landing video tweeted by SpaceX:
Falcon 9's first stage has landed on the Of Course I Still Love You droneship – the 9th landing of this booster pic.twitter.com/wzPjMsu2z3

— SpaceX (@SpaceX) May 4, 2021
One half of Falcon 9's fairing previously supported two Starlink missions.
SpaceX is also attempting to recover the payload fairing halves with the new fairing recovery vessel Shelia Bordelon which was deployed to attempt to hoist the fairings out from the ocean post splashdown instead of catching them mid-air
The recovered 1st stage booster B1049 on OCISLY will return to Port Canaveral in a few days – as well as the fairings if they were recovered.
The twin fairing catcher ships are no longer being deployed and their fate is no longer linked to the glory of SpaceX fairing recovery – just some hum drum normal stuff sadly.
The riggings and communication gear have been dismantled from GO MS CHIEF and GO MS TREE at Port Canaveral and they sailed way last month
Overall the mass of the 60 Starlinks is some 34,400 pounds (15.6 metric tons).
Overall B1049.9 marked the 82nd Falcon 9 1st stage landing by sea or land since 2015.
This SpaceX graphic shows the launch and landing sequence of events: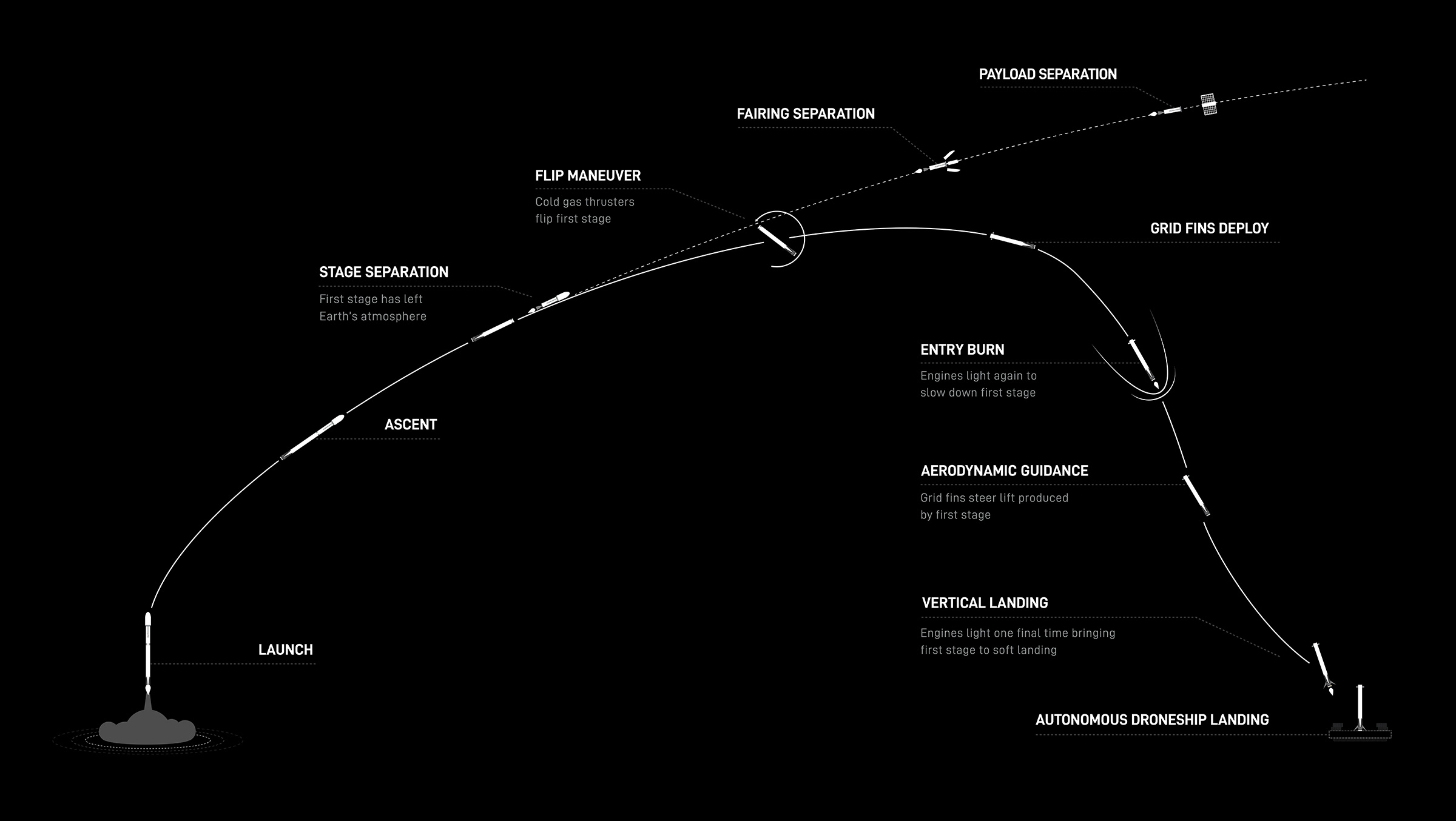 Following this latest 26th batch that brings the total number of Starlink satellites launched to 1,565 internet satellites.  That includes earlier prototypes mostly from the first launch as well as the 10 Starlink sats launched to polar orbit on the last Falcon 9 launch on Transporter-1 mission on Jan. 24. Check out our story and photos
The actual number of Starlink satellites is estimated to be at least 60 less due to some earlier versions being intentionally deorbited due to malfunctions or other reasons
Astronomer Jonathan McDowell keeps a running tally of Starlink at this page
https://planet4589.org/space/stats/megacon/starbad.html
The 500 pound flat panel Starlink satellites are being mass produced and manufactured by SpaceX in Redmond, Washington.
The new mission thus fortifies the Starlink constellation of relay satellites that one day upcoming will offer a competitive alternative to existing broadband services across North America – including the US and Canada
SpaceX has now achieved the minimum number of over 1400 satellites to initiale Starlink beta service in North America but still needs to add many more to the fleet for full globa; broadband internet service with low-latency and high speed.
This was the 1st Starlink liftoff in May following two in April on the 7th and 28th.
Another Starlink mission will launch as soon as this weekend
To date SpaceX has launched thirteen Falcon 9 rockets in 2021.
Recycling the 1st stage boosters many times has enabled SpaceX to maintain a rapid launch cadence of nearly 3 launches per month last year and even more planned this year.
Watch this SpaceX tweeted liftoff video:
Liftoff! pic.twitter.com/lOjB4bcgvw

— SpaceX (@SpaceX) May 4, 2021
SpaceX also launched a used Falcon 9 on April 22 on the Crew-2 mission of 4 astronauts for NASA to the ISS.  Check out our articles/photos
Watch Ken's continuing reports about Starlink, Mars 2020 Perseverance and Curiosity rovers, Artemis and NASA missions, SpaceX, Commercial Crew Starliner and Crew Dragon and onsite for live reporting of upcoming and recent SpaceX and ULA launches including Crew 1 & 2, Demo-2, ISS, X-37B, Solar Orbiter, NRO spysats and national security missions and more at the Kennedy Space Center and Cape Canaveral Space Force Station.
Stay tuned here for Ken's continuing Earth and Planetary science and human spaceflight news: www.kenkremer.com –www.spaceupclose.com – twitter @ken_kremer – email: ken at kenkremer.com
Dr. Kremer is a research scientist and journalist based in the KSC area, active in outreach and interviewed regularly on TV and radio about space topics.
………….
Ken's photos are for sale and he is available for lectures and outreach events
Please consider supporting Ken's work by donating at Patreon:
https://www.patreon.com/kenkremer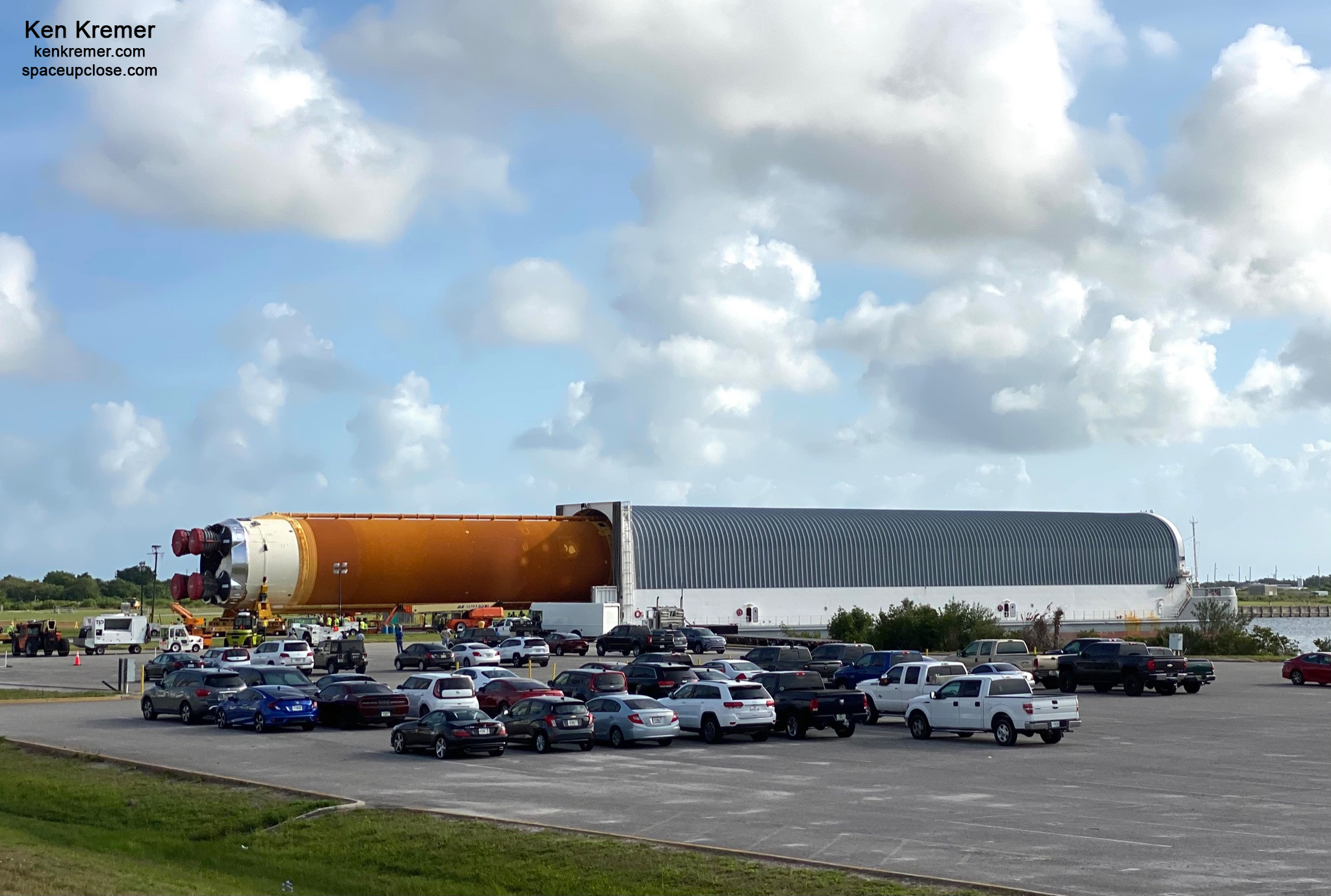 x