For SpaceUpClose.com & RocketSTEM
CAPE CANAVERAL, FL –  NASA and Boeing are targeting July 30 for liftoff of the Starliner's second unpiloted test flight atop a United Launch Alliance Atlas V rocket from Florida's Spaceport on a critical mission to prove the commercial system can safely carry astronauts to and from the International Space Station (ISS), following a botched first test flight (OFT) of the commercial astronaut space taxi in Dec. 2019 that failed to reach the station.
Boeing technicians have fueled the Starliner crew module and service module and are continuing preparations inside the Commercial Crew and Cargo Processing Facility (C3PF) production factory at NASA's Kennedy Space Center in Florida leading to a hoped for blastoff late next month.
Launch of Boeing's commercial CST-100 Starliner spacecraft on the Orbital Flight Test-2 (OFT-2) is slated for 2:53 p.m. EDT (1853 GMT) on Friday, July 30 on a ULA Atlas V from Space Launch Complex-41 on Cape Canaveral Space Force Station, Florida.
Fueling operations were conducted as teams loaded hydrazine and nitrogen tetroxide thruster maneuvering propellants aboard Starliner inside the C3PF facility's Hazardous Processing Area and continue to perform final spacecraft checks.
The goal of a second uncrewed test flight OFT-2 is to verify the Starliner CST-100 commercial space taxi is safe and reliable enough to be entrusted to launch NASA astronauts in the future to the International Space Station (ISS) – perhaps by years end.
The original OFT test flight failed to dock at the ISS as planned following launch on 20 December 2019 when a mission elapsed timing error caused the maneuvering thruster to fire longer than planned and expend excess precious fuel and place the ship in the wrong orbit minutes after liftoff on the ULA Atlas V  – which performed flawlessly.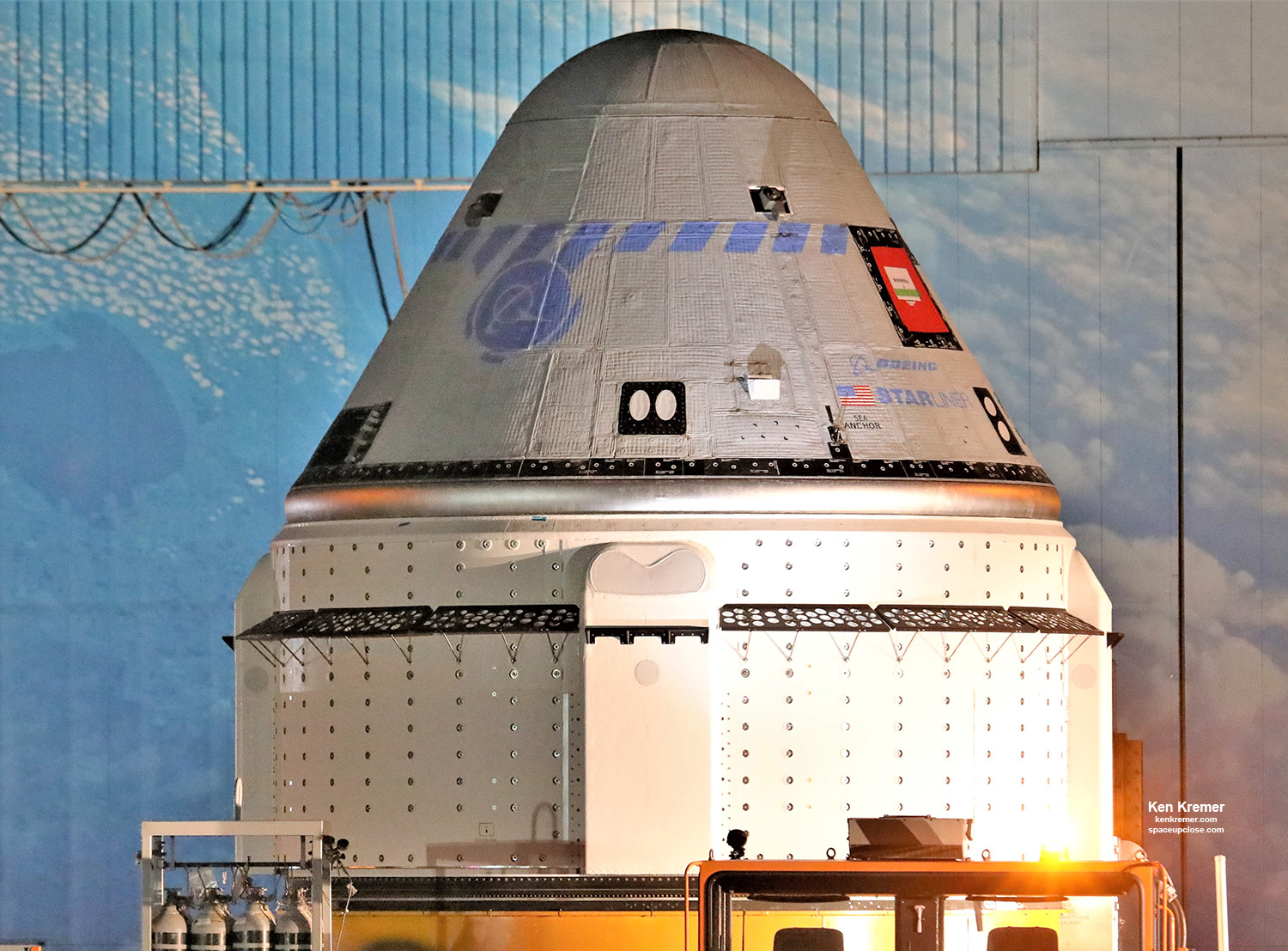 The Boeing CST-100 Starliner spacecraft rolls out from the company's Commercial Crew and Cargo Processing Facility at NASA's Kennedy Space Center in Florida on Nov. 21, 2019 – on its way to launch complex-41 and mating with ULA Atlas V rocket for the OFT mission launched on Dec. 20, 2019. Credit: Ken Kremer/kenkremer.com/spaceupclose.com
Starliner suffered quite a few other technical failures – especially on the return to Earth where the separation from the service module almost ended in a catastrophic collision but did finally end with a safe parachute assisted landing at White Sands Space Harbor, New Mexico.
Boeing did not run a full end-to-end mission rehearsal prior to the original OFT mission which would have revealed several of the problems that ultimately doomed the test flight.
Boeing will fly this second uncrewed Starliner mission OFT-2 at their own expense of some $420 million on an Atlas V targeting liftoff July 30 to prove to NASA the vehicle is safe and reliable.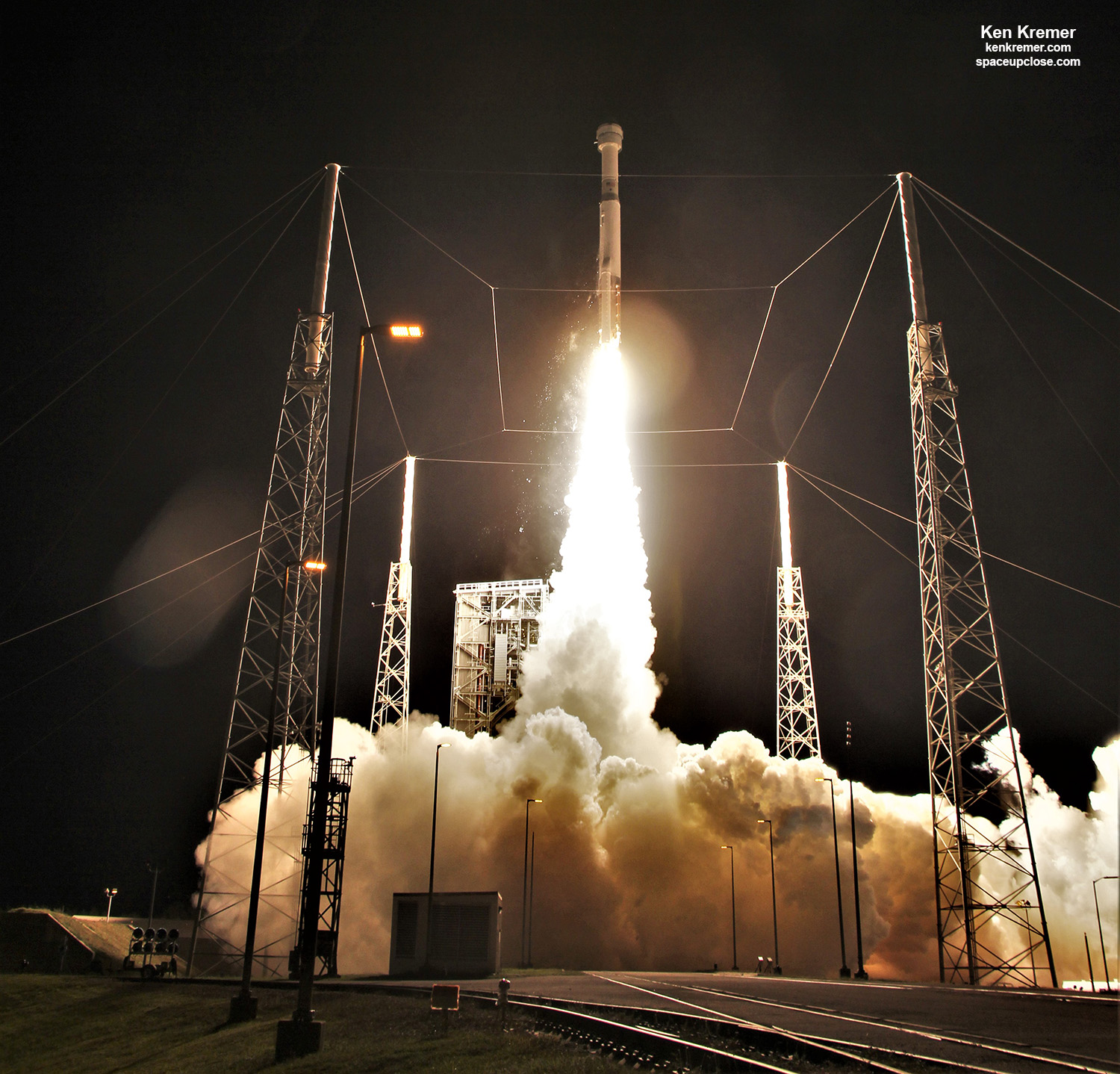 Following Starliner's unsuccessful OFT mission a joint NASA-Boeing Independent Review Team (IRT) was formed to conduct a complete review, determine the causes of the failures and make recommendation to solve all the issues.
The IRT issued a report with some 80 recommendations and corrective actions that were all implemented, said NASA.
"In preparation for Starliner's next flight, NASA and Boeing have closed all actions recommended by the joint NASA-Boeing Independent Review Team, which was formed as a result of Starliner's first test flight in December 2019," NASA sais in a statement.
"The review team's recommendations included items relating to integrated testing and simulations, processes and operational improvements, software requirements, crew module communication system improvements, and organizational changes. Boeing has implemented all recommendations, even those that were not mandatory, ahead of Starliner's upcoming flight."
"I am extremely proud of the NASA and Boeing Starliner teams as they methodically work toward the OFT-2 mission next month with final checks of the crew module and service module hardware and software as we prepare for this important uncrewed test mission," said Steve Stich, NASA Commercial Crew Program manager, in a statement.
"Closing all of the Independent Review Team findings for the software and communications systems is a huge milestone for the Commercial Crew Program and included many long hours of testing and reviews by our dedicated Boeing and NASA teams during this Covid-19 pandemic."
In the weeks before launch "mission control teams in Florida and Texas will continue conducting simulated mission dress rehearsals for the uncrewed OFT-2 and follow-on crewed missions. Starliner's landing and recovery teams also will perform an on-site checkout of one of the vehicle's landing zones."
"During the OFT-2 mission, Starliner will test its unique vision-based navigation system to autonomously dock with the space station."
The ship will deliver approximately 440 pounds (200 kg) of cargo and crew supplies for NASA to the ISS as well as other items from Boeing such as an instrumented test dummy.
The Starliner OFT-2 mission is expected to last about five to 10 days in orbit before undocking and returning to Earth, touching down on land in the western United States.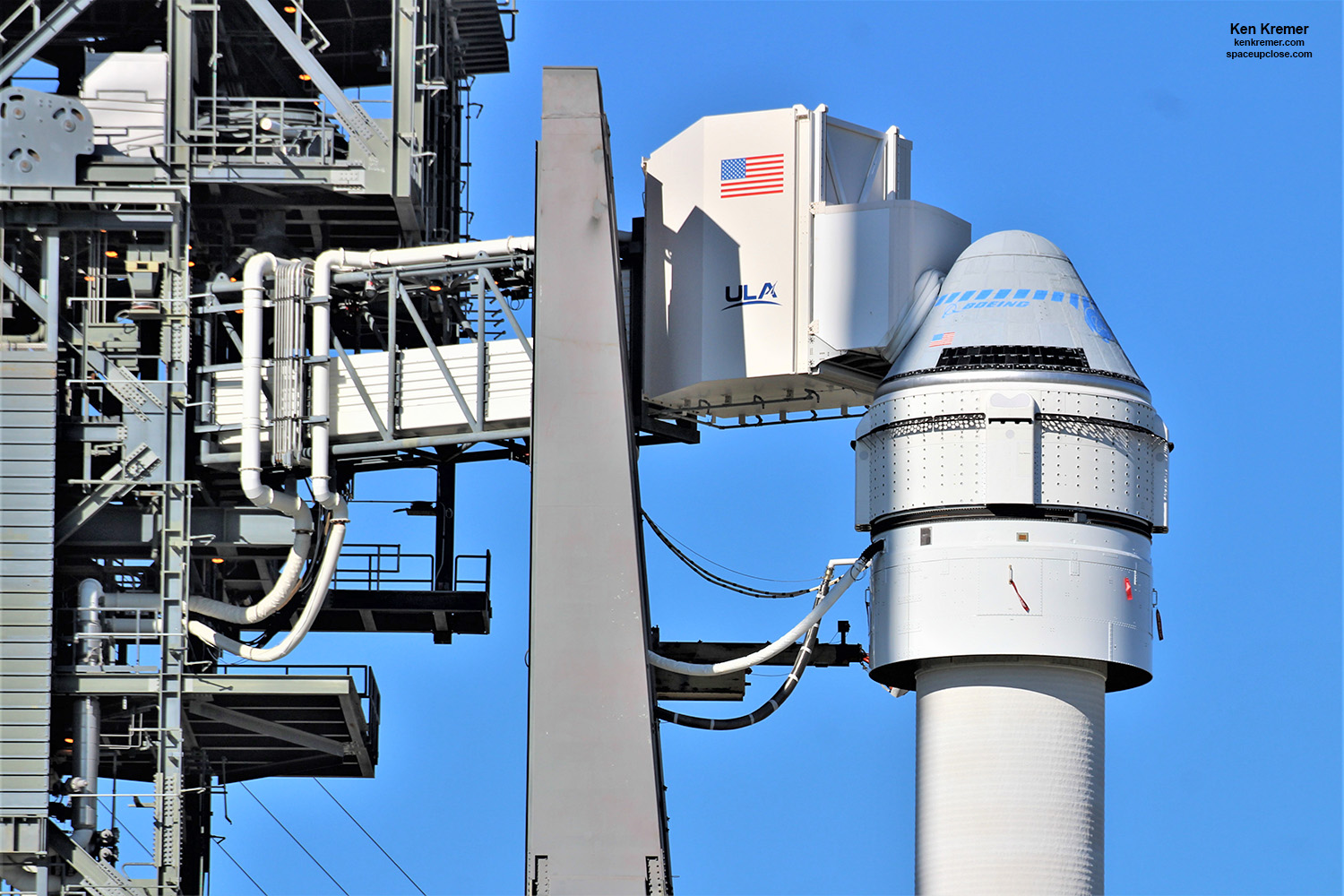 If all goes well with OFT-2, NASA and Boeing hope to launch a trio of NASA astronauts of the Crew Flight Test (CFT) mission on a ULA Atlas V to the ISS – perhaps by the end of 2021 if an opportunity exists between all the other visiting vehicle traffic.
"Providing Starliner's second uncrewed mission meets all necessary objectives, NASA and Boeing will look for opportunities toward the end of this year to fly Starliner's first crewed mission, the Crew Flight Test (CFT), to the space station with NASA astronauts Barry "Butch" Wilmore, Nicole Mann, and Mike Fincke on board," said NASA officials.
The Atlas V components for CFT arrived at the Cape launch site on June 21 after unloading from the rocket delivery ship in Port Canaveral, FL – read our story illustrated with our photos.
Starliner will launch on the OFT-2 mission on the United Launch Alliance Atlas V rocket augmented with two solid rocket boosters from Space Launch Complex-41 at Cape Canaveral Space Force Station in Florida.
ULA will use an #AtlasV with two solid rocket boosters and a Dual Engine Centaur to launch the @boeingspace CST-100 #Starliner capsule into space on the #OFT2 mission for NASA's @Commercial_Crew Program. https://t.co/VIynIedsTB pic.twitter.com/d5Y5wygi62

— ULA (@ulalaunch) June 17, 2021
ULA is currently assembling and stacking the Atlas V rocket components at pad 41.
In the coming days of #AtlasV stacking work, two AJ60 solid rocket boosters and the Centaur upper stage with dual RL10A-4-2 engines will be hoisted into place. #Starliner attachment occurs next month. Launch is planned for July 30 at 2:53pmEDT (1853 UTC). https://t.co/VIynIdVS23 pic.twitter.com/ENhephR7DU

— ULA (@ulalaunch) June 17, 2021
As with OFT the goal is to dock to the space station "and return to land in the western United States about a week later as part of an end-to-end test flight to prove the system is ready to fly crew."
The failures in the original OFT mission have resulted in over a one and a half year delay so far to the goal of flying a crew of 3 NASA astronauts on the inaugural crewed Starliner mission to the ISS dubbed CFT or Crew Flight Test.
Orbital Flight Test-2 is the second uncrewed flight to demonstrate the CST-100 spacecraft's human transportation capabilities. The #OFT2 test is the last major step before ULA's #AtlasV and @boeingspace's #Starliner capsule launch American astronauts to the @Space_Station. pic.twitter.com/JYy11jJRxb

— ULA (@ulalaunch) June 17, 2021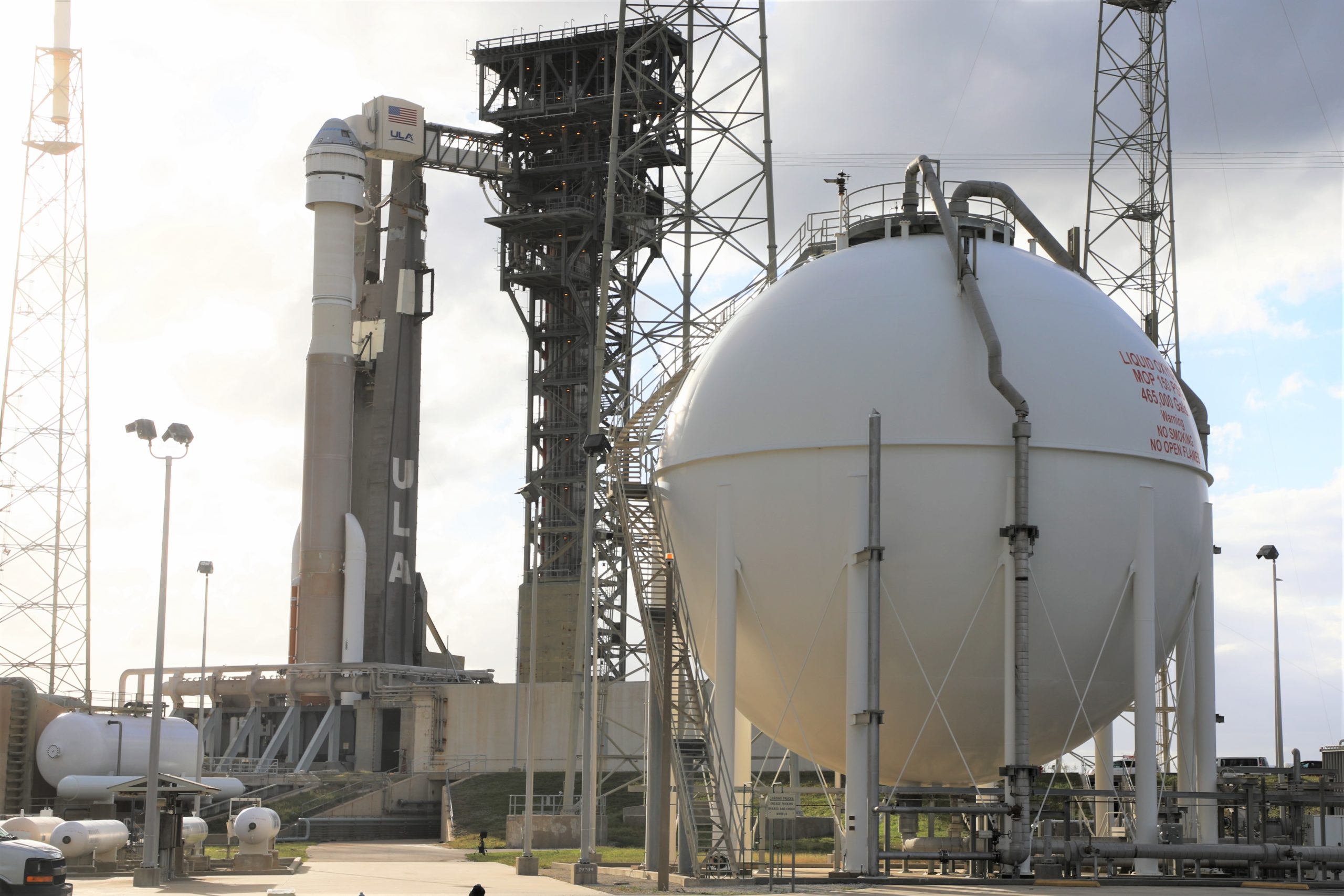 Watch Ken's continuing reports about Starliner and Commercial Crew and Crew Dragon, Artemis and NASA missions, SLS, Orion, SpaceX, Starlink from onsite for live reporting of upcoming and recent SpaceX and ULA launches including Crew 1 & 2, Demo-2, ISS, X-37B, Solar Orbiter, Mars 2020 Perseverance and Curiosity rovers, NRO spysats and more national security missions and more at the Kennedy Space Center and Cape Canaveral Space Force Station.
Stay tuned here for Ken's continuing Earth and Planetary science and human spaceflight news: www.kenkremer.com –www.spaceupclose.com – twitter @ken_kremer – email: ken at kenkremer.com
Dr. Kremer is a research scientist and journalist based in the KSC area, active in outreach and interviewed regularly on TV and radio about space topics.
………….
Ken's photos are for sale and he is available for lectures and outreach events
Please consider supporting Ken's work by purchasing his photos and/or donating at Patreon:
https://www.patreon.com/kenkremer
x