For SpaceUpClose.com & RocketSTEM
KENNEDY SPACE CENTER, FL –  NASA has retargeted the liftoff of Boeing's Starliner CST-100 crew capsule astronaut ferry ship on its second unpiloted test flight to the International Space Station (ISS) to midday August 3 atop an Atlas V rocket from Florida's Spaceport following the inadvertent thrust firing incident of the newly docked Russian Nauka science module on July 29.
Weather is iffy for launch of the Boeing Starliner with the ever present threat of routine afternoon thunderstorms inundating the central Florida region
The uncrewed Orbital Flight Test-2 (OFT-2)  essentially amounts to a 'redo' mission to prove the commercial system can safely carry NASA astronauts to and from the International Space Station (ISS) on its second try.
Starliner failed to dock on the inaugural problem plagued original Orbital Flight Test (OFT) mission in Dec. 2019 due to a host of software and hardware issues with the capsule.
The  United Launch Alliance (ULA) Atlas V carrier rocket performed flawlessly during OFT launch from pad 41..
Launch of the Boeing Starliner OFT-2 mission is now slated for 1:20 p.m. EDT (1720 GMT) on Tuesday, Aug. 3 on a United Launch Alliance (ULA) Atlas V rocket from Space Launch Complex-41 on Cape Canaveral Space Force Station, Florida during an instantaneous launch window.
The launch of @NASA's @BoeingSpace Orbital Flight Test-2 mission is now targeted for Tuesday, Aug. 3 at 1:20 p.m. ET. Live coverage will begin at 12:30 p.m. ET.

The Starliner spacecraft will dock to the @Space_Station on Wednesday, Aug. 4 at 1:37 p.m. ET. pic.twitter.com/2NMotQbJLK

— NASA Commercial Crew (@Commercial_Crew) July 31, 2021
In a case of 'High Drama at the High Frontier' in an event filled day, the International Space Station (ISS) temporarily lost orientation control and was tilted out from its normal orbital flight path just three hours after the docking of Russia's newly arrived 'Nauka' science module when its maneuvering thrusters unexpectedly fired up just as the cosmonauts were integrating it with the orbiting outpost, Thursday, July 29.
The crew was 'never in any danger,' NASA officials said at a media briefing later Thursday.
Nauka's unplanned thruster firing happened shortly after the Boeing Starliner crew capsule and its United Launch Alliance Atlas V carrier rocket rolled out Thursday morning to launch pad 41 at Cape Canaveral – one day ahead of the planned July 30 liftoff on the Orbital Flight Test-2 test flight that NASA was soon forced to delay to Aug. 3 next week as a precautionary measure while Roscosmos investigated the Nauka thruster firing incident.
Managers from NASA, Boeing and ULA had completed the critical launch readiness review (LRR) on Tuesday, July 27, and gave the GO ahead for liftoff Friday, July 30, of the uncrewed Orbital Flight Test-2 (OFT-2)  mission from the Florida Space Coast – with potential poor weather from afternoon Florida thunderstorms and rain being the key concern at that time before the subsequent Nauka events.
The team subsequently decided to roll the Atlas V rocket back to the pad 41 VIF processing facility to protect it and Starliner from inclement weather for several days.
The goal of OFT-2 mission is to test the end-to-end capabilities of Starliner from launch to docking, atmospheric re-entry, and a desert landing in the western United States.
OFT-2 will provide valuable data that will help NASA certify Boeing's crew transportation system to carry astronauts to and from the space station.
If the flight proceeds as planned after liftoff and separation Starliner is scheduled to dock at the ISS at about 1:37 p.m. Wednesday, Aug. 4, some 24 hours after liftoff on the ULA Atlas  V rocket
Weather is 60% GO for Tuesdays launch based on expected and normal seabreeze pattern of afternoon thunderstorms and drenching rain storms during summertime in Central Florida and over Cape Canaveral – and as we have experienced almost daily this past week.
Meteorologists with the U.S. Space Force 45th Weather Squadron are predicting a 60% chance of favorable weather on Tuesday.
The primary weather concerns are the cumulus cloud rule, lightning rule, and thick cloud rule violations during the instantaneous launch window.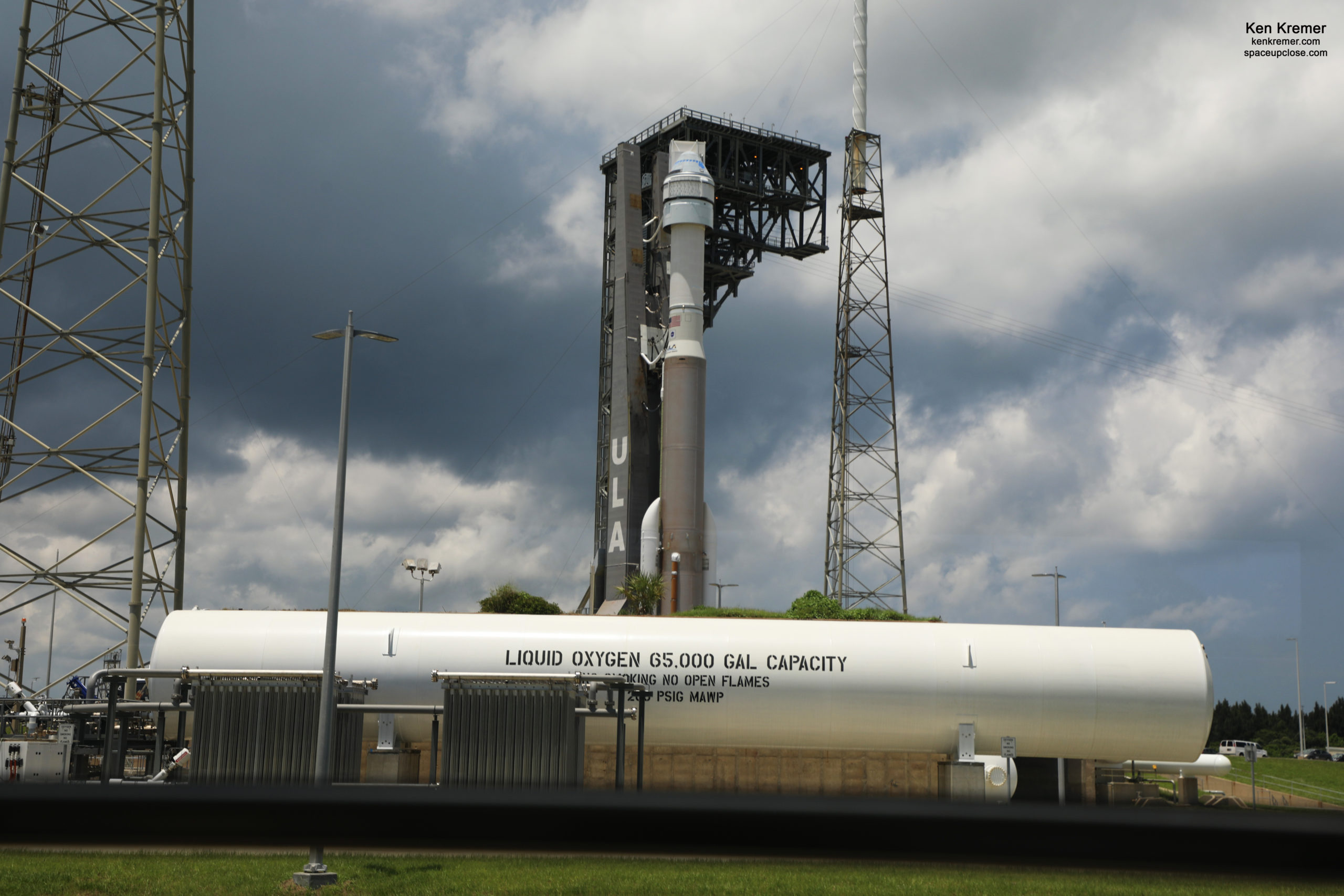 The Boeing Starliner is part of NASA's Commercial Crew Program (CCP) to restore human spaceflight launch capabilities to the US and end total reliance on the Russian Soyuz crew capsule.
NASA's other Commercial Crew Program (CCP) partner SpaceX has already successfully launched three crews of astronauts to the ISS since May 2020. 
Here is a launch visibility map from ULA:
Wondering when and where you may see the #AtlasV #Starliner #OFT2 launch? The visibility map shows your best chances to see the rocket along the eastern seaboard of the U.S.! Launch is scheduled for Fri. at 2:53 p.m. EDT (1853 UTC) from Cape Canaveral. pic.twitter.com/mir5GXWFdB

— ULA (@ulalaunch) July 27, 2021
Boeing will fly this second uncrewed Starliner mission OFT-2 at their own expense of some $420 million on an Atlas V targeting liftoff July 30 to prove to NASA the vehicle is safe and reliable.
OFT-2 is the last flight before the Starliner system launches American astronauts on the Crew Flight Test to the microgravity laboratory – the first flight test with crew on board.
If all goes well with OFT-2 a trio of NASA astronauts will fly on the first crewed Starliner mission dubbed CFT (Crew Flight Test) perhaps as soon as years end.
My interviews about the ISS, Starliner, the rollout and the importance of the mission were featured on Fox 35 Orlando on July 26, WFTV ABC 9 News Orlando on July 22 & 23 and WESH 2 NBC News Orlando on July 18 & 19.
https://www.fox35orlando.com/news/nasa-boeing-prepare-for-second-run-at-starlink-launch
https://www.wftv.com/news/failure-is-not-an-option-nasa-boeing-prepare-2nd-flight-test-starliner-craft/828353ee-80fb-4c72-a6ed-b4514acd892e/
https://www.wesh.com/article/boeing-starliner-now-in-brevard-prepares-for-test-flight-redo/37067233
Watch Ken's continuing reports about ISS, Starliner and Commercial Crew and Crew Dragon, Artemis and NASA missions, SLS, Orion, SpaceX, Starlink from onsite for live reporting of upcoming and recent SpaceX and ULA launches including Crew 1 & 2, Demo-2, ISS, X-37B, Solar Orbiter, Mars 2020 Perseverance and Curiosity rovers, NRO spysats and more national security missions and more at the Kennedy Space Center and Cape Canaveral Space Force Station.
Stay tuned here for Ken's continuing Earth and Planetary science and human spaceflight news: www.kenkremer.com –www.spaceupclose.com – twitter @ken_kremer – email: ken at kenkremer.com
Dr. Kremer is a research scientist and journalist based in the KSC area, active in outreach and interviewed regularly on TV and radio about space topics.
………….
Ken's photos are for sale and he is available for lectures and outreach events
Please consider supporting Ken's work by purchasing his photos and/or donating at Patreon:
https://www.patreon.com/kenkremer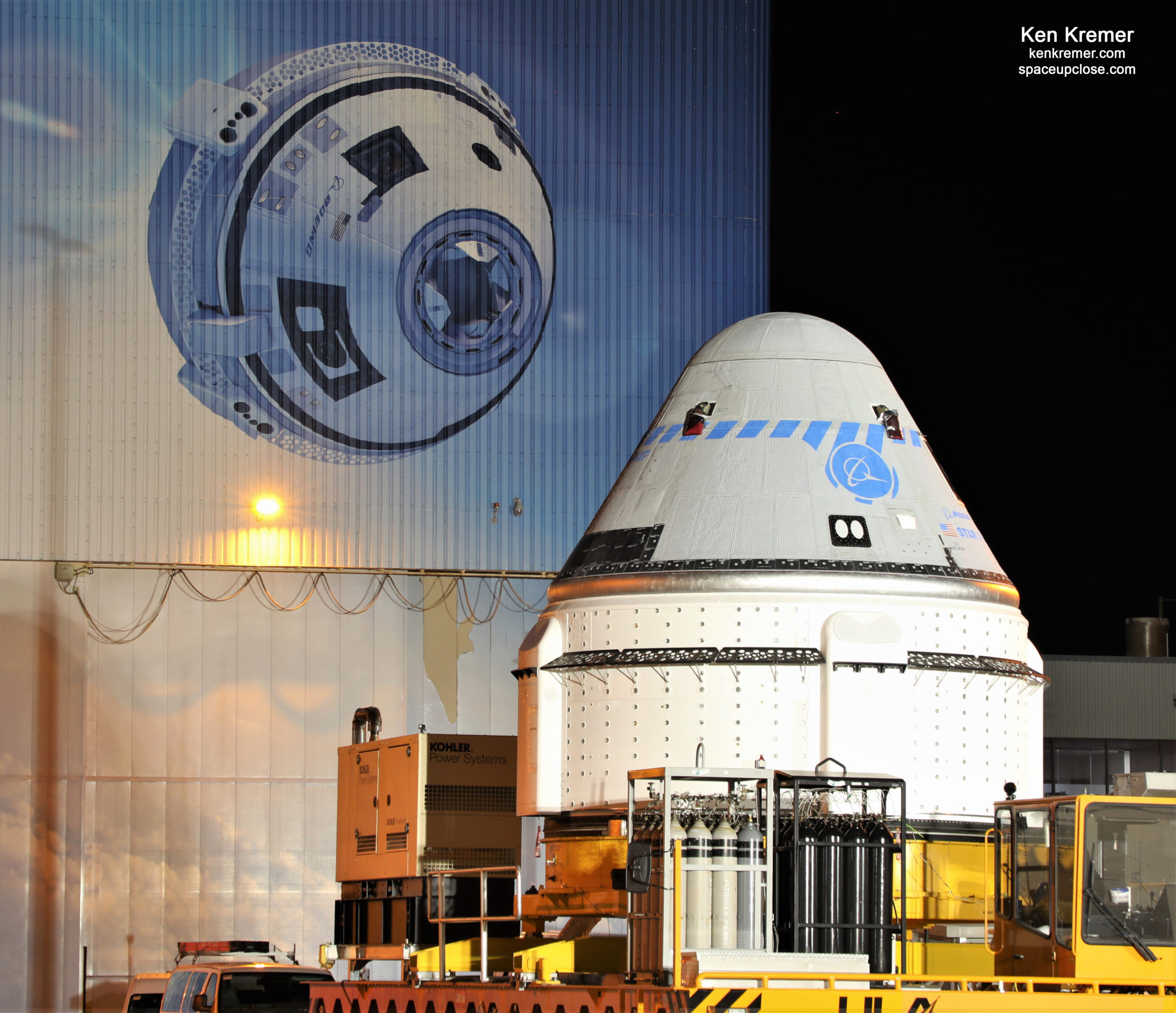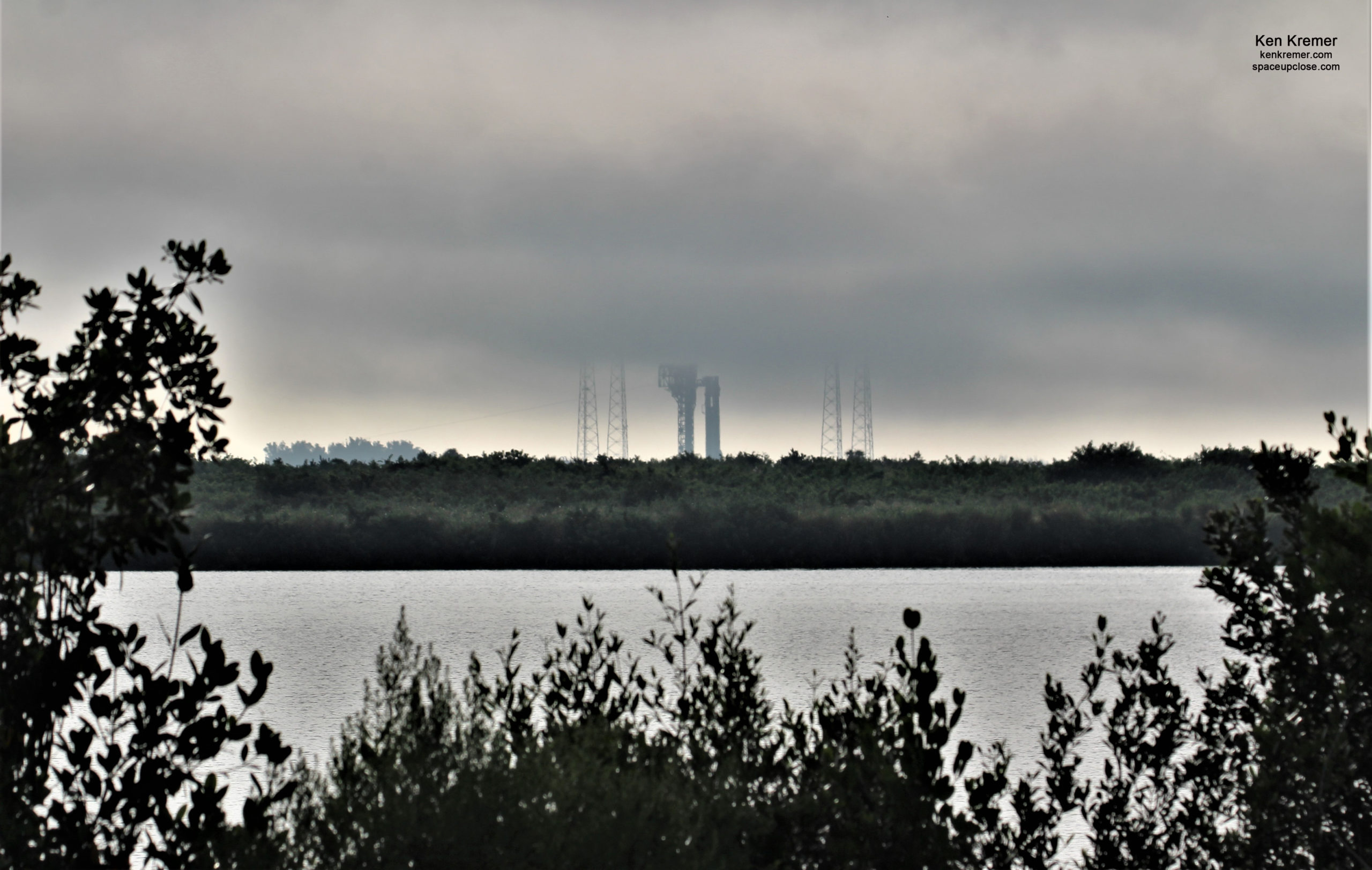 x