For SpaceUpClose.com & RocketSTEM
KENNEDY SPACE CENTER, FL –  The quartet of NASA and ESA astronauts from America and Germany who will soon launch to the International Space Station (ISS) as part of NASA's SpaceX Crew-3 mission arrived today, Tuesday afternoon, Oct. 26, at Florida's Spaceport from their Texas training base to meet the media and undergo final training and preparations ahead of liftoff this weekend very early on Halloween morning – and the German astronaut will be the 600th person to reach space.
The multinational Crew-3 team comprising NASA astronauts Raja Chari, Tom Marshburn, and Kayla Barron, along with ESA (European Space Agency) astronaut Matthias Maurer from Germany, landed at the Launch and Landing Facility (formerly the SLF Shuttle Landing Facility  aboard a NASA Gulfstream jet at the agency's Kennedy Space Center after departing earlier today from Ellington Field near the agency's Johnson Space Center in Houston.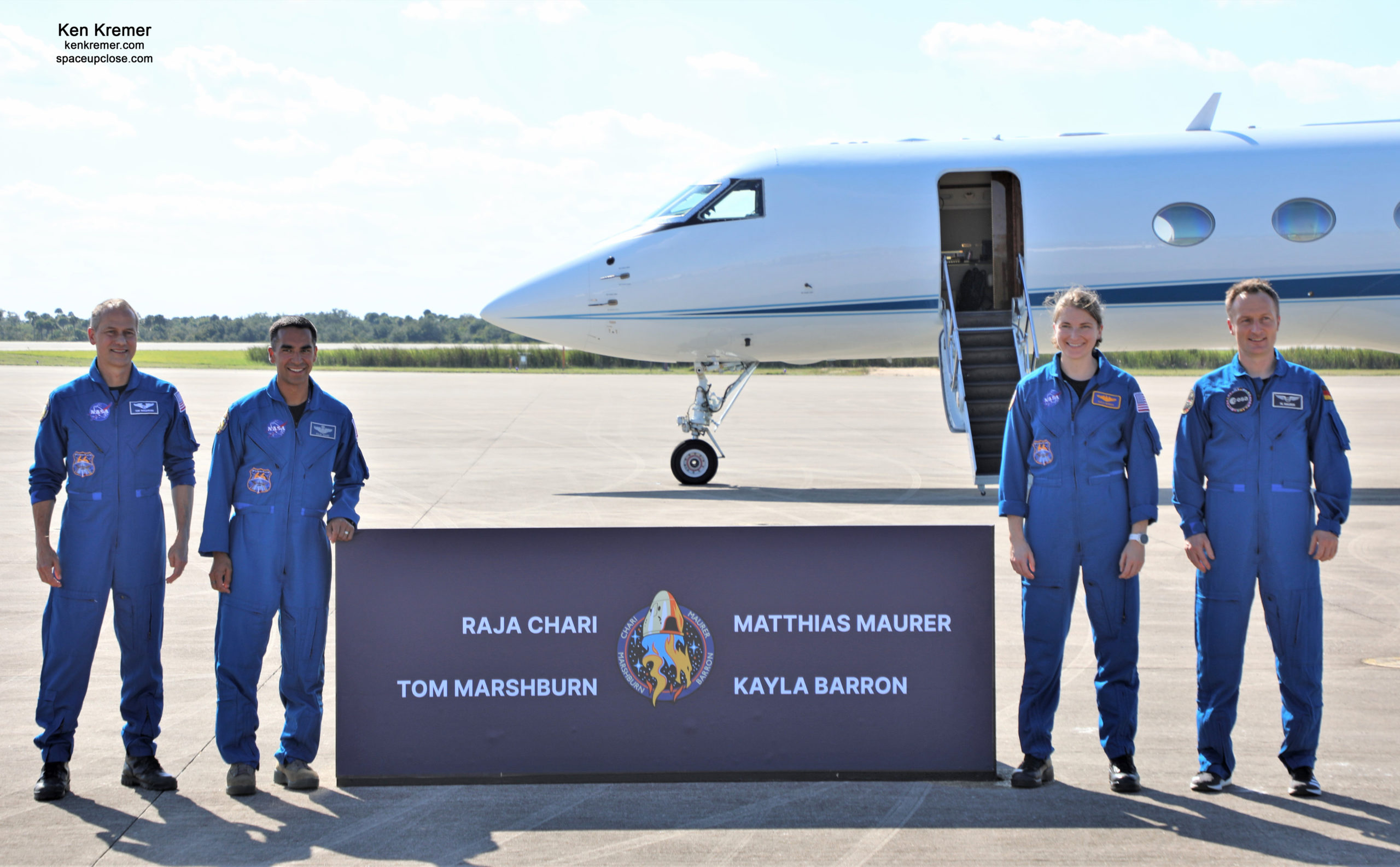 The crew was greeted by leaders from NASA and ESA as well as a media Q & A event beginning shortly after their arrival at KSC – the same place where NASA's shuttle crews arrived for similar meet and greet events in the past.
NASA and SpaceX now are targeting 2:21 a.m. EDT (0721 GMT), Sunday, Oct. 31, for the agency's Crew-3 launch on a SpaceX Falcon 9 rocket aboard a SpaceX Crew Dragon astronaut ferry ship to the orbiting research laboratory.
They will launch on the SpaceX Crew Dragon Endurance spacecraft and its Falcon 9 rocket from Launch Complex 39A at the agency's Kennedy Space Center (KSC) in Florida.
Chari, Maurer, and Barron will all be flying as rookies on their first spaceflight each and are designated as astronauts 599, 600 and 601.
Matthias Maurer from Germany will enjoy the distinction of being the 600th human to reach space when he launches on Halloween with the Crew-3 quartet.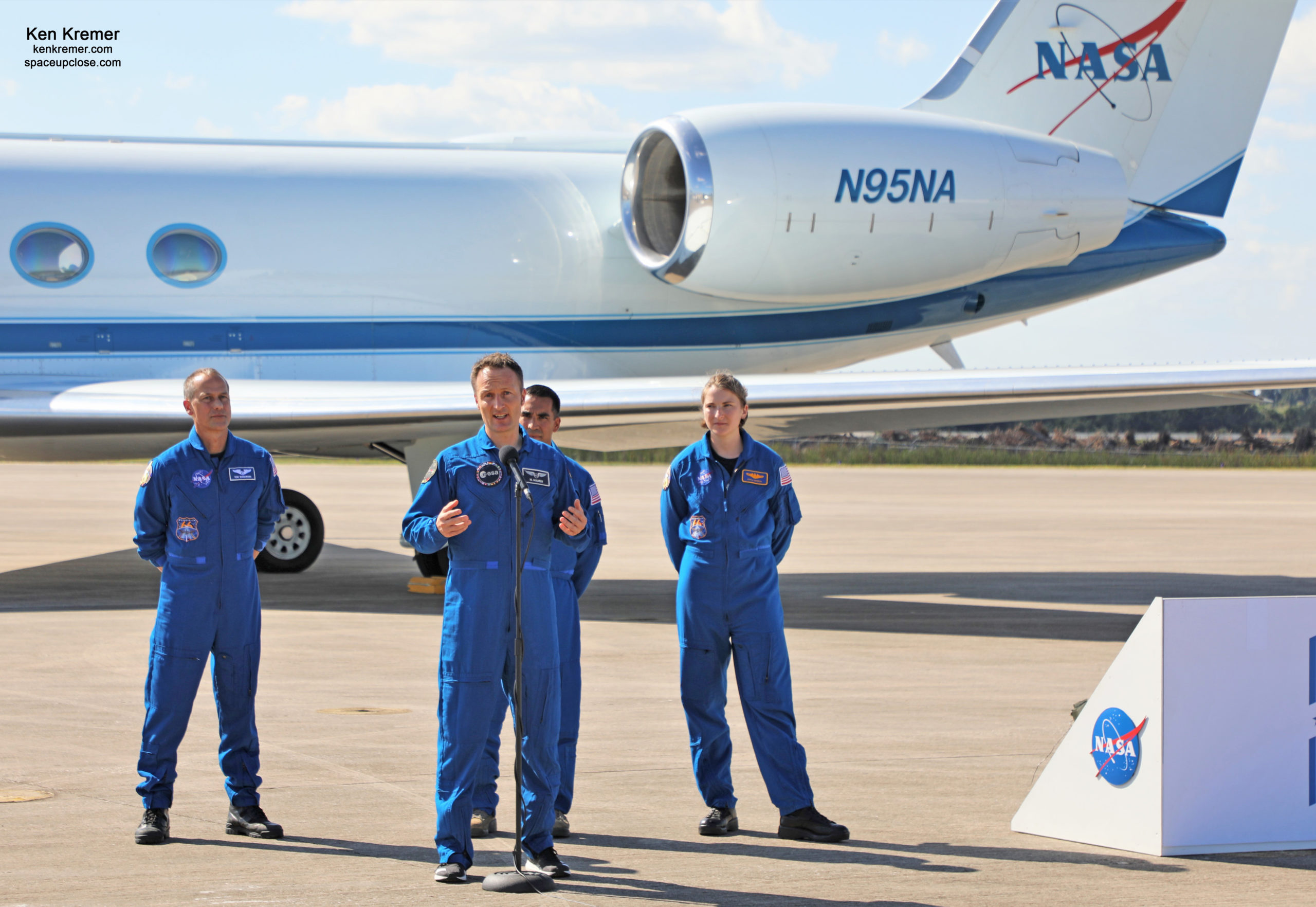 Chari will be the 599th and Barron will be the 601st person to reach space since 1961 when Soviet cosmonaut Yuri Gagarin became the first human into space reaching orbit at the dawn of the Space Age.
"I was the lucky one that got the round number, but we will all have fun in space," Maurer said at Tuesday's media Q & A arrival.
"Being No. 600 in 60 years, it makes 10 persons per year," he said. "But I think in a very few years we will see an exponential rise of that because now we're entering the era of commercial spaceflight, and all the suborbital flights, they also count in the statistics."
Maurer's mission is named Cosmic Kiss. The mission's name "is a declaration of love for space, for the Space Station as a link between humanity and the cosmos and for what people there do and will do in the future. At the same time, it stands for the value of exploring space in partnership, and for the respectful and sustainable treatment of Earth."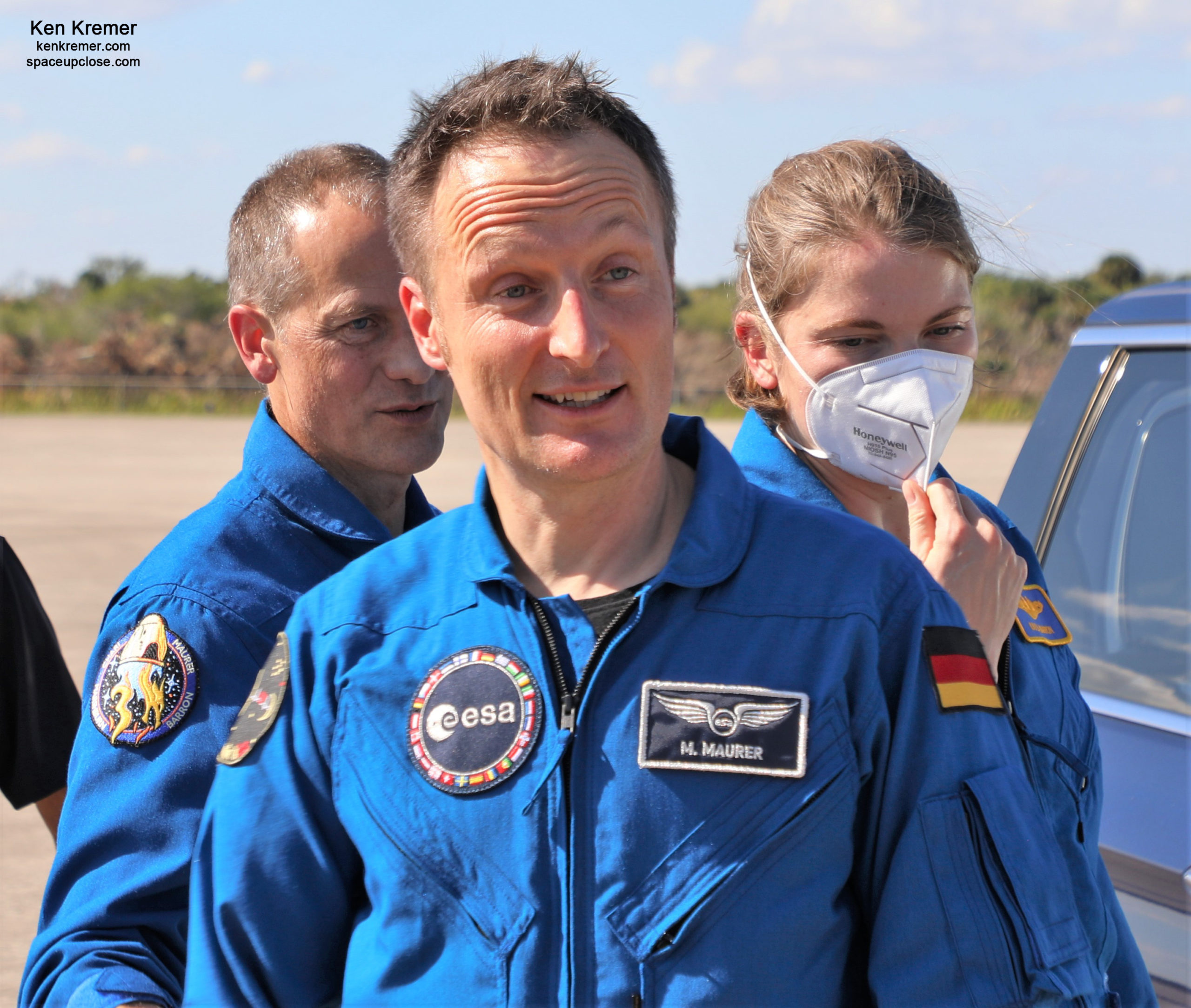 The 51-year old Maurer, born in the German state of Saarland in Sanky Wendel, will conduct over 100 experiments – including 36 with involvement from German researchers in a range of diverse fields including biology life sciences, materials science, physics, biology, medicine and Earth observation.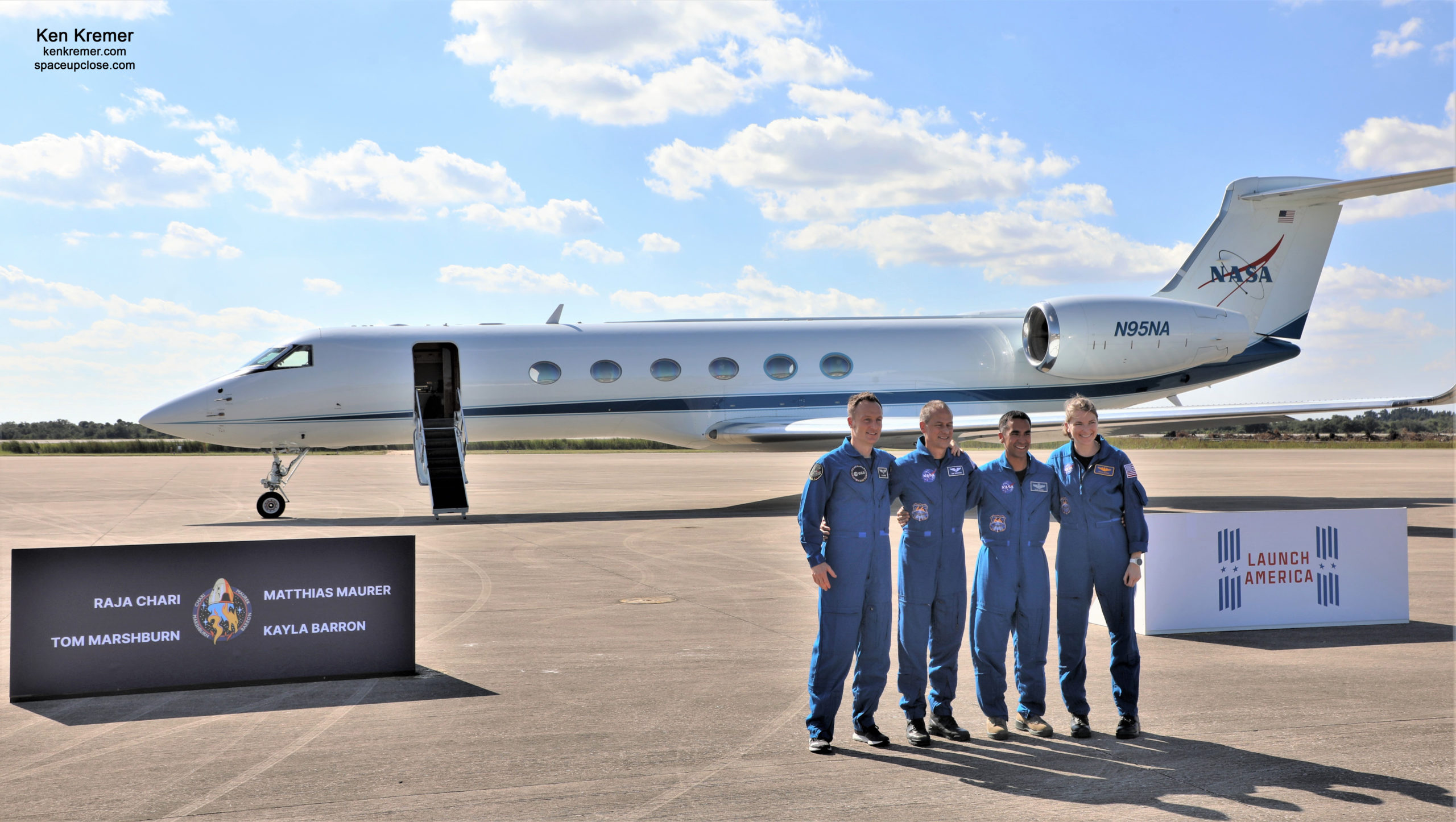 Maurer told me at the briefing that he is currently the only astronaut certified to use both the Russian Orlan and American EVA spacesuits – and that he hope to take a spacewalk in the Russian suit to help deploy the new European Robotic Arm (ERA) that recently launched aboard Russia's newly attached Nauka MLM module.
"I am the only one currently trained and certified on both the Orlan and US spacesuits that's correct and my ESA colleague Samantha Cristoforetti is training now as well," Matthias Maurer told me.
"10 years ago that used to be standard – but not now. We talked this morning with NASA astronaut Mike Barrett, the last US astronaut to be trained on both. Nowadays we limit ourselves.
"But now that we [ESA] have the European Robotic Arm at station on the Russian side that allows us to go outside with the Russian suite and activate the arm.   That will be a huge honor."
"Both systems have advantages and restrictions."
He has a PhD in materials science and his experiments include making concrete in space as well as using the CIMON robotic astronaut assistant.
The crew has an extremely busy period ahead of them over the next few days leading up to Halloween's liftoff – including rollout, suit up, full dry dress rehearsal and reviewing launch and emergency procedures.
"We are super excited to be here at Kennedy," said Raja Chari, commander of the Crew-3 mission, at the arrival event.
"We got to see the pad flying in, which was amazing," he said. "The last few days have been full of reviews. We've had the benefit of getting to focus on training while our leadership teams have been making tough decisions and getting the vehicle ready … to make it safe for us to fly. And we're ready to go."
Enjoy our gallery of astronaut arrival photos by Ken Kremer for Space UpClose.
For Marshburn, the lone veteran spaceflyer on the team, Crew-3 marks his third spaceflight. He previously served as a crew member of the space shuttle STS-127 mission in 2009 and Expedition 34/35 aboard the space station, which concluded in 2013.
This marks the first launch of the new SpaceX Crew Dragon Endurance astronaut ferry ship.
It also counts as the first time a previously flown Dragon nose cone is reused.
The Falcon 9 first stage is also previously flown – having initially launched the unpiloted SpaceX CRS-22 Cargo Dragon resupply mission to the ISS this past June.
The Crew-3 astronauts will become the third crew to fly a full-duration six-month long science mission to the orbiting laboratory on a SpaceX Crew Dragon.
Here is the complete NASA video of the Crew-3 astronaut arrival ceremony at KSC on Oct. 26, 2021  including my question to Matthias Maurer in German and English at the 14 minute mark:
LIVE NOW: #Crew3 astronauts arrive at @NASAKennedy ahead of their Oct. 31 launch to the @Space_Station! Hear from @Astro_Raja, @AstroMarshburn, Kayla Barron, and @Astro_Matthias before they leave Earth. https://t.co/gri2Gv32Vy

— NASA (@NASA) October 26, 2021
Crew-3 will live and work aboard the orbiting laboratory as part of what is expected to be a seven-member crew of Expedition 66 along with a trio launched on Russian Soyuz capsules.
If all goes per plan with launch on Oct. 31, Crew-3 will arrive at the space station a day later early on the morning of Monday, Nov. 1, for a brief handover with the astronauts who flew to the station in April as part of the agency's SpaceX Crew-2 mission.
With the Crew-3 launch date adjustment, return of Crew-2 with NASA astronauts Shane Kimbrough and Megan McArthur, Japan Aerospace Exploration Agency (JAXA) astronaut Akihiko Hoshide, and ESA astronaut Thomas Pesquet, currently is planned for early November with splashdown of Crew Dragon Endeavour at one of seven landing zones off the coast of Florida.
Also on board station are Mark Vande Hei, NASA astronaut and Pytor Dubrov, cosmonaut of the Russian space agency Roscosmos who flew to the station on a Soyuz spacecraft for Expedition 65 in April 9, 2021, and Anton Shkaplerov, cosmonaut of the Russian space agency who flew to the station on a Soyuz spacecraft Oct. 5, 2021 – the trio remains on board following the safe return of the Russian actress and film director last week on another Soyuz capsule.
Crew-3 will remain on board station through April 2022 for an overlap with the Crew 4 astronauts
NASA is targeting April 15, 2022, for the launch of NASA's SpaceX Crew-4 mission to the ISS.
Ken will be onsite at KSC and CCSFS for the Crew-3 mission launch campaign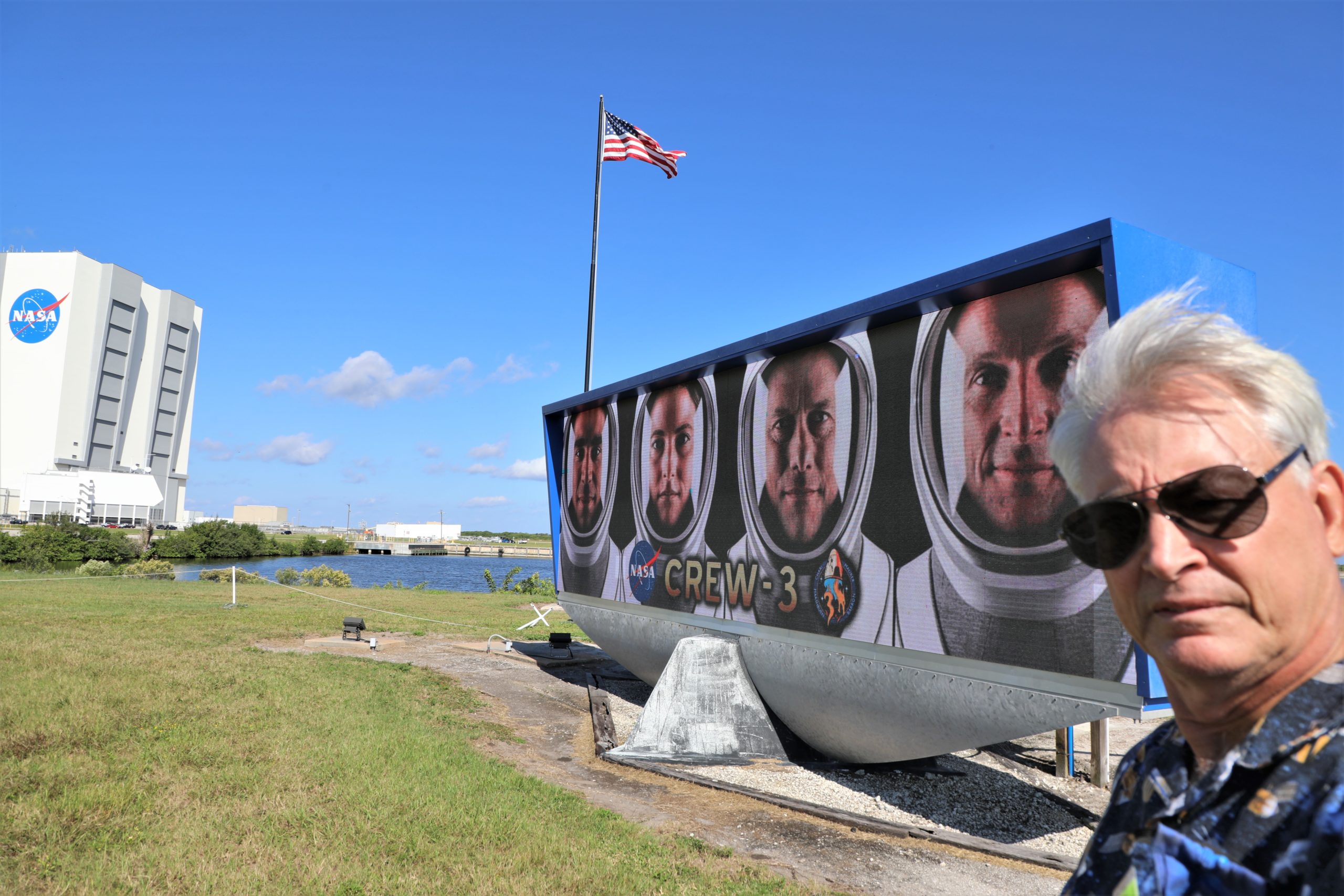 Watch Ken's continuing reports about SpaceX Crew and Cargo Dragons, Artemis, SLS, Orion and NASA missions, Lucy Asteroid mission, Blue Origin and Space Tourism, SpaceX  Starlink, Commercial Crew and Starliner and Crew Dragon and onsite for live reporting of upcoming and recent SpaceX and ULA launches including Crew 1 & 2 & 3, ISS, Solar Orbiter, Mars 2020 Perseverance and Curiosity rovers, NRO spysats and national security missions and more at the Kennedy Space Center and Cape Canaveral Space Force Station.
Stay tuned here for Ken's continuing Earth and Planetary science and human spaceflight news: www.kenkremer.com –www.spaceupclose.com – twitter @ken_kremer – email: ken at kenkremer.com
Dr. Kremer is a research scientist and journalist based in the KSC area, active in outreach and interviewed regularly on TV and radio about space topics.
………….
Ken's photos are for sale and he is available for lectures and outreach events
Please consider supporting Ken's work by purchasing his photos and/or donating at Patreon:
https://www.patreon.com/kenkremer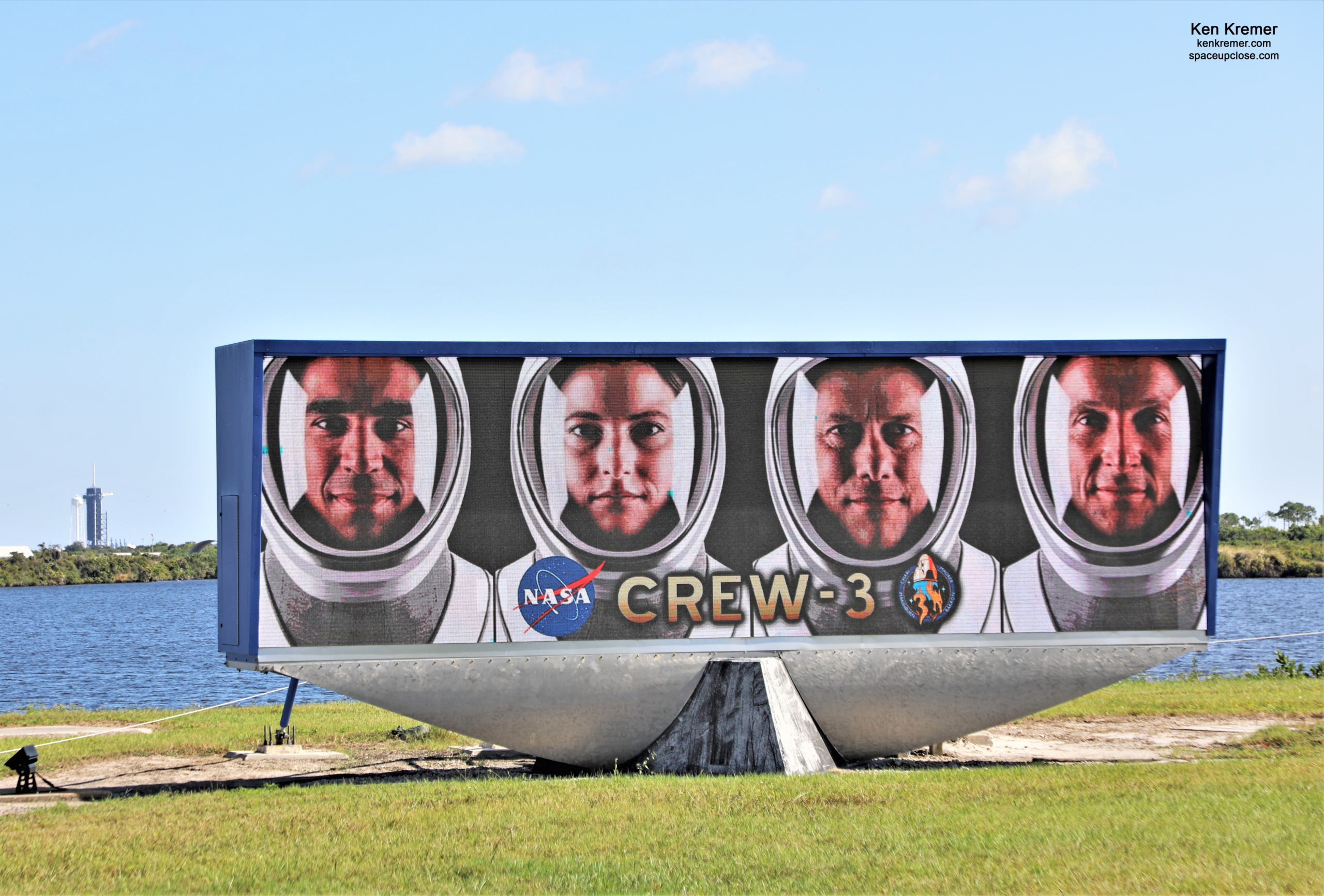 x