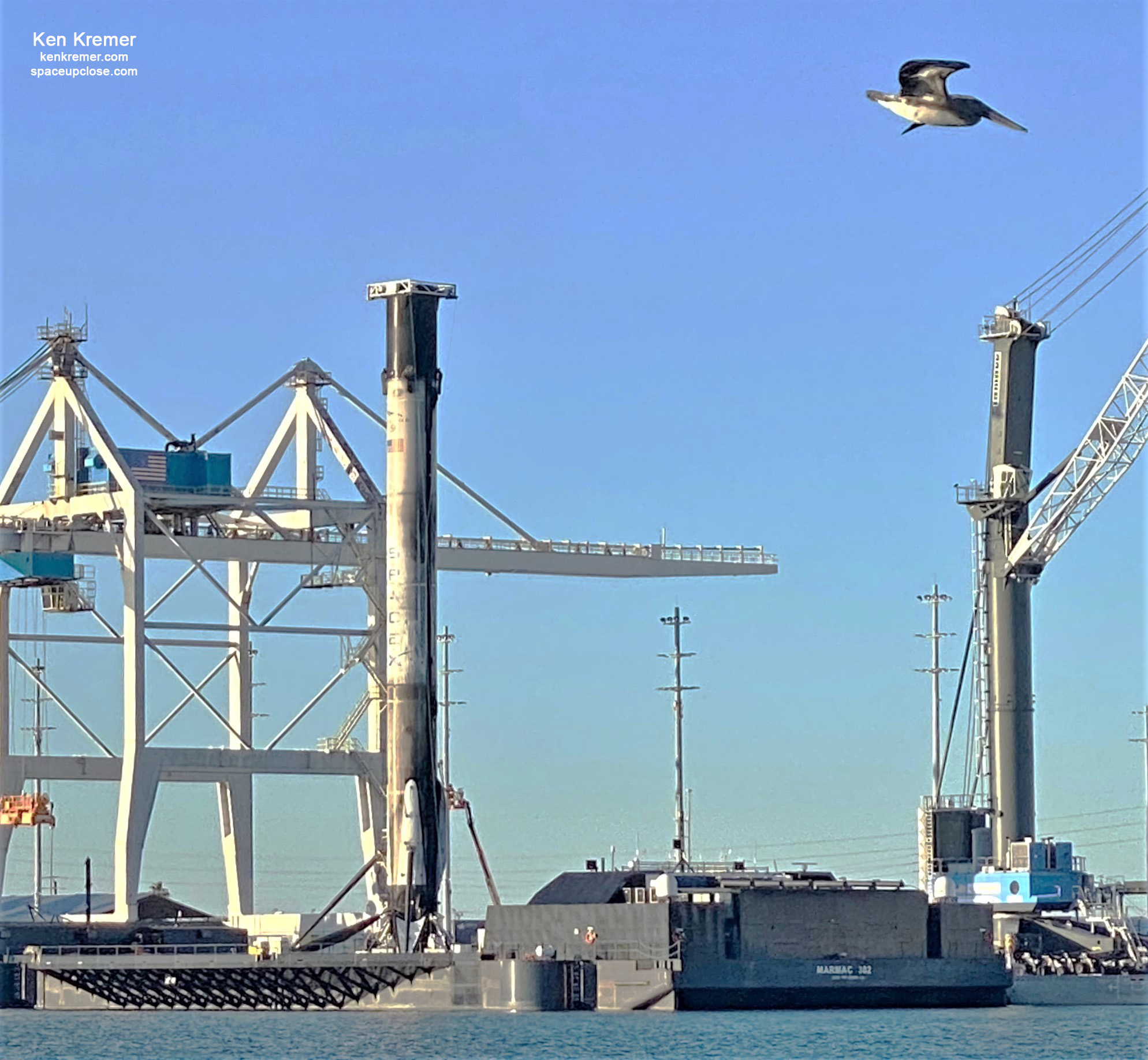 For SpaceUpClose.com & RocketSTEM
PORT CANAVERAL/KENNEDY SPACE CENTER, FL –  All four deployed landing legs have been raised on the 'flight-proven' SpaceX Falcon 9 booster by late Monday evening, Nov. 15, just over 24 hours after it had returned back to Port Canaveral, Florida, Sunday evening, Nov. 14, for a rare and positively stunning nighttime arrival, following its launch of the NASA ESA quartet of Crew-3 multinational astronauts to the International Space Station (ISS) on a spectacular Wednesday evening Nov. 10 liftoff and landing eight minutes later on a company droneship.
After Sunday night's Port Canaveral arrival and completely securing ASOG with the Falcon 9 booster at the normal location North Cargo pier 6 location the ship crews appeared to rest for a while.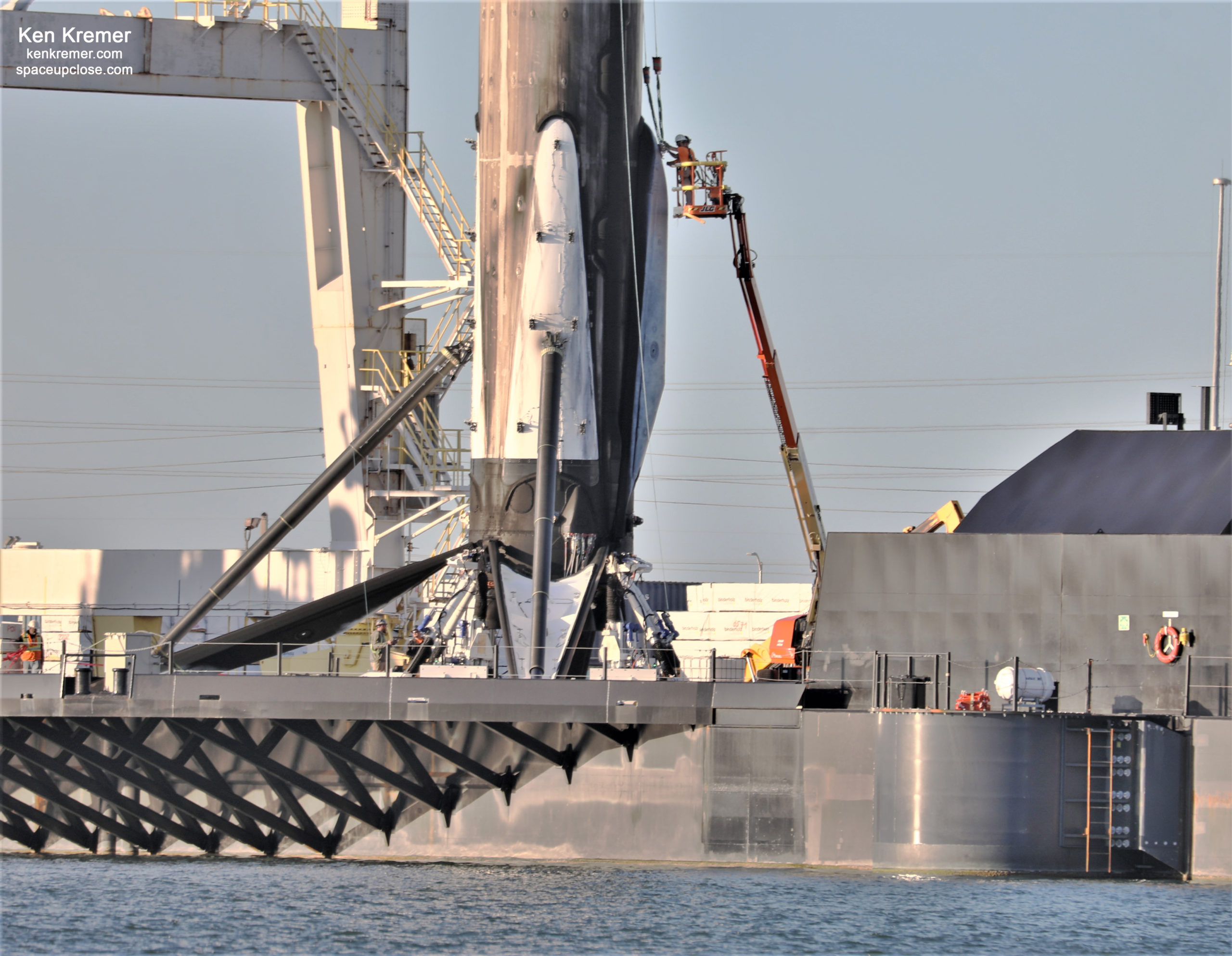 A small but dedicated crowd of lucky spectators, space fans, and space media were thrilled and delighted to witness and cheer on the absolutely magnificent arrival of the recycled Falcon 9 first stage booster designated B1067 into Port Canaveral Sunday evening following the propulsive guided landing upright on the SpaceX's newest droneship 'A Shortfall of Gravitas' (ASOG).
Processing activities on B1067 1st stage resumed Monday morning, Nov. 15, with the crane crew leading the efforts on deck of ASOG.
Although showing definite signs of sootiness this booster is still relatively clean after flying to space and back for only its second mission.
The SpaceX crane crews worked on readying the landing legs for raising by attaching the booster & legs hoisting cap first and then working on the mobile octagrabber device holding the booster upright until release from ASOGs landing deck.
The right-side landing leg was raised first by the crane crew team on Monday, Nov. 15 at about 4 p.m. ET
Right side landing leg just raised by crane crew on @SpaceX #Falcon9 booster B1067 landed atop ASOG droneship @PortCanaveral north cargo pier. Doug support ship docked at left in wide view pic.twitter.com/FlKmmOvtUS

— Ken Kremer (@ken_kremer) November 15, 2021
Check out our photos from raising the first leg at right by the Space Up Close team of Ken Kremer and Jean Wright.
The four deployed landing legs were raised one-by-one flush with the booster core starting late Monday afternoon as we witnessed first hand.
This comparative up close view from Sunday night, Nov. 14, shows all 4 deployed landing legs on deck of ASOG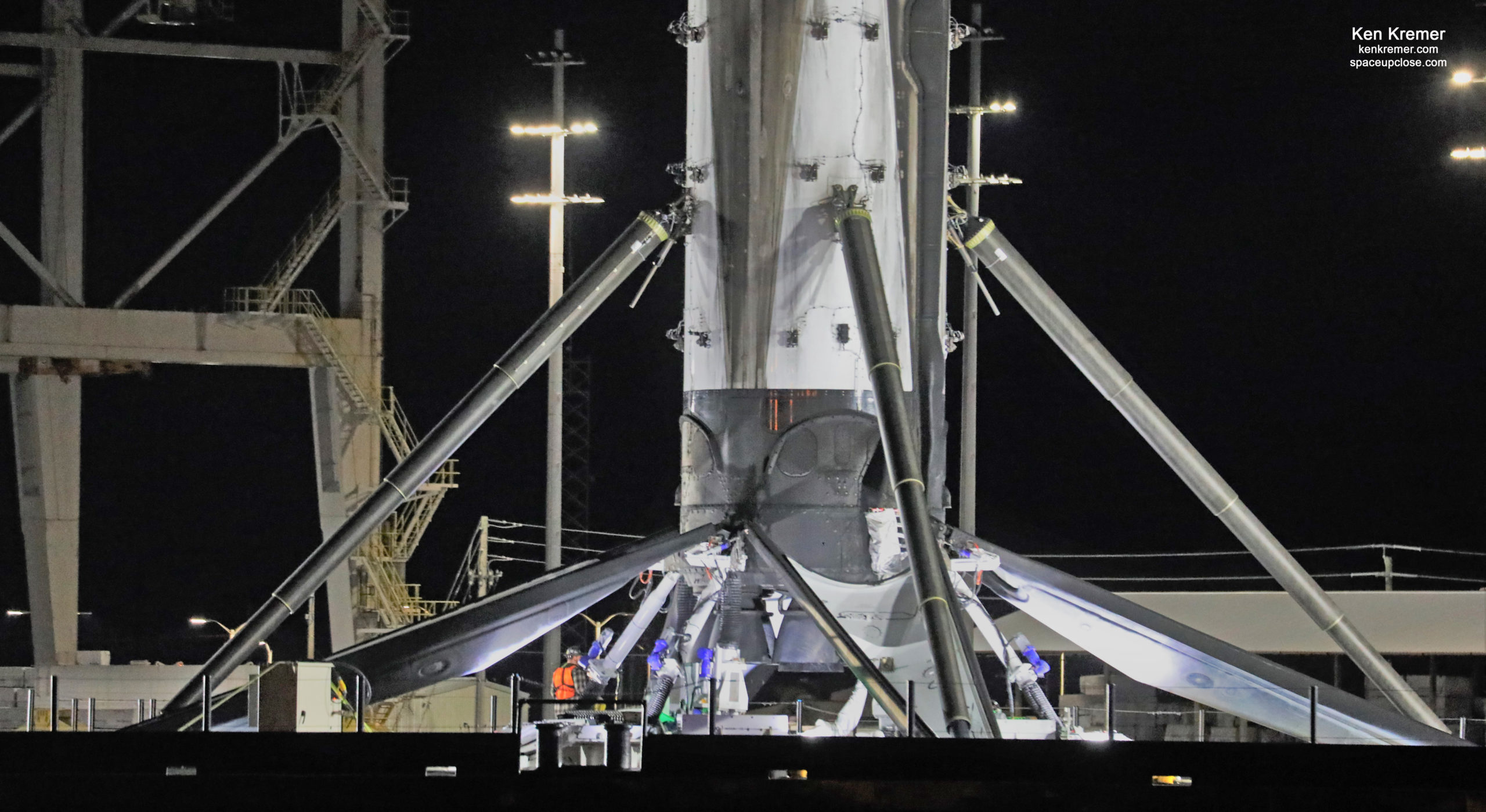 All 4 landing legs were raised by late Monday evening.
The left landing leg was raised next later Monday afternoon as seen by media fried Kyle Montgomery
Finally  all the legs were raised and the crane use used the giant German-built Liebherr to hoist Falcon 9 booster off ASOG at about 1:18 a.m. ET overnight Tuesday morning, Nov. 16 – as seen in this NSF fleetcam screenshot.
Support ship 'Doug' was utilized for the first time for booster return operations.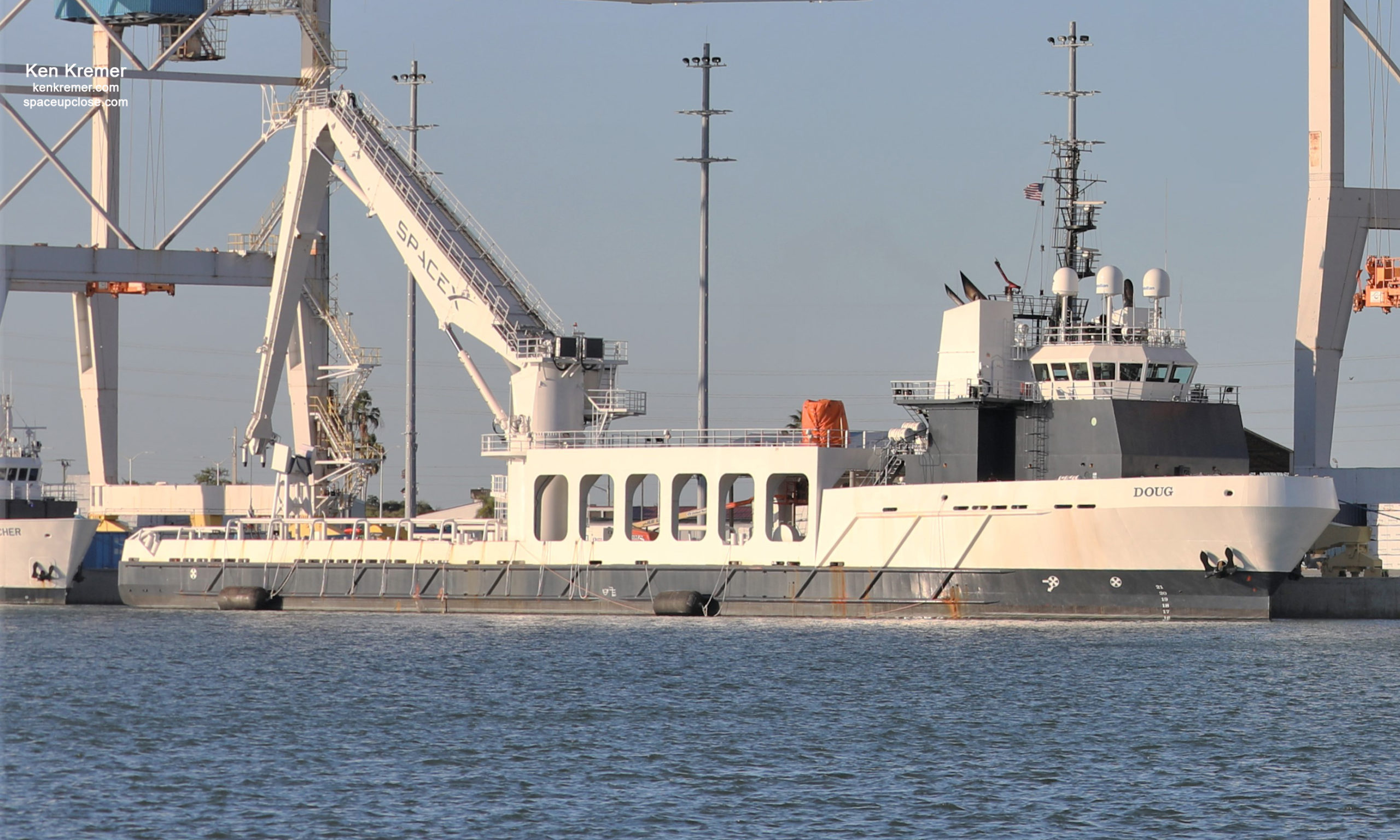 'Doug' is named to honor veteran NASA Astronaut Doug Hurley who flew to space on the history making Demo-2 mission last year in May 2020 – finally resuming US human spaceflight from US soil after a way too long hiatus following the forced shutdown of NASA's Space Shuttle program after the final mission STS-135 in July 2011.
Sun nite Nov14 marks rare F9 nighttime return @PortCanaveral–#NASA #SpaceX #Crew3 recov #Falcon9 booster B1067 landed atop ASOG droneship entered channel towed by support ship Doug (named in honor of astronaut Doug Hurley) ca 820PM. Berths north cargo pier ca 9PM. Wide view seq pic.twitter.com/Ck7HSRAvpl

— Ken Kremer (@ken_kremer) November 15, 2021
Doug in action Sunday night towing Falcon 9 B1067 atop ASOP into Port Canaveral: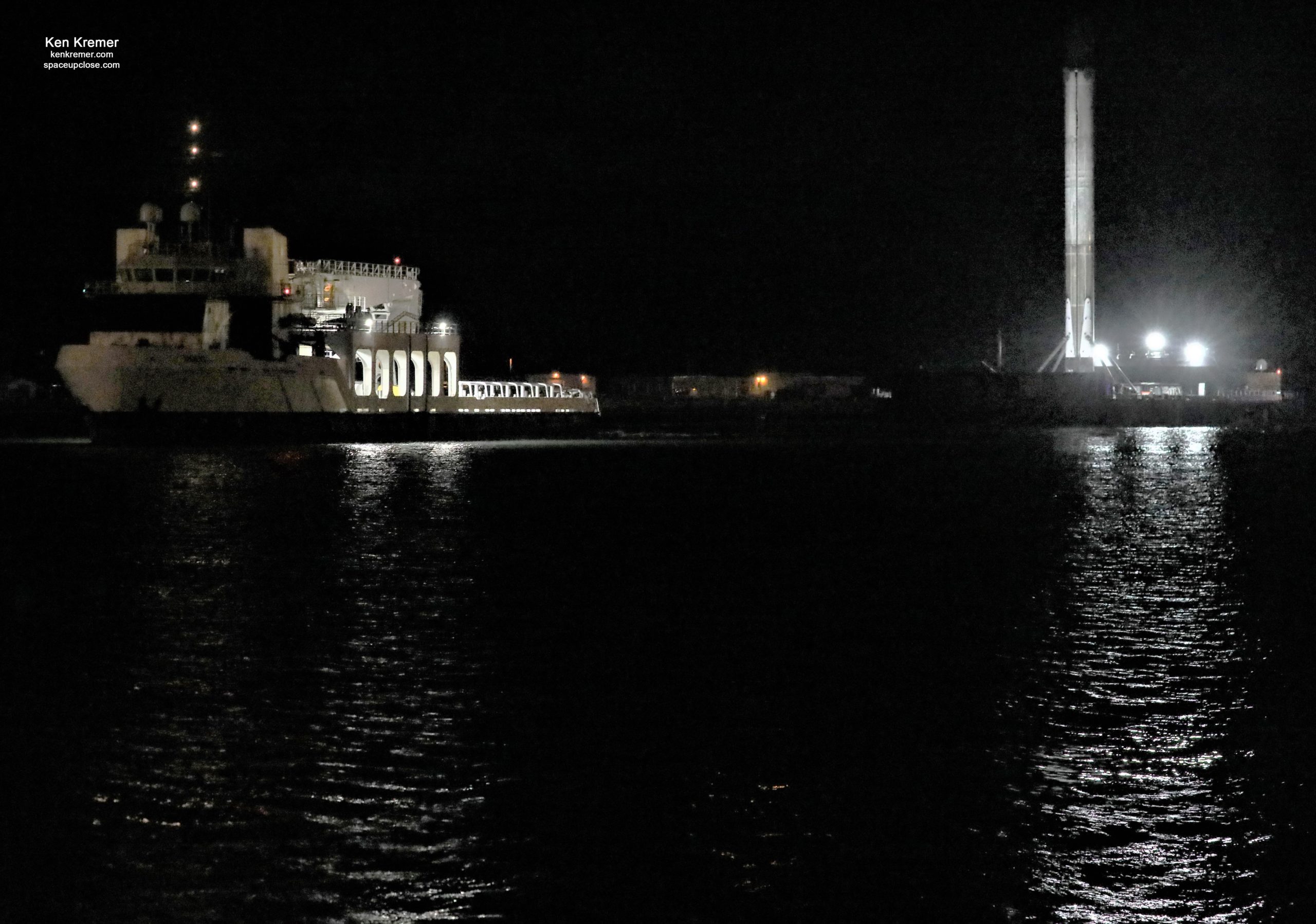 Be sure to check out our Falcon 9 B1067 ASOG and Doug arrival photos from Nov. 14 from the Space UpClose team of Ken Kremer and Jean Wright.
Spectators watch #Crew3 recovered @spacex #Falcon9 now berthing guided by Doug into normal cargo pier at 9pm this evening @PortCanaveral – just a few days after launch #pad39a @NASAKennedy pic.twitter.com/wSPmsoaOe6

— Ken Kremer (@ken_kremer) November 15, 2021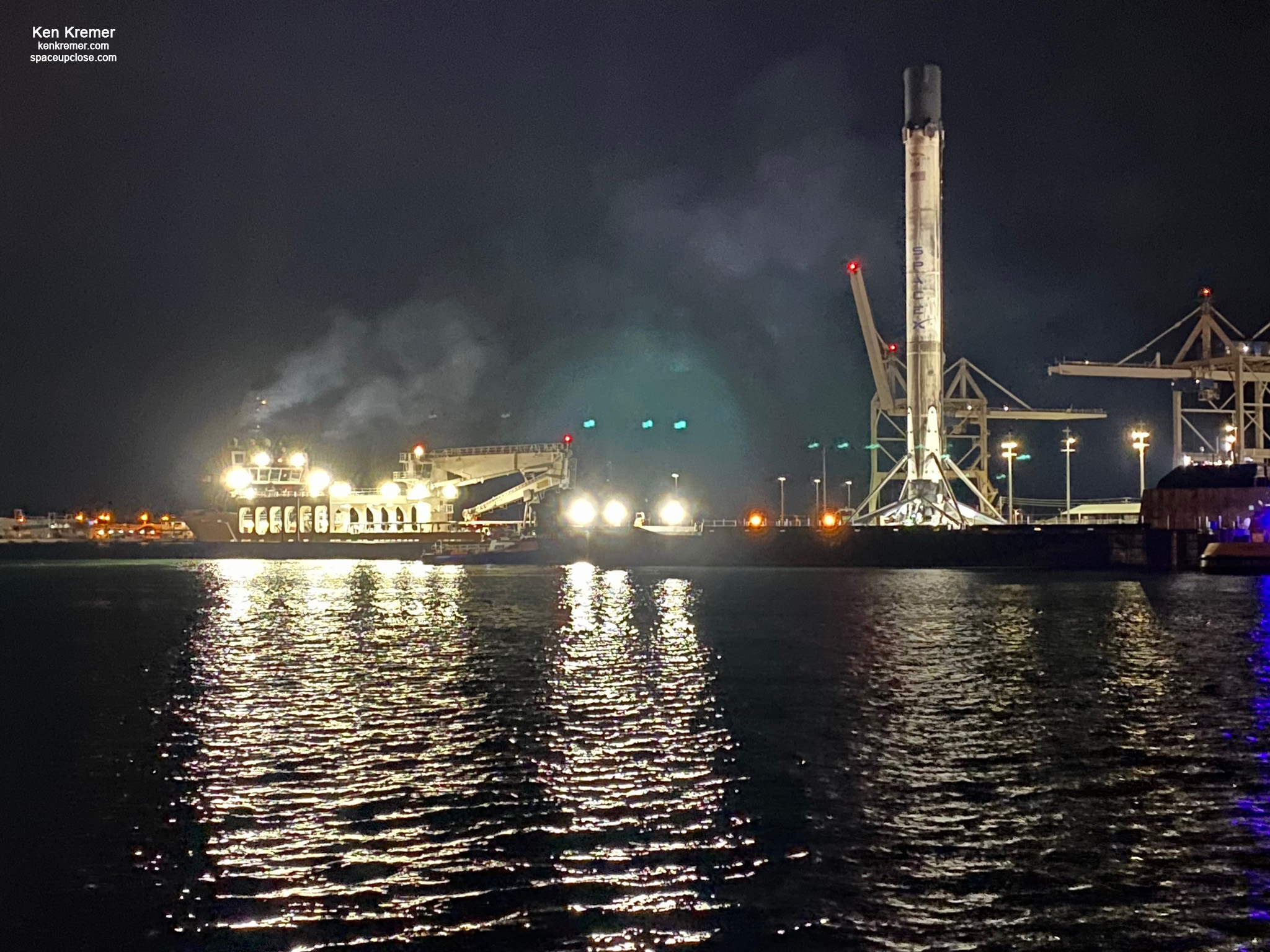 The 156 foot tall first stage B1067 plus 6 feet for all four deployed landing legs had successfully soft-landed on the ASOG (ASOG) drone ship as planned some eight and a half minutes after liftoff off the coast of the Carolinas – making 86 successful booster landings overall
The Falcon 9 flew on a northeasterly trajectory from pad 39A.
We're basking in stunning nighttime glow literally of just returned #Crew3 recovered #SpaceX #Falcon9 booster B1067 landed atop ASOG droneship as it berthed at north cargo pier about 9 PM. Rare night return @PortCanaveral. Launched Nov 10. Thx to Laura Ricci for taking photo pic.twitter.com/zgYT30RRq5

— Ken Kremer (@ken_kremer) November 15, 2021
NASA's SpaceX Crew-3 mission lifted off at 9:03 p.m. EST Wednesday, Nov. 10 (0203 GMT on Nov. 11), on a 22-story tall SpaceX Falcon 9 rocket integrated with the SpaceX Crew Dragon Endurance commercial crew astronaut ferry ship to the orbiting ISS microgravity  research laboratory from Launch Complex 39A at NASA's Kennedy Space Center in Florida.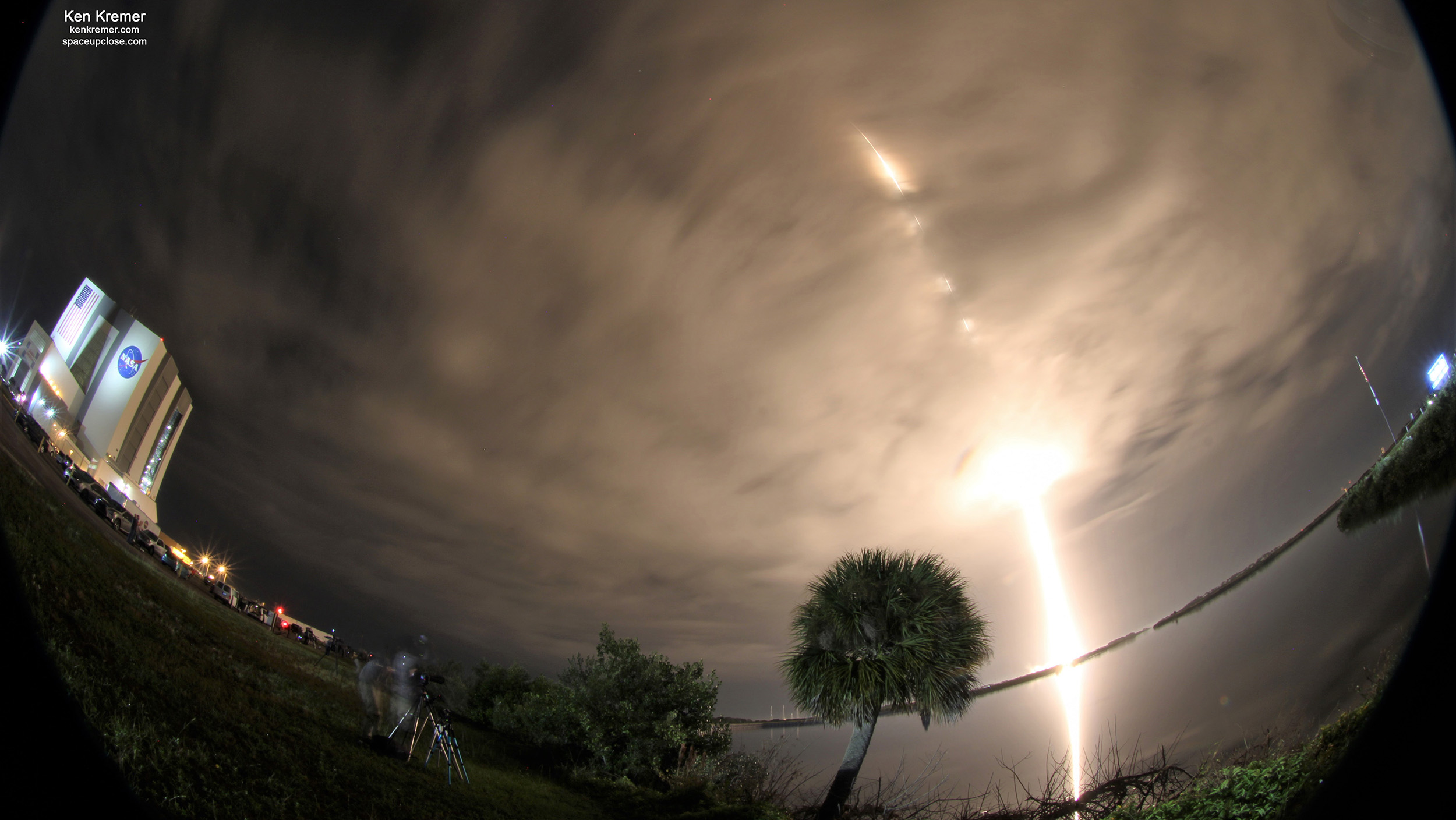 The four multinational German and American astronauts on the NASA, ESA Crew-3 mission safely and successfully docked to the International Space Station (ISS) Thursday evening, Nov. 11 gliding into port aboard SpaceX's commercial Crew Dragon Endeavour spaceship on its inaugural flight – kicking off a half year science mission at the orbiting microgravity research outpost as members of the newly enlarged Expedition 66.
Crew-3 docked at 6:32 p.m. EST (2332 GMT) Thursday, Nov. 11, over 30 minutes ahead of schedule – and less than 24 hours after launching from the Kennedy Space Center in Florida.
NASA astronauts Raja Chari, Tom Marshburn, Kayla Barron, and ESA (European Space Agency) astronaut Matthias Maurer from Germany opened the hatch of their Crew Dragon spacecraft Endurance at 8:25 p.m.
The Crew-3 astronauts are the third crew to fly a full-duration six-month long science mission to the orbiting laboratory on a SpaceX Crew Dragon, the fourth to the station and the 5th human spaceflight overall on a SpaceX Crew Dragon over the past 18 months.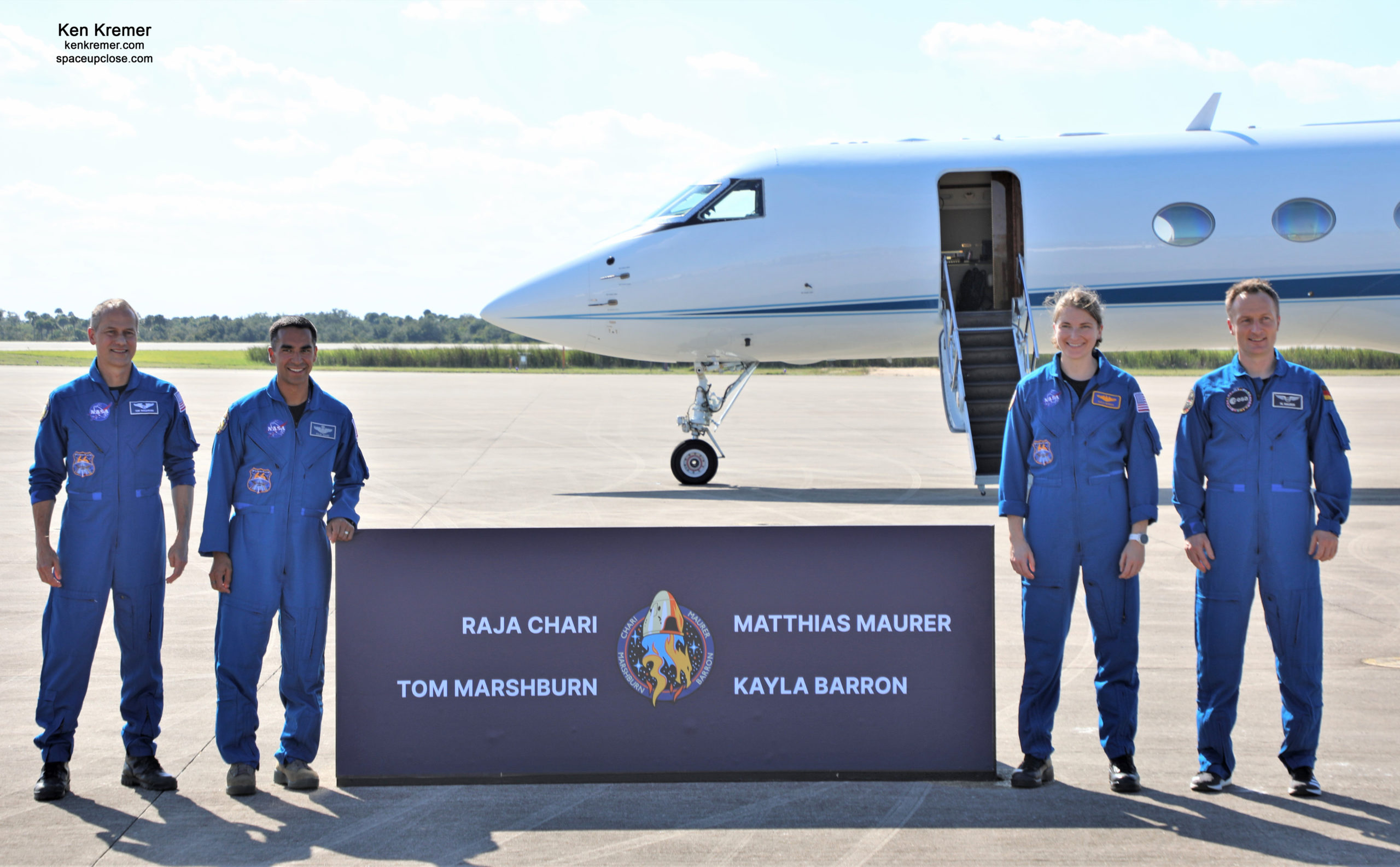 Ken's post launch comments about Crew-3 were featured on local ABC, NBC and Fox TV News outlets in Orlando on Nov. 10 & 11:
https://www.wftv.com/news/local/crew-3-set-dock-iss-ahead-schedule/WTWJDQPWPVCKZIRHW6Y7QMNCOY/
https://www.wesh.com/article/crew-3-launch-wednesday/38212223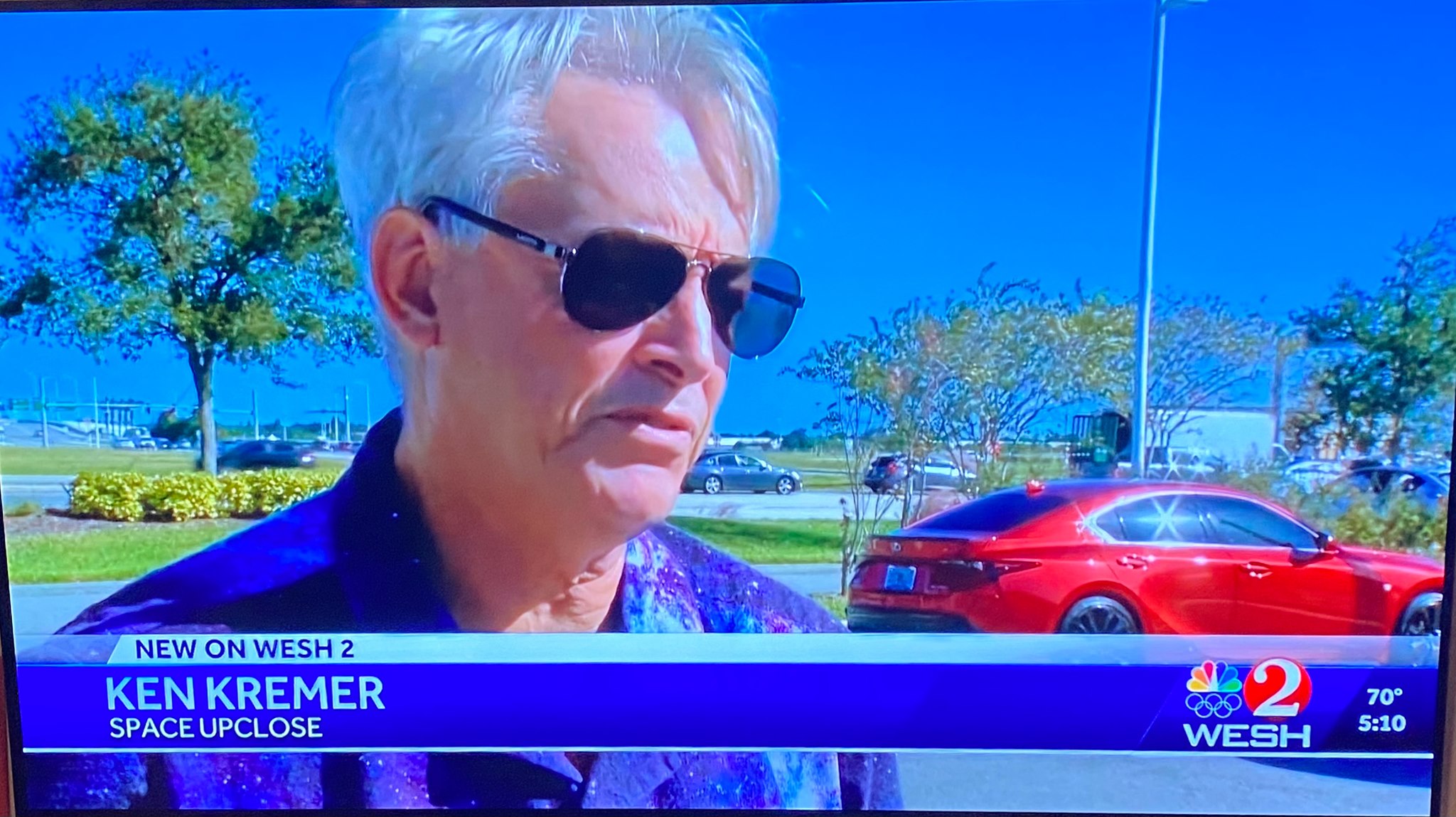 Ken's prelaunch comments about the Crew-2 & Crew-3 missions were featured on local CBS, NBC and Fox TV News outlets in Orlando:
Nov. 8 & 9 broadcasts on WESH 2 NBC and Fox 35:
https://www.wesh.com/article/crew-2-splashdown-monday/38192367
https://www.fox35orlando.com/video/999350
Nov. 5 broadcast on WKMG CBS 6 Orlando TV News:
https://www.clickorlando.com/news/local/2021/11/05/spacex-nasa-weigh-astronaut-rotation-schedule-as-bad-weather-continues-launch-delay/
Ken's photos of the static fire test were featured on WKMG CBS 6 Orlando TV News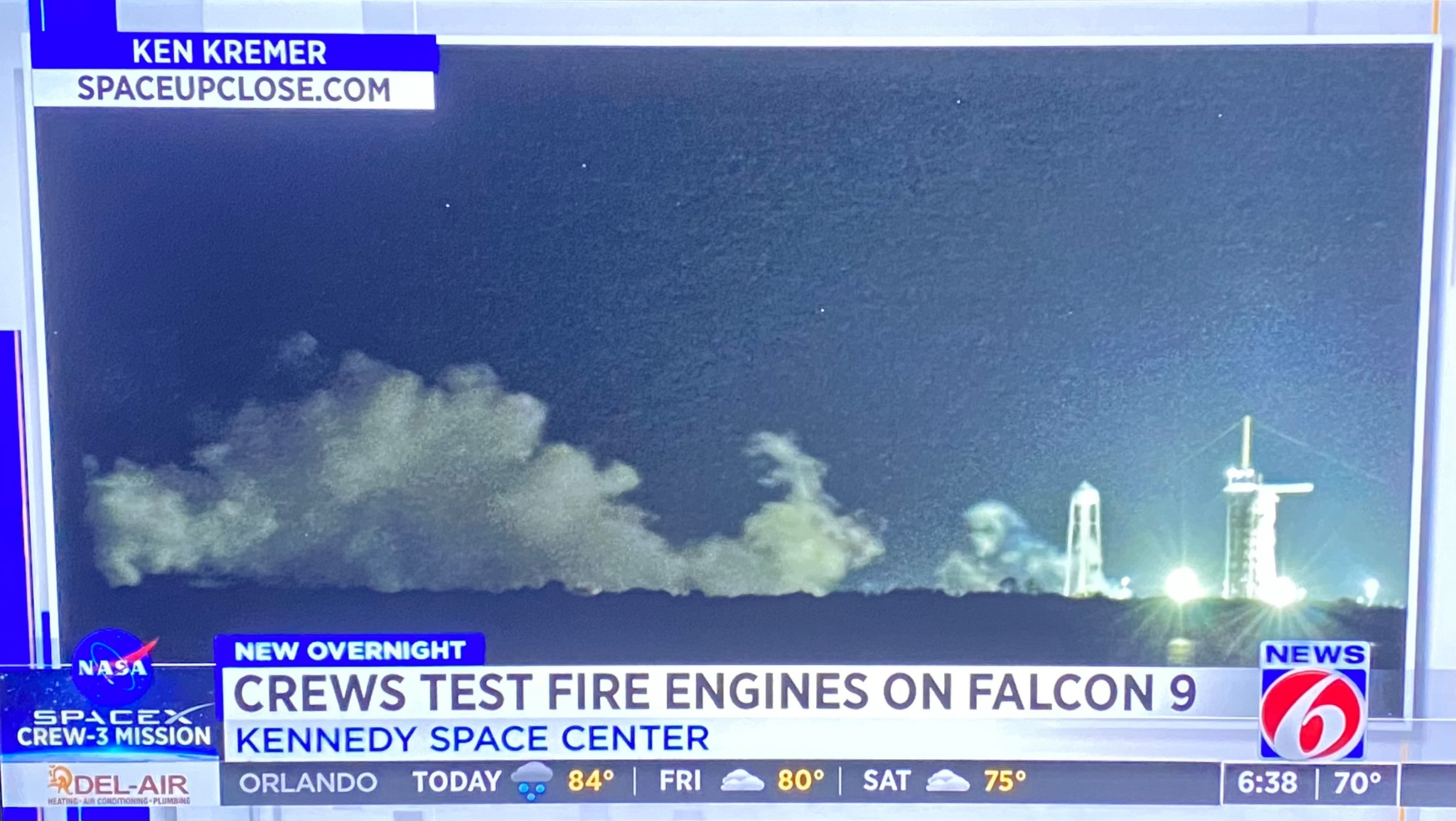 Ken is onsite at KSC for the Crew-3 mission launch campaign
Watch Ken's continuing reports about SpaceX Crew and Cargo Dragons, Artemis, SLS, Orion and NASA missions, Lucy Asteroid mission, Blue Origin and Space Tourism, SpaceX  Starlink, Commercial Crew and Starliner and Crew Dragon and onsite for live reporting of upcoming and recent SpaceX and ULA launches including Crew 1 & 2 & 3, ISS, Solar Orbiter, Mars 2020 Perseverance and Curiosity rovers, NRO spysats and national security missions and more at the Kennedy Space Center and Cape Canaveral Space Force Station.
Stay tuned here for Ken's continuing Earth and Planetary science and human spaceflight news: www.kenkremer.com –www.spaceupclose.com – twitter @ken_kremer – email: ken at kenkremer.com
Dr. Kremer is a research scientist and journalist based in the KSC area, active in outreach and interviewed regularly on TV and radio about space topics.
………….
Ken's photos are for sale and he is available for lectures and outreach events
Please consider supporting Ken's work by purchasing his photos and/or donating at Patreon:
https://www.patreon.com/kenkremer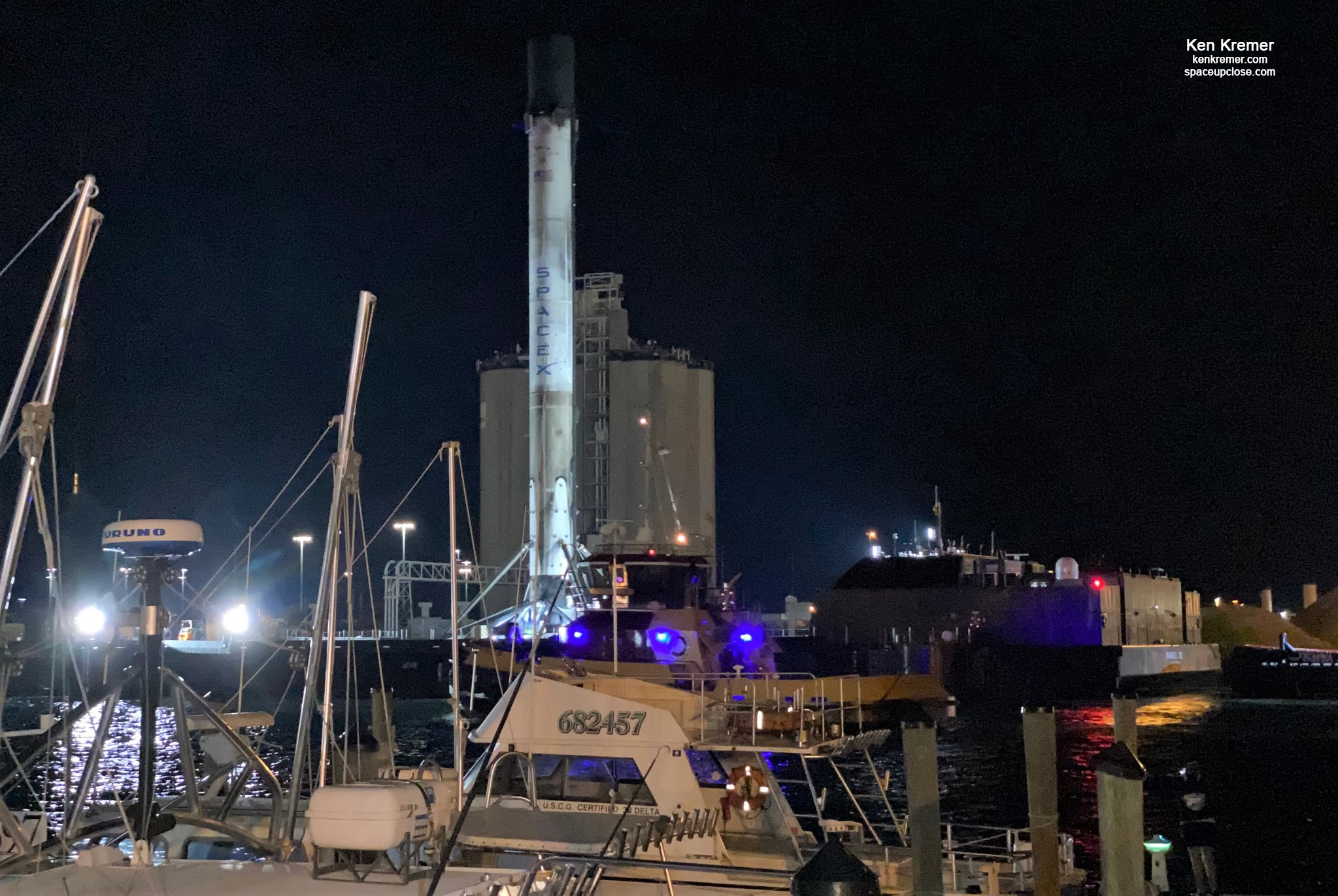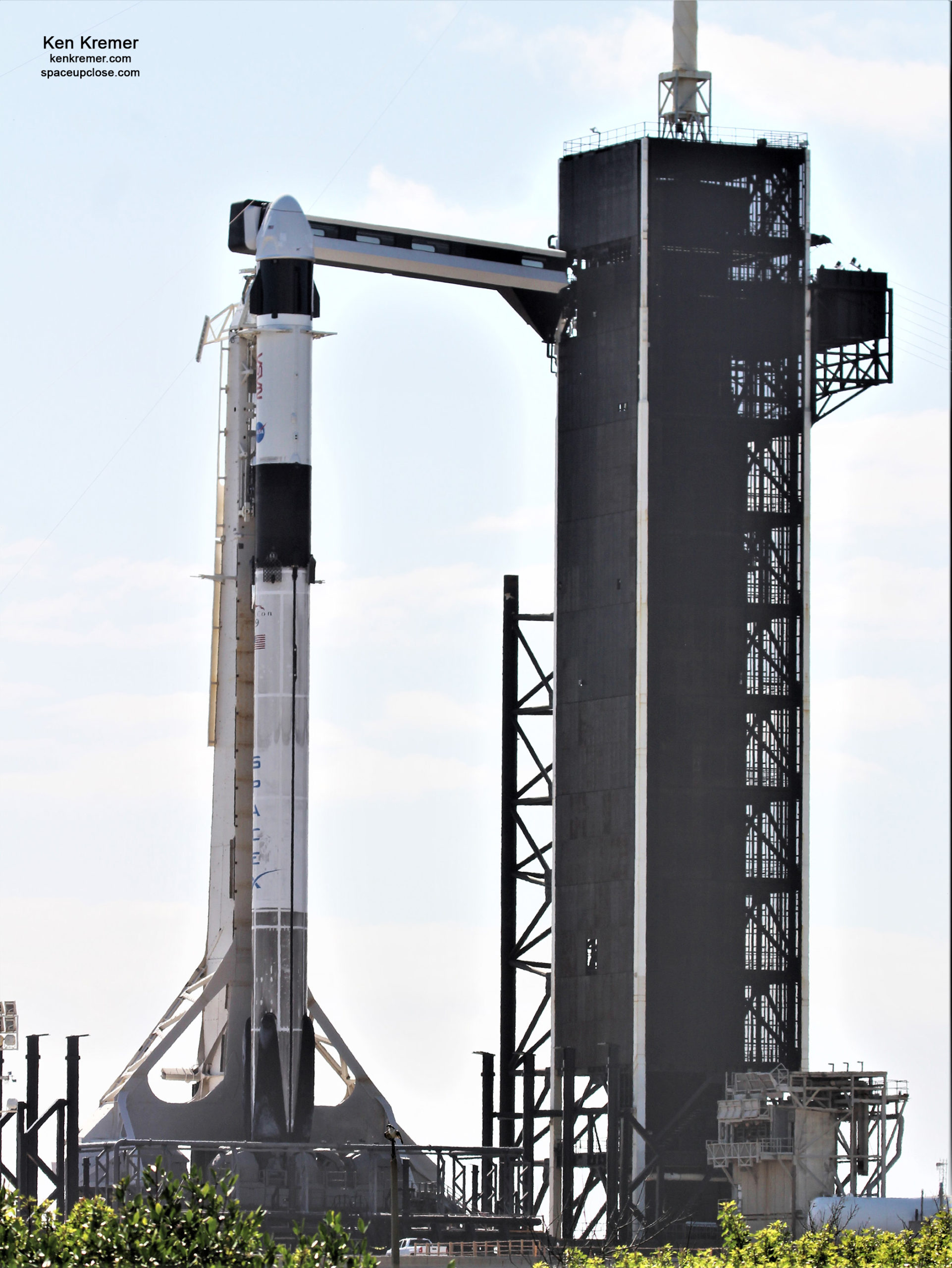 x