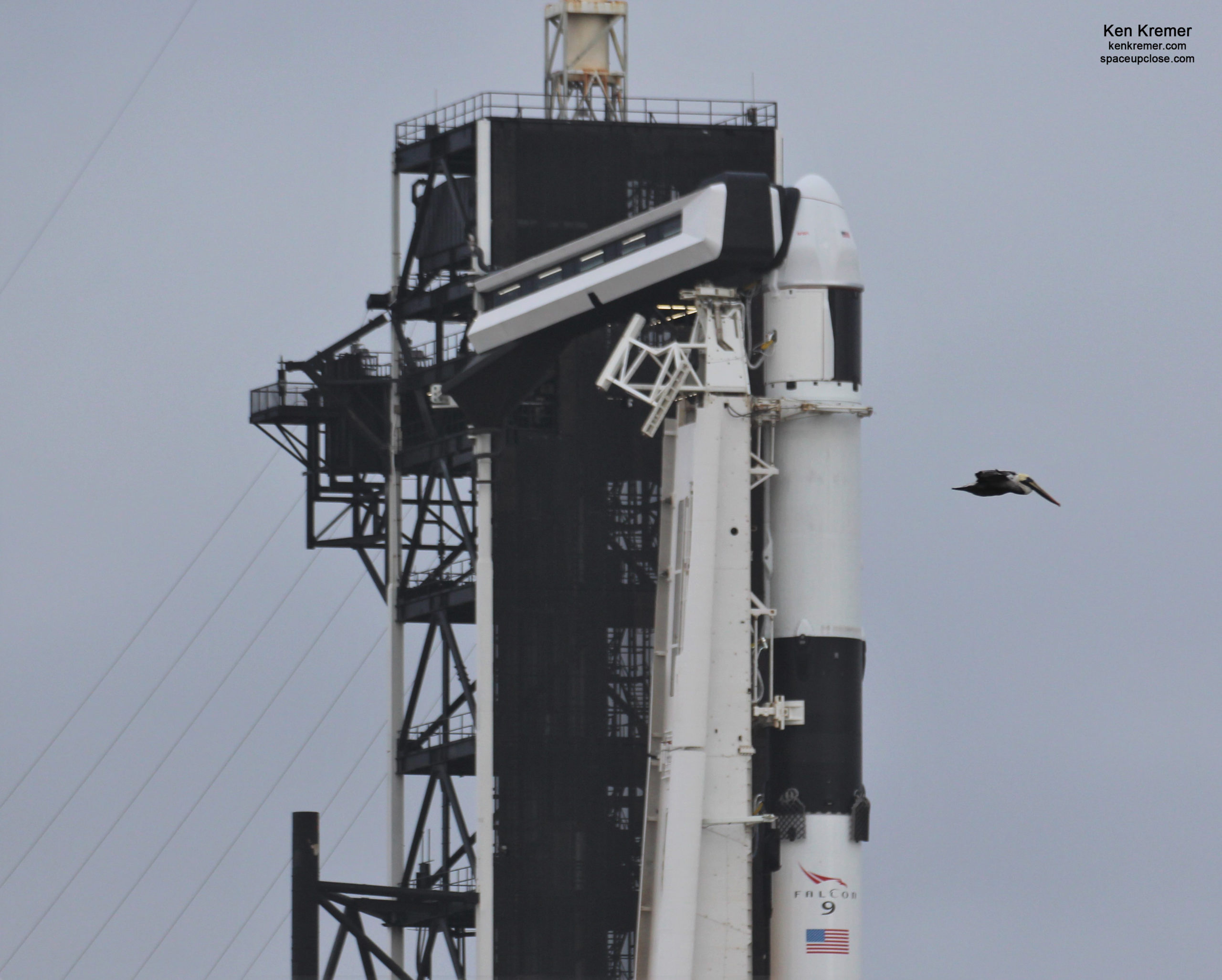 For SpaceUpClose.com & RocketSTEM
KENNEDY SPACE CENTER, FL –  A rare and sparkling brand new SpaceX Falcon 9 booster is poised for liftoff carrying a recycled commercial Cargo Dragon loaded with over three tons of NASA science and cargo on a resupply mission bound for the seven person multinational crew mates from the U.S., Russia and Germany serving aboard the International Space Station (ISS) from the Sunshine State set for predawn Tuesday, Dec. 21 weather permitting.
However its anything but sunny right now as dismal weather and rain showers inundate the Florida Space Coast.
In fact the weather is so dismal that Space Force weather forecasters are predicting only a 30% change of favorable weather at launch time Tuesday.
The NASA SpaceX Falcon9 and Cargo Dragon is scheduled to lift off on SpaceX's 24th NASA contracted Commercial Resupply Services (CRS-24) mission to the International Space Station since 2012 during an instantaneous launch window at 5:06 a.m. EST (1006 GMT), Dec. 21, from historic Launch Complex 39A (LC-39A) at the Kennedy Space Center in Florida.
A backup launch opportunity is available on Wednesday, December 22 at 4:43 a.m. EST, or 9:43 GMT in case of a delay for any reason related to weather or technical issues.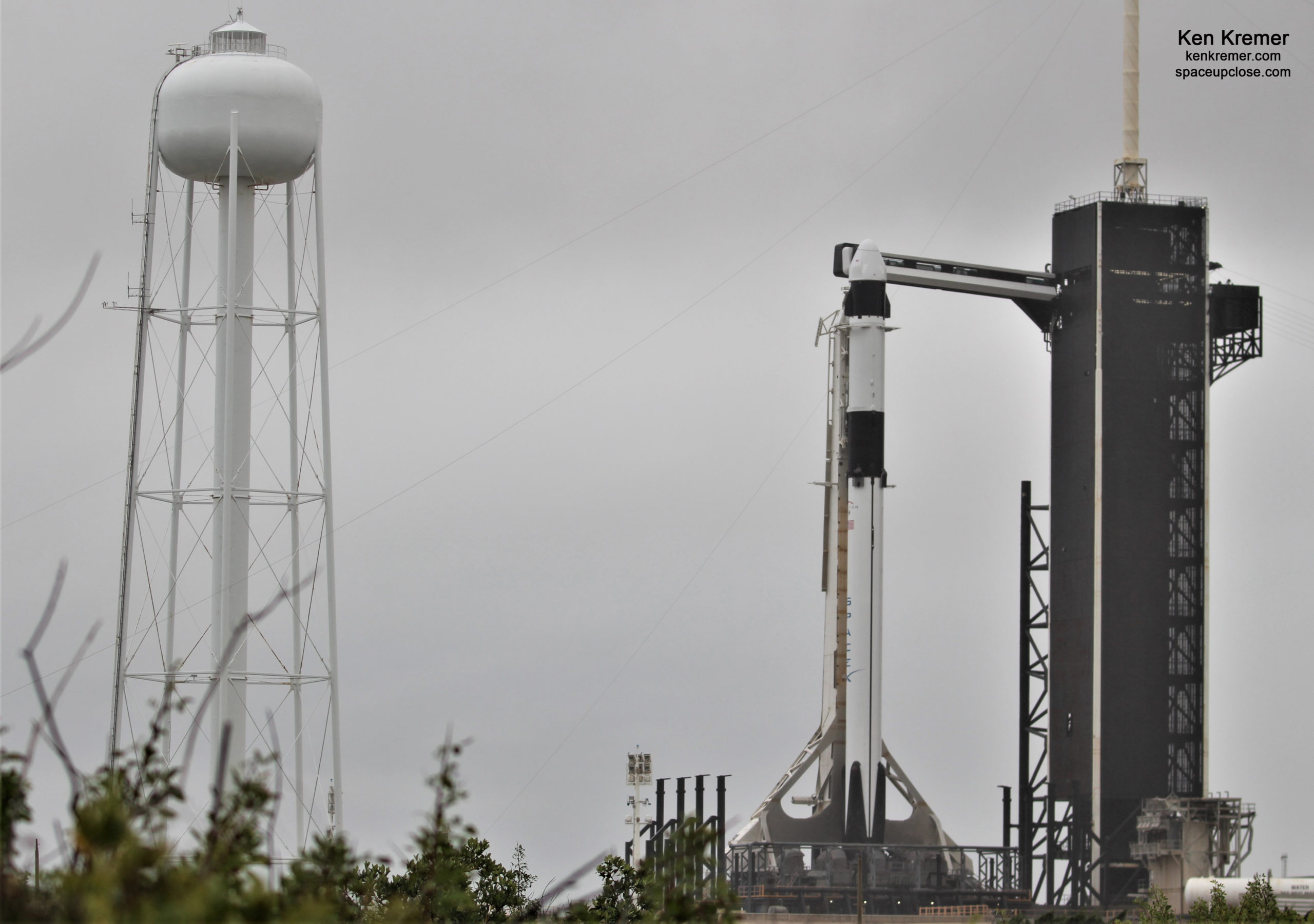 If all goes well the NASA CRS-24 cargo resupply mission will set another all-time launch record as SpaceX's 31st launch of 2021 – eclipsing the 2020 mark of 26 launches.
It will also be the 5th SpaceX Falcon 9 launch this month and the 3rd in 3 days.
"It's been a record-breaking year for SpaceX," said Sarah Walker, director of Dragon mission management at SpaceX, at the prelaunch media briefing held at KSC today, Dec. 20.
"This is our 31st and final launch of 2021, which is a step above the 26 launches we completed last year."
Dec. 21: SpaceX's Dragon #CRS24 spacecraft is set to launch, sending @ISS_Research and supplies to the @Space_Station, including a skin bioprinter and student projects from our SPOCS challenge.

🚀 Liftoff is targeted for 5:07am ET (10:07 UTC). Watch: https://t.co/swhd0pikhi pic.twitter.com/1Z1iRAh8CN

— NASA (@NASA) December 21, 2021
The super shining and bright white Falcon 9 first stage booster is newly manufactured and designated as B1069 – an uncommon sight for SpaceX these days as we are now accustomed to seeing dark and sooty and rather filthy first stages virtually every time SpaceX launches.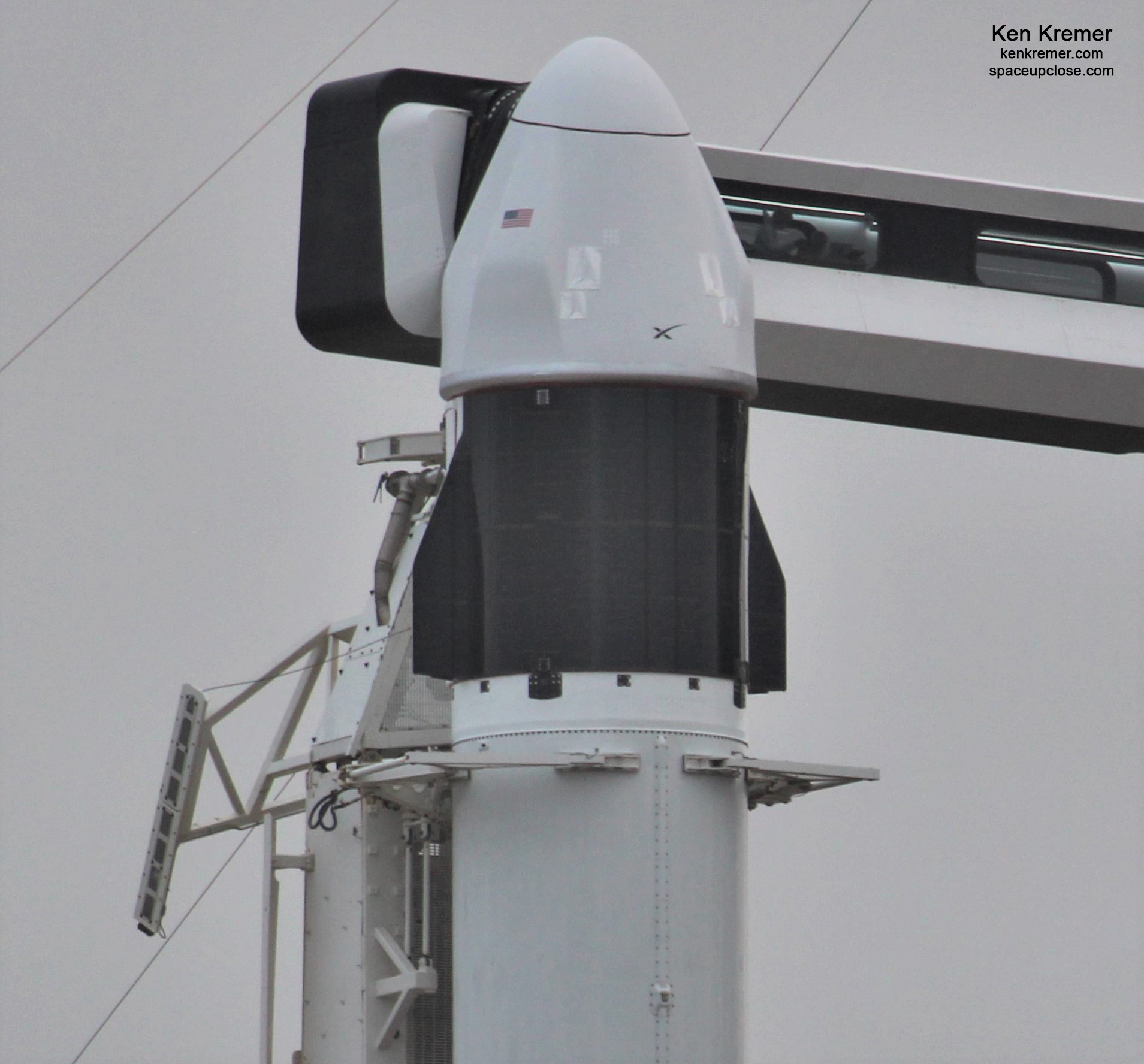 SpaceX will of course attempt to land this non-flight proven booster again following stage separation on the Just Read the Instructions (JRTI) drone ship prepositioned downrange in the Atlantic Ocean.
If all goes will this will mark the 100th booster landing by land or by sea.
The SpaceX Falcon 9 and Cargo Dragon stack stands 229-feet-tall (70-meters)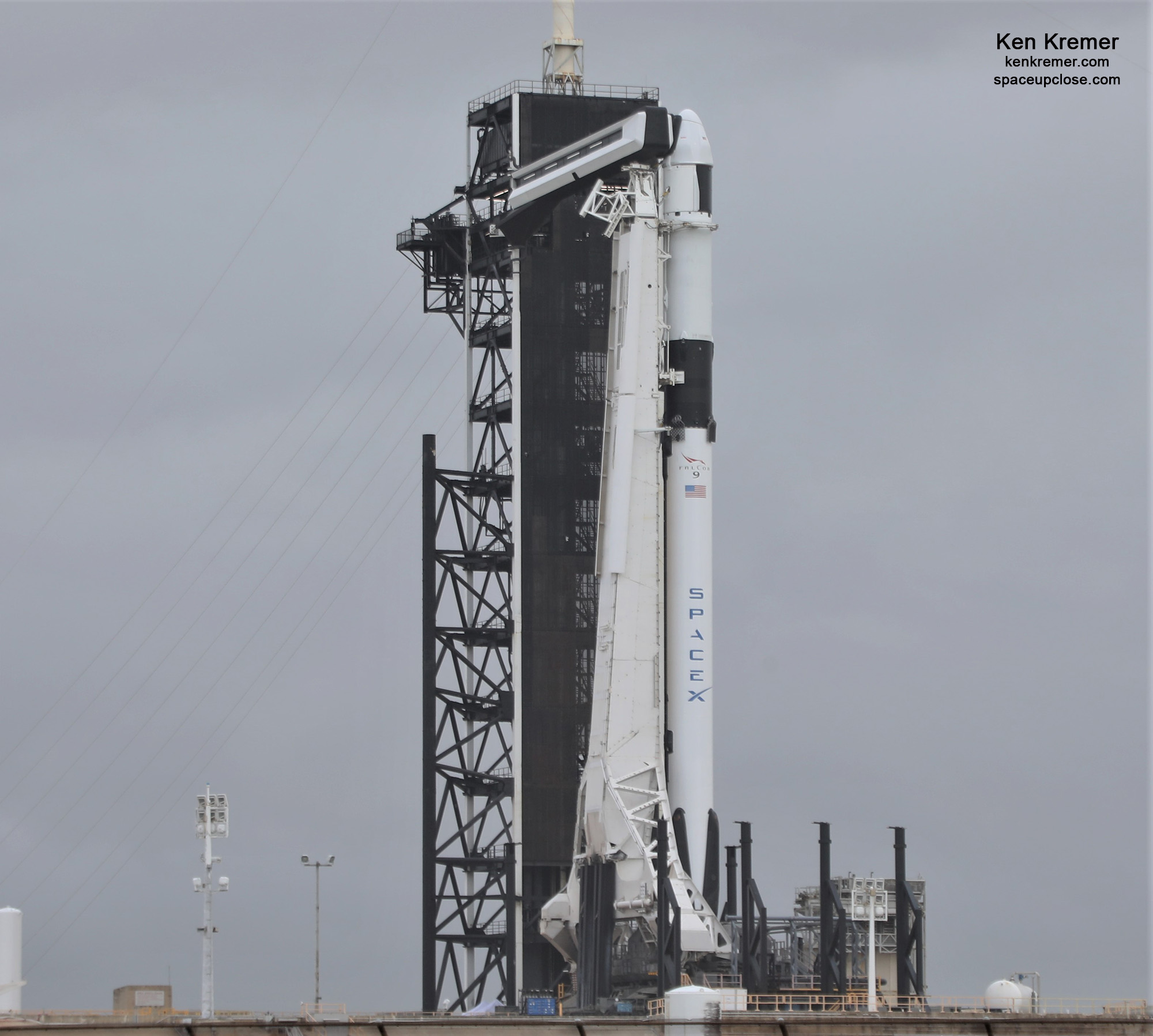 Enjoy our photos of the integrated Falcon 9 and Cargo Dragon stack at pad 39A taken late this afternoon, Dec. 20, by Ken Kremer for Space UpClose.
You can watch the launch live on NASA Television, the NASA app, and the agency's website starting at about 4:45 a.m. ET.
You can also watch the live launch via SpaceX webcast here starting about 20 minutes before liftoff.
Weather officials with Cape Canaveral Space Force Station's 45th Weather Squadron predict a 30% chance of favorable weather conditions for Tuesday's targeted liftoff of a SpaceX Falcon 9 rocket and the company's Dragon spacecraft from Launch Complex 39A at NASA's Kennedy Space Center in Florida.
Less than favorable conditions are expected for the primary launch window early Tuesday morning, with the main concerns associated with this weather being the cumulus cloud rule, thick cloud layer rule, and surface electric field rule.
In case of a 24 hour delay to Wednesday, Dec. 22, the weather prospects rise to 70% chance of favorable weather conditions.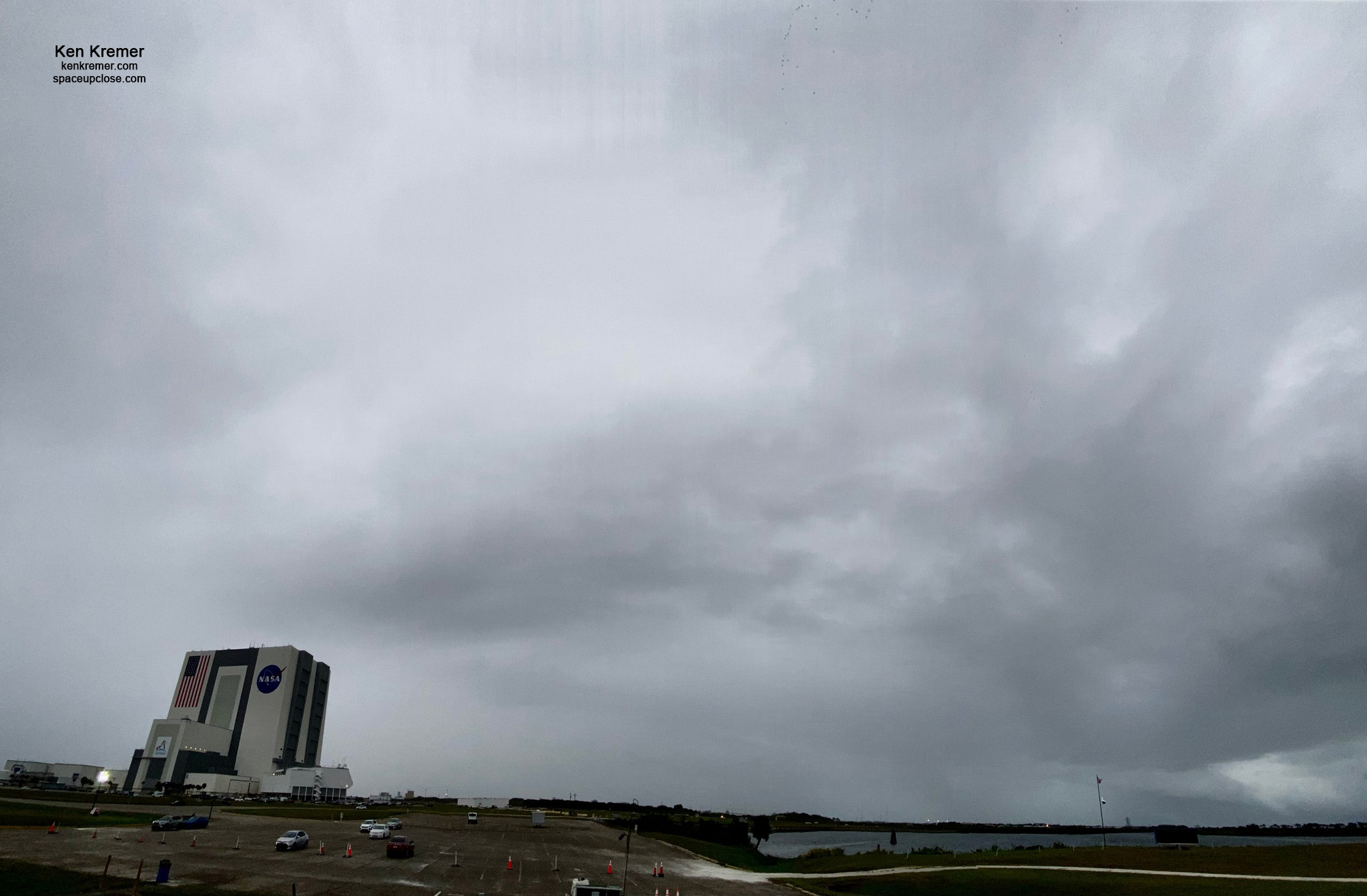 The upgraded Cargo Dragon supporting this mission previously supported CRS-22 earlier this year launched on June 3, 2021.
CRS-24 counts as the fourth mission under SpaceX's Commercial Resupply Services-2 (CRS) contract with NASA.
Approximately twelve minutes after liftoff, Dragon will separate from Falcon 9's second stage
The Cargo Dragon will then carry out a series of carefully choreographed thruster firings to autonomously rendezvous and dock to the space station on Wednesday, December 22 at approximately 4:38 a.m. EST, 9:38 GMT at the forward-facing port of the Harmony module.
NASA astronauts Raja Chari and Thomas Marshburn will monitor the Dragon spacecraft's arrival.
This gumdrop shaped Cargo Dragon will spend about one month docked to the ISS before returning with NASA critical NASA science and hardware for researchers and teams on Earth for a splashdown in the Atlantic Ocean.
Dragon is packed with some 6,500 pounds (2900 kg) of NASA scince and supplies including research experiments, food , water, clothing, spare parts and gear, spacewalk equipment and computer resources to support the Expedition 66 crew.
Christmas presents are also on board for the crew.
"Every year, we do our best to send up some presents to the crew,"  said Joel Montalbano, NASA's space station program manager, at the prelaunch briefing.
"I won't get in front of Santa Claus and tell you what's going to be sent up, but we are going to have some gifts for the crew."
Fresh food stuffs and desserts are also packed on board for a festive Christmas holiday season.
Dragon will deliver a variety of NASA science investigations, including a protein crystal growth study that could improve how cancer treatment drugs are delivered to patients, a handheld bioprinter that could one day be used to print tissue directly onto wounds for faster healing, an investigation from the makers of Tide that examines detergent efficacy in microgravity, and investigations from the Student Payload Opportunity with Citizen Science (SPOCS) program.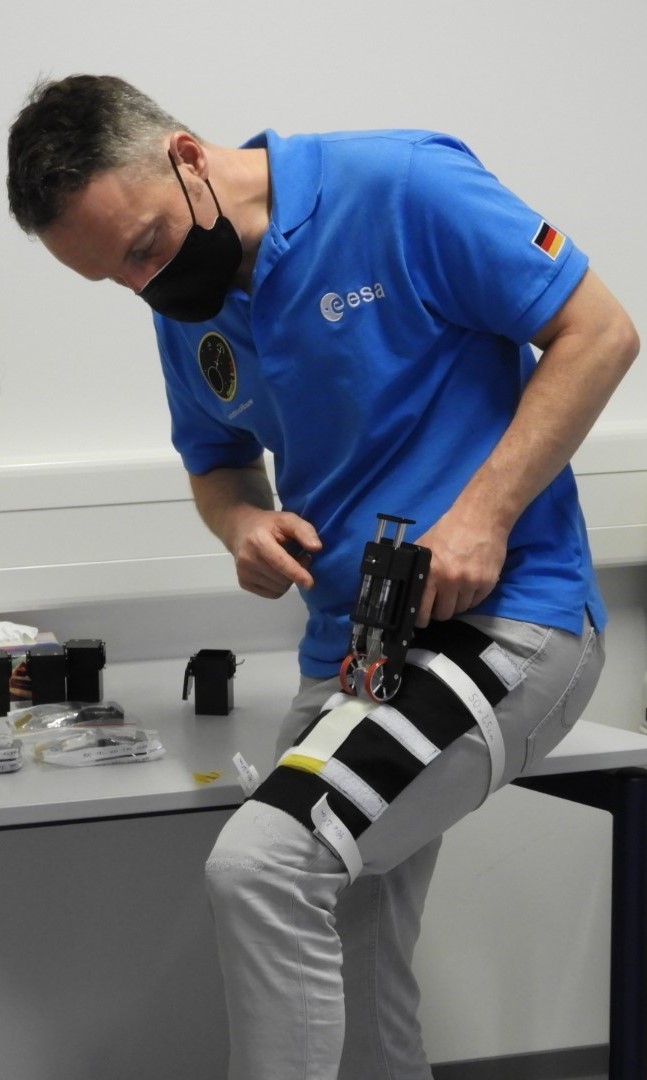 Here is the CRS-24 cargo manifest:
2,468 pounds (1,119 kilograms) of science investigations
• 2,002 pounds (908 kilograms) of unpressurized payloads
• 852 pounds (386 kilograms) of crew supplies
• 724 pounds (328 kilograms) of vehicle hardware
• 400 pounds (182 kilograms) of spacewalk equipment
• 72 pounds (33 kilograms) of computer resources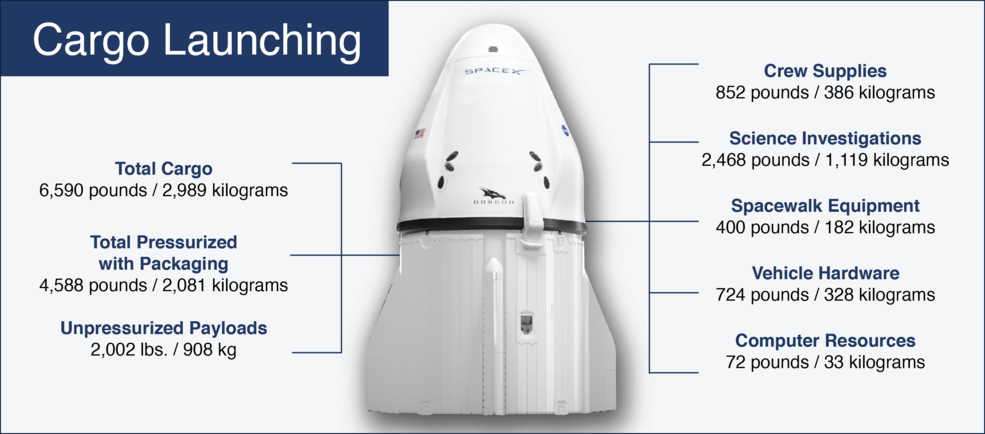 Watch this NASA video describing several of the science experiments on board:
The SpaceX Falcon 9 rocket with Dragon spacecraft rolled out to Launch Complex 39A at KSC on Dec. 19, 2021.
No static fire test was conducted.
In November, the International Space Station surpassed its 21-year milestone of continuous human presence, providing opportunities for unique research and technological demonstrations that help prepare for long-duration missions to the Moon and Mars and also improve life on Earth. During that time, 249 people from 19 countries have visited the orbiting laboratory, which has hosted nearly 3,000 research investigations from researchers in 108 countries and areas.
Watch for Ken's onsite reporting about CRS-24 at the Kennedy Space Center.
Watch Ken's continuing reports about SpaceX Crew and Cargo Dragons, Artemis, SLS, Orion and NASA missions, Lucy Asteroid mission, IXPE, DART, National Security missions,  SpaceX Starlink, Blue Origin and Space Tourism, Commercial Crew and Starliner and Crew Dragon and onsite for live reporting of upcoming and recent SpaceX and ULA launches including Crew 1 & 2 & 3, ISS, Solar Orbiter, Mars 2020 Perseverance and Curiosity rovers, NRO spysats and national security missions and more at the Kennedy Space Center and Cape Canaveral Space Force Station.
Stay tuned here for Ken's continuing Earth and Planetary science and human spaceflight news: www.kenkremer.com –www.spaceupclose.com – twitter @ken_kremer – email: ken at kenkremer.com
Dr. Kremer is a research scientist and journalist based in the KSC area, active in outreach and interviewed regularly on TV and radio about space topics.
………….
Ken's photos are for sale and he is available for lectures and outreach events
Please consider supporting Ken's work by purchasing his photos and/or donating at Patreon:
https://www.patreon.com/kenkremer
x