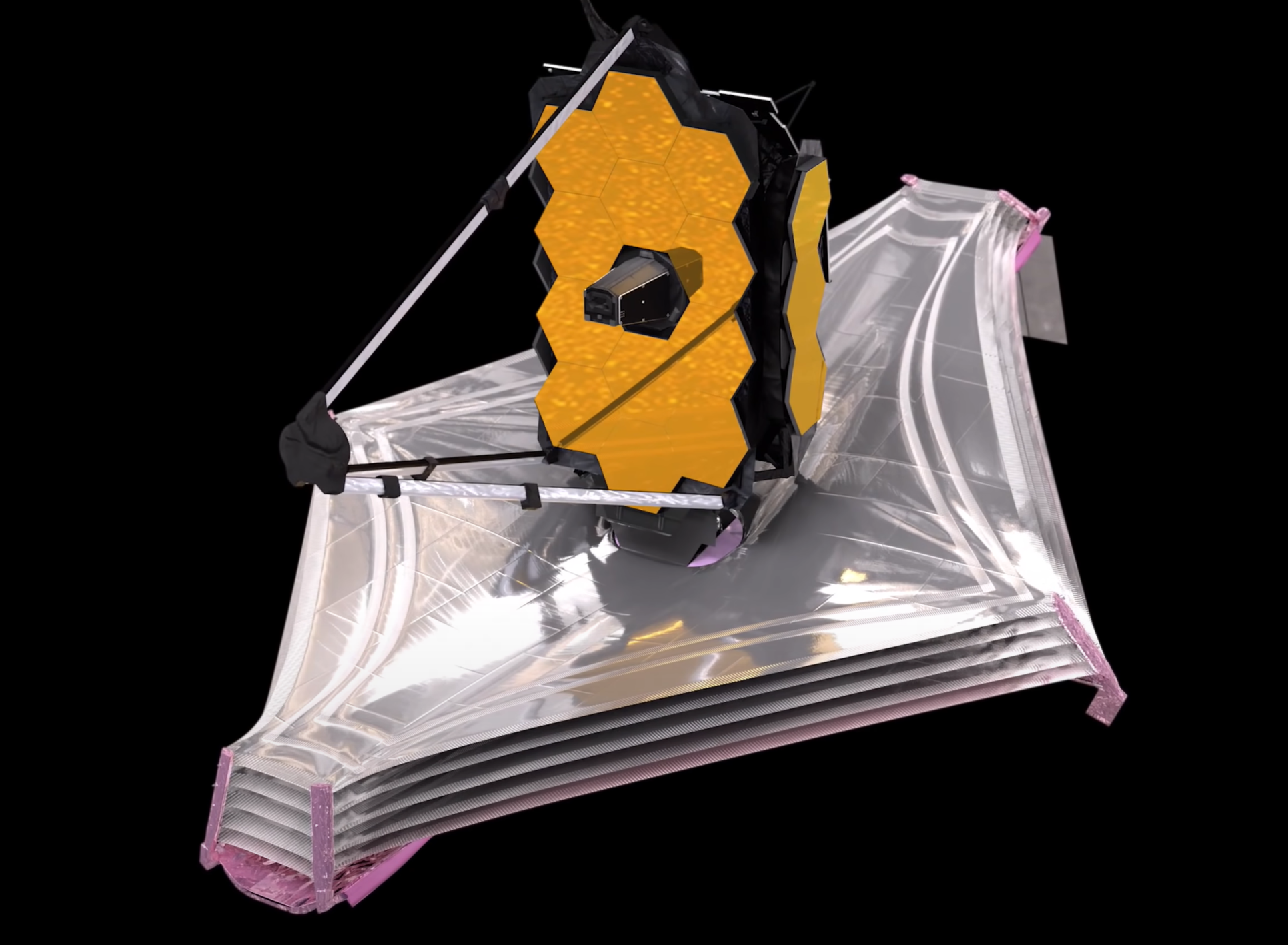 For SpaceUpClose.com & RocketSTEM
CAPE CANAVERAL, FL – In another major milestone NASA's James Webb Space Telescope (JWST), the tripod assembly holding the observatory's secondary mirror successfully unfolded and latched to deploy the 2.4-foot (0.74-meter) mirror into place – which is essential for reflecting light from the distant Universe gathered by the primary mirror into the powerful science instruments so it can peer back to observe and investigate nearly the beginning of time.
The complex deployment of the secondary mirror and its three 25 foot long (8 m) motorized struts folded up against the golden primary mirror took place while the $10 Billion telescope was traveling some 600,000 miles from Earth on the way to its final operational destination at a unique orbital perch at the L2 Lagrange point a million miles (1.5 million km) from the Home Planet.
"Another banner day for JWST," said Bill Ochs, Webb project manager at NASA's Goddard Space Flight Center, as he congratulated the secondary mirror deployment team at the Mission Operations Center in Baltimore.
"This is unbelievable…We're about 600,000 miles from Earth, and we actually have a telescope."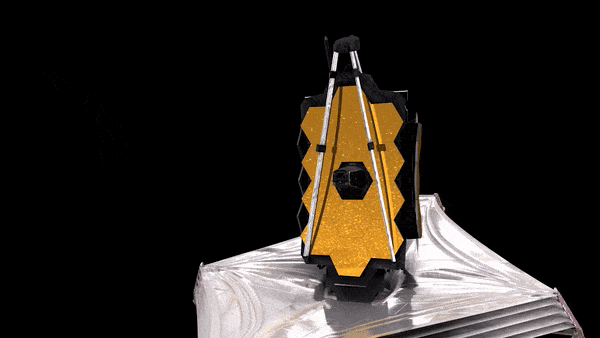 "Today [Jan. 5], Webb teams successfully deployed the observatory's secondary mirror support structure. When light from the distant universe hits Webb's iconic 18 gold primary mirrors, it will reflect off and hit the smaller, 2.4-foot (.74-meter) secondary mirror, which will direct the light into its instruments," NASA announced Jan. 5.
Unfolding of the two primary mirror wings is the next and final major deployment step.
The two side panels were folded back for launch. Each holds three of the observatory's 18 hexagonal, gold-coated mirror segments.
"Like a latch made in heaven, @NASAWebb's secondary mirror is now fully deployed and locked!" NASA Webb team tweeted.
Like a latch made in heaven, @NASAWebb's secondary mirror is now fully deployed and locked!

The team remains focused as they work toward the final major milestone this week – deployment of the iconic honeycomb-shaped mirror. Details: https://t.co/xSRXwCNd8V
#UnfoldTheUniverse pic.twitter.com/dAkMNApb2F

— NASA (@NASA) January 5, 2022
"The team remains focused as they work toward the final major milestone this week – deployment of the iconic honeycomb-shaped mirror."
This video shows the secondary mirror deployment sequence activity during pre-launch ground testing at Northrop Grumman, Webb's prime contractor.
We just finished deploying our sunshield today, but wait, there's more! #NASAWebb's secondary mirror is planned to be unfolded tomorrow, Jan. 5th, in the morning (Eastern time). Read more at the blog: https://t.co/tlNmsf2UL7 #UnfoldTheUniverse pic.twitter.com/MbO5YXNBIK

— NASA Webb Telescope (@NASAWebb) January 4, 2022
The secondary mirror is supported by three lightweight deployable struts that are each almost 25 feet long and are designed to withstand the space environment. Specialized heating systems were used to warm up the joints and motors needed for seamless operation, according to a NASA description.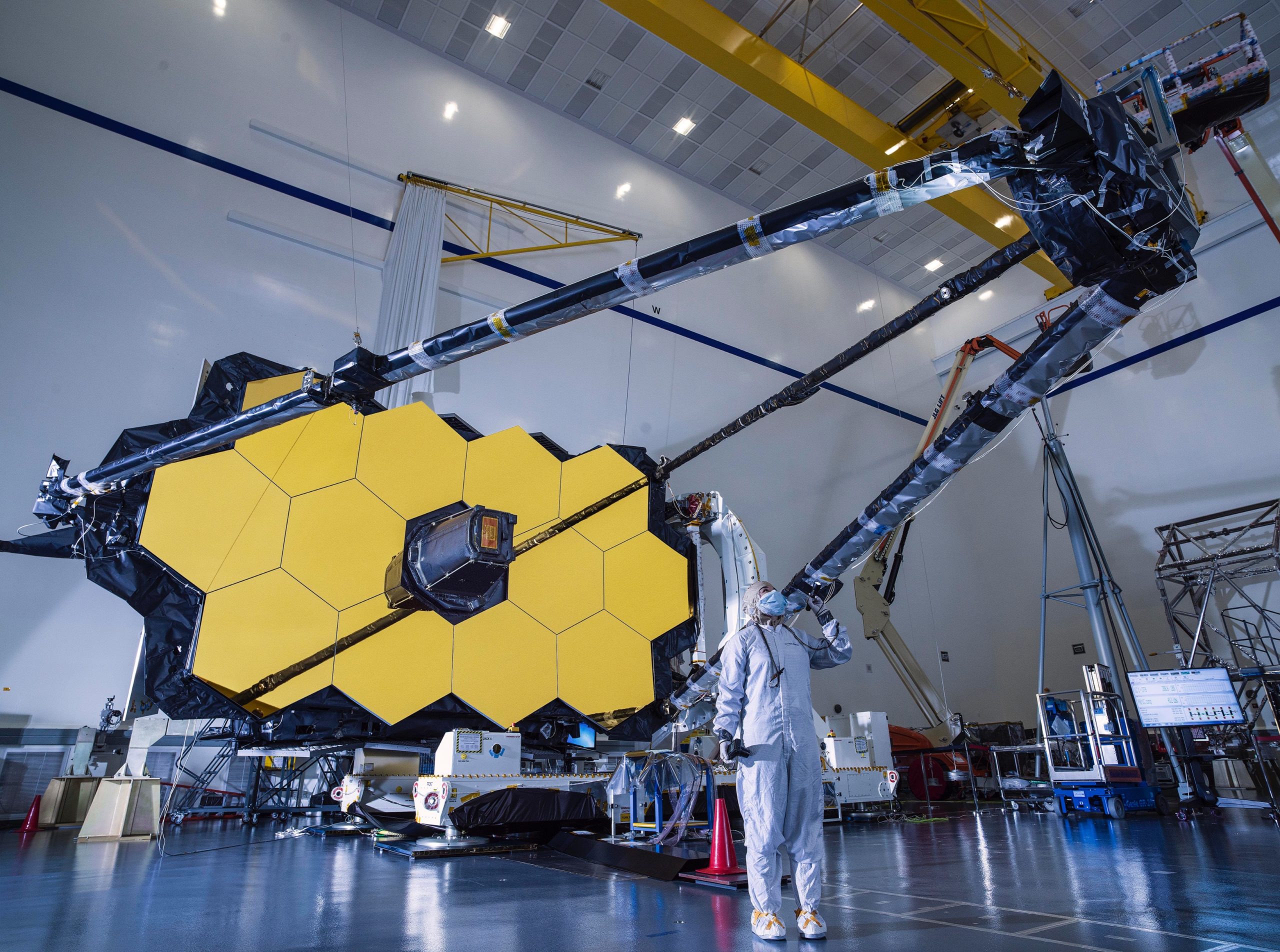 The tripod deployment process began at approximately 9:52 a.m. EST, and the secondary mirror finished moving into its extended position at about 11:28 a.m. EST, Jan 5.
The secondary mirror support structure was then latched at about 11:51 a.m. EST. At approximately 12:23 p.m. EST, engineers confirmed that the structure was fully secured and locked into place and the deployment was complete.
"The world's most sophisticated tripod has deployed," said Lee Feinberg, optical telescope element manager for Webb at Goddard.
"That's really the way one can think of it. Webb's secondary mirror had to deploy in microgravity, and in extremely cold temperatures, and it ultimately had to work the first time without error. It also had to deploy, position, and lock itself into place to a tolerance of about one and a half millimeters, and then it has to stay extremely stable while the telescope points to different places in the sky – and that's all for a secondary mirror support structure that is over 7 meters in length."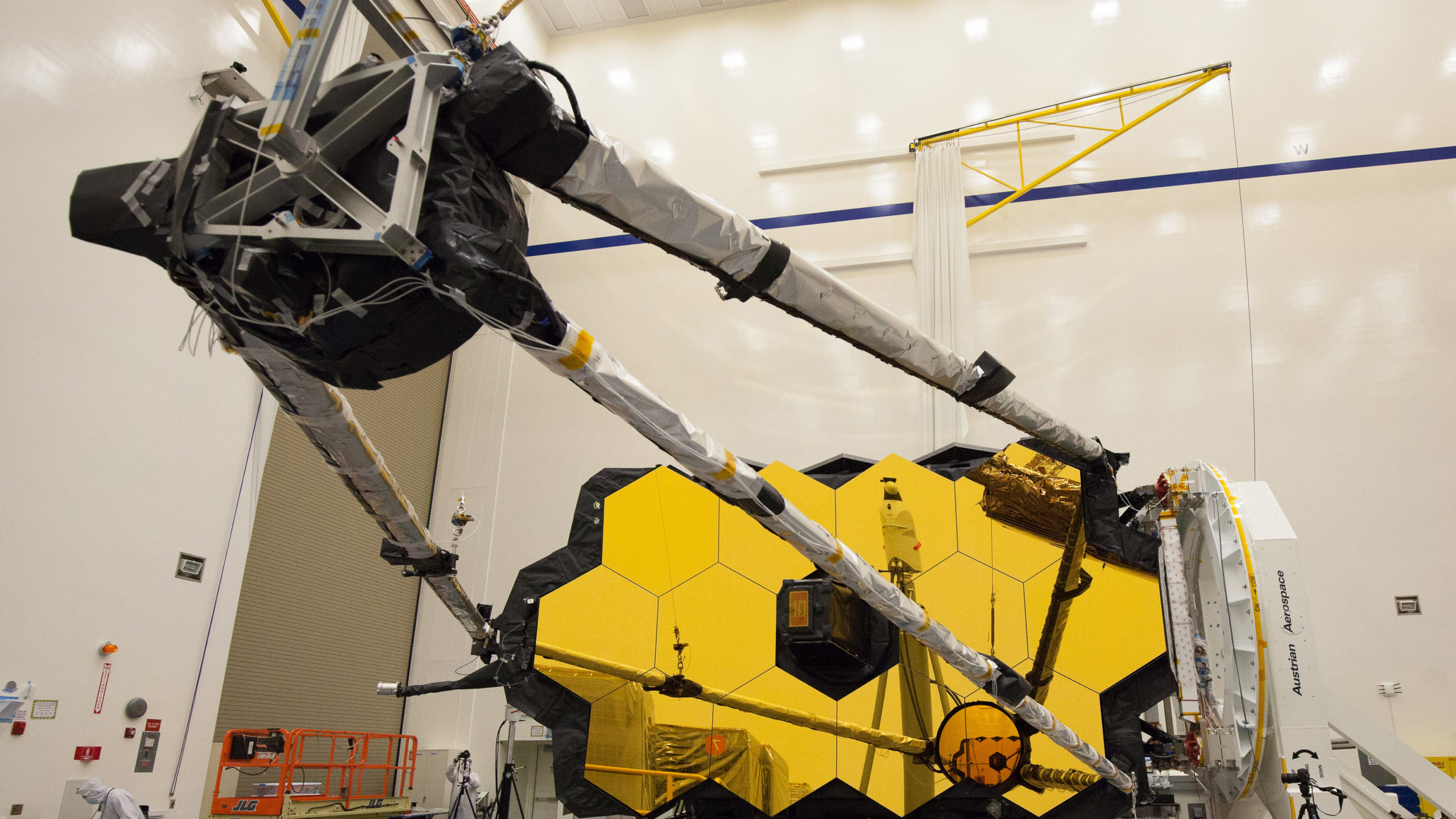 Webb is a robotic mission and will function as a cosmic time machine peering back to nearly the beginning of time to see first light and explore the formation of the first stars and galaxies in our Universe in infrared light.
Mission controllers with NASA's James Webb Space Telescope (JWST) had previously successfully completed the deployment, separation and tensioning of the observatory's massive five-layered sunshield to pull them completely taut into final operational position on Jan. 4 – which was considered as the most riskiest of actions of the telescopes entire month-long extremely complicated unfolding sequence following the Christmas morning launch, Dec. 25, 2021, a week and a half ago.
This NASA video details the complex deployment sequence of JWST post launch remotely controlled from Earth:
Video Caption: Engineers on the ground will remotely orchestrate a complex sequence of deployments in the hours and days immediately after the launch of the James Webb Space Telescope. This animation shows the nominal sequence for these deployments. Music Credit: Universal Production Music "Connecting Ideas Instrumental" Credit: NASA's Goddard Space Flight Center
I observed JWST many times while under construction at NASA Goddard Spaceflight Center in Greenbelt, MD, to observe assembly of the primary and secondary mirrors onto the observatory backbone structure at various points.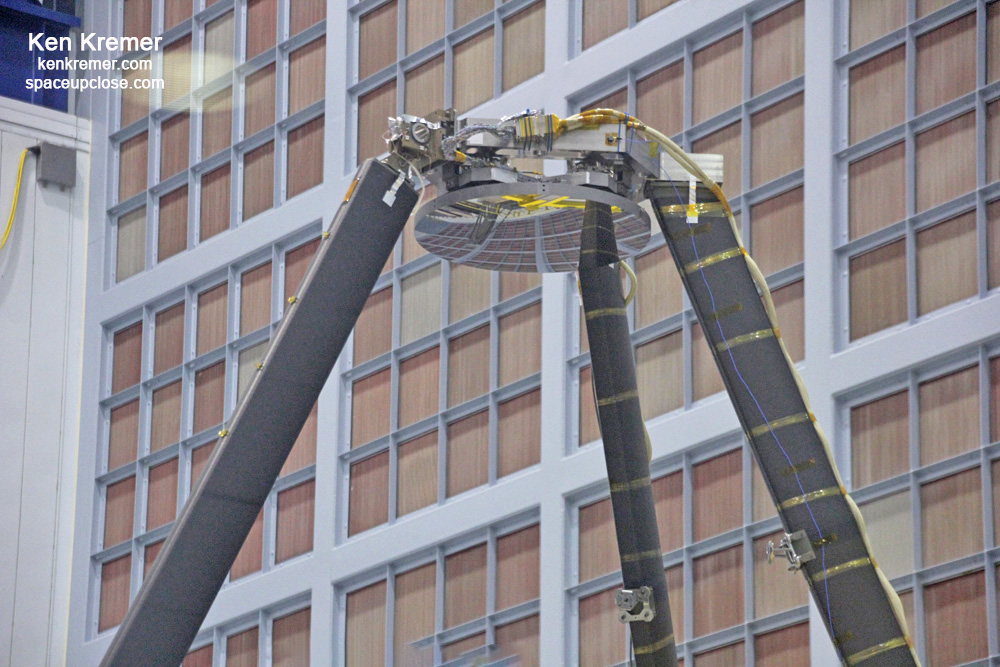 My photos show the secondary mirror before and after installation onto the tripod assembly.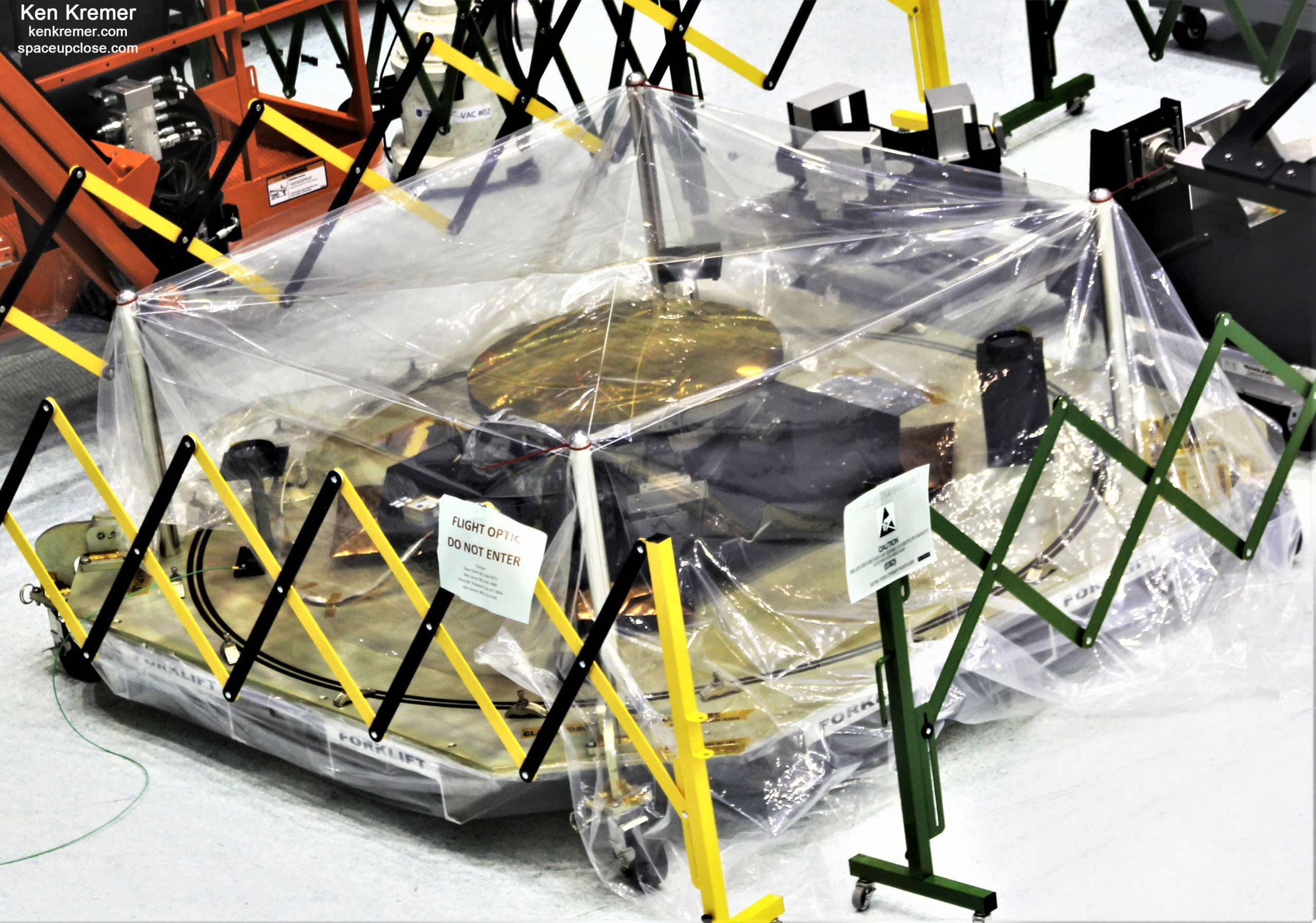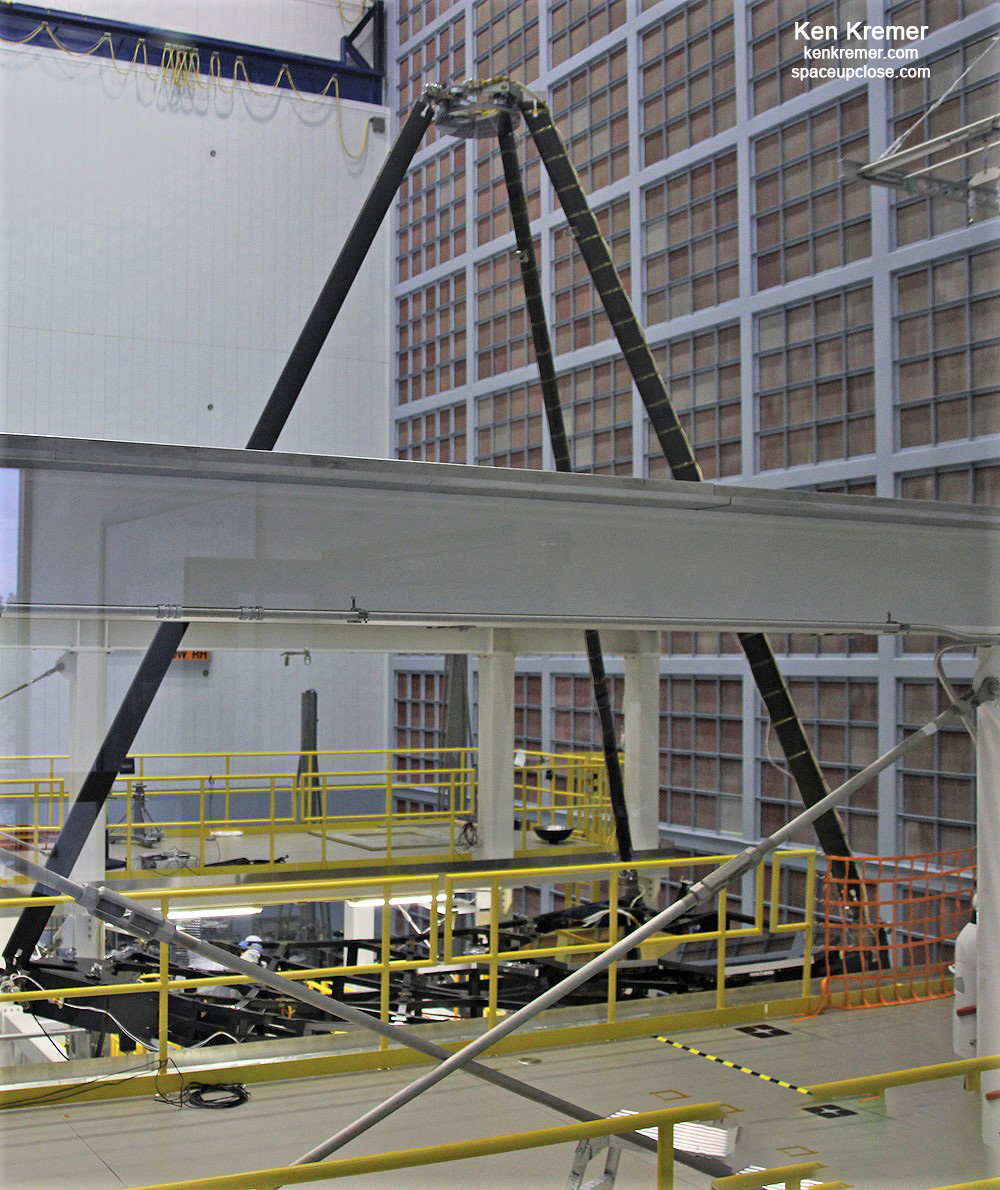 The $9.8 Billion Webb observatory – intricately folded up like origami inside the nose cone – launched at 7:20 a.m. EST (9:20 a.m. GFT  / 1220 GMT / 13:20 CET). Saturday, Dec. 25, on a 55 m (180 ft) tall Arianespace Ariane 5 rocket from Europe's jungle Spaceport at the ELA-3 launch complex in Kourou, French Guiana, on the northeastern coast of South America.
Webb is a joint effort between NASA, ESA (European Space Agency) and CSA (Canadian Space Agency).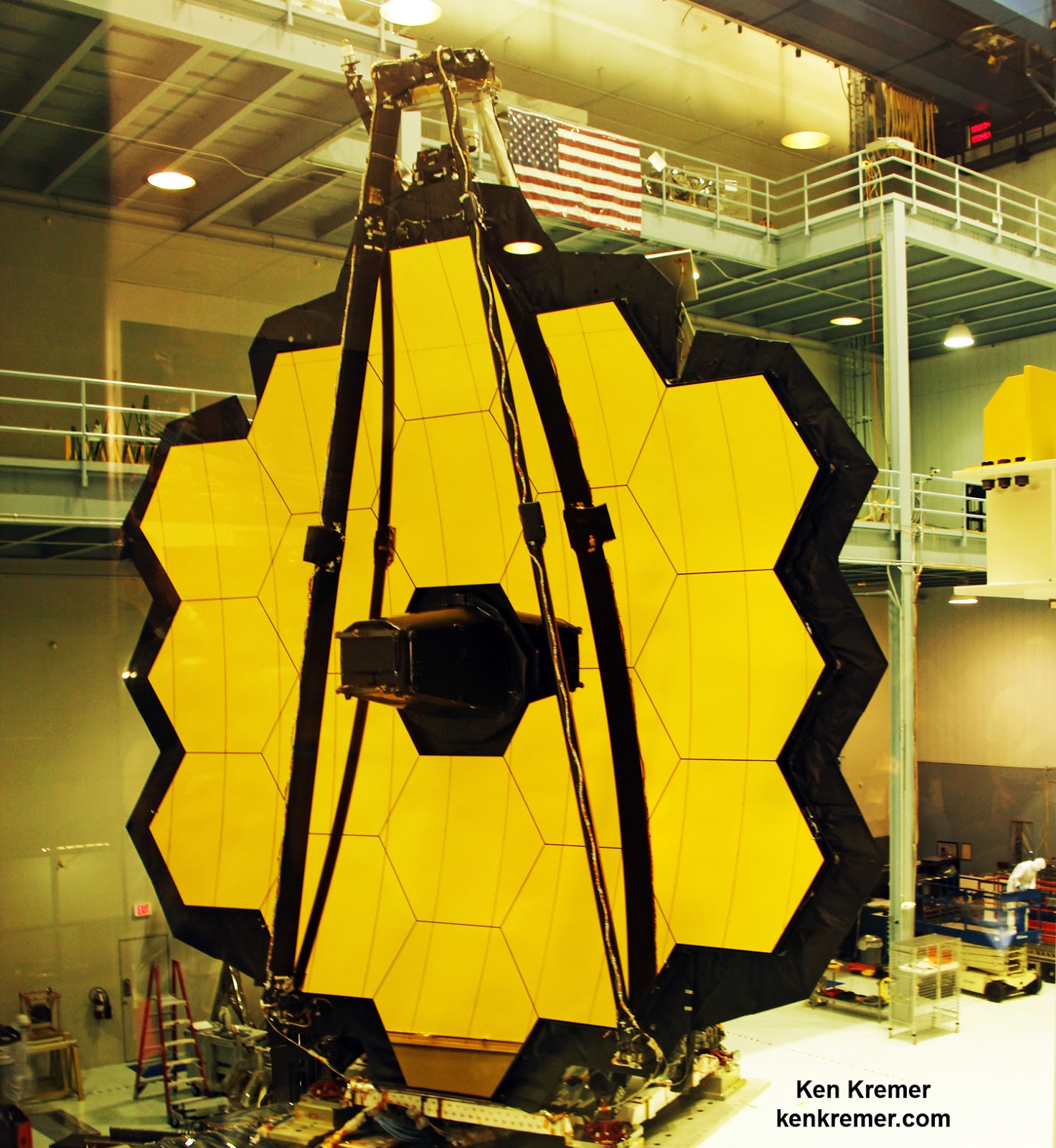 JWST is the largest, most powerful and most complex space telescope ever built.
It is also the most expensive science instrument ever costing nearly $10 Billion
It will operate in a halo orbit at the L2 Lagrange point approx. 1 million miles (1.6 million km) from Earth after liftoff and about a 1-month journey.
It will serve as the scientific successor to NASA's world famous and phenomenally successful Hubble Space Telescope (HST).
"The James Webb Space Telescope represents the ambition that NASA and our partners maintain to propel us forward into the future," said NASA Administrator Bill Nelson.
"The promise of Webb is not what we know we will discover; it's what we don't yet understand or can't yet fathom about our universe. I can't wait to see what it uncovers!"
Webb is in many respects a time machine looking back to the formation of the Universe over 13.5 Billion years ago and how we came to be and evolve over the eons.
Watch this space for my ongoing reports on JWST mission and science.
Watch Ken's continuing reports about JWST, IXPE, DART, SpaceX Crew and Cargo Dragons, Artemis, SLS, Orion and NASA missions, Lucy Asteroid mission, SpaceX Starlink, Blue Origin and Space Tourism, Commercial Crew and Starliner and Crew Dragon and onsite for live reporting of upcoming and recent SpaceX and ULA launches including Crew 1 & 2 & 3, ISS, Solar Orbiter, Mars 2020 Perseverance and Curiosity rovers, NRO spysats and national security missions and more at the Kennedy Space Center and Cape Canaveral Space Force Station.
Stay tuned here for Ken's continuing Earth and Planetary science and human spaceflight news: www.kenkremer.com –www.spaceupclose.com – twitter @ken_kremer – email: ken at kenkremer.com
Dr. Kremer is a research scientist and journalist based in the KSC area, active in outreach and interviewed regularly on TV and radio about space topics.
………….
Ken's photos are for sale and he is available for lectures and outreach events
Please consider supporting Ken's work by purchasing his photos and/or donating at Patreon:
https://www.patreon.com/kenkremer
x