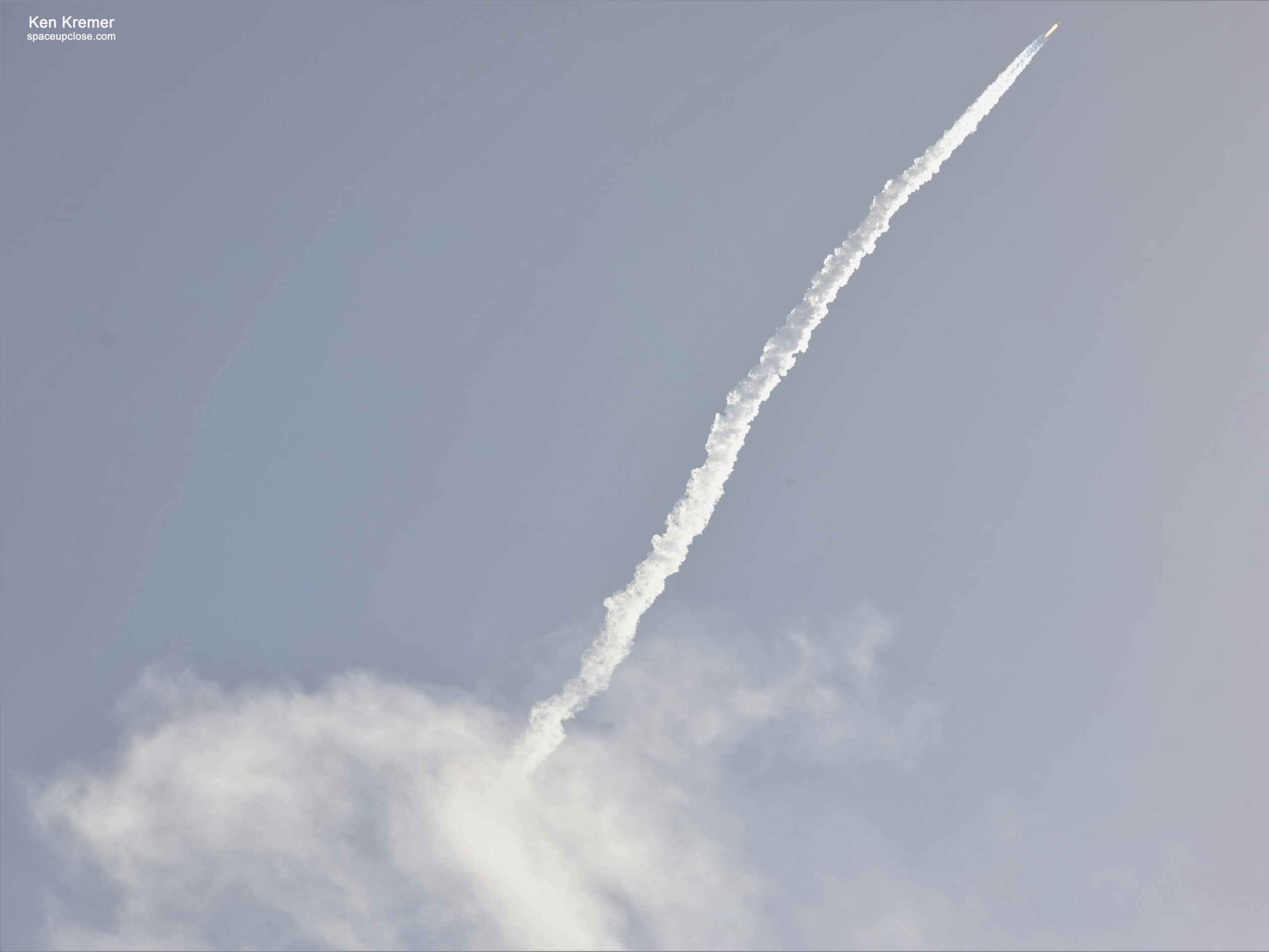 For SpaceUpClose.com & RocketSTEM
TITUSVILLE, FL – A SpaceX Falcon 9 'broomstick' booster blasted off Wednesday morning, March 9, successfully delivering the next batch of Starlink brodband internet satellites to LEO on the Starlink 4-10 mission from Florida's Spaceport – while poking Russia during the launch webcast for its unprovoked deadly aggression in Ukraine and insulting comment from Russian space boss Dmitry Rogozin referring to the Falcon 9 as a 'broomstick'.
"Time to let the American broomstick fly, and hear the sound of freedom," said SpaceX engineer Julia Black in the final moments of the countdown before Wednesday's Starlink mission liftoff.
"LD [Launch director] is go for launch."
A few days prior to the launch Rogozin mocked SpaceX and American rockets when he also announced that Russia would no longer ship rocket engines to the United States – in response the tough economic sanctions slapped on Russia by President Biden and many other countries in response to the ruthless and barbaric invasion of klraine causing thousands of deaths and widespread destruction of Ukrainian cities and towns.
"Let them fly on something else, their broomsticks, I don't know what," Rogozin said on Russian state television.
Launch of the 229 foot tall (70 meter) two stage Falcon 9 took place Wednesday, Mar. 9 at 8:45 a.m. EST, or 1345 GMT from Space Launch Complex 40 (SLC-40) at Cape Canaveral Space Force Station in Florida carrying a payload of 48 Starlink broad band high speed internet satellites to low Earth orbit on the Starlink 4-10 mission – during an instantaneous launch window.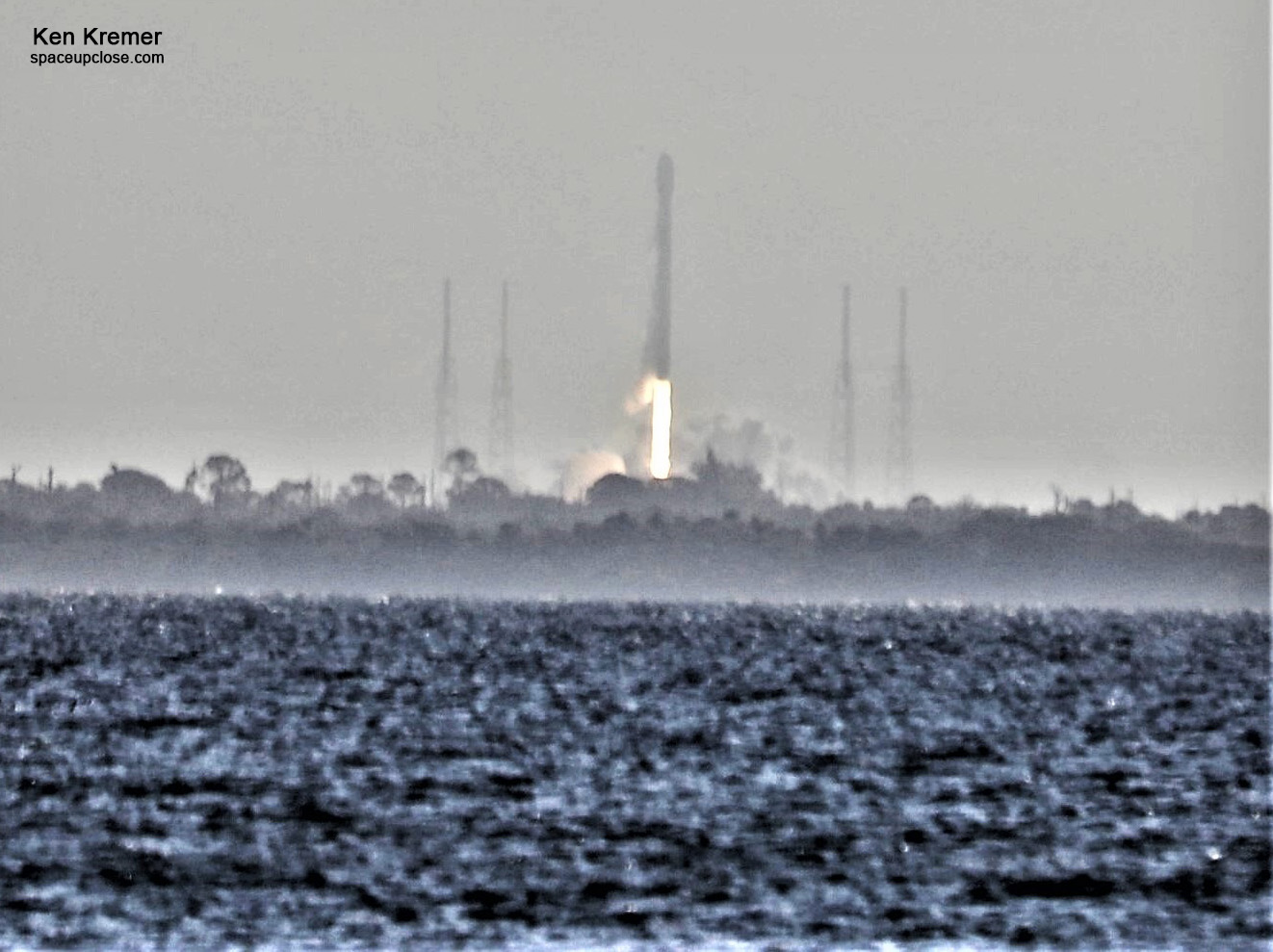 "That [SpaceX] 'broomstick' is working perfect, that broomstick took off and landed," said Dr. Ken Kremer with Space UpClose to WFTV ABC News Orlando on March 9 after the Starlink 4-10 launch and droneship landing.
"Musk & SpaceX are doing great thing sending their Starlink terminals to restore communications [to Ukraine] because you have nothing without communications."
The ULA Atlas V first stage is powered by Russian made RD-180 engines that have now been cut off by Russia.
UKA CEO Tory Bruno stated that he has already stockpiled enough RD-180s to fly out the remainder of the Atlas V launches until its replace by the new Vulcan Centaur rocket.
More vulnerable is the Northrop Grumman Antares rocket which is comprised of a Ukrainian made first stage and powered by Russian made RD-181 engines.
Northrop Grumman only has enough of those for two more launches of their Cygnus resupply ship to the ISS on NASA contracted cargo flights.
The cluster of 9 Merlin 1D first stage engines generated 1.7 million pounds of liftoff thrust upon ignition fueled by LOX and RP-1 propellants.
The rocket flew on a southern trajectory along Florida's eastern coast over the Atlantic Ocean and may have been visible from cities like Miami and Fort Lauderdale.
The first stage 'broomstick' booster tail number B1052.4 supporting this mission previously launched three times on Arabsat-6A, STP-2, and COSMO-SkyMed Second Generation FM2 (CSG-2).
Enjoy our launch photos of the Falcon 9 booster B1052.4 on Starlink 4-10 mission taken by Ken Kremer and Jean Wright for Space UpClose.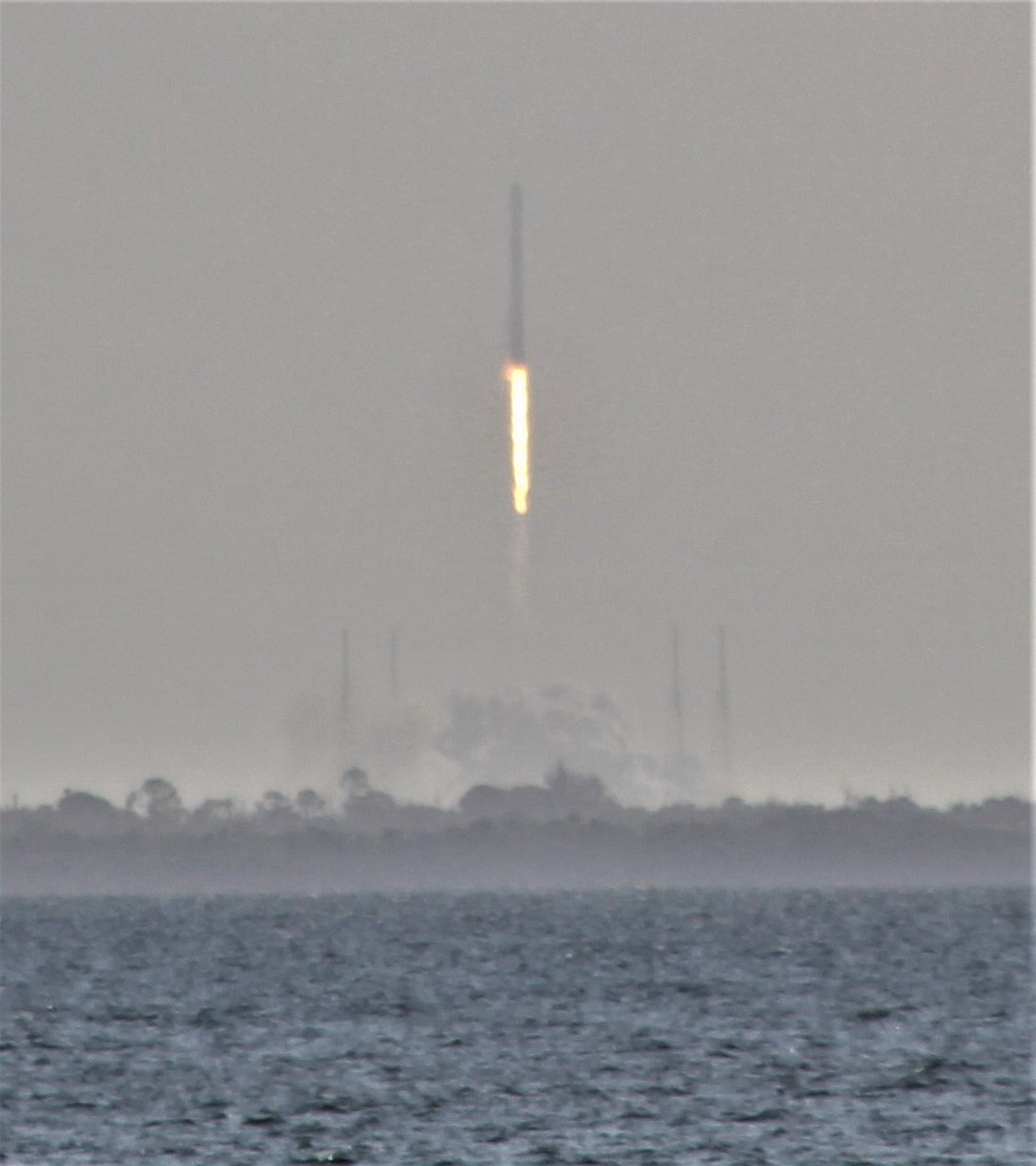 Wednesday mornings launch was greeted with very strong ground haze and low level clouds and the Falcon 9 flew right into strong sun glare and just above the sun as it ascended on a southeasterly trajectory to orbit
A big enthusiastic crowd gather at our viewing location at Kennedy Point Park  across the Indian River Lagoon in Titusville, Florida.
Wednesdays launch also counts as SpaceX's 10th Falcon 9 launch in the first 10 weeks of 2022 – continuing a blistering pace of one a week and keeps SpaceX on track to potentially reach their incredible goal of about 50 launches total in 2022. Significantly more than the record breaking 31 launches achieved in 2021.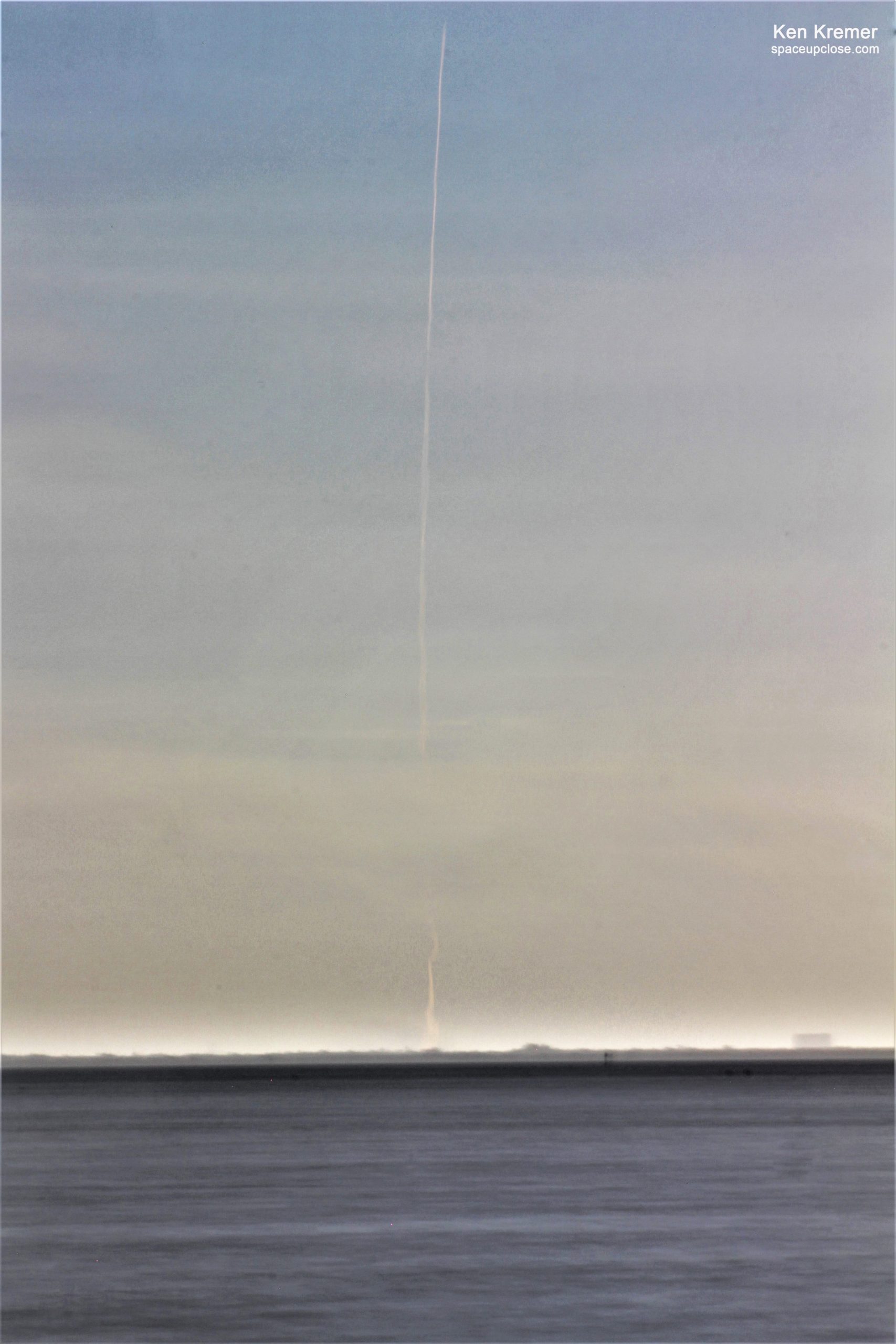 Following stage separation, SpaceX landed Falcon 9's 16 story tall first stage landed on the 'A Shortfall of Gravitas' (ASOG) ocean going droneship some eight and a half minutes after launch – which was prepositioned in the Atlantic Ocean near the Bahamas.
Falcon 9's first stage has landed on the A Shortfall of Gravitas droneship

— SpaceX (@SpaceX) March 9, 2022
B1052 is the first Falcon Heavy triple stick side core booster to be converted to launching alone as a single stick Falcon 9.
It served as the Falcon Heavy side core on the Arabsat-6A and STP-2.
B1052 most recently launched the CSG-2 mission for Italy on Jan. 31, 2022
This Starlink 4-10 mission also counts as the 7th SpaceX Starlink mission of 2022
It also counts as the 40th mission with Starlink satellites as the primary payload.
The 48 flat-paneled and flat packed Starlink satellites were released from the upper stage at T+1 hour 5 minutes, 52 seconds at an inclination of 53.2 degrees to the equator and an near circular altitude ranging between 189 miles and 197 miles (305-by-317 kilometers)
However the live SpaceX webcast ended before the deployment, so confirmation by SpaceX didn't come until a tweet later.
Deployment of 48 Starlink satellites confirmed

— SpaceX (@SpaceX) March 9, 2022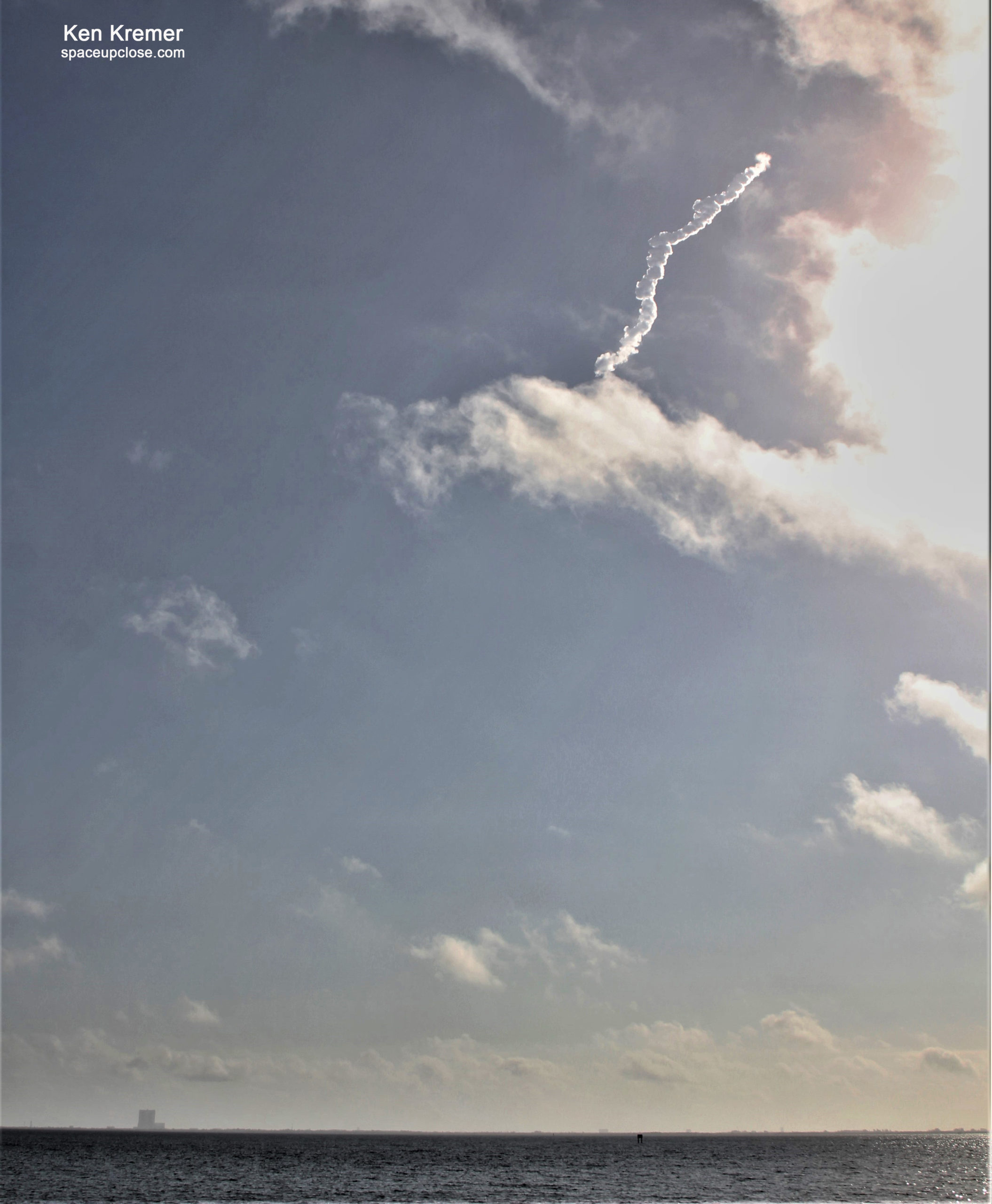 The roughly quarter ton solar powered Starlink satellites will use their krypton fueled ion thrusters to reach their operational altitude of about 335 miles (540 kilometers).
The payload comprises 48 upgraded Starlink internet communications satellites manufactured by SpaceX in their Redmond, Washington production facility – enlarging the existing and burgeoning broadband constellation to over 2200 launched thus far.
This Starlink 4-10 mission counts as the 40th Starlink internet satellite mission and raises the total number of Starlink satellites launched to 2,282 including prototypes and test versions.
A running tally is maintained by astrophysicist Jonathan McDowell of Harvard
https://planet4589.org/space/stats/star/starstats.html
Approximately 2062 of them remain in orbit and 2037 are still working and about 1564 are actually operational
The SpaceX Falcon 9 flew away and aloft on a southerly trajectory heading southeast and just north of the Bahamas at an inclination of 53.2 degrees into the second of five Starlink orbital 'shells.'
The goal of SpaceX's Starlink constellation is to provide low cost, high-speed, low-latency broadband connectivity around the world.
SpaceX is targeting an initial constellation of about 4,400 satellites authorized by the FCC that could grow to literally 30,000 or more over time.
In recent days SpaceX CEO Elon Musk has started Starlink internet service in Ukraine following an urgent request from the Ukrainian government.
SpaceX has shipped Starlink internet terminals to Ukraine to restore service destroyed by the horrific, deadly and catastrophic Russian invasion started by President Putin of Russia
Furthermore SpaceX has to urgently redirect their efforts to increase cyber security due to jamming threats, Musk said via tweet.
SpaceX reprioritized to cyber defense & overcoming signal jamming.

Will cause slight delays in Starship & Starlink V2.

— Elon Musk (@elonmusk) March 5, 2022
The integrated Falcon 9 and nose cone encapsulating the payload of 48 Starlinks had been raised at pad 40 several days prior to launch which was also delayed a day due to unfavorable booster recovery weather – as seen in my photos from about 12 miles away across the Indian River Lagoon in Titusville
Ken's post launch commentary about the SpaceX launch and 'broomsticks' featured on WFTV ABC 9 News Orlando
"That [SpaceX] 'broomstick' is working perfect, that broomstick took off and landed," said Dr. Ken Kremer with Space UpClose to WFTV ABC News Orlando on March 9 after the Starlink 4-10 launch and droneship landing.
"Musk & SpaceX are doing great thing sending their Starlink terminals to restore communications [to Ukraine] because you have nothing without communications"
https://www.wftv.com/news/local/let-american-broomstick-fly-spacex-launch-appears-take-jab-head-russian-space-agency/FAMJD4IUHBHCVJV63ZNSIND4QA/
Watch Ken's continuing reports about SpaceX  Starlink, SpaceX Crew and Cargo Dragons, Artemis, SLS, Orion and NASA missions, DART,  Lucy Asteroid mission, Blue Origin and Space Tourism, Commercial Crew and Starliner and Crew Dragon and onsite for live reporting of upcoming and recent SpaceX and ULA launches including Crew 1 & 2 & 3, ISS, Solar Orbiter, Mars 2020 Perseverance and Curiosity rovers, NRO spysats and national security missions and more at the Kennedy Space Center and Cape Canaveral Space Force Station.
Stay tuned here for Ken's continuing Earth and Planetary science and human spaceflight news: www.kenkremer.com –www.spaceupclose.com – twitter @ken_kremer – email: ken at kenkremer.com
Dr. Kremer is a research scientist and journalist based in the KSC area, active in outreach and interviewed regularly on TV and radio about space topics.
………….
Ken's photos are for sale and he is available for lectures and outreach events
Please consider supporting Ken's work by purchasing his photos and/or donating at Patreon:
https://www.patreon.com/kenkremer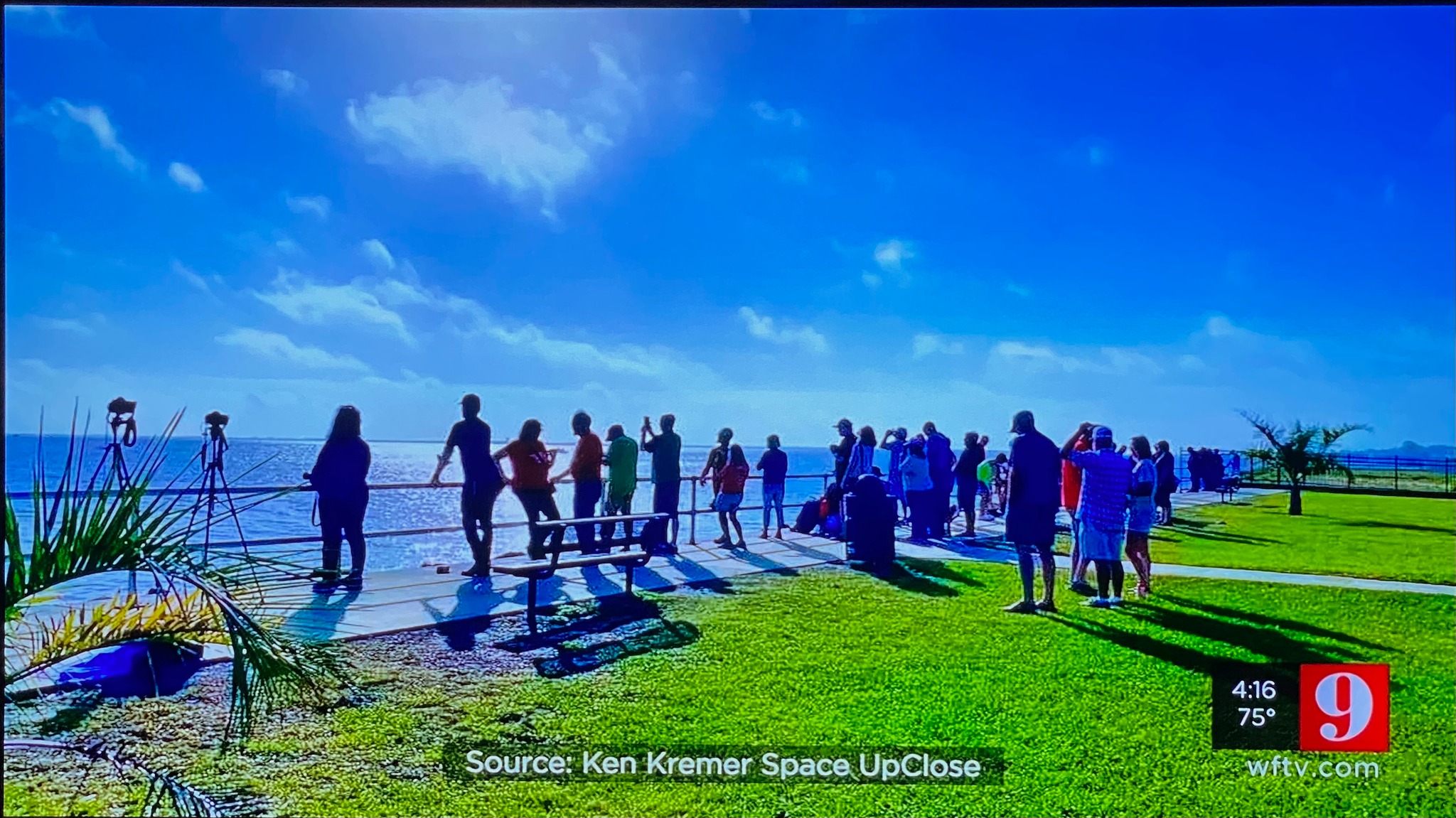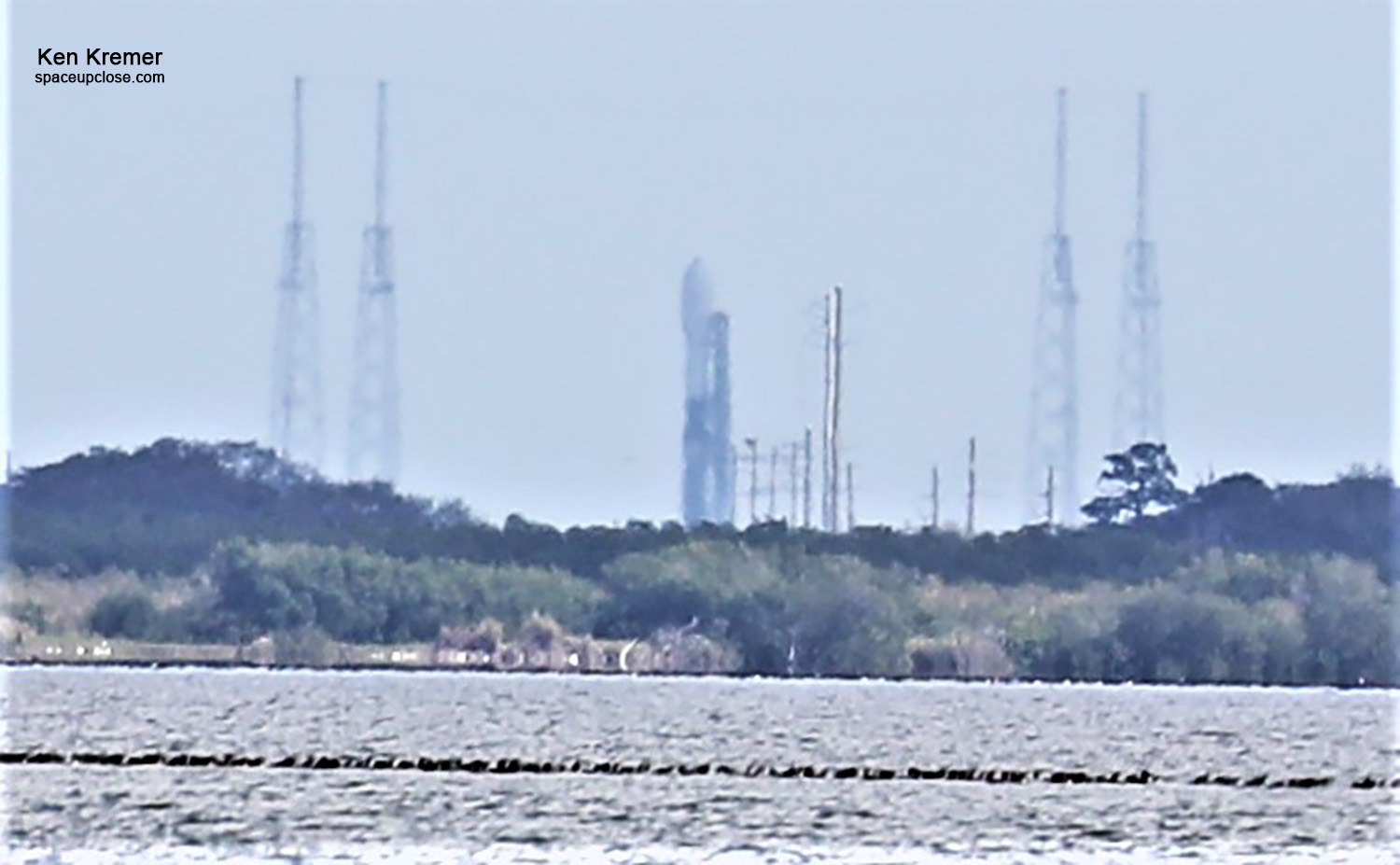 x