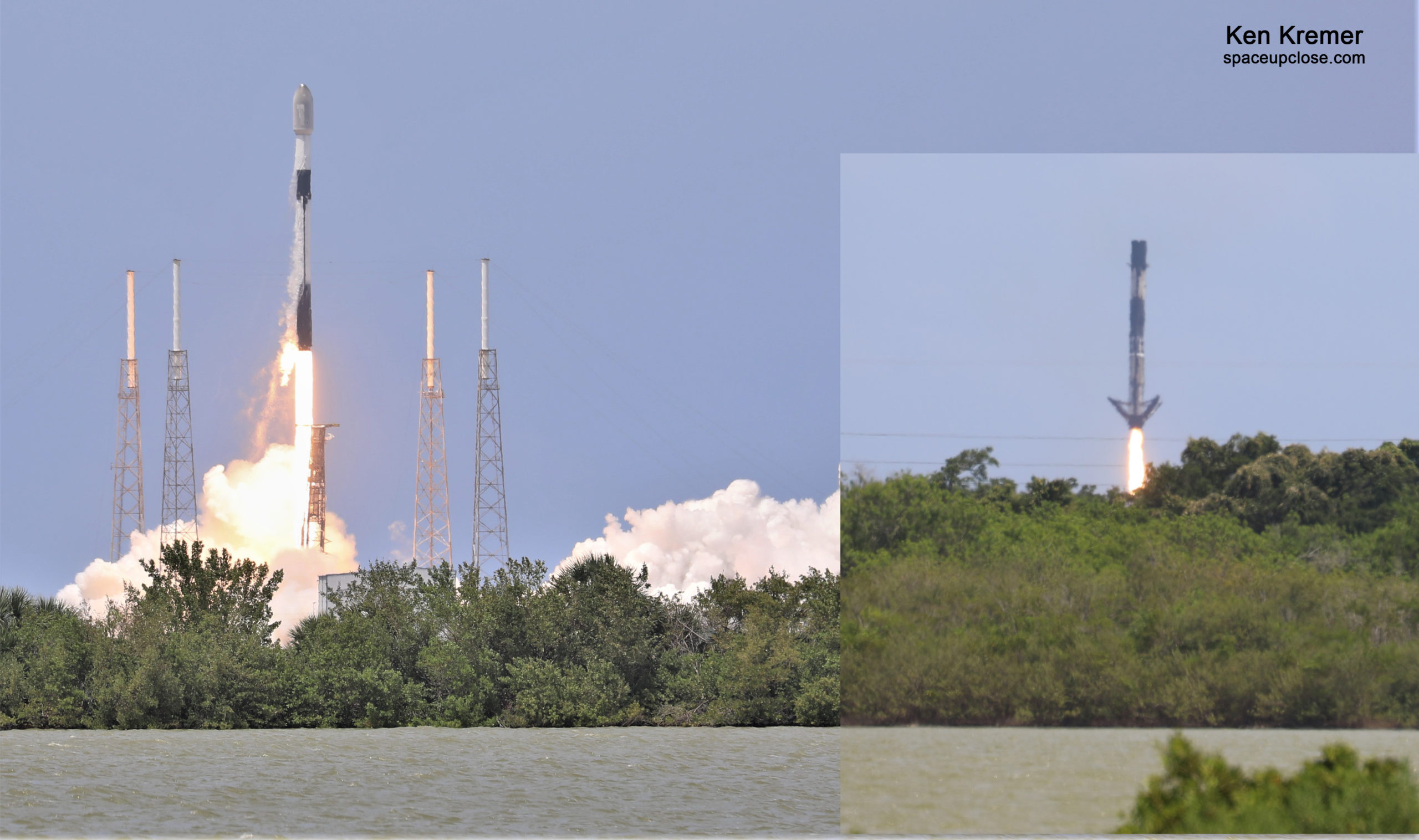 For SpaceUpClose.com & RocketSTEM
CAPE CANAVERAL SPACE FORCE STATION, FL – SpaceX successfully launched it 5th dedicated commercial smallsat rideshare mission carrying 59 spacecraft of various shapes and sizes to low Earth orbit – including for NASA – as well as the ashes of 47 humans in a payload sponsored by Celestis on Wednesday afternoon, May 15 soaring southwards from Florida's Spaceport
The 1st stage booster for the mission known as Transporter-5 was recycled for the 8th time and also made a dramatic return to Cape Canaveral and nailed the upright soft landing eight minutes later – sending multiple sonic booms screaming across the Space Coast region and rattling windows midday as the Falcon 9 touched down.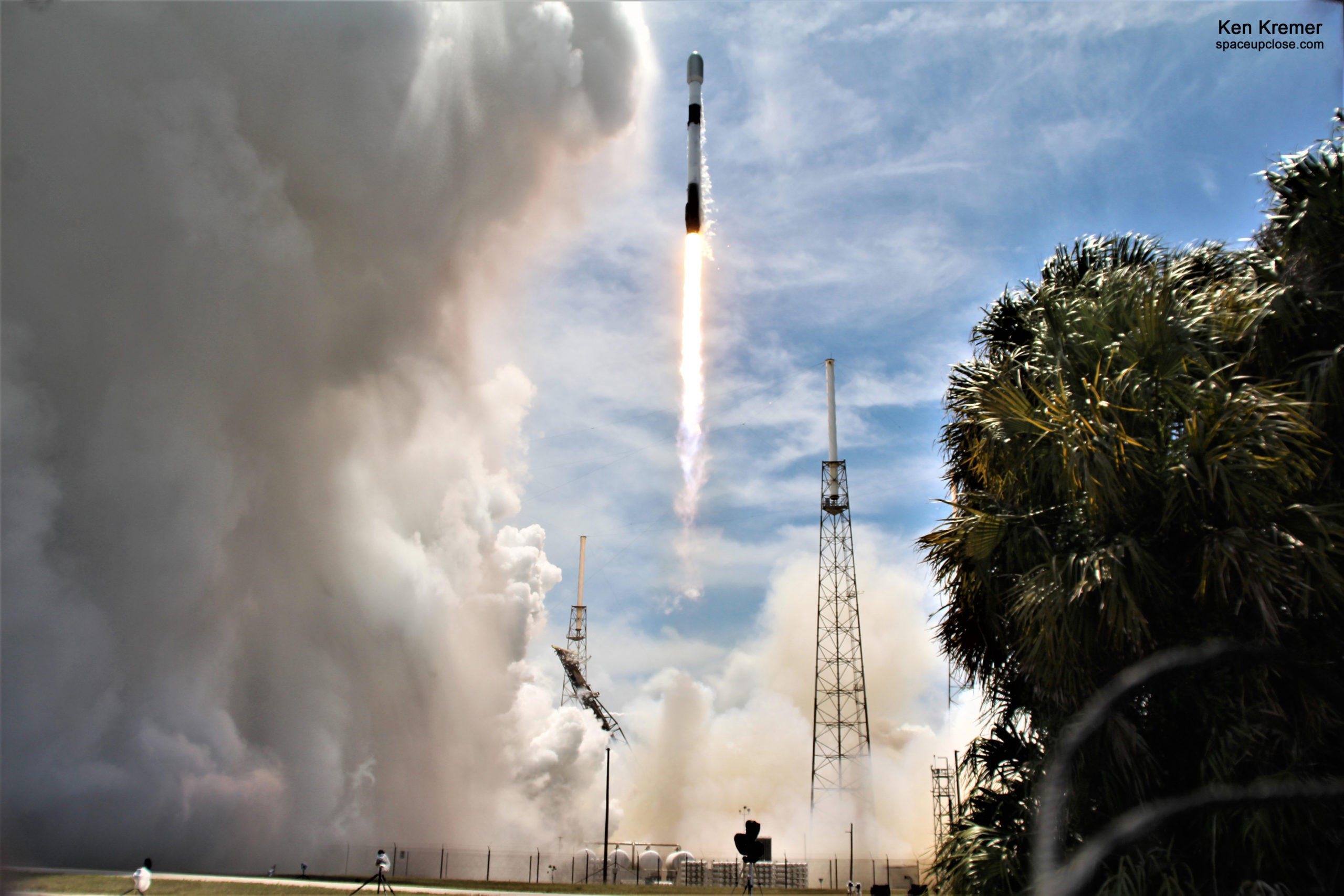 See our lead image mosaic composite of the launch and landing as seen from onsite at Cape Canaveral Space Force Station approximately 8 minutes and 100 degrees of view apart.
Below is a 50 second daylight streak composite of the launch and landing also approximately 8 minutes and 100 degrees of view apart and from the same spot on cape Canaveral.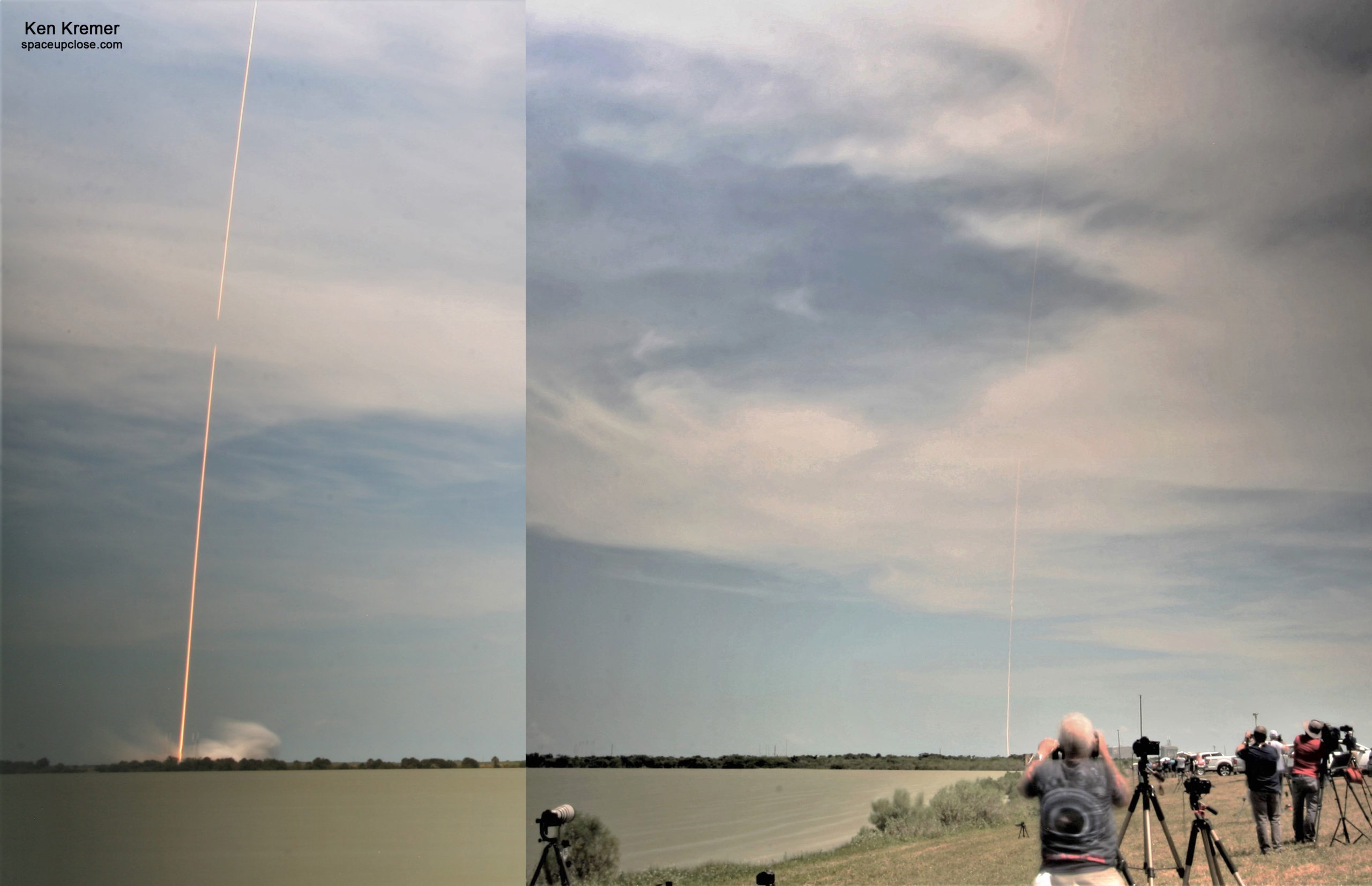 SpaceX continues to see exceptional demand for smallsat mission launches despite growing competition from other providers such as RocketLab
Liftoff of the 229-foot-tall (70-meter) rather sooty SpaceX recycled Falcon 9 on the Transporter-5 mission took place at 2:35 p.m. EDT, or 1835 GMT, on Wednesday, May 25, from Space Launch Complex 40 (SLC-40) at Cape Canaveral Space Force Station in Florida about eight minutes into the 57-minute launch window to a sun-synchronous orbit
All nine  Merlin 1D first stage engines ignited with 1.7 million pounds of thrust fueled by liquid oxygen (LOX) and RP-1 refined kerosene propellants.
Video Caption: SpaceX Falcon 9 lifts off on Transporter-5 commercial rideshare mission with 59 smallsats from Space Launch Complex 40 (SLC-40) at Cape Canaveral Space Force Station in Florida at 2:35 p.m. EDT, May 25, 2022 – in this remote video place at pad 40. 8th launch and landing for F9 first stage B1061. Credit: Ken Kremer/spaceupclose.com
The SpaceX Falcon 9 reused rocket designated B1061 performed flawlessly and was visible for some time darting in between wispy clouds – rumbling loudly as it thundered almost overhead on the southern trajectory.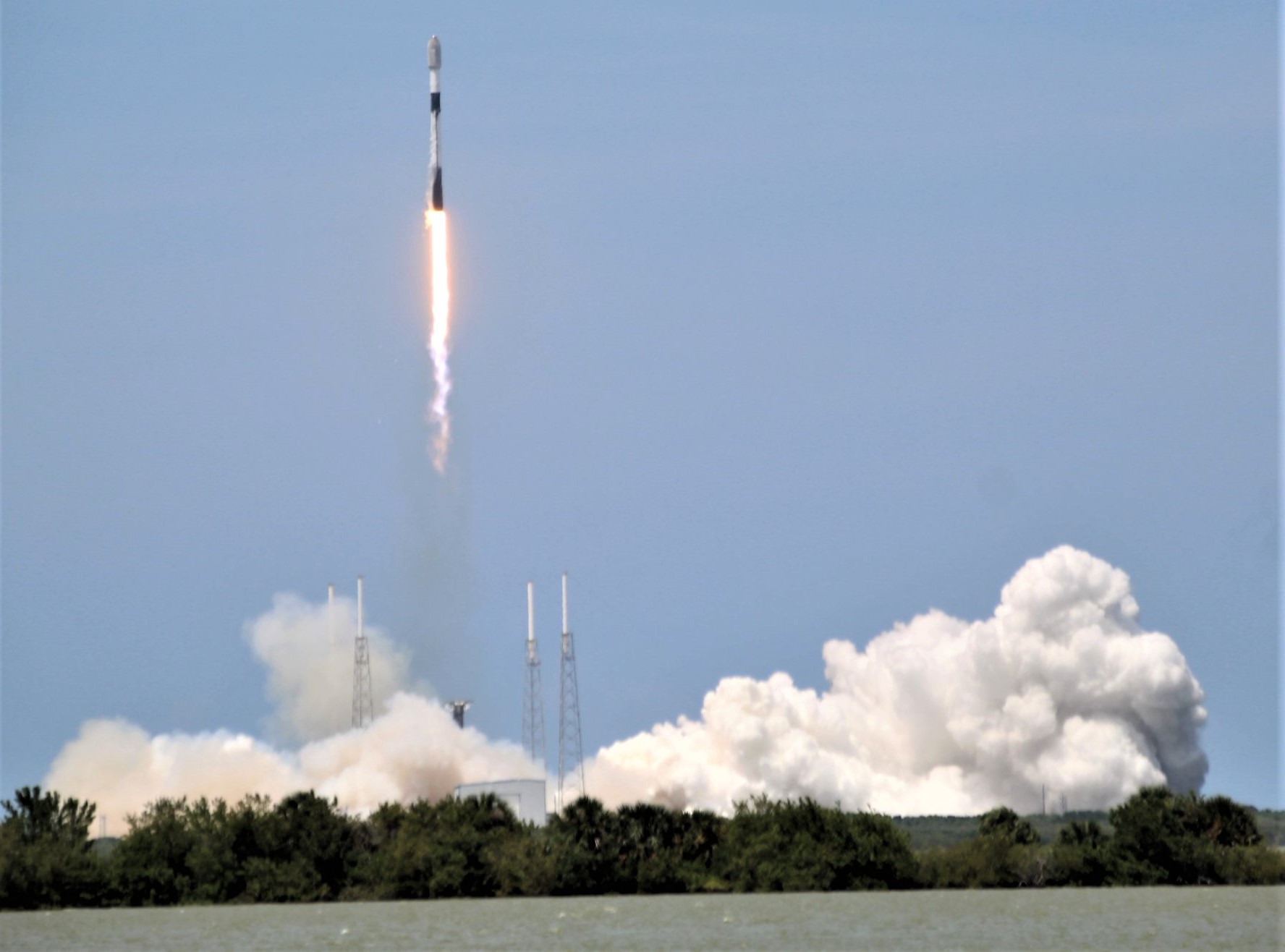 On board this flight were 59 spacecraft, including including CubeSats, microsats, non-deploying hosted payloads, and orbital transfer vehicles.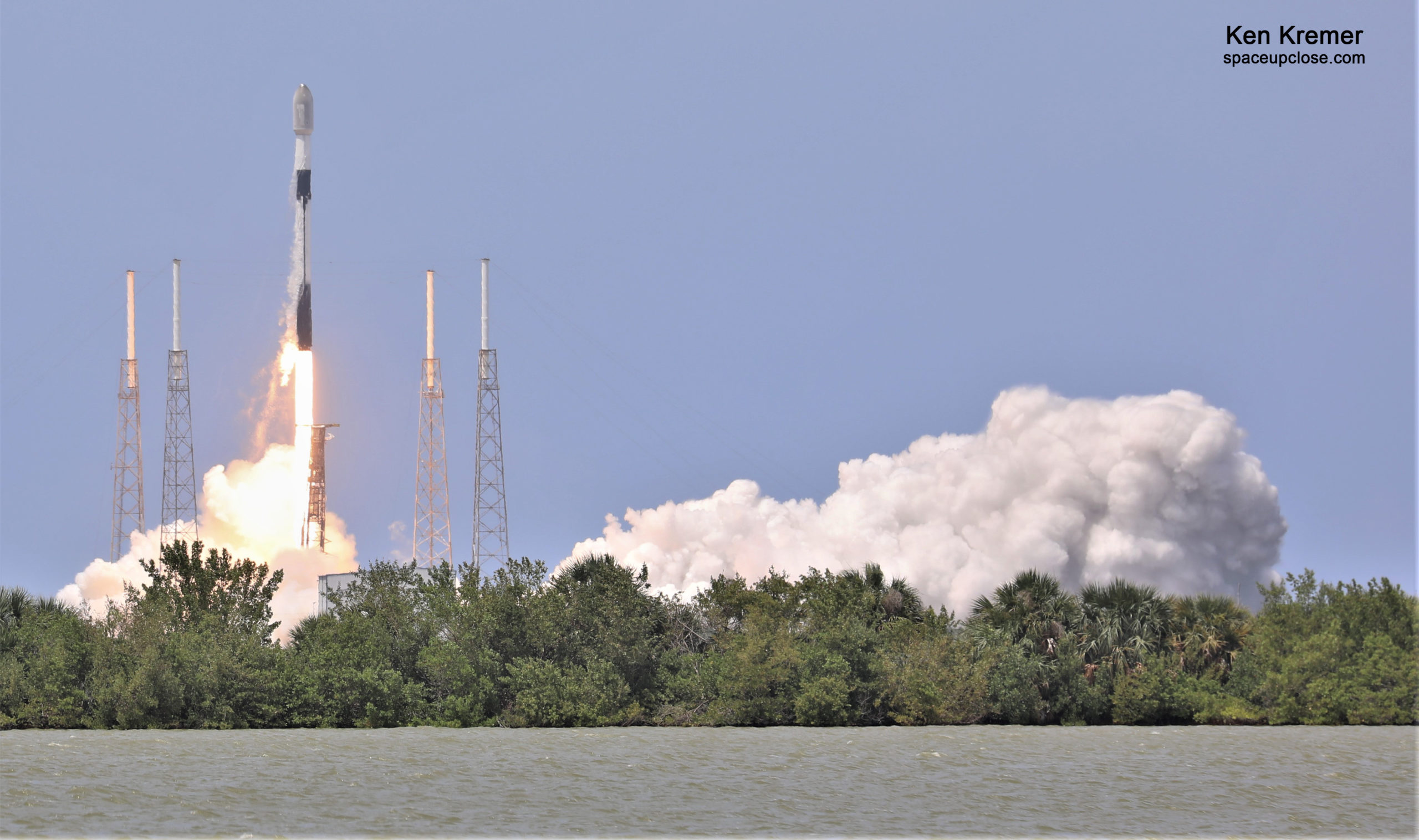 Enjoy our photos of the SpaceX Falcon 9 for Transporter 5 launch and prelaunch vertical at pad 40 taken by the Space UpClose team of Ken Kremer and Jean Wright.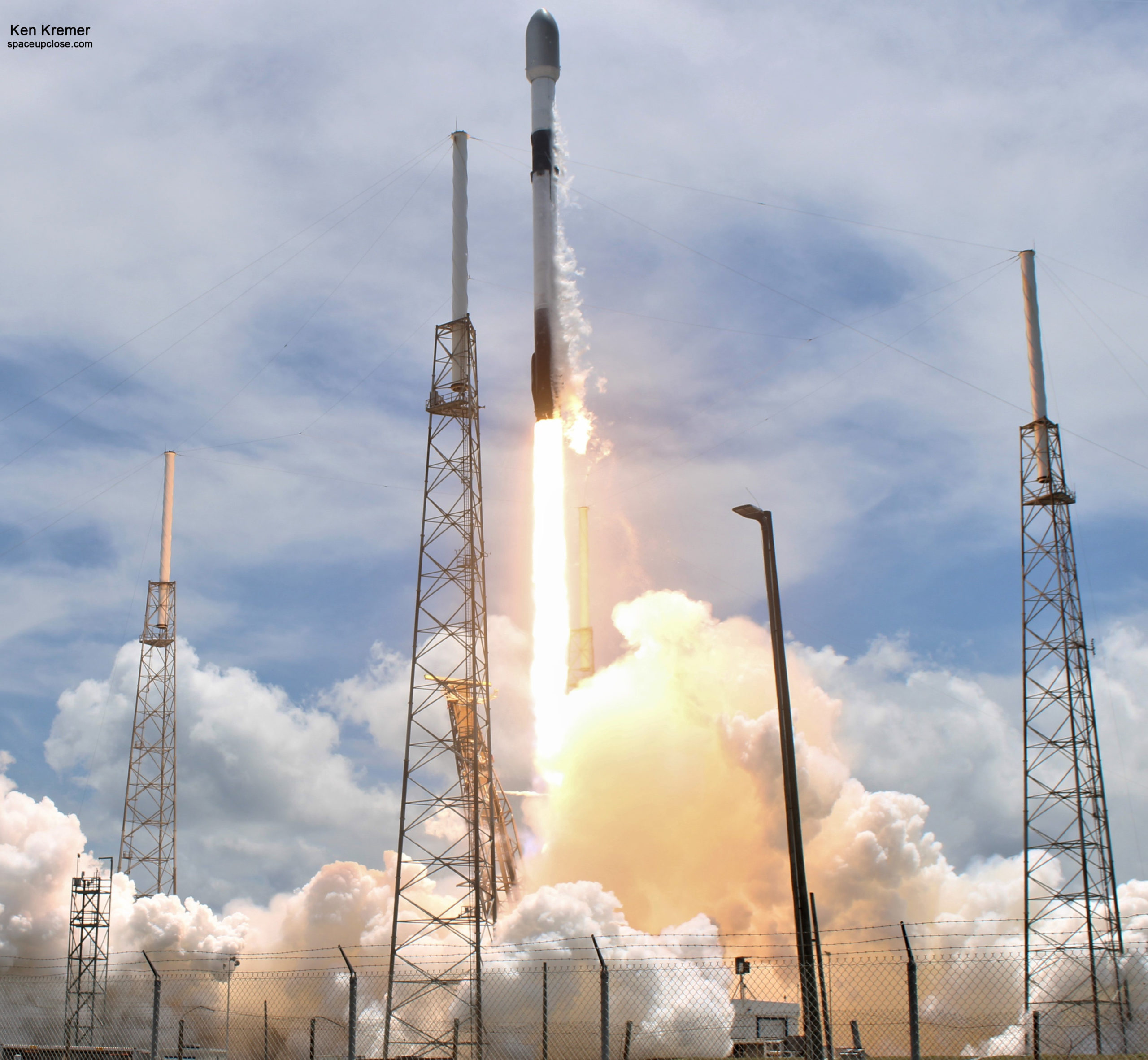 All 59 payloads were deployed as scheduled:
Rideshare deployment sequence complete

— SpaceX (@SpaceX) May 25, 2022
Thus the B1061 booster has now flown to space and back eight times.
The Falcon 9 previously supported launch of Crew-1, Crew-2, SXM-8, CRS-23, IXPE, one Starlink mission, and the prior rideshare mission Transporter-4 last month in April.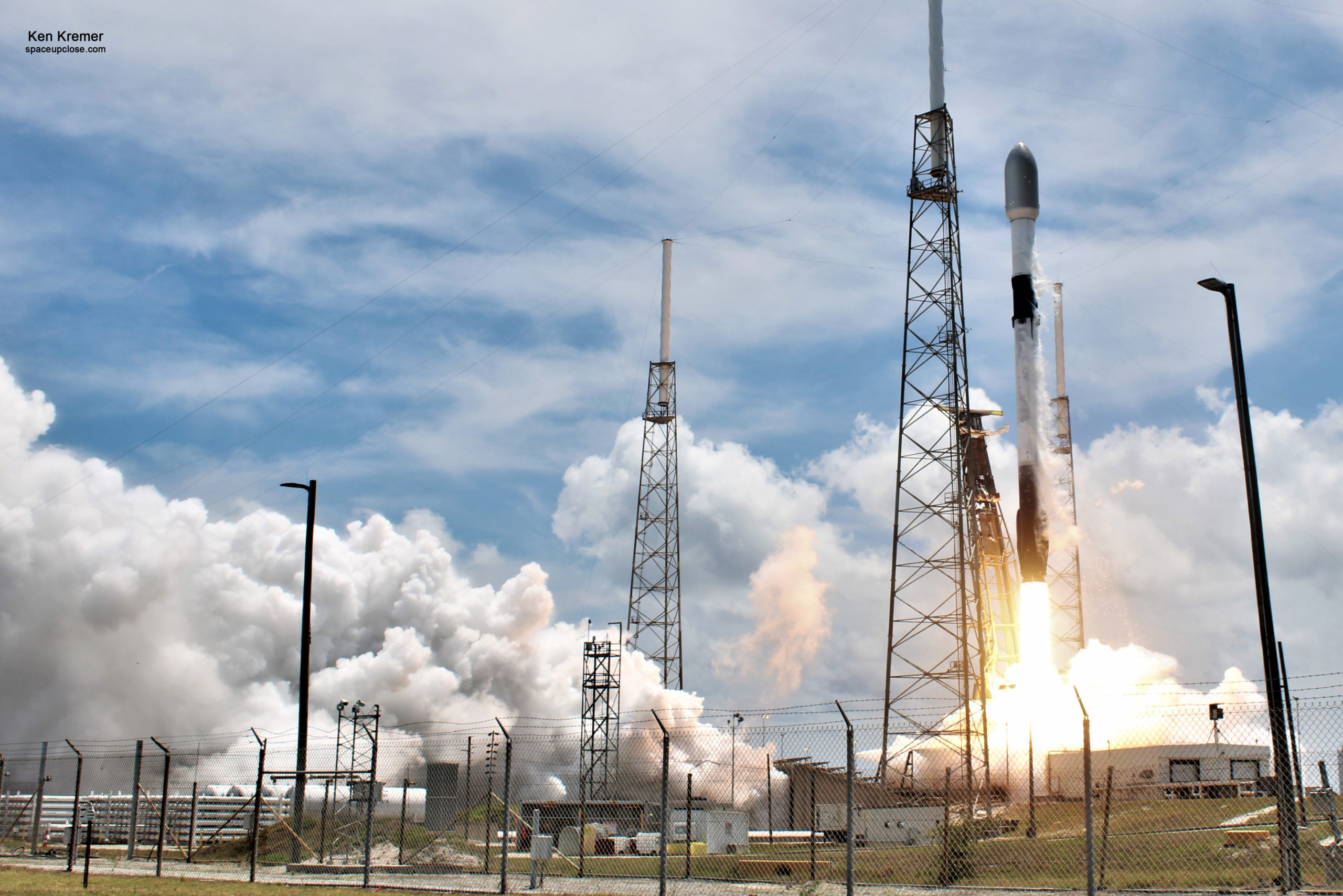 Following stage separation, SpaceX landed Falcon 9's first stage on Landing Zone 1 (LZ-1) at Cape Canaveral Space Force Station.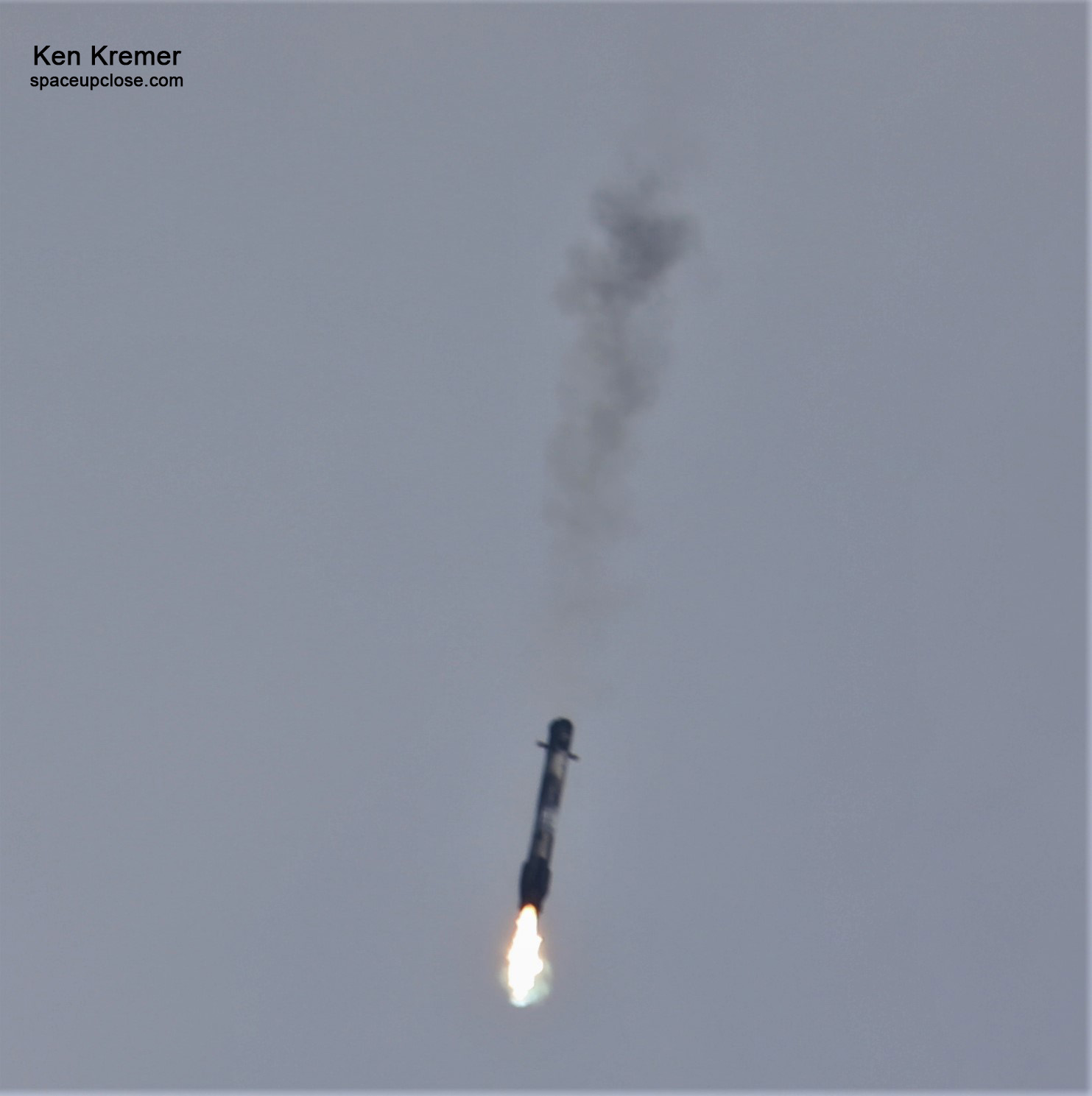 T5 counted as the 25th SpaceX launch and landing of 2022:
Falcon 9's first stage has landed on Landing Zone 1 – SpaceX's 22nd launch and landing of 2022! pic.twitter.com/wfj4AbrTk4

— SpaceX (@SpaceX) May 25, 2022
Overall this counts as the third rideshare mission of the year for SpaceX following Transporter 3 in January and Transporter-4 in April.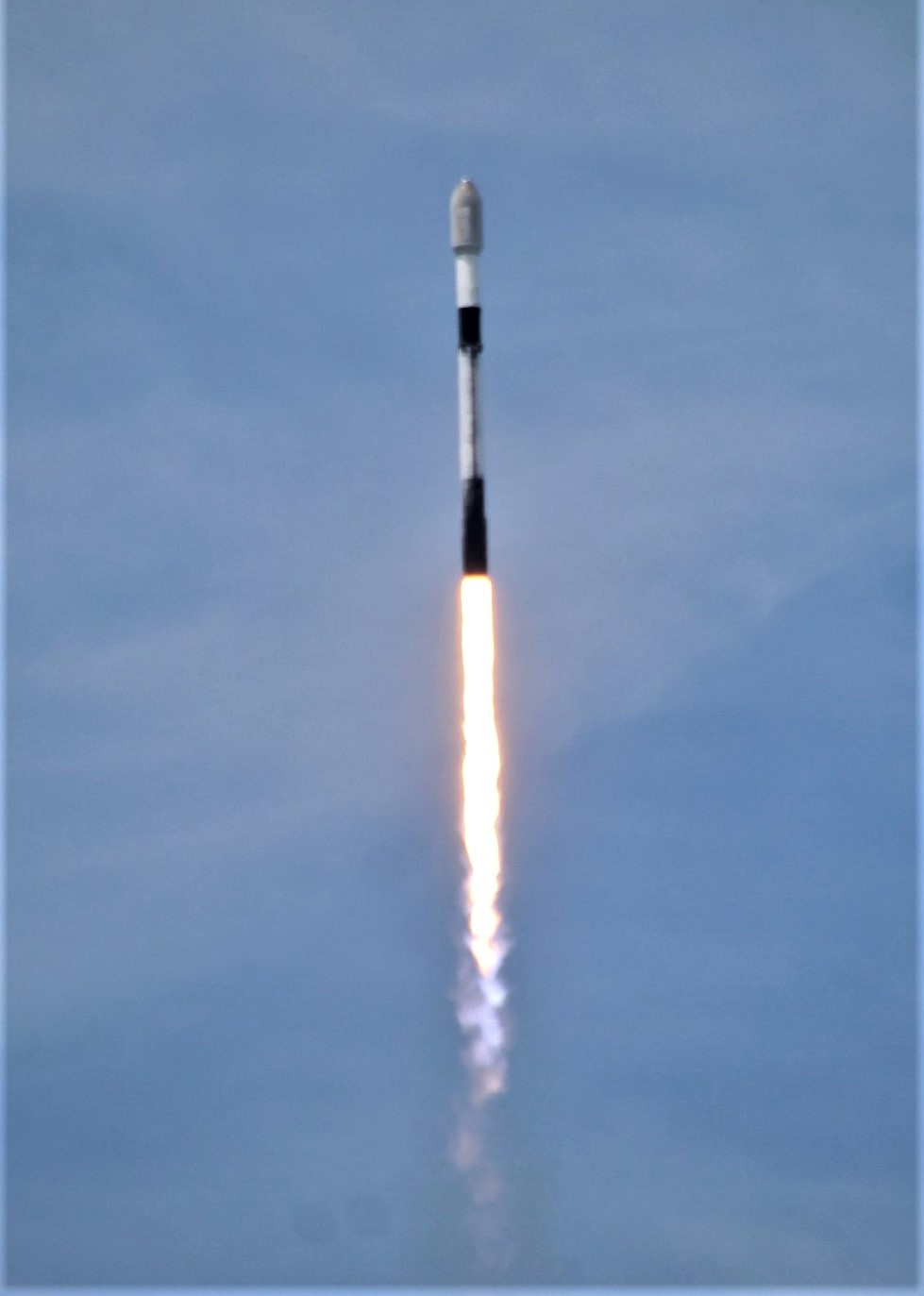 The next Falcon 9 smallsat launch is scheduled for October
The next two SpaceX launches are schedules for June 7 & 9 on the NileSat and CRS-25 cargo resupply mission for NASA to the ISS.
Here are details about the six spacecraft aboard designed and built managed by Terran Orbital representing four missions and three customers including NASA, Fleet Space and GeoOptics: 
NASA CubeSat Proximity Operations Demonstration (CPOD)
The CPOD project is being led by Terran Orbital with funding from NASA's Small Spacecraft Technology Program within NASA's Space Technology Mission Directorate. The technology demonstration mission will validate the technologies needed to support rendezvous, proximity operations, docking (RPOD), servicing, and formation flight by utilizing a pair of identical 3-unit (3U) CubeSats – leveraging their inherently lower vehicle and launch costs.
NASA Pathfinder Technology Demonstrator 3 (PTD-3)
PTD-3 is a 6-unit (6U) CubeSat built and integrated by Terran Orbital to host and support launch and on-orbit operations of the TeraByte InfraRed Delivery (TBIRD) payload funded by NASA's Space Communications and Navigation (SCaN) program and developed by MIT Lincoln Laboratory (MIT LL). The TBIRD mission is the second mission in the PTD series funded by the Small Spacecraft Technology Program in NASA's Space Technology Mission Directorate. The mission will demonstrate a space-to-ground data transfer capability at orders of magnitude faster than previously demonstrated technologies. This technology could open doors to large volume data communications and data accessibility for advanced space exploration— delivering multiple terabytes of data per day to a single ground station.
Fleet Space CENTAURI-5
The CENTAURI-5 spacecraft is part of a constellation commissioned by Fleet Space Technologies to deliver global connectivity solutions specifically designed for the energy, exploration, and resource industries. Tyvak International, a Terran Orbital Corporation, designed and developed the spacecraft. Fleet Space is providing the payload that consists of the world's first 3D printed all-metal patch antenna array combined with Digital Beamforming in S-Band frequency.
GeoOptics CICERO-2 Vehicle 1 and Vehicle 2
GeoOptics Vehicles 1 and 2 are the first phase of a next-generation satellite constellation – CICERO-2 – to form a unified Earth observatory allowing governments, industry, and individual stakeholders to monitor and prepare for the many impacts of climate change. These 6U XXL size spacecraft were designed and developed by Terran Orbital's international arm, Tyvak International, in Torino, Italy. GeoOptics's payload – Cion – is a best-in-class Global Navigation Satellite System (GNSS) Radio Occultation (RO) system and is a miniaturized version of the NASA/JPL developed "TriG" payload.
"Terran Orbital designs, builds, and integrates satellite solutions that help solve some of the world's most complex problems," said Terran Orbital Co-Founder, Chairman, and Chief Executive Officer Marc Bell.
"CPOD, PTD-3, CENTAURI-5, and the CICERO-2 vehicles feature game-changing technologies that will greatly benefit the ways we measure and observe activity on Earth. Communicating this data in support of future mission capabilities will ultimately save and improve lives. We look forward to fostering our partnerships with NASA, GeoOptics, Fleet Space, MIT Lincoln Laboratories, and SpaceX as we continue to deliver groundbreaking and life-changing missions."
Also aboard were the cremated souls of 47 humans from 5 countries the launch sponsored by Celestis Memorial Spaceflights on the Ascension Flight mission:
The Celestis spacecraft with our participants has been integrated! 🚀The tubes integrated onto the satellite contain 47 participants from 5 countries: USA, Canada, Australia, Russia, & The Netherlands.

We are counting down to the Ascension Flight launch! pic.twitter.com/zGKpmmHfjn

— Celestis, Inc. 🚀 Memorial Spaceflights (@celestisflights) May 23, 2022
Watch Ken's commentary about SpaceX missions including Transproter-5,  Starliner, NASA SLS WDR demo test, NASA Crew-3, Crew 4 and SpaceX AX-1 missions and Starlink.
May 25/26: WFTV ABC Orlando featured my commentary about the successful ISS undocking and touchdown of Starliner on OFT-2 test flight
May 19/20:  WFTV ABC Orlando and Fox 35 Orlando featured my prelaunch and post launch commentary about the critical nature of the Boeing Starliner OFT-2 mission for NASA
https://www.wftv.com/news/local/successful-boeing-starliner-launch-iss-could-pave-way-additional-astronaut-transportation/AZ5D54V5BFH3DAZHDOVG3BJOXY/
https://www.fox35orlando.com/news/ula-to-launch-boeings-starliner-spacecraft-from-florida-on-thursday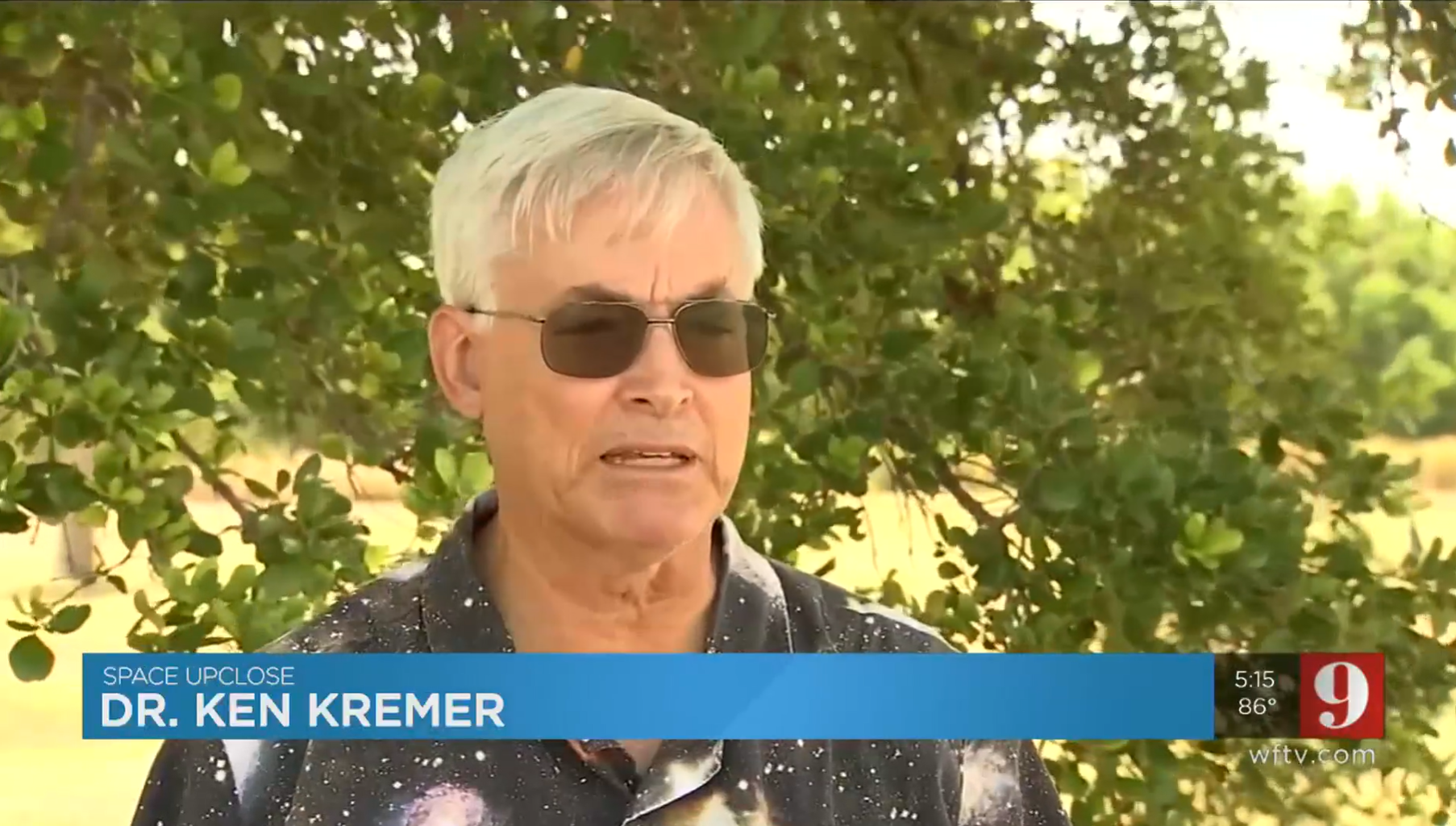 May 11: WFTV ABC Orlando News featured my commentary & analysis about Boeing Starliner crew capsule targeting launch May 19 for long delayed OFT2 uncrewed test flight for NASA after completing FRR this afternoon. It must dock at ISS to be considered successful to enable follow-on NASA astronaut flights maybe by late 2022
https://www.wftv.com/news/local/nasa-boeing-teams-provide-update-high-stakes-starliner-flight-test/66HXSRSMNZCIPECB732WGRSVN4/
Apr 29: WKMG CBS 6 with my commentary about the record setting Falcon 9 turnaround of 21 days since the Axiom-1 launch
Apr 22: Fox 35 Orlando features my analysis of the busy week ahead in space with weather delayed Earth return of AX-1 crew this weekend, launch of 4 NASA/ESA Crew-4 astronauts on SpaceX Crew Dragon NET Apr 26 & rollback of NASA SLS to VAB for repairs
https://www.fox35orlando.com/video/1060937
Apr 20:  WFTV ABC News Orlando features my commentary about the SpaceX static fire and impact of weather induced delays to departure of Ax-1 and launch of Crew-4.
https://www.wftv.com/news/local/unfavorable-weather-delays-axiom-1-splashdown/JT7VT5AMLZHU7NHAHTAR2265PA/
Apr 15/16 & Apr 12/13:  WFTV ABC News Orlando and WKMG CBS 6 Orlando featured my comments about NASA SLS WDR wet dress rehearsal countdown and fueling demo test and human launches to ISS:
https://www.wftv.com/news/video-small-valve-forcing-nasa-modify-critical-test-artemis-i/83355ff1-ce09-4b83-bbf0-23446b95abf7/
https://www.clickorlando.com/news/local/2022/04/12/nasa-resumes-final-test-before-launch-of-sls-moon-rocket/
Apr 6: WFTV ABC 9 Orlando featured my comments about 1st fully private astronaut launch to ISS by SpaceX on AX-1 mission:https://www.wftv.com/news/local/brevard-county/first-all-private-astronaut-mission-iss-set-liftoff-kennedy-space-center-this-week/FYE5QAT735BA7G42O6IVCJGB4Q/
Apr 4 & 5: WFTV ABC News Orlando and Fox 35 Orlando featured my comments about NASA SLS WDR wet dress rehearsal countdown and fueling demo test and human launches to ISS
https://www.wftv.com/news/local/nasa-artemis-mission-hold-testing-delayed-second-time/L637Y3454VDJPBZRH4RZMM2XRQ/
https://www.fox35orlando.com/news/nasa-resumes-artemis-i-wet-dress-rehearsal-countdown
Watch Ken's continuing reports about Artemis, SLS, Orion and NASA missions, SpaceX Crew and Cargo Dragons, SpaceX Axiom-1, JWST, IXPE, DART, Lucy Asteroid mission, GOES, SpaceX Starlink, Commercial Crew and Starliner and Crew Dragon, Blue Origin and Space Tourism, and onsite for live reporting of upcoming and recent SpaceX and ULA launches including Crew 1 & 2 & 3 & 4, ISS, Solar Orbiter, Mars 2020 Perseverance and Curiosity rovers, NRO spysats and national security missions and more at the Kennedy Space Center and Cape Canaveral Space Force Station.
Stay tuned here for Ken's continuing Earth and Planetary science and human spaceflight news: www.kenkremer.com –www.spaceupclose.com – twitter @ken_kremer – email: ken at kenkremer.com
Dr. Kremer is a research scientist and journalist based in the KSC area, active in outreach and interviewed regularly on TV and radio about space topics.
………….
Ken's photos are for sale and he is available for lectures and outreach events
Please consider supporting Ken's work by purchasing his photos and/or donating at Patreon
https://www.patreon.com/kenkremer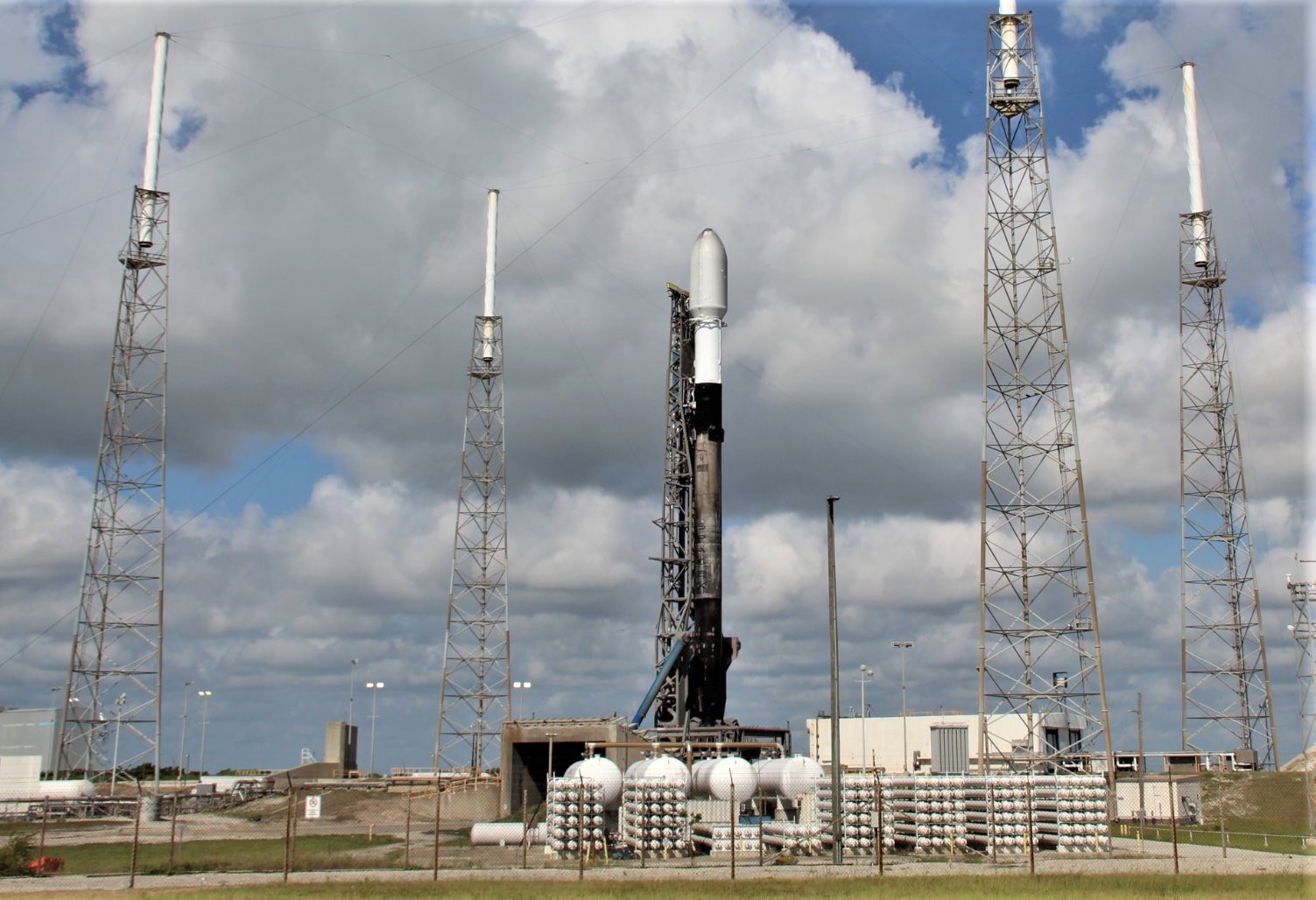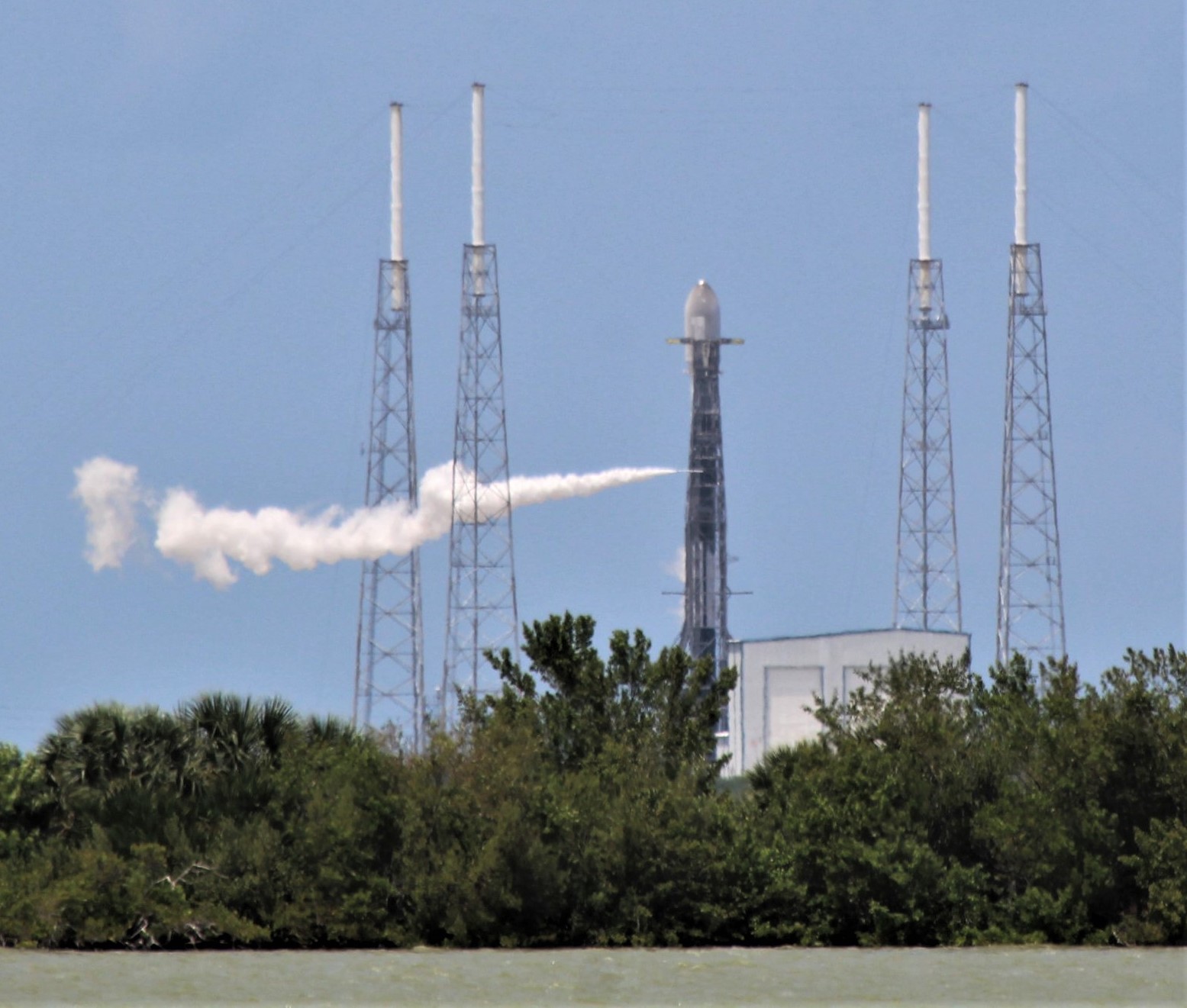 x