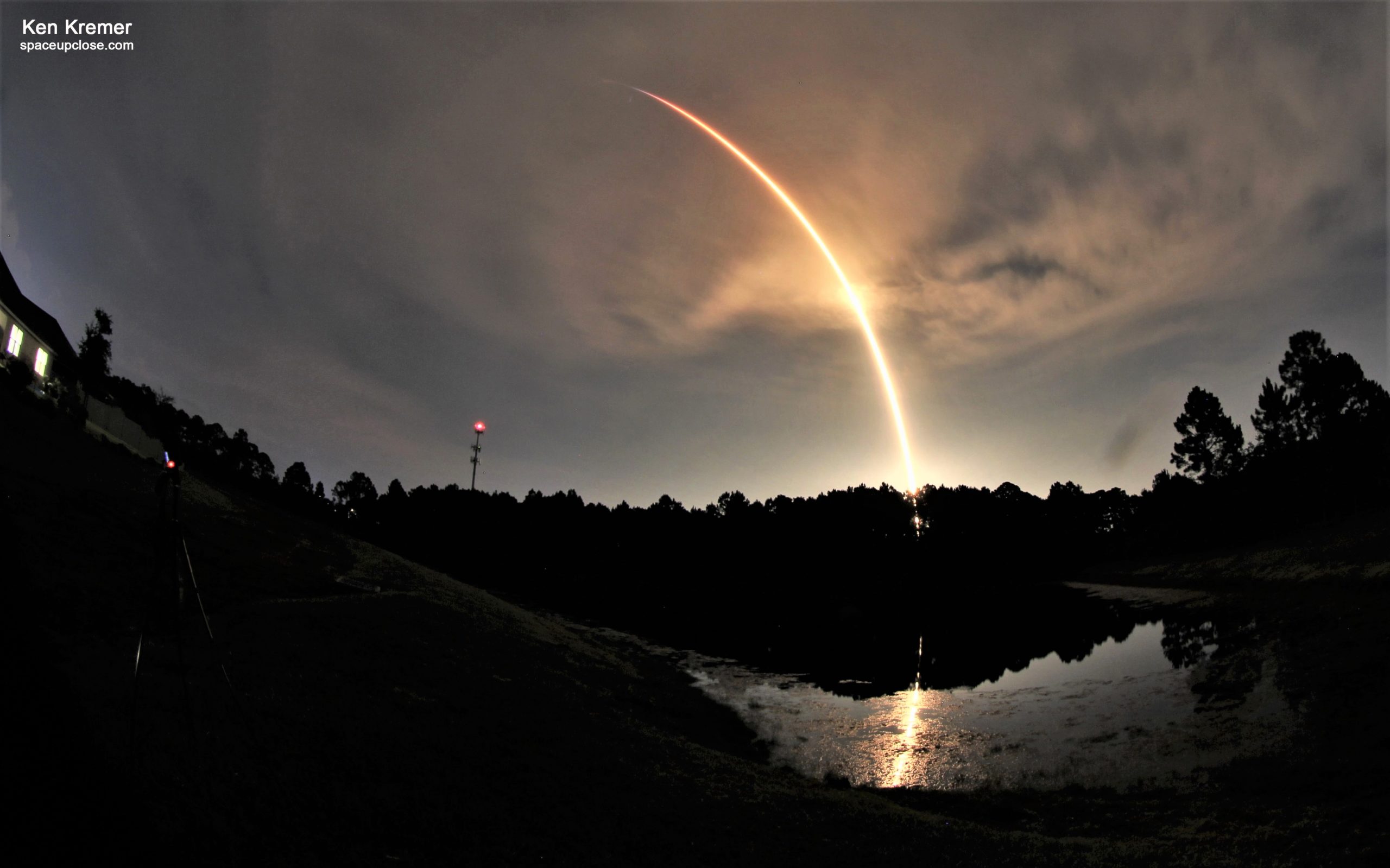 For SpaceUpClose.com & RocketSTEM
Titusville, FL – Just past midnight Sunday, June 19, SpaceX completed an amazing launch trifecta with the blastoff of the Globalstar FM15 telecommunications satellite to low-Earth orbit on the 3rd recycled Falcon 9 rocket to launce in just 36 hours from 3 different launch pads from both U.S. coasts in Florida and California.
The mission trifecta began with the successful launch of the SpaceX Starlink 4-19 mission from pad 39A on NASA's Kennedy Space Center  on Friday, June 17 at 12:09 p,m. EDT following by the German military's SARah 1 radar reconnaissance satellite from Vandenberg SFB in California on Saturday, June 18 at 10:19 EDT.
After successful fairing jettison and stage separation and three upper stage firings the Globalstar FM15 payload was deployed as planned 1 hour and 53 minutes after liftoff.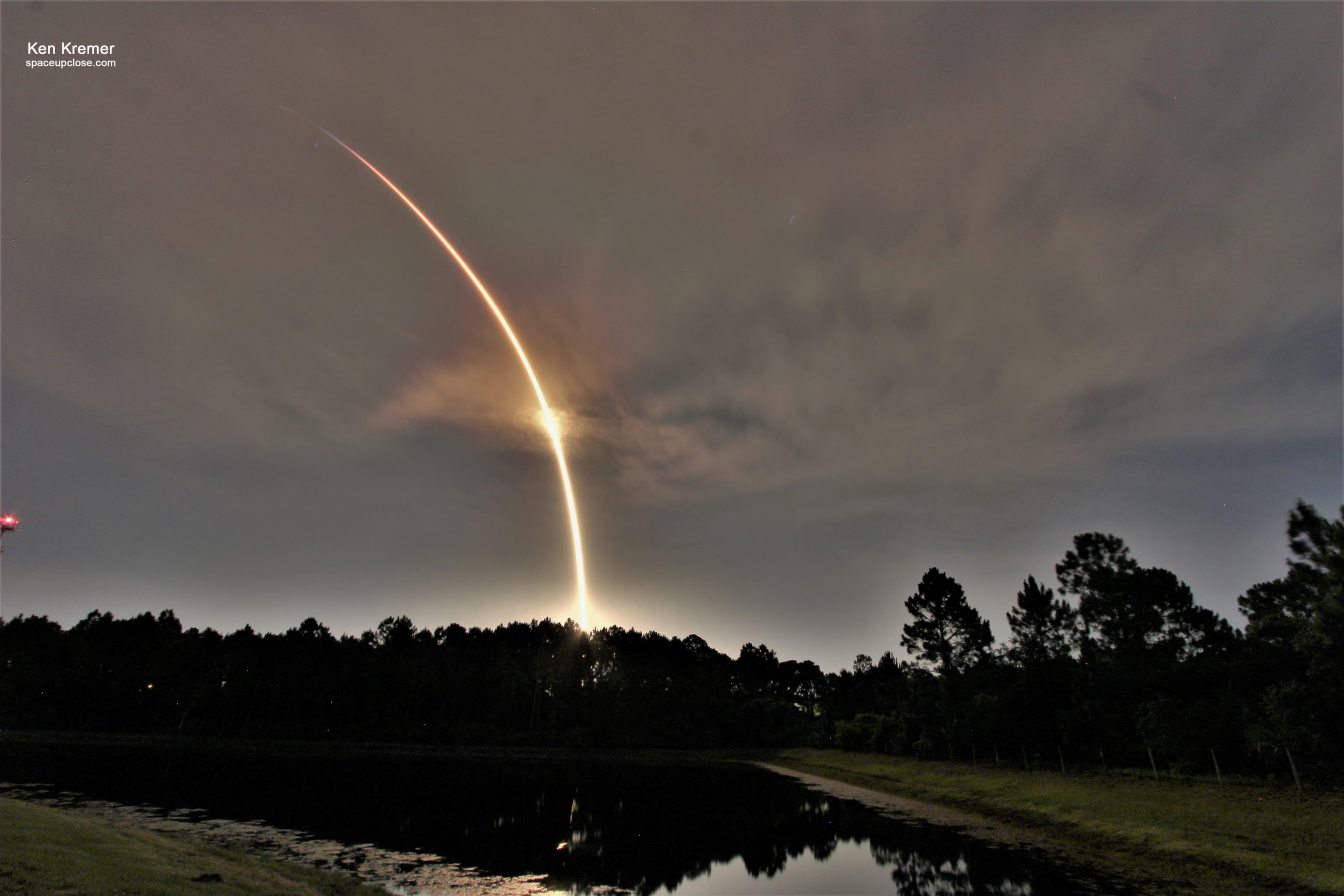 The recycled Falcon 9 booster nailed the upright soft landing on the Just Read the Instructions (JRTI) droneship positioned off the Carolinas coast some eight minutes after launch.
The Falcon 9 first stage booster designated as B1061 supporting this mission previously supported the launch of Crew-1, Crew-2, SXM-8, CRS-23, IXPE, one Starlink mission, Transporter-4, and most recently Transporter-5.
In a stunning space achievement SpaceX launched and landed a recycled Falcon 9 first stage for a record-breaking 13th time for the first time ever at noontime Friday, June 17 from the Kennedy Space Center – on the occasion of another Starlink internet satellite launch that began the launch trio.
While crowning and establishing a new Fleet Leading booster with first stage B1060, SpaceX also triumphed by marking their 100th successful launch of a reused booster.
Overall the launches marked the 158th, 159th, and 160th flights of a Falcon 9 rocket and the 24th, 25th, and 26th Falcon 9 missions this year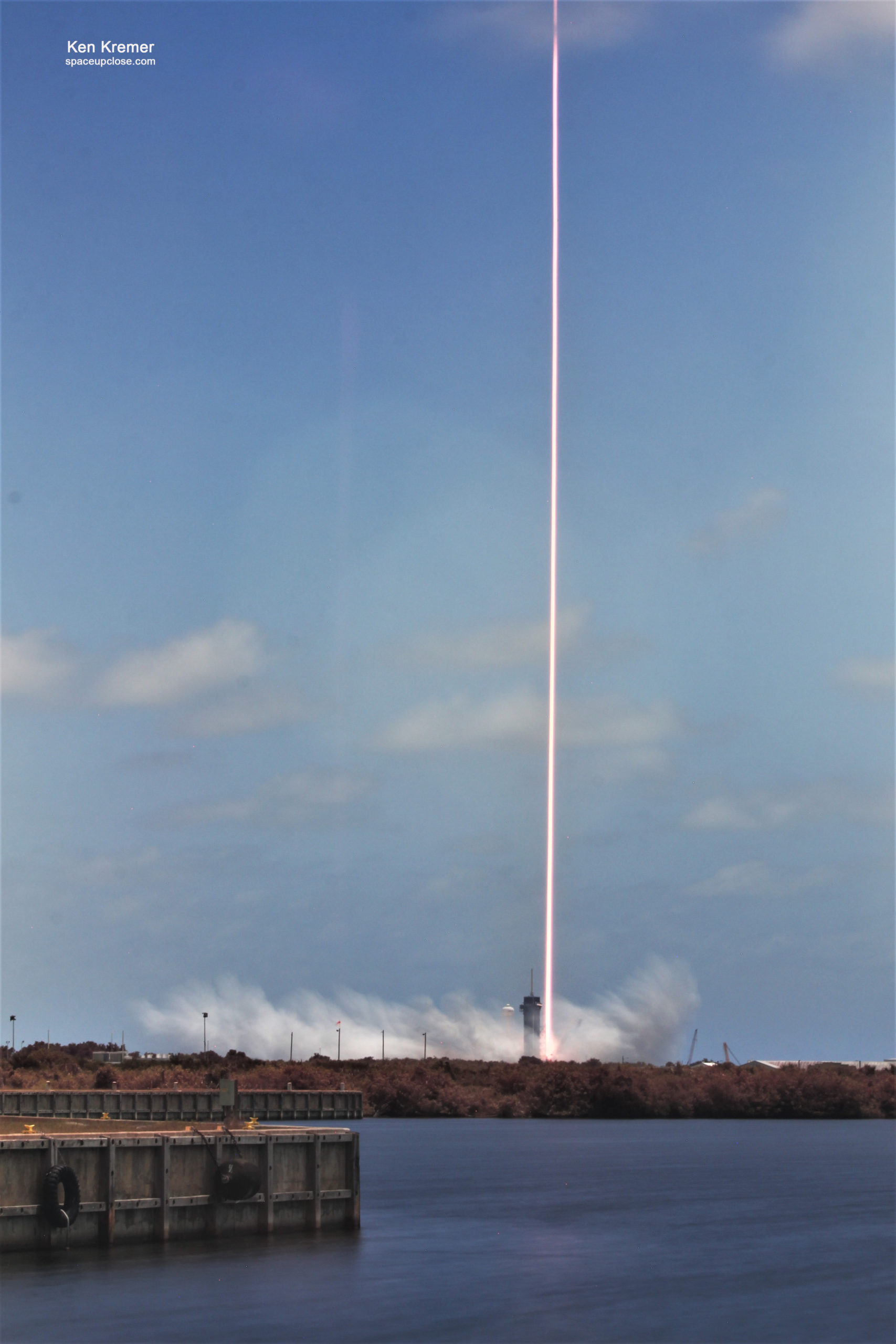 This tied the 26-launch total achieved by  SpaceX during the entire year of 2020.
Furthermore SpaceX is on track to eclipse the 31-launch mark tally from all of last year rather soon – perhaps by the end of July.
SpaceX plans 50 to 60 les overall in 2022 – a phenomenal pace.
Watch Ken's continuing reports aaunchbout Artemis, SLS, Orion and NASA missions, SpaceX Crew and Cargo Dragons, SpaceX Axiom-1, JWST, IXPE, DART, Lucy Asteroid mission, GOES, SpaceX Starlink, Commercial Crew and Starliner and Crew Dragon, Blue Origin and Space Tourism, and onsite for live reporting of upcoming and recent SpaceX and ULA launches including Crew 1 & 2 & 3 & 4, ISS, Solar Orbiter, Mars 2020 Perseverance and Curiosity rovers, NRO spysats and national security missions and more at the Kennedy Space Center and Cape Canaveral Space Force Station.
Stay tuned here for Ken's continuing Earth and Planetary science and human spaceflight news: www.kenkremer.com –www.spaceupclose.com – twitter @ken_kremer – email: ken at kenkremer.com
Dr. Kremer is a research scientist and journalist based in the KSC area, active in outreach and interviewed regularly on TV and radio about space topics.
………….
Ken's photos are for sale and he is available for lectures and outreach events
Please consider supporting Ken's work by purchasing his photos and/or donating at Patreon
https://www.patreon.com/kenkremer
x