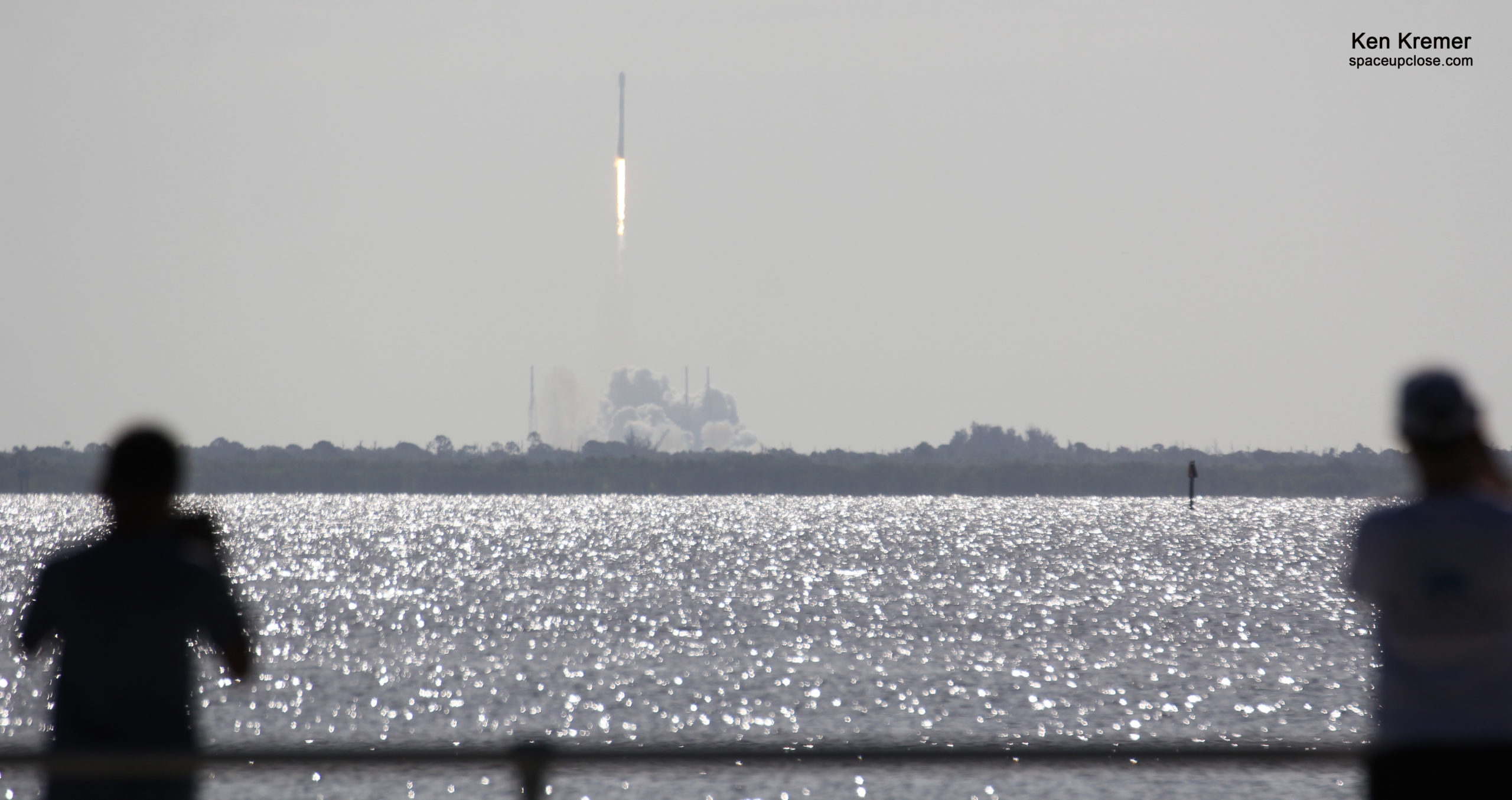 For SpaceUpClose.com & RocketSTEM
TITUSVILLE, FL – Another veteran recycled SpaceX Falcon 9 booster launched the next batch of 53 Starlink internet satellite to low Earth orbit, Thursday morning, July 7 from Florida's Space Coast- as only the 2nd 13th flown first stage.
In another stunning space achievement SpaceX has now launched and landed a  recycled Falcon 9 first stage – with tail number B1058 – for a record-tying 13th time, for only the second time ever!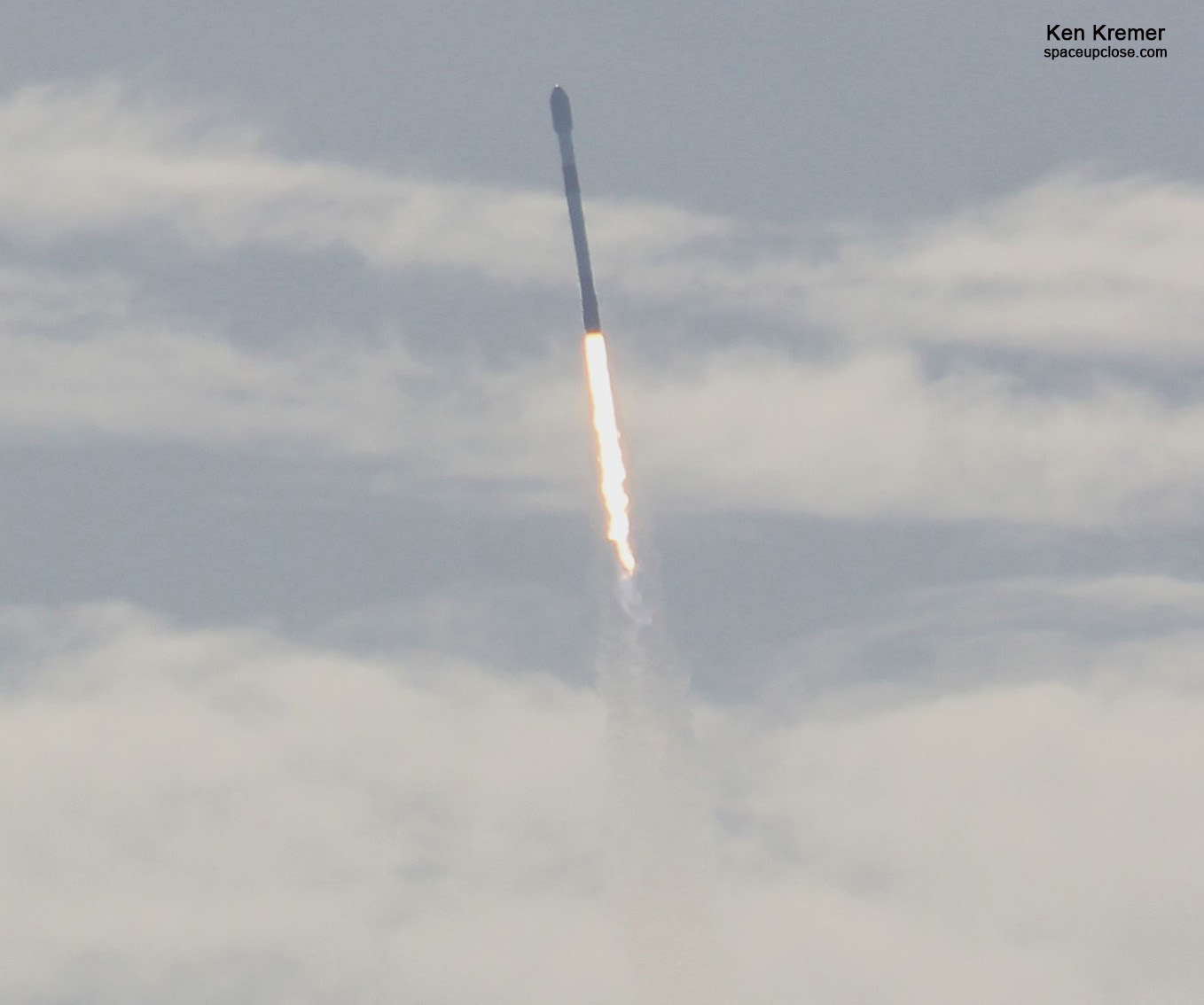 Eight minutes after blastoff, F9 B0158 soft landed on a droneship
Thus a duo of Falcon 9 boosters can now co-claim the prestigious title of 'Fleet Leader!'
Namely Falcon 9 first stages B1058 and B060
Liftoff of the 229-foot-tall (70-meter) SpaceX reused Falcon 9 B1058 on the mission designated Starlink 4-21 took place at 9:11 a.m. EDT, or 1311 GMT, on Thursday, July 7, from Space Launch Complex 40 (SLC-40) at Cape Canaveral Space Force Station in Florida, during an instantaneous launch window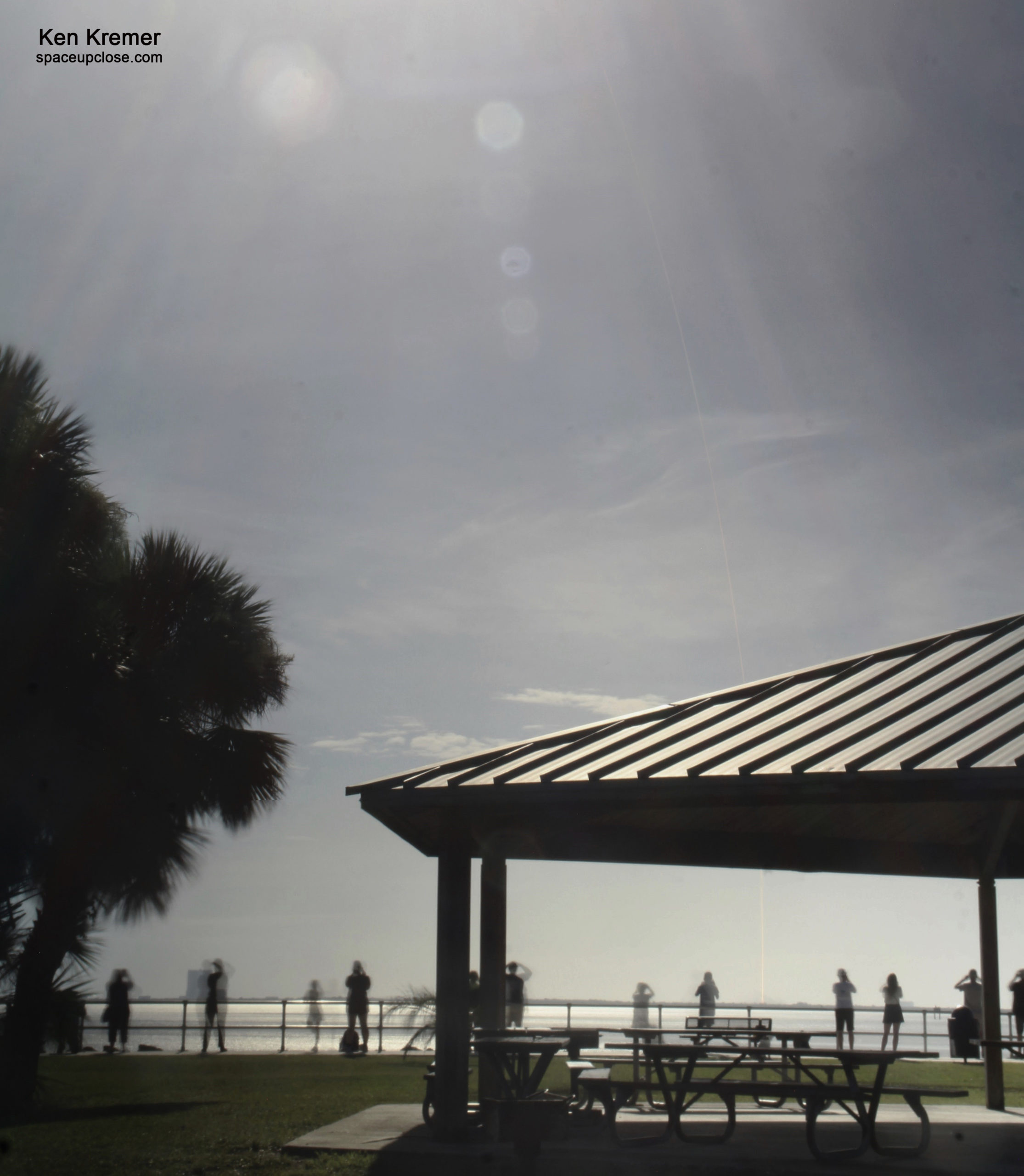 Initially SpaceX had certified these upgraded Block 5 versions of the Falcon 9 to fly 10 times – as a means to drastically cut launch and refurbishment costs.
Now with this 104th relaunch to date SpaceX has recertified the Falcon 9 first stage to launch up to 15 times – a whopping 50% increase in longevity!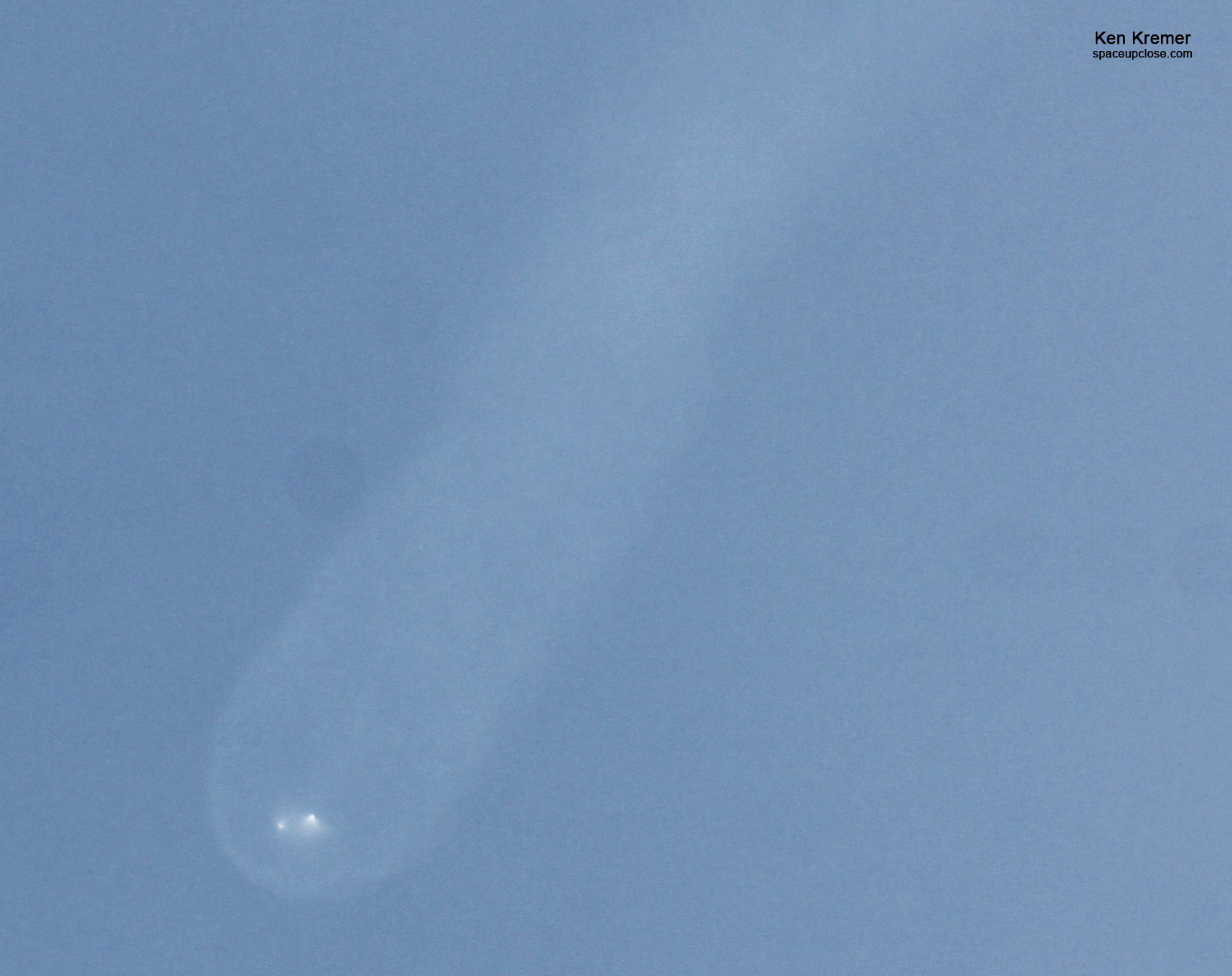 The Starlink 4-21 mission launched heading on a northeasterly trajectory from Cape Canaveral and heading out over the Atlantic Ocean following the flawless liftoff with stage separation and fairing jettison occurring on schedule
The Falcon 9 flew aloft into mostly blue skies with slight scattered clouds and strongly glaring sun while ascending for a thunderous Thursday breakfast time show!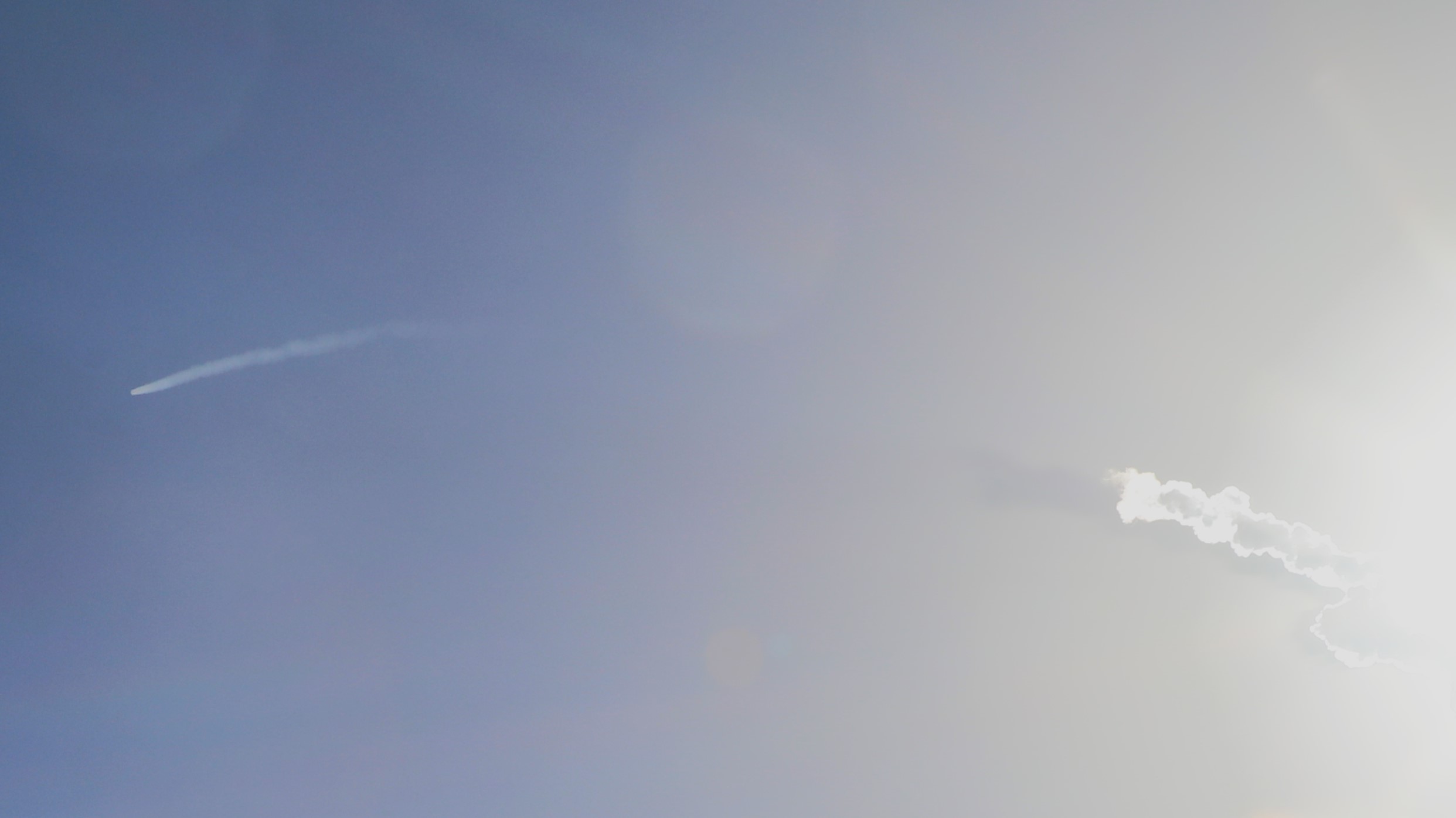 The 53 packed and flat paneled solar powered Starlink broadband internet relay satellites were all deployed from the Falcon 9 upper stage as planned about 15 minutes after launch for delivery into an oval shaped elliptical transfer orbit of approximately 144 miles by 209 miles in altitude (232 km-by-337 km), at an orbital inclination of 53.2 degrees to the equator.
SpaceX has now launched over 2759 Starlink satellites to low Earth orbit including prototypes and test satellites no longer in use.
Eight and a half minutes later following stage separation at 2 minutes 30 seconds the 'flight-proven' Falcon 9 B1058.13 nailed the precision guided touchdown on the 'Just Read the Instructions' (JRTI) drone ship prepositioned some 400 miles (640 km) downrange off the coast of the Carolina's in the Atlantic Ocean.
The first stage booster B1058 supporting this mission previously launched Crew Demo-2, ANASIS-II, CRS-21, Transporter-1, Transporter-3, and seven Starlink missions – most recently on May 6 on the Starlink 4-17 mission.
Overall this marked the 49th SpaceX mission dedicated to Starlink launches and the 28th Falcon 9 and SpaceX launch this year  – as well as being the 162nd Falcon 9 launch since its debut on June 4, 2010.
Enjoy our photos of the Starlink 4-21 mission taken for Space UpClose by Ken Kremer.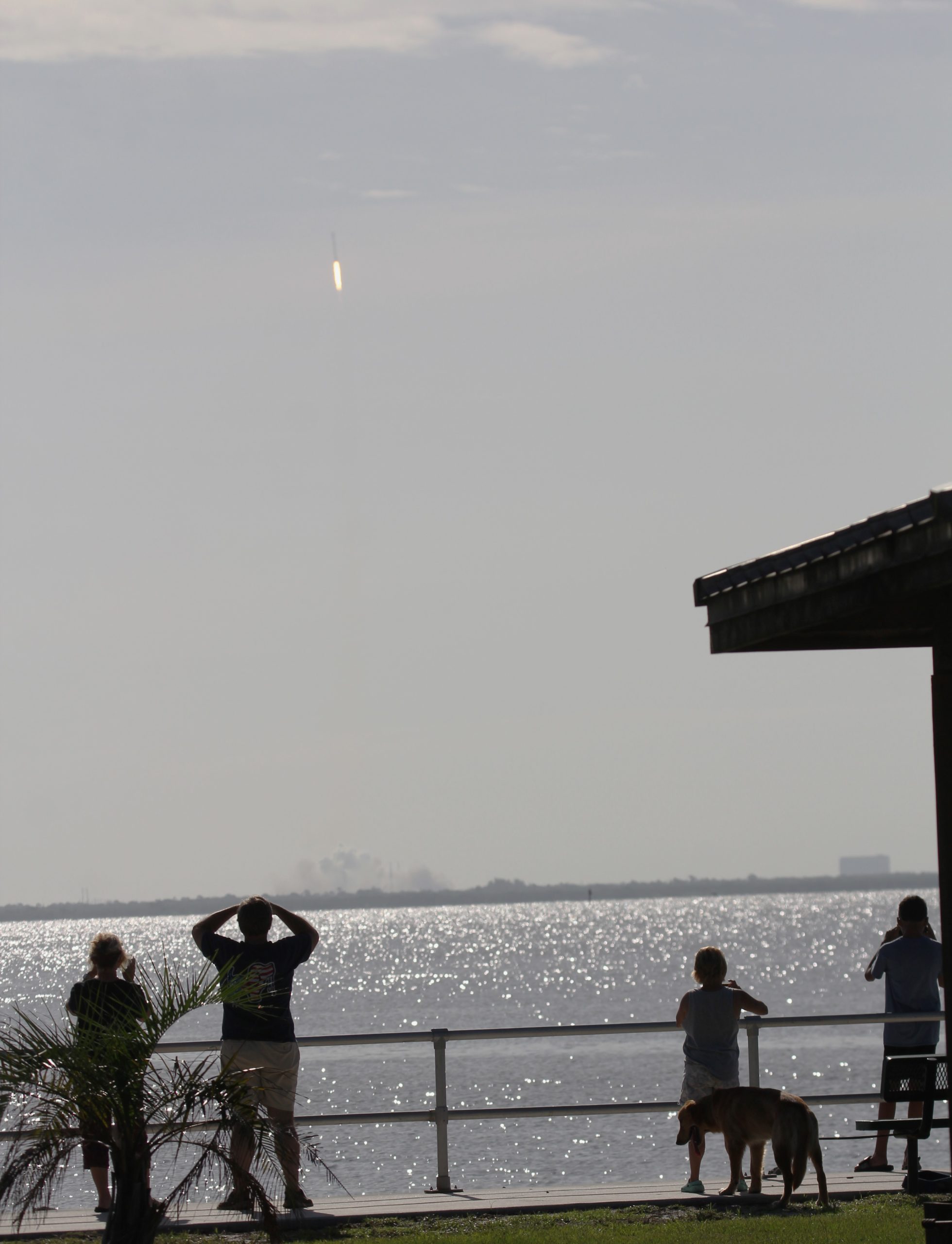 Watch Ken's commentary about Space Force missions, NASA SLS WDR demo test, SpaceX missions including NASA Crew-3 and Crew 4, AX-1, Nilesat 301, Transporter-5, Starlink, Boeing Starliner, and NASA TROPICS  1.
Jul 6/7:  Fox 35 Orlando featured my commentary about NASA Capstone cubesat mission – communications just reestablished after 2 day loss. Capstone is a pathfinder mission for NASA's Gateway mini lunar space station. Now preparing for 1st trajectory correction maneuver (TCM) and heading to lunar orbit
Jul 5/6:  WKMG CBS 6 Orlando News featured my commentary about todays loss of contact with NASA's CAPSTONE lunar cubesat mission. CAPSTONE had been healthy until a 2nd comm pass. Team is attempting to reestablish contact. Goal: test the stability of the unique orbit planned for NASA Gateway mini human space station:
https://www.clickorlando.com/tech/2022/07/05/nasa-contact-lost-with-spacecraft-on-way-to-test-moon-orbit/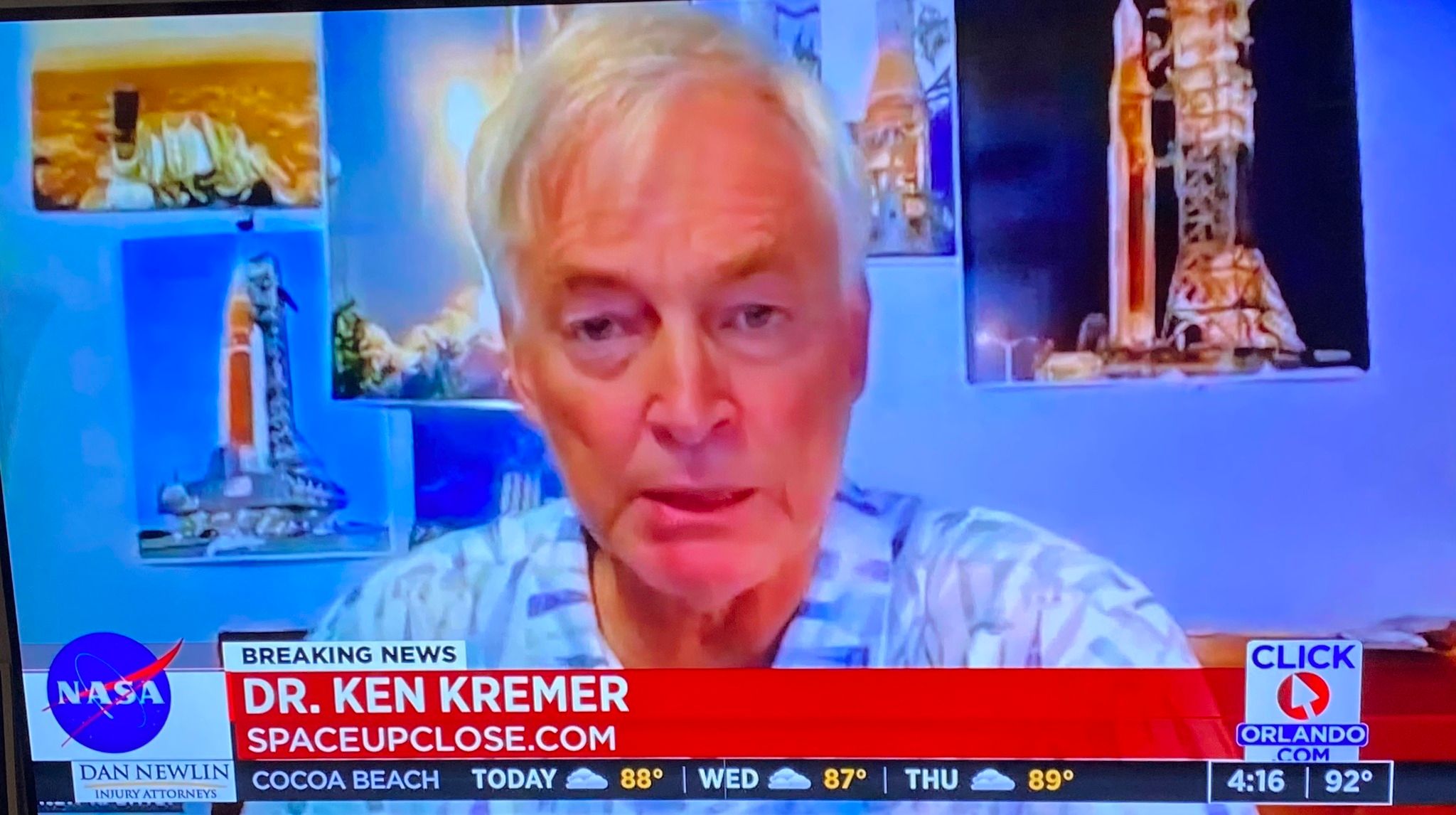 Jul 5/6:  WFTV ABC Orlando News featured my commentary about today's loss of contact with NASA Capstone cubesat mission which is a pathfinder test for the Gateway mini human lunar space station
Jun 21/22: WFTV ABC Orlando News featured my commentary about NASA's 4th SLS WDR fueling attempt Jun 20, the results and whats ahead after NASA conducts detailed analysis of the 1st tanking test to completely load both stages with LOX & LH2 and run the terminal count to T-29 sec despite a hydrogen leak – achieving many but not all objectives
https://www.wftv.com/news/local/nasa-calls-artemis-i-dress-rehearsal-success-despite-missed-objectives/R3DRBDMTHZFCRNVAFNTJNQMZ5M/
Jun 17: Fox 35 Orlando featured my commentary about the selection of 2 NASA astronauts to fly on the 1st crewed mission of Boeing Starliner capsule on CFT test flight late 2022 – and what it means for human spaceflight to have a 2nd US commercial crew provider following the successful Boeing Starliner OFT-2 mission for NASA
Jun 9/10: WFTV ABC Orlando features my commentary about the upcoming NASA TROPICS  1 & 2 cubesat science launch on an Astra Rocket 3.3 from pad 46 for NASA which will study the formation and evolution of Tropical Cyclones and Hurricanes. Two more launches will follow for 6 TROPICS cubesats altogether over next few months
https://www.wftv.com/news/local/brevard-county/astra-space-aims-launch-nasa-science-mission-kennedy-space-center-this-weekend/OEJBL6ZCCRCEXDAJF54ENZZ7BI/
https://www.wftv.com/news/video-astra-space-aims-launch-nasa-science-mission-kennedy-space-center-this-weekend/c95c091b-7550-492f-8143-f8227ee9152e/
Jun 8: WFTV ABC Orlando features my commentary about the SpaceX Falcon 9 launch of NileSat301 telecom sat for Egypt
June 6/7: WFTV ABC Orlando features my commentary about completing 2nd rollout to pad 39B for 2nd round WDR tanking test, what's involved in and why its critical to the future of Project Artemis:
https://www.wftv.com/news/video-nasa-takes-one-step-closer-going-back-moon-with-artemis-i-mission/0a9b7f73-1a59-4455-a638-9090ed1736fd/
Watch Ken's continuing reports about SpaceX missions Artemis, SLS, Orion and NASA missions, SpaceX Crew and Cargo Dragons, SpaceX Axiom-1, JWST, IXPE, DART, Lucy Asteroid mission, GOES, SpaceX Starlink, Commercial Crew and Starliner and Crew Dragon, Blue Origin and Space Tourism, and onsite for live reporting of upcoming and recent SpaceX and ULA launches including Crew 1 & 2 & 3 & 4, ISS, Solar Orbiter, Mars 2020 Perseverance and Curiosity rovers, NRO spysats and national security missions and more at the Kennedy Space Center and Cape Canaveral Space Force Station.
Stay tuned here for Ken's continuing Earth and Planetary science and human spaceflight news: www.kenkremer.com –www.spaceupclose.com – twitter @ken_kremer – email: ken at kenkremer.com
Dr. Kremer is a research scientist and journalist based in the KSC area, active in outreach and interviewed regularly on TV and radio about space topics.
………….
Ken's photos are for sale and he is available for lectures and outreach events
Please consider supporting Ken's work by purchasing his photos and/or donating at Patreon
https://www.patreon.com/kenkremer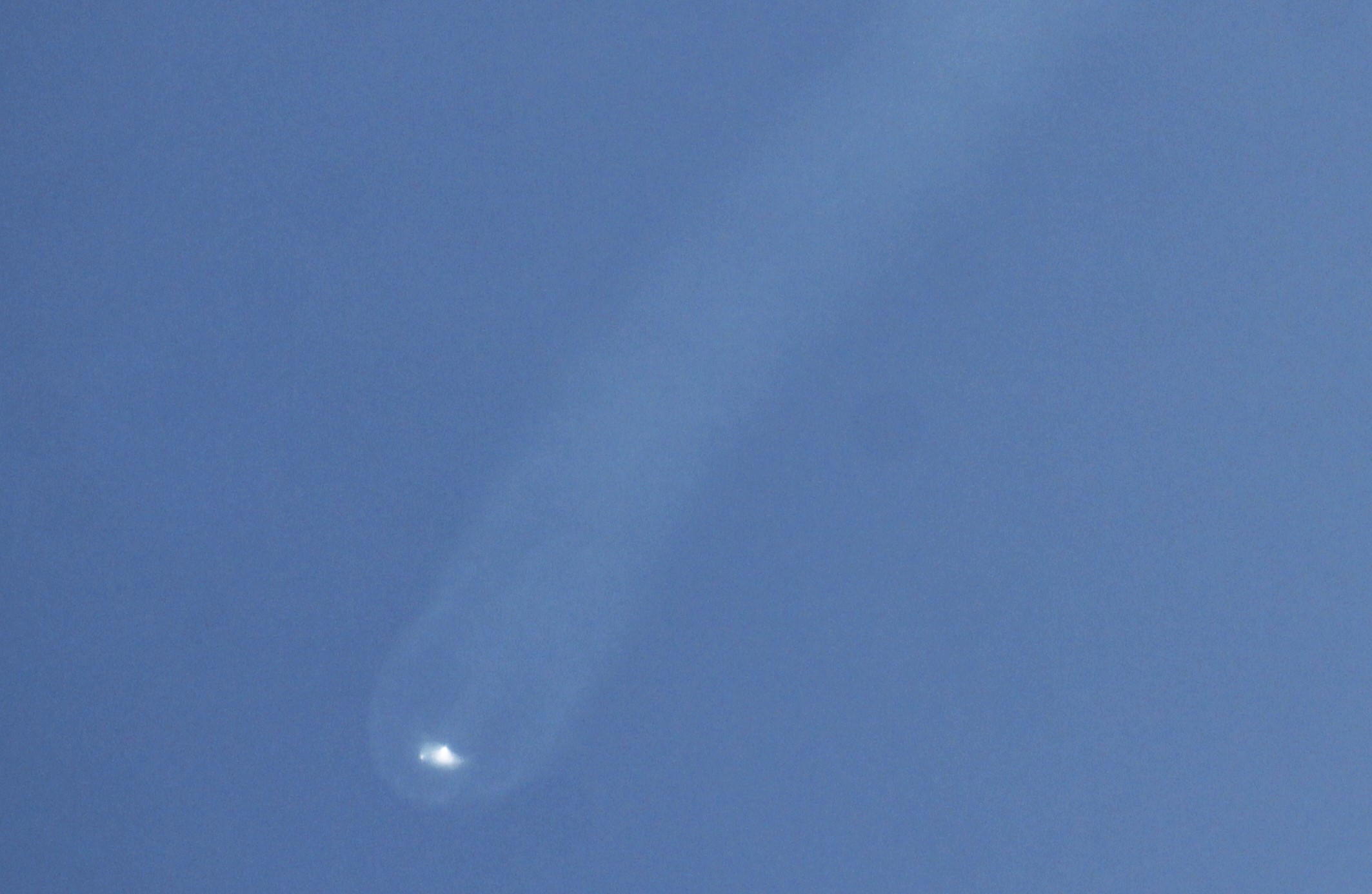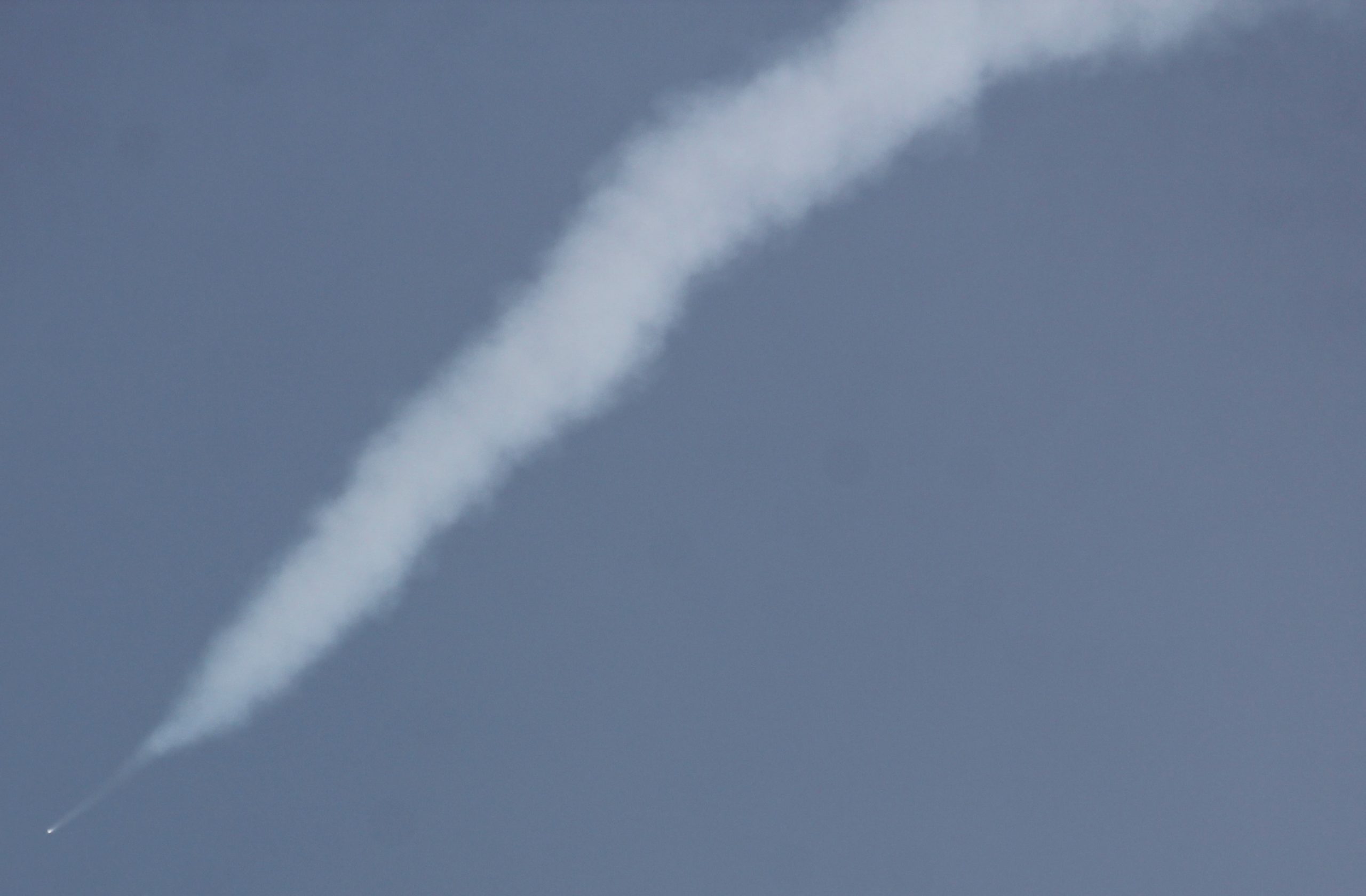 x