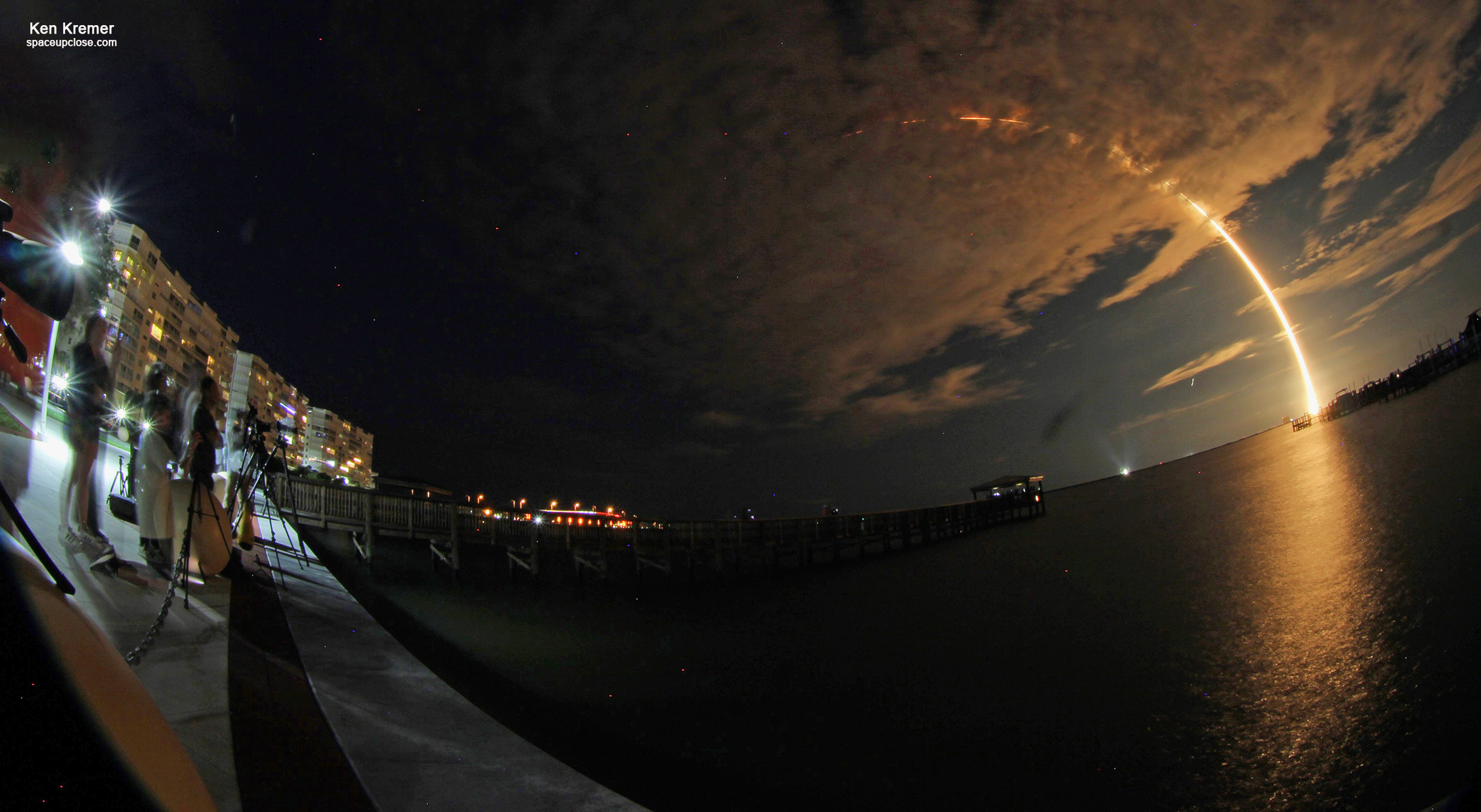 For SpaceUpClose.com & RocketSTEM
TITUSVILLE, FL – Following five consecutive weather scrubs since Tuesday, Sept. 13, the heavens miraculously cleared just enough despite another poor forecast and SpaceX at last launched a veteran Falcon 9 rocket on the sixth try just past sunset Sunday evening, Sept. 18, on a mission carrying another batch of Starlink internet satellites to low Earth orbit from Florida's Space Coast.
The payload comprised another 54 Starlink broadband internet satellites that were successfully delivered to orbit as the company continues on an unrelenting record-breaking pace aimed at completing more than 60 missions this year.
Liftoff of the 229-foot-tall (70-meter) SpaceX reused Falcon 9 booster on the mission designated Starlink 4-34 took place at 8:18 p.m. EDT, or 1311 GMT, on Sunday, September 18, from Space Launch Complex 40 (SLC-40) at Cape Canaveral Space Force Station in Florida, into mostly cloudy skies during an instantaneous launch window.
Despite the iffy forecast of only 40% GO a decent crowd showed up at the good spots in Titusville
We watched from Space View Park along the Indian River Lagoon in Titusville and folks had a great show looking across the river to see NASA's Artemis 1 SLS Moon rocket shining brightly at Launch Complex 39B still awaiting liftoff.
The 'flight-proven' SpaceX Falcon 9 rocket blasted off loud and clear heading out on a northeasterly trajectory – soaring over the VAB, SLS and the Max Brewer Bridge darting in and out of thick clouds over the Kennedy Space Center with a beautiful and long water reflection in the river.
See our long duration fisheye streak shot as lead image taken by Ken Kremer for Space UpClose.
See wide angle streak shot below for comparison:
Overall the Starlink 4-34 mission counts as SpaceX's 42nd launch thus far in 2022.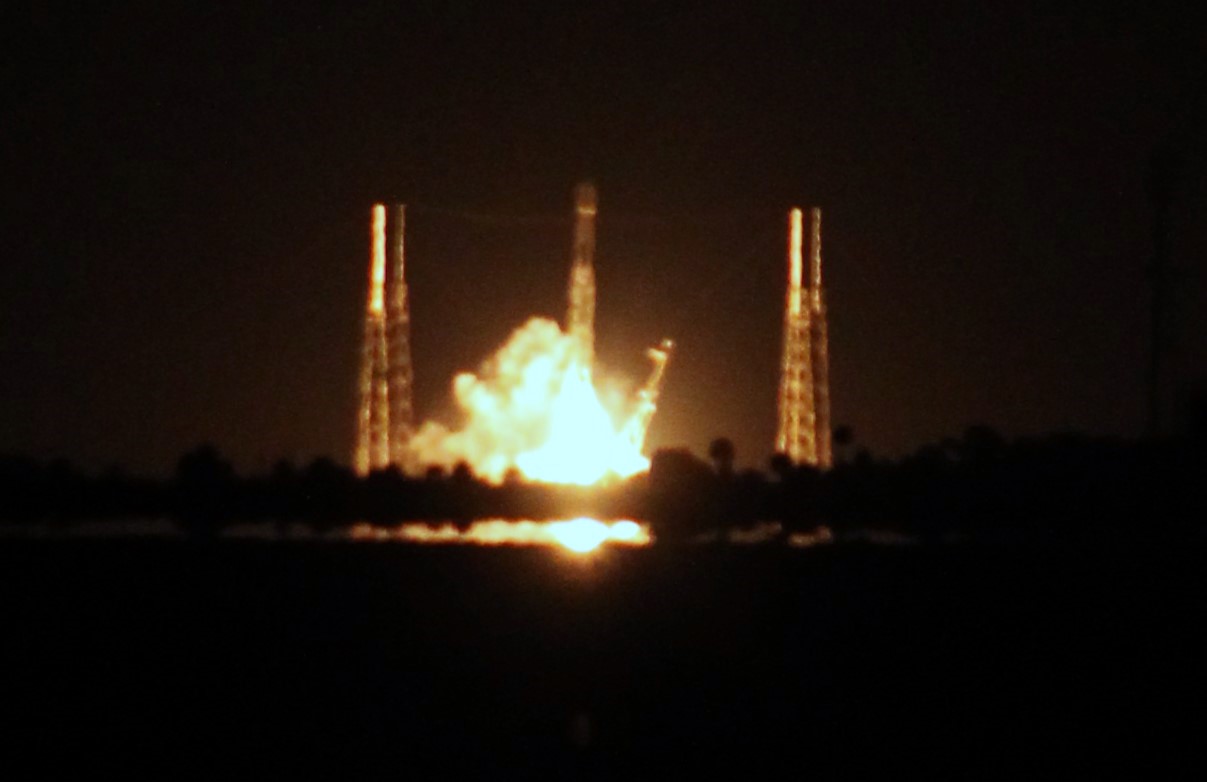 The recycled Falcon 9 booster with tail number B1067 successfully launched and nailed the landing for the sixth time some eight minutes after liftoff.
The Falcon 9 first stage B1067 successfully soft landed on the 'Just Read the Instructions' JRTI droneship positioned about 400 mi (640 km) northeast of the Cape off the Carolina's coast.
Falcon 9's first stage has landed on the Just Read the Instructions droneship pic.twitter.com/qXvgp8kMeH

— SpaceX (@SpaceX) September 19, 2022
This Falcon 9 first stage booster previously launched two quartets of astronauts on the Crew-3 and Crew-4 missions to the International Space Station (ISS) as well as two cargo resupply flight to the ISS on the CRS-22 and CRS-25 mission as well as the Turksat 5B telecomsat mission for Turkey.
The first F9 B1067 launch took place on June, 3 2021 on NASA's CRS-22 ISS resupply mission.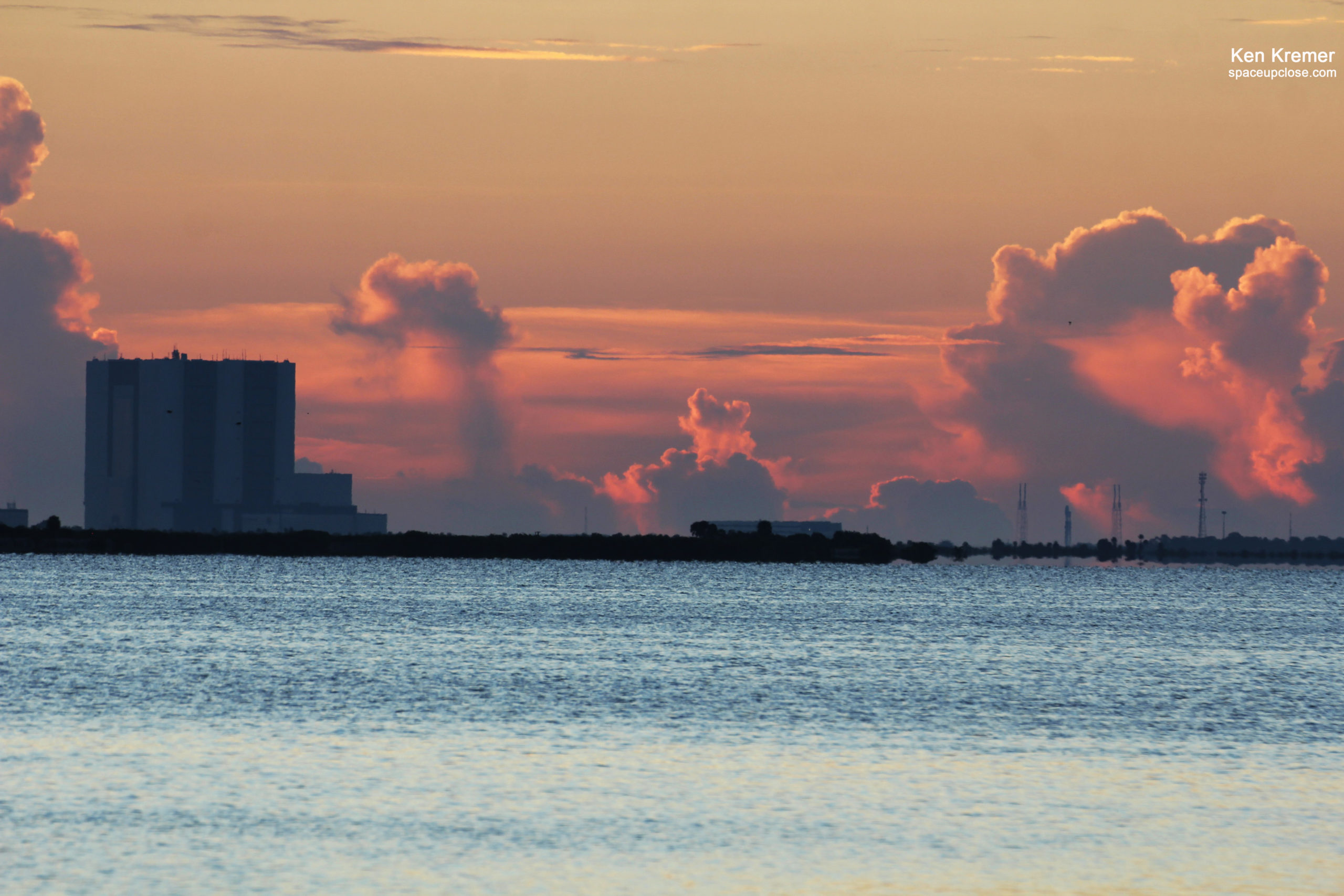 The 54 refrigerator sized and 500-pound Starlinks were successfully deployed about 54 minutes after liftoff.
Deployment of 54 Starlink satellites confirmed

— SpaceX (@SpaceX) September 19, 2022
SpaceX has now launched over 3347 Starlink satellites to low Earth orbit including prototypes and test satellites no longer in use.
The overall payload mass of the 54 flat paneled Starlink satellites was about 36,800 pounds, or 16.7 metric tons.
Overall this marked the 61st SpaceX mission dedicated to Starlink launches and the 42nd Falcon 9 and SpaceX launch this year  – as well as being the 176th Falcon 9 launch since its debut on June 4, 2010.
Starlink service is now available on all 7 continents with the addition of Antarctica:
Starlink is now on all seven continents! In such a remote location like Antarctica, this capability is enabled by Starlink's space laser network https://t.co/c9HX0xrX0u

— SpaceX (@SpaceX) September 14, 2022
Watch Ken's continuing reports about Artemis, SpaceX missions, SLS, Orion and NASA missions, SpaceX Crew and Cargo Dragons, SpaceX Axiom-1, JWST, IXPE, DART, Lucy Asteroid mission, GOES, SpaceX Starlink, Commercial Crew and Starliner and Crew Dragon, Blue Origin and Space Tourism, and onsite for live reporting of upcoming and recent SpaceX and ULA launches including Crew 1 & 2 & 3 & 4, ISS, Solar Orbiter, Mars 2020 Perseverance and Curiosity rovers, NRO spysats and national security missions and more at the Kennedy Space Center and Cape Canaveral Space Force Station.
Stay tuned here for Ken's continuing Earth and Planetary science and human spaceflight news: www.kenkremer.com –www.spaceupclose.com – twitter @ken_kremer – email: ken at kenkremer.com
Dr. Kremer is a research scientist and journalist based in the KSC area, active in outreach and interviewed regularly on TV and radio about space topics.
………….
Ken's photos are for sale and he is available for lectures and outreach events
Please consider supporting Ken's work by purchasing his photos and/or donating at Patreon
https://www.patreon.com/kenkremer
Upcoming and recent space events and talks by Ken Kremer & Jean Wright
Sep 2, 4, 9,10,13  from 7 to 9 PM Quality Inn, Titusville, FL:  Join Ken and Jean for Artemis 1 outreach. ask us anything. plus display our photos and space apparel items for sale
Ken's space/rocket photos & Jean's  custom sewn space apparel and space items for sale to support our ad free space news website: SpaceUpClose.com
Aug 11: Fairbanks Museum & Planetarium, St Johnsbury, VT
https://www.fairbanksmuseum.org/blog/eyewitness-to-nasa/
"Eyewitness to NASA Human and Robotic Explorers"
Aug 19: McAuliffe-Shepard Discovery Center, Concord, NH
https://www.starhop.com/special-programs
"Sew Sister to the Stars: How the Humble Art of Sewing Transformed the World of Flight"
Contact us if you wish to meet, attend a talk or schedule a talk
Ken's space/rocket photos & Jean's  custom sewn space apparel and space items for sale to support our ad free space news website: SpaceUpClose.com
x