KENNEDY SPACE CENTER, FL – The Artemis Era of exploration officially opened today with the spectacularly beautiful nighttime blastoff of NASA's mammoth SLS moon rocket for the first time on the Artemis 1 mission on Wednesday, Nov. 16, from the Kennedy Space Center on its maiden lunar test flight with the Orion crew capsule, that puts America back on the path of returning humans to the Moon after a way to long 50-year hiatus since 1972 and passes the torch of leadership in space and science to a new generation – namely the Artemis generation.
Many of us from the Apollo generation have waited 50 years for this moment and are absolutely thrilled that the mantel of space exploration has been passed to the Artemis generation to carry forward brilliantly to the Moon, Mars and beyond!
The long awaited and delayed blastoff of the 322 foot tall (98 m) Artemis 1 super heavy stack of SLS and Orion was both inspiring and impressive beyond expectation
The blinding light generated from 8.8 million pounds of thrust spewing from NASA's $4.1 Billion Space Launch System (SLS)  Mega Moon rocket instantly turned night into day past midnight as crowds ringing Florida's Space Coast roared their approval and cheered the mammoth rocket that successfully propelled NASA's Orion deep space human capsule on a critical 26 day long unpiloted test flight around the Moon and back – with no astronauts aboard this time.
SLS lifted off with an uncrewed Orion capsule for its stunning flight test debut on the Artemis 1 mission at 1:47 a.m. EST (0647 GMT) Wednesday, Nov. 16 from Launch Pad 39B at the Kennedy Space Center in Florida – sending America to the moon with the 1st human rated capsule in 50 years.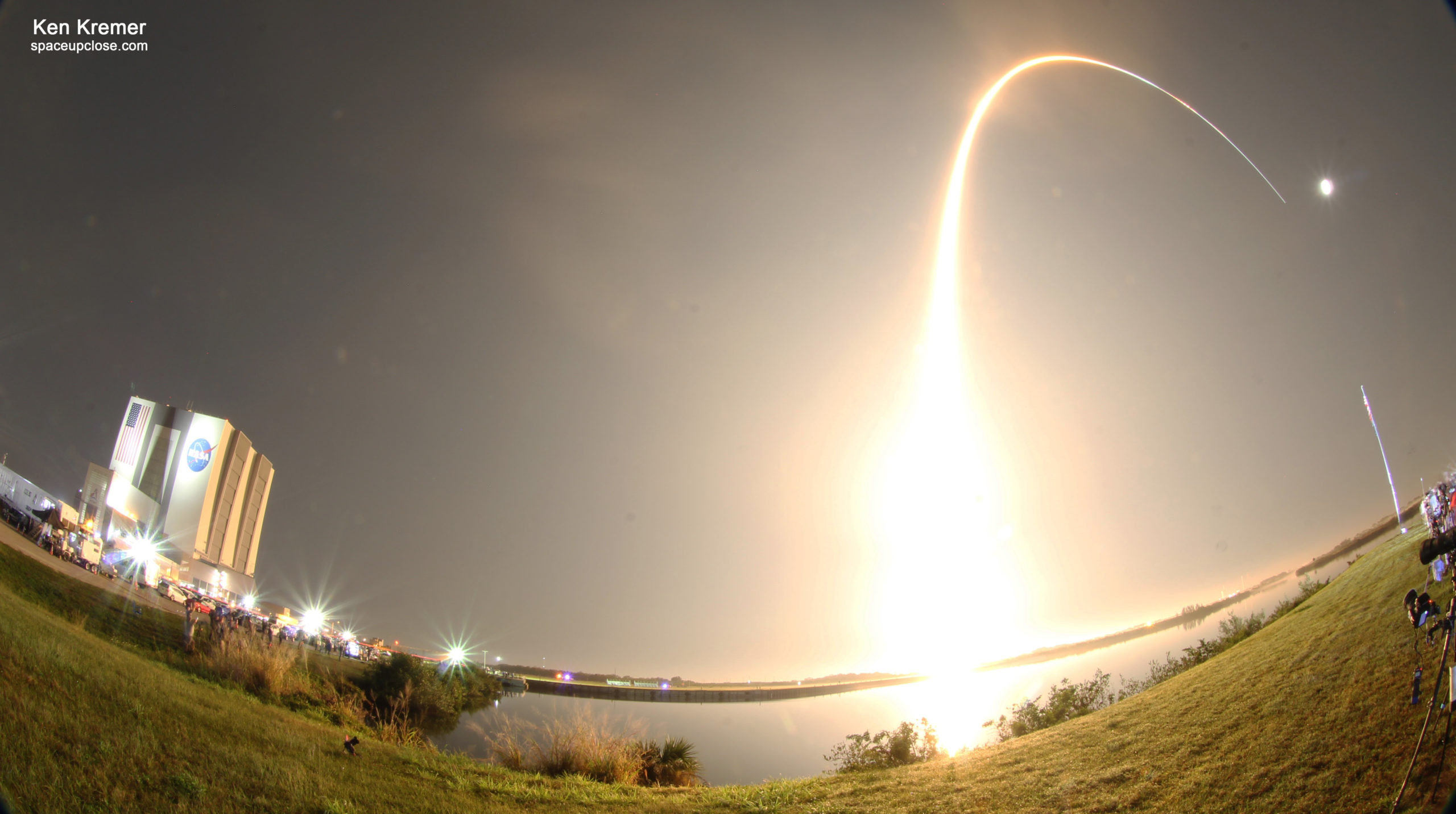 SLS now counts as the world's the most powerful rocket ever built – about 15 to 20% more powerful than NASA's Apollo Saturn V moon rocket and the Space Shuttle.
The 32 story tall two stage SLS is derived from NASA's Space Shuttle with the core stage liftoff thrust of 8.8 million pounds provided by a pair of side mounted solid rocket boosters (SRBs) and four RS-25 main engines – all recycled from  the space shuttle and attached to an extended External Tank (ET) also from the shuttle.
Artemis 1 is absolutely critical and must be successful with all major objectives in order for NASA to move forward with Project Artemis to once again land American astronauts on the Moon – potentially as soon as 2025, if all goes well.
"I have to say, for what we saw tonight, it's an A-plus," said NASA Administrator Bill Nelson at the Artemis 1 post launch press conference.
"It's a test flight. It took a long time coming to get here. The last time we were on the moon was Apollo 17."
Apollo 17 was launched in 1972 and placed the final pair of NASA astronauts on the moon – Gene Cernan and Harrison Schmidt during the Project Apollo moon landing program begun by President John F. Kennedy in 1961.
No human has left Earth orbit in the past half century after politicians cancelled the remaining three Apollo moon landing missions that began in 1969 with Apollo 11 and the first humans to set foot on another celestial body – Neil Armstrong and Buzz Aldrin.
Artemis 1 will push Orion to its limits during a nearly 26 day mission and pave the path for astronauts to fly aboard for the first time to the Moon on the Artemis 2 mission around our nearest neighbor in about 2 years in 2024.
Artemis 1 is an unpiloted lunar test flight with no astronauts on board.
This first lunar test flight of SLS and Orion will conclude after nearly a month circling the Moon and return with a splashdown of the capsule in the Pacific Ocean on Dec. 11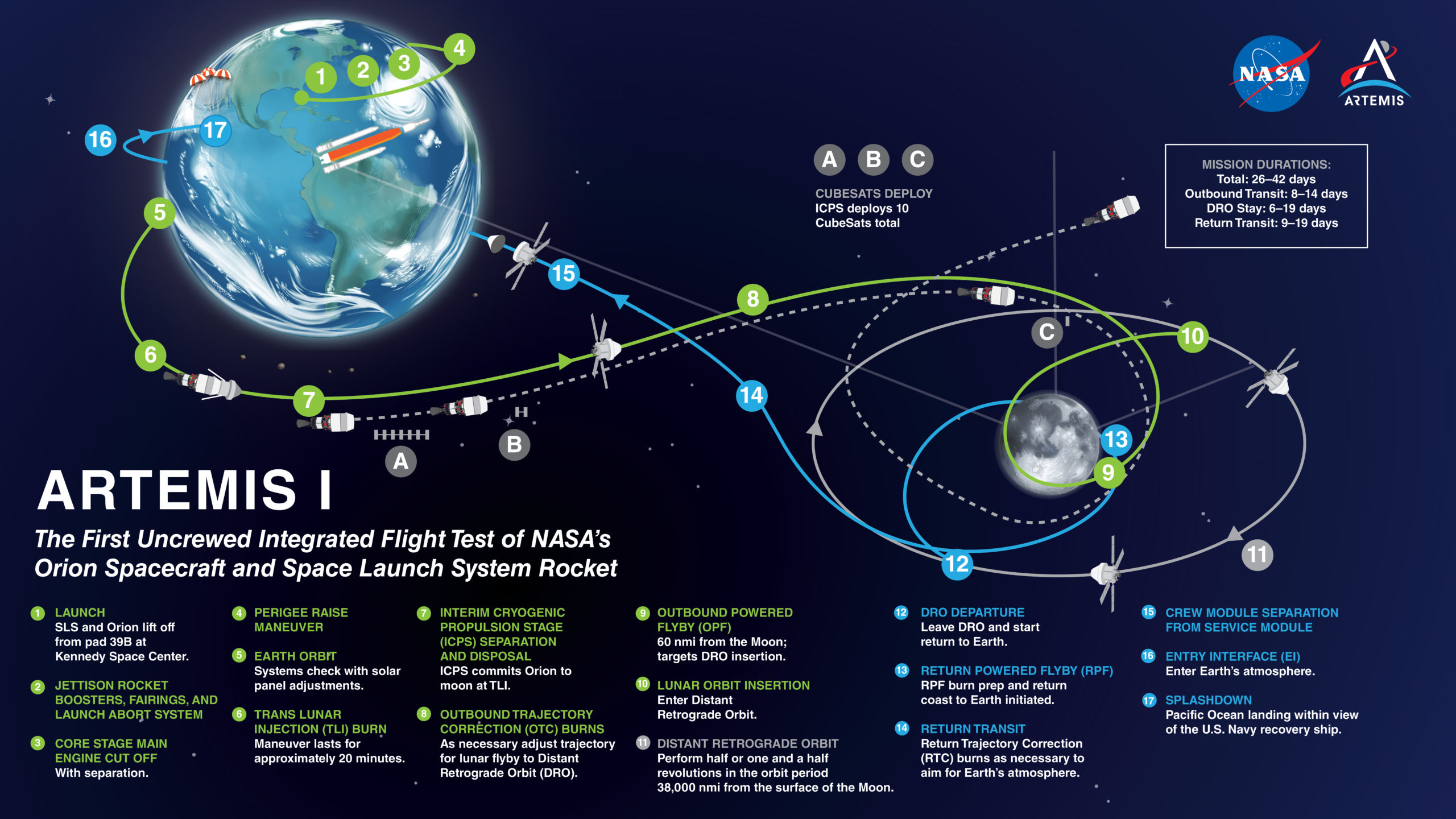 If all goes well Artemis 2 will launch by late 2024 with a crew of 4 astronauts from the US and Canada.
"What an incredible sight to see NASA's Space Launch System rocket and Orion spacecraft launch together for the first time. This uncrewed flight test will push Orion to the limits in the rigors of deep space, helping us prepare for human exploration on the Moon and, ultimately, Mars," said NASA Administrator Bill Nelson.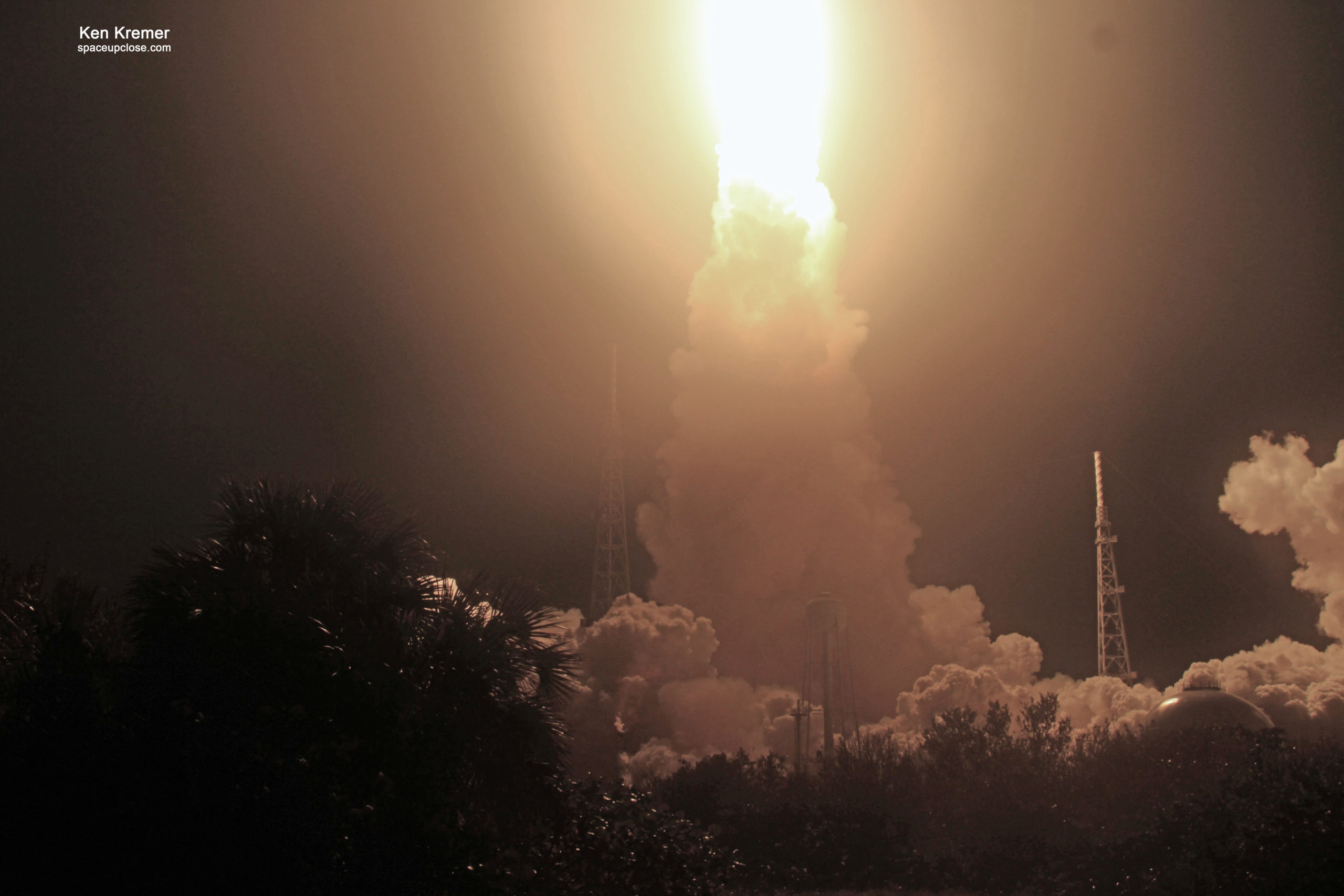 The primary objectives for the Artemis 1 mission that must be accomplished following the successful launch and delivery by the SLS moon rocket are: demonstrating Orion's heat shield at lunar return re-entry conditions, demonstrating operations and facilities during all mission phases, and retrieving the spacecraft after splashdown.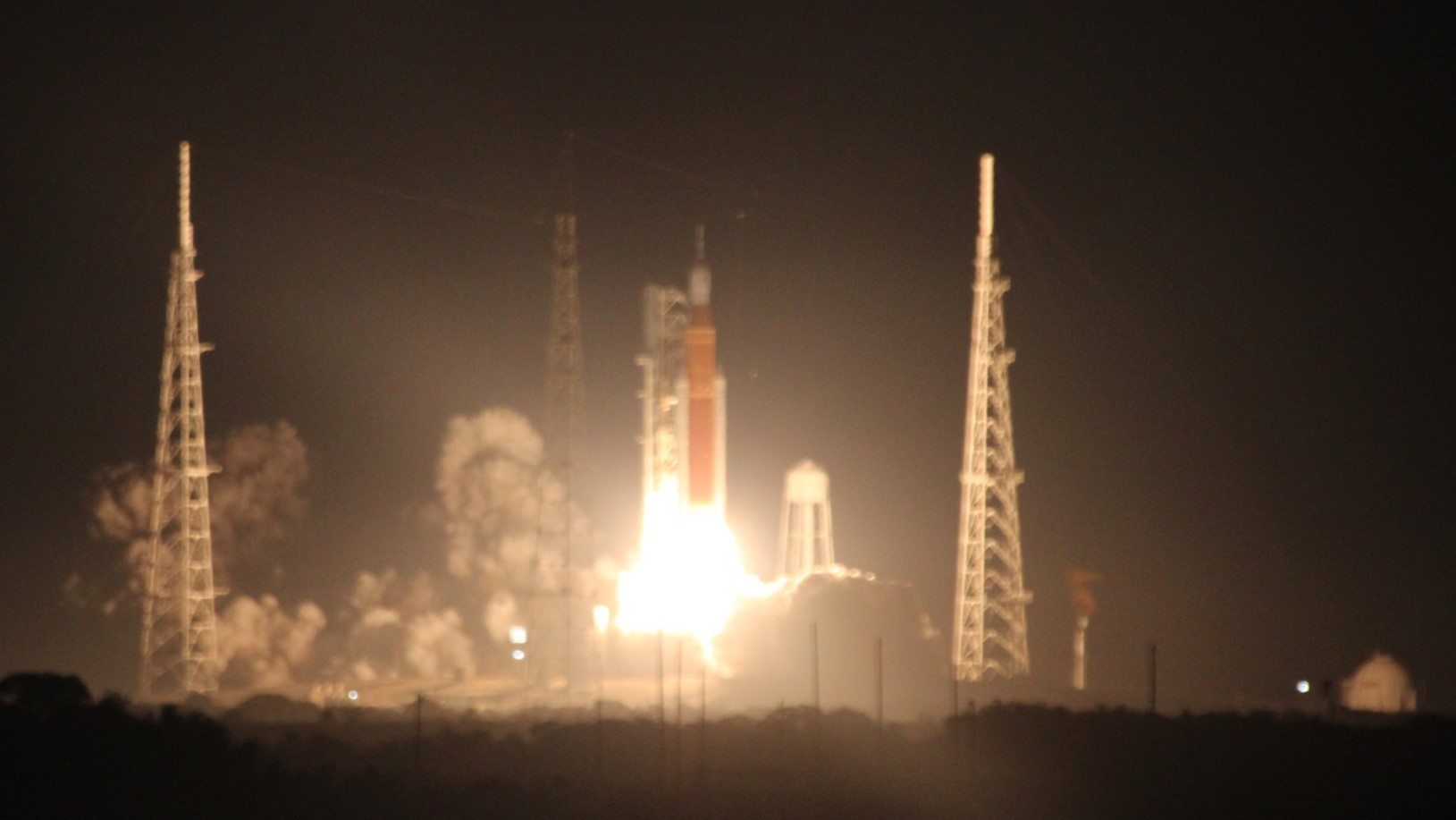 Artemis 1 is the first integrated flight test of the agency's deep space exploration systems: the Orion spacecraft, Space Launch System (SLS) rocket, and ground systems and the mission is a critical part of NASA's Moon to Mars exploration strategy.
The 32-story tall Artemis 1 stack is comprised of NASA's Space Launch System (SLS) Mega moon rocket integrated with the Orion crew spacecraft on top.
The launch is the first leg of a mission in which Orion is planned to travel approximately 40,000 miles beyond the Moon and return to Earth over the course of 25.5 days – concluding with a splashdown in the Pacific Ocean and recovery of Orion.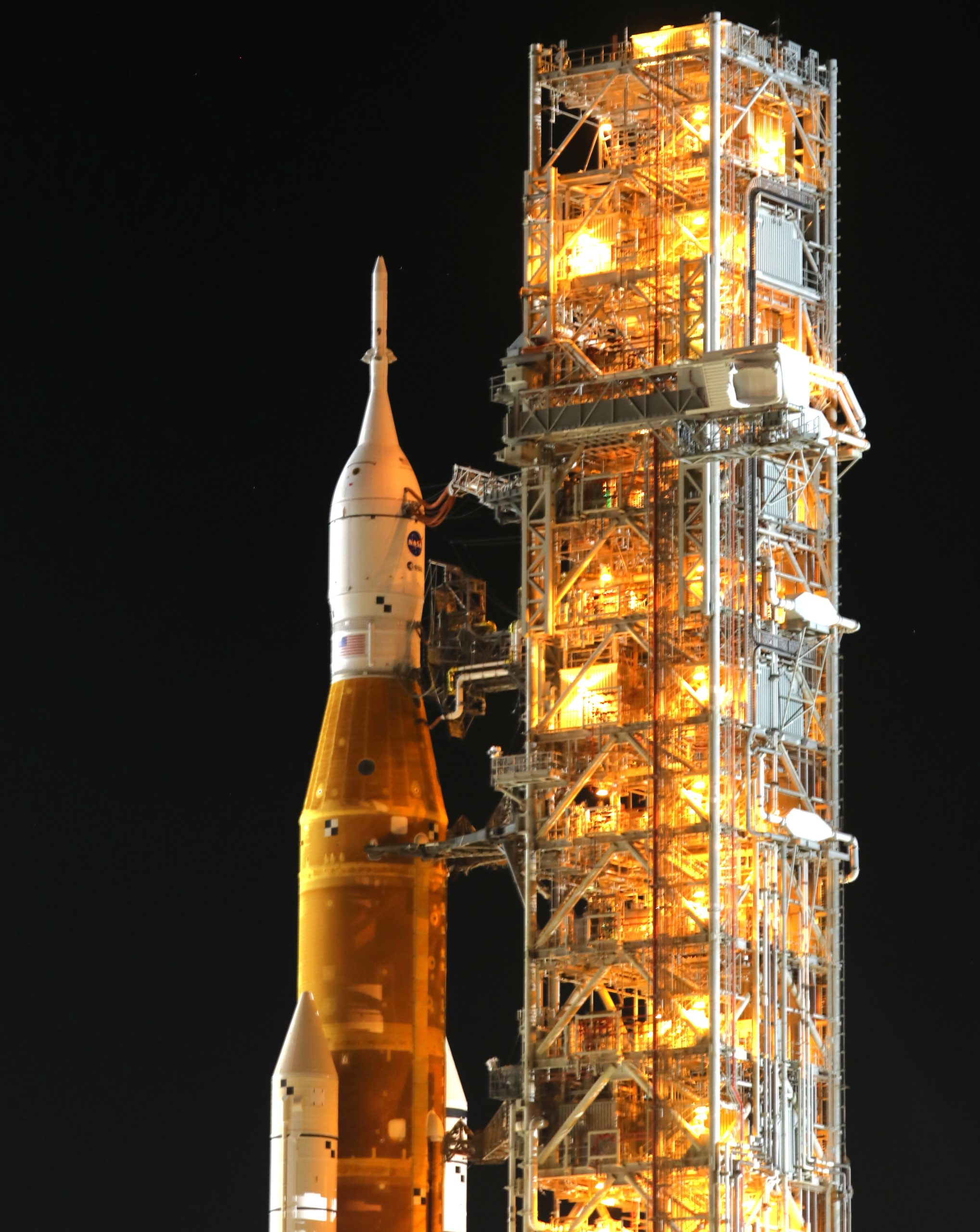 Orion will arrive in distant retrograde lunar orbit on Monday, Nov. 21 and flyby the moon within about 60 miles of the surface.
The distant retrograde orbit is a highly stable orbit and Orion will be flung out to about 40,000 miles beyond the Moon, farther than any human rated spacecraft ever.
Two earlier attempt to launch Artemis 1 were scrubbed for technical reasons in August and September
Following liftoff the core stage fired as planned. The SRB's provided 80 percent of liftoff thrust delivering 3.3 million pounds of thrust each and separated at about 2 and a half minutes into flight following by launch abort system jettison.
The core stage continued to fire for over eight minutes with the 4 RS-25 engines providing a total of about 2 million pounds of thrust.
Stage separation and ignition of the ICPS upper stage delivered Orion to its initial orbit.
Orion sent stunning images departing Earth after liftoff
As @NASA_Orion begins the #Artemis I mission to the Moon, the spacecraft captured these stunning views of our home planet. pic.twitter.com/Pzk3PDt7sd

— NASA Artemis (@NASAArtemis) November 16, 2022
Orion next "deployed its solar arrays and engineers began performing checkouts of the spacecraft's systems. About 1.5 hours into flight, the rocket's upper stage engine successfully fired for approximately 18 minutes to give Orion the big push needed to send it out of Earth orbit and toward the Moon.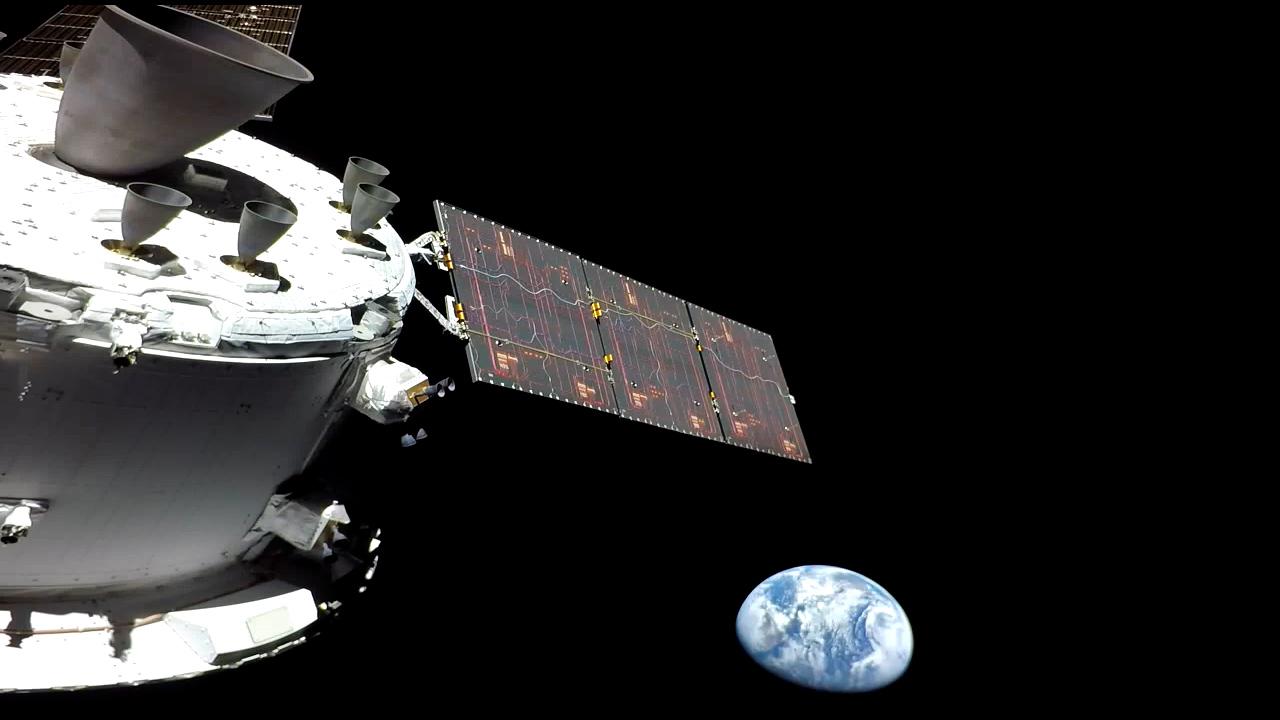 Orion soon transmitted breathtaking new views of the Earth on its way to the Moon – seen in this NASA tweet:
New views of planet Earth from @NASA_Orion as #Artemis I journeys to the Moon. Orion is 9.5 hours into a 25.5-day test flight. pic.twitter.com/CBaA4ZOK4X

— NASA (@NASA) November 16, 2022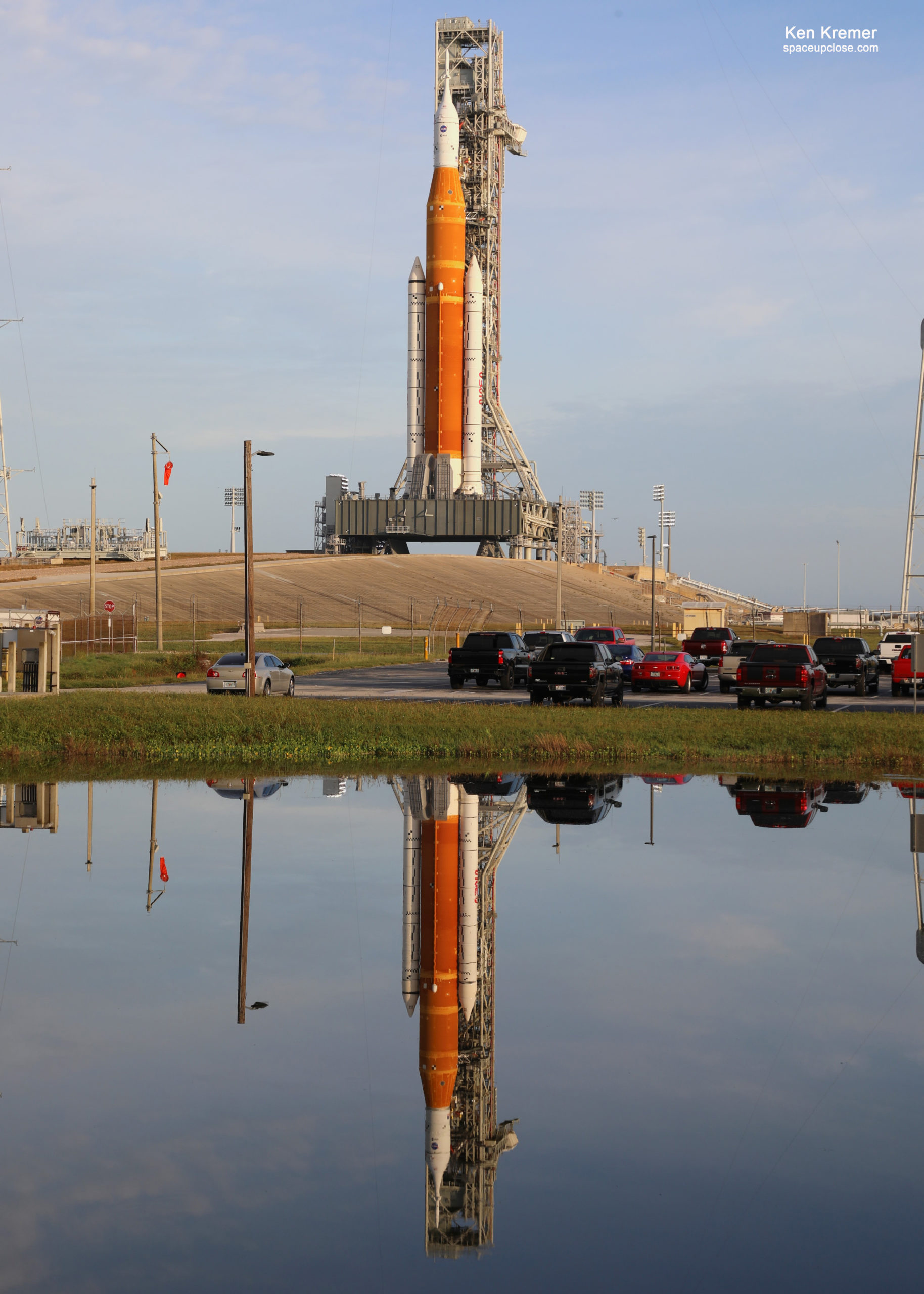 More from NASA:
Orion separated from its upper stage and is on its outbound coast to the Moon powered by its service module, which is the propulsive powerhouse provided by ESA (European Space Agency) through an international collaboration.
"It's taken a lot to get here, but Orion is now on its way to the Moon," said Jim Free, NASA deputy associate administrator for the Exploration Systems Development Mission Directorate. "This successful launch means NASA and our partners are on a path to explore farther in space than ever before for the benefit of humanity."
Over the next several hours, a series of 10 small science investigations and technology demonstrations, called CubeSats, will deploy from a ring that connected the upper stage to the spacecraft. Each CubeSat has its own mission that has the potential to fill gaps in our knowledge of the solar system or demonstrate technologies that may benefit the design of future missions to explore the Moon and beyond.
Orion's service module will also perform the first of a series of burns to keep Orion on course toward the Moon approximately eight hours after launch.
In the coming days, mission controllers at NASA's Johnson Space Center in Houston will conduct additional checkouts and course corrections as needed. Orion is expected to fly by the Moon on Nov. 21, performing a close approach of the lunar surface on its way to a distant retrograde orbit, a highly stable orbit thousands of miles beyond the Moon.
"The Space Launch System rocket delivered the power and performance to send Orion on its way to the Moon," said Mike Sarafin, Artemis I mission manager. "With the accomplishment of the first major milestone of the mission, Orion will now embark on the next phase to test its systems and prepare for future missions with astronauts."
….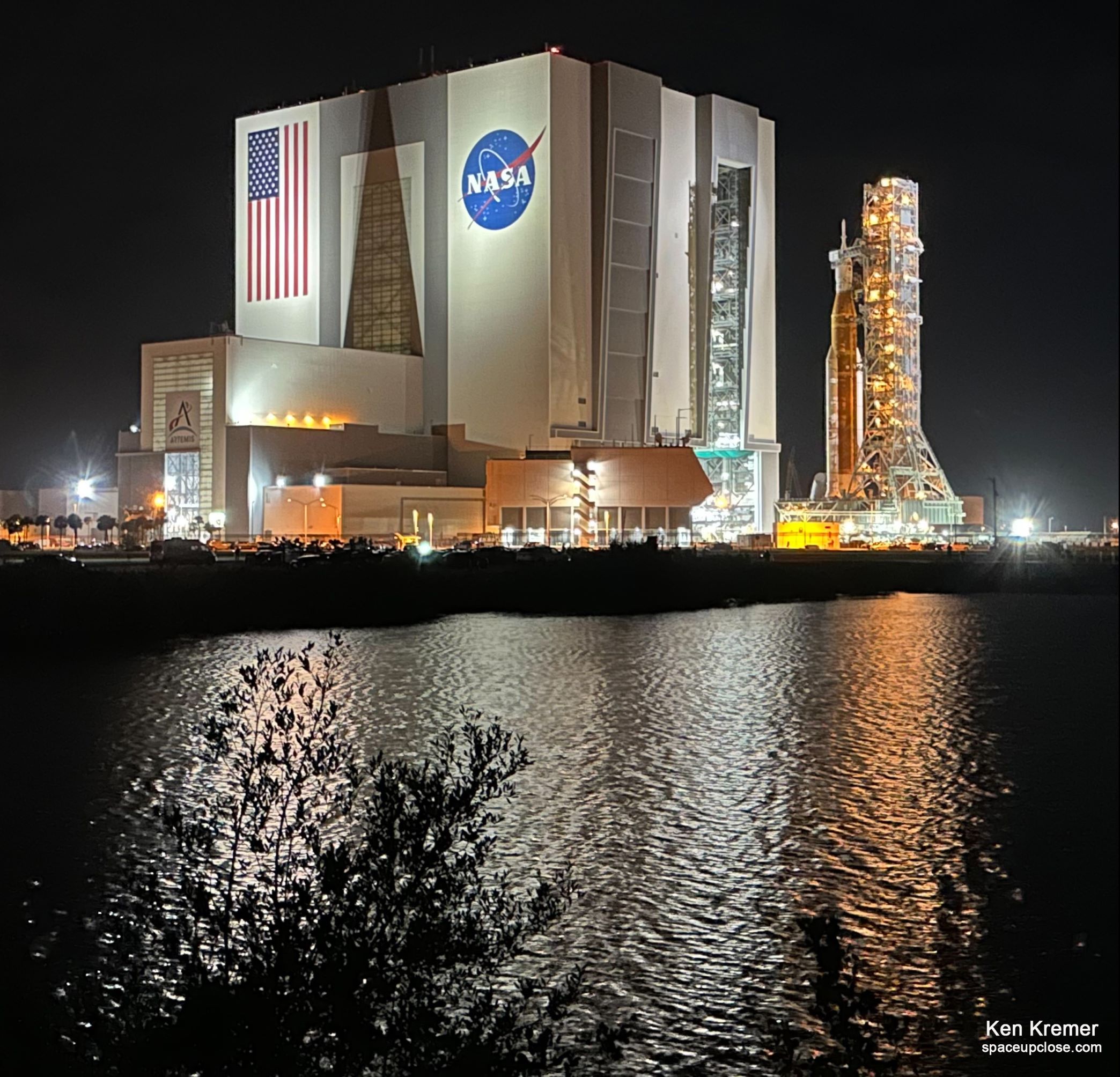 Enjoy our photos showing Artemis 1 emerging from the VAB and the overnight trek towards launch complex 39B as well as earlier launch attempts and rolls back and forth taken by Ken Kremer and Jean Wright for Space UpClose.
NASA was forced to wave off the last Artemis 1 launch attempt period in late September and early October in the face of the impending devastating threat from monster Hurricane Ian as it was approaching the Florida peninsula including the Space Coast – and roll the 32 story tall stack back to the VAB processing hangar for protective shelter on Sept. 26/27.
NASA's Artemis 1 SLS/Orion lunar test flight rocket had remained at pad 39B following a pair of scrubs from launch attempts on Aug. 29 and Sept. 3.
The vehicle arrived back inside the VAB just in the nick of time because Ian stuck Florida and weather was atrocious 24 hours later.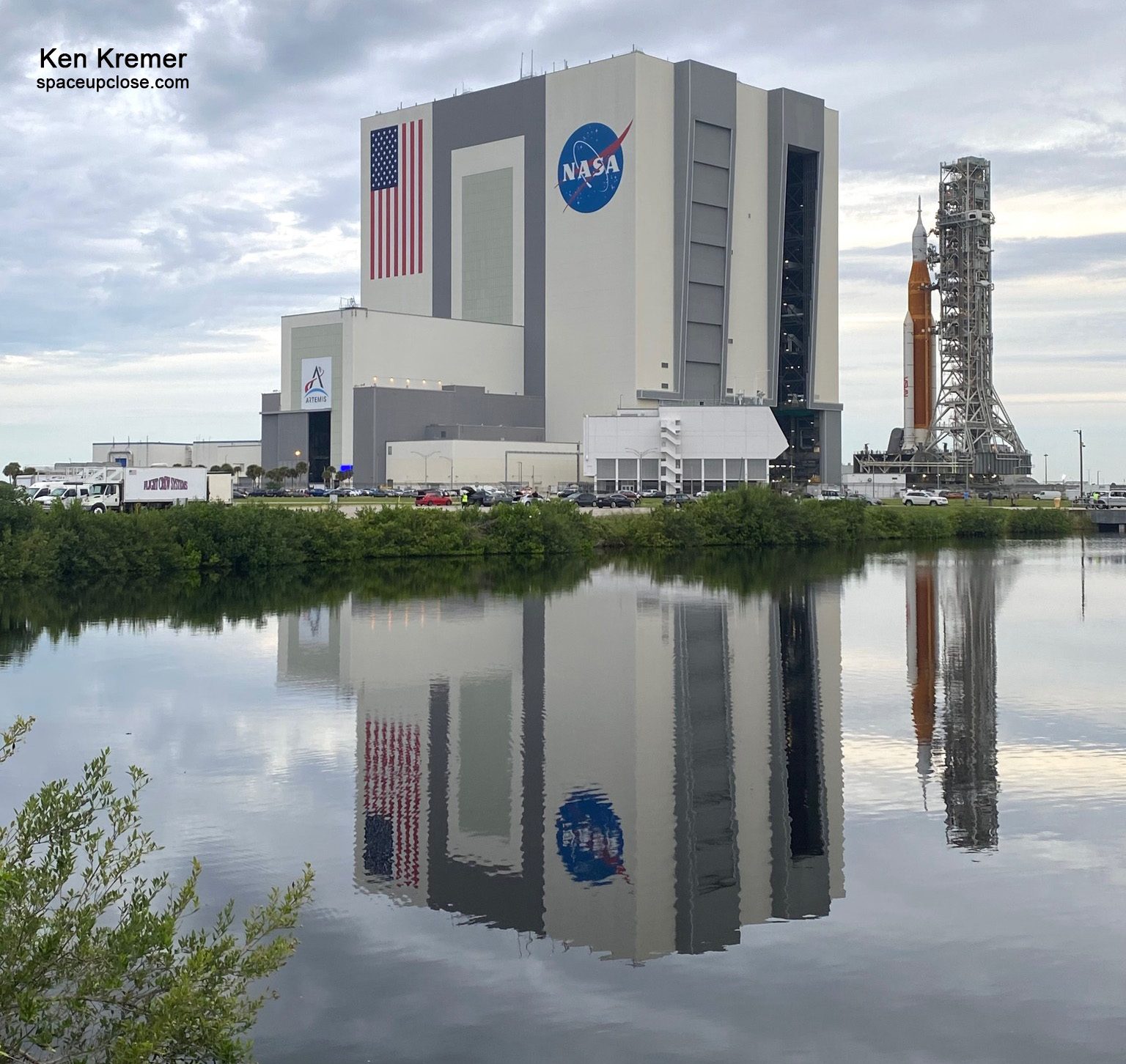 ….
Watch Ken's commentary about Project Artemis, SpaceX Falcon Heavy, Crew-5,  NASA SLS cryo and WDR tests, NASA SpaceX Crew & Cargo Dragons and more
Nov 16: News Nation featured my pre and post launch commentary about Artemis 1 launch
Nov 16: Fox 35 Orlando featured my live and taped pre and post launch commentary about Artemis 1 launch.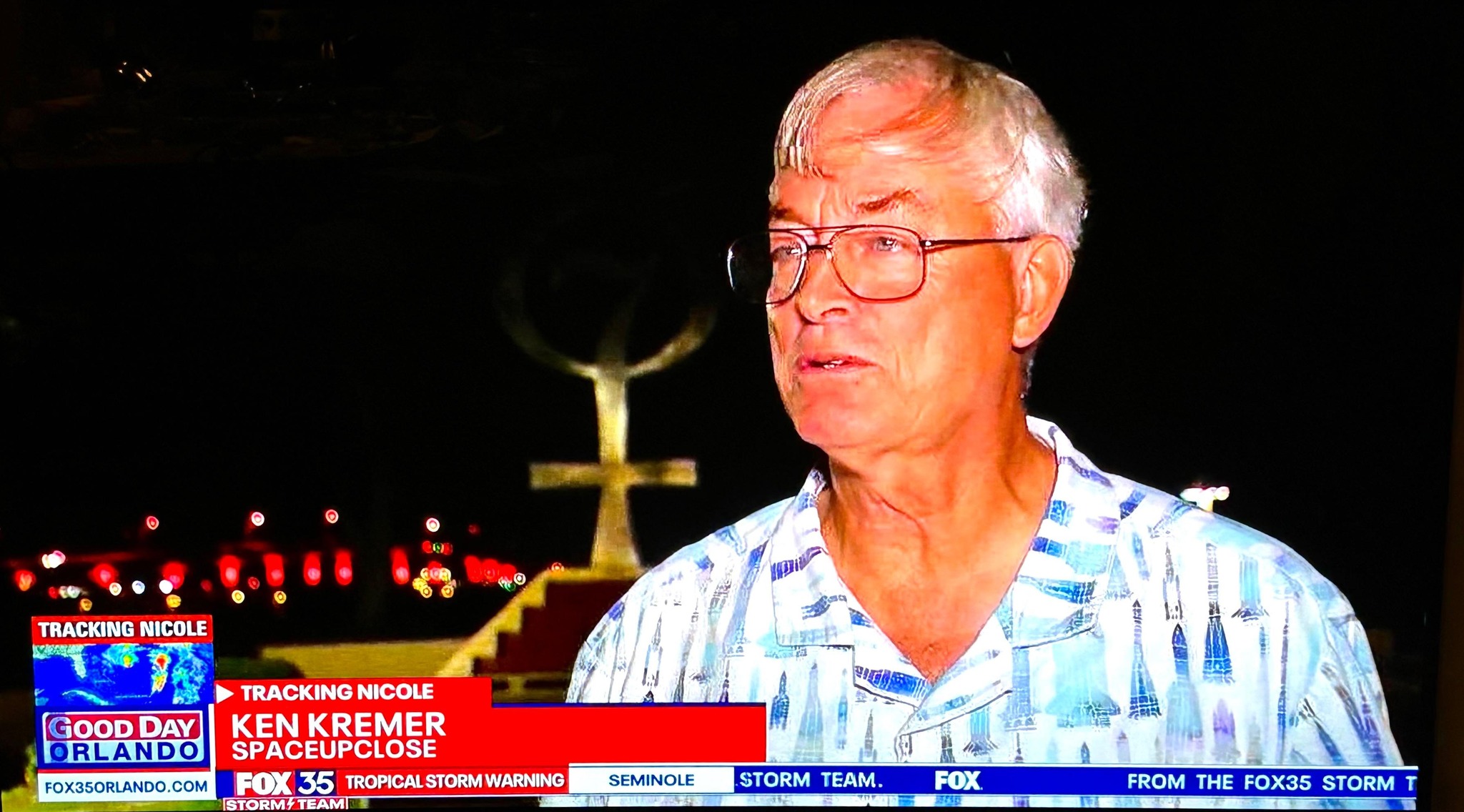 Nov 7/8: Fox 35 Orlando – As subtropical storm Nicole approaches KSC and Florida watch my comments about NASA deciding for the moment to keep Artemis 1 moon rocket at pad 39b and not roll back to VAB
https://www.fox35orlando.com/news/nasa-says-its-keeping-artemis-outside-during-major-storm
NASA says it's keeping Artemis on the launch pad. The rocket can withstand winds up to 85 miles an hour. The @NWSMelbourne is predicting windspeeds could very well hit that point in Brevard County – in fact, a Tuesday morning update says windspeeds could be in the 74-110mph range pic.twitter.com/i569eAmi9p

— Marie Edinger FOX 35 (@MarieEdinger) November 8, 2022
Nov 4/5: WFTV ABC News Orlando featured my commentary about Artemis 1 rollout overnight and goals of NASA lunar test flight mission launching Nov 14 at 1207 AM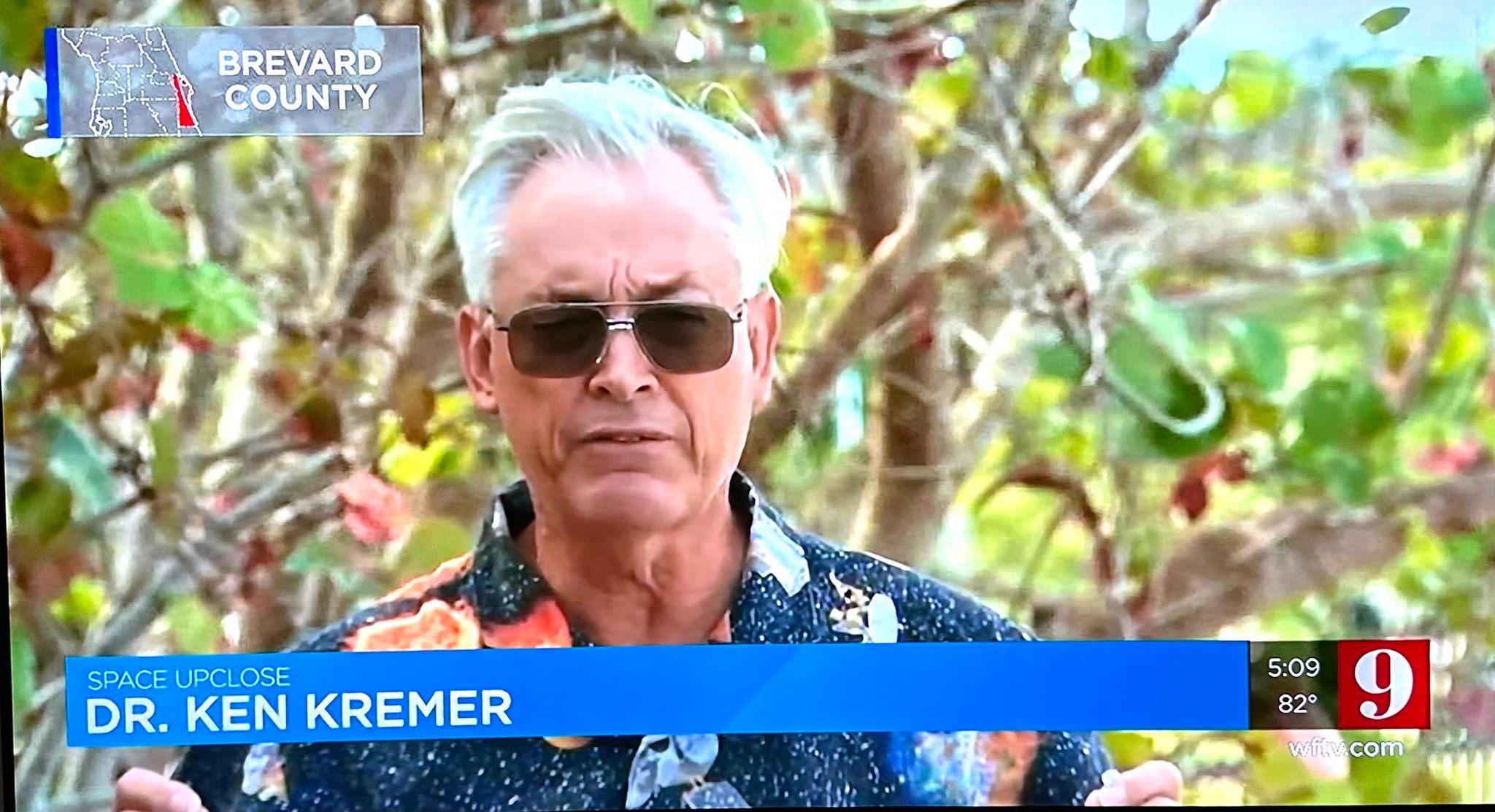 Nov 4:  Fox 35 Orlando featured my commentary about Artemis 1 rollout overnight and goals of NASA lunar test flight mission launching Nov 14
Nov 1: Fox 35 Good Day Orlando morning show featured my live and taped prelaunch interview commentary about SpaceX Falcon Heavy launch with Space Force national security payloads
Nov 1: WFTV ABC News featured my commentary about SpaceX Falcon Heavy launch with Space Force national security payloads
https://news.yahoo.com/watch-lve-spacex-launches-falcon-100341265.html
Oct 31: WFTV ABC News featured my commentary about SpaceX Falcon Heavy launch with Space Force national security payloads
https://www.wftv.com/news/local/spacex-falcon-heavy-ready-launch-tuesday-morning-double-sonic-boom-expected/CJVF25UEABACDMUOOCO2NEK7CQ/
Oct 27: WFTV ABC News and Fox 35 Orlando featured my commentary about Falcon Heavy and the Space Force national security payloads
https://www.wftv.com/news/local/brevard-county/spacex-aiming-first-falcon-9-heavy-launch-years/2T6SWE5KCNFA3LDJ4M25HWLH4M/
https://www.fox35orlando.com/video/1137117
Watch Ken's continuing reports about Artemis, SpaceX missions, SLS, Orion and NASA missions, SpaceX Crew and Cargo Dragons, SpaceX Axiom, JWST, DART, Lucy Asteroid mission, GOES, SpaceX Starlink, Commercial Crew and Starliner and Crew Dragon, Blue Origin and Space Tourism, and onsite for live reporting of upcoming and recent SpaceX and ULA launches including Crew 1 & 2 & 3 & 4 & 5, ISS, Solar Orbiter, Mars 2020 Perseverance and Curiosity rovers, NRO spysats and national security missions and more at the Kennedy Space Center and Cape Canaveral Space Force Station.
Stay tuned here for Ken's continuing Earth and Planetary science and human spaceflight news: www.kenkremer.com –www.spaceupclose.com – twitter @ken_kremer – email: ken at kenkremer.com
Dr. Kremer is a research scientist and journalist based in the KSC area, active in outreach and interviewed regularly on TV and radio about space topics.
………….
Ken's photos are for sale and he is available for lectures and outreach events
Please consider supporting Ken's work by purchasing his photos and/or donating at Patreon
https://www.patreon.com/kenkremer
Upcoming and recent space events and talks by Ken Kremer & Jean Wright
Nov 19/20 and 14/15 from 7 to 9 PM Quality Inn, Titusville, FL:  Join Ken and Jean for Artemis 1, Falcon Heavy and space mission and rocket launch outreach. Ask us anything. plus display our photos and space apparel items for sale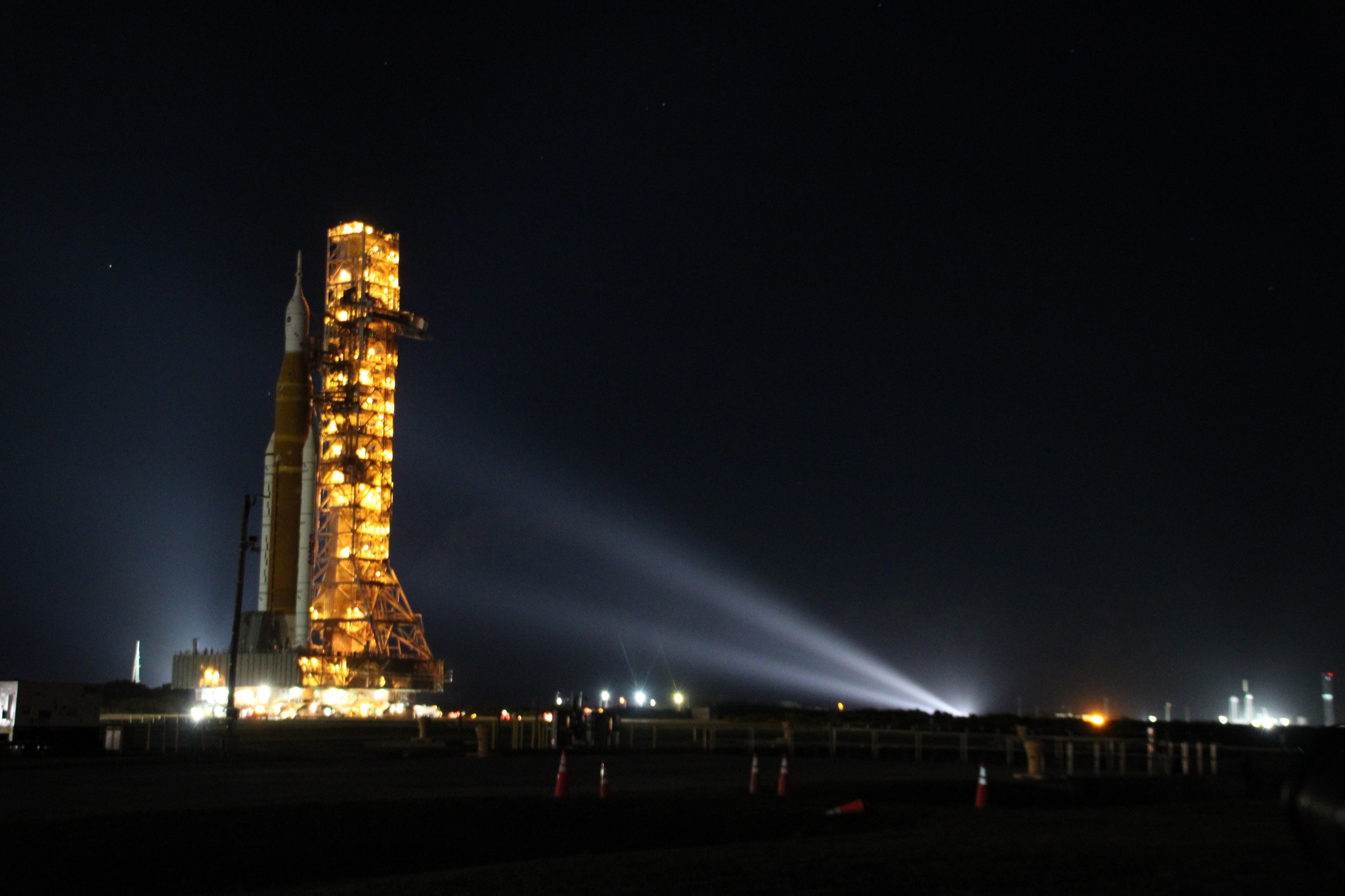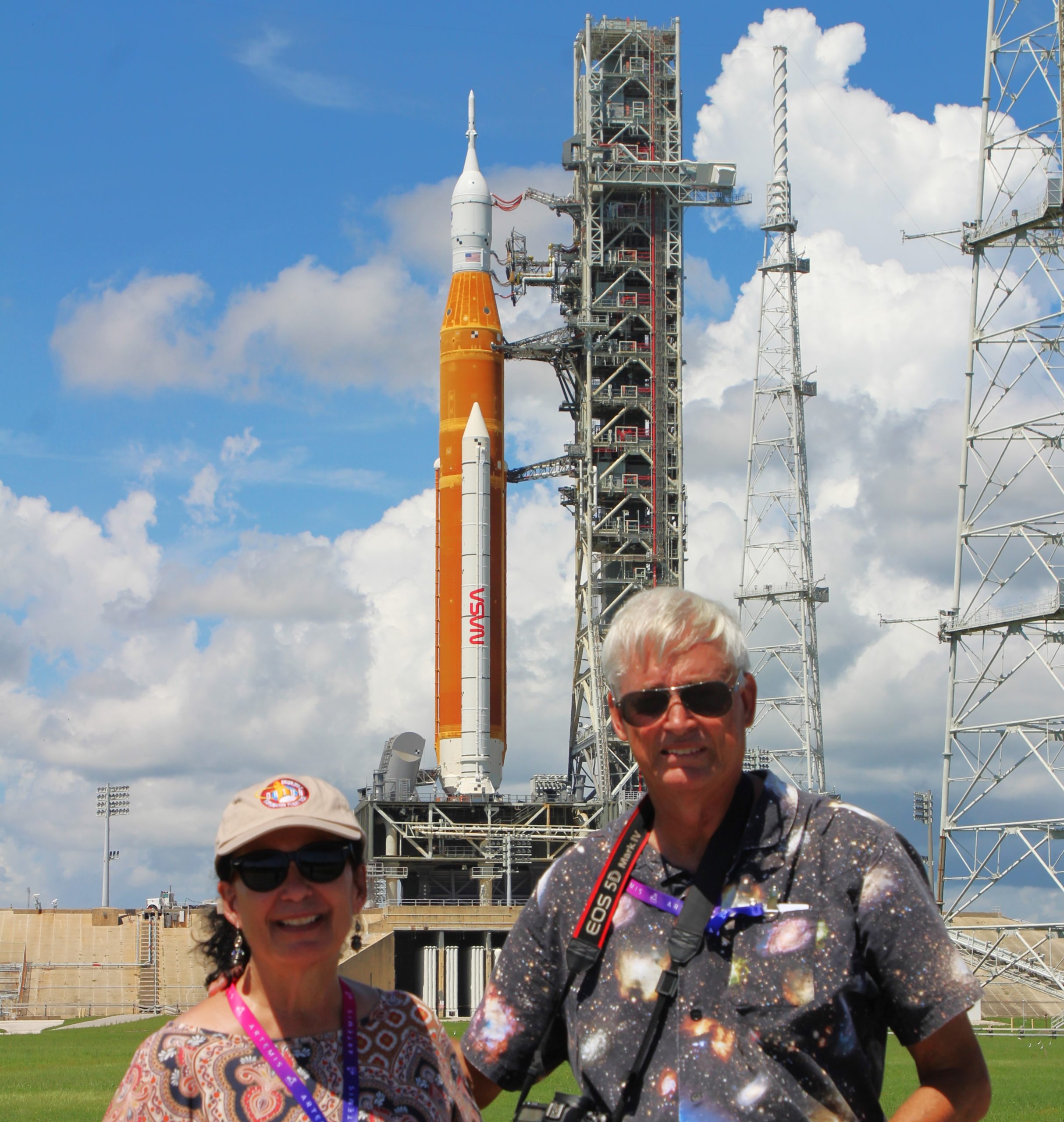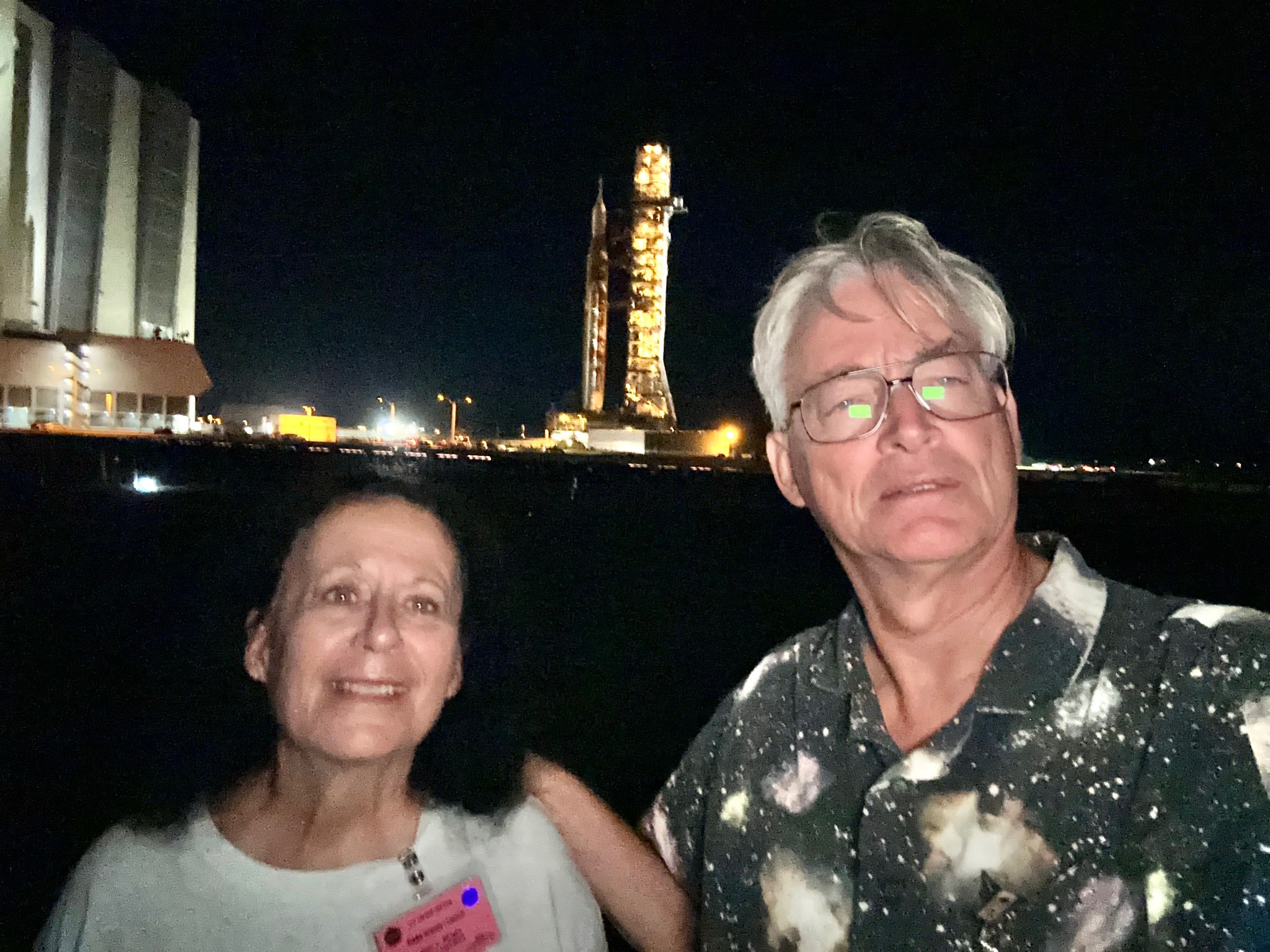 x