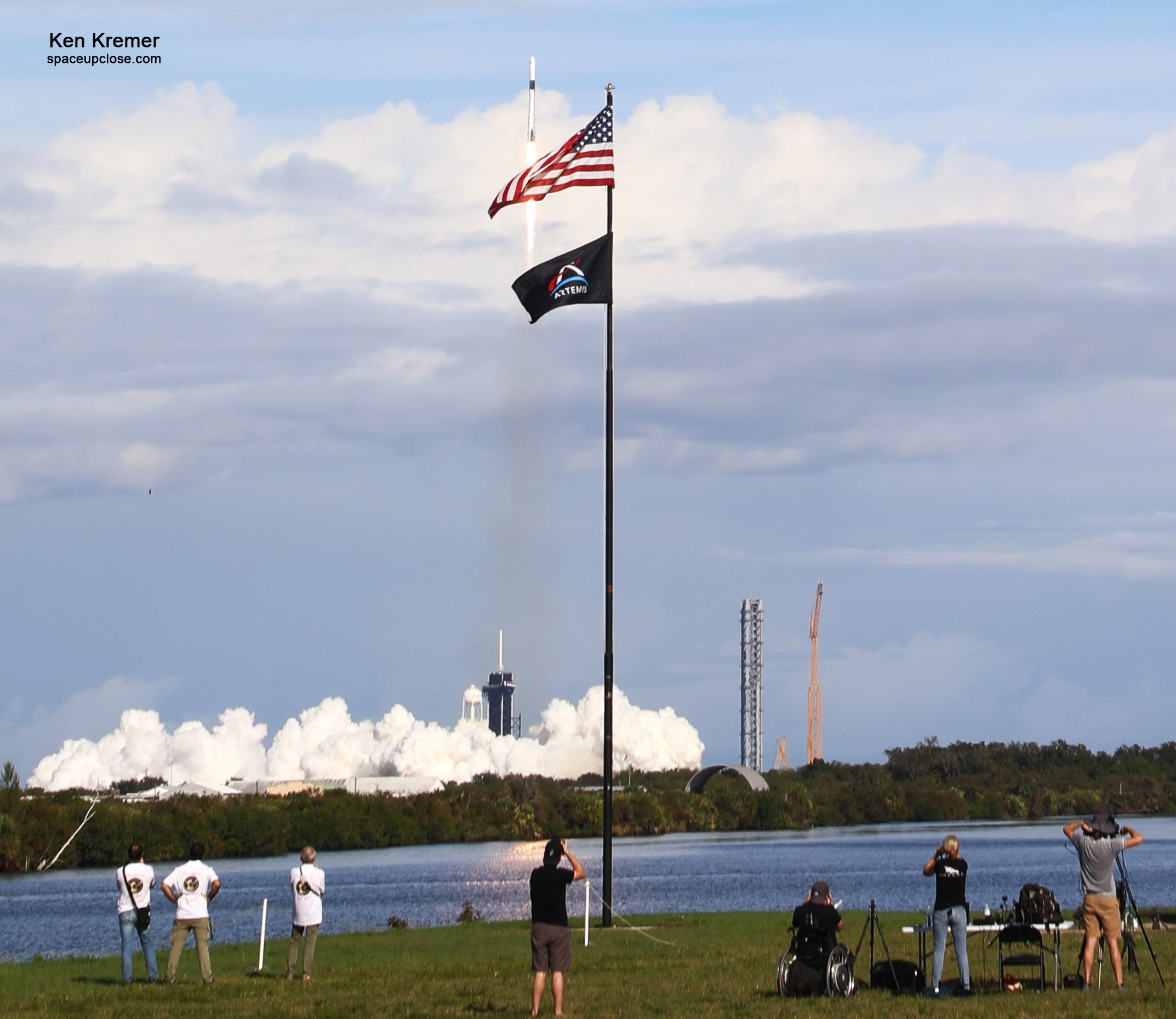 For SpaceUpClose.com & RocketSTEM
KENNEDY SPACE CENTER, FL – SpaceX successfully launched its 26th commercial resupply mission for NASA using a brand new Falcon 9 rocket and cargo Dragon spacecraft loaded with nearly four tons of science and supplies including a new pair of roll out solar panels to the International Space Station (ISS), into sunny blue skies Saturday afternoon, Nov. 26, from Florida's Spaceport.
The 215-foot-tall (65-meter) Falcon 9 rocket ignited at 2:20 p.m. EST Saturday. Nov. 26 topped by the commercial SpaceX Dragon spacecraft and thundered to orbit carrying more than 7,700 pounds of science experiments, crew supplies, food, water, clothing, spare parts, gear and other cargo, from seaside Launch Complex-39A (LC-39A) on NASA's Kennedy Space Center (KSC) in Florida.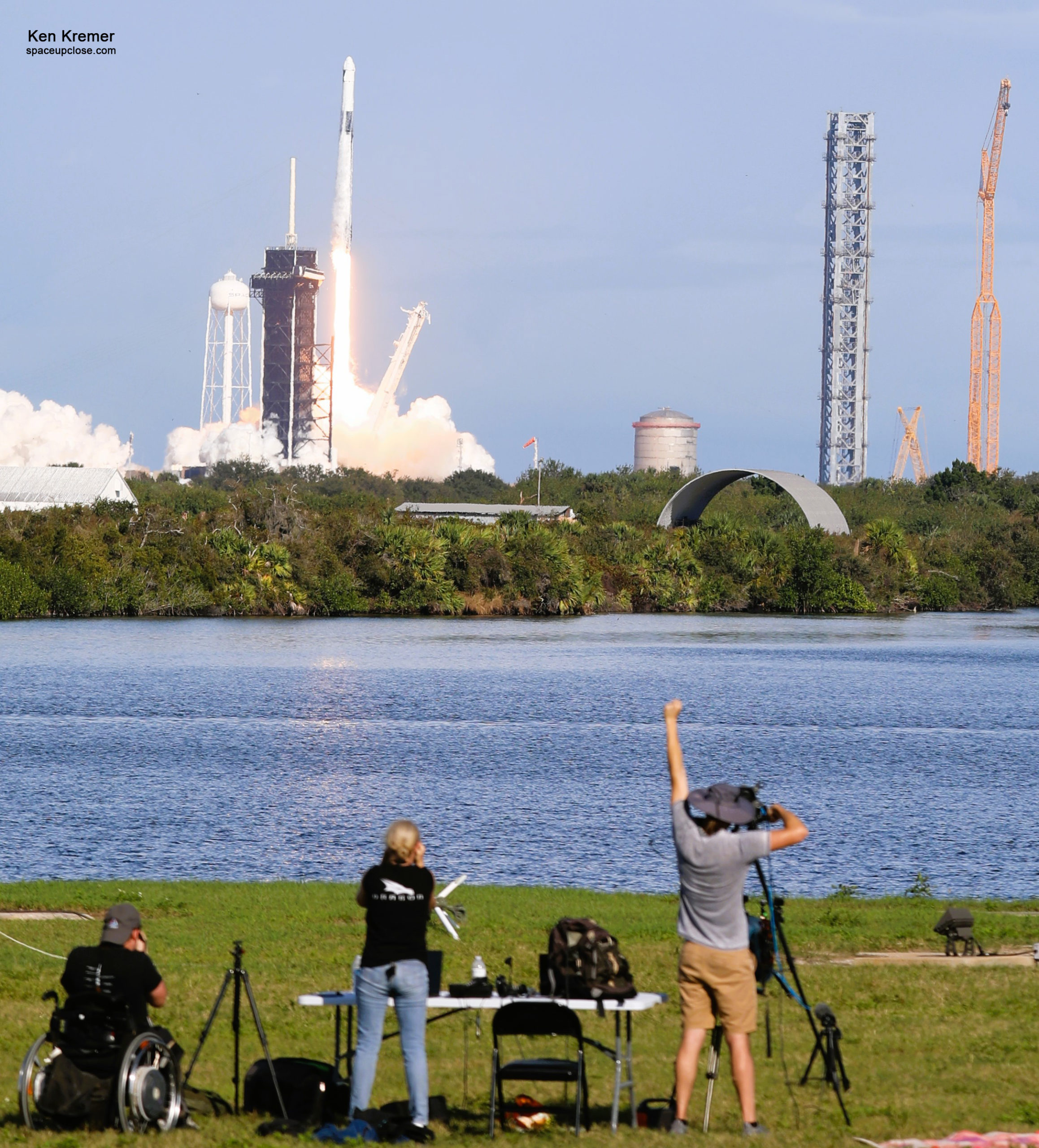 Falcon 9 launched blasted into absolutely beautiful blue skies and we observed it clearly for several minutes from our perch at the Kennedy Space Center Press Site.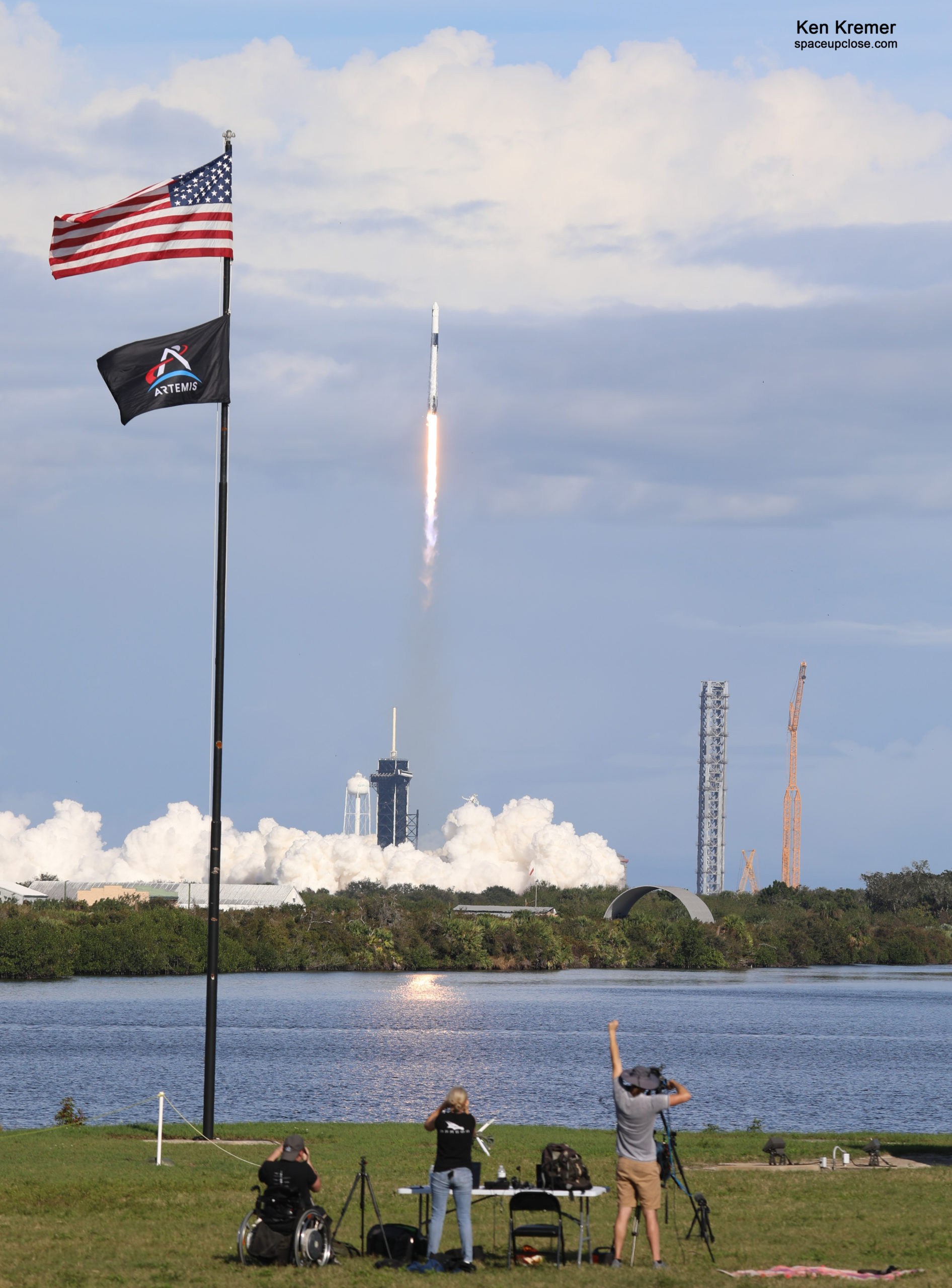 Belated Thanksgiving treats are also aboard the flight designated CRS-26 (Commercial Resupply Services-26) following a multiday delay caused by very poor Space Coast weather with drenching rainstorms that scrubbed the launch just moments before liftoff that was originally planned for Tuesday afternoon, Nov.  22.
SpaceX had fully fueled the Falcon 9 on Tuesday – in case the weather improved which it did not.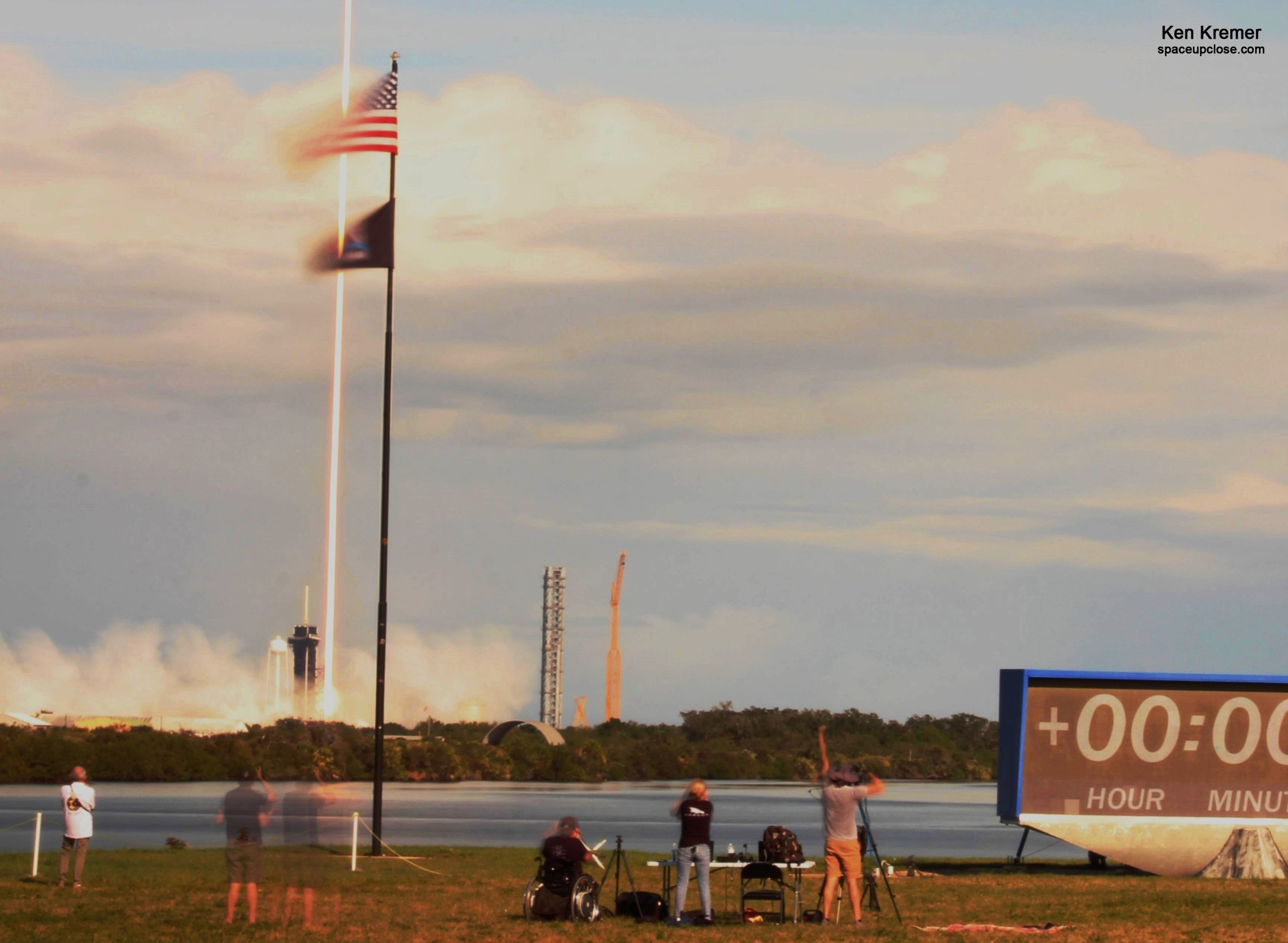 The shiny while Falcon 9 booster tail number B1076 is flying for the first time – a true rarity these days as almost all SpaceX missions are flown with 'flight-proven' boosters.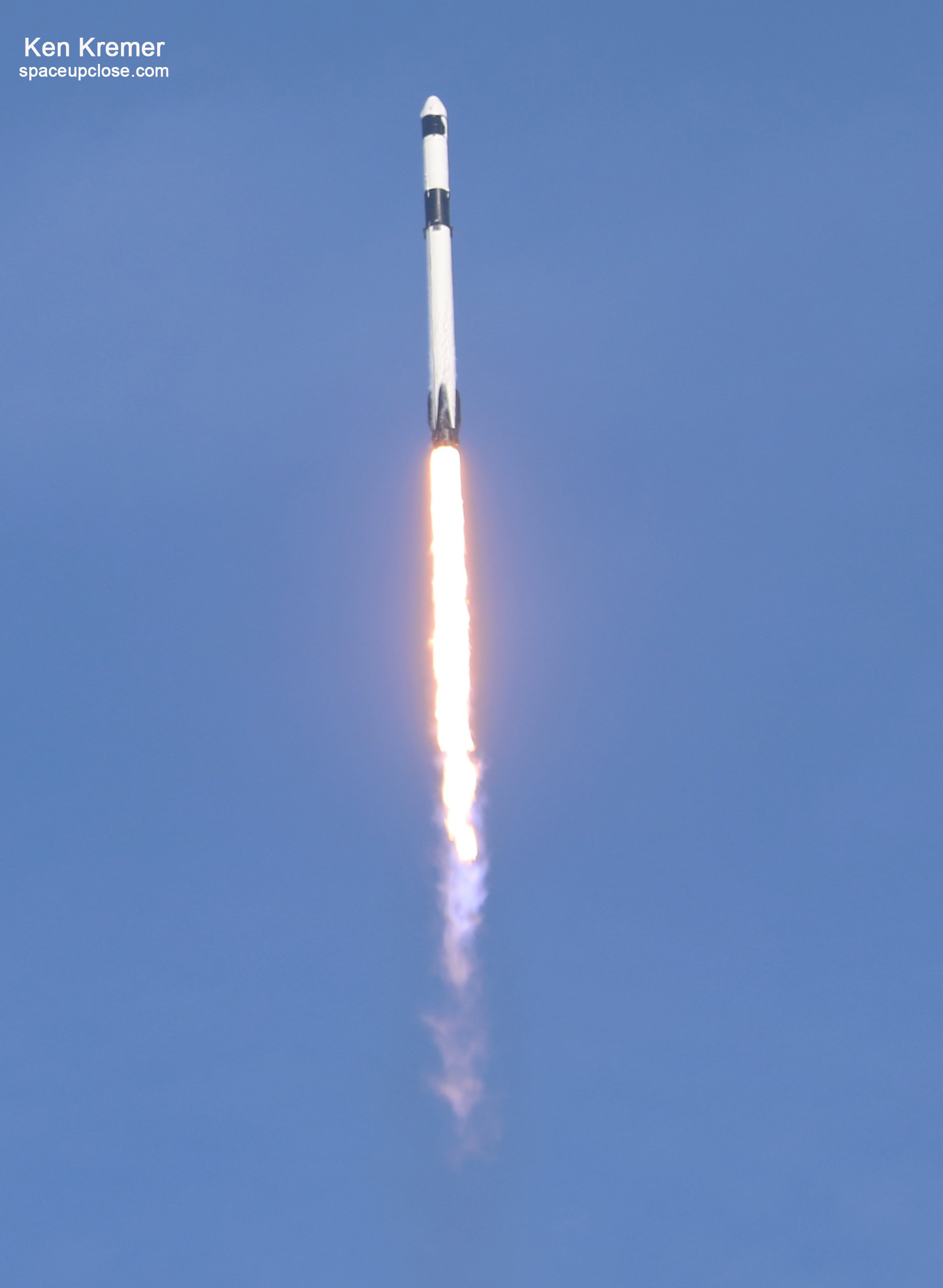 Eight minutes after liftoff it safely nailed the soft-landing on the football-field sized 'Just Read the Instruction' JRTI droneship prepositioned some 200 miles (300 kilometers) downrange and northeast of Cape Canaveral.
Falcon 9's first stage has landed on the Just Read the Instructions droneship pic.twitter.com/SIVrDEYT9R

— SpaceX (@SpaceX) November 26, 2022
Thus B1076 will be available for future reuse on NASA and other missions
SpaceX also employed a new Cargo Dragon vehicle designated Dragon C211,  its third and last next generation Dragon resupply vehicle to be built.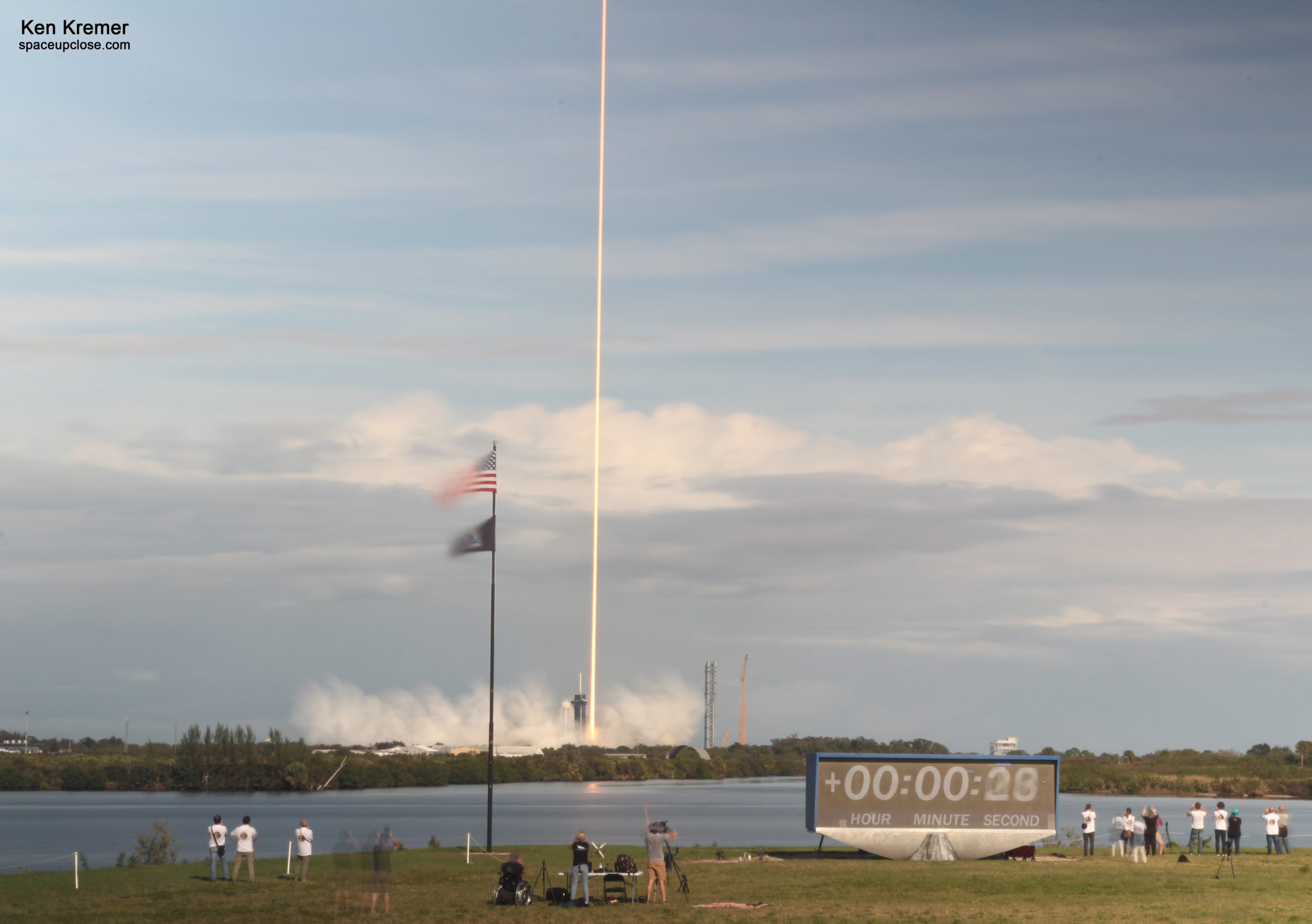 By comparison SpaceX has built four Crew Dragon spacecraft for astronaut vogages. Last week they announced plans to build a 5th one to be ready in 2024.
SpaceX also told Space UpClose at a media briefing they plan to extend the lifetime of the Dragons from the current 5 missions to as many as 15 missions.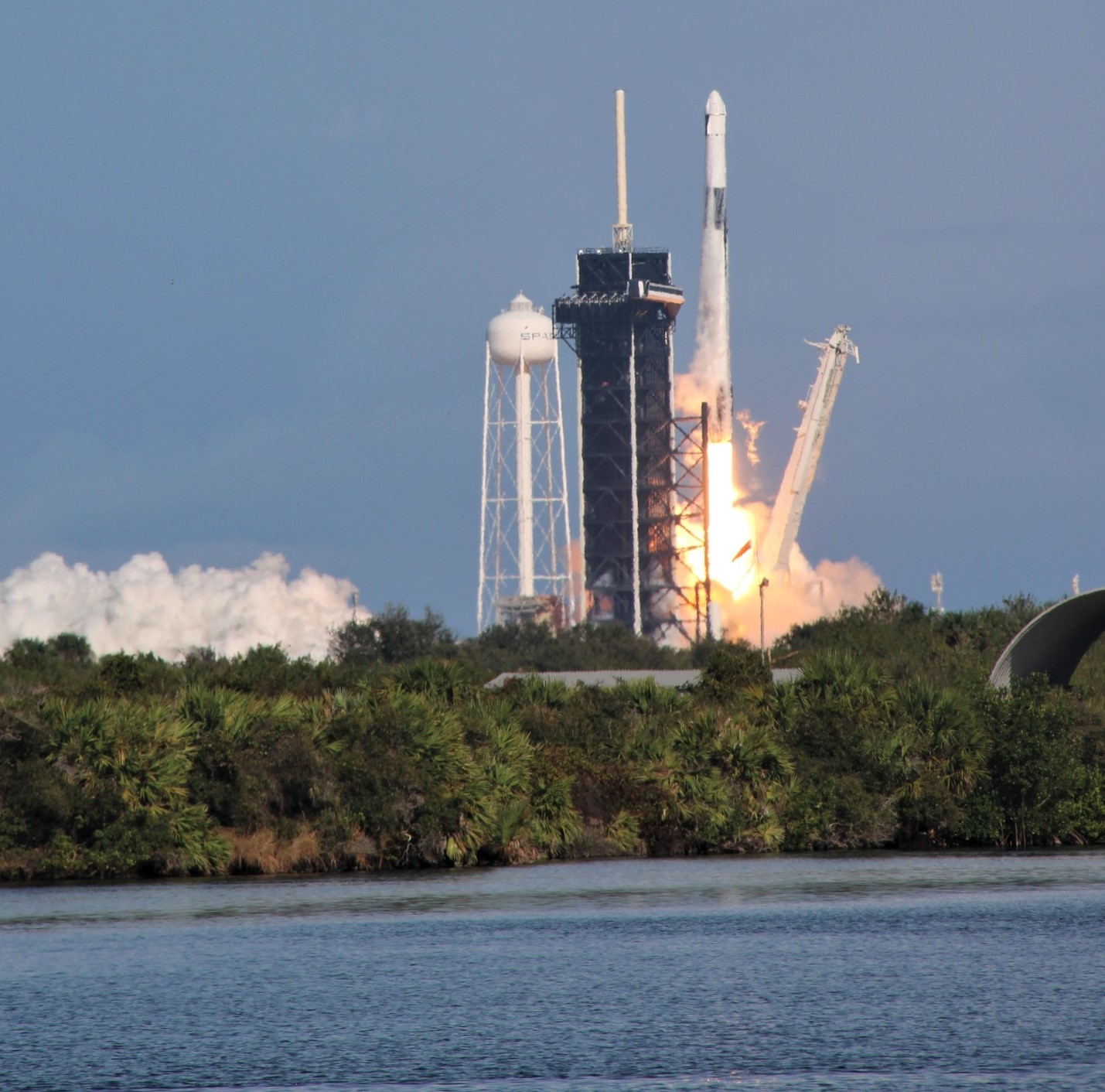 Among the payload highlights on the NASA SpaceX CRS-26 cargo mission are the second pair of iROSA rollout solar arrays. They are packed inside the Dragon's unpressurized trunk section and will boost the station power around 20% or more after they are plucked out and installed with the help of a pair of spacewalking astronauts
A third and final set of iROSA arrays will be launched next year on another Cargo Dragon flight on SpaceX CRS-28.
Altogether the 6 solar arrays – along with other 24 earlier Li-ion battery upgrades – will provide about a 50% or more power boost and help enable the ISS to continue operating until its planned retirement in 2030.
Similar iROSA power generating solar arrays will be used to provide energy for NASA's planned Gateway mini space station in Lunar Orbit slated for launch in a few years.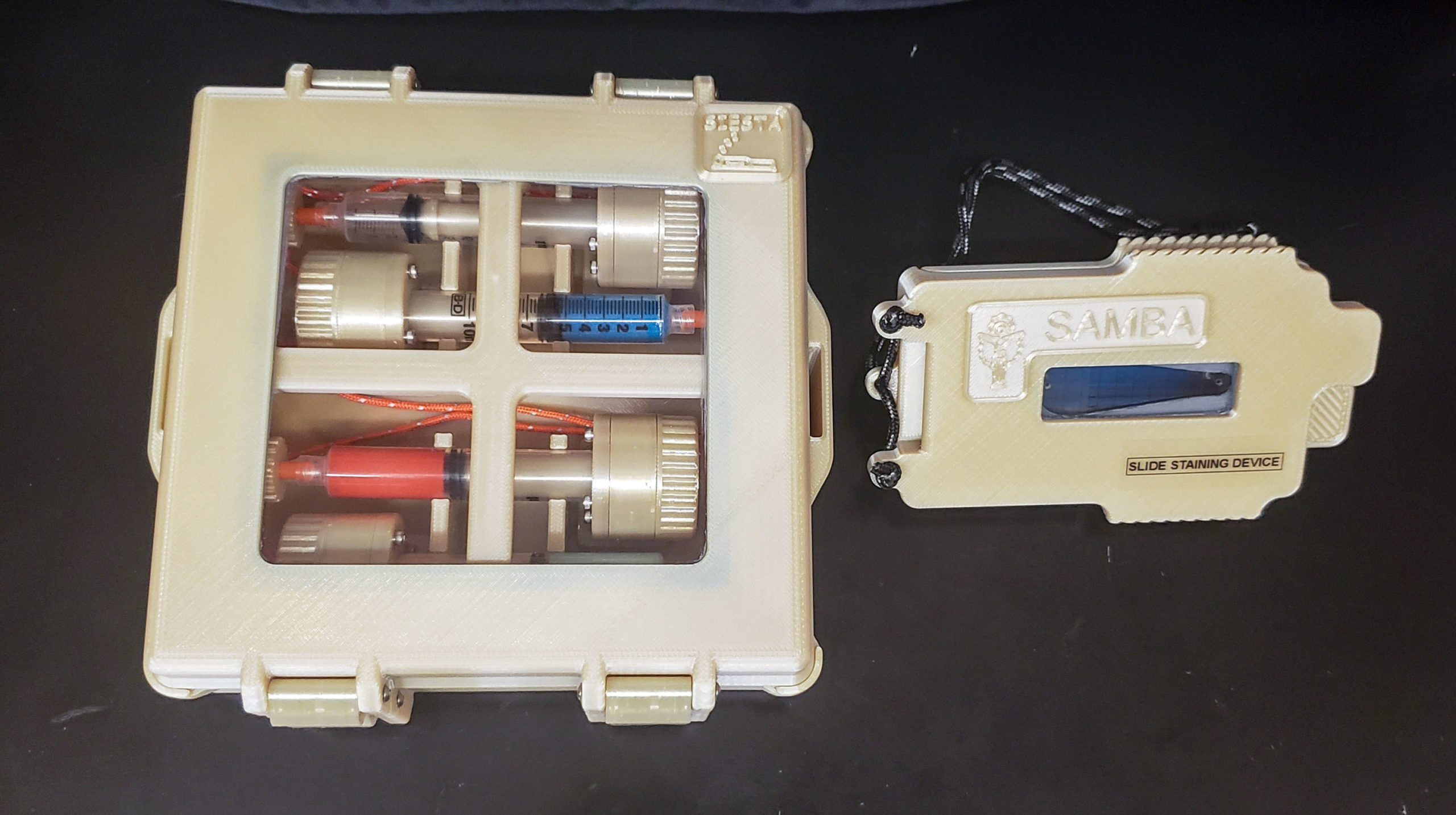 Also aboard is a Moon Microscope that the astronauts will use to image blood stain samples and transmit back to Earth for analysis, as well as dwarf tomato seeds as part of the Veg-05 experiment to fortify fresh food growth and consumption on the station.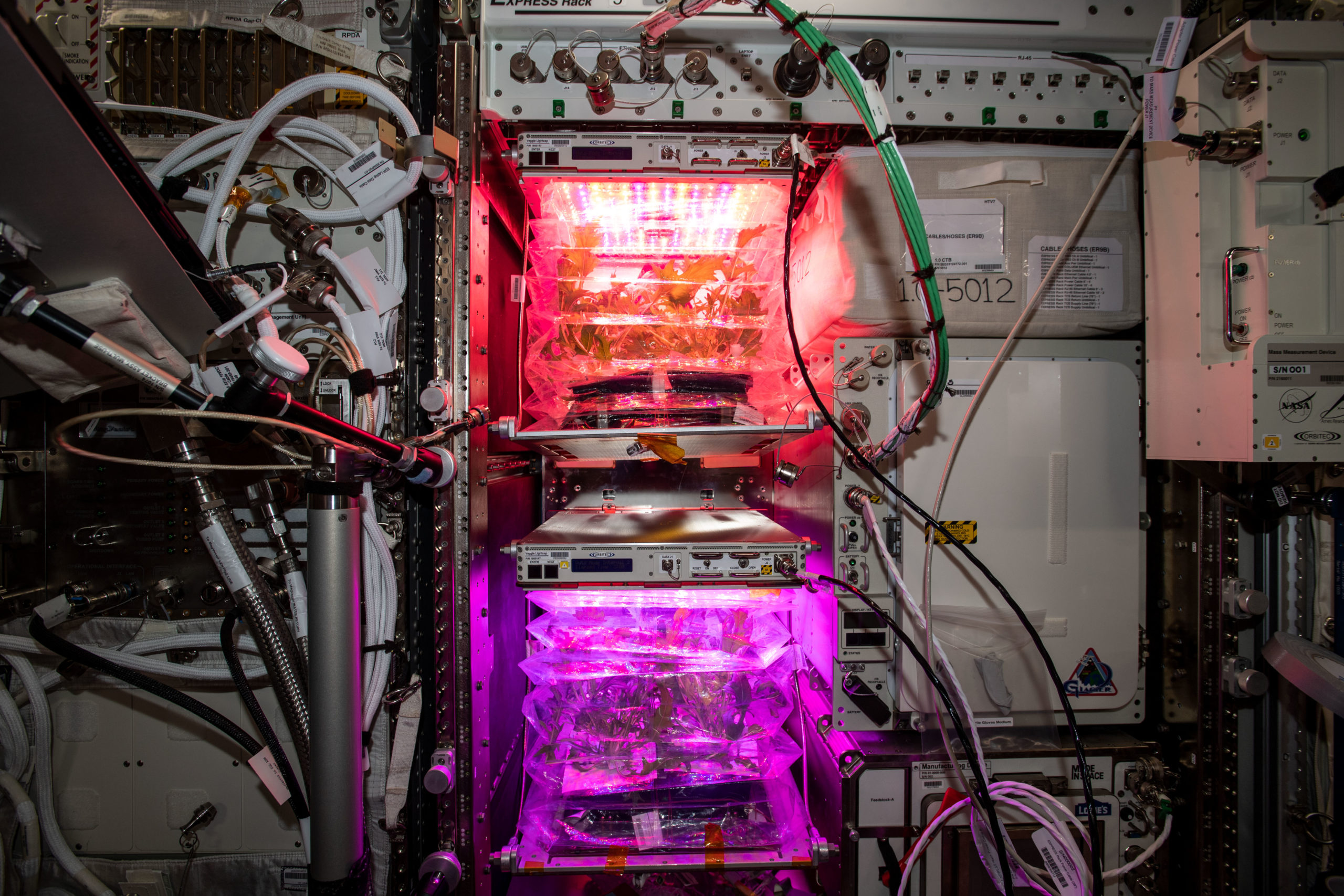 Enjoy our gallery of NASA SpaceX Falcon 9 CRS-26 mission launch photos taken by the Space UpClose team of Ken Kremer and Jean Wright.
All of these technologies will serve as proving grounds for testing technologies vital for NASA's Artemis program of deep space human exploration to the Moon, Mars and beyond.
The cargo spacecraft is scheduled to autonomously dock at the space station around 7:30 a.m. Sunday, Nov. 27, and remain at the station for about 45 days.
Dragon will dock autonomously to the forward-facing port of the station's Harmony module.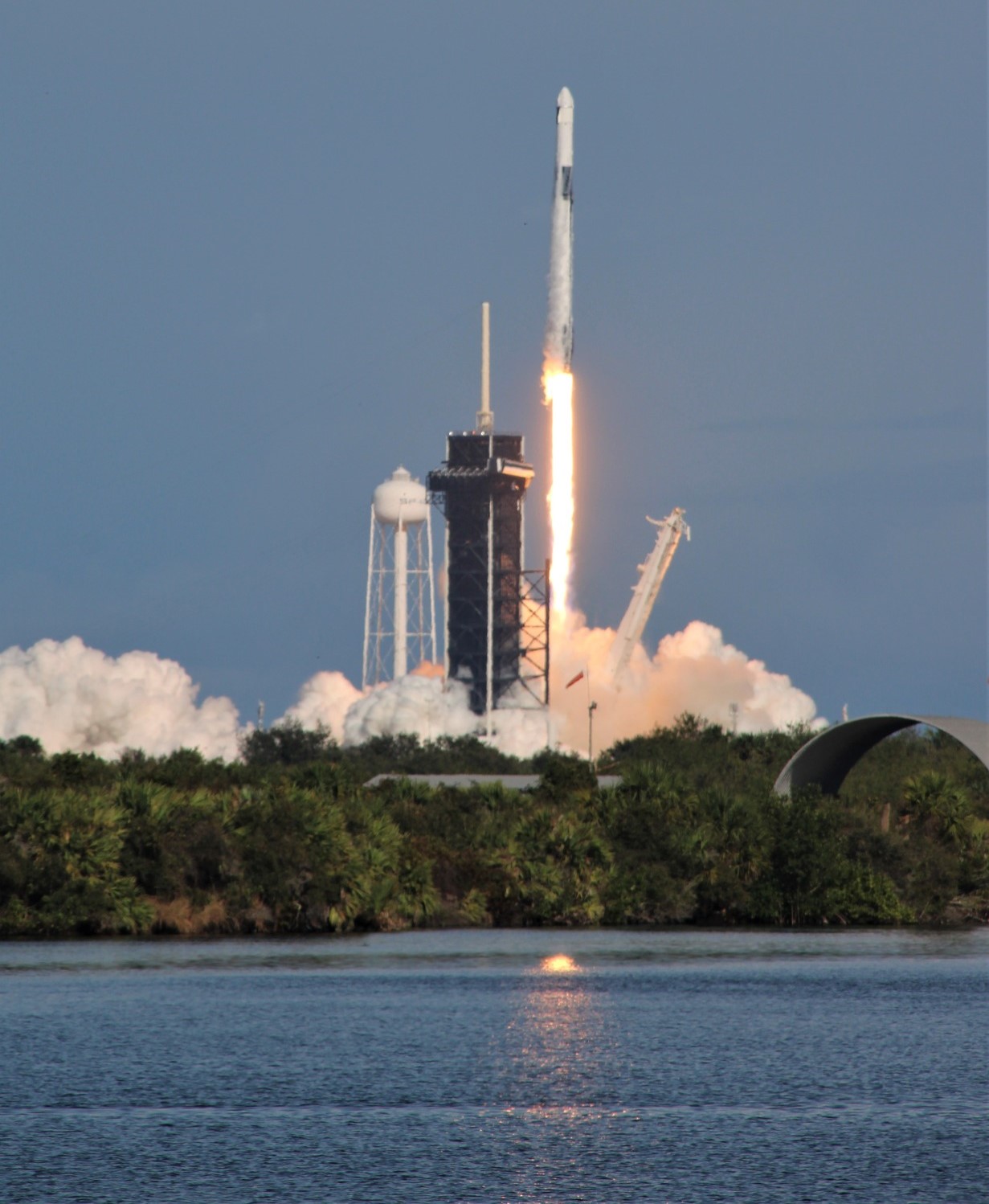 You can watch the Dragon arrival on at NASA TV coverage that begins at 6 a.m. on NASA Television, the agency's website, and the NASA app.
To date SpaceX has delivered and returned about 250,000 pounds of cargo to and from the ISS since the commercial cargo program contract with NASA started.
Here's a list of the CRS-26 cargo manifest:
Total Cargo: 7,777 pounds (3,528 kilograms)
2,636 pounds (1,196 kilograms) of unpressurized payloads (iROSA)
2,341 pounds (1,062 kilograms) of crew supplies
2,066 pounds (937 kilograms) of science investigations
653 pounds (296 kilograms) of vehicle hardware
55 pounds (25 kilograms) of spacewalk equipment
26 pounds (12 kilograms) of computer resources
From NASA:
Here's a description of several of the science experiments Dragon is delivering to the space station:
Picture of Health
Moon Microscope tests a kit for in-flight medical diagnosis that includes a portable hand-held microscope and a small self-contained blood sample staining device. An astronaut collects and stains a blood sample, obtains images with the microscope, and transmits images to the ground, where flight surgeons use them to diagnose illness and prescribe treatment.
The kit could provide diagnostic capabilities for crew members in space or on the surface of the Moon or Mars, as well as the ability to test water, food, and surfaces for contamination. The hardware also may enable improved medical monitoring on upcoming Artemis missions.
Adding Solar Power
Two International Space Station Roll-Out Solar Arrays, or iROSAs, launched aboard SpaceX's 22nd commercial resupply mission for the agency and were installed in 2021. These solar panels, which roll out using stored kinetic energy, expand the energy-production capabilities of the space station. The second set launching in the Dragon's trunk, once installed, will be a part of the plan to provide a 20% to 30% increase in power for space station research and operations.
These arrays, the second of three packages, will complete the upgrade of half the station's power channels. iROSA technology was first tested on the space station in 2017. Roll-out solar array technology was used on NASA's Double Asteroid Redirection Test mission and is planned for use on Gateway, a future lunar space station and vital component of NASA's Artemis program. The iROSA upgrades use the space station as a proving ground for the technology and research needed to explore farther into space.
Big Hopes for Small Tomatoes
A continuous source of nutritious food is essential for long-duration exploration missions, and the typical pre-packaged astronaut diet may need to be supplemented by fresh foods produced in space. Researchers have been testing a plant growth unit on station known as Veggie and have successfully grown a variety of leafy greens. Veg-05, the next step in that work, focuses on growing dwarf tomatoes.
Building Bigger Structures
On Earth, gravity deforms large objects such as the beams used in large-scale construction. Microgravity enables fabrication of longer and thinner structures without this deformation. Extrusion demonstrates a technology using liquid resin to create shapes and forms that cannot be created on Earth. Photocurable resin, which uses light to harden the material into its final form, is injected into pre-made flexible forms and a camera captures footage of the process. The capability for using these forms could enable in-space construction of structures such as space stations, solar arrays, and equipment.
The Space Exploration Initiative supports a range of microgravity and lunar research across science, engineering, art, and design. The experiment is packed inside a Nanoracks Black Box with several other experiments from the Massachusetts Institute of Technology Media Lab and is sponsored by the ISS National Lab.
On-Demand Nutrients
Supplying adequate nutrition is a major challenge to maintaining crew health on future long-duration space missions. Many vitamins, nutrients, and pharmaceuticals have limited shelf-life, and the ability to make such compounds on-demand could help maintain crew health and well-being. BioNutrients-2 tests a system for producing key nutrients from yogurt, a fermented milk product known as kefir, and a yeast-based beverage.
The investigation kicks off phase two of the five-year BioNutrients program, headed by NASA's Ames Research Center and managed by Game Changing Development in NASA's Space Technology Mission Directorate. The program began with the launch of BioNutrients-1 in 2019. BioNutrients-2 employs a smaller system with a heated incubator that promotes growth of beneficial organisms.
The researchers also are working to find efficient ways to use local resources to make bulk products such as plastics, construction binders, and feedstock chemicals. Such technologies are designed to reduce launch costs and increase self-sufficiency, extending the horizons of human exploration.
Easing Gravity Transitions
Travelers to space all face the transition from one gravity field to another. On future exploration missions, astronauts may encounter three different gravity fields: weightlessness while traveling in space, the gravity of another planet, and Earth's gravity when they return. These transitions can affect spatial orientation, head-eye and hand-eye coordination, balance, and locomotion, and cause some crew members to experience space motion sickness.
The Falcon Goggles hardware captures high-speed video of a subject's eyes, providing precise data on ocular alignment and balance.
These are just a few of the hundreds of investigations currently conducted aboard the orbiting laboratory in the areas of biology and biotechnology, physical sciences, and Earth and space science. Advances in these areas will help keep astronauts healthy during long-duration space travel and demonstrate technologies for future human and robotic exploration beyond low-Earth orbit to the Moon and Mars.
…
NASA video of the SpaceX Falcon 9 CRS026 mission liftoff:
🚀LIFTOFF!

More than 7,700 pounds of science, @ISS_Research, and crew supplies launched aboard @SpaceX's Dragon spacecraft this afternoon at 2:20pm ET.

Dragon is slated to arrive at the @Space_Station at 7:30am ET on Nov.27.

Watch live at 6:00am ET: https://t.co/xb3hu5qFT4 pic.twitter.com/713rzsNwRO

— NASA's Kennedy Space Center (@NASAKennedy) November 26, 2022
Overall CRS026 marked SpaceX's 54th launch of the year – keeping them on target for close to the company stated goal of an absolutely phenomenal about 60 launches in 2022 and at a rate of just over 1 per week.
The next SpaceX Falcon 9 launch is currently slated for Nov 30 carrying the Japanese iSpace lunar lander to the Moon.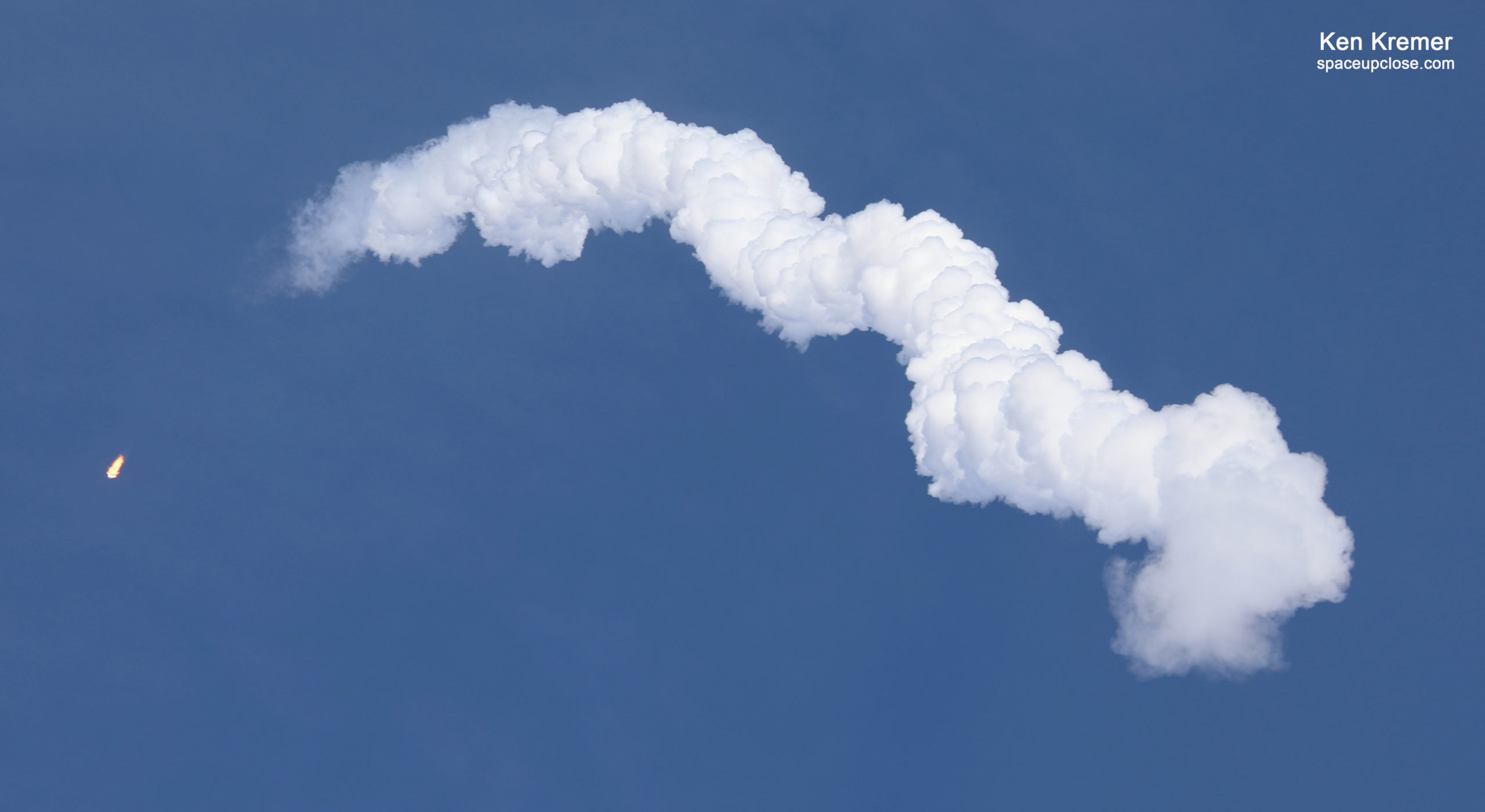 Watch Ken's commentary about Project Artemis, SpaceX Falcon Heavy, Crew-5,  NASA SLS cryo and WDR tests, NASA SpaceX Crew & Cargo Dragons and more
Nov 22:  WFTV ABC News Orlando interview about upcoming NASA SpaceX CRS 26 cargo resupply mission to the ISS and science aboard + Artemis 1 launch and Orion crew capsule successfully entering lunar orbit, results and mission goals
https://www.wftv.com/news/video-unfavorable-weather-postpones-first-2-planned-launches-tuesday/f6b46562-3d2d-430f-949b-c0bafc71fd33/
https://www.wftv.com/news/local/brevard-county/spacex-set-2-rocket-launches-tuesday-floridas-space-coast/BPUZHFLEMBA4PFCGNGJ2DQAFRE/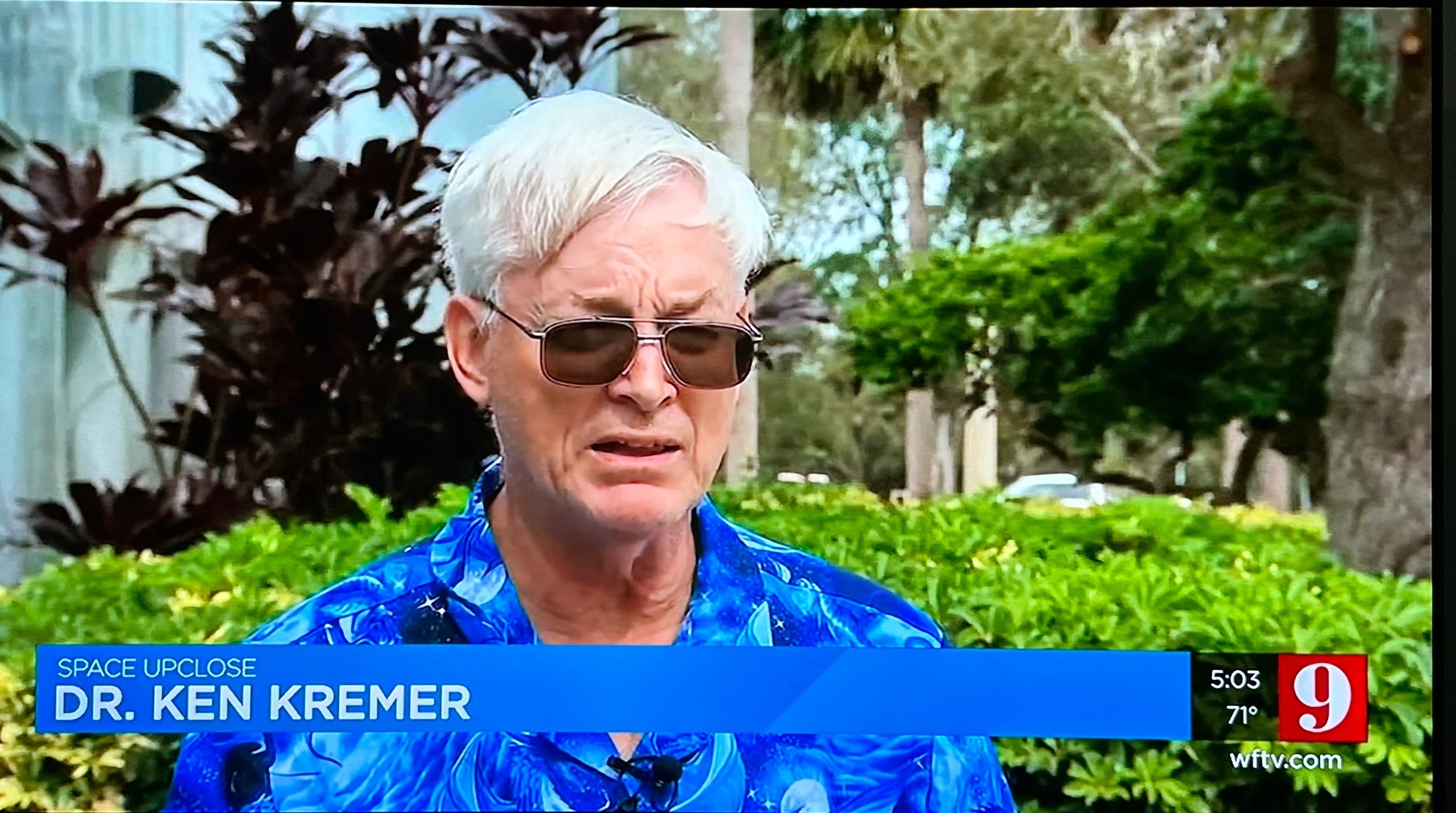 Nov 22:  Fox 35 interview about upcoming NASA SpaceX CRS 26 cargo resupply mission to the ISS and science aboard + Artemis 1 launch and Orion crew capsule successfully entering lunar orbit, results and mission goals
Nov 21:  BBC World TV interview about Orion crew capsule successfully entering lunar orbit, results and mission goals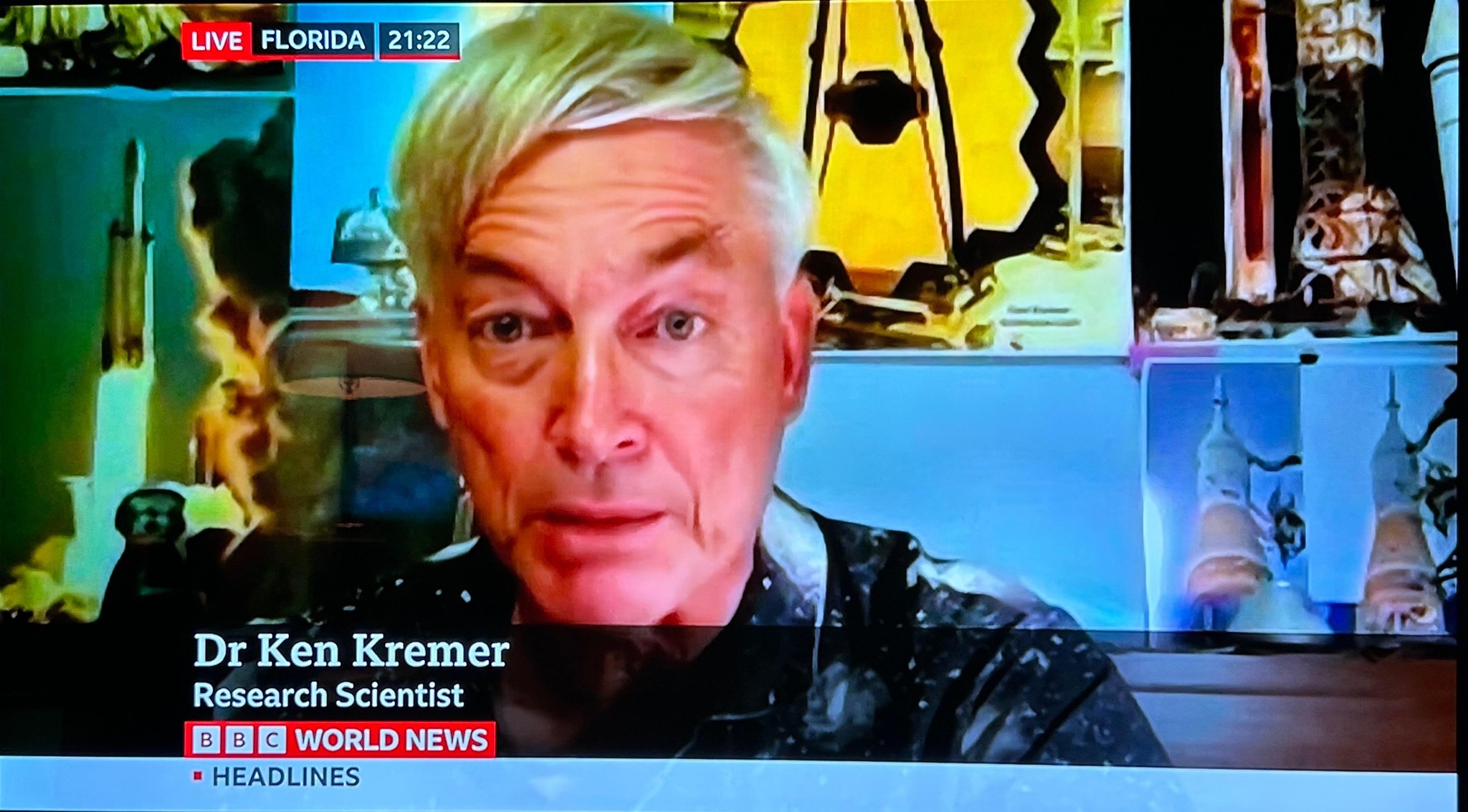 Nov 16: Fox 35 Orlando live and taped interviews about Artemis 1 launch and goals
Nov 15/16:  News Nation interview about Artemis 1 launch and goals
Nov 7/8: Fox 35 Orlando – As subtropical storm Nicole approaches KSC and Florida watch my comments about NASA deciding for the moment to keep Artemis 1 moon rocket at pad 39b and not roll back to VAB
https://www.fox35orlando.com/news/nasa-says-its-keeping-artemis-outside-during-major-storm
NASA says it's keeping Artemis on the launch pad. The rocket can withstand winds up to 85 miles an hour. The @NWSMelbourne is predicting windspeeds could very well hit that point in Brevard County – in fact, a Tuesday morning update says windspeeds could be in the 74-110mph range pic.twitter.com/i569eAmi9p

— Marie Edinger FOX 35 (@MarieEdinger) November 8, 2022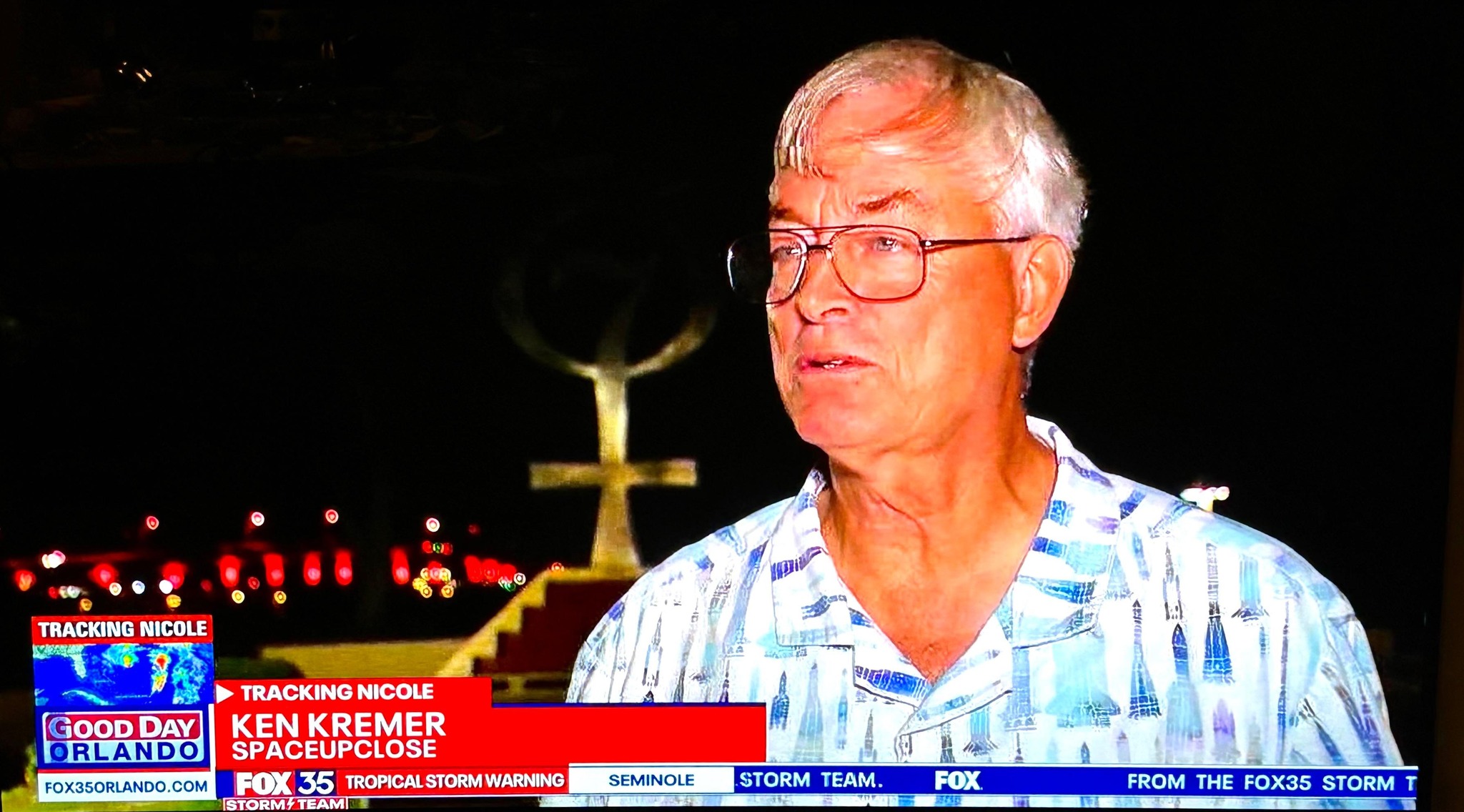 Nov 4/5: WFTV ABC News Orlando featured my commentary about Artemis 1 rollout overnight and goals of NASA lunar test flight mission launching Nov 14 at 1207 AM
Nov 4:  Fox 35 Orlando featured my commentary about Artemis 1 rollout overnight and goals of NASA lunar test flight mission launching Nov 14
Nov 1: Fox 35 Good Day Orlando morning show featured my live and taped prelaunch interview commentary about SpaceX Falcon Heavy launch with Space Force national security payloads
Nov 1: WFTV ABC News featured my commentary about SpaceX Falcon Heavy launch with Space Force national security payloads
https://news.yahoo.com/watch-lve-spacex-launches-falcon-100341265.html
Oct 31: WFTV ABC News featured my commentary about SpaceX Falcon Heavy launch with Space Force national security payloads
https://www.wftv.com/news/local/spacex-falcon-heavy-ready-launch-tuesday-morning-double-sonic-boom-expected/CJVF25UEABACDMUOOCO2NEK7CQ/
Oct 27: WFTV ABC News and Fox 35 Orlando featured my commentary about Falcon Heavy and the Space Force national security payloads
https://www.wftv.com/news/local/brevard-county/spacex-aiming-first-falcon-9-heavy-launch-years/2T6SWE5KCNFA3LDJ4M25HWLH4M/
https://www.fox35orlando.com/video/1137117
Watch Ken's continuing reports about Artemis, SpaceX missions, SLS, Orion and NASA missions, SpaceX Crew and Cargo Dragons, SpaceX Axiom, JWST, DART, Lucy Asteroid mission, GOES, SpaceX Starlink, Commercial Crew and Starliner and Crew Dragon, Blue Origin and Space Tourism, and onsite for live reporting of upcoming and recent SpaceX and ULA launches including Crew 1 & 2 & 3 & 4 & 5, ISS, Solar Orbiter, Mars 2020 Perseverance and Curiosity rovers, NRO spysats and national security missions and more at the Kennedy Space Center and Cape Canaveral Space Force Station.
Stay tuned here for Ken's continuing Earth and Planetary science and human spaceflight news: www.kenkremer.com –www.spaceupclose.com – twitter @ken_kremer – email: ken at kenkremer.com
Dr. Kremer is a research scientist and journalist based in the KSC area, active in outreach and interviewed regularly on TV and radio about space topics.
………….
Ken's photos are for sale and he is available for lectures and outreach events
Please consider supporting Ken's work by purchasing his photos and/or donating at Patreon
https://www.patreon.com/kenkremer
Upcoming and recent space events and talks by Ken Kremer & Jean Wright
Nov 29 at UCF, Orlando Florida: Presentation by Jean Wright.
Nov 14/15/19/20/25/29 from 7 to 9 PM Quality Inn, Titusville, FL:  Join Ken and Jean for Artemis 1, Falcon Heavy and space mission and rocket launch outreach. Ask us anything. plus display our photos and space apparel items for sale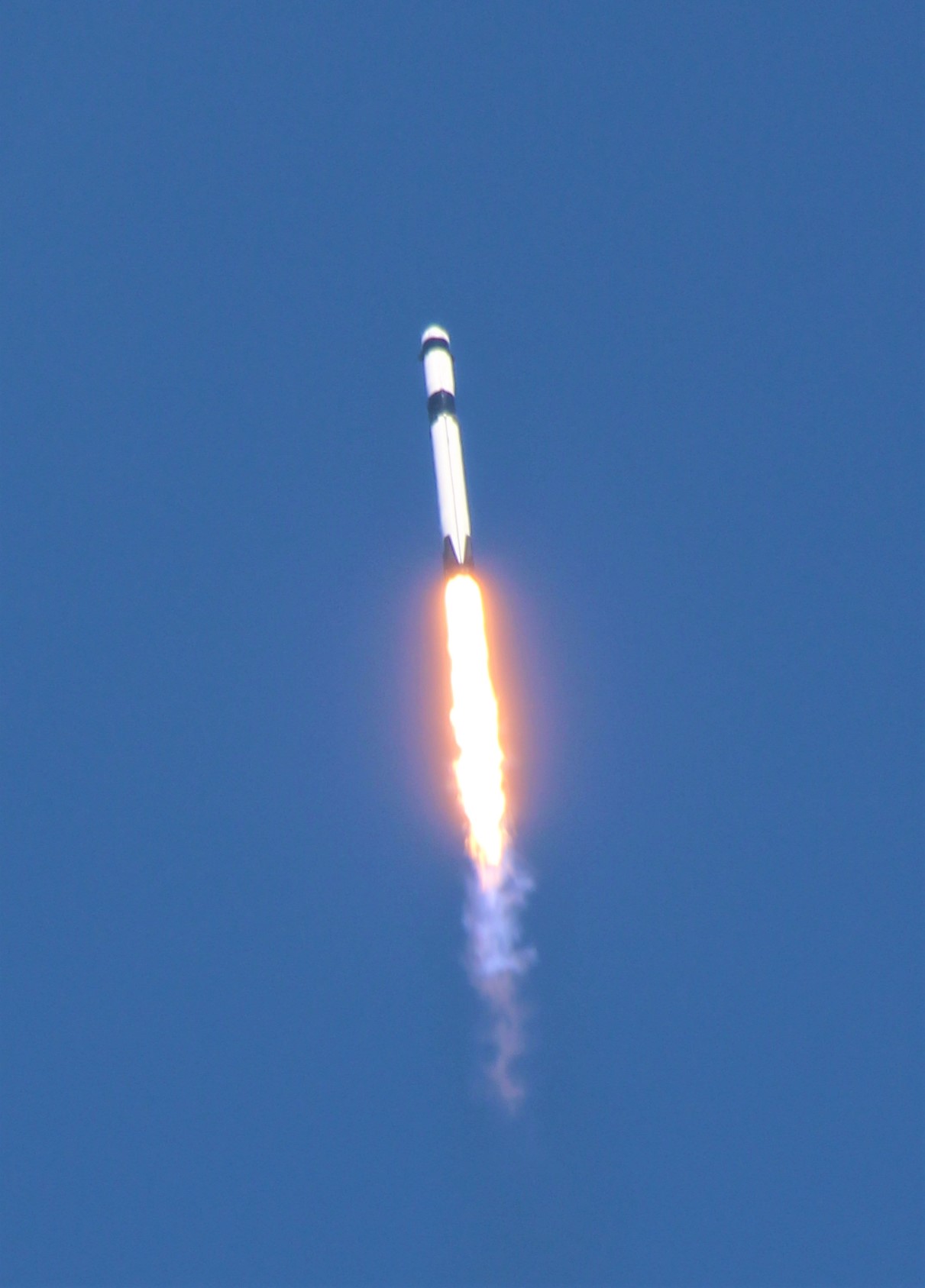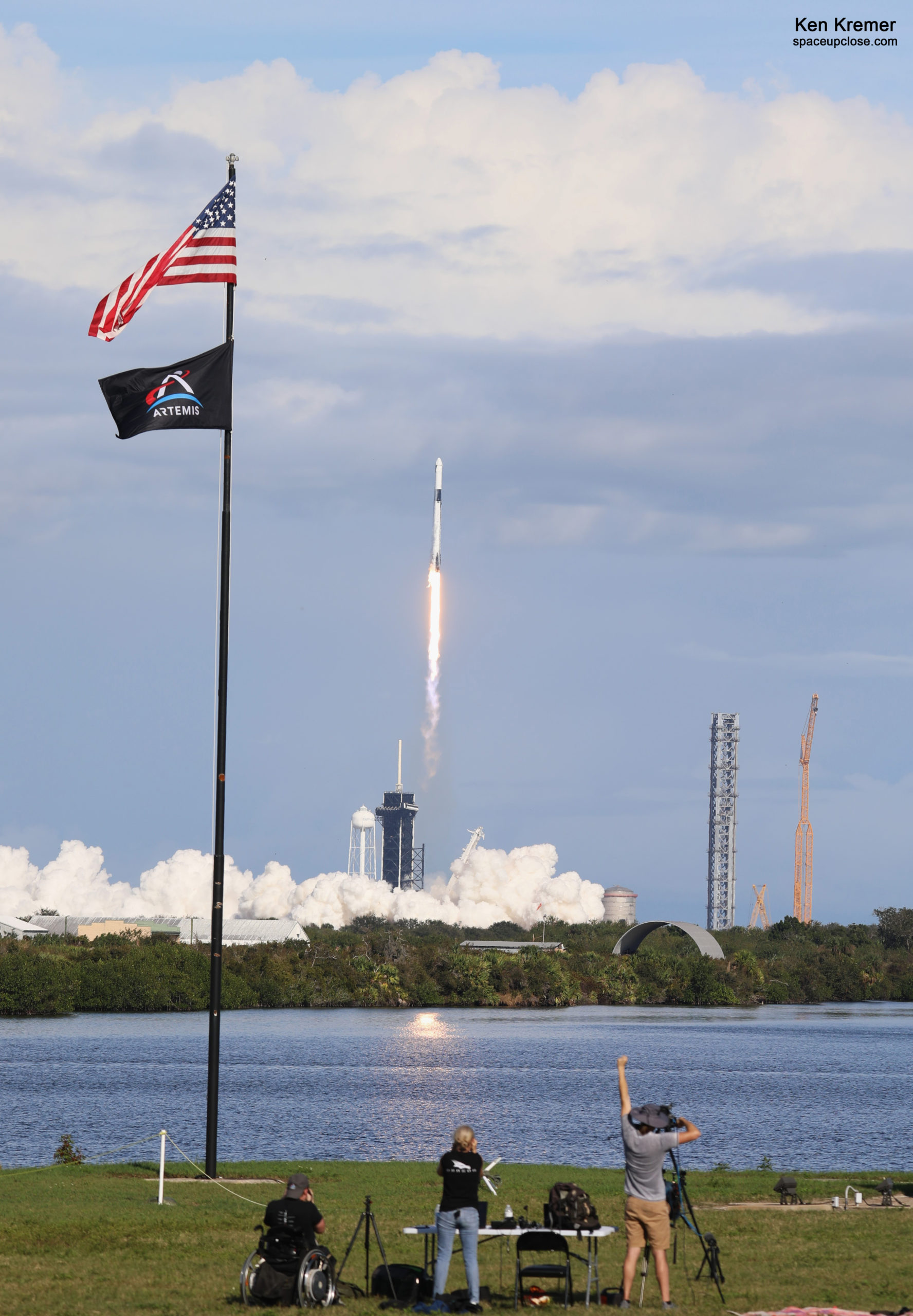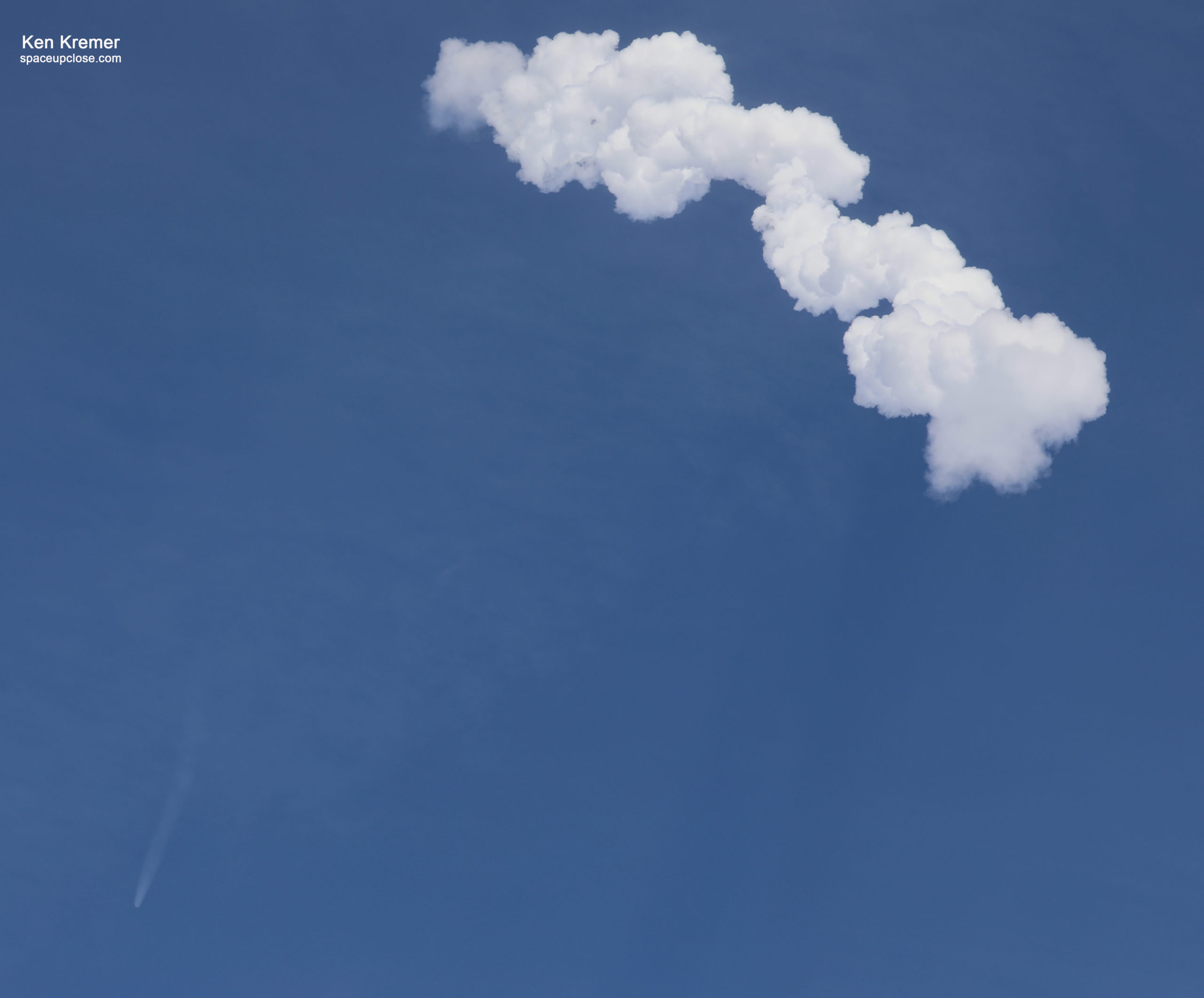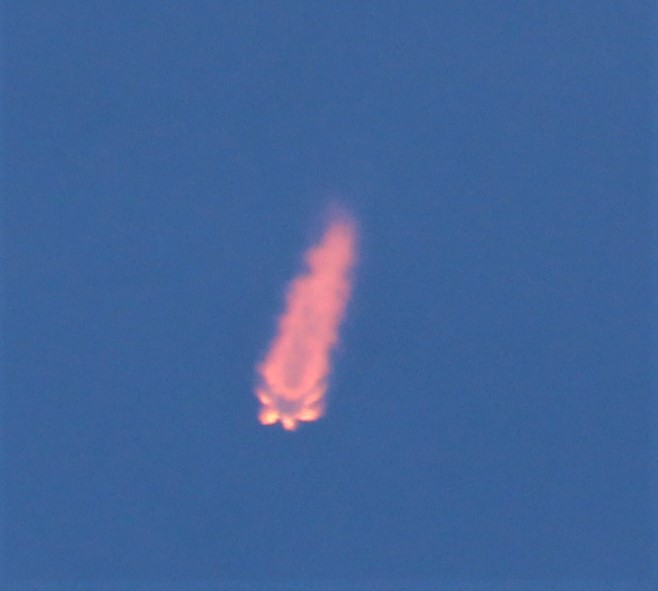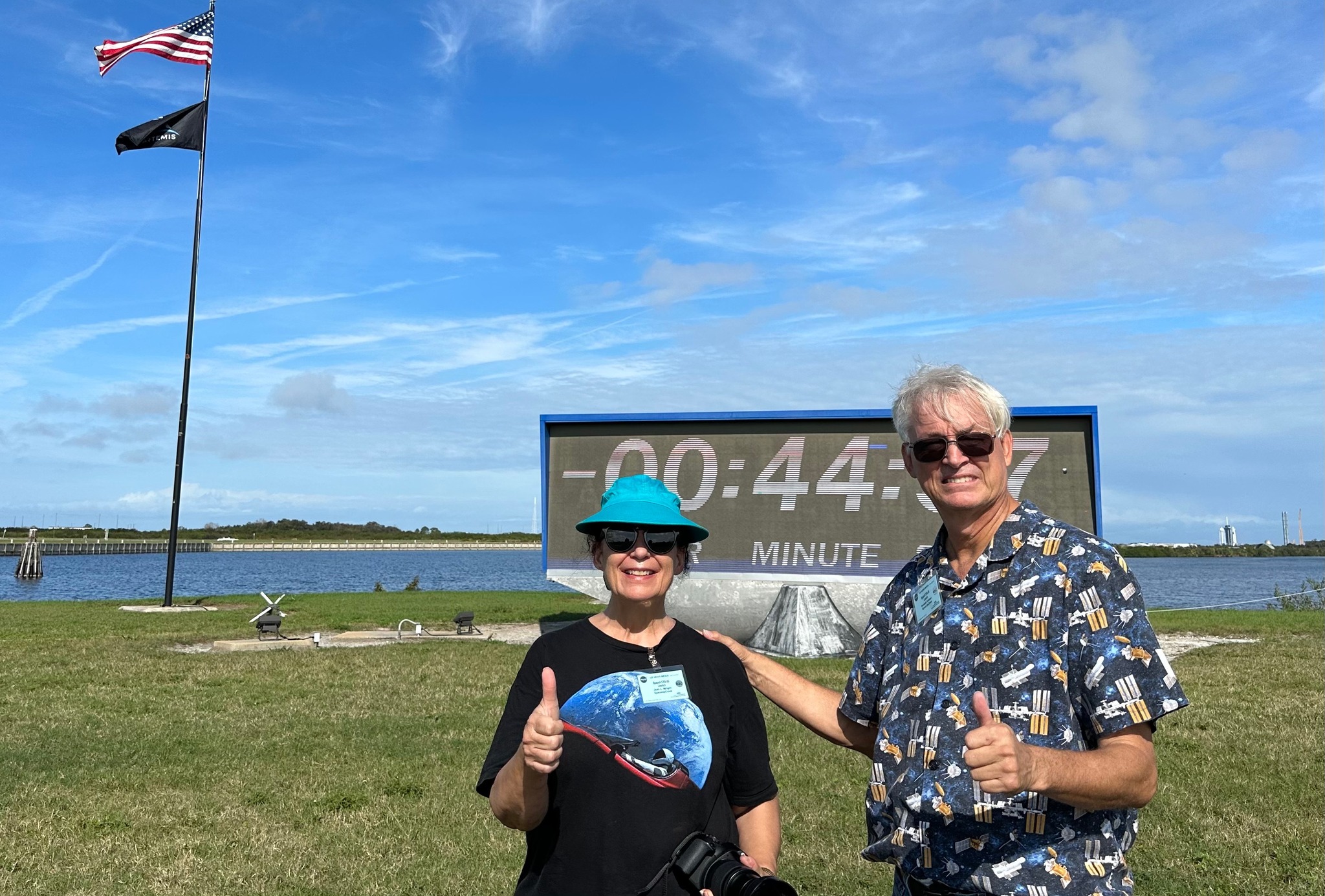 x