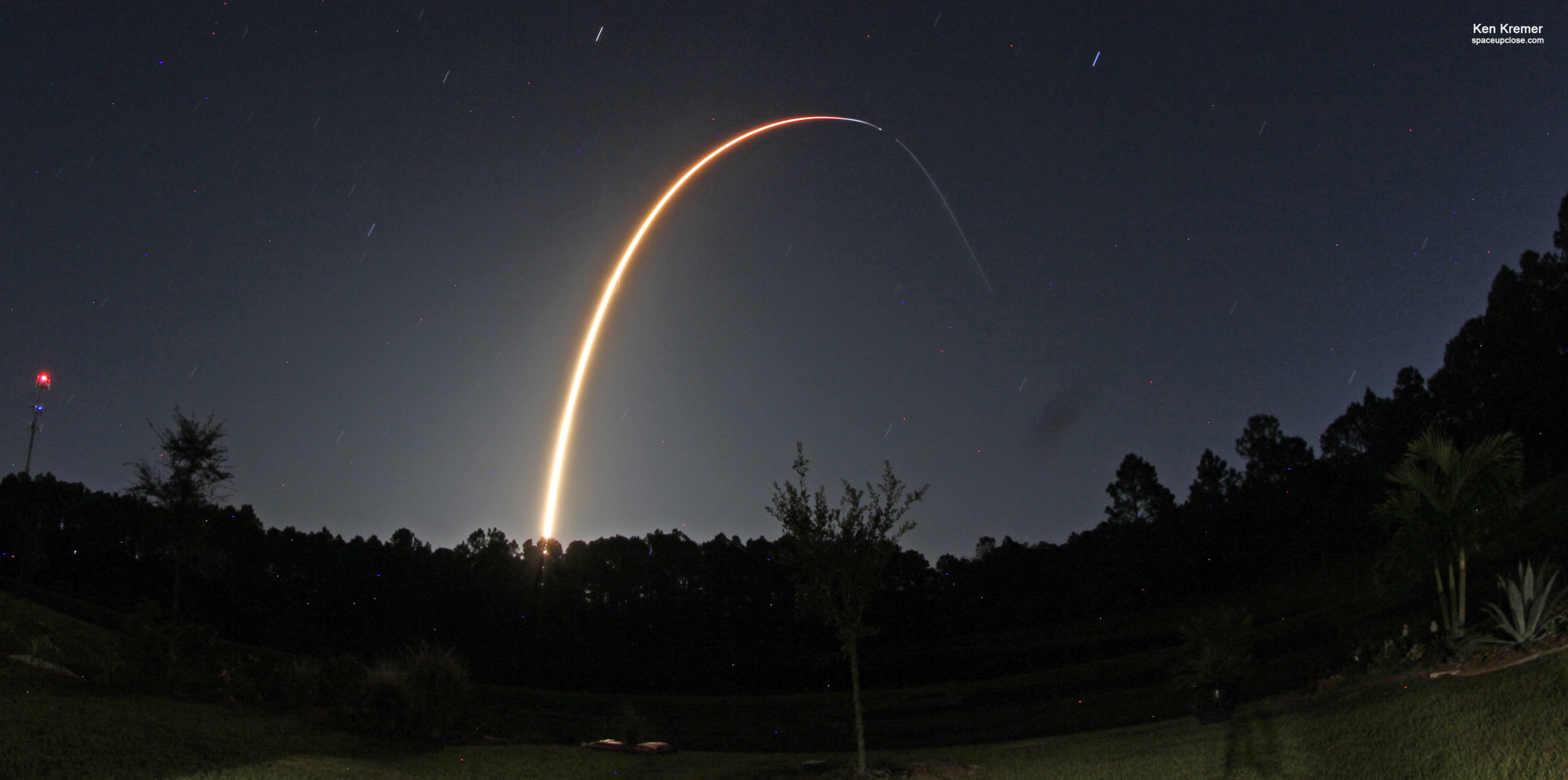 For SpaceUpClose.com & RocketSTEM
TITUSVILLE, FL – SpaceX successfully launched its last batch of Starlink broadband internet satellites of 2022 from Cape Canaveral to orbit into mostly clear overnight Sunshine State skies on a southeasterly trajectory, in the dead of night Wednesday, Dec. 28.
This liftoff on the Starlink 5-1 mission also counts as the first tranche of Starlinks propelled to a new orbital shell in low Earth orbit (LEO) destined to be populated by the firms upgraded Gen2 satellites.
It also marked a major milestone as SpaceX's record-breaking 60th launch of the year- nearly double last years then record-breaking total of 31 launches.
One more Falcon 9 liftoff is expected from Vandenberg SFB before years end carrying an Israeli Earth-imaging satellite.
The Gen2 Starlink satellite fleet was recently approved for launch by the Federal Communications Commission (FCC).
However SpaceX did not clarify whether these Starlink satellites were actually in fact the upgraded Gen2 version or the same as the current constellation.
The heavy payload of 54 Starlink satellites on the 5-1 mission blasted off on the 11x recycled Falcon 9 booster tail number B1062 – which also nailed its 11th landing on a droneship at sea eight minutes later.
Liftoff of the veteran Falcon 9 booster B1062.11 on the Starlink 5-1 mission carrying 54 more Starlinks to orbit took place overnignt into  clear predawn skies at 4:34 a.m. EDT (0934 GMT) Wednesday, Dec. 28, from Space Launch Complex 40 (SLC-40) at Cape Canaveral Space Force Station in Florida – some six minutes earlier than initially planned after a late in the countdown change in T-Zero.
Starlink provides high speed, low latency broadband internet connectivity now on a global basis to all 7 continents.
The 54 Starlinks were the first to be launched into the newly FCC approved 43 degree inclination orbit
It also counts as the 67th launch primarily dedicated to the Starlink constellation.
"This launch marks the first of Starlink's upgraded network," SpaceX said in a statement.
"Under our new license, we are now able to deploy satellites to new orbits that will add even more capacity to the network. Ultimately, this enables us to add more customers and provide faster service – particularly in areas that are currently over-subscribed."
The 229-foot-tall (69-meter) Falcon 9 lifted off flawlessly with ignition of all 9 Merlin 1D engines performing perfectly and generating 1.7 million pounds of liftoff thrust soaring aloft on a southeasterly trajectory tracking along the Florida's southern East Coast.
The Starlinks were deployed as planned 18 minutes after liftoff.
Deployment of 54 Starlink satellites confirmed!

— SpaceX (@SpaceX) December 28, 2022
Enjoy our photos taken by Ken Kremer for Space UpClose
The first stage booster B1062 supporting this mission previously launched 2 crews of four spaceflyers on the Inspiration4, Ax-1 Crew Dragon missions.
It also launched the GPS III Space Vehicle 04, GPS III Space Vehicle 05, Nilesat 301, and four Starlink missions.
Eight minutes later following stage separation, the first stage successfully soft landed upright on the A Shortfall of Gravitas droneship (ASOG), which was prepositioned around 410 miles (660 kilometers) downrange near the Bahamas in the Atlantic Ocean.
Falcon 9's first stage has landed on the A Shortfall of Gravitas droneship pic.twitter.com/hjvWIY9cZ3

— SpaceX (@SpaceX) December 28, 2022
SpaceX states that they now have reached a major milestone with over 1 million customers
The cost is approx. $100 per month with a hardware charge of $599.
Starlink now has more than 1,000,000 active subscribers – thank you to all customers and members of the Starlink team who contributed to this milestone ❤️💫🌎 https://t.co/5suNxFvtEH pic.twitter.com/E1ojYarcEA

— SpaceX (@SpaceX) December 19, 2022
SpaceX manufactures the Starlinks in-house in Redmond, Washington.
The flat-paneled, solar powered refrigerator-sized satellites were deployed into an elliptical orbit at an inclination of 43 degrees to the equator.
The Starlink satellites will use on-board krypton ion propulsion to raise themselves to their final operating circular orbit some 329 miles (530 kilometers) above Earth.
To date SpaceX has launched 3666 Starlink satellites including prototype and test versions and failed ones, according to a tabulation from astronomer Jonathan McDowell, at the Harvard-Smithsonian Center for Astrophysics.
https://planet4589.org/space/con/star/stats.html
Currently SpaceX has more than 3,335 functioning Starlink satellites in space, with about 3,063 operational
SpaceX has FAA approval to deploy 7,000 Starlinks and eventually hope to deploy well over 30,000
Here are some launch photos from SpaceX:
Falcon 9 launches 54 Starlink satellites to low-Earth orbit; completes SpaceX's 60th mission of 2022! pic.twitter.com/MIstToPIyL

— SpaceX (@SpaceX) December 28, 2022
The prior SpaceX Starlink batch launched on the record breaking 15x recycled Falcon 9 B1st stage booster B1058 on Dec 17, 2022 from KSC on the 66th Starlink mission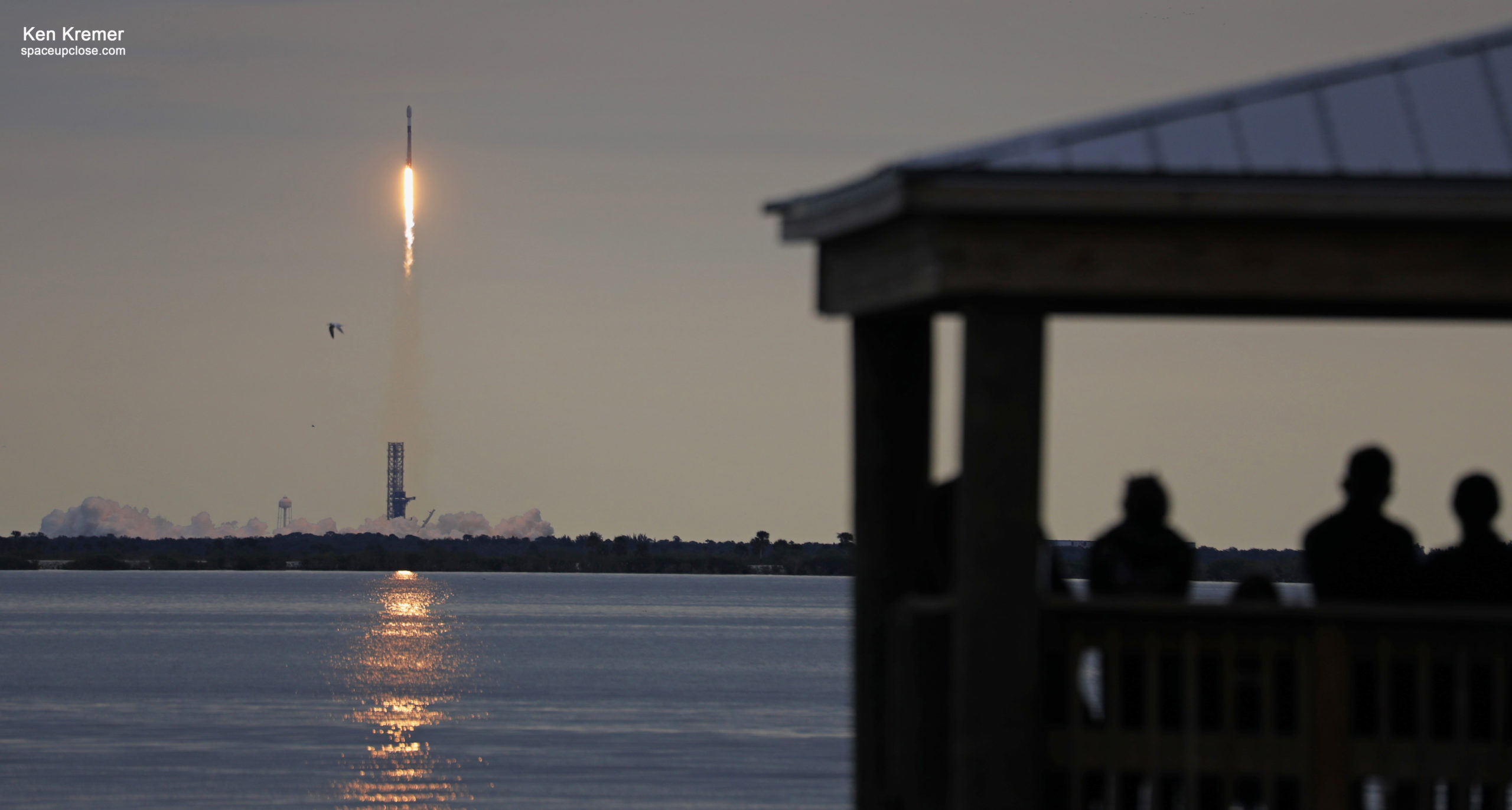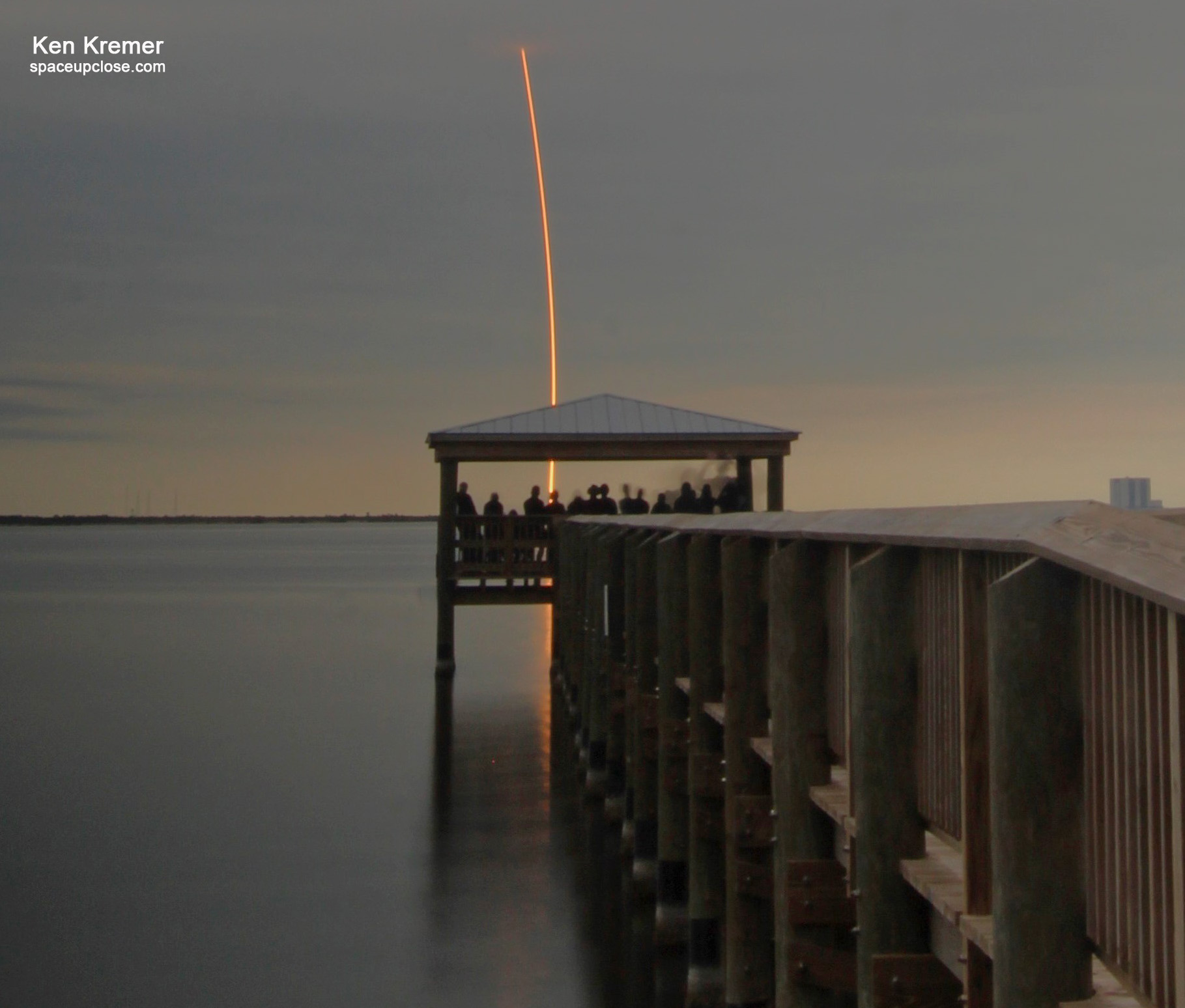 Watch Ken's commentary about Project Artemis, SpaceX Falcon Heavy, Crew-5,  NASA SLS cryo and WDR tests, NASA SpaceX Crew & Cargo Dragons and more.
Dec 28/29: Fox 35 Orlando – Watch my commentary about NASA's fantastic success in space exploration in 2022 and ambitious schedule of whats ahead in 2023:
https://www.fox35orlando.com/video/1159922
Dec 11/12: BBC World News TV interview about  successful splashdown of NASA Orion concluding the 25 day Artemis 1 lunar test flight around the Moon and back, and how that sets up a human return to the Moon on Artemis 2 and landing on Artemis 3. Plus what's beyond for NASA deep space exploration to Mars and the search for life beyond Earth
Nov 22:  WFTV ABC News Orlando interview about upcoming NASA SpaceX CRS 26 cargo resupply mission to the ISS and science aboard + Artemis 1 launch and Orion crew capsule successfully entering lunar orbit, results and mission goals
https://www.wftv.com/news/video-unfavorable-weather-postpones-first-2-planned-launches-tuesday/f6b46562-3d2d-430f-949b-c0bafc71fd33/
https://www.wftv.com/news/local/brevard-county/spacex-set-2-rocket-launches-tuesday-floridas-space-coast/BPUZHFLEMBA4PFCGNGJ2DQAFRE/
Nov 22:  Fox 35 interview about upcoming NASA SpaceX CRS 26 cargo resupply mission to the ISS and science aboard + Artemis 1 launch and Orion crew capsule successfully entering lunar orbit, results and mission goals
Nov 21/22:  BBC World TV interview about Orion crew capsule successfully entering lunar orbit, results and mission goals
Watch Ken's continuing reports about Artemis, SpaceX missions, SLS, Orion and NASA missions, SpaceX Crew and Cargo Dragons, SpaceX Axiom, JWST, DART, Lucy Asteroid mission, GOES, SpaceX Starlink, Commercial Crew and Starliner and Crew Dragon, Blue Origin and Space Tourism, and onsite for live reporting of upcoming and recent SpaceX and ULA launches including Crew 1 & 2 & 3 & 4 & 5, ISS, Solar Orbiter, Mars 2020 Perseverance and Curiosity rovers, NRO spysats and national security missions and more at the Kennedy Space Center and Cape Canaveral Space Force Station.
Stay tuned here for Ken's continuing Earth and Planetary science and human spaceflight news: www.spaceupclose.com – twitter @ken_kremer – email: ken at kenkremer.com
Dr. Kremer is a research scientist and journalist based in the KSC area, active in outreach and interviewed regularly on TV and radio about space topics.
………….
Ken's photos are for sale and he is available for lectures and outreach events
Please consider supporting Ken's work by purchasing his photos and/or donating at Patreon
https://www.patreon.com/kenkremer
Upcoming and recent space events and talks by Ken Kremer & Jean Wright
Jan 12, 2023: 10 AM at Wintermere Retirement Center in Orlando, Florida: Presentation by Jean Wright – "Sew Sister to the Stars- How the Humble Art of Sewing Transformed the World of Flight"
Nov 29 at UCF, Orlando Florida: Presentation by Jean Wright – "Sew Sister to the Stars- How the Humble Art of Sewing Transformed the World of Flight"
Upcoming and recent space events and talks by Ken Kremer & Jean Wright
Jan 9, 2023; Dec 7/10/15 and Nov 25/29 from 7 to 9 PM Quality Inn, Titusville, FL:  Join Ken and Jean for Artemis 1, Falcon Heavy and space mission and rocket launch outreach. Ask us anything. plus display our photos and space apparel items for sale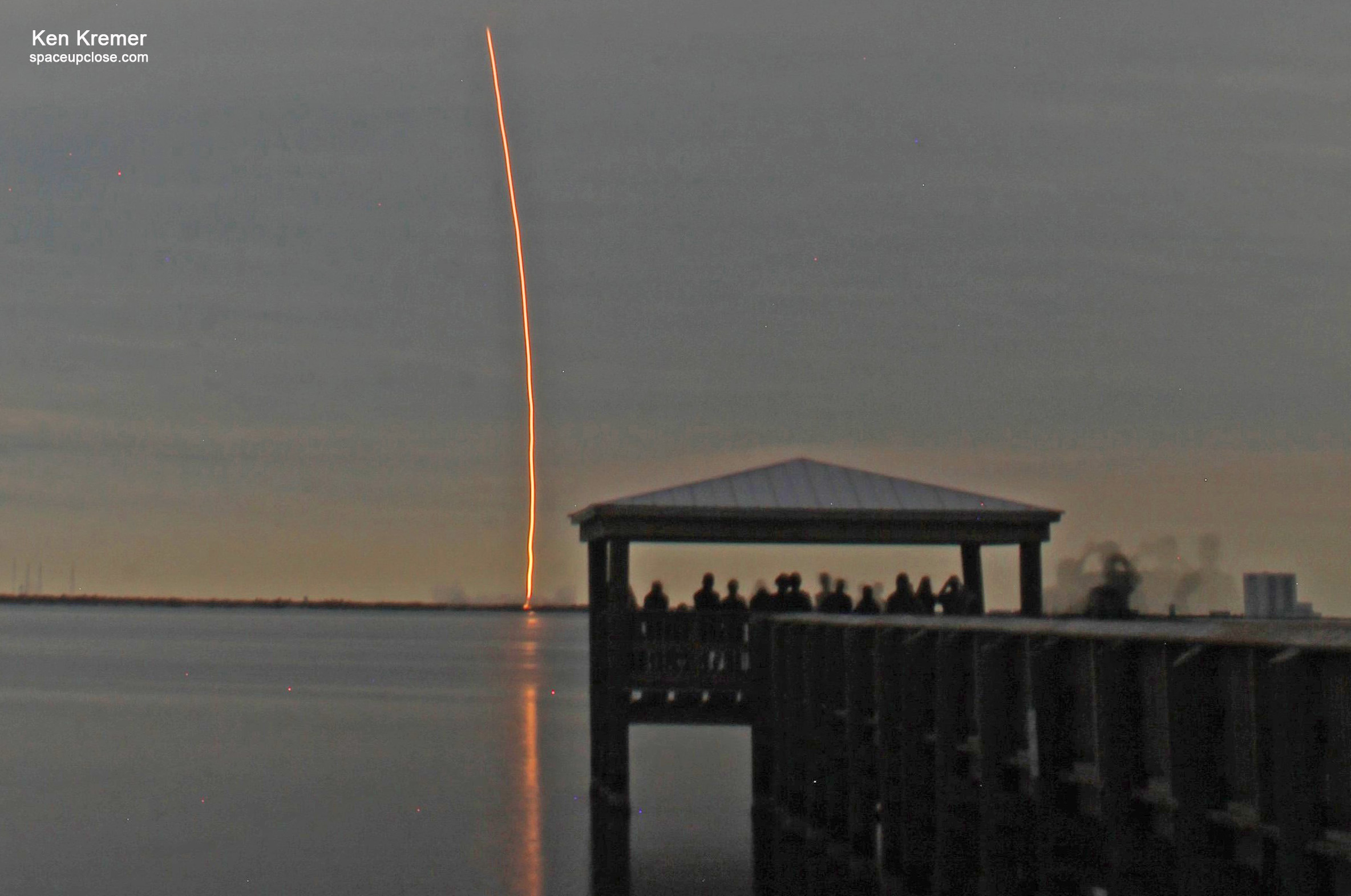 x