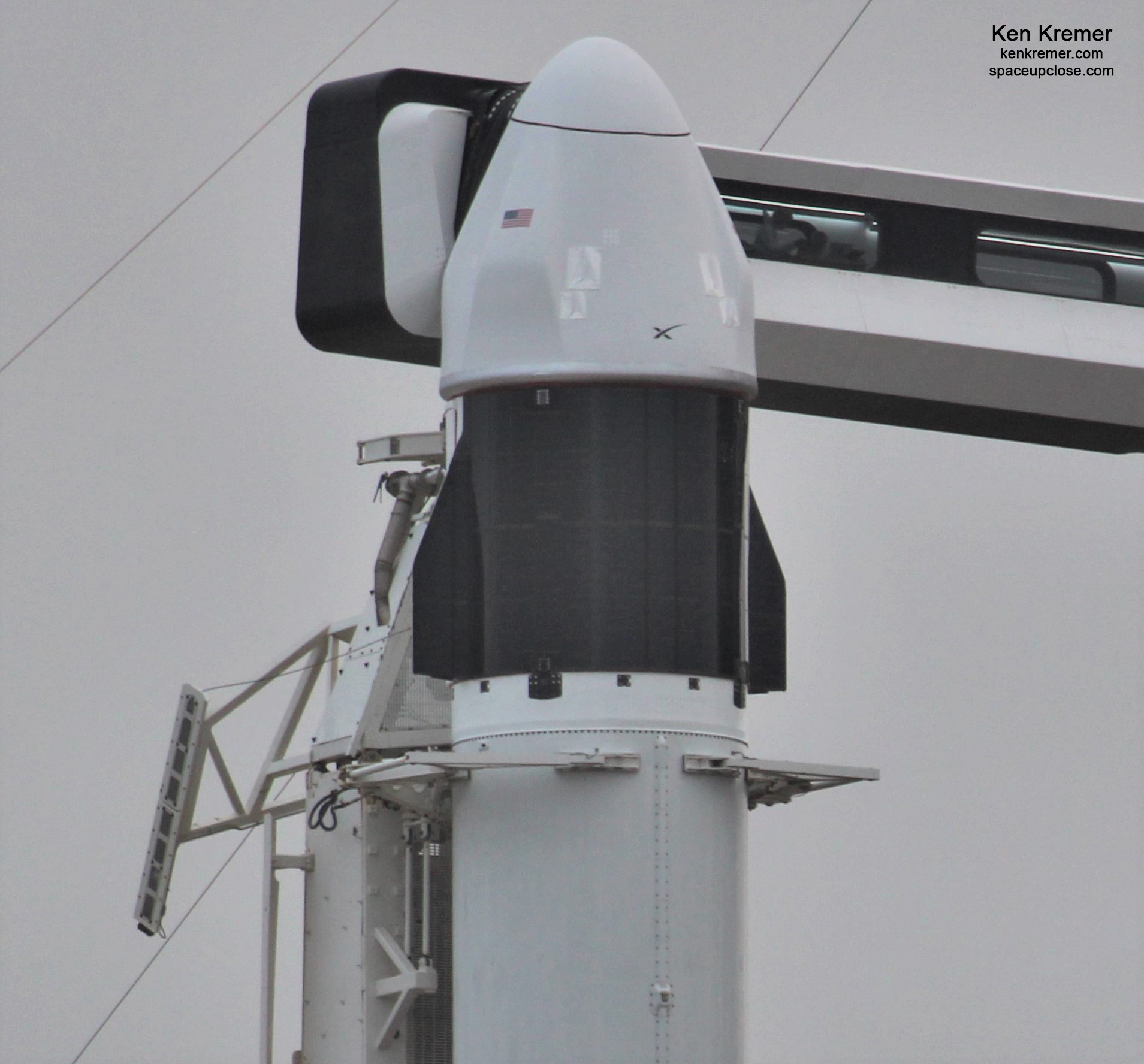 For SpaceUpClose.com & RocketSTEM
KENNEDY SPACE CENTER, FL – A 7x recycled SpaceX Falcon 9 rocket is primed to launch a commercial Dragon cargo spacecraft carrying over three tons of groundbreaking NASA science and crucial crew supplies Tuesday evening, March 14, to the International Space Station (ISS) from Florida's Space Coast.
Weather looks to be excellent for the early evening launch after dinner time and should off a spectators delight – perhaps even the spawning of stunning 'Space Jellyfish' high in the skies only one hour past sunset – that might be visible even hundreds of miles away.
The NASA SpaceX Falcon 9 and Cargo Dragon are targeting lifted off on SpaceX's 27th NASA contracted Commercial Resupply Services (CRS-27) mission to the International Space Station since 2012 during an instantaneous launch window at 8:30 p.m. EST Tuesday, March 14, (0030:41 GMT Wednesday) from historic Launch Complex 39A (LC-39A) at the Kennedy Space Center (KSC) in Florida.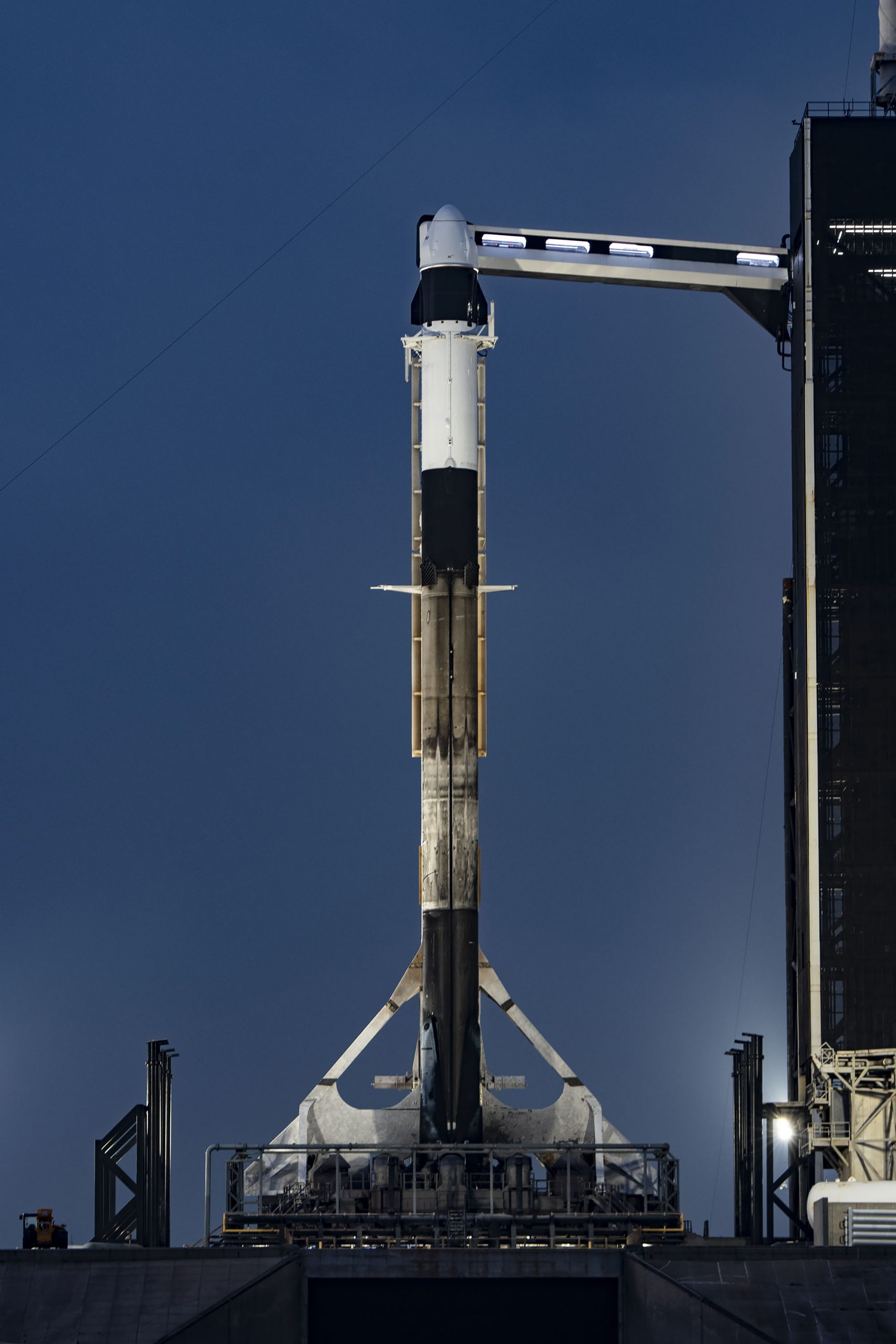 Meteorologists with Cape Canaveral Space Force Station's 45th Weather Squadron are now predicting an 80% chance of favorable weather conditions for liftoff – that's up from just 50% favorable yesterday.
A backup launch opportunity is available on Wednesday, March 15 at 8:08 p.m. ET (0008 GMT March 16).
Dragon is packed with nearly 6,300 pounds of science, equipment, and supplies bound for the International Space Station.
Also flying on Dragon is the agency's Educational Launch of Nanosatellites (ELaNa) 50 mission, which will deliver two CubeSats to low-Earth orbit to conduct science investigations of their own. Read about them here.
The path to launch was cleared following the successful undocking and return of NASA's SpaceX Crew-5 on Saturday.
The NASA SpaceX CRS-27 mission will launch on a northeasterly trajectory along the Atlantic Coast as it soars away from Florida.
You can watch the launch live with coverage airing on NASA Television, the NASA app, and the agency's website
The live launch broadcast starts at 8 p.m. EDT on NASA TV
This is the seventh flight of the first stage booster supporting this mission, which previously launched Hispasat Amazonas Nexus, SES-22, ispace's HAKUTO-R Mission 1, and three Starlink missions.
Following stage separation, Falcon 9 will land on the 'A Shortfall of Gravitas' (ASOG) droneship in the Atlantic Ocean.
CRS-27 is the third flight for this Dragon cargo spacecraft, which previously flew CRS-22 and CRS-24 to the space station.
The SpaceX Dragon spacecraft will also deliver over 60 new research projects including "new science investigations, supplies, and equipment for the international crew, including NASA's HUNCH Ball Clamp Monopod, a student manufactured project that can make filming in space easier, and the JAXA (Japan Aerospace Exploration Agency) Tanpopo-5 investigation which studies the origin, transportation, and survival of life in space and on extraterrestrial planets."
"Dragon will also deliver the final two experiments from the National Institutes for Health and International Space Station National Laboratory's Tissue Chips in Space initiative. Both studies, Cardinal Heart 2.0 and Engineered Heart Tissues-2, use small devices containing living cells that mimic functions of human tissues and organs to advance the development of treatments for cardiac dysfunction," says NASA.
Arrival to the station is scheduled for 7:52 a.m. EDT on Thursday, March 16.
The spacecraft will dock autonomously to the forward-facing port of the station's Harmony module – just vacated by the Crew-5 Dragon spacecraft.
Dragon is expected to spend about a month attached to the orbiting outpost before it returns to Earth with research and return cargo, splashing down off the coast of Florida.
Crew-6 just arrive at the ISS a week ago and Crew-5 departed over the weekend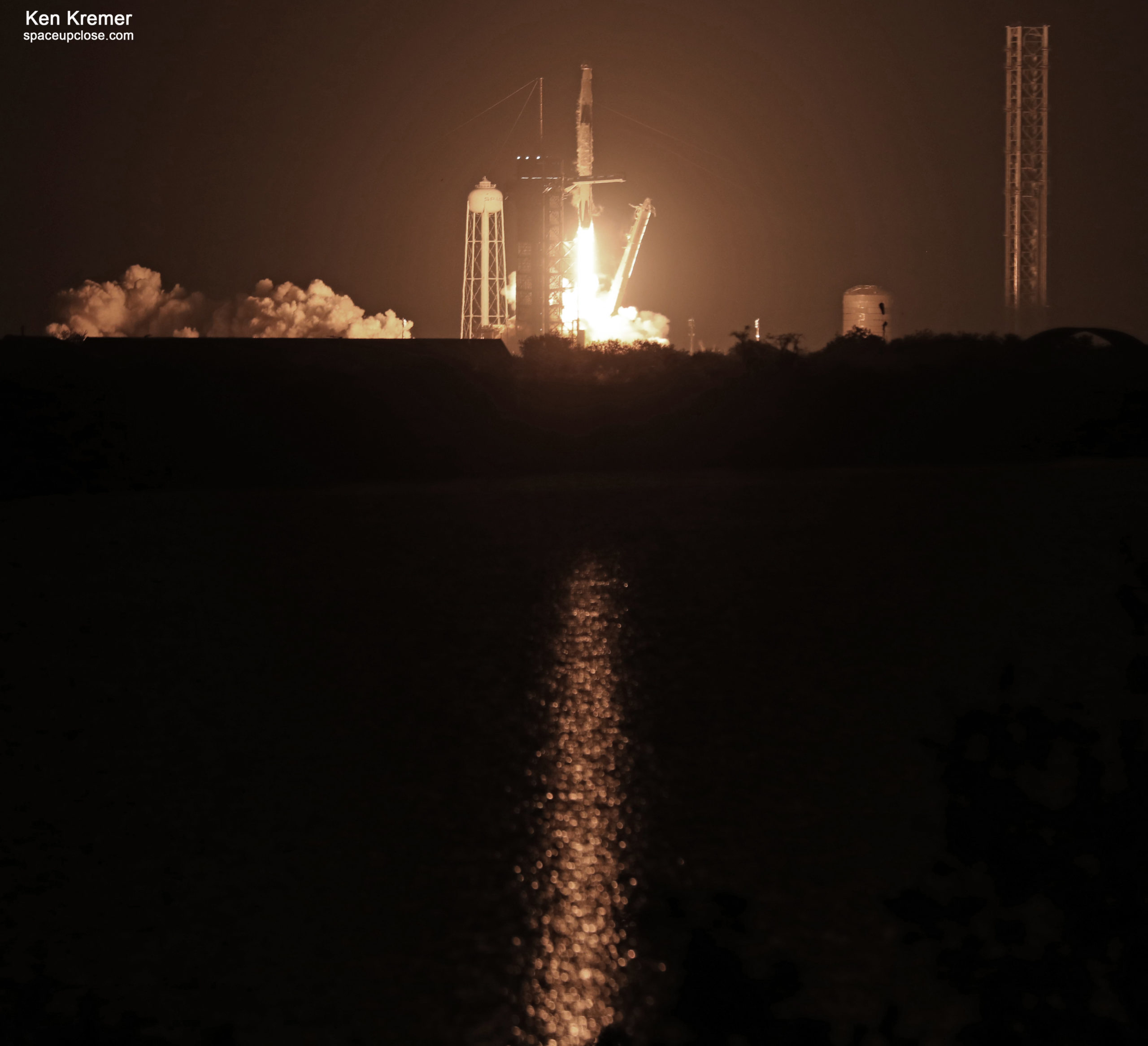 Watch Ken's commentary about NASA. Project Artemis SLS and Orion, SpaceX Falcon Heavy, Crew-5 & 6, NASA SpaceX Crew & Cargo Dragons and more
Mar 8/9: WFTV ABC News and Fox 35 New Orlando pre and post scrub interview about maiden Terran 1 launch attempt:
https://www.fox35orlando.com/news/i-will-be-here-scrubbed-3d-printed-rocket-launch-isnt-turning-people-away-from-second-try
Mar 7: WFTV ABC News Orlando interview about upcoming maiden Terran1 launch by Relativity Space on Mar 8
https://www.wftv.com/news/video-3-rocket-launches-planned-floridas-space-coast-this-week/90d4e160-806f-49fd-b7d9-04d46a2c9402/
Mar 6/7: WFTV ABC News Orlando interview about upcoming maiden #Terran1 launch by Relativity Space on Mar 8 from pad 16 CCSFS. Worlds 1st 3D printed rocket:
https://www.wftv.com/news/video-first-3d-printed-rocket-set-blast-off-space-coast-this-week/bab1dd1f-6927-45c9-8359-e1e7d7a08e99/
Mar 2: Fox 35 Orlando live interview about the Crew-6 mission launch to the ISS
Feb 26/27/28: On 3 local Networks CBS WKMG , ABC WFTV and Fox 35 Orlando -I did series of live and taped interviews pre and post scrub explaining why NASA  SpaceX Crew6 astronaut launch to ISS was scrubbed at T Minus 2 minutes to keep the crew and rocket safe and what needs to be done to resolve the issue why TEA-TEB (triethylaluminum triethylboron) igniter fluid failed to fully load on Falcon 9 rocket
Feb 9/10:  WFTV ABC News Orlando interview about SpaceX Starship successful static fire test of 31 Raptor engines at Boca Chica
https://www.wftv.com/news/local/brevard-county/spacex-completes-successful-static-fire-test-33-engine-starship-booster/LDYL2CDXS5ETHG7TGG2RH2JV7I/
Feb 8/9:  WFTV ABC News Orlando interview about how NASA needs a definitive and fully funded plan to deorbit the ISS safely in case of an emergency and serious debris hit causing it to lose control b4 it's terminated in 2030- in light of the recent Soyuz crew capsule leak from micrometeoroid impact
Jan 3/4: WFTV ABC News Orlando interview about Jan 3 SpaceX Transporter 6 launch – 1st of 2023 – and record setting year ahead with many exciting missions for NASA and private astronauts, science probes, mission, US Space Force, new rockets like ULA Vulcan & more!
Watch Ken's continuing reports about Artemis, SpaceX missions, SLS, Orion and NASA missions, SpaceX Crew and Cargo Dragons, SpaceX Axiom, JWST, DART, Lucy Asteroid mission, GOES, SpaceX Starlink, Commercial Crew and Starliner and Crew Dragon, Blue Origin and Space Tourism, and onsite for live reporting of upcoming and recent SpaceX and ULA launches including Crew 1 & 2 & 3 & 4 & 5, ISS, Solar Orbiter, Mars 2020 Perseverance and Curiosity rovers, NRO spysats and national security missions and more at the Kennedy Space Center and Cape Canaveral Space Force Station.
Stay tuned here for Ken's continuing Earth and Planetary science and human spaceflight news: www.spaceupclose.com – twitter @ken_kremer – email: ken at kenkremer.com
Dr. Kremer is a research scientist and journalist based in the KSC area, active in outreach and interviewed regularly on TV and radio about space topics.
………….
Ken's photos are for sale and he is available for lectures and outreach events
Please consider supporting Ken's work by purchasing his photos and/or donating at Patreon
https://www.patreon.com/kenkremer
Upcoming and recent space events and talks by Ken Kremer & Jean Wright
Jan 21-28: Carnival Cruise Ship Mardi Gras: "What Happening at NASA and Space Exploration" & SpaceX Falcon 9 Starlink 5-2 launch viewing party Jan 26
Jan 12, 2023: 10 AM at Westminster Retirement Center in Orlando/Winter Park, Florida: Presentation by Jean Wright – "Sew Sister to the Stars- How the Humble Art of Sewing Transformed the World of Flight"+ Artemis 1 Moon rocket update
Nov 29 at UCF, Orlando Florida: Presentation by Jean Wright – "Sew Sister to the Stars- How the Humble Art of Sewing Transformed the World of Flight"
Mar 1, 2, 12,13; Feb 4, 11, 24, 25, 26; Jan 7,11- 2023; from 7 to 9 PM Quality Inn, Titusville, FL:  Join Ken and Jean for Artemis 1, Falcon Heavy and space mission and rocket launch outreach. Ask us anything. plus display our photos and space apparel items for sale
x