CAPE CANAVERAL, FL –  California-based Relativity Space, a New Space startup, is targeting Wednesday afternoon, March 8, for launch of the world's first almost entirely 3D printed rocket –  namely the maiden Terran 1 from Florida's Space Coast.
The weather looks to be outstanding
Liftoff of Terran 1 is targeted for a 3 hour long launch window that opens at 1 p.m. ET, March 8 from Space Launch Complex-16 on Cape Canaveral Space Force Station, Florida
The launch window runs until 4 p.m. ET  (1800 GMT).
You can watch the launch live at Relativity Space broadcast:
https://www.youtube.com/watch?v=_YAlOGZM32U
The Space UpClose team of Ken Kremer and Jean Wright will be watching from Jetty Park Beach.
The rocket is nicknamed called "Good luck, have fun" or GLHF
Terran means 'of the Earth.'
The weather forecast is forecast to be >90% GO by Space Force weather forecasters
No payload is aboard for this maiden orbital launch attempt.
It will roar off the pad in an easterly trajectory and targeting a low Earth orbit (LEO) and achieving an altitude of more than 124 miles (200 km) and an inclination of 28.5 degrees to the equator.
"This launch of Terran 1 is the first orbital attempt by Relativity and will not include a customer payload," says Relativity Space.
"Terran 1 is the largest 3D printed object to attempt orbital flight."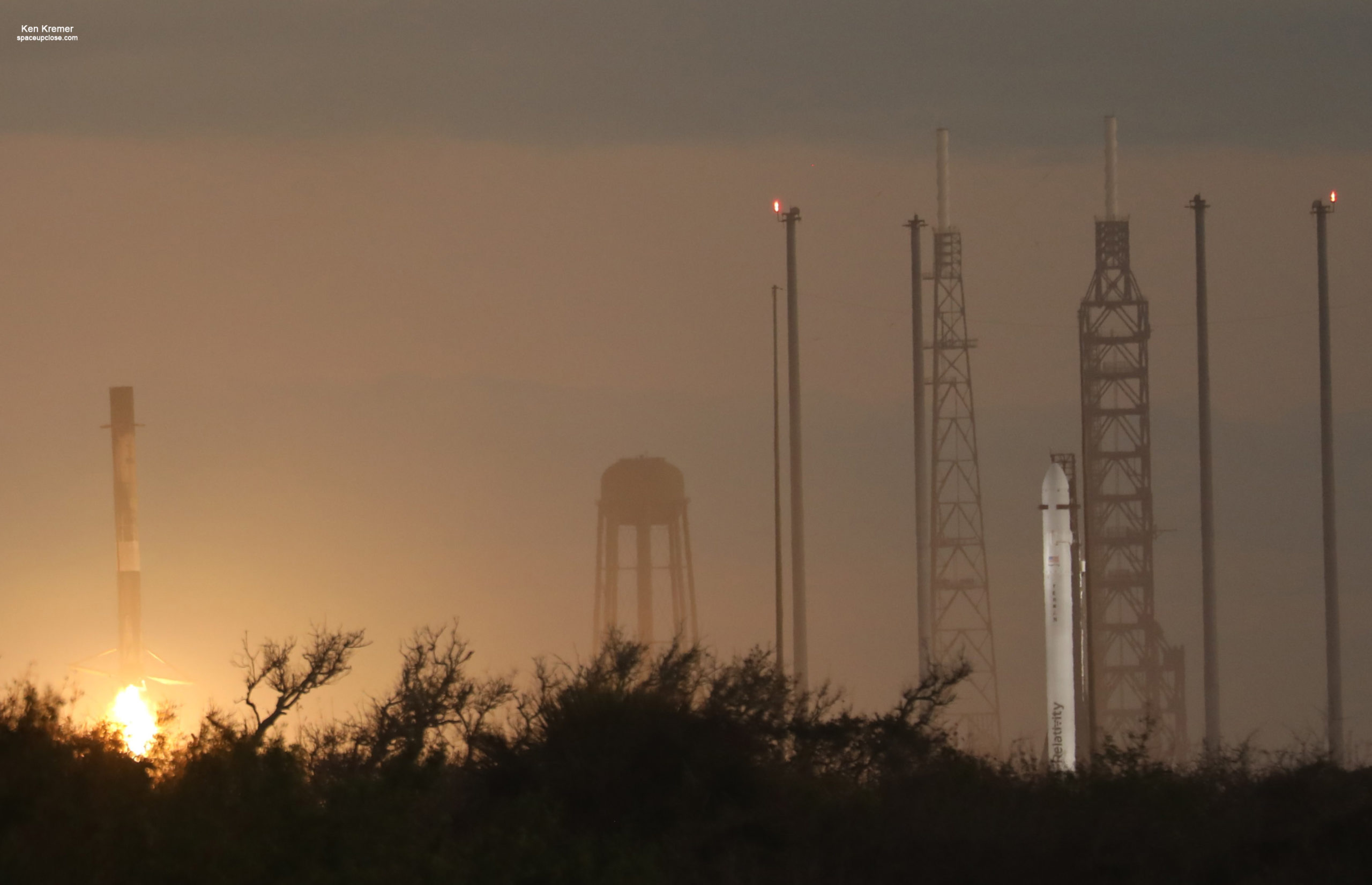 This inaugural Terran 1 rocket is about 85% 3D printed and Relativity Space hopes to increase that to about 95% in the future
The advantages of 3D printing is that the rocket has far fewer moving parts and reliability should be significantly improved – with the goal of vastly reducing the cost of access to space
In the future the hope is that 3D printed rockets could be manufactured directly and more easily on the Moon and Mars – slashing costs
The two stage expendable Relativity Space Terran 1 rocket stands 110-foot-tall (33.5-meter) and 7.5 ft wide
We saw Terran 1 vertical at pad 16 while it was standing erect and undergoing testing at pad 16 – at the same time as SpaceX was landing a Falcon 9 first stage boost at Landing Zone-1 a few miles away from our vantage point at Space Launch Complex-34 watching the SpaceX OneWeb launch last December 2022
The Terran 1 rocket is fueled by liquid methane natural gas (LNG) and liquid oxygen (LOX).
The first stage is powered by nine 3D printed Aeon engines and one Aeon Vac on its second stage.
"Like its structure, all Relativity engines are entirely 3D printed, and use liquid oxygen (LOX) and liquid natural gas (LNG), which are not only the best for rocket propulsion, but also for reusability, and the easiest to eventually transition to methane on Mars."
Follow along for updates on Relativity's lead up to launch:
https://twitter.com/relativityspace
The first stage thrust generates about 207,000 pounds of liftoff thrust
The cost of the rocket is some $12 million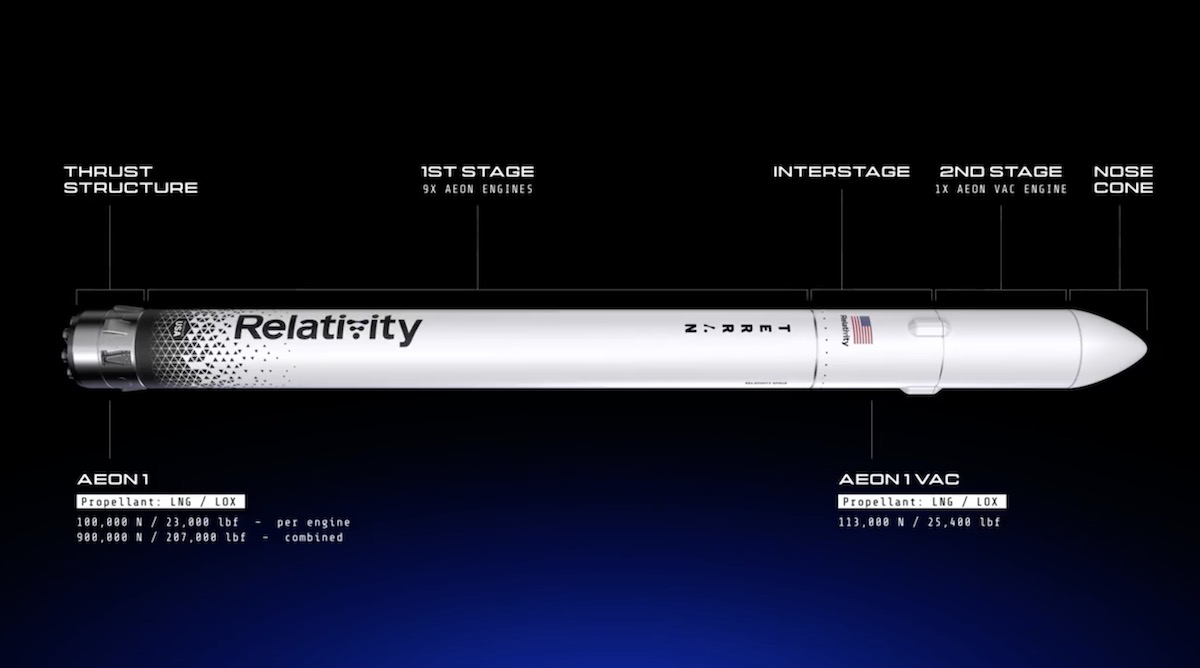 Here is a Terran-1 launch timeline from Spaceflight Now
COUNTDOWN TIMELINE
T-minus 7 hours: Vehicle power-up and checkouts
T-minus 4 hours: Personnel clear the launch pad; Methane and liquid oxygen loading begins
T-minus 60 minutes: Propellant loading complete
T-minus 16 minutes: Launch director performs pre-launch readiness poll
T-minus 10 minutes: Automated countdown sequence begins
In the final 10 minutes of the countdown, the Terran 1 rocket's nine methane-fueled Aeon 1 engines will be thermally conditioned for flight through a procedure known as chilldown. The ignitors will be primed, and the Terran 1 will switch from its ground power supply to internal power. The strongback at the launch pad will be partially retracted in the final minutes before launch.
T-minus 1 minute, 10 seconds: Terminal countdown begins to run checks for launch commit criteria
T-minus 6 seconds: Ignition of Terran 1's nine Aeon 1 main engines; Automated health check begins
T-minus 0 seconds: Four hold-down devices release the Terran 1 rocket for liftoff
Watch Ken's commentary about NASA. Project Artemis SLS and Orion, SpaceX Falcon Heavy, Crew-5 & 6, NASA SpaceX Crew & Cargo Dragons and more
Mar 8/9: WFTV ABC News and Fox 35 New Orlando pre and post scrub interview about maiden Terran 1 launch attempt:
https://www.fox35orlando.com/news/i-will-be-here-scrubbed-3d-printed-rocket-launch-isnt-turning-people-away-from-second-try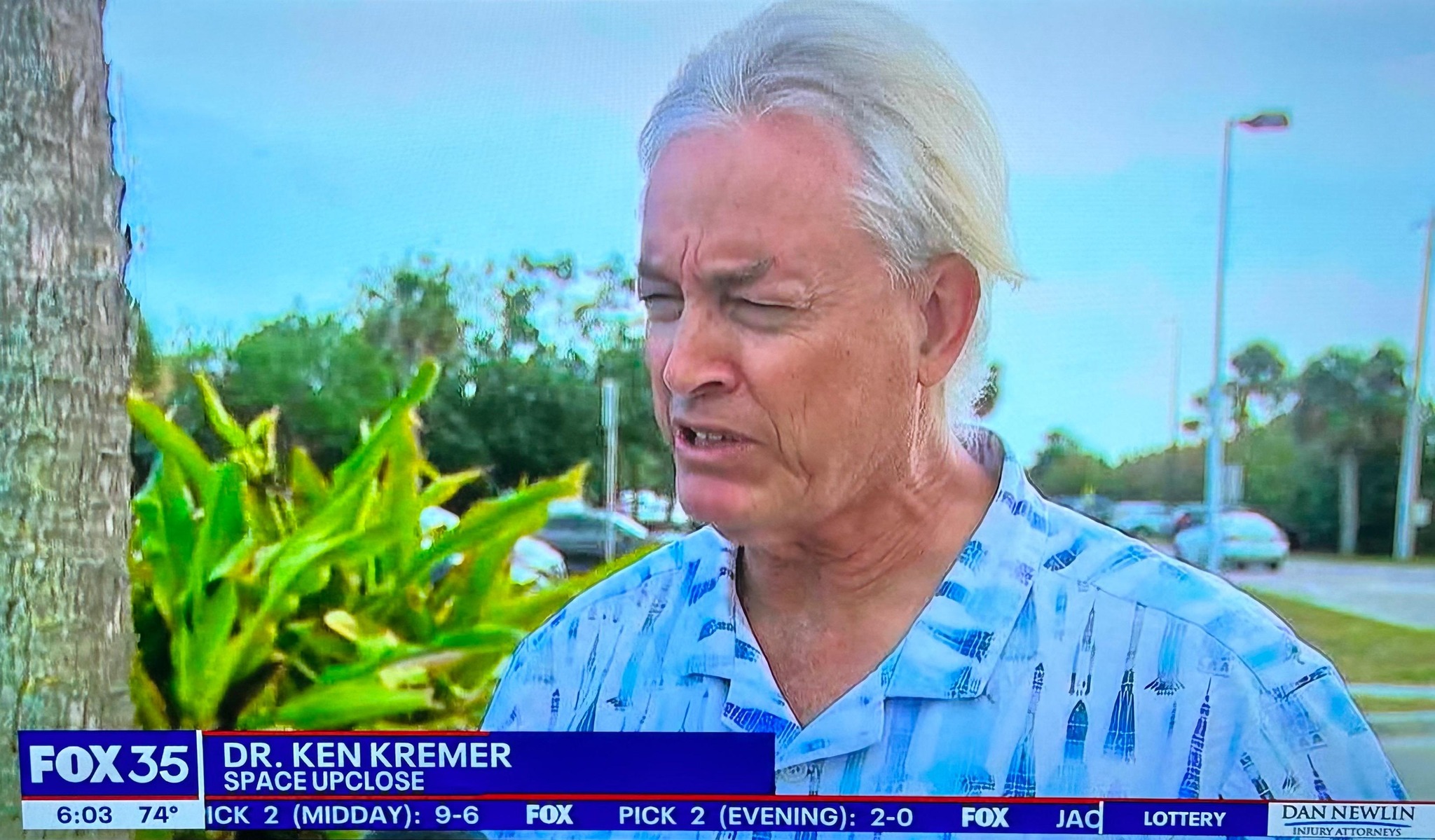 Mar 7: WFTV ABC News Orlando interview about upcoming maiden #Terran1 launch by Relativity Space on Mar 8
https://www.wftv.com/news/video-3-rocket-launches-planned-floridas-space-coast-this-week/90d4e160-806f-49fd-b7d9-04d46a2c9402/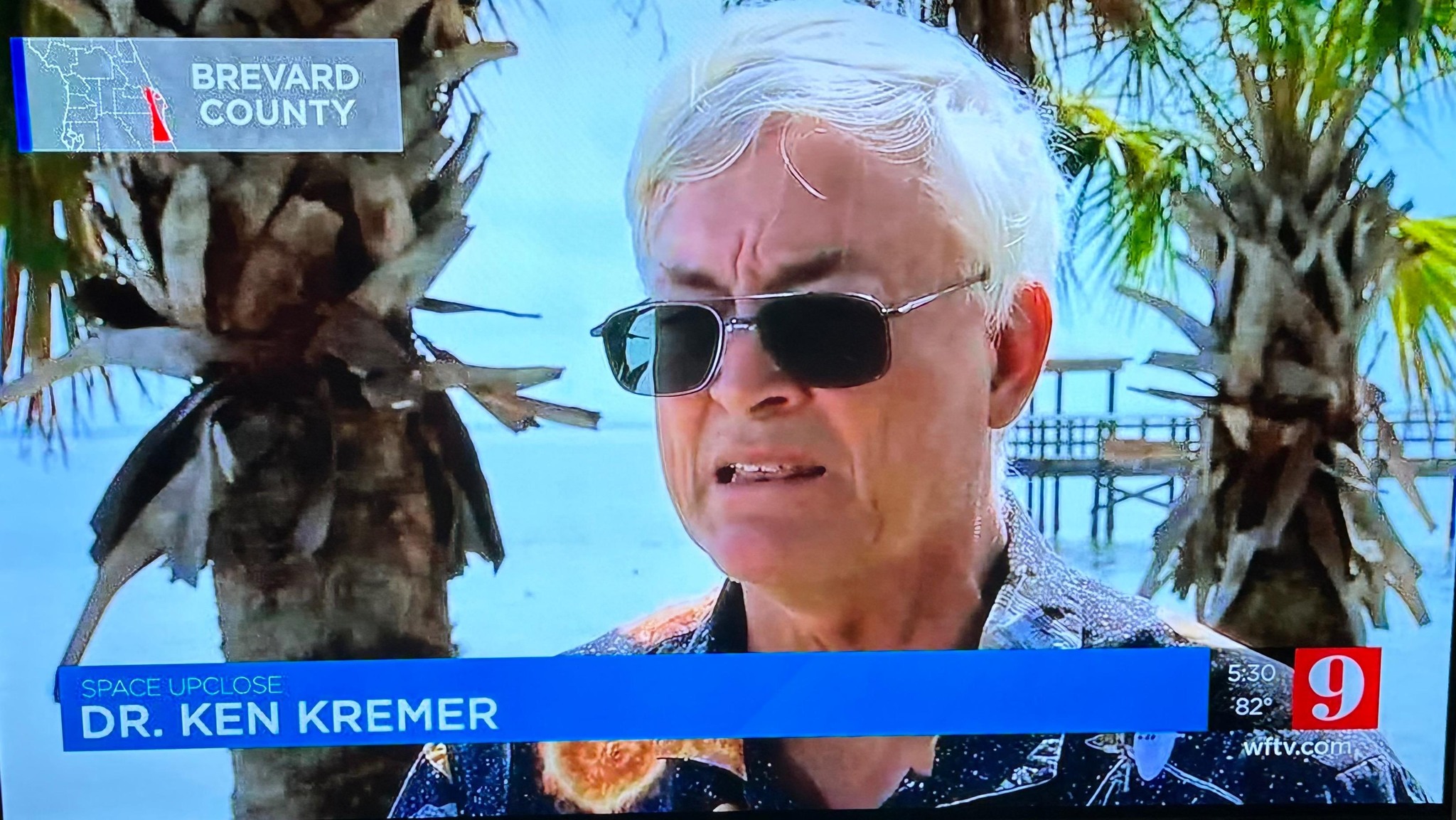 Mar 6/7: WFTV ABC News Orlando interview about upcoming maiden #Terran1 launch by Relativity Space on Mar 8 from pad 16 CCSFS. Worlds 1st 3D printed rocket:
https://www.wftv.com/news/video-first-3d-printed-rocket-set-blast-off-space-coast-this-week/bab1dd1f-6927-45c9-8359-e1e7d7a08e99/
Mar 2: Fox 35 Orlando live interview about the Crew-6 mission launch to the ISS
Feb 26/27/28: On 3 local Networks CBS WKMG , ABC WFTV and Fox 35 Orlando -I did series of live and taped interviews pre and post scrub explaining why NASA  SpaceX Crew6 astronaut launch to ISS was scrubbed at T Minus 2 minutes to keep the crew and rocket safe and what needs to be done to resolve the issue why TEA-TEB (triethylaluminum triethylboron) igniter fluid failed to fully load on Falcon 9 rocket
Feb 9/10:  WFTV ABC News Orlando interview about SpaceX Starship successful static fire test of 31 Raptor engines at Boca Chica
https://www.wftv.com/news/local/brevard-county/spacex-completes-successful-static-fire-test-33-engine-starship-booster/LDYL2CDXS5ETHG7TGG2RH2JV7I/
Feb 8/9:  WFTV ABC News Orlando interview about how NASA needs a definitive and fully funded plan to deorbit the ISS safely in case of an emergency and serious debris hit causing it to lose control b4 it's terminated in 2030- in light of the recent Soyuz crew capsule leak from micrometeoroid impact
Jan 3/4: WFTV ABC News Orlando interview about Jan 3 SpaceX Transporter 6 launch – 1st of 2023 – and record setting year ahead with many exciting missions for NASA and private astronauts, science probes, mission, US Space Force, new rockets like ULA Vulcan & more!
Dec 28/29: Fox 35 Orlando – Watch my commentary about NASA's fantastic success in space exploration in 2022 and ambitious schedule of whats ahead in 2023:
https://www.fox35orlando.com/video/1159922
Dec 11/12: BBC World News TV interview about  successful splashdown of NASA Orion concluding the 25 day Artemis 1 lunar test flight around the Moon and back, and how that sets up a human return to the Moon on Artemis 2 and landing on Artemis 3. Plus what's beyond for NASA deep space exploration to Mars and the search for life beyond Earth
Watch Ken's continuing reports about Artemis, SpaceX missions, SLS, Orion and NASA missions, SpaceX Crew and Cargo Dragons, SpaceX Axiom, JWST, DART, Lucy Asteroid mission, GOES, SpaceX Starlink, Commercial Crew and Starliner and Crew Dragon, Blue Origin and Space Tourism, and onsite for live reporting of upcoming and recent SpaceX and ULA launches including Crew 1 & 2 & 3 & 4 & 5, ISS, Solar Orbiter, Mars 2020 Perseverance and Curiosity rovers, NRO spysats and national security missions and more at the Kennedy Space Center and Cape Canaveral Space Force Station.
Stay tuned here for Ken's continuing Earth and Planetary science and human spaceflight news: www.spaceupclose.com – twitter @ken_kremer – email: ken at kenkremer.com
Dr. Kremer is a research scientist and journalist based in the KSC area, active in outreach and interviewed regularly on TV and radio about space topics.
………….
Ken's photos are for sale and he is available for lectures and outreach events
Please consider supporting Ken's work by purchasing his photos and/or donating at Patreon
https://www.patreon.com/kenkremer
Upcoming and recent space events and talks by Ken Kremer & Jean Wright
Jan 21-28: Carnival Cruise Ship Mardi Gras: "What Happening at NASA and Space Exploration" & SpaceX Falcon 9 Starlink 5-2 launch viewing party Jan 26
Jan 12, 2023: 10 AM at Westminster Retirement Center in Orlando/Winter Park, Florida: Presentation by Jean Wright – "Sew Sister to the Stars- How the Humble Art of Sewing Transformed the World of Flight"+ Artemis 1 Moon rocket update
Nov 29 at UCF, Orlando Florida: Presentation by Jean Wright – "Sew Sister to the Stars- How the Humble Art of Sewing Transformed the World of Flight"
Mar 1, 2; Feb 4, 11, 24, 25, 26; Jan 7,11- 2023; from 7 to 9 PM Quality Inn, Titusville, FL:  Join Ken and Jean for Artemis 1, Falcon Heavy and space mission and rocket launch outreach. Ask us anything. plus display our photos and space apparel items for sale
x