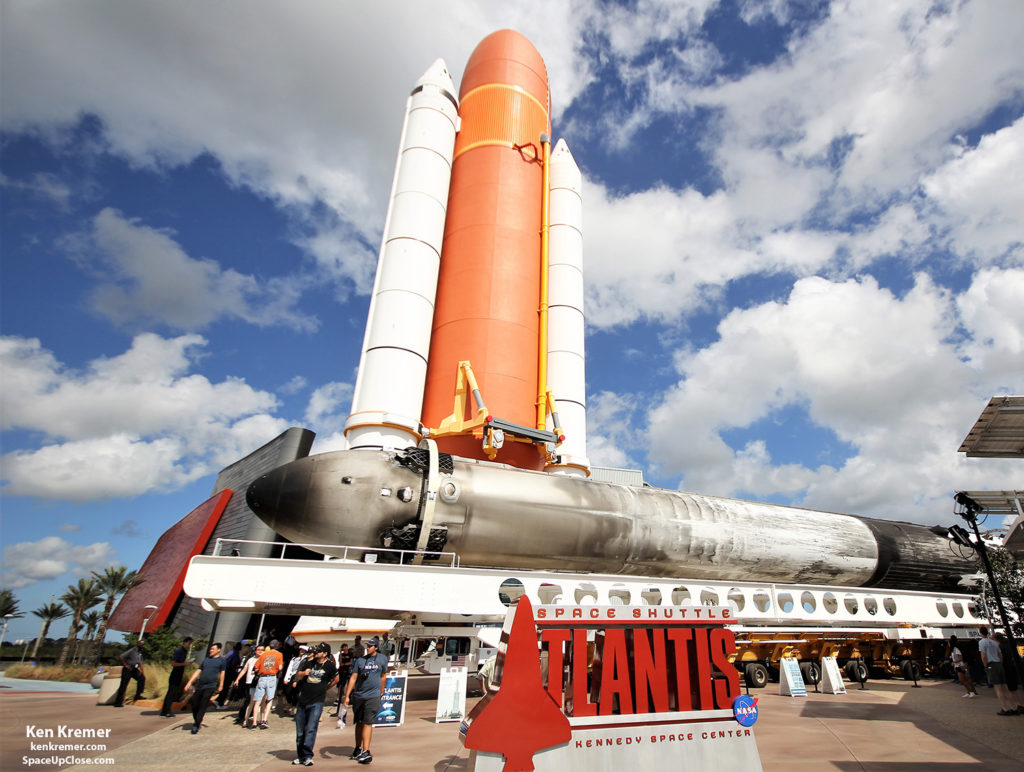 Scorched and
sooty SpaceX Falcon Heavy landed side booster after two trips to space and back
is briefly on display at the Kennedy Space Center Visitor Complex, FL, outside
the Space Shuttle Atlantis pavilion. Photos taken 19 Feb. 2018 following maiden
blastoff and landing on 6 Feb. 2018. Credit: Ken
Kremer/SpaceUpClose.com/kenkremer.com
Ken Kremer
— SpaceUpClose.com — 19 Feb 2018
KENNEDY SPACE CENTER VISITOR COMPLEX, FL – Space
and SpaceX fan Red Alert !! The scorched
and sooty SpaceX Falcon Heavy landed side booster that successfully traveled to
space and back twice!- including earlier this month – is briefly on display at
the Kennedy Space Center Visitor Complex, FL.
Calling all Space Enthusiasts now! You'll need
to make travel plans without delay and travel at near light speed because the
Falcon Heavy side booster is only on display through Wednesday, February 21, the visitor
complex announced today as a gift to space fans.
"The
booster display will remain through Wednesday, February 21!"
Enjoy my gallery
of photos here – taken on Monday, Feb. 19.
Catch it while
you can!
Don't dawdle !
See Space History 'Up Close and Personal' with
you own eyes in this temporary, one time only event.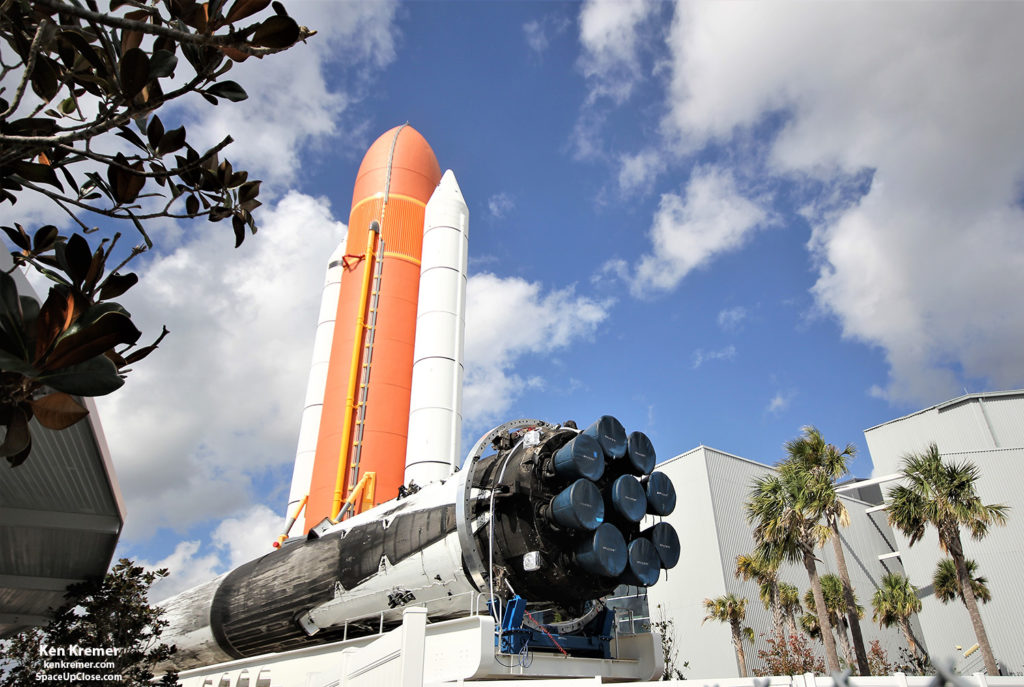 The ultra short and ultra popular booster display
was extended 1 day.
With no fanfare and no notice the 156 foot
long first stage booster sans its quartet of landing legs arrived in the dead
of night Sunday morning.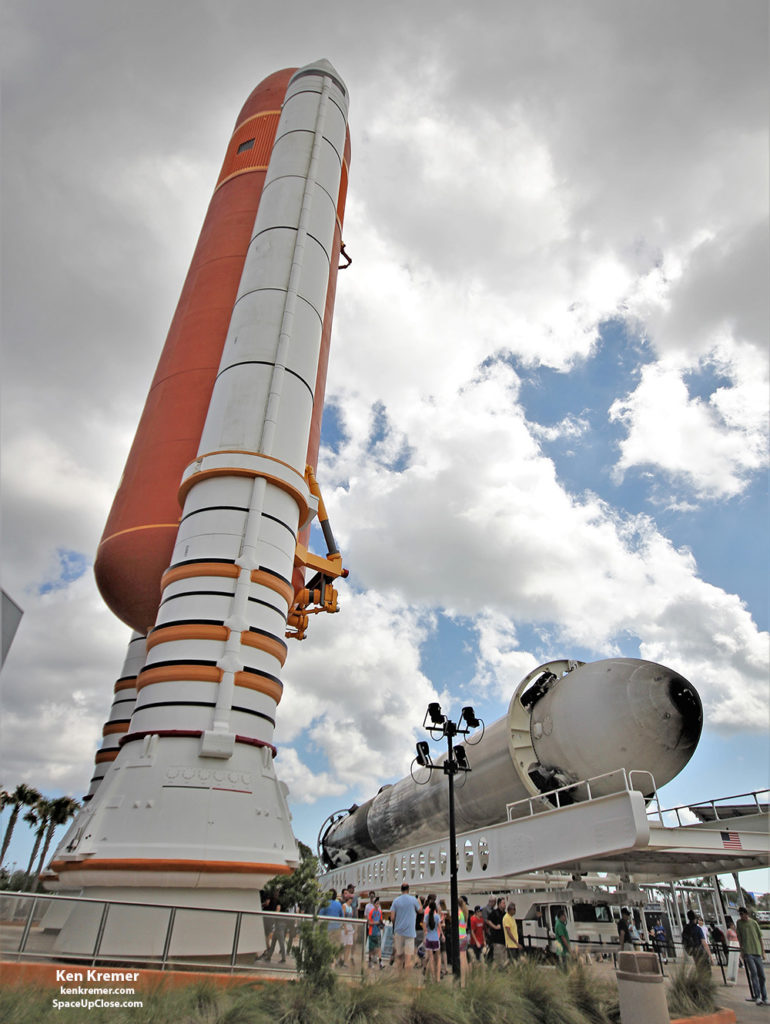 The
inaugural test flight of the triple stick Falcon Heavy rocket lifted off magnificently

at 3:45 p.m. EST
(2045 GMT) on
Feb. 6, 2018 f
rom

historic pad 39A at NASA's Kennedy Space
Center in Florida.
The three core rocket
generated
the loudest roar to space by far since NASA's space shuttles were retired in
July 2011.
Both side boosters landed nearly
simultaneously at SpaceX's Landing Zones 1 and 2 (LZ-1 and LZ-2) some eight
minutes after liftoff.

This used booster
had previously flown on the CRS-9 Dragon cargo resupply mission for NASA to the
International Space Station (ISS).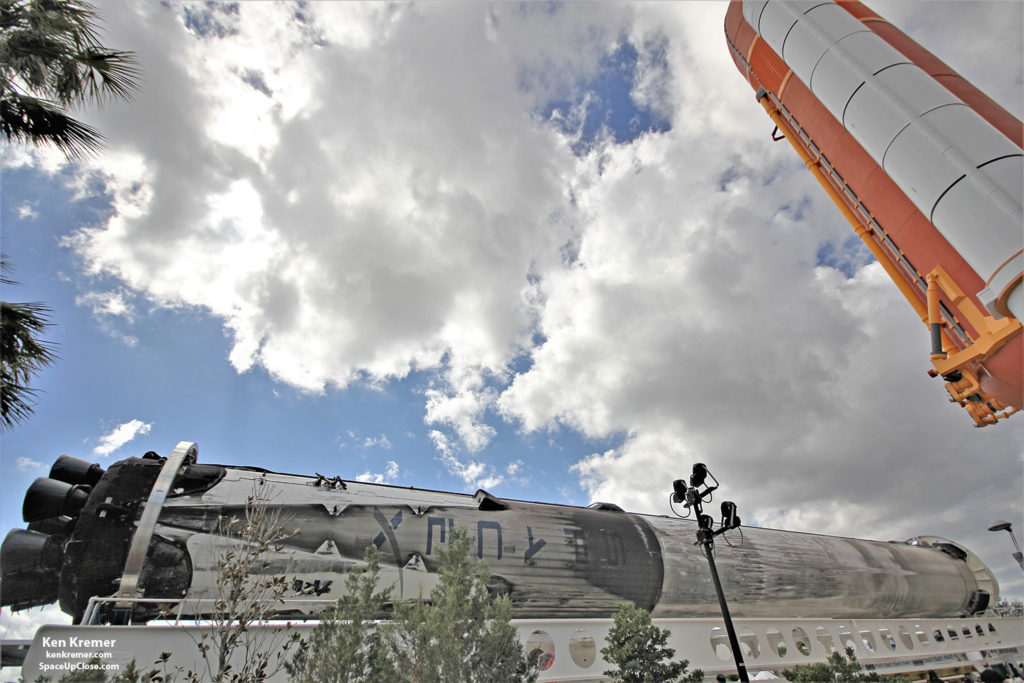 The nose cone
capped, blackened side booster that truly looks like it's been roasted to thousands
of degrees is resting rather comfortably and horizontally flat on a bright
white multi-wheeled transporter parked rather incredulously right outside the
Space Shuttle Atlantis pavilion at KSCVC.
The booster is parked
here only through Wednesday – that's a total of just four days.
And it's so readily
accessible you'll can hardly believe your eyes until you see it because it's right
there out in the open next to the magnificent shuttle Atlantis exhibit. The public
has never had a chance to see a Falcon 9 so close before so take advantage of
this ultra-rare opportunity if you can.
It's been "There
and Back Again" – Twice!
Think about that fact as you leisurely stroll right
underneath it and look up to the nose cone through gaps in the transporter vehicle.
The twice launched twice landed recycled booster is powered
by 9 Merlin 1D engines fueled by cryogenic liquid oxygen and RP-1 kerosene propellants.
After two round trips
to space and back, viewing the 15-story tall booster is well worth your time
and effort.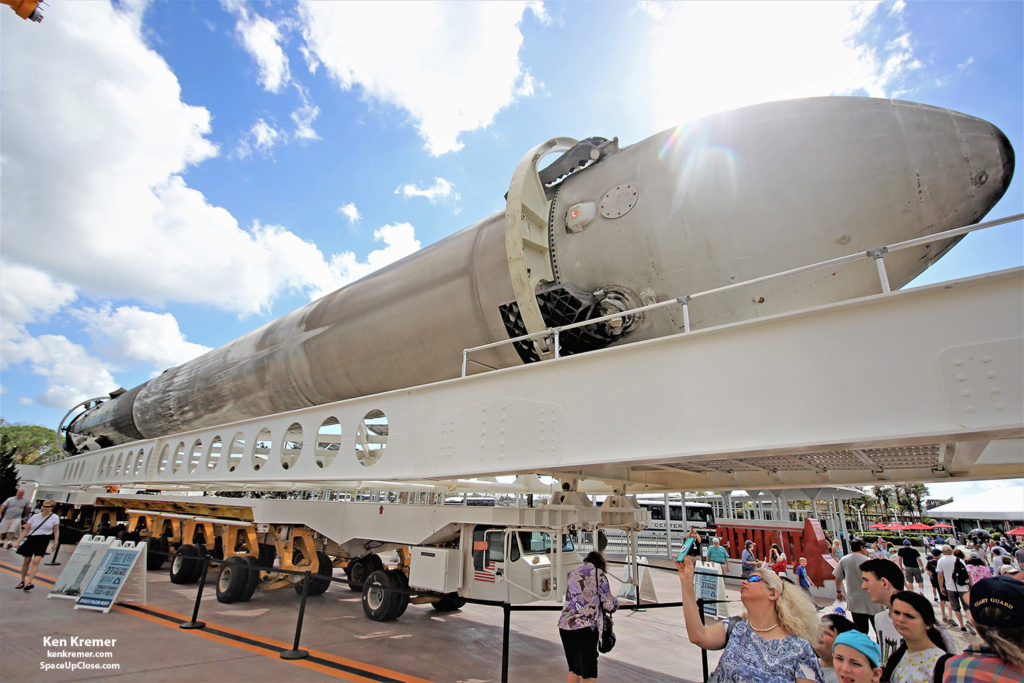 The Falcon Heavy is now the world's most powerful currently
operational rocket with twice the lifting ability of the next most powerful
rocket – the Delta IV Heavy from United Launch Alliance.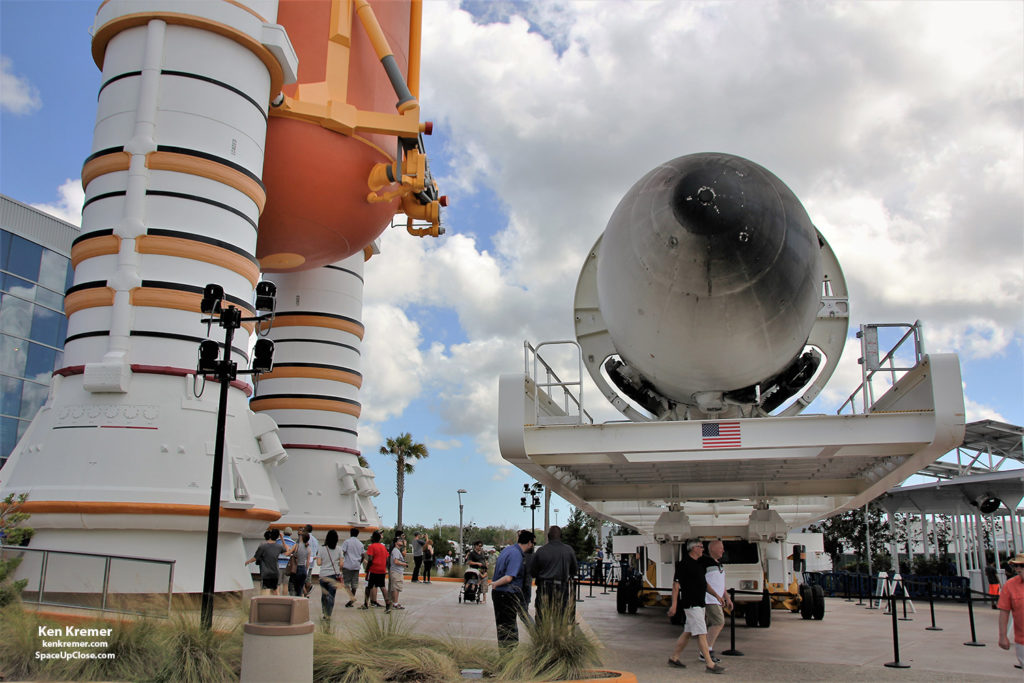 Read our detailed prelaunch
and launch stories.
Watch
for Ken's continuing onsite coverage of NASA, Falcon Heavy, SpaceX, ULA,
Boeing, Lockheed Martin, Orbital ATK and more
space and
mission reports direct from the Kennedy
Space Center and Cape Canaveral Air Force Station, Florida.
Stay tuned here for Ken's continuing
Earth and Planetary science and human spaceflight news:

www.kenkremer.com

–www.spaceupclose.com –
twitter @ken_kremer –
ken
at kenkremer.com