Illustration
of NASA's James Webb Space Telescope reset for launch in 2020.

Credit: NASA
Ken
Kremer

—
SpaceUpClose.com
—

27
March 2018
CAPE CANAVERAL, FL –
Top NASA officials announced today that launch of the
James Webb Space Telescope (JWST) –

the agencies highest priority and premiere space
observatory – has been postponed to 2020 so that engineers can conduct
additional testing to resolve technical issues recently uncovered during the final
integration phase of the components comprising the highly complex spacecraft
that will look back almost to the beginning of time.
Liftoff of the Webb
Telescope has been delayed to no earlier than May 2020, pending additional
reviews to be carried out by a newly established independent review board, said
acting NASA Administrator Robert Lightfoot at a media briefing for reporters
today, March 27.
Officials
disclosed that "avoidable" problems with the propulsion system and unexpected tears
in the sunshade and snags in the deployment cables happened during recent
testing that took longer than expected at the
spacecraft
integration facility of prime contractor Northrup Grumman located in
Redondo Beach,
California.
These significant glitches will now have to be corrected and
resolved forcing a launch delay.
"The James Webb Space
Telescope is NASA's highest priority science project and will leave a legacy
for decades to come," said Lightfoot.

"

Although the
hardware is 100% complete, we need to complete vital testing and more testing time
is needed to ensure success."
NASA had already been
projecting a recently revised launch delay to spring 2019 until today.
Webb is currently undergoing
final integration and test phases that will require at least another year of delay
packed with rigorous testing to ensure a successful mission, NASA says.
"After an independent
assessment of remaining tasks for the highly complex space observatory, Webb's
previously revised 2019 launch window now is targeted for approximately May
2020."
To date the Webb project has
cost $7.3 Billion out of a maximum funding of $8 Billion.
"Webb is the highest
priority project for the agency's Science Mission Directorate, and the largest
international space science project in U.S. history. All the observatory's
flight hardware is now complete, however, the issues brought to light with the
spacecraft element are prompting us to take the necessary steps to refocus our
efforts on the completion of this ambitious and complex observatory," said
acting NASA Administrator Robert Lightfoot.
The
sunshield of NASA's James Webb Space Telescope sits deployed inside a cleanroom
at Northrop Grumman Aerospace Systems in Redondo Beach, California, in October
2017. Credits:
Northrop Grumman
Lightfoot added Congress has
been briefed that Webb might exceed the $8 Billion cost cap. If it does exceed
the cost cap, then Congress will need to reauthorize the Webb project according
to law.
The stakes are so high that "Failure
in not an option," said Associate Administrator of NASA's Science Mission
Directorate (SMD) Thomas Zurbuchen, several times during the briefing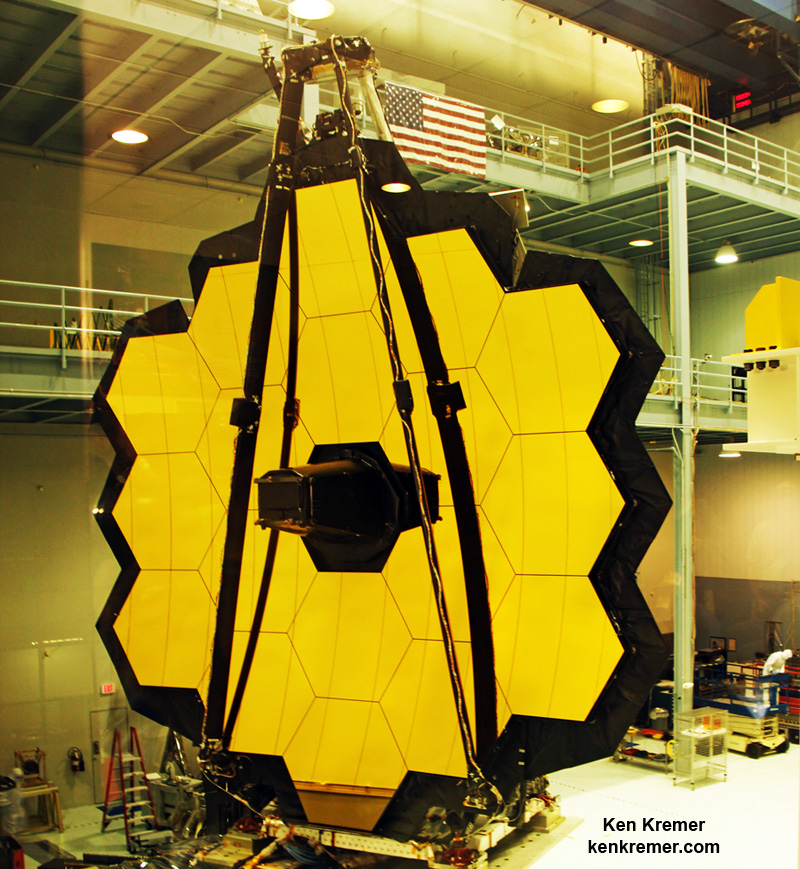 The 18-segment
gold coated primary mirror of NASA's James Webb Space Telescope is raised into
vertical alignment in the largest clean room at the agency's Goddard Space
Flight Center in Greenbelt, Maryland, on Nov. 2, 2016. The
secondary mirror mount booms are folded down into stowed for launch
configuration.

Credit: Ken
Kremer/kenkremer.com
I asked about the nature and
extent of the tears in the sunshield and the snags in the cables.
"Altogether 7 tears were
discovered on all 5 sunshade membranes. Two of the tears were 10 centimeters (4
inches) in maximum size," Deputy Associate Administrator of SMD Dennis Andrucyk
told Space UpClose during the briefing.
Each of the 18 hexagonal-shaped
primary mirror segments measures just over 4.2 feet (1.3 meters) across and
weighs approximately 88 pounds (40 kilograms).
They are made of beryllium, gold coated and about the size of a coffee
table.
The Webb
Telescope is a joint international collaborative project between NASA, the
European Space Agency (ESA) and the Canadian Space Agency

(CSA).

Webb is
designed to look at the first light of the Universe and will be able to peer
back in time to when the first stars and first galaxies were forming.

It will also study the history of our
universe and the formation of our solar system as well as other solar systems
and exoplanets, some of which may be capable of supporting life on planets
similar to Earth.
Watch this
space for my ongoing reports on JWST mirrors, science, construction and
testing.
Watch
for Ken's continuing onsite coverage of NASA, SpaceX, ULA, Boeing, Lockheed
Martin, Orbital ATK and more space
and mission reports direct from the Kennedy Space Center and Cape
Canaveral Air Force Station, Florida.
Stay tuned here
for Ken's continuing Earth and Planetary science and human spaceflight news:

www.kenkremer.com

–www.spaceupclose.com –
twitter @ken_kremer –
ken at kenkremer.com