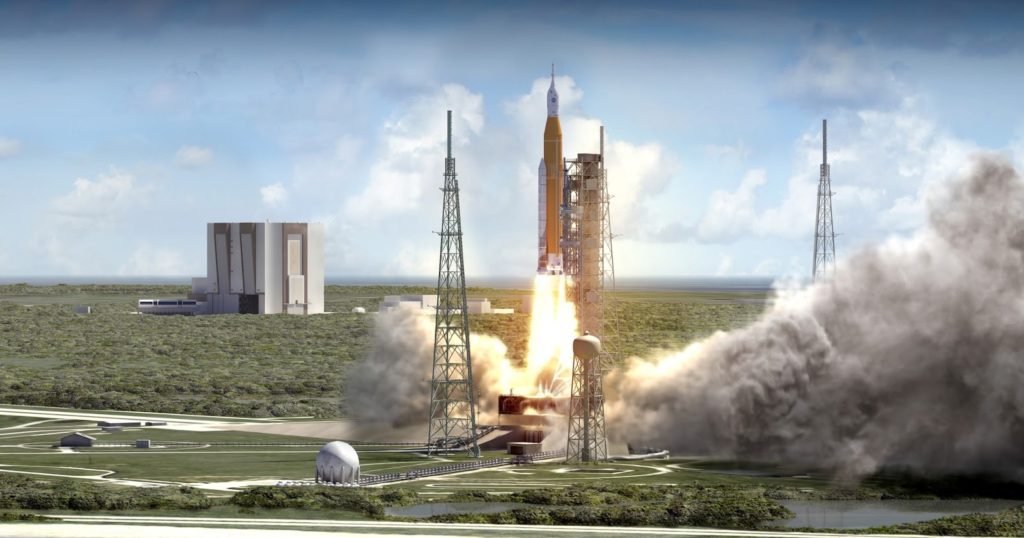 NASA's Space Launch
System (SLS) blasts off from launch pad 39B at the Kennedy Space Center in this
artist rendering showing a view of the liftoff of the Block 1 70-metric-ton
(77-ton) crew vehicle configuration. Credit: NASA/MSFC
Ken Kremer

—
SpaceUpClose.com
—

26 March 2018
CAPE CANAVERAL, FL – The US
Congress delivered a big boost to NASA's 2018 budget that provides a whopping $20.7
Billion in the omnibus appropriations bill agreed to by both parties and passed
by the House and Senate and finally signed into law by President Trump on Friday,
March 22 – after he surprisingly threatened a last minute veto.
The $1.3 Trillion omnibus
spending bill agreed to by Congressional negotiators funds the entire US
Federal Government until the end of this fiscal year (for the next six months) after
multiple short term emergency funding bills and two government shutdowns.

It also avoided the threat of another
government shutdown Friday night.
The record setting funding
of $20.736 Billion is far beyond what Trump had proposed for Fiscal Year 2018.
The enacted 2018 NASA Budget
given by Congress is $1.6 Billion more than the Trump Administrations fiscal year
2018 request of only $19.1 Billion and is n
early $1.1 billion
more than the space agency received in fiscal year 2017.
The bill

provides full funding for multiple NASA's programs
in both human and robotic exploration – especially the deep space Moon/Mars human
exploration initiative and Planetary exploration as well as Earth Science and also
saves the WFIRST space telescope slated for cancellation by President Trump in
the Fiscal Year 2019 budget.
Overall winners include a $500 million increase
to space science missions and $800 million increase for human exploration
systems and about $100 million increase for space technology programs and
smaller increases for other key programs.
More key highlights include full funding for the
Europa Clipper orbiter and lander, James Webb Space Telescope (JWST), WFIRST
space telescope, Mars 2020 rover and potential helicopter addition.

Trump did not request any funding for the Europa
lander in either the 2018 or 2019 budgets
.
Overall the omnibus bill provides the Europa
missions with $595 million in funding with wording that they will be launched
on NASA SLS rocket under development.
Hull of the Boeing CST-100 Starliner Structural Test Article
(STA)- the first Starliner to be built in the company's modernized Commercial
Crew and Cargo Processing Facility high bay at NASA's Kennedy Space Center in
Florida. Credit: Ken Kremer/kenkremer.com
NASA's SLS Heavy Lift rocket
and Orion deep space crew capsule human exploration programs each received some
additional funding amounting to $2.15 billion for SLS and $1.35 billion for Orion, which is also above
Trump's request.
Lawmakers also provided $350
million to start building a second mobile launch (ML) platform. This will help
speed up the second SLS launch somewhat which is also the first crewed launch
of Orion on the EM-2 mission to the Moon – because NASA can avoid the 33 month down
time needed to modify the ML for a more powerful version of SLS.
NASA has considered buying
a second mobile launcher, but decided not to due to lack of funds. Thus NASA
hopes to move the launch date up to 2022 rather than 2023.
Full funding is also provided
for operations of the International Space Station (ISS) and development of the
Boeing and SpaceX commercial crew capsules to restore US launch access to the orbital research outpost.
The private Boeing
Starliner and SpaceX Crew Dragon could launch NASA astronauts to the ISS as
soon as late 2018 from NASA's Kennedy Space Center – thus ending our 100%
dependence on the Russians for all seats to space.
Boeing and SpaceX are building private spaceships to resume
launching US astronauts from US soil to the International Space Station as soon
as late 2018. Credit: NASA
Lawmakers also restored funding for four Earths science
missions slated for cancellation by Trump: the
Plankton, Aerosol, Cloud, and ocean Ecosystem (PACE) mission, the CLARREO
Pathfinder and Orbiting Carbon Observatory 3 instruments and the Earth
observation instruments on the Deep Space Climate Observatory spacecraft.
They also provided $100 million for NASA's
Office of Education – likewise targeted for cancellation by Trump.
Watch for Ken's continuing onsite coverage of NASA, SpaceX,
ULA, Boeing, Lockheed Martin, Orbital ATK and more
space and
mission
reports direct from the Kennedy Space Center and Cape Canaveral Air Force
Station, Florida.
Stay tuned here for Ken's continuing
Earth and Planetary science and human spaceflight news:
www.kenkremer.com
–www.spaceupclose.com –
twitter @ken_kremer –
ken
at kenkremer.com