Space station cameras sight the Soyuz MS-08
spacecraft just meters away from docking to the Poisk module on March 23, 2018.
Credit: NASA TV
Ken Kremer

—
SpaceUpClose.com
—

23 Mar 2018
CAPE CANAVERAL, FL-
Two days after blasting off from the
Baikonur Cosmodrome in Kazakhstan, a Russian Soyuz capsule ferrying
the Expedition 55 veteran trio of spaceflyers from Russia and America
successfully docked at the International
Space Station (ISS) Wednesday afternoon.
The Russian Soyuz MS-08 spacecraft docked to the
Poisk module on the Russian segment of the space station at 3:40 p.m. EDT while
both spacecraft were sailing approximately 254 miles (406 kilometers) over Serbia
in orbital darkness.
The Expedition 55 crew
includes
Soyuz Commander Oleg Artemyev of
Roscosmos and astronauts Ricky Arnold and Drew Feustel of NASA.

They now begin a 5 month stay at the orbiting
research lab.
"Contact Confirmed. We
have docking," announced NASA commentator Rob Navias during a live broadcast of
the high flying events on NASA TV.
"Soyuz MS-08
successfully arrived at the International Space Station, sliding into the Poisk
module."
Hatches between the two spacecraft were opened two hours
later at 5:48 p.m. EDT and the new trio floated from the cramped Soyuz into the
voluminous research lab.
"The space stations
population has doubled."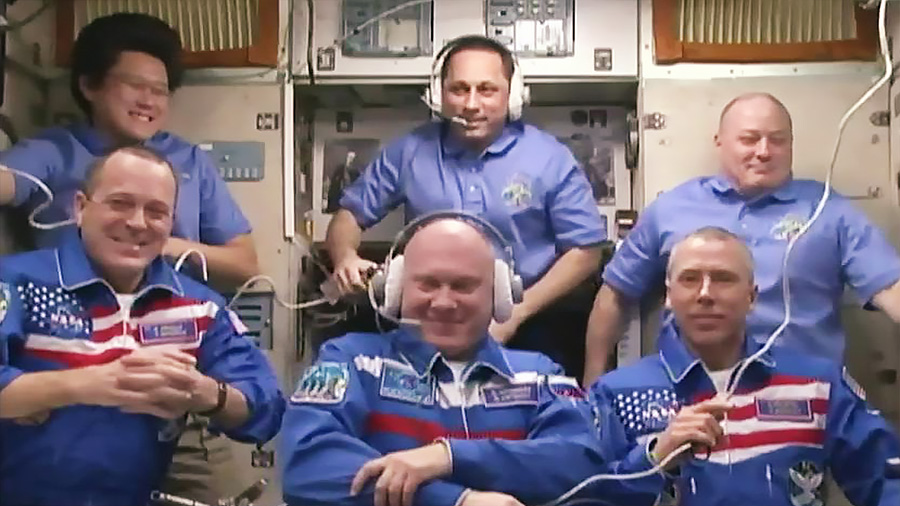 The newest Expedition
55 crew members (front row from left) Drew Feustel, Oleg Artemyev and Ricky
Arnold gather in the Zvezda service module and speak to family and colleagues
back on Earth after arriving at the ISS on March 23, 2018. Behind them are
(from left) Norishige Kanai, Commander Anton Shkaplerov and Scott Tingle.
Credit: NASA TV
During final approach the cramped Soyuz spacecraft carrying
3 highly trained humans was closing in at 0.1 km/sec after conducting a 122
degree fly around of the station.
Live video feeds from the Soyuz and the space station
provided exquisitely stunning views of the rendezvous and docking.
Space station cameras sight the Soyuz MS-08
spacecraft just meters away from docking to the Poisk module on March 23, 2018.
Credit: NASA TV
The all male trio
comprising two NASA astronauts and one Russian cosmonaut had launched aboard their Soyuz MS-08 spacecraft from the
Baikonur Cosmodrome in Kazakhstan at 1:44 p.m. EDT Wednesday (11:44 p.m.
Baikonur time) into the plane of the space stations orbit.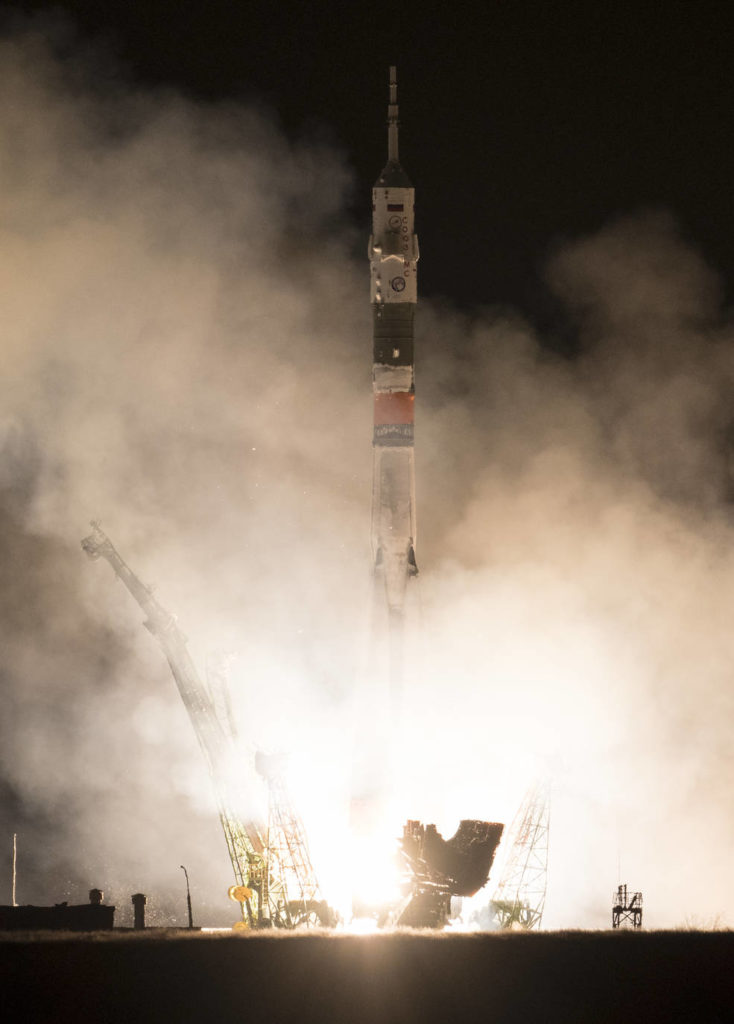 The Soyuz MS-08 spacecraft carrying NASA astronauts Drew
Feustel and Ricky Arnold, and Oleg Artemyev of the Russian space agency
Roscosmos, lifts off from the Baikonur Cosmodrome in
Kazakhstan at 1:44 p.m. EDT March 21, 2018 (11:44 p.m. Baikonur time). The
crew is scheduled to dock to the International Space Station at 3:41 p.m. March
23, 2018.

Credits: NASA/Joel Kowsky
After reaching orbit the Soyuz carried out a carefully
choreographed series of thruster firings.
The entire sequence from launch to docking was fully
automated.
"The flawless docking was executed automatically"
"The KURS automated system was right on the money," said
Navias. "It was a text book rendezvous and a smooth docking."
Hooks and latches were driven home to achieve a hard mate

as residual motions were dampened out.
The crew then conducted leak checks to confirm the docking
was airtight with no issues.
With the arrival of the new trio, Expedition 55 reached its
full complement of six astronauts and cosmonauts living and working on the
orbiting outpost.


After pressure were equalized the hatches were opened
between the two spacecraft at 5:48 p.m. EDT as they were soaring 254 mi (406
km) over the northern coast of Australia.
The new trio floated inside one by one. Arnold first, Feustel
second and Artemyev last.

"

All six crewmembers are now together," said Navias.
Feustal, Arnold
and Artemyev join the existing trio of crew members comprising

Scott Tingle


of NASA,

Expedition 55


Commander Anton Shkaplerov of Roscosmos and Norishige Kanai of the Japan
Aerospace Exploration Agency – already on board since launching on Soyuz MS-07
in December 2017.
All six crewmates
then gathered for the traditional welcoming ceremony in the Russian Zvezda
module and congratulations from Russian ground control and their families back
on Earth.


"You guys look great on orbit," said Bill
Gerstenmaier, NASA's director of spaceflight. "We can hardly wait for you to
get busy and start doing lots of great work for us."
The ISS has been
continuously occupied for more than 17 years.
Shkaplerov, Tingle and Kanai are scheduled to remain aboard
the station until June 2018, while Feustel, Arnold and Artemyev are slated to
return to Earth in late August after 167 days on orbit.
This is Feustel's 3rd mission – including one to
repair and upgrade the Hubble Space Telescope – and the second for Arnold and
Artemyev.
The mission "continues the long-term increase in crew size
on the U.S. segment from three to four, allowing NASA to maximize time
dedicated to research on the space station," said NASA.
They will continue investigations working on over 250
science experiments.
At least 2 spacewalks are planned during Expedition 55.
"Highlights of upcoming investigations include:

a new facility


to test materials, coatings and components of other large experiments in the
harsh environment of space; a study on the effects of microgravity on

bone marrow


and blood cells produced in bone marrow; and a newly-developed passive nutrient
delivery system for the

Veggie


plant growth facility."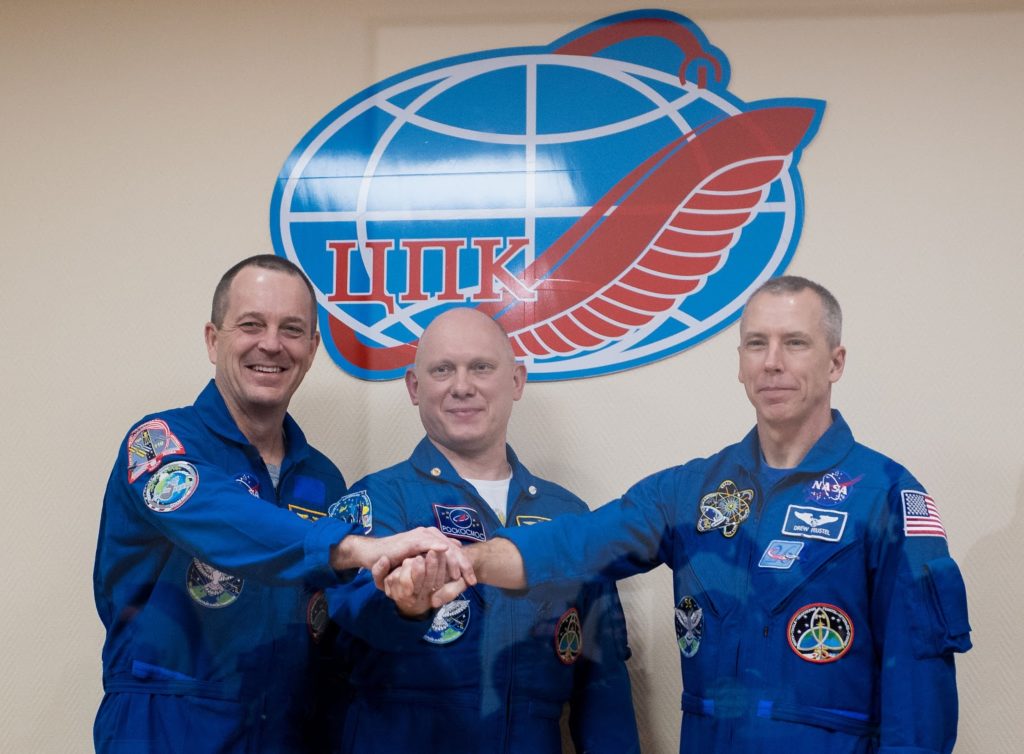 The Expedition 55-56
crew poses for a picture at the conclusion of a press conference, Tuesday,
March 20, 2018 at the Cosmonaut Hotel in Baikonur, Kazakhstan.
Credit: NASA/Joel Kowsky
The next US cargo resupply mission is slated for blastoff on
April 2 with on the SpaceX Falcon9/Dragon CRS-14 flight carrying over 5000
pounds of science and supplies to the ISS.
Watch for Ken's continuing onsite coverage of NASA, SpaceX,
ULA, Boeing, Lockheed Martin, Orbital ATK and more
space and
mission
reports direct from the Kennedy Space Center and Cape Canaveral Air Force
Station, Florida.
Stay tuned here for Ken's continuing
Earth and Planetary science and human spaceflight news:

www.kenkremer.com

–www.spaceupclose.com –
twitter @ken_kremer –
ken
at kenkremer.com