Portrait of Apollo 12
astronaut Alan Bean, who walked on the Moon in 1969, commanded the
second Skylab crew in 1973 and went on in retirement to paint the remarkable
worlds and sights he had seen like no other artist.

Credit: NASA
Ken Kremer — SpaceUpClose.com — 30 May 2018
KENNEDY SPACE
CENTER, FL – NASA astronaut and Navy test pilot Alan Bean, the 4th
man to walk on the Moon during the Apollo program and commander of the second
Skylab space station mission who became an accomplished artist after retiring
from the space agency, passed away this past weekend at age 86.
Alan Bean died on Saturday, May 26, at Houston
Methodist Hospital in Houston, Texas, after a short illness surrounded by his
family, the family announced in a statement.
His sudden death resulted from an illness contracted
just two weeks ago while traveling in Fort Wayne, Indiana
"Alan was the strongest and kindest man I ever
knew. He was the love of my life and I miss him dearly," said Leslie Bean, Alan
Bean's wife of 40 years, in a statement. "A native Texan, Alan died peacefully
in Houston surrounded by those who loved him."
Bean, a two-time space flyer, was one of only 12
humans to ever set foot on the lunar surface in the history of Humankind.
Walkout of the Apollo 12 crew for Saturn V launch to the
Moon on Nov. 14 1969 from the Kennedy Space Center, FL. Credit: Julian Leek
"As all great explorers are, Alan was a boundary
pusher," NASA Administrator Jim Bridenstine said in a statement.
"Rather than accepting the limits of technology, science, and even
imagination, he sought to advance those lines — in all his life's endeavors.
He was originally selected by NASA as one of 14
trainees for its third group of astronauts in October 1963 – virtually all of whom
went on to become famous and serve on renowned spaceflights and make legendary accomplishments
as astronauts.
Bean's history making lunar walking moment came
during the Apollo 12 mission, NASA's second lunar landing mission in November
1969, a few months after Apollo 11, the first lunar landing mission. He served
as the lunar module pilot during Apollo 12.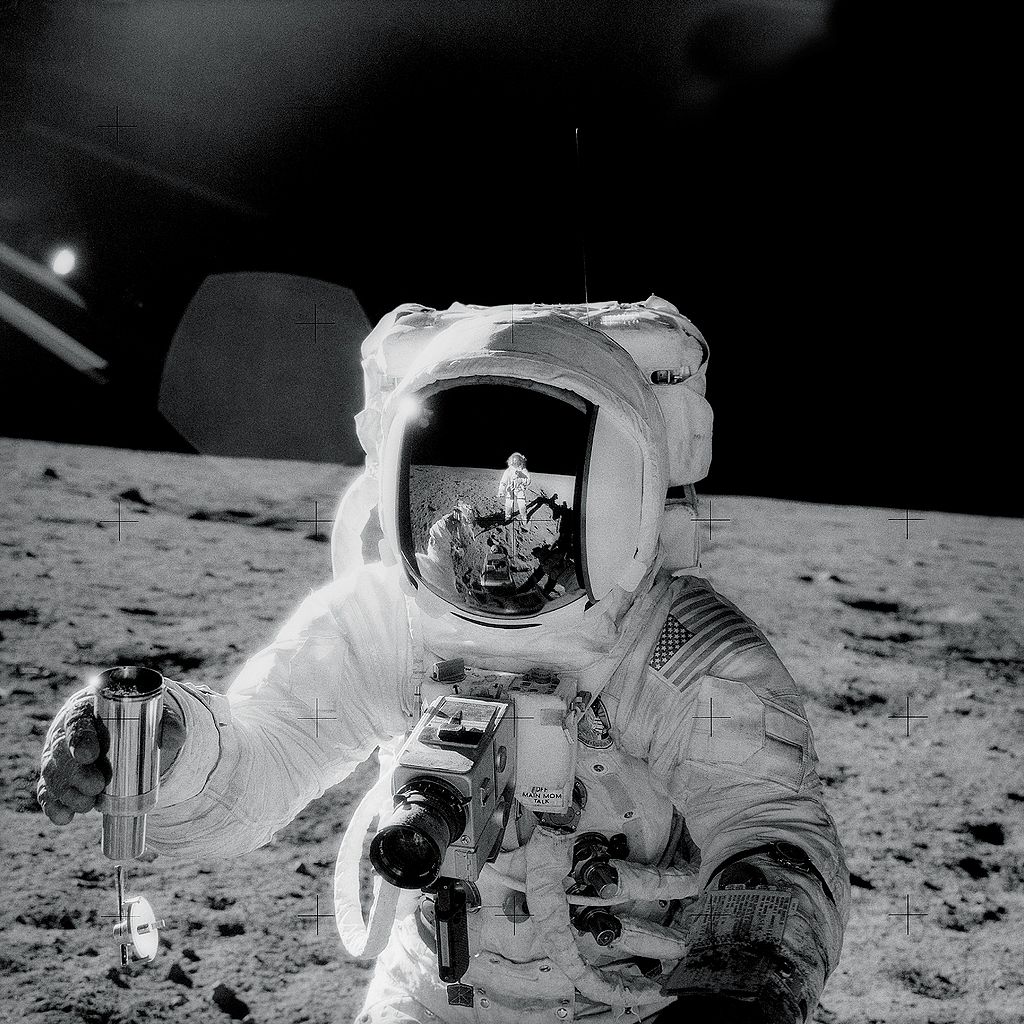 Alan Bean pictured by Pete Conrad (reflected
in Bean's helmet)
.
Apollo 12 astronaut Alan
Bean holds a special environmental sample container which holds soil collected
during the second moonwalk EVA. Commander Charles "Pete" Conrad had
just put a soil sample in the tube with a shovel. The picture was taken in the
vicinity of Sharp Crater. Conrad took the photograph and can be seen in the
reflection in Bean's visor.

Credit: NASA
Today only four moonwalkers survive from NASA's six
successful Apollo Moon landing missions which took place nearly 5 decades ago
from 1969 to 1972; Buzz Aldrin, lunar module pilot of Apollo 11, Dave Scott,
commander of Apollo 15, Charlie Duke, lunar module pilot for Apollo 16, and
geologist and former U.S. Sen. Harrison Schmitt, lunar module pilot for Apollo
17, the final Apollo moon landing mission in Dec 1972.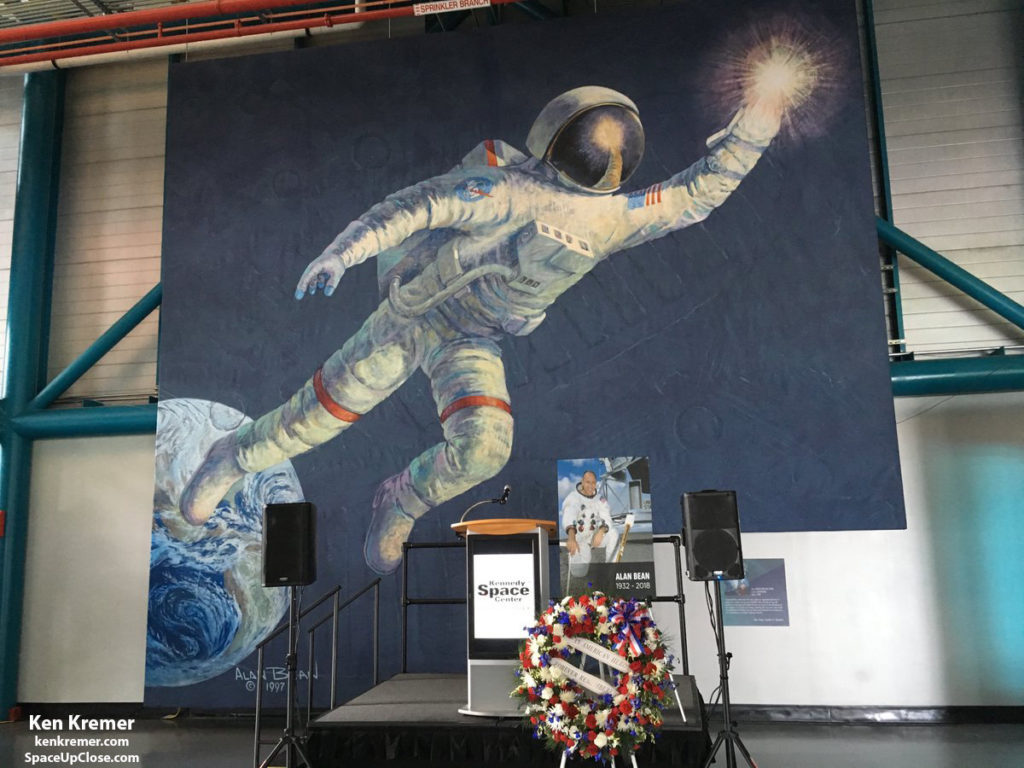 Memorial ceremony
for NASA astronaut and 4th Man on the Moon Alan Bean held at the
Kennedy Space Center Visitor Complex on 30 May 2018 backdropped by a mural he
painted of his Apollo 12 experiences. Credit: Ken
Kremer/SpaceUpClose.com/kenkremer.com
During
Bean's second space mission he served as commander of the second crewed flight
to America's first space station, Skylab, in July 1973.

Skylab 3 lasted 59 days far longer than the 10-day
mission of Apollo 12.
Altogether Bean logged 69 days, 15 hours and 45
minutes in space, including 31 hours and 31 minutes on the moon's surface
during Apollo 12 and over 10 hours of spacewalks on the moon and in Earth
orbit. He flew 27 aircraft types and accumulated more than 7,145 hours of
flight time, 4,890 hours of it in jets.
He served in a backup role for crewmembers on
Gemini 10 and Apollo 9.
"Alan and I have been best friends for 55 years
— ever since the day we became astronauts," said Walt Cunningham, who flew on
Apollo 7 and was a fellow member of Astronaut Group 3, in the family statement.
"When I became head of the Skylab Branch of the Astronaut Office, we worked
together and Alan eventually commanded the second Skylab mission."
"We have never lived more than a couple of miles
apart, even after we left NASA. And for years, Alan and I never missed a month
where we did not have a cheeseburger together at Miller's Café in Houston. We
are accustomed to losing friends in our business but this is a tough one," said
Cunningham.
The Apollo 12 crew comprised Bean, commander
Charles "Pete" Conrad, Jr. and command module
pilot

Richard F. Gordon Jr.

The
trio launched on a gargantuan Saturn V moon rocket on
Nov. 14,
1969 from Launch Complex 39A at NASA's Kennedy Space Center in Florida.
Apollo 12 crew:
Commander
Charles
"Pete" Conrad, Jr., command module pilot

Richard F. Gordon Jr.

, lunar module pilot
Alan Bean. Credit: NASA
Together with Conrad, Bean accomplished a pinpoint precision
landing on the moon at the 'Ocean of Storms' in the lunar module "Intrepid' on
Nov. 24, 1969 while Gordon remained behind to orbit the Moon in the command
module 'Yankee Clipper'.
Conrad and Bean
landed as hoped within walking distance of NASA's unmanned Surveyor III lunar
lander
– merely 600 feet away – which soft-landed on the Moon on April 19,
1967.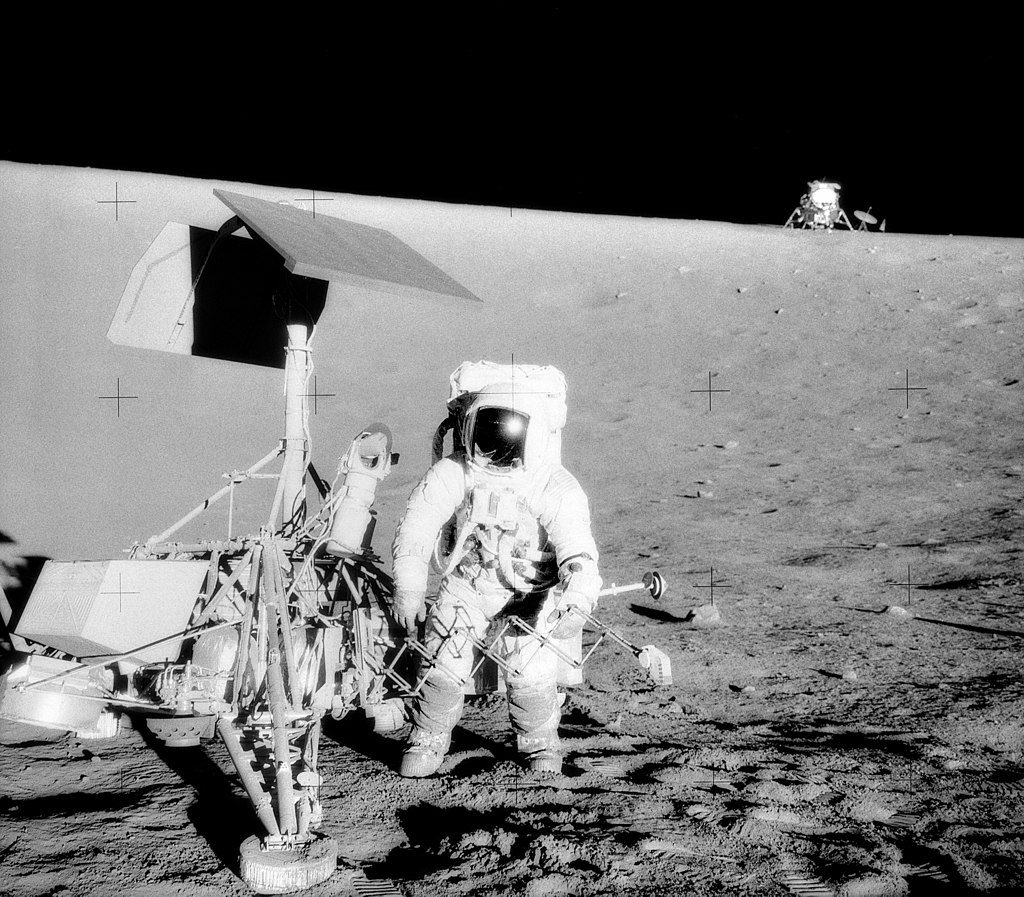 Charles
Conrad Jr., Apollo 12 Commander, examines the unmanned Surveyor III spacecraft
during the second extravehicular activity (EVA-2). The Lunar Module (LM)
"Intrepid" is in the right background. This picture was taken by
astronaut Alan L. Bean, Lunar Module pilot. The "Intrepid" landed on
the Moon's Ocean of Storms only 600 feet from Surveyor III. The television
camera and several other components were taken from Surveyor III and brought
back to earth for scientific analysis. Surveyor III soft-landed on the Moon on April 19, 1967.

Credit: NASA
The crew
retrieved the television camera and several other components from Surveyor III which
were brought back to Earth for scientific analysis by researchers to examine the
impact of enduring over 2 years on the desolate lunar surface.
Bean was the last surviving member of the Apollo 12 trio.
During Apollo 12 Conrad and Bean conducted two moon
walking EVA's that lasted nearly 4 hours each
– for a combined total of 7
hours, 45 minutes, 18 seconds on the lunar surface. During Apollo 11 only 1 EVA was conducted by NASA astronauts Neil Armstrong and Buzz Aldrin
.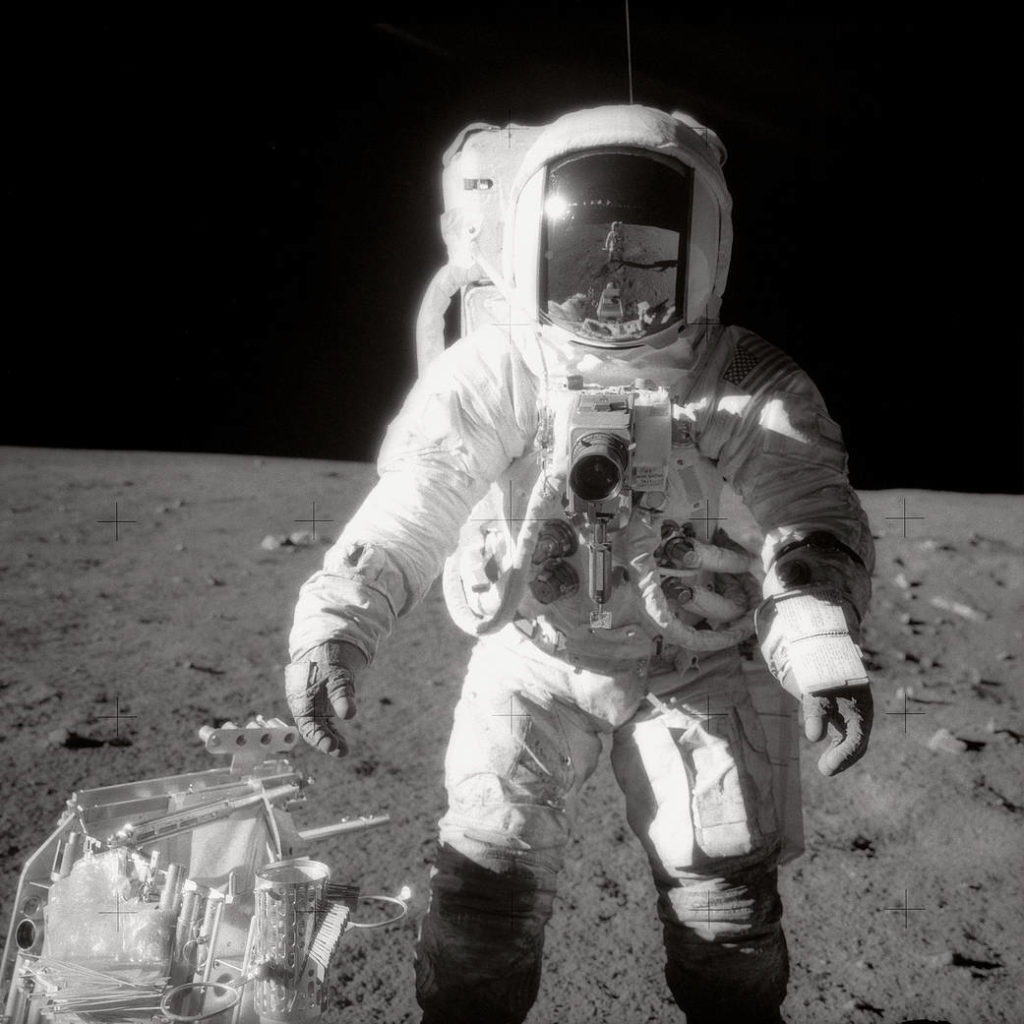 Apollo 12 astronaut Alan Bean on the moon. Credit: NASA
Conrad and Bean set up and deployed several
surface experiments and installed the first nuclear-powered generator station
on the moon to provide the power source. They also collected a priceless stash
of over
34.35 kilograms (75.7 lb
)
of lunar rock and soil samples.
"Alan and Pete were extremely engaged in the
planning for their exploration of the Surveyor III landing site in the Ocean of
Storms and, particularly, in the enhanced field training activity that came
with the success of Apollo 11. This commitment paid off with Alan's and Pete's
collection of a fantastic suite of lunar samples, a scientific gift that keeps
on giving today and in the future," said Harrison Schmitt, Apollo 17 lunar
module pilot and the only geologist to walk on the moon, in a statement.
"Their description of bright green
concentrations of olivine (peridot) as 'ginger ale bottle glass,' however, gave
geologists in Mission Control all a big laugh, as we knew exactly what they had
discovered."
They also brought the first color camera to the
lunar surface but it was irreparably damaged just minutes into the first EVA
when Bean accidentally pointed it towards the sun- which he forever regretted.
Thus there was no live video transmissions of the two moonwalks.
In an interview for NASA's 50th anniversary in
2008, "Bean said walking on the moon was one of the most fun things he had
done."
"At one-sixth gravity in that suit, you
have to move in a different way," he told NASA. "One of the paintings
that I did was called 'Tip Toeing on The Ocean of Storms.' And it shows that
I'm up on my tip toes as I'm moving around. And we did that a lot. On Earth, I
weighed 150 pounds; my suit and backpack weighed another 150. 300 pounds.
Up there, I weighed only 50. So I could prance around on my toes. It was quite
easy to do. And if you remember back to some of the television we saw, Buzz and
Neil on the Moon with Apollo 11. Black and white. They were bouncing around a
lot. They were really bouncing on their tip toes. Quite fun to do. Someday
maybe be a great place for a vacation."
Bean's second spaceflight as commander of the
Skylab 3 mission set a then world space endurance record of 59 days from July
19 to Sept. 25, 1973.
NASA Skylab space station prior to launch on Saturn V from
KSC. Credit: Julian Leek
Bean and crewmates Owen K. Garriott and Jack R.
Lousma sailed 4.4-million-miles in Earth orbit inside the Skylab space station and
carried out much science research focusing on the sun and Earth and human
physiology.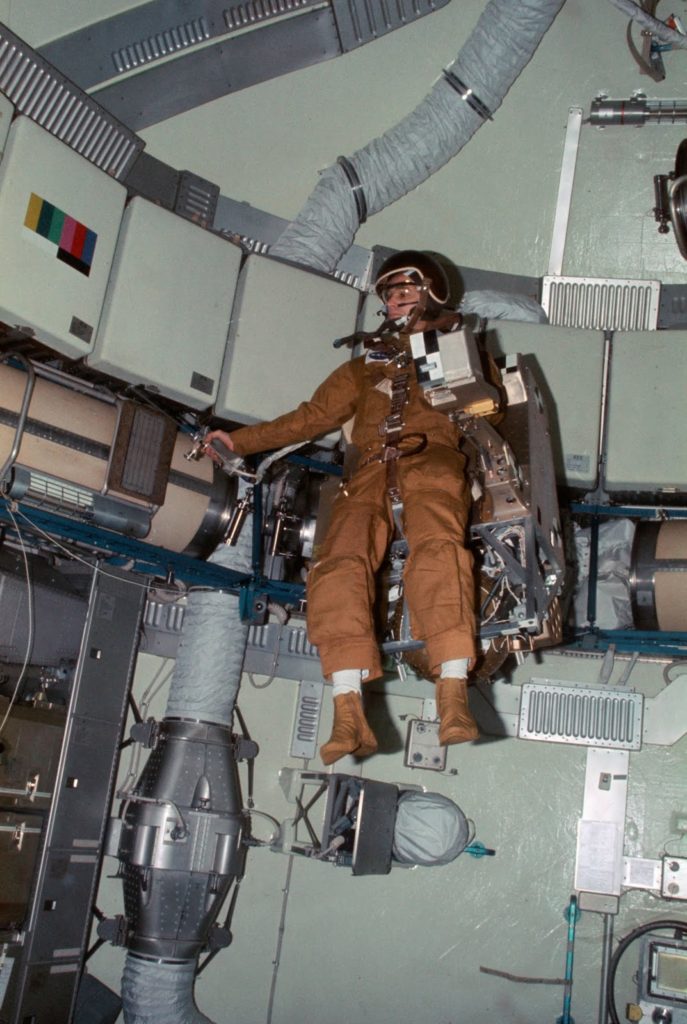 Astronaut Alan Bean,
Skylab 3 commander, flies the M509 Astronaut Maneuvering Equipment in the
forward dome area of the Orbital Workshop on the space station cluster in Earth
orbit. Bean is strapped into the back mounted, hand-controlled Automatically
Stabilized Maneuvering Unit (ASMU). The dome area is about 22 feet in diameter
and 19 feet from top to bottom.

Credits: NASA
During
his career Bean established 11 records in space and aeronautics, and received
many awards and honors.
"Among
those awards were two NASA distinguished service medals, two Navy Distinguished
Service Medals, the Rear Admiral William S. Parsons Award for Scientific and
Technical Progress, the Robert J. Collier Trophy, the Federation Aeronautique
Internationale's Yuri Gagarin Gold Medal, the V.M. Komarov diploma, the Robert
H. Patuxent River Goddard Gold Medal, the AIAA Octave Chanute Award and the ASA
Flight Achievement Award," said NASA.
After 18 years at NASA he retired in 1981 he started a
third career and became an acclaimed artist who painted moonscapes, sprinkled
in with a touch of moon dust from his patches and embossed with a replica of
the boot he wore on the moon and hammer he collected moon rocks with.
"When
Alan's third career as the artist of Apollo moved forward, he would call me to
ask about some detail about lunar soil, color or equipment he wanted to have
represented exactly in a painting. Other times, he wanted to discuss items in
the description he was writing to go with a painting. His enthusiasm about
space and art never waned. Alan Bean is one of the great renaissance men of his
generation — engineer, fighter pilot, astronaut and artist," said Schmitt, in a
family statement.
Alan Bean: 4

th
Man on the Moon – An American Space Hero Forever Remembered- plaque at the US
Astronaut Hall Of Fame at the Kennedy Space Center Visitor Complex, FL. Credit:
Ken
Kremer/SpaceUpClose.com/kenkremer.com
Watch for Ken's continuing onsite coverage of NASA, SpaceX, ULA,
Boeing, Lockheed Martin, Orbital ATK and more space and mission reports direct
from the Kennedy Space Center, Cape Canaveral Air Force Station, Florida and
Wallops Flight Facility, Virginia.
Stay tuned here for
Ken's continuing Earth and Planetary science and human spaceflight news:

www.kenkremer.com


–www.spaceupclose.com – twitter @ken_kremer – email: ken at kenkremer.com
Apollo 12 mission patch