SES-9
comsat poised for liftoff on SpaceX Falcon 9 rocket from Space Launch Complex-40 on Cape Canaveral Air Force Station, FL, in
this file photo. Credit: Ken Kremer/kenkremer.com/spaceupclose.com
Ken Kremer — SpaceUpClose.com — 31 May 2018


CAPE CANAVERAL,
FL – SpaceX has delayed the planned midnight Friday June 1 launch of the SES-12
commercial communications satellite on the firms workhorse Falcon 9 rocket until
next Monday, June 4, as engineers "run additional tests" on the vehicles second
stage.
SpaceX announced
the postponement via a tweet less than 24 hours prior to the liftoff scheduled
for just after midnight Friday morning, June 1 at 12:29 a.m. EDT
(0429 GMT).
The SES-12 launch
has now been rescheduled for midnight Monday morning June 4 at 1
2:29 a.m. EDT (0429 GMT) at the
opening of a four-hour long

launch
window, from Space Launch Complex-40 on Cape Canaveral Air Force Station.
The launch
vehicle which utilizes a recycled first stage booster and the hefty satellite
are safe inside the pad processing hangar.
NO landing attempt will be made.
SES-12 communications satellite undergoes Rf testing prior
to launch on SpaceX Falcon 9 rocket. Credit:
Airbus Defence and Space
Stormy weather has
afflicted the Cape all week and a weather related postponement

could very likely have delayed the launch anyway
– even if the countdown had gone ahead.
Forecasters with the
45th Space Wing had predicted only a 40 percent chance of favorable
weather.
"Standing down from
Friday's launch attempt to run additional tests on Falcon 9's second stage,"
SpaceX tweeted.
"Rocket and payload are
in good health. Currently working toward a June 4 launch of SES-12 from Pad 40
in Florida."
Top managers with the customer SES,
also confirmed the delay at a media briefing held Thursday shortly after the
SpaceX announcement.
"We are working a
couple of issues and SpaceX wants to run more tests on the upper stage," s
aid SES

Chief Technology Officer (

CTO)

Martin Halliwell at the prelaunch press conference

.
"We won't launch tonight
[Friday midnight morning]. The rocket wont roll out to the pad and is actually still
in the hangar."
If SpaceX engineers
confirm that all is well with the second stage, the recycled Falcon 9 booster
will blast off sometime during Monday's four-hour launch window.
"The situation at
the moment is that we would commence countdown on Sunday and we are looking for
a launch early Monday morning,"
Halliwell explained.
"We have worked
together with SpaceX and Airbus to increase the launch window – so we have a 4
hour launch window. This gives us an increased opportunity with the weather."
"Probably what we
will do is stop the countdown at around T Minus 70 minutes. And then we are
going to wait and work together with the 45th Space Wing weather
squadron and look for a slot. We are actually going to thread the needle. We
will wait until we get less cloud cover, winds are good, and then we are going
to launch."
"It's going to be
real tight! And it's going to be a long night launching sometime between half
past midnight and half past four a.m."
"Testing of the
rocket is ongoing and hopefully we get everything cleared. Then we will rollout
around 3 a.m. Sunday morning."
SES-12
was built by Airbus Defence and Space and originally designed to operate for 15
years in geostationary orbit.
"SES-12 is the most
powerful spacecraft ever built for us," said Halliwell. 'It's really, really
big."
"It will come
I
nto service for us in January or February 2019."
"SES-12 is our 6th
satellite launch by SpaceX."
The Falcon 9
rocket is comprised of a unique combination of old and new involving a 'Flight-Proven'
Block 4 first stage and a new and improved Block 5 upper stage.
The upgraded Block
5 Falcon 9 just successfully flew its maiden flight last month for the
Bangabandhu-1 comsat for Bangladesh on May 11.
The path to
launch was cleared last week when SpaceX engineers conducted a successful hold
down static fire test of the rocket at the pad, minus the payload, wherein the two
stages were fueled with propellants completing a full countdown simulation.
During the dress rehearsal
all 9 Merlin 1D first stage engines are ignited to full thrust for several
seconds while the rocket is held down at the pad.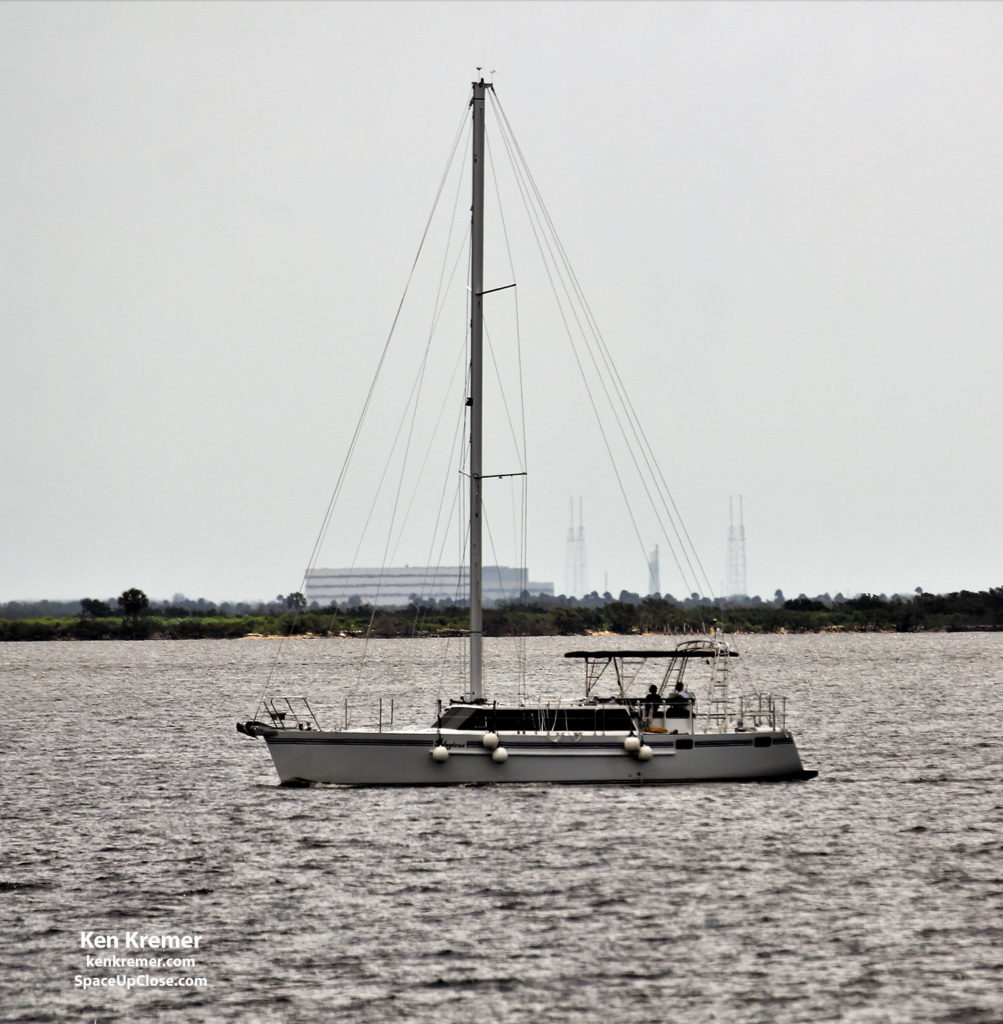 Falcon
9 booster erect on pad 40
at Cape Canaveral Air Force
Station, FL
after
the successful May 24 static hot fire engine test.
Credit: Ken Kremer/kenkremer.com/spaceupclose.com
Watch for Ken's continuing onsite coverage of NASA, SpaceX, ULA,
Boeing, Lockheed Martin, Orbital ATK and more space and mission reports direct
from the Kennedy Space Center, Cape Canaveral Air Force Station, Florida and
Wallops Flight Facility, Virginia.
Stay tuned here for
Ken's continuing Earth and Planetary science and human spaceflight news:

www.kenkremer.com


–www.spaceupclose.com – twitter @ken_kremer – email: ken at kenkremer.com
Ken's upcoming outreach events:
Learn more about the upcoming SES-12 comsat
launch
and upcoming/recent
SpaceX Falcon 9/CRS-15
launch to ISS, Falcon Heavy, TESS, GOES-S, Bangabandhu-1, NASA missions, ULA
Atlas & Delta launches, SpySats and more at Ken's upcoming outreach events
at Kennedy Space Center Quality Inn, Titusville, FL, evenings:
Jun
3/4: "SES-12 comsat launch,
SpaceX Falcon Heavy & Falcon 9 launches, ULA Atlas USAF SBIRS GEO 4 missile
warning satellite, SpaceX GovSat-1, CRS-15 resupply launches to the ISS, NRO
& USAF Spysats, SLS, Orion, Boeing and SpaceX Commercial crew capsules, OSIRIS-Rex,
Juno at Jupiter, InSight Mars lander, Curiosity and Opportunity explore Mars,
NH at Pluto and more," Kennedy Space Center Quality Inn, Titusville, FL, evenings. Photos for sale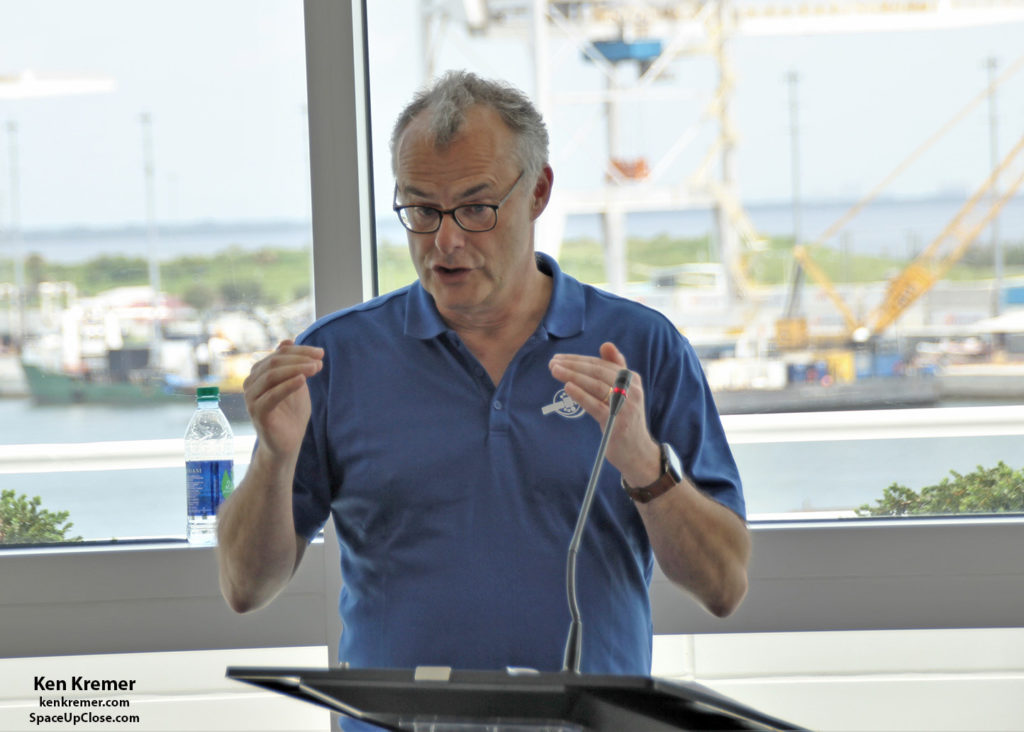 SES
CTO Martin Halliwell at the SES-12 prelaunch press conference.
Credit: Ken Kremer/kenkremer.com/spaceupclose.com