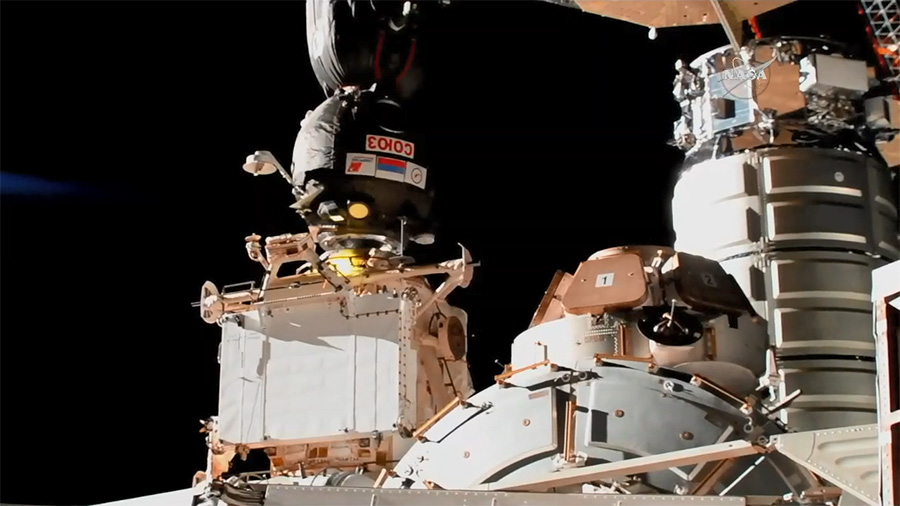 The Soyuz MS-09
spacecraft is pictured moments after docking to the space station's Rassvet
module on June 8, 2018 with new Expedition 56 crew members
Soyuz
Commander Sergey Prokopyev of Roscosmos, flight engineer Serena
Auñón-Chancellor of NASA, and flight engineer Alexander Gerst of ESA (European
Space Agency)
.

Credit: NASA
CAPE CANAVERAL,
FL – Following a flawless mid-week launch from Kazakhstan and two-day space voyage
entailing critical orbit raising maneuvers, the Soyuz MS-09 capsule carrying
three new multinational members of the Expedition 56 crew

successfully rendezvoused and docked with the
International Space Station (ISS) Friday morning, June 8.
The trio of German, American and Russian spaceflyers docked
their Russian-built Soyuz MS-09 capsule to the orbiting
outposts Russian Rassvet module at 9:01 a.m. EDT while both spacecraft were
flying some 255 miles (408 km) over eastern China.
The new multinational
trio comprising Expedition 56 Soyuz Commander
Sergey Prokopyev of Roscosmos, flight engineer
Serena Auñón-Chancellor of NASA, and flight engineer Alexander Gerst of ESA
(European Space Agency) began their mission with a Soyuz blast off
at 7:12 a.m. EDT Wednesday (5:12 p.m. Baikonur
time) June 6.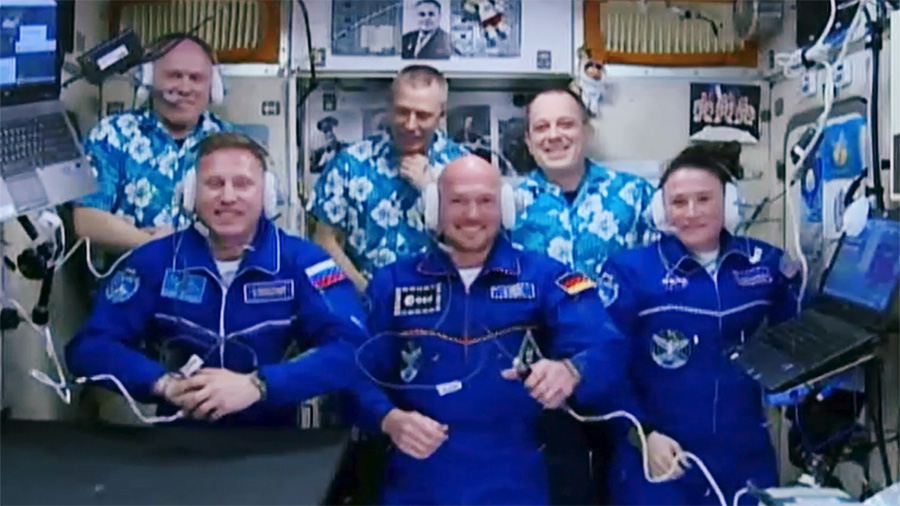 The newly-expanded
Expedition 56 crew gathers in the Zvezda service module for a crew greeting
ceremony with family, friends and mission officials in Moscow after docking at
the ISS and hatch opening on June 8, 2018. In the front row from left are new
Flight Engineers Sergey Prokopyev, Alexander Gerst and Serena Auñón-Chancellor.
In the back row are Flight Engineer Oleg Artemyev, Commander Drew Feustel and
Flight Engineer Ricky Arnold. Credit: NASA TV
After completing a hard docking of the two vehicles and engaging
16 hooks and latches and carrying out leak checks, the hatch was opening at 11:
17 a.m. while soaring 255 miles over the south east Pacific Ocean.
The newly arrived trio floated through the hatch from Soyuz
into station moments later one-by-one to hugs and kisses from the resident trio.

With the new arrivals, the station is restored to its full
complement of six people after being down to three for a short period of 5 days
after the last crew departed last weekend
All six then gathered in the Russian Zvezda module for a
chat with agency officials as well as greetings from family and friends after
the docking and hatch opening – all of which was shown live on NASA TV.
"You are all looking
great on orbit. Enjoy your time on station. We have lots of research for you
for your stay. And have fun," said NASA Associate Administrator for Human
Spaceflight Bill Gerstenmaier in a call to the crew from Russian Mission Control
outside Moscow.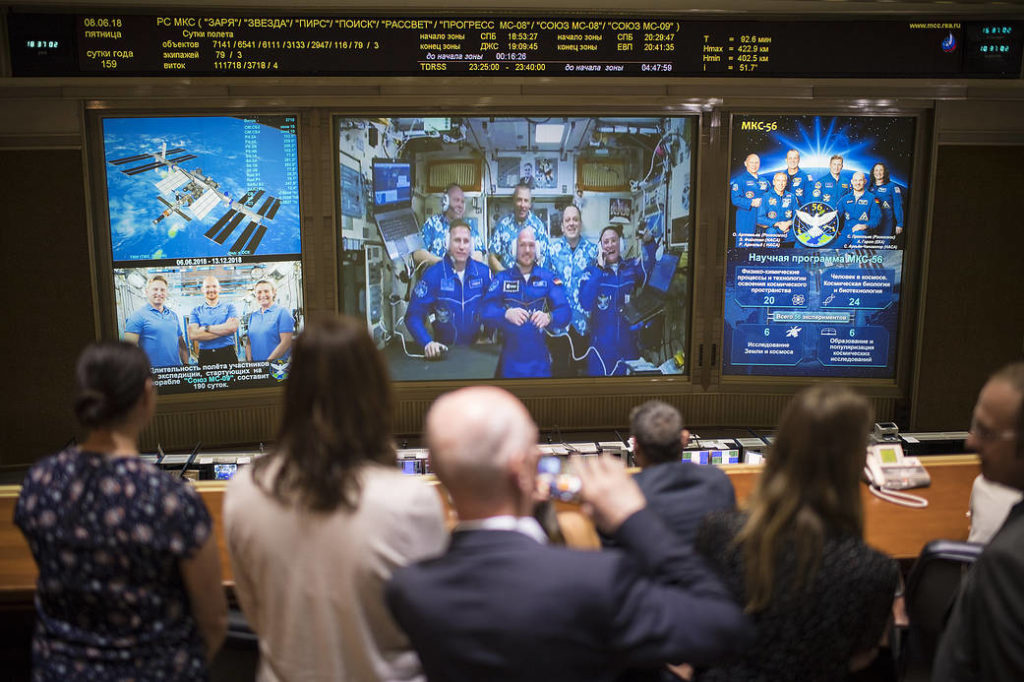 Expedition 56 astronauts Sergey Prokopyev of
Roscosmos, bottom left, Alexander Gerst of the European Space Agency, bottom
center, and Serena Auñón-Chancellor of NASA, bottom right, are seen with
astronaut Oleg Artemyev of Roscosmos, top left, Commander Drew Feustel of NASA,
top center, and astronaut Ricky Arnold of NASA, top right, are seen on a video
monitor as they talk to family and friends at the Moscow Mission Control Center
in Korolev, Russia a few hours after the Soyuz MS-09 docked to the
International Space Station on Friday, June 8, 2018. Hatches were opened at
11:17 a.m. EDT (6:17pm Moscow time). Credit: NASA/Joel Kowsky
"Have a great
mission in station and we appreciate all the work you are doing for us back on
Earth," said his ESA counterpart.
"I congratulate you," said Roscosmos head Dimitri Rogozin, "and
now you have to fulfill your mission."
"Everything went well. No glitches," said Soyuz commander

Prokopyev.
The three-person crew comprising one American
woman and two European men are embarking on a voyage for six month stay at the
orbiting outpost that will restore the station to its full crew complement of
six people. They will stay until December of this year.
This is the second flight for Gerst who will
also assume command of the station later this year. Prokopyev and Auñón-Chancellor
are on their rookie spaceflights.
Gerst first flew in 2014 on a 165 day long
mission. Auñón-Chancellor was recently added to the crew as a replacement for
Jeanette Epps for undisclosed reasons. Since she had already been assigned to a
later expedition her assignment was easier to move up.
Auñón-Chancellor is the 61st woman
to fly in space and the 232nd person to board the ISS.
The new trio replace another trio from
Expedition 55 that just safely returned to Earth on June 3 in another Soyuz
capsule that made a soft landing in the steppes of Kazakhstan.
They join
Expedition 56 commander

Drew Feustel


and flight engineers

Ricky Arnold


of NASA and Oleg Artemyev of Roscosmos.
The Soyuz MS-09 rocket is launched with Expedition 56 Soyuz Commander Sergey Prokopyev of
Roscosmos, flight engineer Serena Auñón-Chancellor of NASA, and flight engineer
Alexander Gerst of ESA (European Space Agency), Wednesday, June 6, 2018 at
the Baikonur Cosmodrome in Kazakhstan. Credit:
NASA/Joel Kowsky
"The crew will spend more than five months
conducting about 250 science
investigations in fields such as biology, Earth science, human
research, physical sciences and technology development," says NASA.
"This crew continues the long-term increase in
crew size on the U.S. segment from three to four, allowing NASA to maximize
time dedicated to research on the space station. Highlights of upcoming
investigations include a new facility to study ultra-cold
quantum gases, the first commercial
European facility to conduct microgravity research, and a system
that uses surface forces to accomplish liquid-liquid
separation."
Normally the new crew would get a few days rest.
But not this time because they need to assist two American crew members, Feustel
and Arnold, who will be conducting an EVA spacewalk next week on June 14
"Usually,
the arriving crew is given a couple of days off to catch their breath and relax
after a trip from the launch pad in Baikonur to the station," said NASA
commentator Rob Navias. "That will not be the case this weekend."
"Feustel and Arnold
are moving ahead with preparations for next week's spacewalk to outfit the
station's Harmony module with new enhanced high definition television cameras
and wireless communications gear," said NASA.
"The duo organized
spacewalking tools and gear, recharged spacesuit and camera batteries and
reviewed procedures for the 6.5-hour excursion planned for June 14. The new
cameras will improve the view of approaching commercial crew vehicles for
dockings in the future. The new wireless equipment will enable data
transmission from payloads mounted on the outside of the Columbus and Kibo
modules."
They will also help unload the recently arrived
Cygnus OA-9 cargo freighter carrying tons of research experiments, gear, food,
water, spare parts and more vital to their stay on the station.
Read our reports here about the Orbital ATK
Antares/Cygnus resupply launch from NASA Wallops in Virginia in May.
The next SpaceX
launch involves the Dragon CRS-15 cargo resupply mission to the International
Space Station (ISS) – tentatively set for liftoff on no earlier than June 28
from Space Launch Complex-40 at the Cape.

European Space Agency flight engineer Alexander Gerst, NASA
astronaut Serena Auñón-Chancellor, and Russian commander Sergey Prokopyev
boarded their Soyuz capsule a few hours before liftoff June 6, 2018. Credit:
NASA/Joel Kowsky
Watch for Ken's continuing onsite coverage of NASA, SpaceX, ULA,
Boeing, Lockheed Martin, Orbital ATK and more space and mission reports direct
from the Kennedy Space Center, Cape Canaveral Air Force Station, Florida and
Wallops Flight Facility, Virginia.

Stay tuned here for Ken's continuing Earth and Planetary science and human
spaceflight news:

www.kenkremer.com


–www.spaceupclose.com – twitter @ken_kremer – email: ken at kenkremer.com