The Soyuz MS-09 rocket is launched with
Expedition 56 Soyuz Commander Sergey Prokopyev of Roscosmos, flight engineer
Serena Auñón-Chancellor of NASA, and flight engineer Alexander Gerst of ESA
(European Space Agency), Wednesday, June 6, 2018 at the Baikonur Cosmodrome in
Kazakhstan. Credit: NASA/Joel Kowsky
Ken Kremer — SpaceUpClose.com — 6 June 2018


CAPE CANAVERAL,
FL – A German, American and Russian trio of astronauts and cosmonauts successfully
launched to the International Space Station (ISS) early this morning, June 6, propelled
to orbit aboard a Russian Soyuz capsule from the Baikonur
Cosmodrome in Kazakhstan.



The new multinational
trio comprising Expedition 56 Soyuz Commander
Sergey Prokopyev of Roscosmos, flight engineer Serena Auñón-Chancellor of NASA,
and flight engineer Alexander Gerst of ESA (European Space Agency) blasted off in
the Soyuz MS-09 spacecraft
at 7:12 a.m. EDT Wednesday (5:12 p.m. Baikonur time) June 6.
The launch was broadcast live on NASA TV.
Liftoff took place from the same pad that
Yuri Gagarin launch from on the first human spaceflight and at the time the launch
pad rotated into the plane of the stations orbit.
The Soyuz MS-09 rocket
is launched with Expedition 56 Soyuz Commander Sergey Prokopyev of Roscosmos,
flight engineer Serena Auñón-Chancellor of NASA, and flight engineer Alexander
Gerst of ESA (European Space Agency), Wednesday, June 6, 2018 at the Baikonur
Cosmodrome in Kazakhstan. Prokopyev, Auñón-Chancellor, and Gerst will spend the
next six months living and working aboard the International Space Station.

Credits: NASA/Joel Kowsky
NASA commentators noted that the launch was attended
by US
ambassador to Russia Jon Huntsman.
Germany's ambassador to Russia was also present.
Also on hand was Sigmund Jaehn, 81, who became
the first German to fly to space four decades ago in 1978. He represented what
was then East Germany and served aboard the Soviet Salyut 6 space station.
They began a two-day trip to the station that
will culminate with a rendezvous and docking to the space station's Rassvet module on Friday, June 8 at 9:07 a.m. EDT
NASA
plans live coverage of the docking beginning at 8:15 a.m. on NASA Television
and the agency's

website

.
Coverage
of the opening of hatches between the spacecraft and station should start
around 10:30 a.m.
The three-person crew comprising one American
woman and two European men are embarking on a voyage for six month stay at the orbiting
outpost that will restore the station to its full crew complement of six people.
They will stay until December of this year
This is the second flight for Gerst who will
also assume command of the station later this year. Prokopyev and Auñón-Chancellor are on their rookie spaceflights.
Gerst
first flew in 2014 on a 165 day long mission. Auñón-Chancellor was recently
added to the crew as a replacement for Jeanette Epps for undisclosed reasons.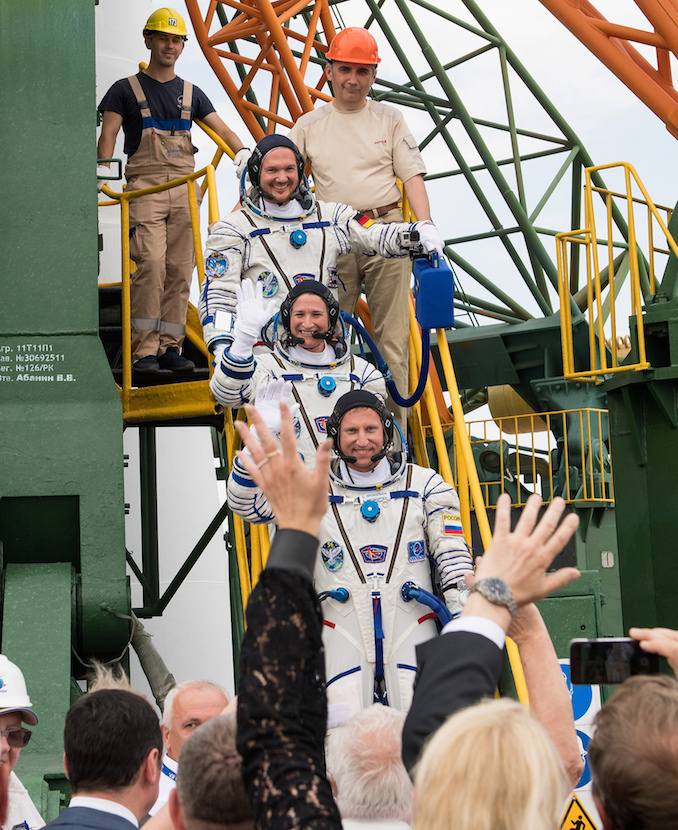 European Space Agency flight engineer Alexander Gerst, NASA
astronaut Serena Auñón-Chancellor, and Russian commander Sergey Prokopyev
boarded their Soyuz capsule a few hours before liftoff June 6, 2018. Credit:
NASA/Joel Kowsky
The new trio replace another trio that just
safely returned to Earth on June 3 in another Soyuz capsule that made a soft
landing in the steppes of Kazakhstan.
They
will join Expedition 56 commander

Drew Feustel


and flight engineers

Ricky Arnold


of NASA and Oleg Artemyev of Roscosmos.
"The crew will spend more than five months
conducting about 250 science
investigations in fields such as biology, Earth science, human
research, physical sciences and technology development," says NASA.
"This crew continues the long-term increase in
crew size on the U.S. segment from three to four, allowing NASA to maximize
time dedicated to research on the space station. Highlights of upcoming
investigations include a new facility to study ultra-cold
quantum gases, the first commercial
European facility to conduct microgravity research, and a system
that uses surface forces to accomplish liquid-liquid
separation."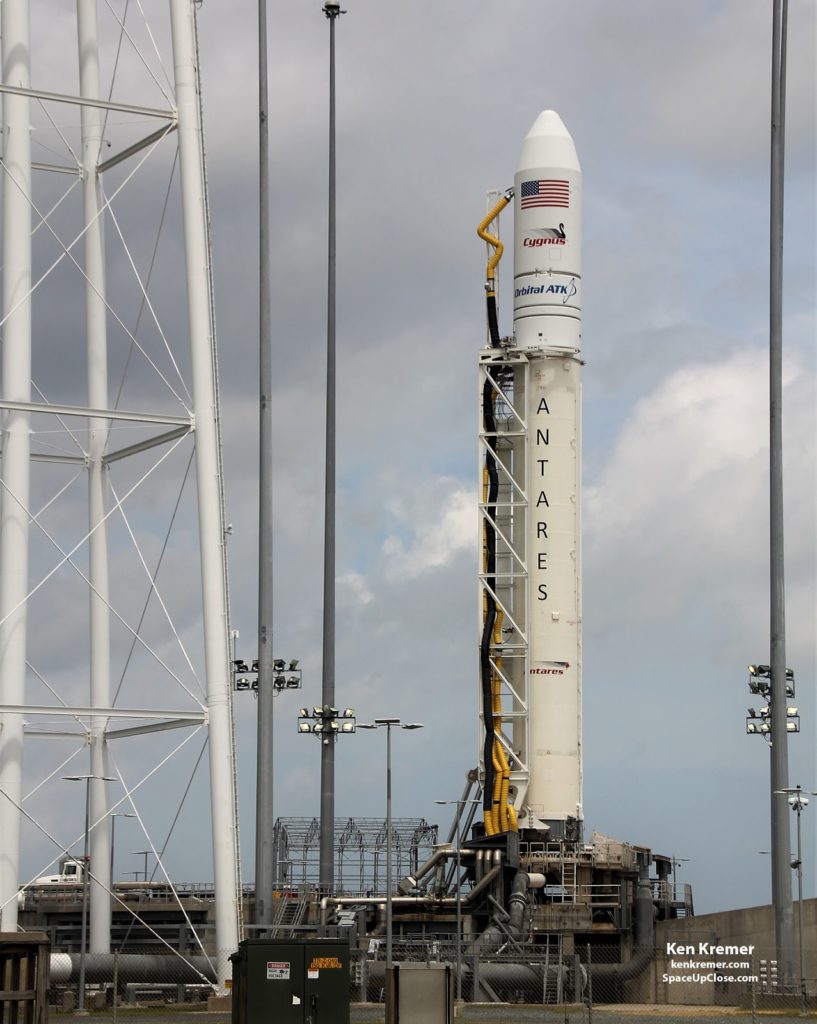 They will also help unload the recently arrived
Cygnus OA-9 cargo freighter carrying tons of research experiments, gear, food,
water, spare parts and more vital to their stay on the station.
Read our reports here about the Orbital ATK Antares/Cygnus
resupply launch from NASA Wallops in Virginia in May.
The next SpaceX
launch involves the Dragon CRS-15 cargo resupply mission to the International
Space Station (ISS) – tentatively set for liftoff on no earlier than June 28
from Space Launch Complex-40 at the Cape.
Watch for Ken's continuing onsite coverage of NASA, SpaceX, ULA,
Boeing, Lockheed Martin, Orbital ATK and more space and mission reports direct
from the Kennedy Space Center, Cape Canaveral Air Force Station, Florida and
Wallops Flight Facility, Virginia.

Stay tuned here for Ken's continuing Earth and Planetary science and human
spaceflight news:

www.kenkremer.com


–www.spaceupclose.com – twitter @ken_kremer – email: ken at kenkremer.com