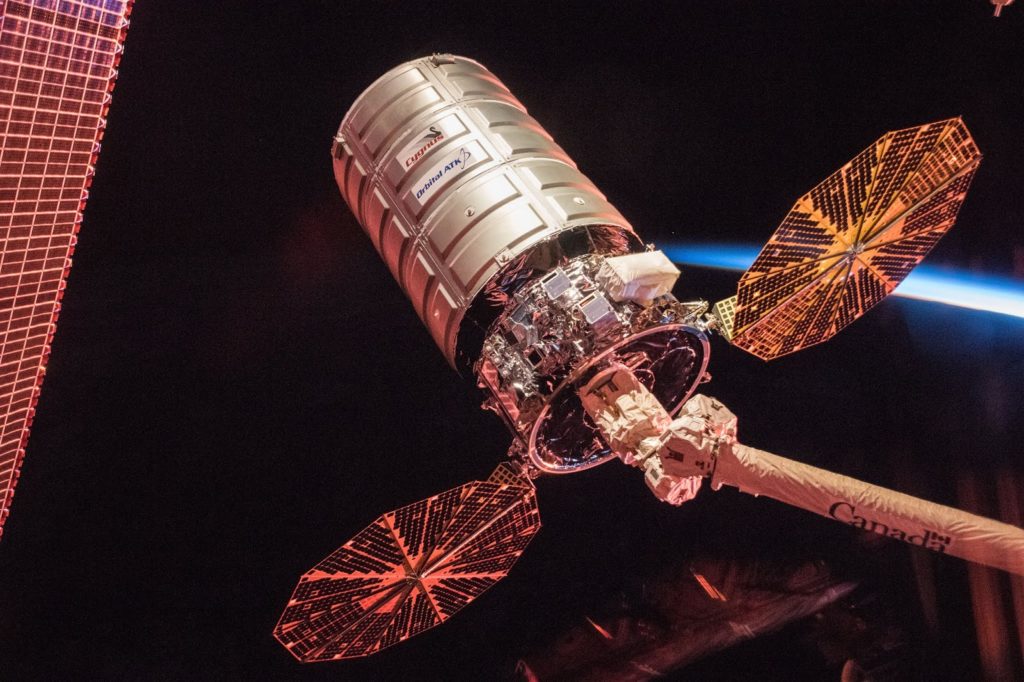 Orbital ATK Cygnus cargo
spacecraft is set to depart the International Space Station on July 15, 2018 nearly
two months after delivery of several tons of supplies and scientific experiments
to the orbiting laboratory and after performing successful reboost demonstration
test on July 10.

Credits: NASA
Ken Kremer

—
SpaceUpClose.com
—

14 July 2018
CAPE CANAVERAL, FL – The Orbital
ATK (now Northrop Grumman) Cygnus cargo ship currently attached to the International
Space Station successfully performed the first American reboost of the orbiting
outpost since the retirement of NASA's space shuttles in the maiden demonstration
test of the vehicles capabilities this week.
Potentially Cygnus could also be
used to deorbit the station in a planned maneuver in the future if that becomes
necessary.
The 50 second long firing of Cygnus main engine
took place at 4:
25 p.m. EDT
(2025 GMT)
on Tuesday,
July 10,
and

was carried out by ground controllers at what is now Northrop
Grumman Innovation Systems mission operations center in Dulles, Virginia
,
formerly the Headquarters of Orbital ATK.
"Cygnus fired its large thruster
for 50 seconds on Tuesday,"
Frank DeMauro, vice president
and general manager of Northrop Grumman Innovation Systems' advanced programs
division
, told Space UpClose in an interview after the maneuver.
"The orbit boosting was very successful. It ran
for the full duration planned of 50 seconds."
A quick look review of the data
indicated all went well. A thorough analysis is underway.
The test was done as Cygnus neared the end of
its berthing to the station. It will be detached on Sunday, July 15 and depart
the station to carry out a few additional science and engineering objectives.
"The reboost demonstrated Cygnus ability
to raise the orbit of the space station while attached to the space station. Yesterday's
test was a demonstration of the capability while Cygnus was attached at the
Node 1 nadir port, near the stations center of gravity."
Cygnus is equipped with a total
of 32 small maneuvering thrusters and 1 big main engine thruster.
The main engine is normally used
for orbit raising maneuvers after reaching orbit after launch and to achieve rendezvous
with the space station."
"The test was fully coordinated
with ISS mission control in Houston and Russian Mission Control."
"The station altitude was raised
about 86 meters [295 feet]."


Future tests with a longer
duration firing may be run after consultation with NASA and station partners,
DeMauro elaborated.


"This test was a stepping stone
to ISS orbit reboost in the future. It can also deorbit the station if needed."

"Cygnus is also the first U.S
spacecraft to reboost the station since

the shuttle," DeMauro told me.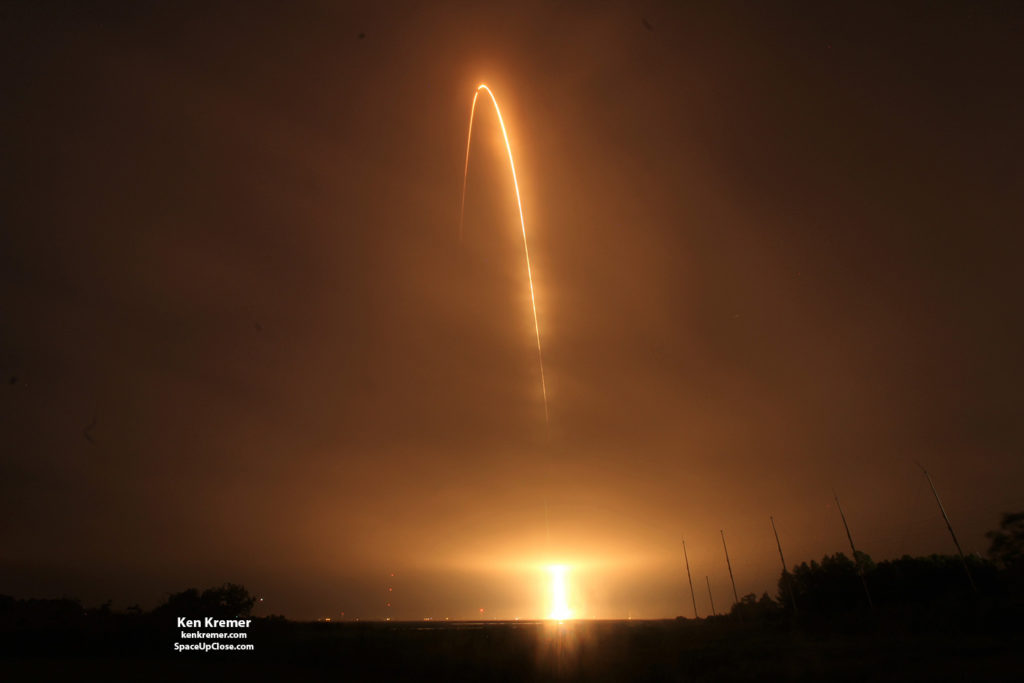 Orbital ATK Antares rocket streaks to orbit punching
in and out of low, thick cloud layer in the long exposure image of the Cygnus
OA-9 cargo freighter launch at 4:44 a.m. May 21, 2018 from NASA's Wallops
Flight Facility in Virginia with 3.7 tons of science and hardware bound for the
International Space Station (ISS).
Credit:
Ken Kremer/kenkremer.com/SpaceUpClose.com
Following a spectacular predawn launch from NASA's Wallops
Flight Facility on the Virginia shore on Monday, May 21, and a three day
orbital chase, the Orbital ATK Cygnus cargo freighter arrived at the
International Space Station (ISS) early Thursday morning, May 24, loaded with
over 3 tons of critical cargo, cubesats and a host of science experiments
including the Cold Atom Laboratory.
NASA astronaut and
Expedition 55 Flight Engineer
Scott
Tingle
captured
the
Cygnus cargo
spacecraft using the International Space Station's Canadian-built robotic arm
at

5:26 a.m. EDT May 24 as the vehicles
soared some 425 km (
264 miles) over the southern Indian Ocean.
Robotic ground controllers at Mission Control
in Houston at NASA's Johnson Space Center (JSC)

then took over and completed Cygnus berthing
and installation to the orbiting laboratory's Earth-facing port of the Unity
module.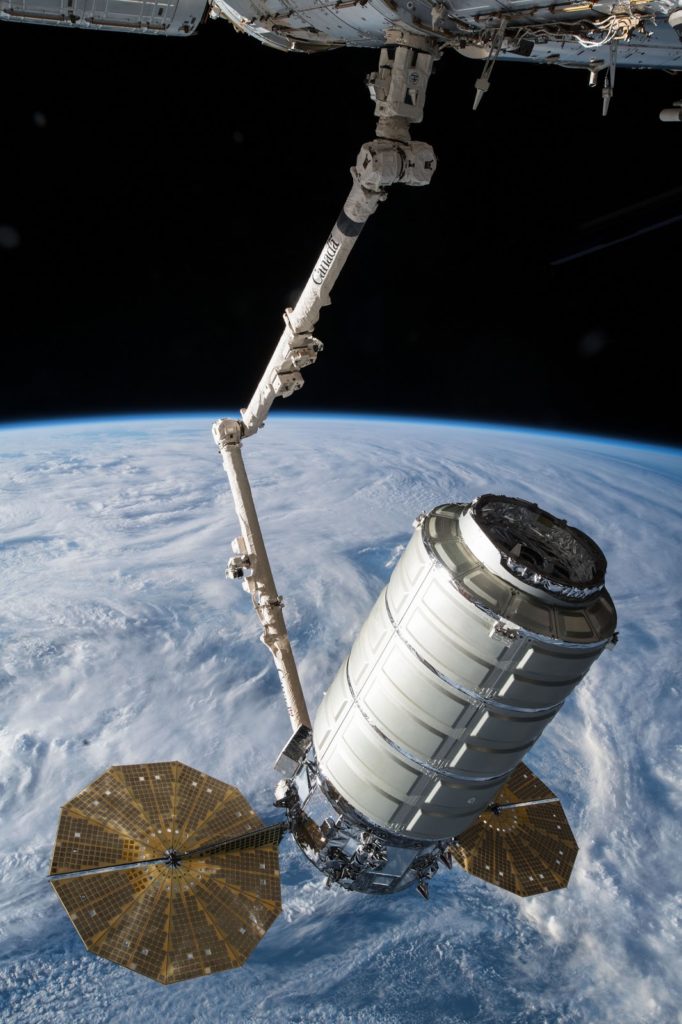 The mission,
alternatively named CRS-9 or OA-9, was Orbital ATK's ninth contracted cargo
delivery flight to the International Space Station for NASA. 11 cargo flights
are planned altogether under the initial contract with NASA.
On board Cygnus
are 7,400 pounds (3,350 kg) of cargo including science experiments, research
gear, food, water, spare parts, crew supplies and vehicle hardware
to support the Expedition 55
and 56 crews.
Overall Cygnus will
deliver about 30,000 kilograms vital equipment, supplies and scientific
equipment to the space station as part of Orbital ATK's Commercial Resupply
Services-1 (CRS-1) contract with NASA.
The OA-9 manifest
aboard included:
§
2,626 pounds (1,191 kilograms) of vehicle
hardware
§
2,251 pounds (1,021 kilograms) of science
investigations
§
1,788 pounds (811 kilograms) of crew supplies
§
291 pounds (132 kilograms) of spacewalk
equipment
§
220 pounds (100 kilograms) of computer resources
§
29 pounds (13 kilograms) of Russian hardware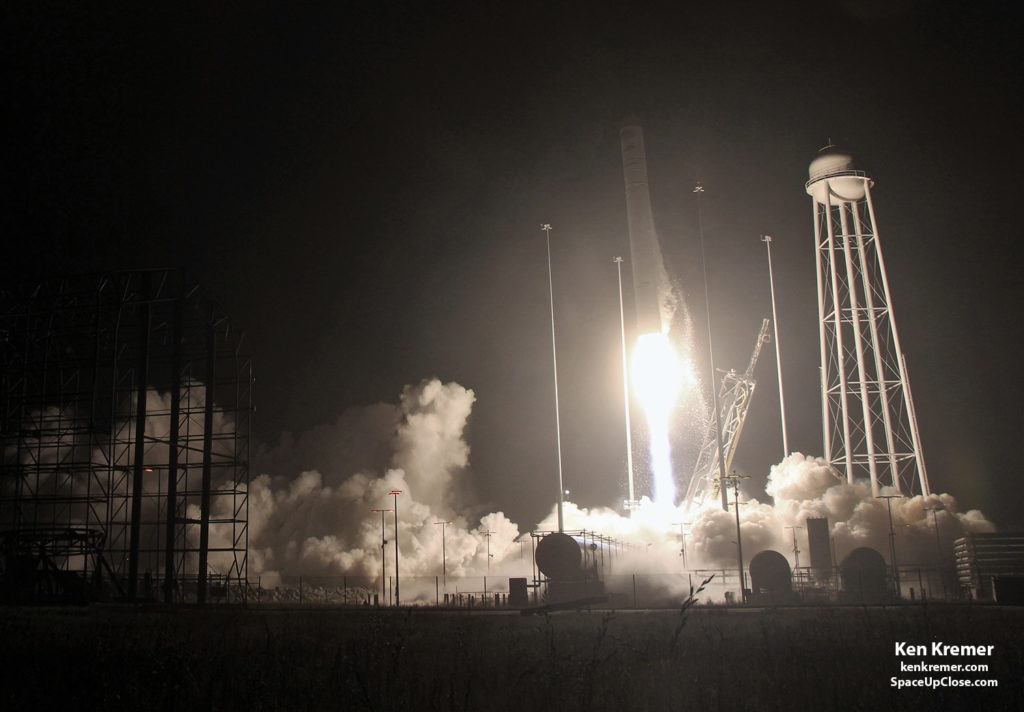 Orbital ATK

Antares

rocket blasts off

with Cygnus OA-9 spacecraft from

Pad 0A

Monday, May 21, 2018 at NASA's Wallops Flight Facility in
Virginia on ninth contracted cargo resupply mission for NASA to the
International Space Station to

deliver over
7,400 pounds of science and research, crew supplies and vehicle hardware to the
orbital laboratory and its crew.

Credit:

Ken
Kremer/kenkremer.com/SpaceUpClose.com
Cygnus will depart the orbiting laboratory
Sunday, July 15 after spending about 7 weeks
attached to the orbiting outpost.


The crew unloaded all the supplies and good
and then reloaded the vehicle with several tons of unneeded trash.



It will then conduct about 2 weeks of orbital
operation including science and cube sat deployments before being programmed
for a final thruster firing that will set the vehicle on course for a fiery and
destructive reentry into the atmosphere and harmless breakup over unpopulated areas
of the Pacific Ocean.

NASA will provide live coverage of the unberthing
and release on NASA Television and the agency's website – starting at 8:15 a.m. EDT for a
scheduled release at 8:35 a.m.



Expedition 56 Flight Engineers Alexander Gerst
of ESA (European Space Agency) and Serena Auñón-Chancellor of NASA will use the
station's Canadarm2 robotic arm to release Cygnus, dubbed the SS "J.R.
Thompson," after a leader in the aerospace industry.
Watch for Ken's continuing onsite coverage of NASA, SpaceX, ULA,
Boeing, Lockheed Martin, Orbital ATK and more space and mission reports direct
from the Kennedy Space Center, Cape Canaveral Air Force Station, Florida and
Wallops Flight Facility, Virginia.

Stay tuned here for Ken's continuing Earth and Planetary science and human
spaceflight news:

www.kenkremer.com


–www.spaceupclose.com – twitter @ken_kremer – email: ken at kenkremer.com