The
SpaceX Crew Dragon spacecraft that will be used on the first uncrewed flight test,
known as Demonstration Mission 1 arrived to Cape Canaveral Air Force Station in
Florida in mid-July 2018 after shipment from
NASA's Plum Brook Station in Ohio
. Credit: SpaceX/NASA
Ken Kremer

—
SpaceUpClose.com
—

14 July 2018
CAPE CANAVERAL, FL – The first of
SpaceX's space-worthy Crew Dragon spacecraft that will be launched on its maiden
unpiloted test flight as soon as later this year and eventually launch
astronauts to the International Space Station, has at last arrived at Cape
Canaveral this week to begin a period of critical testing after years of painstaking
research & development & manufacturing – thereby achieving a
significant milestone on the path to flight – after multiple lengthy delays.
After NASA and SpaceX deem that
all the test objectives have been satisfactorily achieved the SpaceX Crew
Dragon will be targeted to launch on a test flight known as 'Demonstration
Mission 1.'
Officially NASA shows August penciled
in as a launch target.
However, a true target launch
date remains 'to be determined' – at this time.
"The
SpaceX Crew Dragon spacecraft that will be used for the company's uncrewed
flight test, known as Demonstration Mission 1, arrived to Cape Canaveral
Air Force Station in Florida this week," NASA officials announced in a brief statement
released on July 12.
The SpaceX Crew Dragon as well as
the Boeing Starliner capsules are both being developed under multi-year, multi-Billion
Dollar contracts with NASA's Commercial Crew Program (CCP)
that began in 2010 and were awarded back in September 2014 worth 6.8 $Billion.
Like the Cargo Dragon, the Crew
Dragon will launch on a SpaceX Falcon 9 but in contrast will utilize the most
recent Block 5 upgrade variant.
Both vehicles have also suffered repeated
postponements to their maiden launch schedules.


Revised launch target updates will
be "forthcoming very soon," Kirk
Shireman, NASA ISS program manager, told Space UpClose in reply to my question
at a June 28 media briefing at KSC.

SpaceX's Crew Dragon undergoes
thermal vacuum and acoustic testing to verify flight worthiness at NASA's Plum
Brook Station in Ohio during June 2018.
Credit: NASA/SpaceX
This
inaugural SpaceX Crew Dragon just arrived in Florida after shipment from NASA's
Plum Brook Station in Ohio where the vehicle underwent rigorous thermal vacuum
and acoustic testing to verify its flight worthiness.
"Crew Dragon arrived in Florida this week
ahead of its first flight after completing thermal vacuum and acoustic testing
at
@NASA's Plum Brook Station in Ohio." Space X
tweeted.
This
is inline with what Space UpClose was told about the SpaceX Demonstration Mission
1 launch schedule and timing during a recent NASA media briefing held June 28 at
the Kennedy Space Center, FL.
"It's been undergoing thermal vacuum
testing there to ensure that Dragon can withstand the extreme thermal
environments and vacuum environments that it will see in space," Jessica Jensen, director of Dragon mission management for
SpaceX, at the SpaceX Cargo Dragon CRS-15 briefing for reporters on June 28 at
the Kennedy Space Center, told Space UpClose in reply to my question.
"Once it leaves Plum
Brook, it's going to come down to Cape Canaveral for final launch processing
,"
Jensen elaborated, and
it has now indeed arrived.
"
We are still targeting
August."
After being manufactured
at SpaceX Headquarters in Hawthorne, CA, the Crew Dragon was shipped to
NASA's
Plum Brook Station in Ohio for extensive
testing in the facilities
In-Space Propulsion Facility
—"the world's only facility capable of testing full-scale upper-stage
launch vehicles and rocket engines under simulated high-altitude conditions,"
says NASA.
The goal of
NASA's Commercial Crew Program is to restore America's capability to
launch
human spaceflight missions from the U.S. to low Earth orbit (LEO) and the International Space Station
(ISS) on American capsules with American rockets from American soil – and thereby
end our 100% reliance on the Russian Soyuz capsules.
The US became solely dependent
on Russia due to the forced shutdown of NASA's Space Shuttles back in 2011 when
both political parties failed to provide sufficient US Federal budget funding support
to NASA's human spaceflight programs.
Target timelines for return US
human spaceflight capability have been pushed back repeatedly since 2015 due to
endless mindless political squabbling as well as technical challenges.
The timing for the launch of
Demonstration Mission
1 is uncertain. Officially NASA lists the launch date as August for uncrewed
test flights by both SpaceX and Boeing.
That
seems extremely unlikely since August is just two weeks from now and the
prelaunch validation testing and launch certification period is expected to
last for several months.
The
first crewed test flights are currently officially listed as November for Starliner and
December for Crew Dragon.

Virtually no
one believes these targets are attainable either.

At the most recent launch briefing
for the SpaceX CRS-15 Cargo Dragon mission, I asked Kirk Shireman for an update
on launch timing for both the SpaceX Crew Dragon and Boeing Starliner.
"We're evaluating exactly when opportunities
might be and when they'll be ready, but we're not ready to set a date at
this point in time," Shireman said.

They
have to be aligned with other launch dates for ongoing station operations,
company flow schedules and NASA and partner requirements.
"We have not agreed to those dates just
yet."
"In the end, on the space station, we have Progress vehicles, we
have Soyuz vehicles, we have spacewalks," Shireman said.
"It has to fit in amongst all those things. We just have to sit
down all together, agree when the vehicles are going to be ready, when the
certification is ready, and when it fits in the program plan. And that's the
work that's still in front of us."
"There are a lot of moving
parts.

Many of the moving parts are not
in the purview of any one individual, so it's really all of us getting togther
and agreeing when are all those parts going to fit together and create the
opportunity."
Post launch briefing for
SpaceX Falcon 9 Dragon CRS-15 mission at NASA Kennedy Space Center press
site on June 28, 2018 with Kirk Shireman, NASA ISS Program manager, Jessica
Jensen, SpaceX Dragon mission development director, and NASA PAO Stephanie
Schierholz. Credit: Ken
Kremer/kenkremer.com/spaceupclose.com
To
date SpaceX has launched 15 commercial cargo missions for NASA to the space
station.



The
most recent launch of a SpaceX Falcon 9 using the last Block 4 version booster using
a recycled Dragon cargo freighter on the CRS-15 resupply mission successfully lifted
off on June 29, 2018.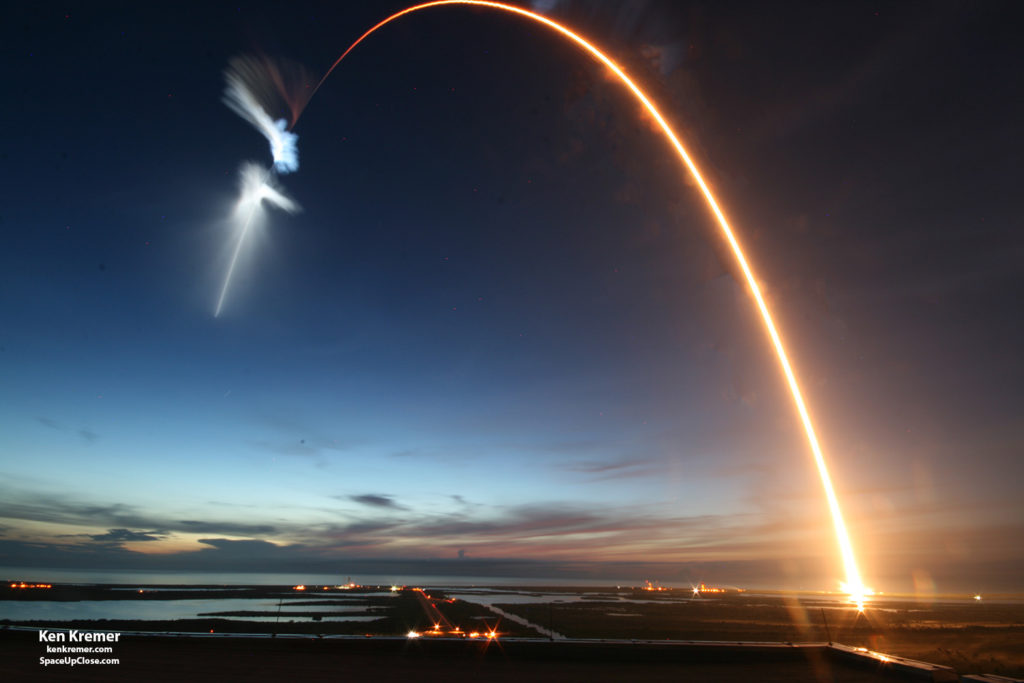 Long exposure streak shot of spectacularly
beautiful and successful launch of SpaceX
Falcon 9

rocket before
dawn at 5:42 a.m. on June 29, 2018 from Space Launch Complex-40 on Cape
Canaveral Air Force.

It is

carrying the

Dragon

CRS-15 cargo ship loaded
with 3 tons of science for NASA to the ISS – captured
from roof of NASA's iconic VAB at the Kennedy Space Center.

Credit: Ken
Kremer/kenkremer.com/spaceupclose.com
Watch for Ken's continuing onsite coverage of NASA, SpaceX, ULA,
Boeing, Lockheed Martin, Orbital ATK and more space and mission reports direct
from the Kennedy Space Center, Cape Canaveral Air Force Station, Florida and
Wallops Flight Facility, Virginia.

Stay tuned here for Ken's continuing Earth and Planetary science and human
spaceflight news:

www.kenkremer.com


–www.spaceupclose.com – twitter @ken_kremer – email: ken at kenkremer.com