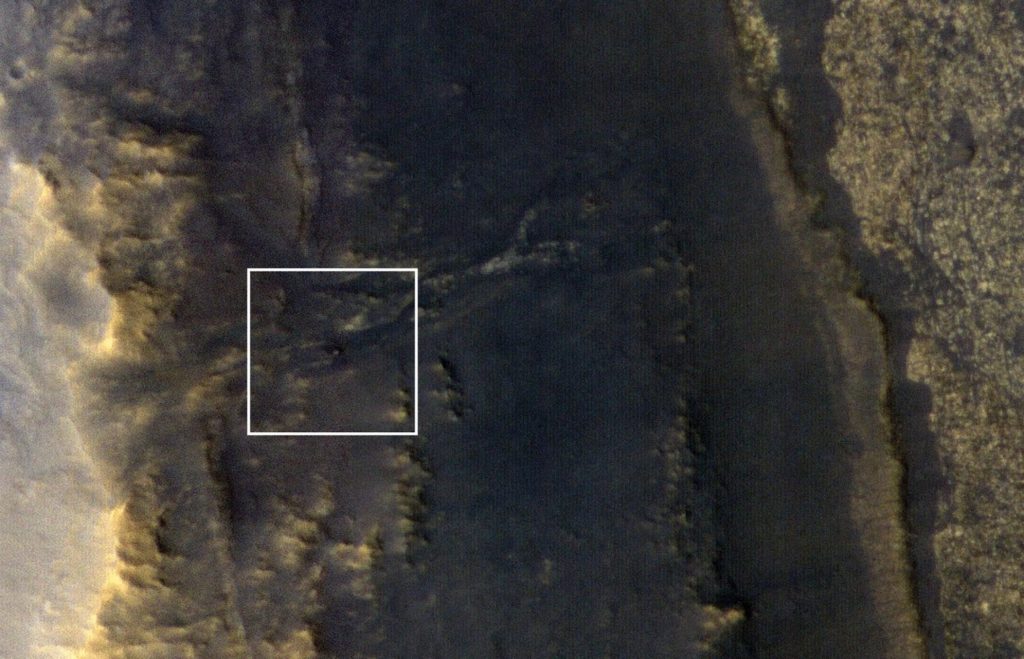 NASA's Opportunity rover appears as a blip in
the center of this square. This image taken on Sept. 20, 2018 by HiRISE, a
high-resolution camera onboard NASA's Mars Reconnaissance Orbiter, shows the
dust storm over Perseverance Valley has substantially cleared. Image Credit:
NASA/JPL-Caltech/Univ. of Arizona
Ken Kremer — SpaceUpClose.com — 25 September 2018


CAPE CANAVERAL,
FL – Still silent after 100 days, NASA's long-lived Opportunity rover has emerged as a tiny blip in a new view taken
from orbit as the global Martian dust storm that encircled the Red Planet and cut
off all communications with Earth since June, gradually subsides. The view has clarified just enough for the
golf cart sized robot to at last be seen again.


The question is
and remains- Has She Survived ? – to tell the tale of her harrowing ordeal under
the thick dust swirls causing no power generation from her life giving solar
arrays to recharge the batteries and thereby virtually no heat to keep her
fragile electronics and computer chips from cracking under the constant stress
of the unending and deadly frigid Antartic-like temperature climate for more
than 3 months!


"NASA still hasn't
heard from the Opportunity rover, but at least we can see it again," officials
said in a status update statement released today, Sept. 25.


"There is no signal from
Opportunity," NASA Chief Scientist Jim Green told me in a recent interview.


Today NASA just released
a new but fuzzy picture of the 14-year old Opportunity taken just days ago by
the high-resolution camera HiRISE camera onboard
NASA's Mars Reconnaissance Orbiter.


The HiRISE image, shown as the lead image above, was
captured from Mars orbit on Sept. 20, 2018 from an altitude of about 166 miles (267 kilometers) above the Martian
surface. The white box marks a 154-foot-wide (47-meter-wide) area centered on
the rover which is barely noticeable as a small whitish splotch against the dark
red contours of the Red Planet.


When the massive planet-encircling dust storm hit Opportunity had
been descending down and exploring Perseverance
Valley located along the eroded western rim of the gigantic 22-km diameter (14
mi) impact crater named Endeavour.


"A new image produced by HiRISE, a
high-resolution camera aboard NASA's Mars Reconnaissance Orbiter (MRO), shows a
small object on the slopes of the Red Planet's Perseverance Valley. That object
is Opportunity, which was descending into the Martian valley when a dust storm
swept over the region a little more than 100 days ago."
This pre-dust storm panoramic mosaic view was one
of the last ones taken by NASA's Opportunity rover and shows the spectacular
view from her approximate current position as of June 2018 after traveling halfway
down the fluid carved slope of Perseverance Valley – while peeing into the
interior of vast Endeavour Crater.

This navcam camera photo mosaic was assembled by Ken
Kremer and Marco Di Lorenzo from raw images taken on Sol 5074

(3 May 2018) and colorized. Credit: NASA/JPL/Cornell/Ken
Kremer/kenkremer.com/Marco Di Lorenzo
To get a clear idea of exactly
what her location looks like from the Martian surface see herein our exclusive
Opportunity rover mosaics showing the view from
Perseverance Valley, as well
as our route map – created by the imaging team of Ken Kremer and Marco Di
Lorenzo.
The last signal – and sign of life – from
Opportunity was received on June 10.

The
team listens regularly every day, hoping the six wheeled robot will wake up.
But its unlikely until the dust choked skies clear up sufficiently to power up the
sleeping systems.
Now that the dust is subsiding, the team led by NASA's
Jet Propulsion Laboratory (JPL) has ramped up efforts to contact the robot.
"

On Sept. 11,

JPL began increasing the frequency of
commands it beams to the 14-year-old rover' said NASA.
"The tau — a measurement of how much sunlight
reaches the surface — over Opportunity was estimated to be a little higher
than 10 during some points during the dust storm. The tau has steadily fallen
in the last several months. On Thursday, Sept. 20, when this image was taken,
tau was estimated to be about 1.3 by MRO's Mars Color Imager camera."
Watch this GIF showing
the 6 wheeled rover emerge from the dust this past week.
The long lived robot was launched
in 2003, landed in 2004 and has been making breakthrough science and
exploration discoveries regarding
flowing liquid water and habitable environments potentially conducive to life on Mars ever since during its utterly remarkable 14.5-year-long
overland trek across the 4th planet from the sun.
By June 10 the dust storm grew so
enormously that it covered more than 15.8 million square miles (41 million
square kilometers) – about the area of North America and Russia combined.
It blocked out so much sunlight
that it effectively turned day into night for Opportunity, which is located
near the center of the storm, inside Mars' Perseverance Valley.
Because the solar
powered Opportunity rover charges her batteries, instruments and heaters via
sunlight impinging on her solar arrays, No sunlight means no production of
electrical power to run her systems and subsystems.
Although Opportunity was only warrantied
for "90 Sols" of operation, it was enjoying its 15th year of
continuous operations on the frigid alien world – until the dust storm!.
Opportunity rover looks south
from the top of Perseverance Valley along the rim of Endeavour Crater on Mars
in this partial self portrait including the rover deck and solar panels.
Perseverance Valley descends from the right and terminates down near the crater
floor. This navcam camera photo mosaic was assembled from raw images taken on
Sol 4736 (20 May 2017) and colorized. Credit: NASA/JPL/Cornell/Marco Di
Lorenzo/Ken Kremer/kenkremer.com
"Perseverance Valley" is an
ancient fluid-carved valley "possibly water-cut" that could hold groundbreaking
clues to the potential origin and evolution of life on Mars – if it ever
existed.
As of today September 25,
2018, long lived Opportunity has survived or experienced over 5217 Sols (or
Martian days) roving the harsh environment of the Red Planet.
Opportunity has taken over
228,771 images and traversed over
28.06 miles (45.16 kilometers)
– more than a marathon.
Watch for Ken's continuing onsite coverage of NASA, SpaceX, ULA,
Boeing, Lockheed Martin, Orbital ATK and more space and mission reports direct
from the Kennedy Space Center, Cape Canaveral Air Force Station, Florida and
Wallops Flight Facility, Virginia.

Stay tuned here for Ken's continuing Earth and Planetary science and human
spaceflight news:

www.kenkremer.com


–www.spaceupclose.com – twitter @ken_kremer – email: ken at kenkremer.com
Dr. Kremer is a research scientist and journalist based in the
KSC area.
………….

Ken's photos are for sale and he is available for lectures and outreach events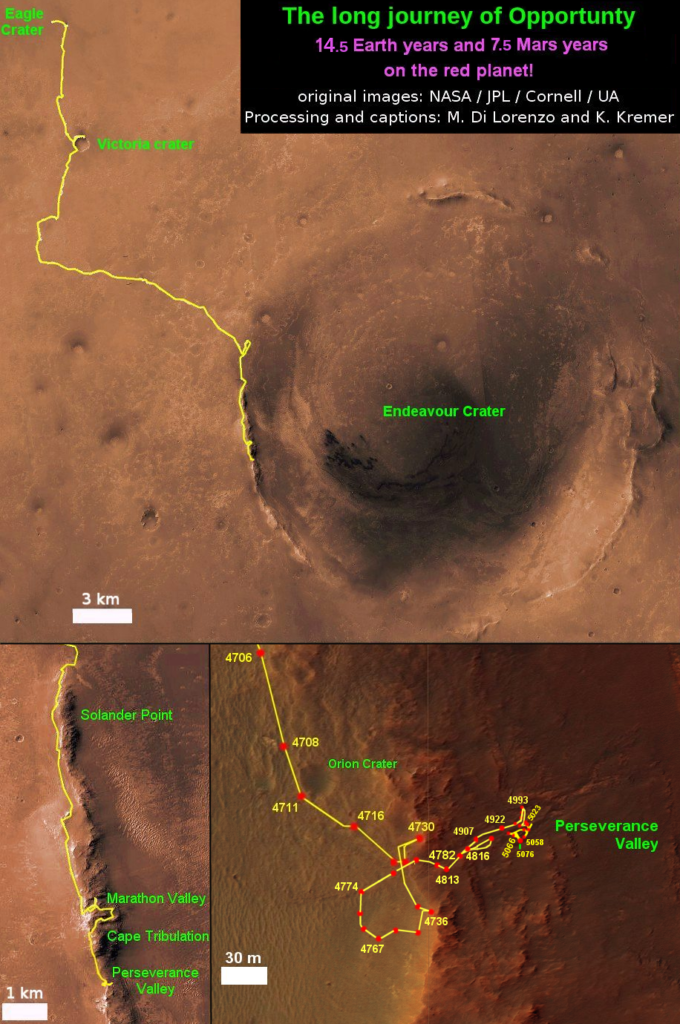 14 Year Traverse Map for NASA's Opportunity
rover from 2004 to 2018. This map shows the entire 45 kilometer (28 mi) path
the rover has driven on the Red Planet during over 14.5 Earth years (7.5 Mars
years) and more than a marathon runners distance for over 5217 Sols, or Martian
days, since landing inside Eagle Crater on Jan 24, 2004 – to current location
at Perseverance Valley at the western rim of Endeavour Crater. The rover
reached Perseverance Valley in May 2017 and descended about halfway by June
2018.
Its likely a water carved Martian gully.
Opportunity surpassed Marathon distance on Sol 3968 after reaching 11th Martian
anniversary on Sol 3911. Opportunity discovered clay minerals at Esperance –
indicative of a habitable zone – and searched for more at Marathon Valley.
Credit: NASA/JPL/Cornell/ASU/Marco Di Lorenzo/Ken Kremer/kenkremer.com