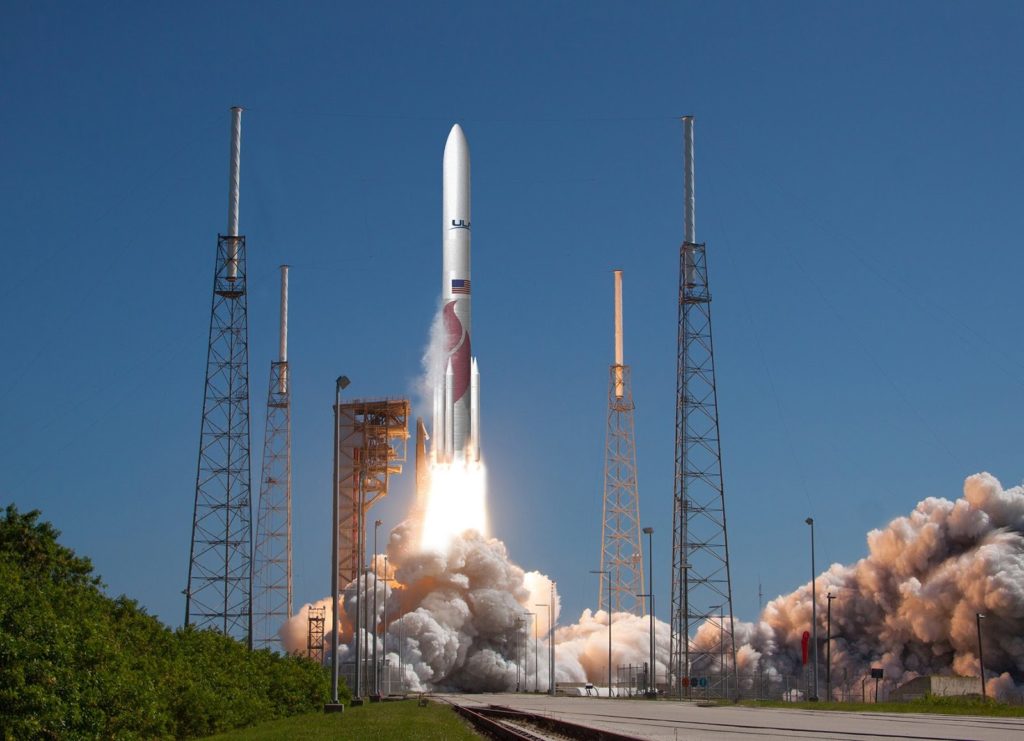 Artist's concept of
United Launch Alliance's Vulcan Centaur rocket powered by Blue Origin BE-4
booster engine launching from Cape Canaveral Air Force Station, FL. Credit: ULA
Ken Kremer — SpaceUpClose.com — 27 September 2018


CAPE CANAVERAL,
FL – Following several years of work
and intense speculation rocket builder United launch Alliance (ULA) has at least
made the highly anticipated selection chosen the Blue Origin BE-4 engine under
development by billionaire Jeff Bezos Blue Origin to power the first stage of
their next-generation Vulcan Centaur rocket that could fly it maiden mission as
soon as 2020.


"ULA selected Blue
Origin's BE-4 engine to power the booster of our next-generation Vulcan
Centaur rocket," the company
announced in a statement Thursday, Sept. 27.


The highly
anticipated selection was long expected in the competitive procurement with the
AR-1 engine under development by Aerojet-Rocketdyne which was first announced
in 2014 by Bezos and ULA CEO Tory Bruno.


"Big win for @BlueOrigin today!"
Bezos tweeted. "And a big thank you to @ulalaunch for choosing our BE-4
engine. Excited to be a part of Vulcan's mission to space."


United
Launch Alliance's (ULA) next-generation rocket – the American-made Vulcan Centaur – is making
strong progress in development and is on track for its initial flight in
mid-2020.


Vulcan
builds on the heritage of and will replace ULA's existing Atlas and Delta
families of rockets which trace their origins to the dawn of the Space Age.


"Vulcan
Centaur will revolutionize spaceflight and provide affordable, reliable access
to space for our current and future customers," said Tory Bruno, ULA's
president and CEO, in a statement.


"We
are well on our way to the introduction of Vulcan Centaur – the future of U.S.
rocket manufacturing. With state-of-the-art engineering and manufacturing
techniques, this rocket is designed specifically for low recurring cost."



The
first stage will be powered by a pair of liquid oxygen (LOX) / liquefied natural gas (LNG) fueled BE-4
engines which generate 550,000 pounds of sea level thrust apiece.


With
the addition of up to six first stage solid rocket motors, the most powerful
version of Vulcan will achieve a liftoff thrust of 3.8 million pounds.
Schematic of

United Launch Alliance's Vulcan Centaur rocket. Credit: ULA
ULA
previously has selected Aerojet Rocketdyne's RL10 engine for the Centaur upper
stage, Northrop Grumman solid rocket boosters, L‑3 Avionics Systems avionics,
and RUAG's payload fairings and composite structures for the new Vulcan Centaur
rocket system.
Vulcan
has also completed critical rocket reviews.
"The new rocket design is
nearing completion, and the booster preliminary design and critical design
reviews have been completed. Vulcan Centaur will have a maximum liftoff thrust
of 3.8 million pounds and carry 56,000 pounds to low Earth orbit, 33,000 pounds
to a geo-transfer orbit and 16,000 pounds to geostationary orbit with greater
capability than any currently available single-core launch vehicle."
"We are very glad to have our BE-4 engine selected by United Launch Alliance.
United Launch Alliance is the premier launch service provider for national
security missions, and we're thrilled to be part of their team and that
mission," said Blue Origin CEO Bob Smith.
We
can't thank Tory Bruno and the entire United Launch Alliance team enough for
entrusting our engine to powering the Vulcan rocket's first stage."
By
selecting the BE-4 for their new rocket, ULA will also eventually end its
dependence on the Russian made RD-180 engines currently powering their Atlas V
– used to launch NASA, military, national security and commercial satellites.
The
Atlas V will continue to be launched into the early 2020s and is slated to
launch NASA astronauts soon to the ISS aboard the Boeing CST-100 commercial crew
capsule.
But
to quality for lucrative military contracts like their current Atlas and Delta
rockets, the new Vulcan will have to be certified by the Air Force and NASA
"Our
new rocket will be superior in reliability, cost and capability – one system
for all missions," said Bruno. "We have been working closely with the U.S. Air
Force, and our certification plan is in place."
A United
Launch Alliance (ULA) Atlas V rocket carrying the Air Force Space Command
AFSPC-11 mission lifted off from Space Launch Complex-41 on April 14, 2018 at
7:13 p.m. EDT
on

Cape
Canaveral Air Force Station, FL.
Credit:
Ken Kremer/SpaceUpClose.com/kenkremer.com
Vulcan is being developed to slash launch costs in a drive
to match the competition from Elon Musk's SpaceX which has gobbled up numerous
launch contracts.
I
ndeed the very survival of ULA in a world of ever
increasing rocket competition depend on the successful introduction of Vulcan
Centaur as soon as possible.
Blue
Origin is also developing and building the BE-4 engines for their own new rocket
named 'New Glenn' – which will be reusable and launch from complex 36 at the
Cape.
Watch this Blue Origin video of a BE-4 engine test:
Video Caption: Blue
Origin BE-4 Engine Compilation

.

The BE-4 uses oxygen-rich
staged combustion of liquid oxygen and liquefied natural gas to produce 550,000
lbs. of thrust. Liquefied natural gas is commercially available, affordable,
and highly efficient for spaceflight. Unlike other rocket fuels, such as
kerosene, liquefied natural gas can be used to pressurize a rocket's propellant
tanks. This is called autogenous pressurization and eliminates the need for
costly and complex pressurization systems, like helium. Liquefied natural gas
also leaves no soot byproducts as kerosene does, simplifying engine reuse.
Watch for Ken's continuing onsite coverage of NASA, SpaceX, ULA,
Boeing, Lockheed Martin, Orbital ATK and more space and mission reports direct
from the Kennedy Space Center, Cape Canaveral Air Force Station, Florida and
Wallops Flight Facility, Virginia.
Stay tuned here for Ken's continuing Earth and Planetary science and human
spaceflight news:

www.kenkremer.com


–www.spaceupclose.com – twitter @ken_kremer – email: ken at kenkremer.com
Dr. Kremer is a research scientist and journalist based in the
KSC area.


Ken's photos are for sale and he is available for lectures and outreach events
ULA Delta IV Heavy launch of NASA's Parker Solar Probe in Aug. 2018. Credit:
Ken Kremer/SpaceUpClose.com/kenkremer.com