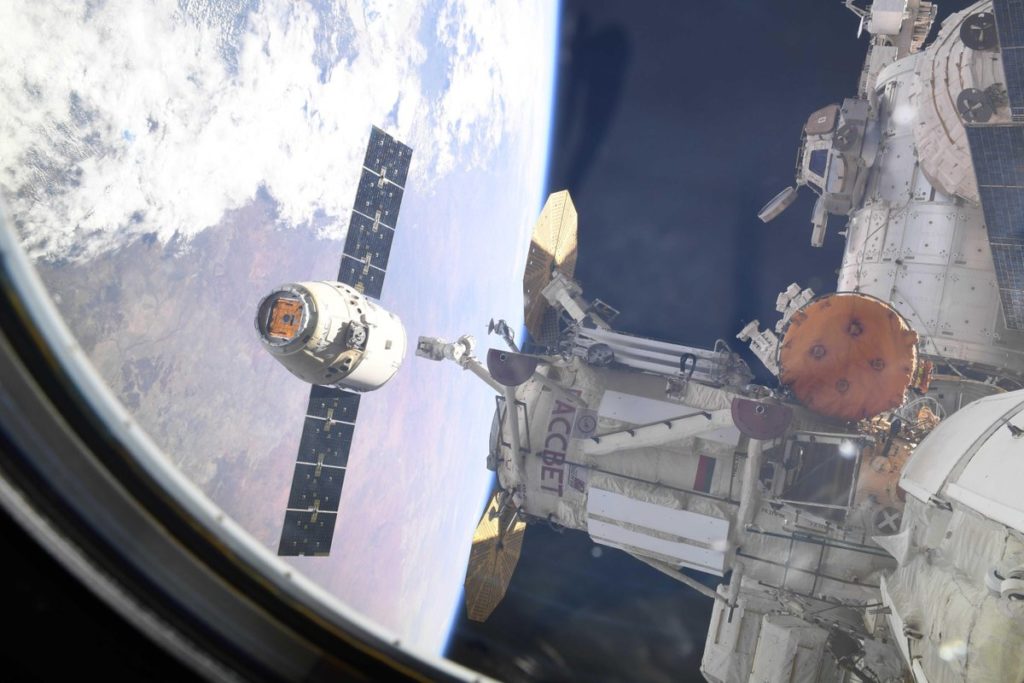 SpaceX CRS-16 Dragon cargo ship departs the International Space Station
on Jan. 13, 2019 after release from Canadian robotic arm for splashdown in the
Pacific Ocean on Jan. 14. Credit: David Saint-Jacques/NASA/CSA
Ken Kremer

—
SpaceUpClose.com &
RocketSTEM
–14 January 2019
KENNEDY SPACE CENTER,
FL –

A commercial SpaceX Dragon cargo ship departed the International Space Station (ISS) Sunday evening and safely
returned to Earth just past midnight this morning, Monday, Jan 14, carrying some
two tons of research samples and gear for NASA after
a five-week stay.
The
SpaceX Dragon
CRS-16 resupply ship safely splashed
down in the Pacific Ocean several hundred miles west of Baja California at about
12:05 a.m. EST Jan. 14, 9:05 p.m. PST Jan 13 to bring about a successful conclusion
to SpaceX's 16th cargo flight to and from the orbiting outpost under
contract to NASA.
SpaceX Dragon was released from the grips of the

58-foot (17.7-meter)

long Canadian-built Canadarm2 robotic
arm at
6:33
p.m. EST Jan. 13 as NASA Astronaut

Anne McClain

of the Expedition 58 crew monitored
the activities from the 7 windowed domed Cupola module aboard the International
Space Station.
"Farewell Dragon!
#Canadarm2
just released SpaceX-16 capsule, returning experiments to
scientists around the World," tweeted Expedition 58 crew member astronaut David Saint-Jacques from the Canadian Space Agency.
It had been berthed to the station at the
Earth facing port of the Harmony module since arriving Dec. 8 and delivering
over 5600 pounds of science and supplies for the station crew.
The SpaceX Dragon
cargo craft is pictured being released from the Canadarm2 robotic
arm on Jan 13, 2018. Credit: NASA
A
trio of departure burns soon followed to move the gumdrop shaped ship away from
the space station and send it on its way to splashdown assisted by three main
parachutes.
"Good
splashdown of Dragon confirmed, completing SpaceX's fourth resupply mission to
and from the
@Space_Station
with a flight-proven spacecraft," SpaceX tweeted at
12:12 a.m. Jan. 14, a few minutes after the splashdown.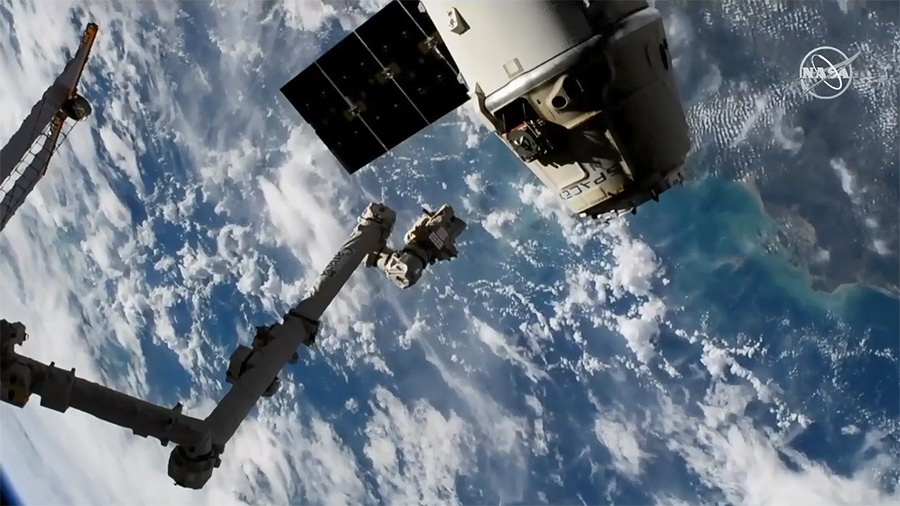 The SpaceX Dragon
cargo craft is pictured moments after being released from the Canadarm2 robotic
arm on Jan 13, 2018. Credit: NASA
This marked the first
time the private Dragon made a nighttime splashdown into the Pacific Ocean as
well as being the second roundtrip mission for this particular vessel.


"Dragon
returned home last night after its five-week stay at
the @Space_Station, completing SpaceX's sixteenth flight to and from the
orbiting laboratory. The ISS badge signifies this Dragon's previous trip to the
station in 2017," SpaceX tweeted along with a photo.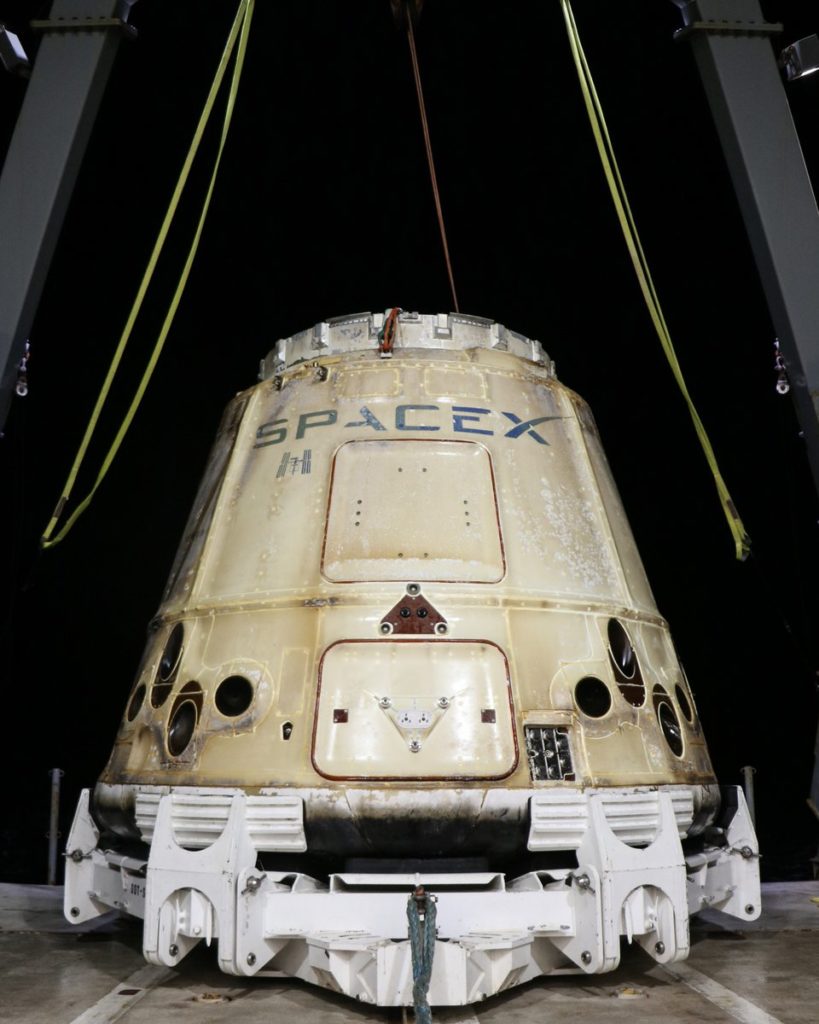 SpaceX Dragon CRS-16
capsule hoisted aboard recovery ship after return from ISS and splashdown on
Jan. 14, 2019. Credit: SpaceX
The SpaceX contracted maritime
vessels located the Dragon and hoisted it on deck for return to the Port of Los
Angeles where crews will quickly retrieve critical time sensitive samples for rapid
shipment to waiting researchers for lab analysis. 20 mice were among the cache
on board.
"Welcome
back
#Dragon
! Now the critical space research it brought home will be
distributed to scientists for analysis," NASA tweeted.
NASA
TV broadcast the Dragon release live, but with NO live commentary due to the ongoing
US Government Shutdown, now in

its 24th

day.
The
Dragon departure was delayed from Thursday due to poor weather at the Pacific
Ocean sea landing location and wait for calmer sea states, said NASA.
"Robotics controllers remotely commanded the

Canadarm2 robotic arm

to let go of the U.S.
space freighter sending it on a solo trajectory back to Earth," NASA wrote in a
blog post.
"McClain watched Dragon perform a series of
departure burns as it separated itself to a safe distance from the orbital lab.
Integrated operations between mission controllers in Houston and SpaceX
controllers in California stop when Dragon reaches a point about one kilometer
away from the station."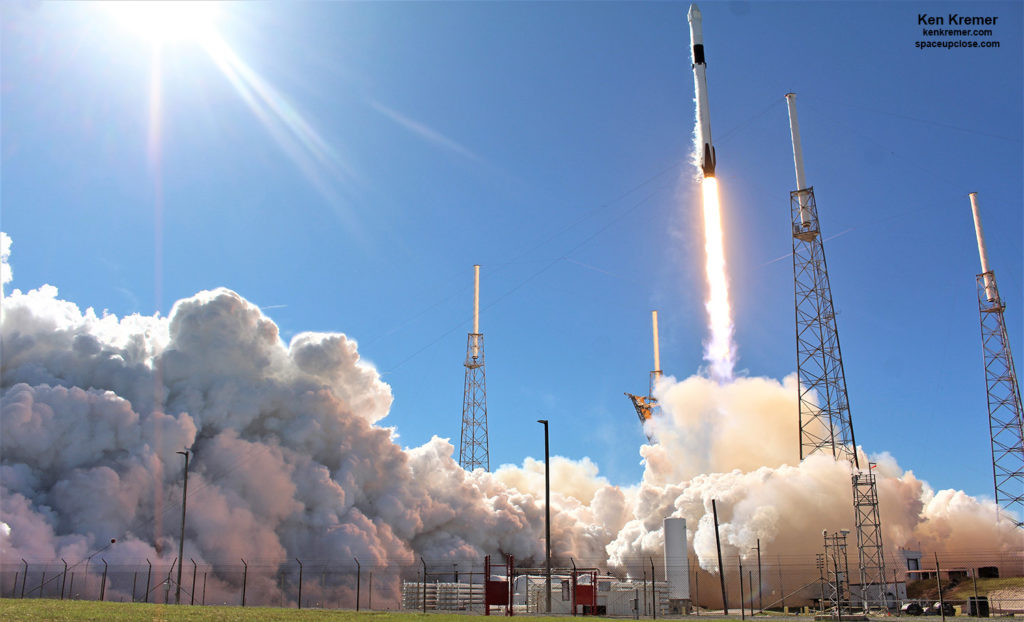 SpaceX
Dragon CRS-16 spacecraft launches to the International Space Station at 1:16
p.m. EST Dec. 5, 2018, on a Falcon 9 rocket from Space Launch Complex 40 at
Cape Canaveral Air Force Station in Florida carrying more than 5,600 pounds of
research equipment, cargo and supplies on the 16th resupply mission
for NASA. Credit:
Ken Kremer/kenkremer.com/spaceupclose.com
After a 24 hour delay
due to moldy mouse bars, the SpaceX mission began with the flawless blastoff of a brand new Falcon
9 rocket and Dragon CRS-16 commercial cargo freighter right on time Dec. 5 2018 as all nine first stage Merlin 1D engines roared to life and
ignited with 1.7 million pounds of liftoff thrust at 1:16 p.m. EST (1816 GMT) from Space Launch Complex 40 at Cape Canaveral Air Force
Station in Florida.


Check out
our prior Space UpClose eyewitness gallery of imagery of the launch and landing
as well as prelaunch imagery taken of the Falcon 9 standing tall at pad 40
during our media remote camera setups.


The Dragon CRS-16 spacecraft
was loaded with nearly 3 tons of critical research, hardware and supplies and
successfully delivered the cargo to the ISS for NASA when it arrived three days
later on Dec. 8.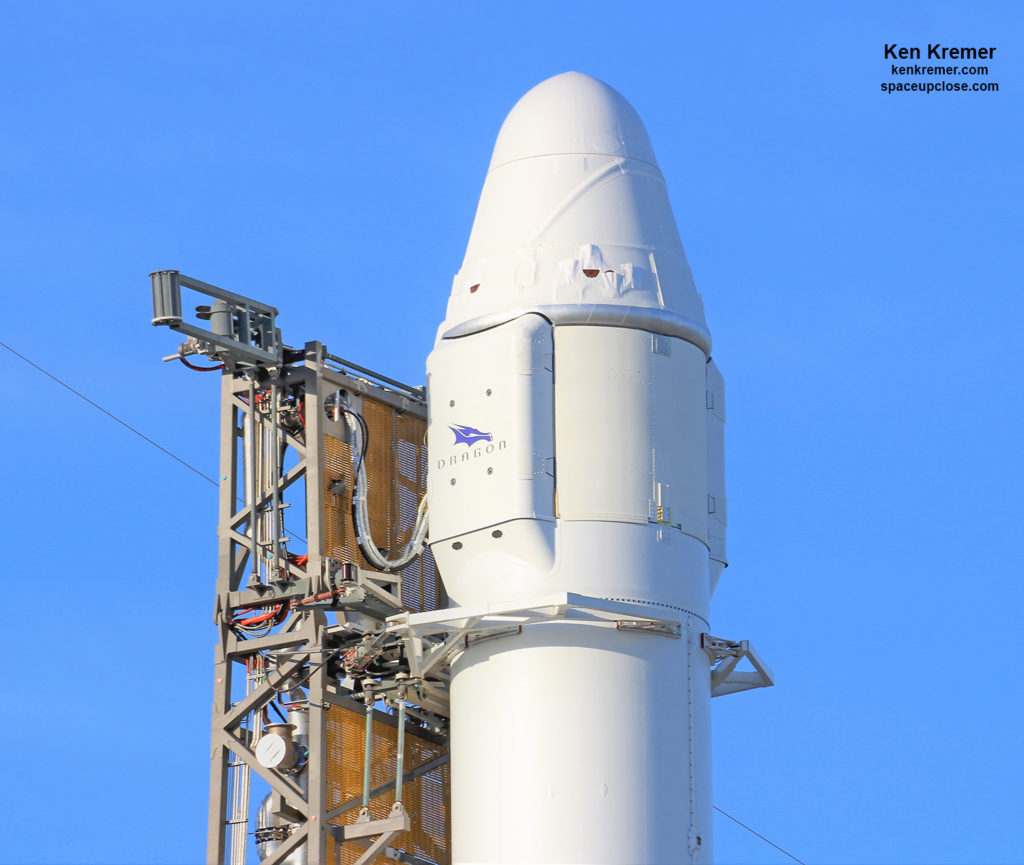 Up Close view of Dragon CRS-16
cargo ship bolted atop SpaceX Falcon 9 rocket poised for liftoff on mission to
the ISS from Space Launch Complex-40 on Cape Canaveral Air Force Station, FL,
on Dec. 5, 2018 at 1:16 pm EST. Credit: Ken Kremer/kenkremer.com/spaceupclose.com
The Dec. 5 CRS-16 mission was fully successful except for
the planned landing attempt
to recover the first stage booster back on the ground minutes, which failed due
to a malfunction in a hydraulic pump required to the grid fins. But the good
news is it was safely aborted to slightly offshore at sea, avoiding any danger
to population centers or infrastructure.


The aborted land landing
of the 15-story-tall booster amounted to a rare setback in rocket recycling for
SpaceX which really plays second fiddle to the overarching goal of the mission –
launching a Dragon resupply spaceship to the astronauts and cosmonauts living
and working about the million-pound Earth orbiting science laboratory.


The plummeting booster
was spinning out of control but eventually control was regained via firings of
the Merlin 1D engines and it accomplished an unplanned emergency aborted
landing in the Atlantic Ocean, tipping over and surviving horizontally as a remarkably
intact sea worthy vessel.
Falcon 9 1st stage booster is spinning almost
out of control and veering much farther downwards than normal during final descent.
Engines finally did stabilize enough to regain control, deploy 4 landing legs
and retarget for ocean landing just off shore from Cape Canaveral Air Force
Station, after Dec. 5, 2018 launch on SpaceX Dragon CRS-16 mission to the ISS
for NASA.

Credit: Ken Kremer/kenkremer.com/spaceupclose.com
The Falcon 9 booster
arrived into Port Canaveral two days later when it was towed into port by the tugboat
Eagle.


Check out all our Space
UpClose articles and imagery detailing the Dragon's journey to space and the
Falcon 9s floating saga back to Port Canaveral followed by hoisting from the
waters and detachment of the landing legs and grid fins.


After a five week stay Dragon depart the
station Sunday and returned to Earth with more than 4,000 pounds of science and
research samples, hardware and crew supplies.


Dragon is the only spacecraft currently flying
that can return large quantities of science samples and other hardware back to
researchers for analysis and investigations here on Earth.


CRS-16 marked the 20th flight overall (out of 21
total) for SpaceX in 2018 and the 4th ISS resupply mission for NASA
in 2018.


SpaceX was awarded a $3.04
Billion contract from NASA to launch 20 Dragon cargo missions to the orbiting outpost
through 2019 under the Commercial Resupply Services (CRS) agreement.


Under the follow up
CRS-2 contract SpaceX is guaranteed at least 6 more resupply mission through
2024.


The next resupply
mission involving the Dragon CRS-17 launch on a Falcon 9 from Cape Canaveral is
slated for No Earlier Than March 2019.
All launch dates are in flux due to the continuing government shutdown.


Meanwhile SpaceX announced
a 10% cut in their workforce on Jan. 11, just hours after their 1st
launch of 2019. Details here.

Watch for Ken's continuing
onsite coverage of NASA, SpaceX, ULA, Boeing, Lockheed Martin, Northrop Grumman
and more space and mission reports direct from the Kennedy Space Center, Cape
Canaveral Air Force Station, Florida and Wallops Flight Facility, Virginia.
Stay tuned here for Ken's continuing Earth and Planetary science
and human spaceflight news:

www.kenkremer.com

–www.spaceupclose.com – twitter
@ken_kremer – email: ken at kenkremer.com
Dr. Kremer is a research scientist,
journalist and photographer based in the KSC area.
………….

Ken's photos are for sale and he is available for lectures and outreach events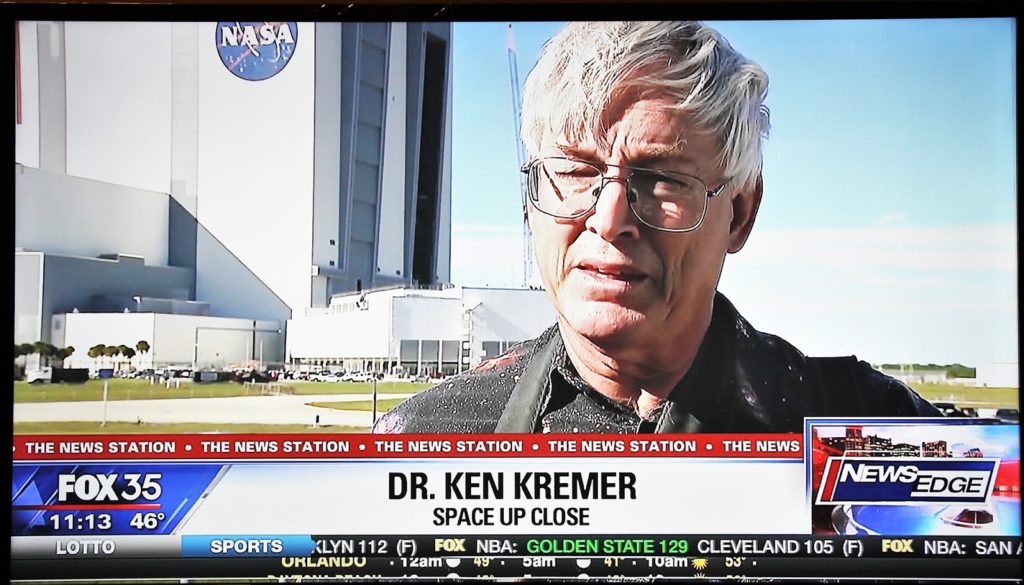 Dr Ken Kremer/Space UpClose
interviewed by Fox 35 News Orlando about the successful SpaceX Dragon mission launch
and the landing failure on Dec. 5, 2018.